Posts Tagged 'Arson'
Friday, December 9th, 2011
After December the 4th (election day in Russia), when the Russian state deployed numerous police and military forces in Moscow and common people took to the streets to shout "Enough is enough" in the face of cops and corrupt bureaucrats in all major Russian cities, anarchists were engaged in assembly work, organizing and propaganda.
Last week saw several clashes of common people with police (anarchists took part in those fights): 1 & 2
This "popular dissent" is expressed not only in Moscow, but in St. Petersburgh, Nizhnii Novgorod, Tyumen and other big cities.
System opposition called for a mass rally on December the 10th. Them and the authoritarian lefties try to come on top in this situation and direct the malcontent towards liberal reformism and pacifist practices.
Tomorrow will be the day we've been fighting hard to see coming. Tomorrow is the day that the Russian regime anticipates with fear.
Being not the least among those who helped build-up the situation, we continue to push for a more radical character of popular uprising.
On 09/12/2011 we torched a police car. Solidarity with all active insurgents, solidarity to all revolutionary anarchists in prisons!
Push for anarchist revolution!
– Conspiracy of Cells of Fire, Russian Cell, FAI/IRF
Tags: #Occupy, Arson, Conspiracy of Cells of Fire: Russian Cell, Fuck the Law, Informal Anarchist Federation (FAI), International Revolutionary Front, Russia
Posted in Direct Action
Friday, December 9th, 2011
325 receives and transmits:
6 December 2011

There's been a new attack against the police in Finland. Exactly one month after the last attack against a police station in Kerava, on the night between the 6th and 7th of December (6th is the Finnish independence day) a police station in Kirkkonummi (about 30 kilometers from the capital Helsinki) was attacked with an incendiary device.
"While a number of people were lining up for pea soup and elsewhere the "cream of society" was dancing in the president's castle, we decided to take action. Early in Wednesday morning 7th of December we warmed the cold night by setting alight two canisters of gasoline with a fuse in front of the doors of Kirkkonummi police station. To warn the creatures moving in the area, we set a mechanism in the fuse that would send a warning with a loud noise.
While some people are still living in "welfare state" outside this illusion the reality looks very different. Everywhere we can hear voices of discontent. In front of the obstacles that we encounter, we are forced to look for the guilty ones from among the people already pushed aside by the society, even though the real answer to our situation can be found in front of our eyes, in the present system.
Time and time again we can read about people taking to the streets to present their growing rage and discontent and the police stopping the progress towards a change. We notice once again that in the capitalist system the police only has one function, to protect the interests of the ruling class.
Inspired by recent events we decided to act for ourselves instead of waiting for the change to come. Anyone can form affinity groups for direct action, instead of waiting for the mystic 'vanguards' or the out-of-date organizations to act."
No borders, no nations!
Tags: Arson, Finland, Fuck the Law, Kirkkonummi
Posted in Direct Action
Friday, December 9th, 2011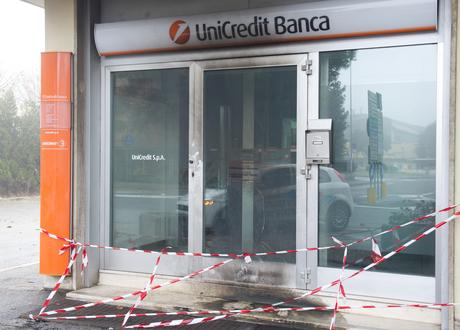 From Anarchists for the Destruction of the Existent, via culmine and war on society:
3 December 2011
Many are the reasons that groups or individuals go on the attack, and great is the hatred for a world that does not belong to us and in which we spend too much time.
Everywhere, brave comrades decide to attack the system with direct action of any kind against any of its aspects – offices, banks, schools, churches and so on – carrying forward the war against all authority.
We have decided to take part in this war, attacking during the night of December 3-4 a Unicredit Bank branch, leaving a clear message to the exploiters of Ravenna and of the whole world and to all their guards: the powder keg is about to explode. We will reappropriate all that they have taken by force and with all means.
This is no time to remain immobile in the face of the destruction of our lives and of our dreams. It is time to attack, here and now.
We also want to renew the call to international solidarity, asking all comrades in affinity to strike Capital as they see fit and as the opportunity presents itself.
We dedicate this action to the comrade Luciano "Tortuga" and we send him all our affection. We are with you comrade, and we hope that these flames are able to show you that.
We are close to the comrades in Bologna who face trial December 12. You have all our support and we hope that this has given you some strength.
We want to send a fiery embrace to the comrades of the Conspiracy of Cells of Fire because their courage and determination have inspired us. We are on your side in this war, until the end.
We salute, finally, any comrade who chooses to attack with any means this nightmare, and all those who find themselves imprisoned for their desire for freedom.
For comrades who are fallen or confined in society's cages
For a Black International
For Anarchy
Anarchists for the Destruction of the Existent
Tags: Anarchists for the Destruction of the Existent, Arson, Black International of Anarchists of Praxis, Bologna, Chile, Conspiracy of Cells of Fire, Greece, International Revolutionary Front, International Solidarity, Italy, Luciano Pitronello Schuffeneger, Ravenna, Unicredit Bank
Posted in Direct Action
Friday, November 18th, 2011
From IMC UK:
7 November 2011
Claim of responsibility.
Geoff Gollop, Lord mayor of Bristol and Kevin Quartley, a Tory councillor had their cars torched outside their homes on November 7th.
This is the fire of the ghetto delivered to their door and a taste of what the right wing filth deserve. When the people lose their fear, the capitalists panic.
Get your hands off the students and workers demonstrations.
We can strike you any time we wish.
Class Terror/FAI
FAI
Tags: Arson, Bristol, Class Terror / FAI, Informal Anarchist Federation (FAI), UK
Posted in Direct Action
Saturday, October 29th, 2011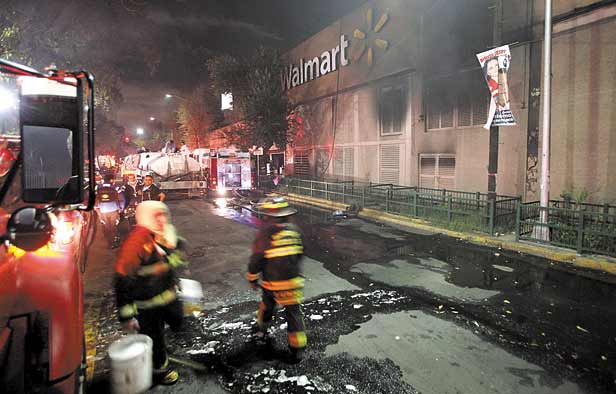 From culmine via this is our job:
To all like-minded arsonists and antagonists, the fourth communiqué from the Conspiracy of Cells of Fire – Mexico / Informal Anarchist Federation:
Neither exasperated, indignant, nor broken! Arsonists at war against every authority!
All our solidarity with comrade Gabriel Pombo da Silva!
We're celebrating two months of direct attacks on capital and the State!
Against the system of domination!
For Total Liberation!
Yesterday [26/10/11] at 6:23 p.m., liberatory fire again burned where it hurts most, destroying merchandise. The Conspiracy of Cells of Fire (CCF) faction of the Mexican Informal Anarchist Federation (FAI-M), Veracruz section, gave life to liberatory fire at the Wal-Mart located at Universidad and Avenida Las Palmas in the heart of Coatzacoalcos, Veracruz. With this new attack, we avenge comrade Gabriel Pombo da Silva (held captive in Aachen prison) and demand his immediate release from the German and Spanish states. We also stand in solidarity with our comrade Tamara, with the Bombings Case compas in Chile, with the imprisoned Conspiracy of Cells of Fire compas in Greece, and with all our comrades abducted by the State in Mexico and the rest of the world. (more…)
Tags: 14/14, Arson, Coatzacoalcos, Conspiracy of Cells of Fire, Conspiracy of Cells of Fire - Mexico, Conspiracy of Cells of Fire : Imprisoned Members Cell, Gabriel Pombo da Silva, Germany, Informal Anarchist Federation - Mexico (FAI-M), Informal Anarchist Federation (FAI), International Solidarity, Luciano Pitronello Schuffeneger, Mexico, Revolutionary Struggle, Spain, Tamara, Veracruz, Wal-Mart
Posted in Direct Action
Tuesday, October 25th, 2011
08.10.2011 – anarchist guerilla squad has attacked the parking of the police cars in the town of Troitsk (Moscow region). Two cars were destroyed. Here's a fragment from our communiqué:
"Police station of Troitsk-town… sturdy police building, which looks like stronghold, if you observe it from the Kaluzhskoe highway. Entrance is blocked by antitank hedgehog; high iron wall is ending by barbwire… But as it often happens with state institutions, solid and threatening façade hides rotten and useless content. Taking in the rear of armed police criminals, we have found a parking of patrol police cars without any security. These place is used by the brave Guardians of the Law just for drinking alcohol, as we have seen by our own eyes. As drunken pigs went home – we have attacked a parking [lot] and seriously injured by fire at least two police cars".
Also this night at least 9 luxury cars were burnt in Moscow, but none has taken responsibility for these acts.
15.10.2011 – in Volsk-town (Saratov region) two cars, which belong to police officer and his wife, were set on fire and destroyed.
18.10.2011 – in Khimki-town (Moscow region) a police car was blown up. Police lie about a "technical disease". None has taken a responsibility for this action.
22.10.2011 – in the town of Kamensk-na-Obi (Altai territory) a cottage of the depute and ex-mayor of the town, Valeriy Gorozhankin, was set on fire by unknown people.
–
All imprisoned people are released
Few days ago, all people arrested under suspicion of participating in road police blast were released from detention without any charges. Now it is clear that the police have shown their incompetence once again.
Tags: Arson, Black Bloc, Fuck the Law, Kamensk-na-Obi, Khimki, Moscow, Russia, Troitsk, Volsk
Posted in Direct Action
Saturday, October 15th, 2011
Capital of Russia experienced 11 luxury car arsons as well as attack on police
department parking lot that saw 2 police cruisers torched.
While no concrete anarchist group took responsibility for recent string of arsons, police and media have already blamed them on anarchists, as has frequently (and sometimes unjustly) been the case in Russia.
Wide acceptance and mimicry of anarchist direct action tactics among the populace has pushed government towards repressions against the movement and even some "exemplary arrests".
Aside from recent arrests of 4 suspected anarchists and an ABC activist, corporate media report two men (who have both served sentences in Russian prisons) captured during one of the arson attempts, although their part is dubious at best: Russian police have a long record of forcing former criminal prisoners to cooperate in covering-up of unsolved crimes, when people already convicted of a crime are "persuaded" to plead guilty in even more crimes.
Tags: Arson, Moscow, Repression, Russia
Posted in Direct Action
Thursday, October 13th, 2011
325 receives and transmits:
12 October 2011
A visit to Nottingham Prison last night [12/10] culminated in a fire being started underneath a prison vehicle. It had just gone nine when we arrived and after tagging some nearby walls with the messages of "Fire to the Prisons" and "Solidarity to those kidnapped", we quickly and quietly stepped to the vehicles, lit our fires and took off quickly into the night.
This attack was not a request, or a demand that the prisons improve, or that the judicial system becomes more fair. We attacked because our comrades have been kidnapped, and we will show solidarity in anyway we can. Solidarity to all those captured during and after the riots, to the anti-fascists imprisoned because of the usual web of lies spun by the cops and their pals, and to all those who feel the urge to resist whenever the moment seems ripe. We did this in order to show solidarity with the actions of the IRF Bristol's action at the Law courts a few nights ago, and to our Cambridge brothers and sisters acting with such fierce love and rage.
The prisons are where they hold us when they can not control us, they are the threat they hold over us, but what they can not understand is that the greater threat to us is for us not to act. For us to be stifled by the conditions and the conditioning of this society. When we act in away that unleashes our rage, when we act in away that brings us joy then we are able to unleash a glorious FUCK YOU! A FUCK YOU with blood and spittle, a FUCK YOU directed plainly at those who benefit most from this diseased social system.
Tags: Arson, IAF / Cell of Joy, Informal Anarchist Federation (FAI), Nottingham, Nottingham Prison, UK
Posted in Direct Action
Wednesday, October 12th, 2011
325 receives and transmits:
10 October 2011
On the night of Monday 10 October we hit the bastard system again with more fiery anger. Two cars at the GP Motors dealership in Newnham, Cambridge, were arsoned – we hope the flames spread to the others, bringing a roaring inferno to the quiet leafy streets. No one was outside, the only sign of the middle class residents awake was the blue glow of TV screens from curtained windows! While the insurrectionary action cell had adrenaline pumping, joy in the heart, the moon shining bright above and the refreshing night air.
Shout out to the impatient and the bored shaking off passiveness and going on the attack against society!!
To the Greek uprizers and most especially the CCF, you fill us with strength, stay strong and stay unbowed!
And to the anarchists on the attack around the world, in Mexico, Chile, Spain, Indonesia, Russia, Argentina, Italy, and everywhere else – we are winning, winning against society's cloying herd mentality and the meaningless lot set out for us in life.
As we know in our hearts, what we win is right here right now living with the head held high, the smile as we face a new day with dignity, the knowledge that whether or not the broader population upsurges against the imposed system and we have anything like the anarchist dream of a world of freedom and equality with no domination, we live without regrets as anarchists NOW.
Against the whole fucking disgusting cage of civilisation – wild destruction for total liberation!
Fire Cell / Informal Anarchist Federation

Tags: Argentina, Arson, Cambridge, Chile, Conspiracy of Cells of Fire, Fire Cell / Informal Anarchist Federation, GP Motors, Greece, Indonesia, Informal Anarchist Federation (FAI), International Revolutionary Front, International Solidarity, Italy, Mexico, Russia, Spain, UK
Posted in Direct Action
Thursday, October 6th, 2011
5 October 2011
"In Bristol last night (Wednesday October 5th) we broke into a police compound just south of the river. Under the cover of darkness we set fire to a marked police car. We didn't hang around long enough to see whether or not it went up… we can only hope.
We did this for a few reasons. One, as a show of our anger and disgust for the police after hearing about the beating of many friends and comrades in Amsterdam during a demonstration last week.
Wednesday also marked the beginning of the trial against the 'Revolutionary Struggle' group in Greece. With this solidarity action we send you heart felt greetings, you are an inspiration to many, stay strong and proud.
It should go without saying that this was done as much for these reasons as for our own enjoyment. With NO feelings of obligation we enjoyed every moment from the organisation to the orchestration. And of course this is not a glorification of foreign struggles, we have a laundry list of personal/regional reasons to resist, from raids and evictions to locally imprisoned rebels.
This action was done in the spirit of what has become known as the LEGEND OF THE EVENING POST SMASHER*."
Anon
–
[*Reference to a window smashing action against offices of a right-wing newspaper in Bristol, for which the cops seek a suspect from reported DNA evidence, which resulted in a local squat being raided. The cops didn't find the man they were looking for, but made a political investigation, and seized computers, phones, papers. The newspaper, which naturally had their journalists present at the raid, tried to play a key part in the local repressive operations of the police, exactly like every other newspaper in the country. They all justified the police murder of Mark Duggan and excused the daily brutality and disgusting behaviour of the police, printing suspects photographs and spreading hatred and vengeance etc. The newspaper, known as the 'Evening Post' is a very typical daily newspaper owned by Northcliffe Media (formerly Northcliffe Newspapers Group), it is a large regional newspaper publisher in the UK and Central and Eastern Europe, owned by the Daily Mail and General Trust. In UK, it operates from over 30 publishing centres, and also has 18 daily titles.]
Tags: Amsterdam, Arson, Fuck the Law, Greece, International Solidarity, Revolutionary Struggle, Trial, UK
Posted in Direct Action
Tuesday, October 4th, 2011
From Liberación Total:
To all arsonists and like-minded antagonists, the third communiqué from the CCF-FAI of Mexico:
Like the joint communiqué by 11 Mexican insurrectionary anarchist and eco-anarchist groups says: "We are launching a frontal attack on the system of domination, causing maximum damage with minimum risk."

We have the capacity to rebel against a criminal, terrorist, unjust system, even until the final consequences!
On September 15, while BLACK SEPTEMBER was developing in Mexico, a new path of informal struggle against domination was being laid out: the Conspiracy of Cells of Fire (CCF) faction of the Informal Anarchist Federation of Mexico (FAI-M). Our first arson was carried out on September 27 by the Mexico City cells, who unleashed liberatory fire at the warehouse on Avenida Pacífico between Miguel Ángel de Quevedo and Eje 10 Sur in the Coyoacán area of Mexico City. War on the existent order had begun. The next day, we torched the Airport Staff training school of the National College of Professional Technical Education (CONALEP), located in the Third Ward of Arenal in the Venustiano Carranza area of Mexico City. On September 30, in an action coordinated between the Mexico City cells and the Jalisco cells, the CCF of Mexico simultaneously attacked capital in Mexico City and Jalisco, hitting where it hurts most: merchandise. Liberatory fire was born at the Wal-Mart on Calle Luis Donaldo Colosio in the Buenavista suburb of Cuauhtémoc, Mexico City and at the Pabellón shopping mall on Avenida Patria in Guadalajara, Jalisco.
Recent statements by Mexico City chief prosecutor Miguel Ángel Mancera continue to downplay the anarchist actions taking place in the capital. This is the same old strategy used by the PRD and Marcelo Ebrad to censor our struggle, as the Mexico City cells claimed responsibility for their attack in a communiqué released on the same day as the action. The Jalisco chief prosecutor's office is also adding to the silence and whitewashing that conceals our struggle, as the Jalisco cells publicized their attack that same night as well.
With our acts of propaganda during the events of this BLACK SEPTEMBER, we take retribution for comrade Tortuga, comrade Tamara, and our comrade prisoners in Mexico and the rest of the world.
The struggle has begun. Let's make sure it spreads everywhere.
Take a single comrade prisoner during tomorrow's march and we will make the cities burn!
We are all accomplices of the Conspiracy of Cells of Fire!
Long live the Conspiracy of Cells of Fire!
Long live the Informal Anarchist Federation of Mexico!
Long live the fighting insurrectionist and eco-anarchist groups!
Long live liberatory fire and avenging gunpowder!
Be strong, captive comrades in the Bombings Case!
Be strong, imprisoned comrades from the Conspiracy of Cells of Fire!
Be strong, comrades from Epanastatikos Agonas [Revolutionary Struggle]!
Be strong, comrade Tortuga!
Be strong, comrade Tamara!
Be strong, comrade Gabriel!
Against the technological system of domination!
For the demolition of prisons!
For the destruction of everything that dominates us!
For Total Liberation!
For international anarchist coordination!
For Anarchy!
— Conspiracy of Cells of Fire (Jalisco); October 1, 2011
Tags: Arson, Attack, Conspiracy of Cells of Fire, Conspiracy of Cells of Fire - Mexico, Gabriel Pombo da Silva, Informal Anarchist Federation - Mexico (FAI-M), Informal Anarchist Federation (FAI), International Solidarity, Luciano Pitronello Schuffeneger, Mexico, Mexico City, Tamara
Posted in Direct Action
Saturday, October 1st, 2011
from Culmine, September 30th
"We believe that everything we were taught since childhood has been to make us unthinking beings, obedient and fearful citizens. From school to the family, which also passed by her, the powerful tell us what they want to say about the patriots, the heroes, and the "good" people, instead of speaking of the forgotten "Indians", as Columbus called them, who were eliminated here by Sarmiento with words and the Rock with the sword.
Today these forgotten people live in miserable slums and walk through life salvaging what they can to survive, despite all the overbearing behaviors that society teaches them. Such is the responsibility of the capitalist system.
Hardly anyone knows how to live without technology and every day they sell more unnecessary products. But whether people are offered them or demand them, they are only seduced by the vices of power and ambition, and with small or large investments they remain within the system and fit into society.
They still believe in religion and politics, and wait for a new leader to bring order to the country, some other fascist to remind them of Peron. Meanwhile, they're thrilled to buy fast cars, and if they can't afford that, they're content that "their team" won the soccer game, so they'll have something to talk about during their dreadful routine of work which they believe it is the only thing that makes them feel proud and useful. Otherwise they wouldn't be able to eat, would go crazy from boredom, they could become prisoners for their rebellion or even be killed. Those are the options available to people who are aware of the harsh reality that we live. And despite the different ways of understanding the world that exist, we're all the same, but some choose to simply drive cars, others decided to set them on fire in:
Marcos Paz and Pedro Lozano, Donato Alvarez and Tres Arroyos, Allende and Arregui, Emilio Lamarca and Nogoya.
Whether by day or night, at any moment we can attack that which oppresses us and keeps us from being free. Previously, in our last statement we forgot to mention that there were eight cars and luxury SUVs burned, on this occasion we claim only four.
Was it not luxury cars that were burned? If so, why not bring to light in the mass media?
This was for comrade Jose Lopez, imprisoned and charged with arson/bomb attacks against the established order in Madrid."
Friends of the Earth/Informal Anarchist Federation
Tags: Argentina, Arson, Friends of the Earth / FAI, Informal Anarchist Federation (FAI), International Revolutionary Front, International Solidarity, Jose Lopez, SUV
Posted in Direct Action
Thursday, September 29th, 2011
Dear Comrades! Since our latest report in English had been published, there have been some occasions of social war moved by anarchists and "ordinary people".
29.08.2011 – In St. Petersburg R.A.T.S. (Red and Anarchist Terror Section) burned road roller and bulldozer on the construction site of business-center of Gazprom – the most horrible Russian state-capitalist monster, trading oil and gas.
The same day in Moscow DIY-bomb was thrown into the police station of one of the Moscow outskirt municipality – Eastern Degunino. Two police cars, wall and windows of a building was damaged by explosion. This was the second anonymous bomb-attack on Moscow police in last days of August (the first one two days before). No group has claimed responsibility.
31.08.2011 – In Petersburg-city R.A.T.S. strikes again – police car burned and communiqué was spread: "everyone knows what hatred to police means – nowadays our country is separated on two unequal groups – those who governs and those who has to obey due to the fear of repressions (…) our action is a gift to the inauguration of a new police governor of St. Petersburg – Poltavchenko."
03.09.2011 – Nearby city of Samara, placed in Volga-river, in the night anonymous pirate group attacked from the boat expensive yachts by Molotov cocktails.
09.09.2011 – In Moscow region administration house of Povarovo village was attacked by Molotov cocktails. No group has claimed responsibility.
12.09.2011 – In Altai territory arson of Bailiff Center took place. Serious damage of building and documentation.
13.09.2011 – In Ulianovsk anonymous fire attack took place on the office of the deputy Ruslan Seukov, member of a ruling party United Russia.
19.09.2011 – In Melitopol, Ukraine – public prosecutor's office was arsoned. General door damaged…
Let the struggle spread and become deeper! Vivat Anarhia!
Tags: Altai, Arson, Black Bloc, Melitopol, Molotovs, Moscow, Pirates, Povarovo, Red & Anarchist Terror Section (RATS), Ruslan Seukov, Russia, Sabotage, Samara, St. Petersburg, Ukraine, Ulianovsk
Posted in Direct Action
Monday, September 26th, 2011
325 receives and transmits:
25 September 2011
"This is a claim for setting alight an SUV at the Lexus car showroom on Coldhams Lane, Cambridge, early in the morning of 25/09/11. This is done pushed not just by hatred of this society but inflamed with solidarity for comrades Luciano in Chile and Tamara in Spain, as well as those anarchist fighters coming up for trial in Greece, the Antifa prisoners here in the UK and also those coming up for trial in the same case. Luciano 'Tortuga' was wounded in an attempted bomb attack on a bank in May, and is now held hostage by the Chilean state, up on trial three days ago. Tamara Hernandez was recently sentenced in Spain to 8 years for sending a letter bomb in October 2009 to the scumbag in charge of the prisons in Spain. The spread of the informal federation of the insurrectionary attack and stubborn solidarity continues in the hearts and minds of rebels around the globe. Repression will lead to escalation. Counter-insurgency will just feed the insurgency, polarise the population, making clear the social war. Chaos is inevitable!! And anarchy is always possible!"
Fire Cell / Informal Anarchist Federation
Tags: Antifa, Arson, Cambridge, Fire Cell / Informal Anarchist Federation, Greece, Informal Anarchist Federation (FAI), International Solidarity, Lexus, Luciano Pitronello Schuffeneger, Revolutionary Struggle, SUV, Tamara
Posted in Direct Action
Saturday, August 13th, 2011
10 August 2011
from liberacion total, translated by war on society:
Communique:
Tonight two vans belonging to the energy multinational "GDF SUEZ" were set on fire in the neighborhood of San Juan Bautista.
The techno-industrial system has been imposed on our lives in a brutal way, to colonize our bodies and minds, life has been totally artificialized. New developments, such as nanotechnology, biotechnology, robotics… stand as new forms of domination in which the State spends billions, knowing that this is to secure its perpetuity. They sell us all these projects as the best in the best of all possible worlds, but the only thing that they secure is the continuation of the existing order; the only thing they secure is the murder of the earth, the total dependency on technology, a world where there is no space for autonomy, for freedom; and the murder of millions of people so that here in the first world we can enjoy a "peaceful" life where alienation now rises to aberrant levels.
For all this to function it is necessary to murder the earth by means of extracting so-called "resources" for the production of energy. For this we attacked the company "GDF SUEZ," and the attacks will continue against all that which enslaves us; also for our sisters in England who, having understood that the misery in your lives is caused by the world of commodities, have fiercely launched yourselves to destroy them — from here, strength in your struggle, and may the insurrection that these days ravages England spread everywhere.
FREEDOM FOR BILLY, SILVIA, COSTA AND MARCO!
FREEDOM FOR THE ANTI-AUTHORITARIAN PRISONERS INCARCERATED BY THE GREEK STATE!
To Mark Duggan, never forget, never forgive
Tags: Arson, Costantino Ragusa, GDF Suez, Greece, Insurrection, International Solidarity, Luca Bernasconi, Marco Camenisch, Mark Duggan, Silvia Guerin, Spain, Switzerland, UK
Posted in Direct Action