Posts Tagged 'Arson'
Thursday, November 8th, 2018
ES: ROMA, ITALIA: REPETIDOR DE TELEFONÍA ATACADO EN SOLIDARIDAD CON PASKA, GHESPE, GIOVA Y TODXS LXS DEMÁS PRISIONERXS
IT: ROMA – ATTACCATO RIPETITORE IN SOLIDARIETA A PASKA, GHESPE, GIOVA E TUTTI I COMPAGNI PRIGIONIERI
Note from Instinto Salvaje: In the following claim it mentions what recently happened in Santiago, Chile, with the case of Kevin Garrido, who was murdered on November 2 in the prison of Santiago 1. We remember that this individual was not anti-authoritarian, since that he wrote communiqués whilst in prison his affinity to authoritarian groups called eco-extremists. We publish this action because it is a gesture of solidarity with jailed Italian anarchists, we are not going to silence it, but to clarify information delivered by irresponsible means of counter-information without positioning themselves in this social war.
On a September afternoon, we mobilized to set fire to a telephone repeater. We had in our eyes and in our hearts anger for the death of a person in the forest of Hambach, during the resistance to the eviction of the police. Telecommunications infrastructures are today one of the strategic points of the modern technological domain, functional to the development of other devices and technological structures that are also part of a complex network, in which each element depends on the other. The authoritarian essence of the system is clearly expressed in this technological interdependence. Despite the current tendency to create increasingly autonomous systems, it is still possible to hit an element by putting the whole network out of use with a cascade effect.
With this action we want to launch an invitation to hit the telecommunications networks as an act of solidarity for the anarchist prisoners Paska, Ghespe and Giova, still in prison. (more…)
Tags: Arson, Atacado, International Solidarity, Italy, Operation Panic, Rome, Sabotage, Solidarity Action
Posted in Direct Action
Saturday, October 27th, 2018
Berlin, October 15th, 2018
The anarchist movement has sharpened it's profile. This has meant that the repression against us has intensified in recent years. From Germany, the G20 has triggered an increase in activity by security agencies because they have realized that they are not in control of us and it became so obvious that a response was necessary. The destruction in Hamburg, the lack of compromise and the determination of the hooded ones hit them exactly where it was intended. Uncertainty was triggered there, in a place where people people's property defines themselves and their complicity in a warring society. The luxury automobile or the patrol car on the verge of becoming a pile of charred plastic – a casualness towards the war against the poor, the outcast and the inept.
Following the publication of the text 'The Insurgent's Autism', in issue 9, June 2018 of the eco-anarchist publication Fenrir, we felt an urge to respond. And for a moment we attack the illusion of security in this society in a very specific place to engage in communication and open a space for discussion.
…We do not know what to think regarding what out comrade Alfredo Cospito is saying when he speaks about a vision of an anarchist praxis that would become more dangerous because it keeps on experimenting. We can only speak for ourselves, that we have become more dangerous and are quite successful because the power misjudges our real potential. The willingness to remain alone, the claiming of total responsibility for our destiny… (more…)
Tags: 'Amad Ahmad' Cell FAI-FRI, Arson, Berlin, Fenrir, Germany, Informal Anarchist Federation (FAI), International Revolutionary Front, International Solidarity, Operation Panic, Operation Scripta Manent, Sabotage, Securitas
Posted in Direct Action
Wednesday, October 17th, 2018
We think that direct action is also a way to escape the impasses of the middle-class activist swamp and its unoffensive slogans and common practices that are uncritically accepted and all to often remain a dead end. Alone, associated for a night or for life- according to the needs of each- let's leave the dogmas behind and choose the chaos of life. For the defenders of this world we are criminals. We are simply its enemies and we are proud of it.
On the night of Thursday, October 11th to the 12th, on rue d'Hautpoul in the 19th arrondissement of Paris, a utility van of prison construction company Vinci and a car of SNCF (who hunt the poor and undocumented) were torched.
A thought for Krème, for the comrade incarcerated for the Limoges gendarmerie arson and for the anarchists who are facing trial in Italy (Scripta Manent and Panico).
Long live anarchy, long live freedom!
Tags: Arson, France, International Solidarity, Krème, Operation Scripta Manent, Paris, Sabotage, SNCF, Vinci
Posted in Direct Action
Wednesday, October 17th, 2018
During the night of the 14th to the 15th of October in Frankfurt-Heddernheim we destroyed two vans of the company Vonovia with fire. We took care that no people or other objects were damaged, only the vans were completely destroyed.
Vonovia, the largest real estate company in Germany, is guilty of forcing people out of the districts, including Frankfurt, which continue to be gentrified. The sole driving force of the group, profit maximization via privatization and luxury refurbishments, means that as usual the tenants suffer. Since we still lack the ability to expropriate the group, we wanted to draw attention to the impact that private housing companies and Vonovia itself have and the great damage they cause by sabotaging it's day-to-day business.
The anger against the housing policy is felt everywhere and there have been many attacks surfacing. Therefore, we are in solidarity with the fight against gentrification on many levels and look forward to the Mietwahnsinns demo on October 20th in Frankfurt.
In solidarity with a city for all!
Tags: Arson, Frankfurt, Germany, Sabotage, Vonovia
Posted in Direct Action
Wednesday, October 17th, 2018
Destroy the Prison Society
Spie is a company the builds prisons and more broadly is an essential wheel in the machinery that controls us, monitors us, imprisons us and deports us. So I destroyed one of their trucks this Tuesday, October 16th between 3 and 4AM on Captain André David street in Nantes. 2 plastic bottles filled with a mixture of 2/3 gasoline and a third of engine oil, with blocks of lighters cellotaped against the bottle and placed behind the tires. Then there is more to light and ciao, hasta la malekoum…
Freedom for everyone, with or without papers!
A madman against the state and its minions
Tags: Arson, France, Nantes, Sabotage, SPIE (Prison Industry)
Posted in Direct Action
Wednesday, October 10th, 2018
Repressions and prisons have become part of our lives, as well as of lives of all those recalcitrant comrades who prefer to conduct an offensive struggle against the state and capital, attacking all manifestations of power and destroy the oppressive order. More and more often in the course of this struggle, we hear calls from all corners of the world for solidarity with repressed and imprisoned like-minded people, we hear stories how yet another one of us was put behind bars, beaten, tortured or even killed , and also hear how this or that infrastructure of anarchists was destroyed, plundered, how this or that initiative suffered from raids from punitive groups of the Ministry of Internal Affairs (MVD).
The authorities, like a hundred years ago, are trying to stop us. Today, like yesterday, we are opposed by the guardians of the state structures that were trained and endowed with the "legal right" or in simple words — state dogs loyal to their masters and interested in maintaining the status quo, repressing anarchists and other unruly people. (more…)
Tags: Andrei Chernov, Arman Sagynbaev, Arson, Dmitry Pchelintsev, Ilya Romanov, Ilya Romanov anarchist cell / FAI–IRF, Ilya Shakursky, Informal Anarchist Federation (FAI), International Revolutionary Front, International Solidarity, July Boyarshinov, Kiev, Maxim Ivankin, Mikhail Kulkov, Oleksandr Kolchenko, Sabotage, Sergey Romanov, Ukraine, Vasily Kuksov, Victor Filinkov, Yevgeny Karakashev
Posted in Direct Action
Wednesday, October 10th, 2018
On the night of Wednesday to Thursday, October 4th, a car belonging to Bouygues was torched on rue Laurier in the 17th arrondissement of Paris. Bouygues is well known for their involvement in prison construction.
We are sending these smoke signals to Krem, the last one to face charges for the burnt cop car case, to be incarcerated and subjected to the prison administration. Do not forget about him!
May this small incendiary gesture give strength and courage to the anarchists tortured and imprisoned in Russia, as well as the Basel 18 who will go to trial at the end of October for a wild and vicious stroll one evening in June 2016.

Freedom for all!!

Source

Tags: Arson, Bouygues, France, Krem, Paris, Sabotage, Solidarity Action
Posted in Direct Action
Wednesday, October 10th, 2018
08.10.18: Tonight, we set fire to a dozen Eiffage vehicles and construction machines because this company plays a fundamental role in our prison society.
Eiffage is involved in the producing spaces of constraint and control. They put their claws on most devices within the large invisible cage we live in. Schools, workplaces, housing, courts, hospitals (psychiatric and other), retirement homes, barracks, stadiums and public spaces are all bars that keep us in capitivity.
But if Eiffage is the object or our hatred and vengeful action, it is also, and above all, because they provide the material structure necessary for the punishment industry: prisons, detention centers and juvenile correctional facilities.
The government's new 'prison plan' will soon add 7000 more places to the hell of penitentiary survival.
Proud to appear as a specialist, Eiffage will still make some profitable business. Furiously opposed to all prisons, last night we let them know that we have declared war.
We welcome all the attacks against the mechanics of confinement.
We admire the insubordination that bursts from inside the jails: refusals to return from exercise, hunger strikes, cell destruction, attacks against guards and escapes.
We salute the revolts on the 'outside' such as the recent arson attacks against the vehicles of prison guards and the SPIP (French Prison Services).
Also located in this relative exterior- but for how much longer? -We try to remain on the offensive against all who plan, produce and administer prisons.
To all the mutineers,
Rage and courage to destroy our cages!

Foxes
Tags: Anti-Prison, Arson, Eiffage, France, Isère, Sabotage, Saint-Martin-d'Hères
Posted in Direct Action
Thursday, September 27th, 2018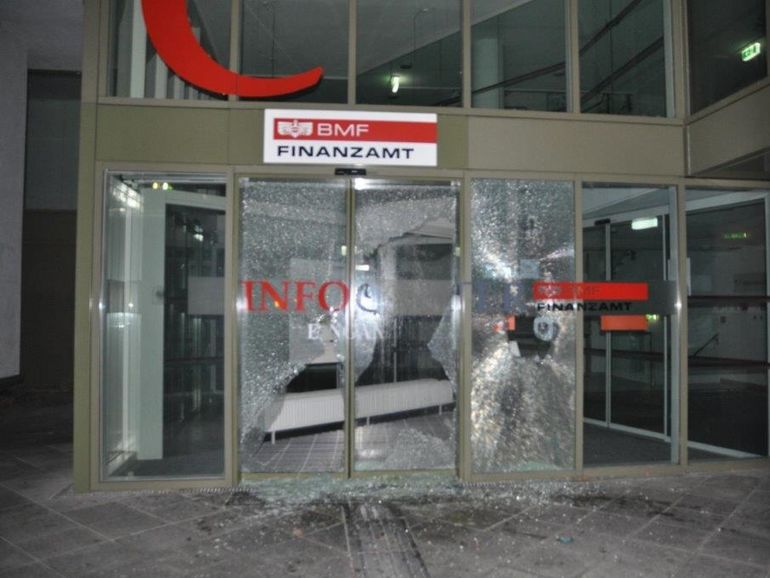 During the night from Sunday to Monday we attacked BIG (Federal Real Estate Company) with fire and paint. They are responsible for building the prison in Puch. We attacked the Hypo bank with paint. They are the symbol of Black / Blue corruption and the speculation policies of the ÖVP (Austrian People's Party) and FPÖ (Freedom Party of Austria). At the Tax Office we smashed windows and threw stink bombs, because we attack the State.
These actions took place in Salzburg on the 16th of September because a few days later the Austrian government is hosting an EU summit meeting to increase security and to introduce surveillance measures that will target migrants from the Middle East.
We shit on the demonstrations where the participants will be filmed, monitored and criminalized. We do not play by the rules of the powerful.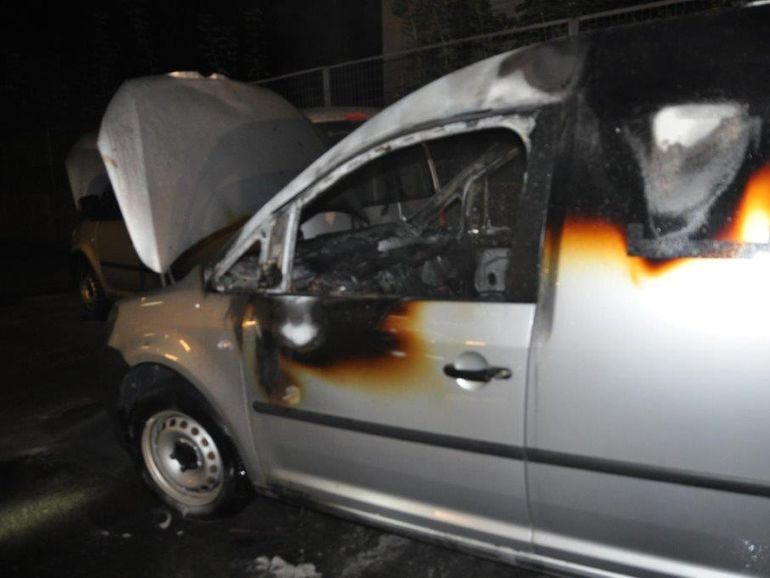 Tags: Arson, Austria, BIG (Federal Real Estate Company), FPÖ (Freedom Party of Austria), Hypo Bank, ÖVP (Austrian People's Party), Sabotage, Salzburg
Posted in Direct Action
Sunday, September 23rd, 2018
We claim responsibility for the incendiary attack against the UMCE's bioterium. With this claim we want to make some points.
1. This action was aimed at the destruction and evacuation of a building used to torture, mistreat and experiment on animals. A place that on several occasions has been boycotted by groups that have rescued animals that were imprisoned there.
Despite these acts of sabotage, the enclosure was once again filled with animals, again and again.
So, when we read a few weeks ago the responsibility claim from the compañerxs who rescued the rats and frogs from this bioterium, we had no doubt that it was time for direct action and fire to close this place.
2. We are individuals who are not connected to the protests or the university. At no time did we seek to terrorize the people who carried out the protests at the UMCE. The action was planned carefully to safeguard the people who live on the university campus and to avoid physically hurting anybody.
3. We claim responsibility to position ourselves and to question the tolerance and complicity that has been involved in the torture of animals in this university, both during and before the protests, and the silence and false criticism of those who remained passive to the confinement and experimentation on animals, allowing it to continue unhindered. Let it be clear, silence and passivity make us accomplices of torture!
4. We carry out direct action as an active form of confrontation against dominion, against passive normality that is complicit in torture, in all its forms. We cannot remain apathetic to animal exploitation. We do not want bigger cages or 'more ethical' conditions for torture, we want to destroy all the cages and all forms of exploitation.
Tomorrow you can be sure that other laboratories will be victims of our fire!
The spirit for animal liberation is unbreakable!
Incendiary Plague
Tags: Animal Liberation, Arson, Chile, Sabotage, Santiago
Posted in Eco Struggle
Saturday, September 22nd, 2018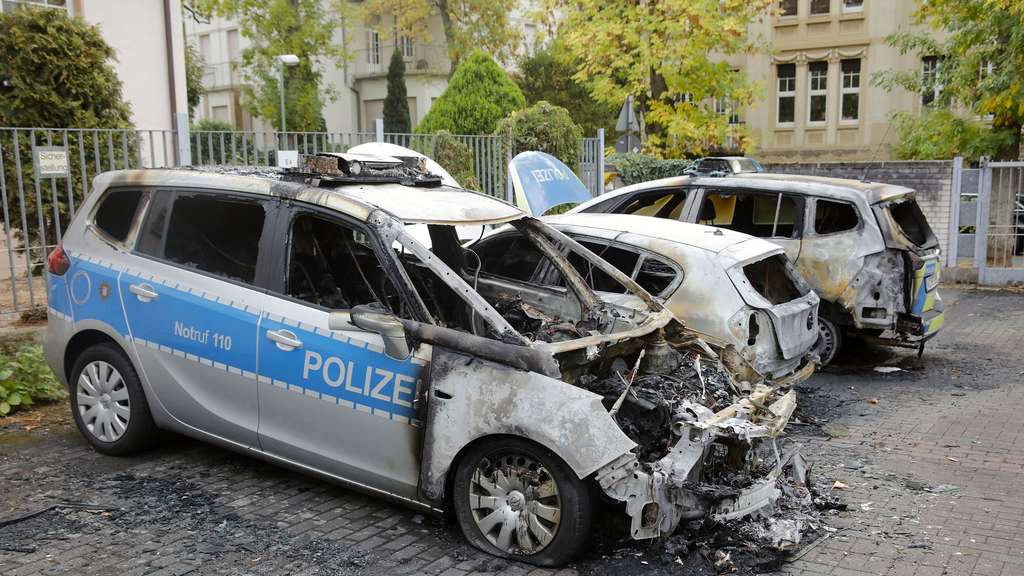 IT: Offenbach, Germania – Incediate auto della polizia contro la repressione e in solidarietà alla resistenza di Hambach
Yes, this is an attack against the police. This is an attack against the state power that the police represent. This is an attack against a regulatory power that for many people means daily humiliation, violence and exclusion.
In Offenbach, many people hate the police. On the night of the 13th to the 14th of September 2018 we torched some cop cars in the parking lot of the cop station in Offenbach am Main.
The letter claiming responsibility which was also sent to the media:
The best way to explain what we do is that everyone can understand the image of burning cop cars.
Yes, this is an attack against the police. This is an attack against the state power that the police represent. This is an attack against a regulatory power that for many people means daily humiliation, violence and exclusion.
In Offenbach, many people hate the police. (more…)
Tags: Arson, Frankfurt, Germany, Hambach Forest, Offenbach, Sabotage
Posted in Direct Action
Sunday, September 2nd, 2018
With this we take responsibility for the incendiary device we placed in front of the building of the German Society for Foreign Politics (DGAP) in Drake-/Rauchstraße (Tiergarten) in the night of 21.8.18.
13 litres of a petrol-oil-mixture shall be the beginning of putting an end to the undisturbed and fearless existence of the DGAP as a political advisor of the German war society.
Since the beginning of this year increased attacks against the war industry, their profiteers and financiers take and took place over all the German controlled territory. We join these attacks and let the fire speak from our side. War starts here! War on the war!
War starts here, in the halls of politics. War starts everywhere, where people throw away their empathy, to profit from the globalized misery. In the war-industry, the thinktanks of science, in the faceless administration of bureaucracy, in the form of uniformed slaves, who receive and obey orders in rank and file. War starts between human beings, when concurrence and aspiration to power reigns over solidarity and the free development of the individual.
German Security – Profit through war
Through the choice of the DGAP as the target of our incendiary device we declare the ideological architects of German-European hegemonic politics, the scientists and forerunners of a security paradigm which works with as well as alongside of warmongers and in this way are our enemies. What they declare about security is not ours. Their foreign policy is a policy of order. And their order needs tanks against uprisings and frigates against inflatable dinghies, it builds fences against the suppressed and works continuously to extend their ongoing misery. (more…)
Tags: Arson, Berlin, G20, Germany, International Solidarity, Kurdish Struggle, Rojava, Sabotage, Solidarity Action
Posted in Direct Action
Saturday, August 25th, 2018
[Noticias de la Guerra Social]
Durante la mañana del 22 de agosto 2018, un doble atentado incendiario sacudió a la red de metro interrumpiendo su servicio justo antes de su horario de apertura, retrasando todo el servicio. A las 6:20hrs cerca de la estación Santa Julia de la Línea 4-A, un neumático encendido habría sido lanzado a las vías del tren subterráneo, desde una pasarela, consiguiendo inhabilitar el servicio. En paralelo cerca de las 6:45hrs en la estación Los Presidentes, Línea 4 también un neumático en llamas habría sido arrojado desde una pasarela, saturando el servicio. (more…)
Tags: Arson, Chile, Sabotage, Santiago
Posted in Direct Action
Friday, August 17th, 2018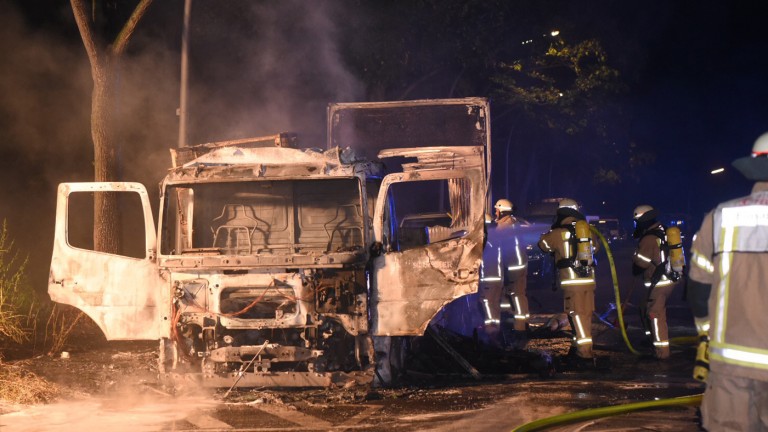 Berlin – Enemy supply lines attacked
We burned a truck of DB Schenker in the night to August 8th in Berlin-Wedding. When Erdogan arrives in Berlin on September 28. / 29., he will find our hostility here. Who rolls out the red carpet for the fascist Erdogan – X Day – is supposed to feel the ashes of the burning city in the nose.
Already since the year 2000, the ESG Elektronicsystem- and Logistics company runs together with its partner Schenker Germany AG (DB Schenker) the headquarters of logistics – called ZEBEL – of the German Armed Forces (Bundeswehr) in Kassel. From this hub with 17.000 square metres occurs the supply of civil partner companies and military repair workshops, which maintain Bundeswehr systems and vehicles. The transport of war material has most priority for DB Schenker. With it, the subsidiary company of Deutsche Bahn is responsible for the logistics and supply with NATO equipment to the Turkish Army in their war against the Kurdish areas. (more…)
Tags: Arson, Deutsche Bahn, G20, International Solidarity, Kurdish Struggle, Sabotage
Posted in Direct Action
Monday, August 13th, 2018
Una noche de julio: los automovilistas de la autopista Acceso Sur vieron inflamarse dos bolas de fuego que se expandieron ante sus ojos. Nuestros artefactos incendiarios funcionaron como estaba previsto, cortando el tránsito unos instantes en la principal vía de comunicación construída por el proyecto IIRSA-COSIPLAN en la zona centro de Chile, destinada al tránsito de mercancias hacia/desde el sur del país.
Madrugada del 01 de agosto: una lluvia de fuego se deja caer sobre una automotora ubicada a un costado de la autopista Vespucio Sur Express. Las bombas incendiarias que arrojamos cayeron como material piroclástico sobre los automóviles en venta.
Porque incendiando las calles saboteamos los canales nerviosos del flujo mercantil.
Porque atacando automotoras dañamos las máquinas que circulan por el cemento destruyendo el planeta como una plaga asesina. Así llevamos el incendio hasta las propias vitrinas donde se pone en venta la mercancía automotriz junto al sueño ciudadano del progreso sobre cuatro ruedas. (more…)
Tags: Arson, Chile, Grupo de conductas anti-sociales "Claudia López", IIRSA (Initiative for the Integration of the Regional Infrastructure of South America), International Solidarity, Sabotage, Santiago
Posted in Direct Action