Posts Tagged 'Arson'
Tuesday, July 3rd, 2018
El lunes 4 de junio instalamos en el recorrido I 01 del Transantiago un artefacto incendiario, que logró su activación pero debido a algún fallo interno no generó el daño deseado. Tras la detonación el chofer baja a los pasajeros y conduce el microbus hacia el terminal de la empresa, donde es periciado por la policía.
Creemos en lo contagioso y reproducible de la acción destructiva, con lo que creamos necesario y tengamos al alcance. Desde la calle, saludamos a lxs grupos e individuxs que han decidido romper la normalidad imperante.
Atacamos en solidaridad con el machi Celestino Córdova, nuevamente en huelga de hambre, desafiando las disposiciones del Estado Chileno y el control de Gendarmería.
Nuestro ataque revive los latidos insurrectos del Punki Mauri, a 9 años de su muerte, la anarquía no acaba ni olvida.

¡Mauricio Morales presente!
¡En solidaridad con lxs presxs de la larga condena!
Célula Incendiaria Zoé Aveilla

Desde la prensa:
http://www.ahoranoticias.cl/noticias/nacional/226351-artefacto-incendiario-es-encontrado-en-bus-del-transantiago.html
https://www.biobiochile.cl/noticias/nacional/region-metropolitana/2018/06/05/investigan-artefacto-incendiario-dejado-al-interior-de-un-bus-del-transantiago-en-maipu.shtml
–

Claim of incendiary device in Transantiago bus
On Monday, June 4, we installed an incendiary device on Transantiago route I 01. The incendiary achieved its activation but due to some internal failure did not generate the desired damage. After the detonation the driver lowered the passengers out and drove the microbus to the terminal of the company, where it is investigated by the police.
We believe in the contagious and reproducible destructive action, with what we have within reach and for what is needed to create. From the street, we greet the groups and individuals who have decided to break the prevailing normality.
We attacked in solidarity with the machi Celestino Córdova, again on hunger-strike, defying the dispositions of the Chilean State and the control of police.
Our attack revives the insurrectionary beats of Punki Mauri, 9 years after his death, anarchy does not end nor forget.

Mauricio Morales present!
In solidarity with the prisoners with long sentences!
Incendiary Cell Zoé Aveilla

Tags: Arson, Chile, Incendiary Cell Zoé Aveilla, Santiago
Posted in Direct Action
Tuesday, July 3rd, 2018
Here we reproduce the report of the incendiary attack from 'Black and Green Arsonists' – their claim of responsibility for Green Nemesis Act 3. We note that the rhetoric of 'indiscriminate attack' can lend itself to the green authoritarianism of the Church of Eco-Extremism, and whilst the attacks don't possess the attributes of an authoritarian action it is worth being clear. There is a big difference between indiscriminately attacking the enemies and indiscriminately attacking random individuals. The communique has several interesting points about animal/earth liberationist struggle and we are happy to reproduce it. Until all are free.

Anonymous (delayed) report:
On October 28, we made a double hit in the area of ​​Zografou, burning a truck / refrigerator for meat transportation, with an incendiary mechanism. We also attacked a hunter's car by breaking and burning gasoline in its interior. We also take responsibility for the Green Nemesis Act 3.
We indiscriminately attack what contributes to the incarceration, abuse and misery of animals. Whether this is a cosmetic showcase or a butcher, etc.
ANTHROPOCENTRISM
People from the very old age used the animals for their benefit. With the development of technology and its means, the exploitation of animals grew, while the value of life was undermined. Anthropocentrism is the one that leads millions of animals to death in order to become food, and not only. Workshops full of experimental animals. Also people still use animals for their own fun. (more…)
Tags: Arson, Athens, Greece, Green Nemesis project, Sabotage
Posted in Direct Action
Tuesday, July 3rd, 2018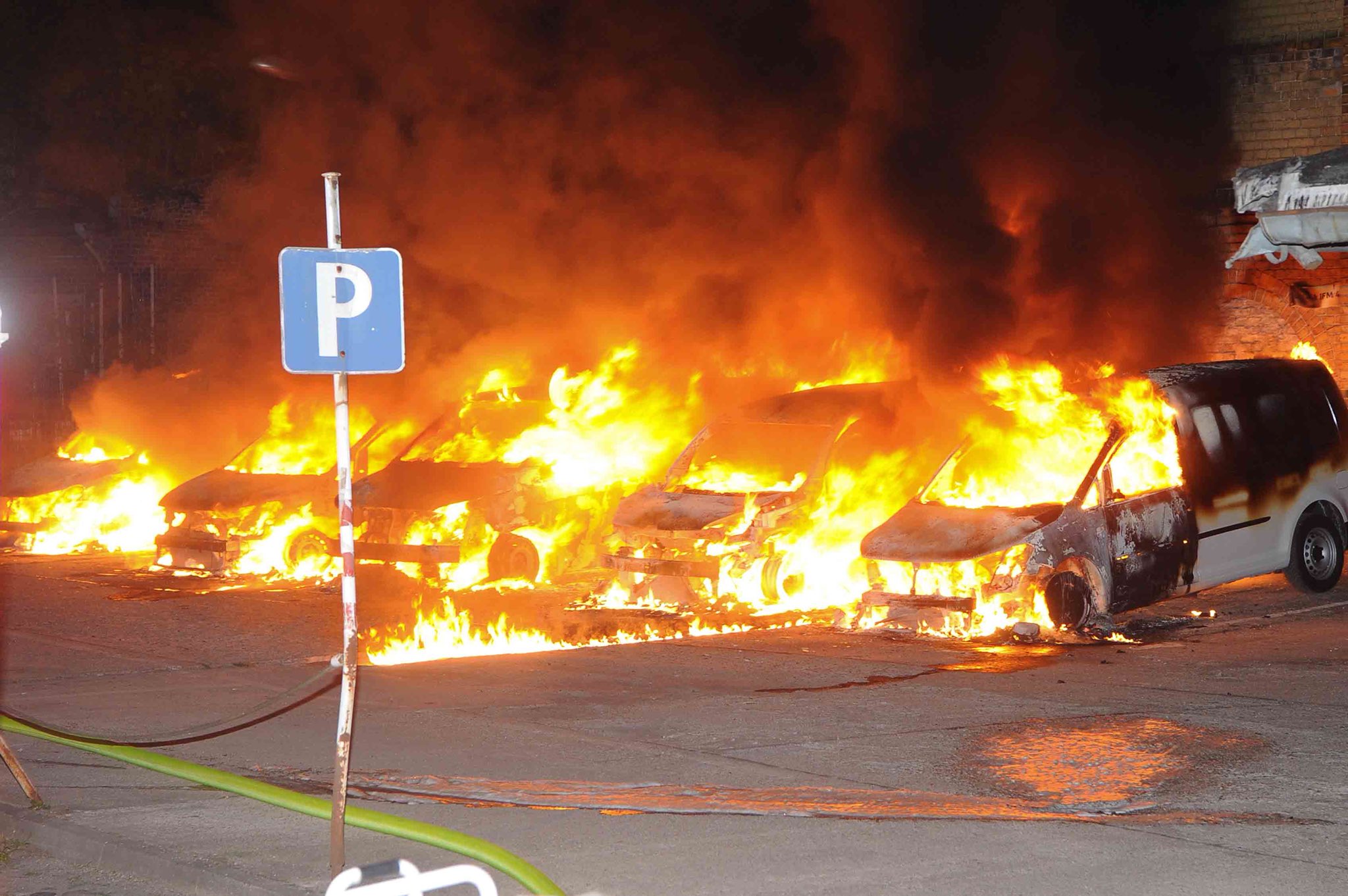 Berlin, June 2018
Restructuring power via digitization is in full swing. Hardly anything that cannot be complemented by a 'smart' in its name and thus a new place in this world has escaped this process. Everything is networked. Cameras, sensors and chips are constantly sending and letting things communicate. 'Big Data' is the currency of tomorrow. Even our relationships, actions and thinking are permanently exposed to digital access. Reduced to information, we feed the algorithms of the machines, helping to make the future manageable and controllable.
It's not always easy to hold on to the possibility of destroying this system as the rapid pace of the technological attack is widening and the net of domination stretches around us. All the more important are the moments of counterattack to reject the powerlessness that is spreading in the face of current developments. So we are all the more pleased that the answers to the misery produced by the colonization of the world via techno-industrial hegemony are found again and again in Berlin. Within the context of the planned Google campus in Kreuzberg, a fight has developed that is not only aimed at the tech giants and their universe, but also at the social level. Self-organization, direct communication and the power of the attack are the means of choice. Various acts of sabotage, such as the one last March by 'Vulkangruppe NetzHerrschaft zerreißen' have shown that the infrastructure of the flow of goods, communication and data networks is vulnerable and can be disrupted by arson attacks against cable networks and sensitive radio antennas. (more…)
Tags: Arson, Berlin, Deutsche Bahn, Germany, Telekom, Vodafone
Posted in Direct Action
Tuesday, November 14th, 2017
Flensburg, November 10, 2017
On the night of 10.11.2017, a patrol car at Harrislee police station (Flensburg area) was torched. Solidarity with the prisoners from the G20 processes that began on calendar week 45. Freedom for Fabio, Christian and all other comrades affected by repression! Freedom for all political prisoners, you are not forgotten!
via Chronik, Insurrection News.
*Translation note: This action was originally posted on Indymedia in Germany but was removed due to censorship.
Tags: Arson, Fuck the Police, G20, Germany, Schleswig-Holstein, Solidarity Action
Posted in Direct Action
Tuesday, November 14th, 2017
14.11.17
We wanted to dedicate this action to all our kidnapped friends, or those who have been kidnapped once, by setting fire to 4 trucks from one of the biggest milk companys in finland named valio. The action took place in a city named tampere in the early morning hours of this tuesday. Many of our cell have wanted to target this company for a long time. We think that it is not necessary to explain too much the reason of our selection: the milk industry has a long history of destruction, cruelty and torture on this planet, its ecosystem and their habitants. Like our friends the cows and the forests. Who are cruelly abused and murdered or destroyed by the production of milk."
via biteback.
Tags: ALF, Arson, Finland, Sabotage, Tampere, Valio
Posted in Direct Action
Thursday, October 26th, 2017
Note from Insurrection News, 25.10.17: During the night of October 23rd to 24th, a fire destroyed twenty vehicles belonging to the company Enedis (formerly known as ERDF), the electric power grid operator for most of France. Graffiti was left at the scene reading 'LINKY GET OUT OF HERE!". The next day Le Populaire du Center, a mainstream newspaper in the region announced that they had received a short communique from an anonymous group of women, using the acronym DECCLIN, claiming responsibility for the attack.
According to the communique, the women who carried out the arson attack did so to protest the lack of action by the authorities against Linky so-called 'smart' meters. Linky meters are basically a type of mini-computer similar to meters used in other parts of the world that are installed in homes to allow power companies to monitor electricity useage. (more…)
Tags: Arson, Car Burning, Endedis, France, Limoges
Posted in Direct Action
Tuesday, October 24th, 2017
Lucrosum et decorum est pro patria facere?
[Is it profitable and proper to produce for the fatherland?]
They don't speak Latin in Belgium.
At about 2 am on Monday 25th September the residents of Malines (a town half way between Brussels and Anvers) were woken by a string of detonations. As they looked out of their windows they saw a huge fire blazing in the buildings of a local company. In spite of the intervention of many fire brigade vehicles, nothing could be done. Of the 5,000 square metres of the company, nothing remained. Everything destroyed. A hard blow for Varec, a company that produces tracks for tanks and tyres for military vehicles and is a well-known supplier of the Armed Forces in the United States. (more…)
Tags: Anti-Militarism, Arson, Belgium, Forges, Genk, Malines, Teksam, Thales, Varec, Zeebrugge
Posted in Direct Action
Saturday, September 30th, 2017
Action in support of the comrades raided in Bure.
In response to the searches in Bure, EDF (French nuclear electric power company, largely owned by the French state) was heated up. An EDF car was set on fire during the night of Friday, September 22 outside the EDF center near the DGSI (General Directorate for Internal Security) and the Chamber of Agriculture.
At the scene one could read: STOP THE SEARCHES IN BURE! Solidarity with the struggle in Bure, and the comrades who are undergoing repression. HANDS OFF BURE!
To be continued…

via Attaque, translated by Insurrection News
Tags: Anti-Nuclear, Arson, Bure, EDF Energy, Solidarity Action
Posted in Direct Action
Wednesday, September 27th, 2017
Following the publication of a communiqué claiming responsibility for a fire in a garage at a Grenoble police depot (gendarmerie) during the night of September 20th/21st, Indymedia Grenoble and Indymedia Nantes have been threatened by the French police. The administrators of these sites have received emails from the Central Office for the Fight Against Crime Linked to Information Technology and Communication (OCLCTIC) demanding that the concerned articles be removed from the sites under (in) 24 hours, otherwise rendering the sites liable to blocking and dereferencing.
The communiqué's authors explained that the garage fire had been carried out as "part of a wave of attacks in solidarity with people currently under trial" such as the Quai de Valmy police car arson.
In this Grenoble arson attack, several dozen vehicles have been burned (torched). Here is the communiqué itself: (more…)
Tags: Arson, France, Fuck the Police, Grenoble, Nante, Repression
Posted in Social Control
Monday, September 25th, 2017
Processo Auto Bruciata – Attaccata Gendarmeria di Grenoble [it]
[Traducido por Sin Banderas Ni Fronteras desde Insurrection News]
21.09.17: Este jueves a las tres de la mañana, el segundo día del juicio por el coche quemado.
Entramos en el cuartel de gendarmería de Vigny-Musset. Se quemaron 6 camionetas de intervención y dos camiones de logística. Más de 1500 metros cuadrados del garaje y el almacén fueron destruidos.
Esta acción es parte de una ola de ataques en solidaridad con personas que están en juicio en este momento.
Fuerza para Kara y Krem.
Unos pensamientos para Damien, recientemente golpeado por los policías.
Cualquiera que sea el resultado del juicio, la policía y la justicia seguirán siendo atacados.
Nuestra hostilidad es un fuego que se extiende.
Los Nocturnos
–
Imágenes y video:
France: Incendiary Solidarity (Responsibility Claim for the Arson Attack Against the Grenoble Gendarmerie)
Tags: Arson, France, Fuck the Police, Grenoble
Posted in Direct Action
Wednesday, September 13th, 2017
Inspired by the riots in Hamburg, we burned two luxury cars outside of a condo in St-Henri during the night of July 13. In a neighbourhood where people have to choose between food and rent, don't be surprised when we set fire to your flagrant displays of class privilege.
We used a simple method: fire sticks half-covered in fire-paste. All the material can be found in a camping store. We lit the fire-paste covered end and placed it in the top corners of the car's grill, between the headlights. We used two sticks per car. The fire is mostly invisible until plastic or motor oil catches fire, giving you time to leave unseen. Be careful: the fire can easily spread to cars parked close-by. (more…)
Tags: Arson, Canada, Car Burning, Gentrification, Montreal
Posted in Direct Action
Wednesday, September 13th, 2017
We are confronting technology to the extent that it is a tool in the hand of the bosses and capitalism, taking away our capabilities practical or not. Their target is to establish any kind of technology as crucial for each one of us, to enslave each mind and body to one or the other technological means that at first sight makes our lives easier and more pleasant.
The real consequence on the other hand, is the destruction of social and human relations and of the earth and nature. All of this for the development of robust social control and making profits.
An inner part of the technological complex is telecommunications, which cause people many harmful symptoms. (more…)
Tags: Anarchist Cell – Destruction of the Existent, Arson, Greece, Sabotage, Thessaloniki
Posted in Direct Action
Wednesday, September 13th, 2017
Orbeil (Puy-de-Dôme), France – Summer barbecues of repeaters (22/08/2017)
As you reach to the top of the hill there's the Great Bear right above your head. And then, below, you see the lights of Issoire, which make war on the stars in the sky. And above all, above everything, there's a repeater next to you, which reminds you that you didn't come to recite poetry. Light up the fire…
In the early hours of 22nd August we set fire up there on the hill. In Moidias, two repeaters that serve the telephone line from Issore to Brioude and the broadcasting of many radio frequencies went up in flames. As we couldn't turn off the city lights, at least we switched off the smartphones .
Because this world is too narrow, it aims at the normalization, control, sterilization and digitalization of any individuality. Because we wanted to give ourselves a breath of air, feel alive rather than suffocate. True, this desire for destruction could have been satisfied with an attack on Red Cross premises, a breeding farm or a migrant detention centre. We attack so as not to be yet another architect of power's structures. We attack for immediate pleasure and not for a hypothetical radiant future.
As pointed out in other claims, technology – which keeps us immobile and colonizes our imagination – is one of the pillars of civilization. If we agree with this, we cannot be satisfied with a mere exchange of ideas. So we looked for sensitive points on which to act. By burning repeaters, we not only aim at inflicting the greatest damage on the promoters of technological prosthesis. It's a way of communicating, interacting, sabotaging civilization. (more…)
Tags: Arson, France, Orbeil (Puy-de-Dôme), Sabotage
Posted in Direct Action
Wednesday, August 23rd, 2017
In the early morning on August 16th Clint Durnay's truck, which is shrouded in white supremacist and neo-fascist imagery, was torched. this golden state skinhead (gss) member was attacked at his home: 5032 kenneth ave., fair oaks , ca. many hours later it was confirmed that there was extensive damage to his truck.
This attack is in direct response to June 26th and the rising fascist tide in the united states.
At the state capitol in Sacramento, ca on june 26th, 2016 approximately 20 gss and traditionalist workers party (twp) members had their rally shut down by hundreds of brave individuals who showed up to confront and halt white supremacy head on. frustrated at the shut down of their rally, gss and twp advanced upon the anti-fascist protesters and violently attacked them with knives, metal rods, and wooden poles. this vicious attack sent 9 anti-fascist individuals to the hospital many of whom were in critical condition. the entirety of the individuals attacked were either people of color or trans folks. this shines a light upon the exceptionally targeted act of racist and transphobic violence that it was. there are photos that clearly depict Clint Durnay attacking anti-fascists that day.
We understand June 26th wasn't the beginning, and sadly it won't be the end. from Sacramento to Charlottesville, it's clear the fascist movement is growing and will stop at nothing short of murder to quell our resistance to them.
They cannot continue to attack, kill, and stifle us! We will fight back!
For a world free of fascism in all of it's oppressive manifestations!
Love and solidarity,

Anti-nazis at night (anan)
Tags: Arson, California, Clint Durnay, Neo-Nazis, Sacramento, USA
Posted in Direct Action
Thursday, August 3rd, 2017
Taking responsibility – The burning of a SKAI journalist's car

"As long as necessity is socially dreamed, dreaming will remain a social necessity. The spectacle is the bad dream of a modern society in chains and ultimately expresses nothing more than its wish for sleep. The spectacle is the guardian of that sleep. "
Guy Debord
We are taking responsibility for placing an incendiary device on G.Papahristos' car outside his house at agios dimitrios, at dawn on 18/4.
G.Papahristos is a piece of human garbage of the journalist circles. His career is similar to others of his ilk. A political all-rounder who, in each period, is called upon to offer his services to the relevant authoritarian interests, be they political or economic, as his professional ventures, from the 'green' DOL to the neo-liberal SKAI, demonstrate. (more…)
Tags: Action Cell/Metropolis Fallen – FAI/IRF, Arson, Athens, Car Burning, Fuck the Mainstream Media, Greece, Informal Anarchist Federation (FAI), International Revolutionary Front
Posted in Direct Action