Posts Tagged 'Artificial Intelligence (AI)'
Tuesday, September 17th, 2019
IT: Contributo per l'incontro internazionale contro le tecno-scienze (Italia – luglio 2019) dell'anarchico Dino Giagtzoglou, prigioniero dello stato greco
GR: Ντίνος Γιαγτζόγλου: Συνεισφορά Στη Διεθνή Συνάντηση Ενάντια Στις Τεχνο-Επιστήμες
ES: Contribución a la reunión internacional contra las tecnociencias (Italia – julio de 2019) del anarquista Dino Giagtzoglou, prisionero del estado griego
Contribution to the international meeting against the techno-sciences (Italy – July 2019) by anarchist Dino Giagtzoglou, prisoner of the Greek state
Comrades
I start this letter with a certainty. I am sure that our life experiences are very different as well as the starting points of the struggle of each and every one. I also think that with many of you we have different ideological origins and disagreements or contrasts on individual issues. But I firmly believe that the will to resist the plans of Domination, stemming from the awareness of the fundamental social alienation that alienates us from ourselves and nature as a whole, and the revolutionary passion for the destruction of the mega-machine of Power unite us in a common vision of a world free from the shackles of civilization. By going through a variety of analyzes, striding kilometer distances and eliminating in practice the language obstacles, since we recognize that there is the community of struggle for total liberation, we can really keep the flame of the revolt lit and the wager of the social revolution open. I therefore send a warm greeting to the Resistenze Al Nanomondo collective and to all the participants in the international meeting against the techno-sciences, expressing in advance my eagerness to fill the gaps in knowledge, that my absence will undoubtedly cause, by studying your reflections, your conclusions and everything you can get me through the actions and collaborations that will come from your fermentations in Italy.
But let's take things in turn. For 21 months now, I have been pre-trial detained in the Greek prisons because I made the decision, like many fighters around the world, to realize my ideas by taking a battle position in the social war and fighting against power, here and now. So I am in prison because I put my ideas into practice beyond the limits of the law and certainly not by accident. (more…)
Tags: Anti-technology, Artificial Intelligence (AI), Biotechnology, Greece, Italy, Konstantinos Yagtzoglou, Letter, Nanotechnology, Resistenze Al Nanomondo, Technological Singularity, Transhumanism
Posted in Eco Struggle
Thursday, May 16th, 2019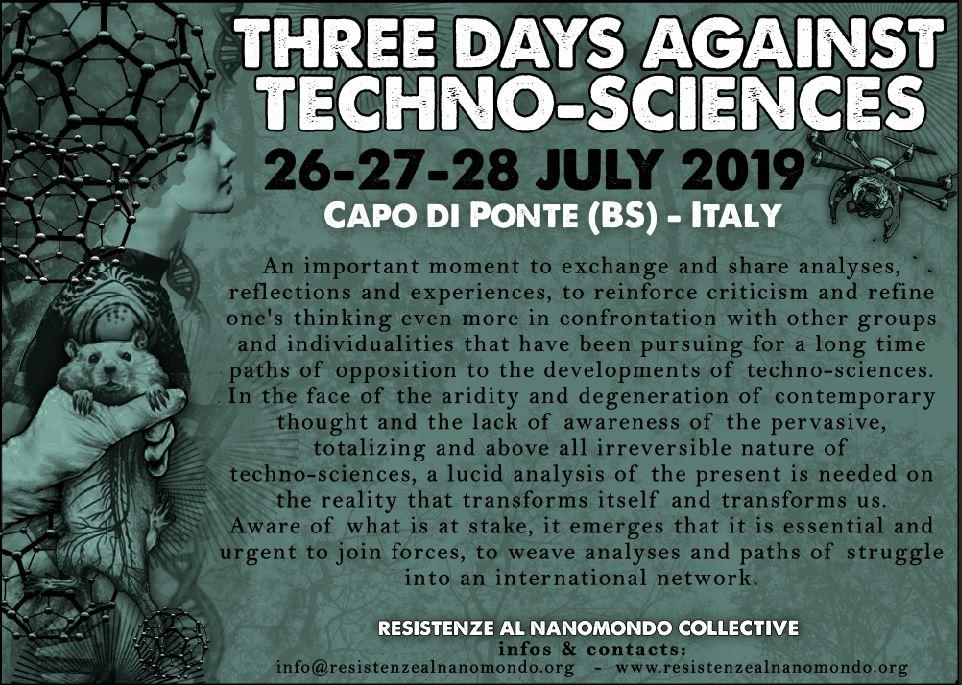 "Capo di Ponte Theme Park" in Prada – Capo di Ponte (BS)
FRIDAY 26TH
13.00 lunch
14.30 Presentation of the meeting
15.00 In the temple of Janus. About the relationship between technology, exploitation and racism
For the Italics Janus had two faces: a bearded one depicting the sun and a beardless one depicting the moon. For the Romans, the sun and the moon soon became peace and war. The temple of Janus, in the Roman Forum, was closed in time of peace and open in time of war. Today the door of that temple is always closed because of the war and the unnamed of the present time. Embodied in the technological apparatus and its silent injunctions, war is the planetary movement of digital democracy. Racism is its "moment of truth", in that it explicitly affirms what its machines have never stopped doing to the colonial peoples. The algorithm command prepares the chief's orders. The abstraction from the body, from the earth, from nature produces the comfortable bulwark of national belonging and the desire to lynch the different as a backlash. What was experienced in the colonies goes back.
Some of the editors of the anarchist magazine "I Giorni e le Notti" (Days and Nights) (Italy)
(more…)
Tags: Anarchist Gatherings, Anti-technology, Artificial Intelligence (AI), Biotechnology, Italy, Nanotechnology, Technological Singularity
Posted in Eco Struggle
Tuesday, April 30th, 2019
Por tercer año consecutivo tendrá lugar en el CSOA La Gatonera (C/Valentín Llaguno, 32) el Encuentro anarquista contra el sistema tecnoindustrial. Este encuentro surge debido a la necesidad de generar
un discurso contra el sistema de dominación en el que nos hayamos, dicho sistema impregna el mundo que nos rodea bajo una lógica tecnocientífica donde todo es medible, cuantificable y por tanto, está sujeto a un control. Dicho desarrollo se basa en la sustitución de los procesos naturales por procesos técnicos sometiendo así a los individuos, animales y el ecosistema a la mega máquina. Cómo anarquistas consideramos que la lucha debe integrar la necesidad de proteger nuestro medio y recuperar la autonomía que este sistema nos ha arrebatado. (more…)
Tags: Anarchist Gathering, Anti-technology, Artificial Intelligence (AI), Biotechnology, Madrid, Nanotechnology, Spain, Transhumanism
Posted in Autonomy
Tuesday, April 30th, 2019
The program will come soon
Today more than ever, we feel the necessity to organize a meeting involving comrades from different countries already engaged in a critique and in opposition to developments of techno-sciences. An important moment to exchange and share analyses, reflections and experiences, to reinforce criticism and refine one's thinking even more in confrontation with other groups and individualities that have been pursuing for a long time paths of opposition to the developments of techno-sciences.
In the face of the aridity and degeneration of contemporary thought and the lack of awareness of the pervasive, totalizing and above all irreversible nature of techno-sciences, a lucid analysis of the present is needed on the reality that transforms itself and transforms us. (more…)
Tags: Anarchist Gathering, Anti-technology, Artificial Intelligence (AI), Biotechnology, Italy, Nanotechnology, Technological Singularity, Transhumanism
Posted in Autonomy
Wednesday, December 26th, 2018
IT – Italia: Attaccato Istituto Italiano di Tecnologia
(12/24/2018)
In the early hours of December 24th we attacked the Italian Institute of Technology (IIT).
H24 [security company] surveillance at the receptions and private security in the car were not a good deterrent; we were determined to attack you and we did it! The IIT is the flagship of the Italian state and is a foundation for technological development and national policies in favor of science and technology. It works to strengthen the markets and policies of looting and devastation every day committed by capital and government.
It carries out neuroscience studies, "brain technologies" and genetic research for the manipulation of living things. Active in nanotechnology, conducting research on nanomaterials and their use, as well as on the development of materials for converting and storing energy, which today's production system needs in huge quantities to maintain the speed of the mad rush of progress.
In addition to iCub, in the field of robotics and artificial intelligence, they perfect robots for industrial production.
In the service of capital and the police state that assures it, they are engaged in the creation of systems of "computer vision" for systems useful for identification and social control. (more…)
Tags: Anti-technology, Artificial Intelligence (AI), Genoa, Informal Anarchist Federation (FAI), International Revolutionary Front, Italy, Nanotechnology, Sabotage
Posted in Direct Action
Sunday, November 11th, 2018
THE FUTURE IS ALREADY HERE
TWO DAYS OF RESISTANCE TO SINGULARITY
Artificial intelligence, databases, augmented reality, high security cameras, digital ecosystems, drones, smartphones with smart advertisements and smart houses that steal our thoughts and turn them into merchandise, spectacle, suppression.
Surveillance. Order and security.
The laboratory escapes the four walls- the laboratory is the whole planet.
All this is what the yuppie entrepreneurs, academics, CEOs and scientists are shouting timidly but yet outrageously from Silicon Valley to Athens. On the 19th of November at the SingularityU Summit the enthusiasts of the technological dystopia will gather at Megaro Mousikis. Therefore, dystopia is here, dystopia is now. Singularity Summit is a gathering that will teach to the aspiring leaders and future entrepreneurs how they will thrive in an environment of competition and high technology. The foundation for all of this are the biggest multinational database companies in the world that govern the whole planet and reign in Silicon Valley, such as Google, Yahoo and Apple. Their dream is being presented worldwide by various arrogant scientists, such as Peter Diamantis, and is being spread to the elites of the international scene. Last year in Milan, now in Athens. The sponsors of this year's summit here are Kathimerini and SKAI- we've always disliked them and they never miss out on reminding us- and the research center Demokritos, that test on non-human animals.
The future is already here, but us, our thoughts, our fears, our resistances are also here. Nothing is over – the future is still unwritten.
EVENT-PRESENTATION about the SingularityU Summit and the nanoworld
by the group Resistenze al nanomondo (Italy)
SUNDAY 18/11 (location soon) at 19:00
DEMONSTRATION against the SingularityU Summit
MONDAY 19/11 Parko Eleutherias (Vassilisis Sofias, by Megaro Mousikis) at 11:30
cooperation against the future
initiative from damala fera
traces of fire
Notes from Act for free:
Italy : NOT JUST A MEETING. 2-3 October 2018. Singularity University Summit
[September 27, 2017 Rho-Milan] Not just any meeting – Italy
Tags: Anti-technology, Artificial Intelligence (AI), Athens, Biotechnology, Demo, Greece, Intelligent Surveillance, Nanotechnology, SingularityU Summit, Technological Singularity
Posted in Eco Struggle
Thursday, November 8th, 2018
Corporate media article detailing new research and development by the scientists of social control in the service of power:
An EU-funded project is developing an 'intelligent control system' to test third-country nationals who reach the EU's external borders, including a sophisticated analysis of their facial gestures.
The Intelligent Portable Border Control System, iBorderCtrl, is a series of multiple protocols and computer procedures which are meant to scan faces and flag 'suspicious' reactions of travellers who lie about their reasons for entering the Schengen area.
The AI-based screening system will check up to 38 facial micro-gestures of travellers – like eye direction, pupil dilation, minimal voice changes and micro-expressions undetectable to human guards – which were collected during a series of questions asked by the border agents at the checkpoints. (more…)
Tags: Anti-technology, Artificial Intelligence (AI), Biometrics, CCTV, EU, iBorderCtrl, Intelligent Surveillance, Migrant Struggle, Racism, Repression
Posted in No Borders