Posts Tagged 'Attack'
Saturday, June 2nd, 2012
Homes of the governors party in Catalonia have been attacked
Nowadays two young people are in prison due to the strong protest in the March general strike. These people are activists from Sants neighborhood in Barcelona.
Políticos are trying to stop with the protest in Catalonia with that kind of repression, but they are receiving the opposite effect.
As a consequence of those imprisonments, some homes of the party governor of Catalonia have been attacked, with fire and cobblestones. At Mataró, Sabadell and Premià de Mar, we have seen the rage as a consequence of their repression.
(Mataró – translation "who sows misery collects the rage")
Catalan:
Han estat atacades les seus del partit governant a Catalunya
Avui en dia dues persones es troben a la presó a causa de la forta protesta a la vaga general del març passat. Aquestes persones són activistes del barri de Sants de Barcelona. Ells estan tractant d'aturar la protesta a Catalunya amb aquest tipus de repressió, però el que estan aconseguint és recollir la ràbia del poble.
Com a conseqüència d'aquestes empresonaments, algunes de les seus del partit
governador de Catalunya han estat atacades amb foc i pedres. A Mataró, Sabadell i Premià de Mar, hem vist la ràbia del poble en conseqüència a la seva repressió.
Tags: Attack, Catalunya, Mataro, Sabadell
Posted in Direct Action
Tuesday, May 29th, 2012
Updated link: New PDF zine from the editors of Conspiracion Acrata…
Download from Zine Library (75 MB)
Compañer@s,

This publication is a compilation of news from the social war in Mexico during the year 2011. It took us a bit longer than we had hoped to complete it, but we feel it is still valid as a tool to communicate the actions and communique's of Anarchist Action groups throughout Mexico to the English-speaking world.
Over the last few years, Anarchist direct action has been expanding throughout Mexico, both in quantity and in force. 2011 was in no way an exception, with every-day conflict with the State more and more evident. We make special note of "Black September" in which the social war waged by Anarchist Action groups was at its strongest. We hope that 2012 can be even stronger, not only in Mexico, but in every corner of the Globe. Through these communiques we can learn that we don't need to be a "professional" to carry out attacks such as these, but that anyone is capable of attacking the State and its symbols of power. (more…)
Tags: Arson, Attack, Black September, Braulio Duran Gonzalez, Conspiracion Acrata, Fuck the Law, Gabriel Pombo da Silva, Insurrection, International Network of Action and Solidarity, Mexico, PDF, Riots, Sabotage, Social Insurrection, Zine
Posted in Library
Saturday, May 19th, 2012

15 May 2012
In the district of Potsdam an attack took place which resulted in the BMW of the SPD MEP Dagmar Roth-Behrendt, (who was until early 2012, Vice President of the European Parliament), being set on fire. The car was parked in front of the property on which resides the Social Democrat since 2007. Her husband is Horst Reichenbach, the financial expert who is the director of "Task Force Greece" of the European Commission. Reichenbach's crisis management team oversees the implementation of the austerity measures agreed by the Greek state and the European Commission, International Monetary Fund and the European Central Bank.
In addition to the BMW being set on fire, a can of red paint was thrown at the house. The autonomous group "The Friends of Loukanikos"* took responsibility.
*Loukanikos is one of several so-called "Riot Dogs". This is a dog that is seen at protests and violent riots in Greece. He is a symbol of the struggle against austerity measures dictated by the International Monetary Fund and the European Central Bank.

Tags: Arson, Attack, Car Burning, Dagmar Roth-Behrendt, EU Task-Force, Germany, Horst Reichenbach, The Friends of Loukanikos
Posted in Direct Action
Thursday, April 12th, 2012


21 March 2012
From the press:
A bomb of artisan manufacturing has exploited this Wednesday in front of the Indonesia Embassy in Paris, without causing casualties, although damage.

"The Embassy of Indonesia in Paris reported an explosion at one of the intersections near the building to the 5.20 hours", has confirmed the Coordinating Minister for Legal Affairs, political and security of Indonesia, Djoko Suyanrto.
Suyanrto has indicated that there is no victims among people working in the diplomatic headquarters. "The Ambassador is in place, but has been unable to move away", the Indonesian official said. Nevertheless, yes there has been material damage, the Windows are broken.
Questioned about the reasons for this attack, Suyanrto has pointed out that, for the moment, is unknown what was the target of the bomb.
Police sources consulted by the daily Le Parisien reported that several witnesses have seen three men placed a package near the Embassy of Indonesia in Paris, located in the 16th district.
Tags: Attack, France, Indonesia, Paris
Posted in Direct Action
Tuesday, April 3rd, 2012
From Liberación Total (March 27, 2012) via This is our Job:
Street protests against the attacks of capitalist States on our living conditions have recently spread throughout Europe. Despite the strikes, actions, and massive demonstrations, and despite the broad movements that haven't even expressed any grand revolutionary aspirations beyond the mere defense of minimum basic necessities, the States have responded with indifference.
Appealing to confusing economic formulas, numbers, statistics, and abstract concepts, those States have tried to locate the problem's origin in inaccessible, metaphysical realities. However, the origin and causes of our daily problems have no metaphysical foundation whatsoever. Poverty, exploitation, repression, and systematic abuse are the results of very concrete structures, of specific decisions taken by specific people who have specific interests.
One such structure is called the College of Business Administration and Management (ESADE). Nestled in the middle of the wealthy Pedralbes neighborhood, this school produces a stream of executives who—day after day—order, manage, and benefit from the destruction of the lives of the great majority of the population. Each year, the school propels social predators into the world, and for the rest of their lives they dedicate themselves to plundering and trampling on this country's exploited from their institutional (like the presidency of the Generalitat itself, occupied by Artur Mas) or corporate positions.
Facing a context of intensifying exploitation and instability, and facing the new, deeply serious attack brought on by the recent Labor Reform, we have decided to respond by pointing out those responsible for the situation we are suffering through. Therefore, last Wednesday, March 21, we decided to carry out an attack that forced the interruption of the school's functioning and caused its evacuation. The action was specifically designed (through the location of the device's placement, the quality and quantity of explosive material used, etc.) to not cause injuries. Our goal, apart from singling out an entire social network of exploiters, was to sabotage the offensive, insulting social peace prevailing in the wealthy neighborhoods, which are totally hermetic and oblivious to the anguish and suffering generated by their decisions and privileges.
Having reached this point, we pose a question for reflection. Since the press have noted that students, professors, and area residents got away unscathed, how can we describe the everyday experience of those who live in poor neighborhoods? If being evacuated from your school for a few hours means getting away unscathed, what should we presume to call what thousands of evicted people feel—those who sleep in the street, those who are psychiatrized for not bearing the pressure, those who are brutally beaten for protesting, even peacefully? What do we call the suffering of the excluded, tortured in prisons and Immigrant Detention Centers? What do reporters call what the families of people murdered by the police have experienced, experience, and continue to experience?
If we have given them a "scare," what are they doing to us?
We, and more people every day, know full well who the real terrorists are. They are the ones whom the press define as honorable people, the ones who have their luxurious offices on Plaza Sant Jaume or Avenida Diagonal, the ones who live in mansions in Pedralbes and Sant Cugat and send their sons and daughters to ESADE. They are the ones who, even though they have it all, dare to overstep their own legal limits and steal more of what they theoretically get according to their own rules.
We warn that if the State isn't willing to withdraw its attacks, then we won't be willing to withdraw our resistance. If they are prepared to bring back the policies and living conditions of the last century for us, then we will be prepared to revive the weapons and tactics of that era for them. And if they believe they will go right through us—not just our group, but all of society—without resistance or rebellion, then they don't know the history of our people.
STRUGGLE IS THE ONLY PATH.

—Barcelona (The Rose of Fire), Spanish State, March 2012
Tags: Attack, Barcelona, Catalunya, ESADE Business School
Posted in Direct Action
Friday, December 30th, 2011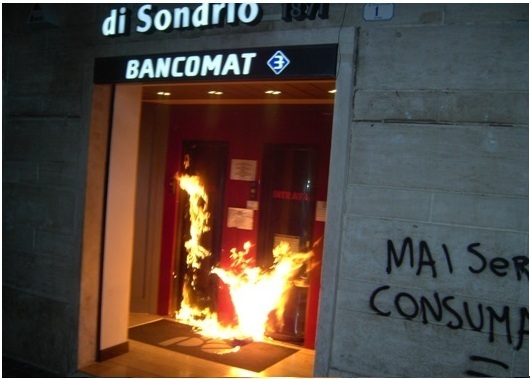 From vivalaanarquia, translated by war on society (it is a partial translation):
12/22/2011 Frascati (Rome)
The newly inaugurated DeutscheBank in the main plaza of Frascati was hit, the windows and ATMs were destroyed. In the place slogans were written: "work is consumption (A)," "Struggle for anarchy," "The Earth is wild!"
Banco Popular of Sondrio was burned a few yards from the DeutscheBank on the same night, it was attacked with a homemade incendiary bomb. By means of the local papers it has been discovered unexpectedly that the bomb exploded in the entrance and allowed the fire to spread, even inside of the bank, which was completely destroyed. Bank Closed! Slogans were left "against technological-industrial domination (A)," "slaves to consumption," "Viva anarchy!"
* * * * *

We have chosen the path to follow, you already know at what risk, but, above all, we have chosen to give ourselves an expectation of life consistent with our ideas and our instincts.
…
Our struggle against the domination of technology and industrial waste, toward total liberation, placed at the forefront of our lives.
Scientific progress and technology are always feeding on life and the earth, producing environmental disasters, of domination and control, confirming our reasons and all that we have in mind and putting into practice from this "progress"… its destruction. With the available weapons, incendiary or explosive attack on the whole system of energy, centralized and on each side, where most damage, without thinking twice, perhaps we feel bad for not having done more each time, with each attack.
…
Everyone screams what you feel inside, we will not stop for a single day calling for the person on the side or the warriors of Earth, brothers or combatants. We were not born in the forest, but we are ready to unleash hell for a tree to not be cut, to free an animal or to stop a monstrous industry.
Solidarity, prisoner support, support for the prisoners in prisons and the struggle against domination push us to go every day and to never pull back from the enemy. It is not necessary nor desired to feel in the minority, we do not want the consent of the honest citizens, we have nothing to ask of the governments … they do not accept certain compromises.
All the individual actions and the anarchists were murdered, wounded, imprisoned or free are part of us and of pushing armed insurgency, the Animal Liberation Front and the Earth Liberation Front and the individual cells and informal across the world.
LONG LIVE ANARCHY!
LONG LIVE THE INTERNATIONAL REVOLUTIONARY FRONT!
EARTH wild and free!
Informal Anarchist Federation
Subversive Individualism Anti-civilization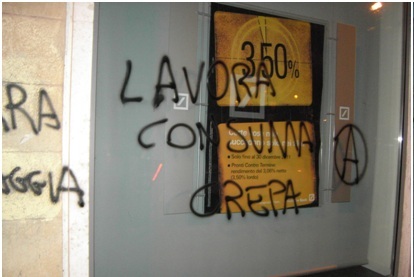 WORK – CONSUME – DROP DEAD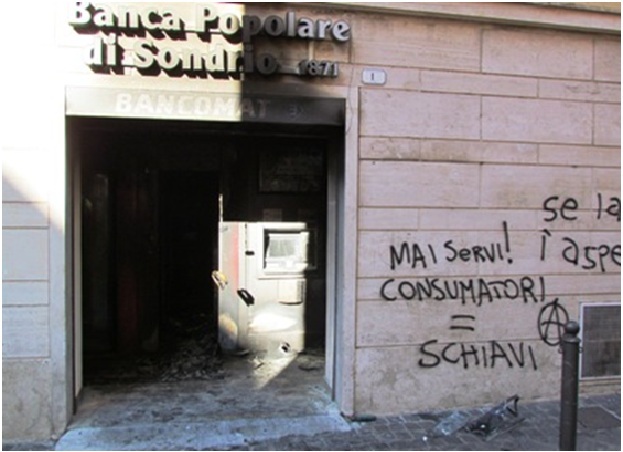 NEVER SERVE! / CONSUMERS = SLAVES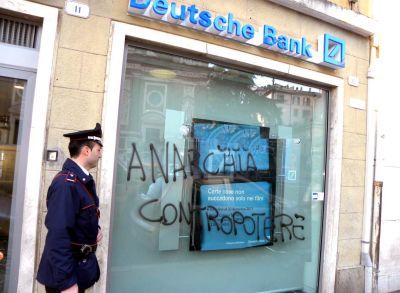 ANARCHY / COUNTERPOWER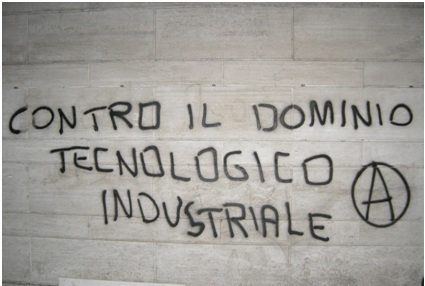 AGAINST TECHNOLOGICAL-INDUSTRIAL DOMINATION
Tags: Attack, FAI - Subversive Individualism Anti-civilization, Frascati, Informal Anarchist Federation (FAI), International Revolutionary Front, Italy, Rome
Posted in Direct Action
Friday, October 21st, 2011
19 October 2011
Last Wednesday night we attacked the office of Australian Labour Party MP, Jenny Macklin, Minister for Indigenous affairs. We did this because the Australian government is a government of occupation and ongoing colonization of the Indigenous people of this country. Our actions are in solidarity with the Indigenous people who have been invaded, whose land has been stolen, who have been forcibly removed from their homelands, from their families, whose cultures and languages have been irreversibly damaged, and who are still experiencing ongoing waves of attacks at the hands of our colonial government, of this very office of "Indigenous Affairs".
We also carried out this attack because as non-Indigenous citizens of this country we are coerced into a situation where we materially benefit from the colonization of Indigenous peoples. We have learnt to deny the reality of the origins of our material wealth – we are the "lucky country". The myth of luck disguises the reality of war and occupation upon which our lives are built. We are born into a society that tells us that this colonial activity is a good thing, that it is "for us", that it is "for them". That capitalist, materialist culture is "good". Is "beneficial".
That everyone deserves the "great Australian dream" built on the spoils of colonial war. But the dream is a myth. We act because we want to break the monotony of this existence. We do not believe that material comfort is the sole quality which makes life "good". We act because we do not believe in the cultural superiority of capitalism, and reject the missionary logic of assimilating Indigenous peoples to provide them with a "better" life. We do not believe a life based solely on consumption that is devoid of real emotion, community, individuality and joy is a "better" way of life. This society is boring. It's empty, unfulfilling, dissatisfying. It is built on a web of lies, pain and suffering, haunted by the almost erased memories of ways of life we have lost.
We reject this culture of denial. We reject a society that is telling us that we must accept the categories given to us by society, be it either "oppressed" or "oppressor", "colonized" or "coloniser". We are against colonization. We are against the assimilation of the world into white supremacist capitalist culture. Everyone is resisting this system every day in countless different ways, from the seemingly insignificant like every time someone shoplifts from Woolworths, doesn't buy a ticket on the train, turns off their tv because they're sick of the mindless bullshit; to community walk-offs, and rioting in the streets. This is one way we are choosing to not only resist but intensify our resistance and our lives. Through this action we are reclaiming our dignity and clearly stating our refusal to be "obedient" citizens of colonial Australia.
– Unaustralians
Tags: Attack, Australia, Indigenous Struggle, Jenny Macklin
Posted in Direct Action
Tuesday, October 4th, 2011
From Liberación Total:
To all arsonists and like-minded antagonists, the third communiqué from the CCF-FAI of Mexico:
Like the joint communiqué by 11 Mexican insurrectionary anarchist and eco-anarchist groups says: "We are launching a frontal attack on the system of domination, causing maximum damage with minimum risk."

We have the capacity to rebel against a criminal, terrorist, unjust system, even until the final consequences!
On September 15, while BLACK SEPTEMBER was developing in Mexico, a new path of informal struggle against domination was being laid out: the Conspiracy of Cells of Fire (CCF) faction of the Informal Anarchist Federation of Mexico (FAI-M). Our first arson was carried out on September 27 by the Mexico City cells, who unleashed liberatory fire at the warehouse on Avenida Pacífico between Miguel Ángel de Quevedo and Eje 10 Sur in the Coyoacán area of Mexico City. War on the existent order had begun. The next day, we torched the Airport Staff training school of the National College of Professional Technical Education (CONALEP), located in the Third Ward of Arenal in the Venustiano Carranza area of Mexico City. On September 30, in an action coordinated between the Mexico City cells and the Jalisco cells, the CCF of Mexico simultaneously attacked capital in Mexico City and Jalisco, hitting where it hurts most: merchandise. Liberatory fire was born at the Wal-Mart on Calle Luis Donaldo Colosio in the Buenavista suburb of Cuauhtémoc, Mexico City and at the Pabellón shopping mall on Avenida Patria in Guadalajara, Jalisco.
Recent statements by Mexico City chief prosecutor Miguel Ángel Mancera continue to downplay the anarchist actions taking place in the capital. This is the same old strategy used by the PRD and Marcelo Ebrad to censor our struggle, as the Mexico City cells claimed responsibility for their attack in a communiqué released on the same day as the action. The Jalisco chief prosecutor's office is also adding to the silence and whitewashing that conceals our struggle, as the Jalisco cells publicized their attack that same night as well.
With our acts of propaganda during the events of this BLACK SEPTEMBER, we take retribution for comrade Tortuga, comrade Tamara, and our comrade prisoners in Mexico and the rest of the world.
The struggle has begun. Let's make sure it spreads everywhere.
Take a single comrade prisoner during tomorrow's march and we will make the cities burn!
We are all accomplices of the Conspiracy of Cells of Fire!
Long live the Conspiracy of Cells of Fire!
Long live the Informal Anarchist Federation of Mexico!
Long live the fighting insurrectionist and eco-anarchist groups!
Long live liberatory fire and avenging gunpowder!
Be strong, captive comrades in the Bombings Case!
Be strong, imprisoned comrades from the Conspiracy of Cells of Fire!
Be strong, comrades from Epanastatikos Agonas [Revolutionary Struggle]!
Be strong, comrade Tortuga!
Be strong, comrade Tamara!
Be strong, comrade Gabriel!
Against the technological system of domination!
For the demolition of prisons!
For the destruction of everything that dominates us!
For Total Liberation!
For international anarchist coordination!
For Anarchy!
— Conspiracy of Cells of Fire (Jalisco); October 1, 2011
Tags: Arson, Attack, Conspiracy of Cells of Fire, Conspiracy of Cells of Fire - Mexico, Gabriel Pombo da Silva, Informal Anarchist Federation - Mexico (FAI-M), Informal Anarchist Federation (FAI), International Solidarity, Luciano Pitronello Schuffeneger, Mexico, Mexico City, Tamara
Posted in Direct Action
Sunday, October 2nd, 2011
27 September 2011
"In the early hours of Tuesday morning (27/09/11) McDonalds drive thru in Bedminster was visited and thoroughly smashed, with all it's windows attacked.
Fuck Mcdonalds and the death culture they perpetuate and symbolise globally, which means:
abuse and mass slaughter for millions of animals caged all their miserable lives, poisonous food, sickness and cancer for humans, mind numbing drudgery and workplace control and discipline for workers treated like slaves, destruction for the environment and of course massive profit for capitalists.
If you thought smashing up Mcdonalds had gone out of anticapitalist fashion, think again. We don't forget or forgive.
For earth, animal and human liberation."
ALF / ELF
Tags: ALF, Attack, Bedminster, ELF, Fuck McDonalds, UK
Posted in Direct Action
Wednesday, May 4th, 2011
4 April 2011
"last night we torched three big vans inside the "secured" compound of the probation office in saint pauls – just off stokes croft, bristol. we recognise the probation service as a soft-cog of the workings of the state. keeping tabs and tags on you, trying to make you calm down, when all within your vision and grasp reeks of the shit they would have us swallow. they don't crack your skull or wear a padded uniform but they sure as hell sell you out as a living breathing human being, these robots of the courts should be treated with contempt at every chance.
the defenders of the existing order – and indeed its' false critics – want stoke's croft /saint pauls to return to the quasi-militarized surveyed "normality" of Capitalist Peace. for those who break with this cage and choose to start their battle for complete liberation here and now in their surroundings, who choose the fierce joy and sometimes overwhelming passion of a life striking against the tensions mediating their existence, this Peace can no longer exist. WE DO NOT WANT TO RETURN TO THEIR "NORMALITY", NOR COULD WE WITHOUT FEELING THE WEIGHT IN OUR HEARTS OF THE LIE. as we have seen, this tension is not felt by us only…
in revenge and solidarity for all the arrested in the stoke's croft riots and telepathic heights eviction, for the taunton squatters, for those raided in london, brighton, edinburgh, bologna… but mostly for ourselves.
we also send our warmest anarchist greetings to our unknown comrades in fire in nottingham, and welcome the recent attacks on banks in birmingham. we return the salute from the 1st may statement from linz.
until next time"
informal anarchists
Tags: Attack, Bristol, Probation, Solidarity Action, St.Pauls, Stokes Croft, UK
Posted in Direct Action
Sunday, February 27th, 2011
26.02.11 Bristol
"through struggle and attack, comrades and rebels everywhere solidarity to you all.
as we self manage our own struggle we stand against everything that exploits all of us, in a(nother) city full of actual physical mechanisms of exploitation and domination, targets are everywhere and in direct accordance with their being, so comes our attack, a 'smart' cctv van was paintstripped in broad daylight, later that night internet and telecommunications cables were set on fire.
for comrades who lost their lives in this war we remain in combat together, with the fire we share in our hearts. solidarity in our attack forever."
Bristol anarchists
Tags: Attack, Bristol, CCTV, Telecommunications, UK
Posted in Direct Action
Friday, February 25th, 2011
Final statement Conspiracy of Cells of Fire, Dutch Cell
"The attacks on the fascists of Rabobank is dedicated with all our fire to our brothers of the prisoner's cell of the members of Conspiracy of Cells of Fire and the oppressed people of the world. Our comrades and the honest minority of dignified revolutionary Persons political and civil, are not just a piece of our struggle, are not only an aspect of our action, but their choices, attitudes and dignity are the struggle itself as a whole, they are the substance.
Attacks we are claiming:
• June 2010- setting the tower in fire in Utrecht (Netherlands)
• October 2010- setting the tower in fire in Utrecht (Netherlands)
• February 2011-setting the tower in fire and attacks on the website of Rabobank in Utrecht (Netherlands)
Justice is a spider web, catching small prey and swallowing them, while allowing the big reptiles to penetrate and dominate it. Whoever disagrees can visit the prisons to see all these drug addicts and poor devils that fill them up and look around in there to find any businessman or politician who is responsible for the biggest robberies and the most brutal degradation of our lives.
We do not believe in a capitalist system that kills, steal, murder, bring modern fascism, bring racism, bring wars in to our lives. We do not believe in a system that helps banks for their mistakes, while people starving from hunger. We do not believe in a political fascist system that so called leaders of the people, and at the same time stealing from the same society for their interests.
Why Rabobank,
The fascists from Rabobank invest in the arms industry (the arms that they are investing is also going to the police, military in the Netherlands, Egypt, Greece, Israel, Libya, Algeria and other countries). Rabobank calls this justified action, and we also get Shell, ING, ABN-Amro, Randstad. All these mentioned fascists companies of the system are paramount in their view that they justify the action.
The attacks on Rabobank justify what we call action! Future attacks on Shell, ING, ABN-Amro, Randstad these companies are accountable!
In Egypt, Tunisia, Algeria, Libya, the above mentioned companies and / or subsidiaries that have been attacked by splinter cells called the Fire. A truth that is not released by the representatives of the system. This shows our strong international solidarity.
We count Rabobank guilty for the dead of thousands of people, including children. Like the most fascist company's, they are saying that they behavior justifying action when they are investing. Our action against the Rabobank is justifying action.
We are continuing our attacks and against the banks, executions of the so called government leaders of the Netherlands, against fascists party like PVV, VVD, CDA and the ass licking left parties."
Conspiracy of Cells of Fire, Dutch Cell
Tags: Attack, Conspiracy of Cells of Fire, Conspiracy of Cells of Fire : Imprisoned Members Cell, Netherlands, Rabobank, Utrecht
Posted in Direct Action
Thursday, February 17th, 2011
6 February 2011
"On Sunday Night, windows were smashed at Atos Origin offices in Beeston. Also, a graffitti message reading "Atos profits from oppression" was left on the entrance to the site. Atos is responsible for designing and implementing the tests used to determine eligability for incapacity benefits etc, and so this was an act of solidarity with all those who have had their lives turned upside down by being thrown off their benefits. Atos make a profit out of our misery.
As the government increasingly pushes its ruthless agenda in cuts to social welfare, it is companies such as Atos who are paid to do the dirty work. We are being forced into work, to chain ourselves to an unstable, exploitative and inhuman labour market that makes us ill. It will always be politicians and business owners who benefit from our wage slavery. Poeple who refuse, or are unable, to be pliant and flexible www.ambien-online-now.com workers are being punished for not conforming to the demands of the economic system, and it is from this oppression that companies such as Atos profit.
We believe that the work that healthcare professionals carry out for Atos is in direct conflict with the duty of care that should be shown to people in need of medical help. Atos' money has paid for their ethics to be put aside so that profit can be made for the company at the expense of people's health.
Atos are becoming experts in the business of identifying groups to contain and exclude them. They were one of the groups who tendered for the government's ID cards contracts whilst the scheme was still going ahead.
This is a message to Atos and other companies who profit from this system of denial and abuse that our rage will bring down your empires."
Some Angry People
Tags: Anti-cuts, Atos, Attack, Beeston, Disability, Incapacity Benefits, UK
Posted in Direct Action
Wednesday, February 16th, 2011
This text is the claim of responsibility for the attack against Justice Minister Harris Kastanidis on the 2 February by the Informal Anarchist Federation / Conspiracy of Cells of Fire.
2 February 2011 – Greek police defused a parcel bomb addressed to Justice Minister Harris Kastanidis, two months after the first wave of similar bombs sent to embassies in Athens and governments abroad. The suspect package was found after security checks at the ministry in Athens. "It contained explosives, a battery and some wires. The mechanism found was similar to the November parcel bombs," said a police official, who declined to be named. The trial of over a dozen accused and 'guilty' comrades of the Conspiracy of Cells of Fire, which has claimed a spate of bomb attacks since 2008 including the November parcel bombs, started under high security within the walls of an Koridallos prison in Athens on 17 January. For English language updates straight from the hard-working translators, go to the constantly updated actforfreedomnow or the CCF trial archives.
–
I do not feel loss for my arrest…
I do not feel loss for the clandestinity …
I do not feel loss that I am imprisoned…
I do not feel loss for the Struggle that we conduct…
Michalis Nikolopoulos, Conspiracy of Cells of Fire : Imprisoned Members Cell
The real defeat in a war is not captivity in the hands of the enemy, but capitulation, loss of conscience, surrender, penitence, statements of loyalty. Because that is where the game of power is played, in the moral decline and depreciation of its dissident opponents. It wants to force rebels to bend, to kneel, to conciliate to make clear that "every struggle is lost, all resistance is useless". However the only fight that is lost is the one that never began. Its commands are clear. "You must not think, you must not resist, you must not fight". And where its rhetoric does not work, either with the illusion of consuming frenzy, or with the threat of the violence of truncheons, guns and tear gas, there are the judicial "clergies" and correctional establishments ready "to accommodate" the most undisciplined for an indefinite time. They also want to send this message "we decide and we give the orders" inside the special political martial court that is judging the case of the Revolutionary Organization Conspiracy of Cells of Fire.
There is no need for somebody to be an anti-authoritarian in order to see the overt fascism that prevails in the special court of Koridallos prison. The refusal to install microphones for the recording of the trial and the fact that the cops hold all the identities of the people who want to express their solidarity and stand next to the defendants are the "virtues" of the admirable world of democracy. Those that with their predatory appetites have "mortgaged" the life of an entire population, now speak about the "unsustainable cost of recording the trial" while simultaneously they are restoring in modern history the publication of new testimonial beliefs, by keeping the identities of the people that want to attend the trial, obviously in order to use them in no "innocent" way, but for the input of the Police and the Counter-terrorist department.
We will be brief.
The comrades of the Conspiracy of Cells of Fire : Imprisoned Members Cell and the dignified rebels P. Masouras and G. Karagianidis have highlighted the political and repressive policies of this trial a thousand times better than us.
The essential wager that is being played at this moment on the part of the anarchists, revolutionaries, those in solidarity and undisciplined is to not allow power to make one more step towards strengthening its coup d'etat.
The cell of the imprisoned members of C.C.F and the dignified comrades placed a limit of life and dignity by beginning a HUNGER STRIKE on 3-2-2011.
"This struggle is given, not for a precarious victory in this court, but in order for it to be imposed as an non-negotiable term in all the political trials that will follow, the possibility of the unhindered attendance by all the people who want to express their solidarity. A fight that comes to a peak with the start of the hunger strike"
Gerasimos Tsakalos- Michalis Nikolopoulos, Conspiracy of Cells of Fire : Imprisoned Members Cell
The comrades turned the court of power into a victory not only for the Conspiracy of Cells of Fire but also for the wider revolutionary front. Everything that happened and everything that will happen constitutes the new legacy of courts and prosecutions that the system is preparing for its political opponents.
Comrades…! In this court is being conducted one of the most important battles that goes far beyond the action and history of a revolutionary organization. The state "tests" the resistance and tolerance of the radical-subversive area.
Certain coincidences, such as the facility with which the police and the public prosecutors fill the TV screens and the front pages of the newspapers with photographs of suspects, where it is proved afterward that these persons, such as the anarchist Fee Meyer or K.S. that was arrested as a suspect for a robbery in Thessaloniki and turn out to have no relation with these "charges" against them, are not accidental. (We add that for that particular robbery the anarchist Rami Surianos was arrested and for sure if he is innocent he deserves our solidarity, if guilty he deserve it a thousand times more). The new fashion of arrests of persons that are accused for unknown-anonymous terrorist groups, such as the case of the 6 and the arrest of the 4 comrades in Thessaloniki, is also not accidental.
This witticism of the unknown-anonymous terrorist group, as anyone can understand, is an "elastic argument" that stretches and opens depending on the appetites and interests of power and the law enforcement authorities in order to justify the huge increase in future charges (special provisions of terrorism law).
It was heard from the public prosecutor that in the case of F. Meyer "it is not reasonable to possess texts written by suspects for terrorism". That is to say the possession of texts that are already published, that contain thoughts, concerns, proposals, regardless whether somebody agrees or not, is considered a punishable offence. Thus perhaps the season of the thought police is not far away. We must not forget that what gets used by the eye, gets used by the brain as well. Anyone can remember the reactions that existed to the first special court years ago for the Revolutionary Organisation 17 November, and compare them with the present trial. Now the fact that special courts exist seems to be normal and only a few react (a fact that honours them).
Here exactly we must pass to the counter-attack. Exactly here we must stop getting used to retreating. Exactly here we must stop fearing the ghost of repression. The repression exists because action exists. Qualitative, quantitative and unrepentant action.
The imprisoned members of C.C.F. and the dignified comrades sparked something off. Our brothers from Thessaloniki of the case of the 4 together with G. Skouloudis as well as Stelios and Panos Anastasiadis (the NADIR case) turned their solidarity into action by participating in the abstention from taking prison food. Here we want to add that the 4 comrades D. Dimtsiadis, D. Fessas, M. Tsilianidis, S. Tzifkas gave "lessons" in revolutionary dignity, disdaining and offending the judiciaries with their proud attitude as they did not give one word, refusing to recognize the process. We remind them that they are always in our thoughts and that the dangerous journey of revolution has not finished…

Now it is our time. We, "the free", all of us, anarchists and revolutionaries that say that we refuse this world, that we are fighting for freedom, that we are demolishing their false god that is money because ours is the human being, will we leave our comrades alone? Will we tolerate the fascist delirium of this worthless president (of the court) and her collaborators that pronounce "death" sentences for the comrades that go on hunger strike?
There is no need for anyone to answer to himself with emotion. There is no space for emotion, or for humanitarian sympathies. It is a matter of a clear conscience. If the values and the moral code of persons that still believe in anarchy and her beauty, allows them to delay their attack and make up excuses, they should stay away from the affair We will not wait for them neither will history ….
Now or never there is a need for our most decisive step. We say again that here is being played a total wager from the side of power. The development and the way in which the court of C.C.F turns out will be the guide for the trials to come. What remains unanswered will be considered a defeat. Their wager is in our hand, to make it our opportunity. Because times can be hard, our brothers can risk their lives with the hunger strike, many comrades can be imprisoned in the cells of democracy, however it is always one more chance for attack, for the destruction of this system. Of course, the need for strategy is now more clear than never before. Lightning never travels in straight repetitive lines. It bursts out suddenly. Even a phenomenal "silence", is not a retreat, but the silence before the thunder…
As a minimal expression of solidarity to the struggle of the imprisoned members of Conspiracy of Cells of Fire and the dignified comrades we sent an incendiary package to Justice Minister Harris Kastanidis who is responsible for the refusal of one of the two requirements of our comrades for the recording of the transcript of the trial. We will not answer his lies concerning the quantity of allegedly powerful explosives that he claimed for reasons of communication policy in order to present himself as victim. We will make do with repeating that the precautionary measures were the same as those of the previous 14 packets so that it is impossible for anyone uninvolved to be injured.
Moreover, we want to say a few things about the recent events in the Law faculty.
This is the season of murderers. When the walls of a building have more value than 300 tortured souls, then it is sure that something is not going well. We have spoken about the contradictions of immigrants in a previous text, however when the majority of Greek society cares more about the windows and doors of a building, then do not search for criminals and murderers in the thieves and the desperate. Look around you, they speak the Greek language fluently and some go around in expensive cars wearing ties. Because you should know that when somebody is cruel in words, it rarely stops there …
Finally we declare that from now the illegal sector of Conspiracy of Cells of Fire will also participate in the International Revolutionary Front – Informal Anarchist Federation. The explosive expression of solidarity at international level for the trial of C.C.F. and also the publications that put organizations such as the FLT-FLA (Mexico) [example 1 & 2 etc] and Praxedis G. Guerrero in their texts, we consider that they initiate powerful bases for the opening of a revolutionary dialogue through action, but also proposals of co-ordination.
We send therefore the most powerful revolutionary greeting to the comrades revolutionaries in all the world with the belief that our voices and action can meet and coordinate our total attack against power.
The sabotages in Turkey and the attacks of the informal cells of insurrection, the attacks in Chile, the letters with bullets in Madrid and Barcelona, the paint bombs on the Greek embassy in Austria, the arson of courts in Switzerland, the acts of solidarity in Poland, in Bristol, in London, but also in other places- heart of the capitalistic civilization (sources of counter-information culmine, viva la anarquia, act for freedom, 325, safa.espiv e.t.c.) fill us with strength and courage in order to continue. And not only, but also in order to commit through our participation in the Informal Anarchist Federation – International Revolutionary Front that the quiet days are over for ever.
At the same moment the internal enemy in Greece, is developing, becoming more effective and is organizing for its confrontation with the system. The attacks of the International Revolutionary Front – Deviant Behaviour for the Spread of Revolutionary Terrorism, Informal Anarchist Federation – Cell of Aggressive Line, Informal Anarchist Federation – Cell of Revolutionary Solidarity, Warriors of Revolutionary Conscience, Commando Lambros Foundas, revolutionary formations for the spread of chaos and other comrades, show that the prospect of international networking in the formation of the Informal Anarchist Federation and its values is effective here and now. Now every anarchist group can participate in this open platform of action and thought, contributing with its own way in its development and co-ordination. Also we send our warm solidarity to the anarchists Monica Caballero and Andrea Urzua Cid who are to be found in the women's prisons of Chile and to all the arrested for the bombs – case, to the anarchists Adrian Magdaleno and Braulio Arturo Duran (jailed in Mexico), to our brother Gabriel Pombo Da Silva in prison of Germany and to Billy, Costa, Silvia, M. Camenich (prisons of Switzerland).
Finally we embrace our own people, Michalis, Gerasimos, Panagiotis, Xaris, Takis, we grit our teeth and give them this promise and commitment:
As long as the sun rises from the east we will not stop fighting for your release even for a moment, to be all together again in the most beautiful plans that we left unfinished in order to fulfil the most wild and "mad" adventure of revolution. Our day will come…
We dedicate you these few words to you…
"Love danger. What harder? That is what I want.
Which road will you take? The most rugged uphill.
Love responsibility
Do not look for friends, look for comrades.
Do not ask "will we win?"… "will we be defeated? … just FIGHT…"
Illegal sector
Informal Anarchist Federation / Conspiracy of Cells of Fire
Tags: Athens, Attack, Conspiracy of Cells of Fire, Greece, Hunger Strike, Informal Anarchist Federation (FAI), Informal Global Federation / Anarchist Network, International Revolutionary Front, International Solidarity, Justice Minister Harris Kastanidis, Letter-bombs
Posted in Cognitive Liberty, Direct Action
Tuesday, February 15th, 2011
As of right now, four Belarussian anarchists are under arrest, accused of having organised a series of direct actions 2009-2010.
Everything started long before this past September (2010). The years 2009-2010 were rich in radical actions claimed by Belarussian anarchists. Such as:
*an illegal anti-militarist demonstration in September 2009 against a mutual Russian-Belarusian war exercise, when a Joint Staff was attacked with a smoke grenade.
* an attack on a Minsk casino using paint bulbs and flares in protest of the relocation of most Russian casinos to Belarus after the law banning casinos in Russia was passed.
* an attack on a police station in Soligorsk during the days of common action against the police (windows were broken and a flare was thrown inside).
* an attack on the Headquarters of the Trade Union Federation on the 1st May with the statement that the state and this formal organisation uses workers in its interests, and doesn't defend their rights, often preventing workers from cooperating with each other and organizing strikes.
* an attack on a branch of Belarusbank as a protest against the financial system in the world (molotov-cocktails).
and finally
* an attack on the Russian embassy in Minsk as a solidarity action with Khimki arrestees on the 30th August 2010 where a car belonging to the embassy was burnt.
This was the last drop for the regime as the attack was carried out in a period of harsh antagonism between the leaders of Russia and Belarus. Before the action was claimed by anarchists each country had already blamed the other one for having maneuvered the provocation.
On August 3rd 2010 8 people in 3 different flats were detained and 7 of them were put in a detention center for 9 days. During this period another radical action took place
* an attack on the detention center with the statement to set free all detainees. The attackers set fire to a door of the detention centre. Later the video is removed from youtube.
After 9 days 5 of the 7 people are set free, but other people are detained in the meantime. One of them, Aliaksandr Frantskevich, is accused of the attack on the police station in Soligorsk. He admits that he was filming the event. The other guy, Mikalaj Dziadok, is kept in the detention facility for different reasons till September 24, when he is accused of organising last year's anti-militarist action. In the meantime they also find witnesses who claim that he also organised an attack on the casino and the House of Trade Unions. All episodes mentioned above are now united under one case. Mikalaj denies his guilt.
* In October the KGB quarters in Bobrujsk are attacked with molotov cocktails.
They take a guy who lives in the neighbourhood, Sergej Sliusar, and keep him for 10 days without accusations. (He had also been detained for 9 days in September)
On the 4th of November Maxim Vetkin is arrested and accused of an attack on the Russian embassy and on Belarusbank. He admits his guilt and says that he was participating also in the attack on the bank. He is also giving testimony against other people, so we have withdrawn support from him.
On the 17th of November Denis Bystrik is detained, where he is told that Maxim gave testimony that he was filming the action at the Russian embassy. He admits his fault but is set free without accusations so that he can contact one of the other suspects, Ihar Alinevich, and have him detained, but eventually the plot is not successful.
On the 29th of November Ihar Alinevich is detained in Moscow, when trying to meet his comrade Anton Laptenok (one of those detained on September 3rd). He is accused of an attack on the Russian embassy and is held in the KGB remand prison. Ihar admits that he was participating in the anti-militarist action, but doesn't consider it a criminal act. He denies all other accusations.
On the 17th of January Jauhen Vasilevich, a journalist from the newspaper "Bobruiski courier," a nationalist democrat without connections to the anarchist movement, is detained and accused of the attack on the KGB headquarters in Bobruisk.
The period of investigation for all of the arrested is prolonged till April 12th.
All of them may face up to 6 years of imprisonment. The case with the bank could mean up to 10 years. It appears that they are also accused of "intentional destruction of property committed by an organised group (7-12 years of imprisonment)." According to the law, in such a case, the organiser gets no less than 3/4 of the maximum sentence.
–
source: http://avtonom.org/en/node/14931
Previous news on the topic: http://avtonom.org/en/freebelarus
Forwarded by Anarchist Black Cross of Moscow
–
Anarchist Black Cross Moscow
abc-msk A riseup D net
http://www.avtonom.org/abc
http://www.facebook.com/abcmoscow
http://www.twitter.com/abc_moscow
http://www.myspace.com/abcmsc
P.O. Box 13, 109028 Moscow, Russia
Tags: Anarchist Black Cross Moscow, Attack, Belarus, International Solidarity, Repression
Posted in Social Control