Posts Tagged 'Autonomous Cells of the Immediate Revolution – Praxedis G. Guerrerro'
Thursday, August 3rd, 2017
"ITS o la retorica di decomposizione" [it]
From the website La Rebellion de las Palabras, critique of the excremental choir calling themselves "Eco-Extremist Mafia" – aiming at the eco-fascist and nihilist-right groupscule Individualists Tending toward the Wild (ITS), written by anarchist-insurrectionalist groups, CCF-Mexico, anonymous others in the territory of the Mexican State:
(Joint Pronouncement)
"The Tiger, in its unconquered gait, accumulates the memory and the traces of the road travelled, to stubbornly reaffirm it; unrestricted freedom that does not assure food but which a priori omits any possibility of degenerating into a herd or of assenting to grazing. Indomitable and irreducible, it confronts the most tenacious enemies. To do this it wields its instincts, taking advantage of its portentous night vision, its prodigious smell and its finely tuned ear. In its right attack: it disfigures, tears, kills and dies, to be reborn indomitable and fierce. Nothing escapes this becoming and it is exposed to the most daring hunters and the most tenacious tamers, veterinarians and circuses, taverns and altars, customs and laws, systems of thought and political institutions. Everything is shaken, torn or eliminated in this movement of which only the imagination can disern a principle but of which nothing and no one is able to decipher its objectives and its end. (…) Anarchism, conceived not as an inescapable realization but as a permanent tension embodied in an open configuration of thought and action, is also a tiger, indomitable and fierce, affected from end to end by this capricious walk into freedom." – Gustavo Rodríguez
"Everything that we can identify as negative elements within our "space ", is also the responsibility of each of us to contribute to eliminate them. Bureaucracy, hegemony, informal hierarchies, intrigues, false friendships and false 'comrades' stabbing our backs have existed since the dawn of the so-called anarchist movement, because they are an intrinsic part of the human factor and our contradictions that constantly arise and are in conflict with each other. All these pathologies are due to attitudes that do not properly belong to a particular anarchist tendency but are present in all, and as long as they are not treated for what they really are, we will find them in front of us again and again." – Conspiracy of Cells of Fire / Metropolitan Violence Cell

To the comrades in the Mexican region and the world, to the incendiaries and refractories of the planet, to the internationalists committed to a new coordination of anarchic informality:
Exactly 5 years and seven months ago we signed a "joint statement" at the request of a comrade for whom we feel great affection and respect. That text was entitled "2nd Joint Statement of the Anarchist Insurrectional and Eco-Anarchist Groups". It was an unquestionably necessary writing given the context in which it was written and so we clarified it from the first lines: (more…)
Tags: Analysis, Autonomous Cells of the Immediate Revolution – Praxedis G. Guerrerro, Black International, CCF - Metropolitan Violence Cell, Conspiracy of Cells of Fire, Conspiracy of Cells of Fire - Mexico, Eco-Extremism, Gustavo Rodriguez, Individualists Tending Toward the Wild (ITS), Informal Anarchist Federation (FAI), Insurrectional Cell Mariano Sanchez Añon (CI-MSA), Letter, Mexico
Posted in Eco Struggle
Tuesday, August 21st, 2012
Translated from Italian by act for freedom now/B.pd and j.
Italian translation from Parolearmate via Liberación Total
Anarchy will become synonymous with youth again. Once again it will kick out at the state of affairs that suffocates and crushes us; to resist and ALWAYS RESIST. To defend everything that is ours: freedom, the right to live, the right to everything that is indispensable both physically and spiritually.
And if we fall in the struggle, at least we'll have the satisfaction of falling with our arms in hand.
And young (that not counted in years but the forever new ardour for resistance and attack) we will march towards the climax of Daring…
Anarchy!

Mario Vando
–
Comrades,
That the mass media are an integral part of the power apparatus is clearer on this occasion than ever before. At least, I wondered: when a hundred policemen storm the houses (and other spaces of the movement) of dozens of comrades and their families (on 13th June), how is it possible that at the same time the text of an 'arrest warrant' is already available on crook Silvio Berlusconi's website, ready to be downloaded in PDF format? Especially if we consider that many of the accused had no possibility of knowing why they were being raided… (more…)
Tags: Autonomous Cells of the Immediate Revolution – Praxedis G. Guerrerro, Conspiracy of Cells of Fire : Imprisoned Members Cell, Gabriel Pombo da Silva, Germany, Informal Anarchist Federation (FAI), Letter, Operation Ardire, Repression
Posted in Prison Struggle
Saturday, June 16th, 2012
From liberaciontotal, transl waronsociety:

"The struggle against the government turns into, in the final count, the physical and material struggle… The government makes the law… It is thus necessary to prepare oneself morally and materially so that, upon the explosion of the violent revolt, the victory will be the people's…"
– Errico Malatesta,
"Anarchist Program" (Bologna, July 1920)
in Umanità Nova, August 12, 1920
This physical and moral preparation is a latent necessity that should be present in the everyday of our lives and actions. When the anarchist has at an individual level decided to take a step from talk into daily action, this action acquires in her life a strong sense, a strong importance, a potency that gives way to continue forward and to not look back to yearn for the comfort of her cowardice and ignorance. When an individual or collective project is put on the table, the anarchist feels herself already in the humble necessity of giving everything for this struggle that she has begun, since for her it is not a fashion. Anarchy is life itself, and in her the revolutionary fetishism that sometimes manages to commodify revolt is put aside, it is not important to dress in black, green, blue or yellow, or at least these folklores–personal tastes–do not strongly relate with the strength of her struggle, she does not identify in and with them. It is not important to her to fetishize weapons and guerrilla strategies since she knows well that that this is only an inevitable consequence in the struggle against power; nor even is it important to her to fetishize violence. (more…)
Tags: Autonomous Cells of the Immediate Revolution – Praxedis G. Guerrerro, Braulio Arturo Durán González, Cell of Revolutionary Action for the Destruction of the State – Autonomous Cells for Immediate Revolution – Praxedis G. Guerrero, Conspiracy of Cells of Fire, Conspiracy of Cells of Fire : Imprisoned Members Cell, Embassy, Greece, International Solidarity, Letter Bomb, Mexico, Nucleo Olga FAI/FRI, Revolutionary Struggle, Stella Antoniou
Posted in Direct Action
Thursday, December 15th, 2011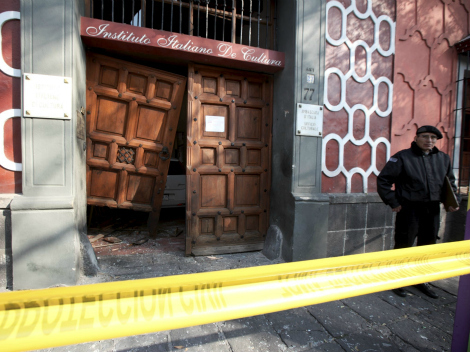 From culmine via war on society
13 December 2011
Last night we decided to give a demonstration of our anti-indulgence with respect to the norms that govern this society, the unmasked consumerism, the "commodity" of not thinking and refraining from an infinity of alternatives, and of, zombie-like, letting oneself be carried by commercialism, walking without a fixed course, without a project, passing stores, malls, barracks, museums of the State full of culture and useless "art" that has infatuated many "alternative people" thinking that with paintings about an unreal reality they can change something, they can see a different world and envision a future without violence, without hate, with agreement, without conflict… and passivity! eternal ally of the State/Capital, the useless urge to not do anything for oneself nor for anyone nor anything, nor to change minimally our situation as individuals. (more…)
Tags: Autonomous Cells of the Immediate Revolution – Praxedis G. Guerrerro, Federico Buono, Informal Anarchist Federation (FAI), International Revolutionary Front, International Solidarity, Italian Institute of Culture, Italy, Mexico, Mexico City, Revolutionary Anarchist Cell - Gabriella Segata Antolini, Solidarity Action
Posted in Direct Action
Wednesday, March 23rd, 2011
Quick translation of the suppressed news from Mexico of an explosive attack against one of the most notorious and vilified multinational corporations : Monsanto. The CARI-PGG take responsibility for attacking this biotech agribusiness giant.
Comunicado de las CELULAS AUTONOMAS DE REVOLUCION INMEDIATA / PRAXEDIS G. GUERRERO (CARI-PGG)
Claim of sending a parcel bomb to Monsanto – CARI-PGG
Comunicado: Release:
During the week of 22 to 27 February we sent a parcel bomb to the head of Monsanto Mexico, which was made in the same way as the explosive packets which were sent to the two prison directors. We know that news of this package was merely hidden like last two and also the last one which was sent to the Embassy of Chile [for the 14 August Hungerstrikers].
…
But many people will wonder why Monsanto?.
Monsanto is one of the world's most powerful companies that own most patents of genetically modified corn among other patents. Monsanto for its history of existence, dating from 1901, is dedicated to destroying the planet through different ways: pollution of rivers, oceans and ecosystems through the discharge of fertilizers and agrichemicals, destruction of native cultures and their customs, privatization of Nature, poisoning the land, making it infertile, producing transgenic corn and preventing people from planting native corn anymore or Creole. Monsanto contributed to pollution, death and illness of millions of Vietnamese during the war between Vietnam and the United States. At that time 80 million liters of herbicides (chemicals) were sprayed on Vietnam, in an area of ​​approximately 1.5 million hectares, to clear forests and facilitate the bombing of the population. Among the products to be sprayed was Agent Orange, a powerful defoliant.
These chemicals destroy forests, rice fields, entire crops, poisoned the waters and caused serious environmental damage, plus poison people and cause diseases like cancer and birth defects.
Monsanto has hired the world's largest mercenary company "Blackwater" to spy on activists dissatisfied with their destructive activity, saying that Blackwater and Total Intelligence could infiltrate the environmental movement if it was necessary, Monsanto paid $ 127,000 Total Intelligence in 2008 and $ 105,000 in 2009.
…
For these and many other reasons, we have to attack this biotech company and those who remain standing.
Against these companies that threaten nature all our actions have to be as radical and powerful as the damage they perpetrate against the planet. We know that in time (or at least that's what is wanted), the director of Monsanto Mexico and all the individuals who support this company will not sleep easy, expecting at any given night a powerful explosion will destroy their house. Ask the agents of Monsanto who has infected livestock when they discharge their toxins in the water, just ask Monsanto who has has forced thousands of peasants to sell and consume genetically modified product and those who simply refuse stripping them through repression about terrorism, ask them about their complicit governments and their paramilitaries.
We see no moral reason why we should care about these entrepreneurs and their bourgeois families, rich and powerful, who feel they own the world and feel the right to modify and manipulate life on this planet at will, justified only by having money, having 'manners', having cars; – to have food every day, just to throw most of it away. They have enriched themselves at our expense and cost of our families, our loved ones and our comrades in struggle, that unfortunately come into this commercialized world of work by not having many other options or alternatives.
These companies and their families, their wealth from the exploitation of nature and animals, destroy ecosystems, poisoning rivers and oceans.
…

An eye for eye, tooth for tooth!!!

Capitalism is a social relationship and capitalists have names and address!!!

Autonomous Cells for the Immediate Revolution – Praxedis Gilberto Guerrero
Tags: Autonomous Cells of the Immediate Revolution – Praxedis G. Guerrerro, Biotechnology, Globalisation, Letter-bombs, Mexico, Monsanto Corporation
Posted in Direct Action
Friday, March 11th, 2011
Comunicado de las CELULAS AUTONOMAS DE REVOLUCION INMEDIATA/PRAXEDIS G. GUERRERO (CARI-PGG)
"During the week of the 22nd to the 27th of February this year [2011], we sent two explosive packets to the directors of two penitentiaries; to the director of the Reclusorio Preventivo Varonil Norte and to the director of Centro Varonil de Readaptación Psicosocial (CEVAREPSI), both of which are prisons in Mexico City, as we know it this action was completely covered up and censured. (more…)
Tags: 14/14, Anti-Psychiatry, Autonomous Cells of the Immediate Revolution – Praxedis G. Guerrerro, Centro Varonil de Readaptación Psicosocial (CEVAREPSI), Chile, GDF, GDF Suez, International Solidarity, Letter-bombs, Mexico, Reclusorio Preventivo Varonil Norte
Posted in Direct Action
Monday, February 28th, 2011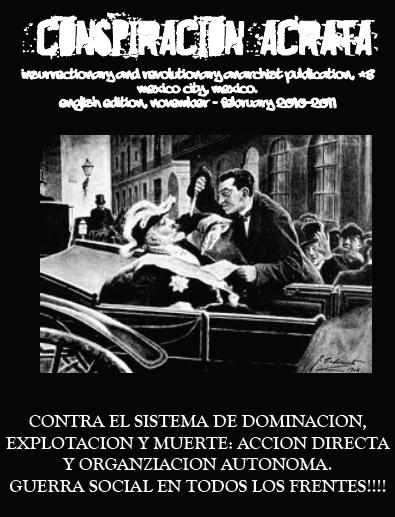 Insurrectionary and revolutionary anarchist publication
Mexico city – Mexico
English edition – February 2010-2011
"Salud! This here is one more number of the insurrectionary and revolutionary anarchist publication that we call CONSPIRACION ACRATA. This project was born during the month of March of 2009 as a medium for the diffusion of the insurrectional anarchist struggle. During this time we have completed 8 editions, with this being the most recent. This edition, completely in English (except the addition of the editorial) was made with the aim of spreading the social war that is being fought in Mexico to English speaking countries, this special edition is a compilation of texts, news, critiques, communiqués from anarchist and eco-anarchist cells in Mexico as well as various texts that were edited for past editions. This publication was also formed from the importance of the diffusion of revolutionary anarchist ideas that are often strongly criticized by individuals who feel they have the role of the judge of the revolution, and instead of putting forth objective critiques, only assert prejudiced and condemnatory critiques which aim to isolate the anarchist compañer@s of action from the entire movement."
Tags: ALF, Autonomous Cells of the Immediate Revolution – Praxedis G. Guerrerro, Conspiracion Acrata, ELF, Mexico, PDF
Posted in Library
Wednesday, January 26th, 2011
On the 23 January 2010 the Chilean Embassy in Mexico received two explosive letter devices which were immediately noticed by Embassy civil servants, who then alerted the Secretariat of Mexican Public Security. The building was evacuated and 24 hours later Mexican police confirmed that the packets contained explosives and threats against the ambassador of Chile in Mexico – Germán Guerrero Pavez. The devices were neutralized.
Autonomous Cells of the Immediate Revolution – Praxedis G. Guerrerro took responsibility for this latest attack against the Chilean State through an internet message.
This incident has been 'quietened down' by the Chilean and Mexican governments, international media plus European authorities, who are not willing to give the "oxygen of publicity" to this latest attack on the global media-stage, during the precarious trial of the Conspiracy of Cells of Fire, after the December letter-bombs against various States, which hit international media headlines, prompting the Italian Informal Anarchist Federation to respond with two explosive parcels for the Chilean and Swiss embassies in Rome. Growing insurrectional tendancies will not be censored out of the media, nor will the attacks end. Anarchism will only spread, become more developed and will overcome the institutions of hierarchy and finance.
The action was dedicated to the prisoners of the Chilean State who are fighting for their dignity and freedom, the indigenous people of the Mapuche, who are fighting for their land and self-determination, as well as dedicated to the Revolutionary Organisations Conspiracy of Cells of Fire and Revolutionary Struggle in Greece. Anarchist prisoner Gabriel Pombo da Silva also gets a mention, with a quote from him ending the final section: "Siempre con l@s rebeldes!!!!"
Download the Communique (PDF / Spanish Language)
–
More information:
Communique from Conspiracy of Cells of Fire – Call for an Informal Anarchist Federation – International Network
–
AGAINST THE VIOLENCE OF CAPITAL – OUR STRUGGLE IS ONE
Tags: 14/14, Autonomous Cells of the Immediate Revolution – Praxedis G. Guerrerro, Chile, Conspiracy of Cells of Fire, Gabriel Pombo da Silva, Informal Anarchist Federation (FAI), Informal Global Federation / Anarchist Network, International Revolutionary Front, International Solidarity, Letter-bombs, Mapuche, Mexico
Posted in Direct Action
Wednesday, December 1st, 2010
Time passes and everything stays the same… It could be for some like this, describing the reality that whips many of us, under a pessimistic pretext, like at the end of their conviction. Repression goes up a level, hate against the poor, destruction of the environment, exploitation of human dignity, assassinations of lives, like the small wild life that remains on this planet called Earth. Nothing has changed. Little we have influenced in the disruption of this reality, of this world that our free minds don't belong to. If nothing has changed it's perhaps for the lack of obligation, of courage and of conviction. For many this all seems like a game, to stand with a placard, yell a slogan, reform a law, only to alleviate their sense of guilt… but for many others this is serious, the thing here is, to what point one is seriously willing to go? (more…)
Tags: Autonomous Cells of the Immediate Revolution – Praxedis G. Guerrerro, Conspiracy of the Cells of Fire, Global, Greece, International Solidarity, Mexico, Revolutionary Struggle, Social War
Posted in Direct Action, Prison Struggle