Posts Tagged 'Badajoz'
Wednesday, October 14th, 2020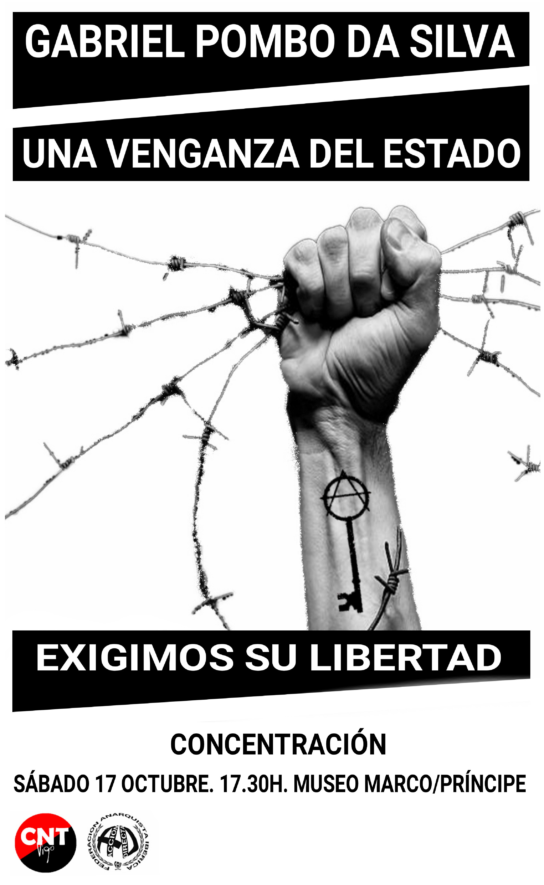 El compañero Gabriel Pombo Da Silva fue arrestado en Portugal, el 25 de enero pasado, en virtud de una ODE, Euroorden, emitida por el Juzgado de lo Penal nº 2 de Girona, del que es magistrada juez Mercedes Alcázar Navarro, la cual, en mayo del 2016, ordenó al entonces director de la cárcel de Dueñas (Palencia) ocultar la orden de liberación inmediata de Gabriel quien, tras tres semanas de "secuestro", fue finalmente liberado el 16 de junio, por lo que se iniciaron los trámites para denunciarla por prevaricación. A cada cual la conclusión de la obcecación de esa magistrada juez en proceder mediante una ODE a la persecución europea del compañero, pese a que Gabriel fuera puesto en libertad en España, dicho 16 de junio de 2016, al haber cumplido la totalidad de su condena. Se aclara que con posterioridad a esa fecha, el compañero no ha sido incriminado por delito alguno, por lo que no existe ninguna sentencia de condena posterior. (more…)
Tags: Anti-Prison, Badajoz, Demo, FIES, Gabriel Pombo da Silva, Girona, International Solidarity, Repression, Spain
Posted in Prison Struggle
Monday, August 10th, 2020
Also read : Porto, Portugal – Words from Gabriel Pombo Da Silva (March-April 2020)
Here at Gabriel giugno in Italian you can download Gabriel's writings, below is the introductive note via: roundrobin.info
Translated to English by Act for freedom now!
–
Gabriel Pombo Da Silva communique
Gabriel has asked us to select some of his words from his more recent letters and compile a communique addressed to all those who would like to read it, as it is impossible for him to write one now that would get out of the prison where they are holding him kidnapped. The letters in question, which arrived after much delay, are dated from 11th April to 20th May when he wrote the only letter in the prison of Badajoz in Portogal, [he has since been transferred to the prison of Mansilla de las Mulas in León].
Gabriel sends strong hugs to all the comrades who are supporting him sincerely and to all the dignified individuals who continue to struggle for freedom in whatever part of the world they find themselves.
Freedom for Gabriel!
Freedom for all!
Long live Anarchy!
–
Words from Gabriel Pombo Da Silva, April – May 2020
"… what is happening has no logic or rules… it's like playing a game of chess where every now and again someone buts in and moves a piece on the board… how can you play or win a game like that? What are the 'rules' or the 'limits'? I can't even talk about 'Law' (regardless of what I think about it) or appeal to 'Rights' after all I have gone through… that's why I am wondering: given that I don't have any 'Rights', what are the 'rules' of this struggle? In the end the State's war against resilient individuals is always dirty, without any 'rules'…" (more…)
Tags: Badajoz, FIES, Gabriel Pombo da Silva, Letter, Oporto, Portugal, Spain
Posted in Prison Struggle
Tuesday, June 16th, 2020
15.06.2020: Last Thursday, June 11, the Provincial Court, the court at the base of the judicial pyramid in Spain, demonstrated its inquisitorial power by rejecting the request for annulment of the OEDE (European Arrest Warrant) that sent our comrade back to the dungeons of the State after three and a half years of freedom.
After a year and a half of clandestinity, Gabriel was arrested last January 25th in Portuguese territory as a result of the above-mentioned OEDE issued by the Court No. 2 in Girona (specifically by Judge Mercedes Alcázar Navarro), with the intention that he would serve another 16 years in prison counted as a residual sentence (response to the complaint of malfeasance against the judge for having hidden the order for Gabriel's immediate release in June 2016, which delayed his release, that judge has set in motion her own revenge!).
After three and a half months of pre-trial detention (months during which it was clear that Portugal had submitted to the pressure of Girona Court No. 2 and that the European rules that would have allowed the release of our comrade had not been applied), on 12 May, he was handed over to the Spanish authorities and is currently in the prison of Badajoz (Extremadura). (more…)
Tags: Badajoz, Extremadura, FIES, Gabriel Pombo da Silva, Spain
Posted in Prison Struggle
Thursday, May 14th, 2020
ESPAÑA: GABRIEL POMBO DA SILVA HA SIDO ENTREGADO AL ESTADO ESPAÑOL
Our comrade has been handed over to the Spanish State this morning (May 13) and is currently in the Badajoz prison (Extremadura). He is well and strong as always. Surely he will have to stay 14 days in a mandatory quarantine and then, supposedly, be transferred to another prison. In that sense, more information will follow.
Even if we have no guarantee that the mail will work regularly, it is obvious that it will not be a virus that is responsible for the fact that the letters of your loved ones and solidarity may not reach him! So it would be better to send registered letters (also as a result of recent problems that occurred in the Porto Judiciary Police jail where Gabriel was able to receive the correspondence only by documented registered shipments).

[updated corrected address 27/5/20]
Gabriel Pombo Da Silva
Carretera de Olivenza, km 7.3
06011 Badajoz
España
FREE GABRIEL!
FREEDOM FOR ALL!
LONG LIVE ANARCHY!
Tags: Badajoz, Extremadura, Gabriel Pombo da Silva, Portugal, Prison Transfer, Repression, Spain
Posted in Prison Struggle