Posts Tagged 'Barry Horne'
Thursday, November 8th, 2018
We sat in the hedge waiting until the house by the farm turned all lights off. The padlocked gates gave way easily under the bolt cutters and the sheds were accessible through the windows, giving us plenty of room to carry on the operation. We had not taken into consideration something important. The quick growth of the turkeys had turned them from easy-to-carry, chicken sized birds into huge animals since our last scouting. They were now almost ready to be slaughtered. We decided that thirty was as many as we could take and one by one we carried them to the transport. In less than fifteen minutes the birds were loaded and on their way to a safe new home. As the tractor was close by we decided to use a window punch to cost a little more money to the animal abuser. It is incredibly satisfying to see the glass shattering, thinking of the bills that the farmer will have to pay. We see this action not as an act of heroism but as a means to an end tool. Decentralised actions throughout the UK to destabilise the animal abuse system aren't just a token of solidarity towards our non-human comrades, but a completely necessary behaviour that should be repeated across the board and combined with resilient overground campaigns that seek something else than the spread of veganism. We shouldn't be discussing the ethics of sabotage and their impact on the general public, we should be attacking with all our rage towards what hurts them the most; their money.
Let this be your call to action. From butcher shops to slaughterhouses, from calves to fish, it is time to act. It is time to cause them enough money that their insurance companies decide to not cover them any longer. It is time to rescue as many animal victims as we possibly can.
It is time to act. We hope that our words transmit our sense of urgency.
The world, the animals and the environment around us cannot afford to wait a little longer. Every animal slaughtered, every tree cut and every person dead after being trapped by this system will accelerate exponentially the destruction of the planet. With this action we also want to remember Barry Horne.
Barry lives in those who act.
Who, if not you?
When, if not now?

Animal Liberation Front
Tags: ALF, Animal Liberation, Barry Horne, Sabotage, UK
Posted in Eco Struggle
Tuesday, November 14th, 2017
Animal Liberation Front comrades in UK are getting active again despite years of repression and clampdowns by the state. Here's a quick list of actions that happened over the last month. Reports from Bite Back:
–
Anonymous report:
8 November 2017
"Several turkeys liberated from concentration camps (aka farms) in the UK last night."
– (more…)
Tags: ALF, Animal Liberation, Badger Cull, Barry Horne, Sabotage, UK, Vandalism
Posted in Eco Struggle
Saturday, October 14th, 2017
An international call for a week of action against speciesism, from October 30 and November 5, has been launched through social media. It encourages folks to carry out all kinds of actions, from street propaganda (paintings, posters, distribution of leaflets …) to workshops/forums and debates in your meeting spaces, to self-organizing various actions against specific businesses with the tools that each person may consider appropriate, to mass mobilizations and demonstrations.
May each one be organized as it suits each one involved, and may they shake all the cages. In memory of Barry Horne and all the human and nonhuman victims of speciesism and domination.
Both individual and collective measures of struggle are valid; from diffusion actions to mobilizations.

Solidarity between species is not just a written word!

The call out translated in several languages
Tags: Animal Liberation, Barry Horne, International Solidarity, Solidarity Event
Posted in Eco Struggle
Friday, November 11th, 2016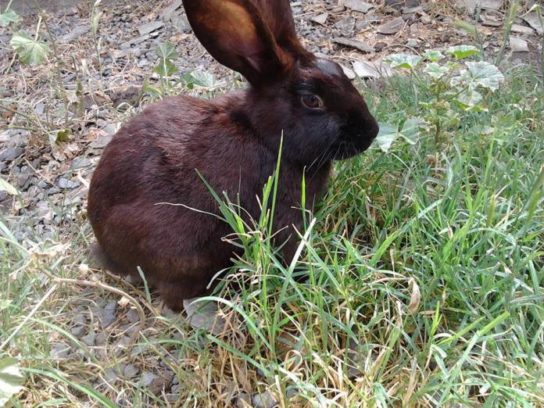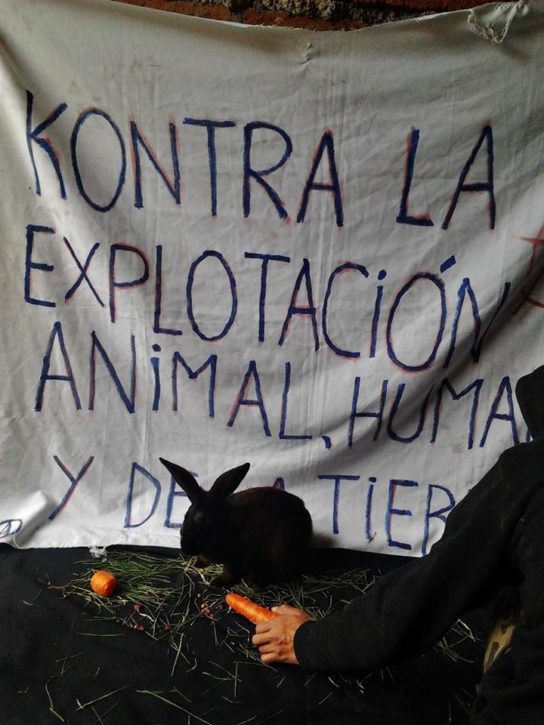 The rabbit was released from a tiny cage and given a new loving home in memory of Animal Liberation Front warrior Barry Horne, who died on hunger strike until death in defense of all life 15 years ago. For the animals.
Tags: ALF, Animal Liberation, Barry Horne, Chile, Santiago, UK
Posted in Eco Struggle