Posts Tagged 'Belarus'
Saturday, July 28th, 2018
Two new publications in English. "The Russian government, like any authoritarian regime, can not exist without the image of the enemy, external or internal. But people since Soviet times have got used to an eternal "threat of the West" and its spies. Therefore, the society is increasingly being pushed onto the needle of brutal massacre of " public enemy forces". For this purpose, the topic of extremism is actively promoted and new "enemies" are being stamped out."
1) Radical Anarchists in Belarus, Ukraine, Russia 2008-2017 + Video
Tags: Belarus, Repression, Russia, Ukraine, Video
Posted in Library
Tuesday, July 3rd, 2018
From naroborona.info
During the last six months in Russia there have been mass repressions against anarchists – in Penza and Petersburg, Moscow and Chelyabinsk, and in the Crimea. At the same time, in prisons there are still anahists, repressed earlier, a few years ago. Often, information about repressions against certain anarchists is lost against the background of more high-profile cases, and actions against repression are reduced to actions for the release of specific anarchists accused of individual cases. We believe that this is wrong – you can resist repression only together. It is necessary to fight against the repressive policy of the state towards anarchists in general. Therefore, we have collected here information about all Russian anarchists being repressed today. (more…)
Tags: Alexander Kolchenko, Belarus, Chelyabinsk, Crimea, Ilya Romanov, Irkutsk, Moscow, Penza, Repression, Russia
Posted in Social Control
Monday, July 2nd, 2018
Several people were charged with illegal usage of forest resources and distribution of extremist materials after political police with support of task forces attacked an informal anarchist encounter. Around 20 participants were at the camping site at that point.
On Saturday 30 June special task force of police attacked the camp shooting into the air. After a few minutes all the activists were forced on the ground by a crowd of people armed with machine guns and shotguns. They were accompanied by chiefs in plain clothes but wearing masks. When anarchists started asking about the reasons for this circus one of the cops said that they had a report that somebody was illegally cutting trees in the area and shooting in the forest. Other cops were answering, "you are not stupid, you understand yourself why you are here".
Tents were searched for illegal materials. Merchandise from several groups was confiscated under the pretext of distribution of extremist materials. All activists were put on their knees and filmed by the cops. (more…)
Tags: ABC Belarus, Anarchist Gathering, Belarus, Raids, Repression
Posted in Social Control
Tuesday, October 24th, 2017
16 October 2017, at about 21:00 Petr Ryabov was released from Baranavichi IVS (Temporary detention facility) in Belarus and put under escort on a train to Smolensk, Russia. Department for citizenship and migration of the local militia decided to deport Ryabov and a ban an entry to Belarus for 10 years.
It is also reported that at the station Baranavichi police arrested local human rights activist Alexander Voyteshik, who accompanied Ryabov. A reason could be that Voyteshik videotaped cops, who escorted Ryabov.
We want to remind that Russian philosopher, professor, historian and anarchist Pyotr Ryabov was detained in Baranavichy on October 11 after the lecture "Informal movement of Belarus 1991-2010" and sentenced to 6 days in prison for "dissemination of extremist materials". At 9th October riot police attacked Ryabov lecture in Grodno and didn't allow to hold it.
Tags: Belarus, Deportation, Petr Ryabov, Repression, Russia
Posted in Social Control
Monday, October 9th, 2017
We were covering the situation in Belarus in March this year during the big protests that were happening here against the policy of the state that was forcing people to pay a fine for being unemployed for longer than six months in a year. For now the protests are over, however pressure from the government on those who were participating in the events of last spring didn't stop.
We met activists from the Belarusian anarchist and ecological movement that had to move twice in the last 6 months due to constant pressure from the police on the owners of the house. The scenario repeats itself every time. In spring, police were raiding flats and houses of the activists that were already in prison and confiscating things that nobody had a track of. Later most of the belongings were returned, but some activists had to move out of the rented flats and houses – owners of property didn't want to have trouble with the police and KGB. (more…)
Tags: ABC Belarus, Belarus, Raids, Repression
Posted in Social Control
Monday, September 25th, 2017
On September 23, a group of Kiev anarchists held a picket outside the Belarusian embassy in solidarity with the anarchist prisoners. Activists unfurled a banner that said "DEATH TO THE DICTATOR!" and hung an effigy of Lukashenko on the fence of the embassy. At the moment, the Belarusian regime is holding anarchist comrades Dimitry Polienko and Kirill Alekseev in their dungeons.
We demand the release of all Belarusian political prisoners and express solidarity with their struggle for freedom against the dictatorial regime of Lukashenko. The death of the dictator is the only thing that will give the Belarusian people the opportunity to breathe freely.
Recently we have learned that the diplomats have already protested in connection with our last action. Anarchists will continue to carry out solidarity actions at the Belarusian embassy and violate the tranquility of the diplomatic corps, as long as there are political prisoners in the prisons of Belarus.

via Redvia, translated by Insurrection News
Tags: Belarus, Demo, Dictatorship, Dimitry Polienko, International Solidarity, Kiev, Kirill Alekseev, Solidarity Action, Ukraine
Posted in Direct Action
Wednesday, August 23rd, 2017
Anarchist and revolutionary must be ready for revolution to happen in every moment, especially now, when social and political protest all around the world are arising more and more often. Moreover, the possibility of global catastrophes and cataclysms is always present, and saving ourselves along with continuing our struggle in that case should always be in our agenda.
To write this article, we adopted the experience of people's struggle in Ukrainian Maydan, successes and failures of recent anti-governmental protests in Belarus and Russia and analyzed the capacities and repressive tactics of police and intelligence in our country in last years. Though this tips were written first of all for comrades from above-mentioned countries, they may be useful for anarchists in any part of the world.
Note: for publishing this article, our site www.pramen.io was officially labeled as "extremist" by the Central district court, and blocked in Belarus (only accessible via Tor or VPN).
https://pramen.io/en/2017/08/14-tips-on-how-to-get-ready-for-the-revolutionary-situation/
Tags: Analysis, Belarus, Insurrection, Revolution, Riots, Social Insurrection, Ukraine
Posted in Autonomy
Thursday, August 3rd, 2017
Belarusian anarchists informed Minsk residents about struggle of the people of Venezuela – the bus stop in the сenter of the city was covered by posters, describing the ongoing protests. Anarchists are sure that that Belarusians should learn from braveness and courage of the Venezuela protesters!

http://pramen.io/en/2017/08/belarusian-anarchists-express-solidarity-with-the-people-of-venezuela/
Tags: Belarus, Minsk, Solidarity Action, Venezuela
Posted in Direct Action
Monday, March 27th, 2017
via Insurrection News

Received on 27.03.17:
We, the partisan-anarchists, take responsibility for the symbolic attack on March 24, 2017 on the building of the Inspectorate of the Ministry of Taxes of the Republic of Belarus for the Gomel region.
We threw two Molotov cocktails into the window one of cabinet. At the time of the attack hundreds of thousands of people were spiritually with us throughout the country and beyond. This energy gave us great strength
and right.
Let's note that it was not principally for us to attack specifically this building. Any other inspection would also suit: regional, city, district – it does not matter. Each of them deserved the people's revenge. The tax authorities regularly called and sent out "letters of happiness" about levying a tax on the unemployed. At the very moment when the people in Belarus were crushed by economic extortion from the state and firmly said: "Basta! to tax and regime"; when protesters claim to state policy and are outraged by the work of tax inspections, the officials, sitting in the offices, continue to indulge the authorities in stealing money of workers and temporarily unemployed people. They do not think that they are in complicity with state racket, i.e. Crime, which includes a whole list of punitive measures against common people: blackmail, extortion, threats, repression, enforcement to social and economic slavery. (more…)
Tags: Arson, Belarus, Gomel, Molotovs
Posted in Direct Action
Monday, March 27th, 2017
March 25 was planned by some liberal opposition leaders as the day of the biggest protest against Lukashenko's policies this year. The biggest one on the wave of the recent anti-governmental demonstrations that started in February this year. It ended with the biggest police mobilization in years bringing thousands of riot cops to Minsk and detaining hundreds of people preventive and during the demonstration. This Saturday capital of Belarus looked like a war zone created by the police.

Campaign of disinformation

After March 15 the Belarusian government started working with double energy to bring in as much disinformation as they could: radioactive load on some plane, car full of explosives coming from Ukraine, old nationalist organization plotting riots, loads of weapons confiscated during raids. All of this has bombarded Belarusian society through governmental media in recent days, creating the atmosphere of terror from one side, but also the atmosphere of anger in society – "Do the president and his dogs think that we are so stupid to believe all of this crap?!"
However, the absurdity was never a reason to stop for the Belarusian state propagandists. As well as for Lukashenko who was giving speeches recently about planned provocations on the 25th and blaming the fifth column in trying to destabilize situation in the country and at the same time commenting that he is a big proponent of European values. (more…)
Tags: Belarus, Demo, Minsk, Repression
Posted in Social Control
Wednesday, March 22nd, 2017
This interview with an activist from Belarus was recorded on the 19th of March. She gives us the context for the ongoing protest, pictures its development and tells us about the aims of the protest. She also explains who is attending the protest, what this means and what is to expect from it in the future.

Click link for audio:
https://abcdd.org/en/2017/03/20/interview-mit-einer-aktivistin-aus-belarus/
ABC Dresden
Tags: ABC Dresden, Belarus, Repression
Posted in Interviews
Thursday, March 16th, 2017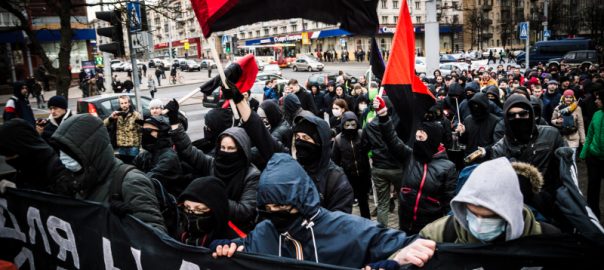 Biggest protests in Belarus in the last 10 years
In Belarus last weeks people took to the streets to fight the law against social parasitism – law that was signed by dictator Lukashenko in 2015, but started troubling population only at the beginning of the 2017. Thousands took to the streets in Minsk, Brest, Gomel and many other smaller cities all around the country, to show their discontent with the law and the current regime. The protests seems to have little influence from "official" opposition- instead of that people previously not involved in the politics are organizing together. In several places anarchist played quite a big role in the protests. Last week belarusian government started repressions against those on the streets – up until now over 48 people were detained and prosecuted for different violations. (more…)
Tags: ABC Belarus, ABC Dresden, Belarus, Brest, Repression
Posted in Autonomy
Sunday, January 22nd, 2017
Vadim Boyko is an antifascist supporter of FC Partyzan from Minsk. He was detained on March 22, 2016 together with other people on suspicion of participating in the attack on the right-wing hooligans that happened about two years ago. His trial is set for February 3, 2017 and we ask for financial support to pay the legal advice. The approximate cost of the legal aid for him is 5000 euros, part of which has already been covered by us.
Here is a full story.
FC Partyzan (former MTZ-RIPO) is an antiracist football club that doesn't exist any more, while there are still some active groups of hooligans involved in street fights. As reported, on June 29, 2014 a mob of Partyzan supporters attacked a trolley-bus carrying a gang of right-wing hooligans of FC Torpedo. The attackers blocked the vehicle and broke a few windows. In the following days the police detained five Partyzan fans on suspicion of the attack, but they were eventually set free with no charges. The case was frozen.
(more…)
Tags: Anti-Fascist, Belarus, FC Partyzan, Racism, Repression, Vadim Boyko
Posted in Anti-Fascist
Thursday, July 21st, 2016
Belarusian prison – Untouchables in the prison hierarchy
The topic of prison caste system is often raised in the media in recent times, it is often discussed in connection with the political prisoners. However, almost all who write on the subject, know about it at best from the stories of former inmates or use common social stereotypes. As a result, there are often a lot of blunders and false representation.
The aim of this article is to illuminate some aspects of this complex and multifaceted phenomenon the informal hierarchy in Belarus prisons.
27 years old, an activist of the anarchist movement. He was born in the town of Bragin, Gomel region. He graduated from the Belarusian State University College of Law, worked as a judicial custodian in the court of Tsentralny district of Minsk and legal adviser in a private company. In 2009 he entered the European Humanities University (Vilnius) specializing in Political Science and European Studies. On September 201, he was detained in Minsk on suspicion of the attack on the embassy of Russia. He was convicted of participation in a protest actions near the General Staff, the House of Trade Unions and the casino "Shangri-La" in the "case of anarchists", he received 4.5 years prison sentence. Three months before his release he was sentenced to another year of imprisonment under Art. 411 of the Criminal Code (willful disobedience to prison administration). Released on August 22, 2015 by presidential decree "On presidential pardon" (he did not write a petition for clemency, although it was repeatedly offered). Now he is a first year student at the European Humanities University, specializing in world politics and economics.
There are scientific works on this subject. And, of course, I do not aspire to consider the phenomenon in all its diversity in one article. The question will be mainly about one prison caste, the existence of which characterizes the system as a whole, and the knowledge of which is critically important for any falling prisoner in Belarus, especially for a political prisoner. The so-called "petukhi" ("roosters") ( also "downcast", "bugger", "cockscomb", etc.).
So, from this text, you will learn:
– How did the "downcast" appear in prison;
– How do people become one;
– What are conditions of these people in jail and prison;
– What functions are performed by these people in prison;
– Why is the existence of this caste vital for the administration of penitentiary facilities.
(more…)
Tags: Analysis, Belarus, Mikalay Dziadok, Repression
Posted in Prison Struggle
Thursday, June 23rd, 2016
Groups that combine anti-authoritarian and nationalist ideas are nothing new. Though they are new for Belarus, where anarchists have always been anti-nationalist and viewed themselves as part of a global movement for freedom. These groups would not deserve your attention if they weren't trying to disguise themselves as anarchists and make connections to the left-wing and anarchist movement in the West in order to get access to different resources: financial, informational etc.
What follows is a list of facts proving that one cannot be an anarchist believing that patriotism is a vital feature in the anti-state struggle. This text is an attempt to warn our comrades from possible contacts with these groups and give information about what they really are.
For now there are two groups in Belarus that call themselves ethnic anarchists – Poshug ("Flash") and Khaurus ("Fellowship, Cahoot"). Judging by their pages in social networks (http://vk.com/psh_soc, http://vk.com/union8x9) both groups appeared in 2013.
Looks like Poshug's adherents have their roots in a patriotic (sic!) wing of antifascist football hooligans of 'Partyzan', former MTZ-RIPO (http://vk.com/nasasprava). The background determined what they were fighting for – veganism, straight edge, animal liberation, ecology, anti-imperialism. (more…)
Tags: ABC Belarus, Analysis, Autonomous Nationalism, Belarus
Posted in Anti-Fascist