Posts Tagged 'Belgium'
Friday, November 13th, 2020
On Thursday, November 12th, the judge of the Appeals Court in Brussels made its decision public concerning the case against anarchists accused of criminal association and various crimes;
2 persons got 10 months of probation (during 5 years)
1 person got 8 months of probation (during 5 years)
1 person got 6 months of probation (during 3 years)
5 persons got a suspension of sentencing (during 3 years)
1 person got acquitted
(2 persons got acquitted in first instance and were not part of the appeal)
People also got sentenced to paying fines and a part of the investigative and juridical costs, but the state will have to pay the bill for the phone taps (by far the biggest amount).
(A suspension of sentencing means the judge finds you guilty and doesn't set a sentence, but leaves this up to the next judge if you get caught in a certain period of time for a similar crime – not very different from probation).
– (more…)
Tags: Belgium, Brussels, Repression, Trial
Posted in Social Control
Sunday, April 19th, 2020
Engie's utility vehicle in flames at night from Saturday to Sunday
100 arrests for the anti-keuf* weekend [+ A few notes on the inflammatory evening of Saturday 11.04]
Originally from Sans Attendre Demain:
Following the riots that broke out in various areas of Brussels between the evening of Friday 10th and the dawn of Sunday 12th April, there were a total of 100 arrests, according to the authorities. These attacks and fires that broke the normality of confinement started from yet another deadly control of the cops on Friday evening.
In the nights from Saturday to Sunday, in addition to the mass attack on a police station with stones, "street furniture was destroyed and five passenger cars were set on fire," the media told us. But on closer inspection, notably by checking a video of the journa-cops, we notice that among these famous "burned cars", one of them is indeed very special. On its white bodywork, we can see the Engie company logo, known to be in particular as a cog in confinement (in addition to supplying energy to this world of oppression). Since domination has every interest in minimizing or concealing fires that target a clearly identified enemy, it would not be surprising if among these four others (perhaps more, who knows?) "Burnt down private cars", there are also other similar garbage, all as harmful to our lives as each other… (more…)
Tags: Belgium, Brussels, Engie, Police Brutality, Repression, Riot
Posted in Social Control
Thursday, April 16th, 2020
Enraged youth from the Anderlecht area of the capital city Brussels, Belgium rioted yesterday, attacking cop vehicles and hurled missiles at the cops, injuring one and beating up another. The riot was triggered when a cop patrol pursued a 19 year old on a scooter because he refused to stop for a curfew check. He hit an oncoming cop vehicle head on and died on the spot. Hundreds of angry youth from the local area instantly took to the street after a callout on social media attacking the cops who had arrived to reinforce those involved in the killing. Several cop vehicles were set on fire, one youth liberated a gun from a vehicle, shooting it in the air as he ran off.
The local youth has been named as Adil and already the media is doing the state's dirty work by sending out its appeal for calm, using his family as a weapon to suppress the anger of a local youth's murder and against the curfew. The cops have further reinforced the area today (Sunday), even with water cannon because they fear that the area will breakout in further rioting. Belgium has been in a four-week curfew in an attempt to stem the spread of the coronavirus epidemic.
This is a clear sign of the riots and insurrection to come that has now arrived in fortress Europe, after other outbreaks of rebellion in other parts of the world, we are even aware of scum media clearly attempting along with the authorities to suppress any outbreaks of rebellion against the coronavirus curfews*. It is only a moment of time before the global backlash erupts.
First Wuhan, Now Brussels, Insurrection Everywhere!
*Riots have erupted in Bristol, China & Palestine, even telephone towers burnt around prison island UK, along with reported raids on supermarkets in the South of Italy in response to 'lockdown measures' (curfew!)
Tags: Anderlecht, Belgium, Brussels, Coronavirus, Fuck the Police, Militant Youth, Police Bastards, Police Brutality, Riot, Young People
Posted in Direct Action
Saturday, October 12th, 2019
Received 11.10.19:
"A few weeks ago on the day Anna Campbell died (killed on 15/03/18), some people from Ghent made a solidarity action with her, they put up a graffiti piece in memory of her achievements and her death. The artwork was made under a bridge in Ghent where many people can see it. In loving memory of Anna Cambell. Rest in Power!"
Tags: Anna Campbell, Belgium, Ghent, Graffiti, Rojava
Posted in Anti-Fascist
Sunday, April 21st, 2019
"Revolution is aimed at new arrangements; insurrection leads us no longer to let ourselves be arranged, but to arrange ourselves, and set no glittering hopes on 'institutions'."
– Max Stirner

"Don't follow me… I'm not leading you…
Don't walk ahead of me… I'll not follow you…
Carve your own path… Become yourself…"
– Conspiracy of Cells of Fire,
Imprisoned Members Cell

"I know that there will be an end to this fight between the formidable arsenal of the State and me. I know that I will be vanquished, I will be the weaker, but I hope I can make you pay dearly for the victory."
– Octave Garnier

On this date over 100 years ago, 21st of April 1913, Illegalist and Individualist anarchist Raymond Callemin was executed by guillotine by order of the French state.
On the anniversary of his execution I write this in memory of all those that have fallen or been jailed in the social war against society.
The illegalist current is an offshoot of individualist anarchism. Refusing to be exploited, forced to work for some rich tyrant, instead the illegalist chooses to rob them. It's an anti-work ethic for individual autonomy to be realised in real life right away through Individual expropriation also known as individual reclamation. (more…)
Tags: Alfredo Cospito, Analysis, André Soudy, Belgium, Clement Duval, Conspiracy of Cells of Fire, Édouard Carouy, Étienne Monier, France, Illegalism, Informal Anarchist Federation, International Revolutionary Front, Jean De Boe, Jules Bonnot, Marcus Jacob, Mauricio Morales, Misha Zhlobitsky, Nicola Gai, Octave Garnier, Operation Scripta Manent, Raymond Callemin, Rene Valet, Sebastián Oversluij Seguel, Victor Serge
Posted in Autonomy
Friday, April 19th, 2019
Today we have hung up four banners at various locations in The Hague, the Netherlands, in solidarity with the anarchists being prosecuted in Belgium. Hundreds of flyers were also thrown around.
From 2008, the Belgian State started a large investigation aiming at different struggles – but always without concessions – against detention centres, borders, prisons and the world of authority and exploitation. In its viewfinder: the anarchist library Acrata, anarchist and anti-authoritarian publications (Hors Service, La Cavale and Tout doit partir), dozens of flyers and posters, more than a hundred actions, attacks and sabotages…in other words the fight against Power in all its different expressions.
Initially charged with "participation to a terrorist group", it is finally under the accusation of "criminal association" that 12 comrades will be on trial during the week of 29th April 2019. (more…)
Tags: Banner drop, Belgium, International Solidarity, Netherlands, Solidarity Action
Posted in Autonomy
Tuesday, October 24th, 2017
Lucrosum et decorum est pro patria facere?
[Is it profitable and proper to produce for the fatherland?]
They don't speak Latin in Belgium.
At about 2 am on Monday 25th September the residents of Malines (a town half way between Brussels and Anvers) were woken by a string of detonations. As they looked out of their windows they saw a huge fire blazing in the buildings of a local company. In spite of the intervention of many fire brigade vehicles, nothing could be done. Of the 5,000 square metres of the company, nothing remained. Everything destroyed. A hard blow for Varec, a company that produces tracks for tanks and tyres for military vehicles and is a well-known supplier of the Armed Forces in the United States. (more…)
Tags: Anti-Militarism, Arson, Belgium, Forges, Genk, Malines, Teksam, Thales, Varec, Zeebrugge
Posted in Direct Action
Friday, April 21st, 2017
We are not soldiers.
We are criminals.
We have no fatherland, no higher cause, we do not follow any directions other than those of ourselves.
On the other hand, we are fighting.
To find our lives, explore our freedoms.
We fight the misery of our lives, the oppression of morals, and the grids that imprison us.
On the night of April 18, we set fire to a police station in Liège (Belgium). It was completely destroyed, devastated by the flames.
We dedicate this action to the imprisoned comrades who are accused of bank robbery in Aachen.
Determination and courage!
Our thoughts are also with the Montreuil compa and Damien, still imprisoned in Fleury.
Never give up!
A greeting to all those who conspire.
With violence, love and joy.
Always at war.
"Don't you have a light?" and friend.
via Linksunten Indymedia, translated by Insurrection News
Tags: Arson, Belgium, Fuck the Police, Liège, Solidarity Action
Posted in Direct Action
Wednesday, March 22nd, 2017
Every time I start to talk I ask myself, 'And if I didn't want to say anything for example?'
The title of this debate is 'Towards insurrection'. I said to myself, what does this 'towards insurrection' mean? That is, towards insurrection can mean writing, or talking anyway, or indicating a direction, something moving towards insurrection. I don't know what it is that moves towards insurrection.
I know that's what I've lived, and what I've seen, events that might seem like an insurrection in act. I later realised that it wasn't an insurrection, it was a simple riot. Now we are talking about something that can push us towards a riot, something that happens just like that, all of a sudden, for a reason that one can't foresee, in the street, in the squares, with a hundred thousand people coming out into the streets, is that what we're talking about tonight?
I don't think so. For me, that's not an insurrection. A hundred thousand people coming out into the streets, destroying the town, smashing the shops, dancing their war dance on commodities, — because we are against commodities we anarchists – is that insurrection? No.
(more…)
Tags: Alfredo M. Bonanno, Belgium, Elephant Editions, Insurrection, Italy, PDF, Social Insurrection, Towards Insurrection, Zine
Posted in Library
Wednesday, May 11th, 2016
#ShutThemDown
OVER 20 SIMULTANEOUS PROTESTS THROUGHOUT THE UK AND AROUND THE WORLD TO END IMMIGRATION DETENTION CENTRES
THOUSANDS OF ACTIVISTS TOOK PART IN A COORDINATED TRANSNATIONAL DAY OF SOLIDARITY WITH DETAINEES; 190 DETAINEES ON HUNGER STRIKE IN HARMONDSWORTH DETENTION CENTRES
A coalition of groups from the UK and around the world joined today (Saturday 7 May) a mass simultaneous protest in 15 detention centres, calling to end immigration detention centres. An international coalition joined forces with groups from all around the UK as well as groups from the US, Spain, Greece, The Netherlands, Germany, Sweden, Iceland, N. Ireland, Belgium, France and Italy. In the UK, thousands took part in the protest in solidarity with the 30,000 adults and children in detention. Protesters held demonstrations at St Pancras train station, held noise demonstration in various detention centres, flew kites so detainees can see them beyond the high walls, danced, sang songs and called for the immediate release of those held against their will without judicial oversight, a time limit, or adequate access to legal support, translation, and healthcare. (more…)
Tags: #ShutThemDown, Belgium, Deportation, France, G4S, GEO, Germany, Greece, Iceland, Italy, Migrant Struggle, Netherlands, Racism, Serco, Spain, Sweden, UK, US
Posted in No Borders
Sunday, April 3rd, 2016
'If fighting for freedom is a crime, innocence is really the worst of all'
In late 2008, a midst diffuse hostilities triggered by the revolt in Greece following the assassination of Alexis by police, the Belgian Federal Prosecutor launches an investigation of anarchists and anti-authoritarians. In 2010, on the basis of a list of actions that the police attribute to the "anarchist movement" and while the struggle against the construction of a new detention centre in Steenokkerzeel is underway, magistrate Isabelle Panou is assigned to the investigation, now under the anti-terrorism. In May, then in September 2013, a dozen searches took place within this investigation, the searches targeting different homes as well as the anarchist library Acrata in Brussels. It is on this occasion that the existence of an antiterrorist investigation first emerges. This investigation is led by the anti-terrorist branch of the Federal Judicial Police backed by the State Security and the General Intelligence and Security Agency of the army as well as various anti-terrorist branches of other European countries.
The investigation is closed in 2014, culminating in the referral of twelve anarchists and anti-authoritarians to the Court Chambers. (more…)
Tags: Acrata library, Belgium, Brussels, Repression
Posted in Social Control
Wednesday, April 8th, 2015
Solidarité avec les prisonniers !
Abolition des lois 187, 187A, anticapuche, et sur les prisons de type-C !
Abolition de l'utilisation de l'ADN comme preuve légale !
Liberté pour Savvas Xiros !
Courage et force à Nikos Maziotis et à tous les prisonniers en grève de la faim !
Tags: Belgium, Brussels, Graffiti, Hunger Strike, Savvas Xiros
Posted in Prison Struggle
Sunday, April 5th, 2015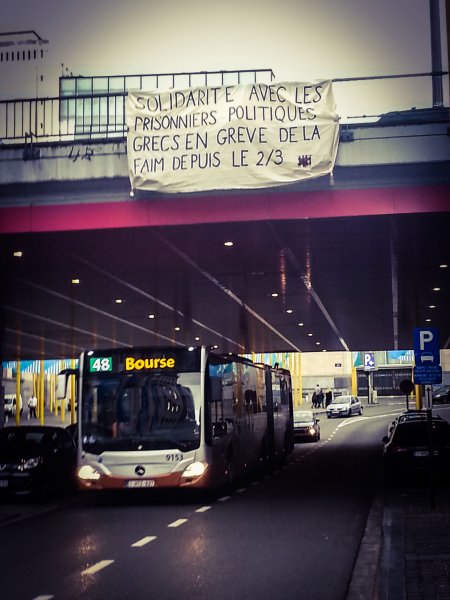 Bruxelles, Rue du Lombard, 4 avril 2015.
RHI
Tags: Banner drop, Belgium, Brussels, Greece, Hunger Strike, Solidarity Action
Posted in Prison Struggle
Thursday, March 26th, 2015
An evening event was organized on Monday, March 16 in Brussels by the "Initiative for solidarity with the Greece that resists" with the presence of a Greek politician (not the Syriza MP as announced but Epaminondas Marias, from the rightist party of the "Independent Greeks" – ANEL). Members of Secours Rouge/Red Aid intervened by speaking out, with leaflet distribution and deployment of a support banner for the demands of the Greek political prisoners on hunger strike (abolition of special repression laws, isolation prisons (Type C) and the release of Savvas Xiros, member of 17 November).
http://www.secoursrouge.org/IMG/pdf/tract_grece.pdf
Tags: ANEL, Belgium, Brussels, Greece, Hunger Strike, International Solidarity, Savvas Xiros, Solidarity Action, SY.RIZ.A., Type C prisons
Posted in Direct Action
Friday, December 5th, 2014
On Tuesday the 2nd of December 2014, we burned three vehicles belonging to members of the European Parliament. The attack took place near the Général Lartigue Avenue in Brussels.
This action is an act of offensive solidarity with anarchist Romanos, currently on hunger strike.
Solidarity with the anarchist and revolutionary prisoners, in Greece and everywhere else.
Solidarity with the fights of the comrades in Chile.
–
via contrainfo
Tags: Arson, Belgium, Brussels, International Solidarity, Nikos Romanos, Solidarity Action
Posted in Direct Action