Posts Tagged 'Berlin'
Friday, July 1st, 2016
Call out from Housing projects in Nordkiez, Friedrichshain, Berlin: Defend Rigaer 94! Destroy the Investor's Paradise!
On the 17th of June, we published the first call out for the 9th July neighbourhood demo "Destroy the Investor's Paradise, Stop Carré Sama-Rigaer!", 5 days later the landlord, cops, and Senate cooperated in the storming of the house project Rigaer 94. The cops, private security and labourers evicted the autonomous collective space "Kadterschmiede", the rest of the ground floor, including a workshop and garden, the attic in the back house and also the squatted attic in the front house.
John Dehwurst, who bought the house at the end of 2014, took the responsibility for this attack through a hypocritical press release from the fictitious building management. It was claimed that the evicted parts of the house would be used as living space for refugees. This would mean that the people moving in would find themselves under constant surveillance by the cops and security. At the moment such people are able to live in Rigaer 94 in self determined and supportive structures. We take this propaganda as an attempt to destroy structures of resistance by cynically playing different groups off against each other. The AfD, NPD and Co. are rubbing their hands in glee at the argumentation from the South African apartheid-regime lawyer Dehwurst and the 'Law and Order' politics of justice minister Frank Henkel. (more…)
Tags: Berlin, Demo, Eviction, Germany, John Richard Dewhurst, Rigaer 94, Rigaerstrasse
Posted in Autonomy
Thursday, June 30th, 2016
It has now been over a week since our doors were first cut off, cops and security intruded into our housing project, installing themselves in our stairways and other previously collective spaces. From then, the speedy and aggressive eviction and destruction of the ground level of our home began. Our social space, the Kadterschmiede, along with our workshop, laundry, attic and garden were stripped of all recognition in clouds of dust and mortar, while rubbish skips were filled with our belongings and collective histories.
Our rebellious, emancipatory project has been overrun by empty headed lackeys in uniform and we are pissed – not the least because we are used to better company than this. Whether these unwelcome wardens wear uniforms issued by the state or private security companies makes little difference to us. They both show their petty allegiance to the logic of domination and control not only via their presence but also through daily acts of physical violence, harassment, degrading comments and leers – not only directed towards us, but our visitors, friends and neighbours including young children. The police have set up a restricted area, closing off the entrance to the building and its surrounds, with anyone wanting to enter their home or visit us having to pass a gauntlet of beefed up aggressive cops and security, often needing to present identification. This process can take hours.
Further it has just been exposed that the police have been recording the details and compiling a database of people that have been identified coming into the house. At least part of this list has been passed on to and published by organised Nazi groups. (more…)
Tags: Berlin, Eviction, Germany, John Richard Dewhurst, Rigaer 94, Rigaerstrasse
Posted in Autonomy
Thursday, June 23rd, 2016
Via contrainfo:
Comrades are currently mobilising in the streets to make the eviction as expensive as possible for the cops and the Berlin Senate. Below is today's announcement by Rigaer94.
This morning, June 22nd 2016, at around 7.30am, approximately 300 cops, private security and construction workers came to our house in Rigaerstrasse 94. First, the construction workers cut out our doors and removed them. After securing their place in the house, the cops, construction workers and security, took position in the garden, the yard and on the roof, as well as in the staircases. Construction workers and cops joined together to carry out all movable objects they could find in the yard – bicycles, a bike shed, fridges, trailers etc. Our doors were removed and the frames knocked out, the phone and internet connection was cut. Only after our lawyer got access to the house, we were informed about the reason for the police action. (more…)
Tags: Berlin, Eviction, Fuck the Police, Germany, Rigaer 94, Rigaerstrasse
Posted in Autonomy
Monday, May 30th, 2016
This text is a response to the call "Fuck nations, squat the world". The discussion about squats as focal points of lawlessness and coordinated anarchist action are held everywhere across the world. Surely the "rebellious Nordkiez" (the northern area) in Friedrichshain is relevant for many people, not only those that inhabit it. And what occurs outside of this bubble, for example the fascist and state attacks against Greek squats and in the area of Exarcheia, is connected to it.

Report from the Nordkiez – where the state of emergency became normality
There have been innumerable episodes in this neighbourhood. Our story is that of an area of constant unrest, which has been a place of autonomous struggle for the last 26 years. We continue writing this history by declaring that the episode of the "Dangerzone" is over, it is time to move forward in our struggles against the state, capital and the entire apparatus of domination and exploitation which surrounds us.
(more…)
Tags: Berlin, Friedrichshain, Fuck the Nations - Squat the World, Germany, Rigaer 94, Rigaerstrasse, Squatting
Posted in Autonomy
Tuesday, March 8th, 2016
Freitag, 18. März 2016 um 18 uhr
S-Bhf Sonnenallee
(Siegrief-Aufhäuser-Platz)
Join us for March 18 – Day of action for the liberation of all political prisoners! Resist and fight against the justice system of the bourgeoisie and the imperialist oppression!

Freedom for all political prisoners….
The internationally-operating Rote Hilfe ('Red Help') – until present the most meaningful and largest solidarity organisation for workers' and peoples' movements – was officially founded not for nothing by the Communist Internationale on March 18, 1923. It was the anniversary of the Paris Commune of 1871 – the first attempt of the working class to take over the power and carry it with the goal of reorganizing the society. France's and Germany's ruling classes united to drown in blood this struggle of the oppressed. 30,000 men and women, workers, fighters and revolutionaries were hanged, 363,000 appeared before court. To commemorate this massacre and honour the fallen, this day has been known up until now as the international day of action for the liberation of all political prisoners.
Even today it remains in the nature of things for the universal imperialist system of exploitation to produce copious amounts of hardship, poverty and war, calling forth the exploited and the oppressed to commit to a most decided resistance. To assure their continuous rule and profits, the bourgeois countries, their armed institutions and their justice system resort to various forms of political repression: intimidation, spying, news-baiting, monetary fines, tightened laws, bans, trials, imprisonment, isolation, counter-revolutionary violence, torture, planned disappearances, murder and terror are in the program of the so fully 'democratic' dictatorships of the bourgeoisie in the imperialist capitalist system. (more…)
Tags: Ahmad Sa'adat, Berlin, Demo, DHKP-C (Democratic People's Liberation Party-Front), Georges Ibrahim Abdallah, Germany, GG/BO (Prisoners Union), Gülaferit Ünsal, India, Kurdistan, Leonard Peltier, Maoist Communist Party - Turkey (MKP), Mumia Abu-Jamal, Palestine, People's War of the Communist Party of India (Maoist), Popular Front for the Liberation of Palestine (PFLP), Repression, Revolutionäre Aktionszellen, Revolutionäre Linken, Rote Hilfe, Turkey
Posted in Prison Struggle
Saturday, February 13th, 2016


"R94 Lives!" read the fresh graffiti. Daubed in red paint across an office of Berlin's ruling SPD scum, which lost its windows too, the slogan (since scrubbed off) referred to a massive police raid on an East Berlin squat on January 13, one of the largest and most controversial in Berlin's recent history.
Following an attack of a police officer nearby, a 500-strong anti-riot team backed up by special forces, dogs and helicopters stormed into the so-called "occupied house" at 94, Rigaer Strasse (or "R94") on Wednesday night. Police raided the two houses next door the following day and kept up a heavy stop-and-search presence till now.
Video: https://www.youtube.com/watch?v=D5Zth5-uiV8
Taking place at one of Berlin's best-known anarchist project, the raid has sent shockwaves through the city, sparking a heated debate on whether it was a case of necessary public safety or unlawful police overreach. For the police and their defenders, the raid was an inevitable consequence of continuing disorder and antagonism coming from the squat. For their critics, the assault on the officer was an excuse used by the police to launch an only quasi-lawful attack on people who they disliked. (more…)
Tags: Berlin, Fuck the Police, Germany, Repression, Rigaer 94, Rigaerstrasse, Riots
Posted in Direct Action
Sunday, January 24th, 2016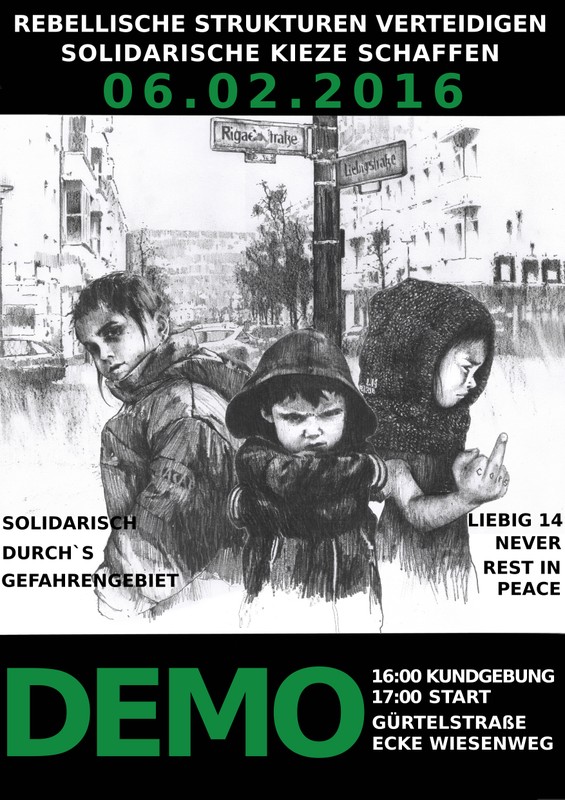 After the major offensive on Rigaer 94 by 500 cops, SEK, a K-9 unit and a helicopter, the northKiez of Friedrichshain is still under siege. There are constant controls all around Rigaerstraße and the streets are patrolled by massive swathes of cops.
We take the attack on the night of 13.01.2016 on Rigaer 94 and the assault on Liebig34 on the same evening as an attack on all of us! It is an affront to all of us that resist, organise, plan, act and network every day; against all those that cannot pay their rents anymore and get displaced.
To the cops and politicians speculation to be able to force us into capitulation and resignation by repression we respond: Forget it! We will not yield a centimeter! Now more than ever!
We are calling everyone, to go out on the streets with us on February 6th to fight against 'danger zones', police terror and displacement.
Call to action:
Defend rebellious structures, create neighbourhoods of solidarity!

Saturday 6th February 2016 | Berlin
Gathering at 16:00 in front of Wagenplatz Rummelplatz, Gürtelstrasse 26
Demonstration at 17:00 (be on time!)
Tags: Berlin, Demo, Fuck the Police, Germany, Liebig 14, Liebig34/XB, Rigaer 94
Posted in Autonomy
Friday, December 11th, 2015
viva Alexis 06.12.2008
7 years ago an anarchist rebellion began in Greece which then spread internationally and still continues. Despite numerous attempts to torture and kill our comrades around the world we have refused to be intimidated and the state repression has only made us stronger.
In the context of Black December we torched two vehicles at a Suzuki dealership hoping that the fire would illuminate the building. Suzuki regularly supply the Greek state with new vehicles so they can torture better such as those used for counterinsurgency by Delta squad.
Suzuki motorcycles are used by these minions of the recently reappointed Greek regime against it's population in the field.
We dedicate our action to Alexandros Grigoropoulos who was murdered in Exarcheia on the night of December 6, 2008.
We are aware of the purely symbolic nature of our action and are also aware that in the metropoles these actions are hardly noticed, however, we hope that the few who did notice imitate us and share our destructive intentions by launching their own operations to attack the system.
There are always plenty of reasons at any time to unleash destructive intention and attack hated (un-)state institutions and their servants.
These years of lethargy should have been taken advantage of so that we could regroup and discuss new methods of direct action.

for a Black December
Freedom for all prisoners of the uprising worldwide

(via linksunten indymedia, modified for clarity by Insurrection News)
Tags: Alexis Grigoropoulos, Arson, Berlin, Black December, Germany, Suzuki
Posted in Direct Action
Thursday, November 5th, 2015
Dear all,
As Anarchist Radio Berlin we had the opportunity of documenting a presentation organized by the magazine Cilip in Berlin with the title "Undercover for State and Capital". Therein, Kate Wilson talked about her relationship to [undercover cop] Mark Kennedy and Eveline Lubbes about the spying of multinationals and the Undercover Research Group. Unfortunately, due to technical problems, we could only record the first part of the presentation where Kate talks about her experiences.
The presentation was held in English.
You'll find the audio (to listen online or download in different sizes) here:
http://aradio.blogsport.de/2015/11/04/a-radio-auf-englisch-audio-documentation-undercover-for-state-and-capital/
Length: 33 min
You can find other English and Spanish language audios here:
http://aradio.blogsport.de/englishcastellano/.
Tags: Anarchistisches Radio Berlin, Berlin, Germany, Undercover Police
Posted in Interviews
Wednesday, August 19th, 2015
Berlin, 14th august 2015

From Berlin to Kopenhagen – Greetings from the rebellious Rigaer str. to Nørrebro
We also received the information about the terror of the cops against your house project Bumzen and three other flats. The reason for the police attack was a "reclaim the streets" action, where stones and molotow cocktails has been thrown against pics and a bank was smashed. We really like that you took back the streets and in which way you did it was amazing.
They forced you to give your DNA, so we gave also some orders to our specialists of the laboratory.
In a act of solidarity, two cop cars lost again in "Rigaer Roulette". We attacked the cops with stones and stinking bombs and we get informed by the press that the police sent some samples to the laboratory. We are really looking forward to the result of the analysis, if the pigs will publish it.
They also wrote that 20 stones hit the pig cars. Be sure, that there is no doubt that as long your colleagues are getting on the nerves of our friends or you by our own are wandering around our beautiful streets, as long it will be dangerous for you!
Rigaer roulette is going to the next round
Bumzen stays!
Solidarity with all anti-authoritarian struggles
–
via chronik
Tags: Berlin, Bumzen, Denmark, Fuck the Police, Germany, Rigaerstrasse, Solidarity Action
Posted in Direct Action
Thursday, August 13th, 2015
In the following interview we talk about the "Week of solidarity with anarchist prisoners", who is promoting it and what it is about. For security reasons, this interview has been re-recorded using our own voices.
You'll find the audio (to listen online or download in different sizes) here:
http://aradio.blogsport.de/2015/08/12/a-radio-in-english-interview-week-of-solidarity-with-anarchist-prisoners-august-2015/
Length: 4:47 min
You can find other English and Spanish language audios here.
August 23-30 International Week of Solidarity with Anarchist Prisoners blog, 'tillallarefree.noblogs.org'
Call out for an International Week for Anarchist Prisoners
In summer 2013 members of several ABC groups discussed the necessity of introducing an International Day for Anarchist Prisoners. Given there are already established dates for Political Prisoners Rights Day or Prison Justice Day, we found it important to emphasise the stories of our comrades as well. Many imprisoned anarchists will never be acknowledged as 'political prisoners' by formal human-rights organisations, because their sense of social justice is strictly limited to the capitalist laws which are designed to defend the State and prevent any real social change. At the same time, even within our individual communities, we know so little about the repression that exists in other countries, to say nothing of the names and cases involving many of our incarcerated comrades.
This is why we have decided to introduce an annual Week for Anarchist Prisoners on August 23-30. We chose August 23 as a starting point, because on that very day in 1927 the Italian-American anarchists Nicola Sacco and Bartolomeo Vanzetti were executed in prison. They were convicted of murdering two men during an armed robbery at a shoe factory in South Braintree, Massachusetts, United States. Their arrest was a part of a bigger anti-radical campaign led by the American government. The State's evidence against the two was almost totally non-existent and many people still today believe that they were punished for their strong anarchist beliefs.
Given the nature and diversity of anarchist groups around the globe, we have proposed a week of common action rather than a single campaign on a specific day making easier for groups to be able to organise an event within a longer target period.
Therefore, we call on everyone to spread the information about the Week for Anarchist Prisoners among other groups and communities and think about organising event(s) in your city or town. The events can vary from info-evenings, screenings and benefit concerts to solidarity and direct actions. Let your imagination run free.
Check out the flyers in different languages. Please send reports of your activities to tillallarefree (A) riseup.net
Tags: Anarchistisches Radio Berlin, Berlin, Germany, International Solidarity, International Week for Anarchist Prisoners
Posted in Prison Struggle
Monday, August 3rd, 2015
For Mónica Caballero, Nikos Romanos, Francisco Solar, Nikos Maziotis and all upright prisoners, for those who burn the vehicles of the prison-construction company Vinci in the streets of Paris and have celebrated the 14 July national holiday in their own way, for the untouchables that throw once again μολότοφ [Molotov cocktails] and stones through the streets of Athens and not let themselves be deceived by Syriza… and for ourselves.
That's why we torched a vehicle of the surveillance company Deutsche Telekom in the Wedding district of Berlin on 11/6/2015; we burned a van of the armaments company Siemens on the Stralau half-island on 13/7/2015; and caused a vehicle of the security company WISAG in the Paul-Junius-Straße to burst into flames on 17/7/2015.
Fortress Europe will collapse only when the storm on the outer boundaries connects itself with the local, inner subversions, and these struggles correlate with each other.
Tags: Arson, Berlin, Car Burning, Deutsche Telekom, Germany, International Solidarity, SIEMENS
Posted in Direct Action
Monday, June 29th, 2015
Police will attack next week, because….
Signs against the gentrification: The Rigaer street party
Dear groups, individuals and collectives "Es ist besser unsere Jugend besetzt leere Häuser als fremde Länder" (In our youth it is better to squat empty houses than foreign countries).
Under this motto some young people started squatting houses in Rigaestrasse and in the rest of Friedrichshain in the early 90's, creating places where they could collectively live, organize and resist.
Particularly in the following years many of the squatted houses were evicted or pressed to sign contracts as a result of the so called "Berliner Line" which aimed to push people into a capitalistic (consumptive) lifestyle. Even the contracts didn't prevent houses getting evicted in many cases. Nevertheless a few of the originally squatted houses persist as active spaces.
Discounting these projects that have remained, with somewhat affordable rent – the rest of our Kiez has undergone drastic changes in rent costs and real estate prices that are obvious to see / hard to ignore, with formidable and unaffordable prices for flats. (more…)
Tags: Berlin, Germany, Rigaer 94, Rigaerstrasse
Posted in Autonomy
Sunday, June 7th, 2015
Here in Germany two communist prisoners from Turkey, who had been sentenced according to the "antiterror-paragraph §129b", achieved victories by means of long hungerstrikes: Sadi Özpolat starved 43 days and Gülaferit Ünsal 54 days. They fought against censorship, prison clothing and intimidation. They didn't fight in the prison alone. Together with Gülaferit 6 other prisoners starved as well in solidarity.
Taken from one of our speeches ("Network of all political prisoners", Hamburg) in front of the Berlin prison, where Gülaferit is jailed: (29.5.2015)
"This is a draconic assault to all prisoners. More than 100 yearly commit suicide, living under similar conditions as Gülaferit, without any hope and unwilling to vegetate isolated anymore."
9 political prisoners of armed groups like RAF, who organised collective resistance against such conditions, didn't survive in prison in the seventies and eighties.
(more…)
Tags: Ahmet Düzün Yüksel, Berlin, DHKP-C (Democratic People's Liberation Party-Front), Germany, Gülaferit Ünsal, Hunger Strike, Muzaffer Dogan, Özgur Aslan, Özkan Güzel, Rote Hilfe, Sadi Özpolat, Sonnur Demiray, Turkey, Yusuf Tas
Posted in Prison Struggle
Wednesday, April 8th, 2015
As a small sign of solidarity with the CCF and the ongoing hungerstrike of various prisoners in Greece and their struggle against this prison-society, we dropped a banner in Berlin, at the "Oberbraumbrücke" in Friedrichshain/Kreuzberg:
"Strength and complicity to all CCF / prisoners on hunger-strike in Greece! our hearts are beating for you too"
Victory to the prisoners' struggle and their demands!
Strength and Freedom for the CCF and their relatives!
Some angry anarchists
Tags: Banner drop, Berlin, Conspiracy of Cells of Fire, Conspiracy of Cells of Fire : Imprisoned Members Cell, Germany, Hunger Strike
Posted in Prison Struggle