Posts Tagged 'Berlin'
Tuesday, January 8th, 2019
Responsibility claim for the arson attack against the Courthouse in Wedding
Europe-wide raids and house-searches. Arrests and extraditions. Informers and denunciations. The joyous chaos of the summit days and the confirmation of the loss of control forces the State to react. The reactions are noticeably more hostile than they have been for many years. Direct attacks against us and our structures are the reply of the rulers. The intensification of the persecution, the will to punish and the depoliticization of our ideas and actions are promoted.
What is forgotten within this logic is that we are united by political fragments like small parts of a puzzle – be it events, trains of thought that are happening in other cities or suddenly appearing in texts – and also by the reduction of the accomplices that are to be removed from the common table. We don't have to know the people who are on the streets with us. Through our sometimes unspoken ideas, we feel connected to each other and by meeting together in the streets, we act together, so that these ideas are not just dreamed of in a vacuum.
The enemy's current attempts to condemn the few who have resisted the many cannot be left unanswered by our side. (more…)
Tags: Arson, Berlin, G20, Germany, Sabotage
Posted in Direct Action
Tuesday, December 11th, 2018
Deutsch | Arabisch | Türkisch | Farsi | Englisch
Hallo liebe Freund*innen,
wir möchten am Samstag, den 15. Dezember 2018, gemeinsam von Berlin aus
zur "Freiheit für Musa Aşoğlu"-Demo nach Hamburg fahren. Hierzu treffen
wir uns am 15. Dezember um 7.30 Uhr am Ostbahnhof, Gleis 7. Wir besorgen
uns zusammen Wochenendtickets. Der Zug fährt dann um 7.52 Uhr ab. Wir
wären dann pünktlich in Hamburg, wo die Demo um 12 Uhr vor der Roten
Flora beginnen soll. Im Anschluss an die Demo würden wir gemeinsam
wieder zurück nach Berlin reisen.
Musa Aşoğlu wurde am 2. Dezember 2016 verhaftet und befindet sich
seitdem in Hamburg in Isolationshaft. Ihm wird nach §129b
(Mitgliedschaft in einer verbotenen terroristischen Vereinigung)
vorgeworfen, Mitglied der in der Türkei kämpfenden DHKP-C (Revolutionäre
Volksbefreiungspartei-Front) zu sein. Dass Oppositionelle in der Türkei
verfolgt, gefoltert und ermordet werden, stört die BRD in keinster Weise
– ist er doch enger Verbündeter und politischer Stabilidsator des immer
offener faschistisch agierenden Regimes in der Türkei.
Der §129b-Prozess gegen Musa Aşoğlu dauert seit dem 25. Januar 2018 an
und wir gehen davon aus, dass dieser im Frühjahr 2019 enden könnte.
Wir möchten Musa Aşoğlu und alle §129b-Gefangenen durch unsere
Teiilnahme an der Demo supporten. Schließt euch uns an. (more…)
Tags: Berlin, Demo, DHKP-C (Democratic People's Liberation Party-Front), Germany, Hamburg, Musa Aşoğlu, Repression, Trial, Turkey
Posted in Prison Struggle
Sunday, November 25th, 2018
Veranstaltung und Soli-Abend in der Meuterei am Freitag, den 30. November ab 18 Uhr mit anschließendem Cocktail-Tresen.
Vor über fünf Jahren eröffnete sich neun Personen die Tatsache Beschuldigte in einem Ermittlungsverfahren nach §129 StGB (Gründung/Mitgliedschaft in einer kriminellen Vereinigung) zu sein. Im Fokus der Ermittlungen standen die RAZ(Revolutionäre Aktionszellen)/RL(Revolutionäre Linke) und die Zeitschrift Radikal.
Jetzt hat die Staatsanwaltschaft Berlin in diesem Zusammenhang einen Antrag auf Eröffnung eines Hauptverfahrens gestellt und eine Anklageschrift formuliert. Nachdem bereits im August 2014 die Ermittlungen gegen zwei der Beschuldigten abgetrennt und unter anderem Aktenzeichen geführt wurden, richtet sich die nun im September 2018 verschickte Anklageschrift nur noch gegen eine Person. Die Ermittlungsverfahren gegen die anderen Personen wurden eingestellt. Bereits die Trennung der Ermittlungsverfahren ließ vermuten, dass eine Anklage wegen §129 für die Behörden nicht haltbar sein werde, und so lautet der Vorwurf jetzt auch Brandstiftung pp. in drei Fällen. (more…)
Tags: Berlin, Germany, Radikal (Zine), Revolutionäre Aktionszellen (RAZ), Revolutionäre Linke (RL)
Posted in Autonomy
Friday, November 9th, 2018
Lieber Freund*innen und Genoss*innen,
Wir möchten euch auf die morgige Veranstaltung aufmerksam machen und herzlich einladen.
Wo: Info- und Stadtteilladen LUNTE (Weisestr. 53, Neukölln)
Wann: 19 Uhr
Am 28.11.18 wird die Innenministerkonferenz (IMK) in Magdeburg geben. Bei dieser Konferenz werden die strategischen Leitlinien und taktischen Mittel des Staates zur Herrschaftssicherung bestimmt.
Wir wollen gemeinsam mit euch über die Entwicklung der Repression in der BRD sprechen und wie die Einführung der neuen Polizeigesetze im
Zusammenhang mit der Faschistisierung der BRD zu sehen ist. Desweiteren werden wir euch über die geplanten Proteste gegen die IMK und den Internationalistischen Block auf der Anti-IMK Demonstration am 24.11.18 informieren.
Referent*in: Proletarische Autonomie Magdeburg
https://proletarischeautonomie.noblogs.org
Veranstaltet von: Netzwerk Freiheit für alle politischen Gefangenen [Berlin]
http://political-prisoners.net/
Weitere Infos zur Innenministerkonferenz
https://unheimlichsicher.org/
Tags: Berlin, Counter-Summit, Germany, Innenministerkonferenz (IMK), Magdeburg
Posted in Autonomy
Saturday, October 27th, 2018
Berlin, October 15th, 2018
The anarchist movement has sharpened it's profile. This has meant that the repression against us has intensified in recent years. From Germany, the G20 has triggered an increase in activity by security agencies because they have realized that they are not in control of us and it became so obvious that a response was necessary. The destruction in Hamburg, the lack of compromise and the determination of the hooded ones hit them exactly where it was intended. Uncertainty was triggered there, in a place where people people's property defines themselves and their complicity in a warring society. The luxury automobile or the patrol car on the verge of becoming a pile of charred plastic – a casualness towards the war against the poor, the outcast and the inept.
Following the publication of the text 'The Insurgent's Autism', in issue 9, June 2018 of the eco-anarchist publication Fenrir, we felt an urge to respond. And for a moment we attack the illusion of security in this society in a very specific place to engage in communication and open a space for discussion.
…We do not know what to think regarding what out comrade Alfredo Cospito is saying when he speaks about a vision of an anarchist praxis that would become more dangerous because it keeps on experimenting. We can only speak for ourselves, that we have become more dangerous and are quite successful because the power misjudges our real potential. The willingness to remain alone, the claiming of total responsibility for our destiny… (more…)
Tags: 'Amad Ahmad' Cell FAI-FRI, Arson, Berlin, Fenrir, Germany, Informal Anarchist Federation (FAI), International Revolutionary Front, International Solidarity, Operation Panic, Operation Scripta Manent, Sabotage, Securitas
Posted in Direct Action
Sunday, September 2nd, 2018
With this we take responsibility for the incendiary device we placed in front of the building of the German Society for Foreign Politics (DGAP) in Drake-/Rauchstraße (Tiergarten) in the night of 21.8.18.
13 litres of a petrol-oil-mixture shall be the beginning of putting an end to the undisturbed and fearless existence of the DGAP as a political advisor of the German war society.
Since the beginning of this year increased attacks against the war industry, their profiteers and financiers take and took place over all the German controlled territory. We join these attacks and let the fire speak from our side. War starts here! War on the war!
War starts here, in the halls of politics. War starts everywhere, where people throw away their empathy, to profit from the globalized misery. In the war-industry, the thinktanks of science, in the faceless administration of bureaucracy, in the form of uniformed slaves, who receive and obey orders in rank and file. War starts between human beings, when concurrence and aspiration to power reigns over solidarity and the free development of the individual.
German Security – Profit through war
Through the choice of the DGAP as the target of our incendiary device we declare the ideological architects of German-European hegemonic politics, the scientists and forerunners of a security paradigm which works with as well as alongside of warmongers and in this way are our enemies. What they declare about security is not ours. Their foreign policy is a policy of order. And their order needs tanks against uprisings and frigates against inflatable dinghies, it builds fences against the suppressed and works continuously to extend their ongoing misery. (more…)
Tags: Arson, Berlin, G20, Germany, International Solidarity, Kurdish Struggle, Rojava, Sabotage, Solidarity Action
Posted in Direct Action
Monday, July 16th, 2018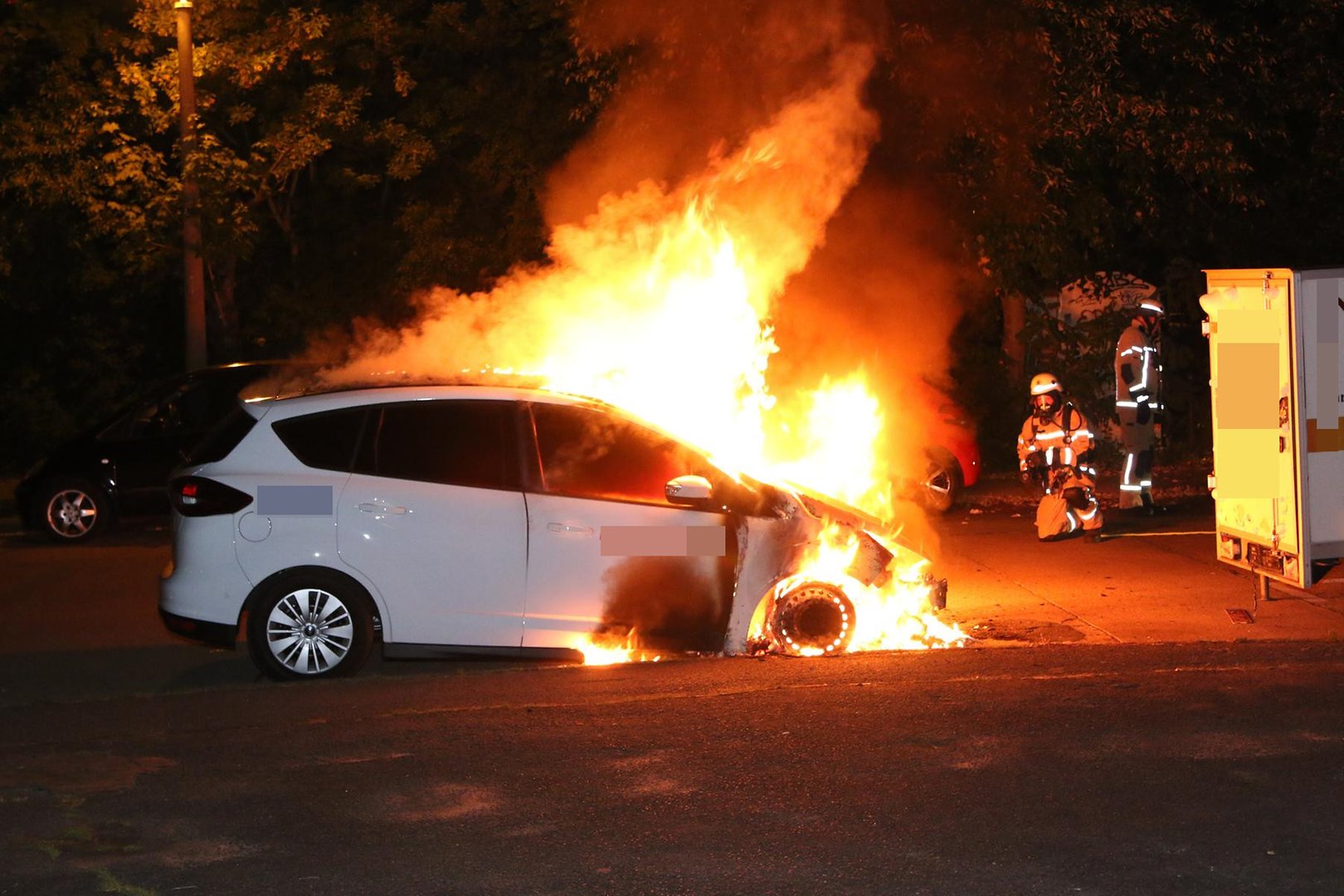 16.07.18: Last night a car belonging to the company Dräger was torched on Hänsel street in Baumschulenweg. Among other things, this corporation that is listed on the stock exchange, manufactures gas masks for police and military use.
In 2010, Dräger locations in Berlin and Cologne were attacked with paint:
"We hit Dräger because it is one of the biggest supporters of the international torture and murder scene, and in addition to sponsoring the police congrees, Dräger is also a leading international security and medical technology company".
From the Dräger annual report:
"Demand for our products increased in 2017, especially in Poland, Great Britain, Austria and Germany, as well as in Romania, Russia and Turkey…The increased demand for security products in particular contributed to the positive development of an increase in orders for medical technology too".
Freedom For All G20 Prisoners!
Tags: Arson, Berlin, Dräger, G20, Germany, Sabotage
Posted in Direct Action
Tuesday, July 3rd, 2018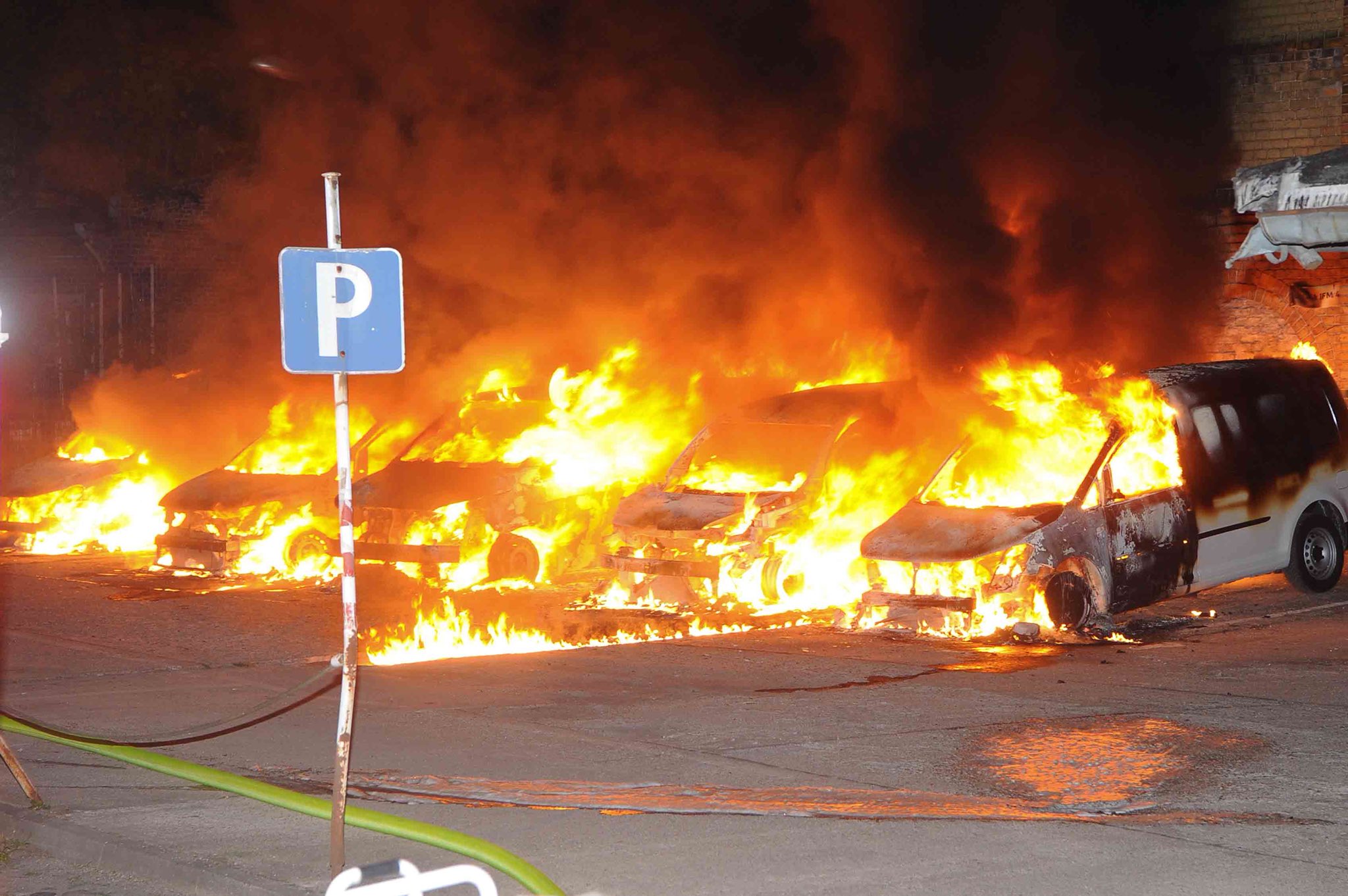 Berlin, June 2018
Restructuring power via digitization is in full swing. Hardly anything that cannot be complemented by a 'smart' in its name and thus a new place in this world has escaped this process. Everything is networked. Cameras, sensors and chips are constantly sending and letting things communicate. 'Big Data' is the currency of tomorrow. Even our relationships, actions and thinking are permanently exposed to digital access. Reduced to information, we feed the algorithms of the machines, helping to make the future manageable and controllable.
It's not always easy to hold on to the possibility of destroying this system as the rapid pace of the technological attack is widening and the net of domination stretches around us. All the more important are the moments of counterattack to reject the powerlessness that is spreading in the face of current developments. So we are all the more pleased that the answers to the misery produced by the colonization of the world via techno-industrial hegemony are found again and again in Berlin. Within the context of the planned Google campus in Kreuzberg, a fight has developed that is not only aimed at the tech giants and their universe, but also at the social level. Self-organization, direct communication and the power of the attack are the means of choice. Various acts of sabotage, such as the one last March by 'Vulkangruppe NetzHerrschaft zerreißen' have shown that the infrastructure of the flow of goods, communication and data networks is vulnerable and can be disrupted by arson attacks against cable networks and sensitive radio antennas. (more…)
Tags: Arson, Berlin, Deutsche Bahn, Germany, Telekom, Vodafone
Posted in Direct Action
Monday, November 13th, 2017
They call it "Dangerzone"* – but it is just an ungovernable neigbourhood
Greetings from Berlin to Athens
We, individuals and groups from the Rigaer Street, welcome the initiative, to start a discussion about an insurrection and fill it with experiences from the past, current theories and practical possibilities. This is how we understood the call for the Insurrection Festival in Athens.
In the program, we discovered several aspects, that we in the Nordkiez of Friedrichshain are engaged in. There is no anarchist, anti authoritarian or left radical movement in Berlin, there is just a scene. The dullness of the majority of a fascist society, makes it complicated to get moving. In order to destroy overall power structures, we need to search for the confrontation in our local communities. A concentration of people, ideas and structures working against the state, are necessary to be able to protect oneself from outside aggression and be able to actually develop. (more…)
Tags: Athens, Berlin, Germany, Rigaer 94, Rigaerstrasse
Posted in Autonomy
Thursday, March 16th, 2017
In the evening of March 15, International Day against Police Violence, we attacked a prowling Riot Police van in the "dangerzone" (label used by authorities for this Friedrichshain area) of Rigaer Street with many stones.
This was to send a small message of solidarity to the evicted squats in Athens, Villa Zografou and Alkiviadou Squat.
After the attack we left this area and learned from scum media, that a police helicopter came to Friedrichshain in order to find us and that this helicopter was attacked with laserpointer, what resulted in the arrest of three people.
Police started the war in our areas long ago, we must face this aggression. The execution of Hussam Fadel Hossein, Iraqi refugee, in the refugee camp of Kruppstraße in Berlin, on September 27. last year by police officers is one of many connections to the evicted Alkiviado Squat, that resulted in the arrest of many refugees.
And the eviction of Villa Zografou is the connection to the struggle of house projects in Friedrichshain against daily police aggression.

Anarchy and attack
Tags: Berlin, Fuck the Police, Germany, International Solidarity, Rigaerstrasse, Squatting
Posted in Direct Action
Tuesday, March 7th, 2017
Bon Soir!
On the evening of the 28th of February, six Securitas (private security company) vehicles were torched at Anhalter railway station. Securitas have been gaurding the entry to the occupied school on Ohlauer Strasse in Kreuzberg, Berlin for two years, forcing the remaining refugees to a jail-like existence. Through constant displays and harassment of the residents, their number has been constantly reduced – many have disappeared in jail, have been deported or have a house ban.
If we were able to identify more deeply with society's slaves we would now complain that 'guarding' costs millions of euros for taxpayers. But no. Then we would have to complain about the bad working conditions in the security sector. On the contrary we are working on the destruction of the bridges of this society, which are still being preserved via the security sector in order to integrate even the partly autonomous milieus with reluctant practice. (more…)
Tags: Arson, Berlin, Car Burning, Conspiracy of Vengeful Arsonists, G20, Germany, International Solidarity, Sabotage, Securitas
Posted in Direct Action
Tuesday, February 21st, 2017
18.02.17: On February 21/22 the European Police Congress will take place for the 20th time in Berlin. On this occasion at the Berlin Congress Center (BCC), war mongers, human hunters and security fanatics meet to propagate their despicable machinations.
In addition to Thomas Thomas de Maizière, the Federal Minister of the Interior and Hans-Georg Maaßen, the President of the Federal Office for the Protection of the Constitution, agents and guards of all types will be represented by Europol, Frontex, BKA, LKAs and many other authorities. Also present will be lobbyists, entrepreneurs and war ministries such as Heckler & Koch, Taser, Rheinmetal and developers of monitoring software and communications technology such as SAP, IBM and Vodafone will also be present.
Under the slogan – Europe limitless? Freedom, mobility, security – the coming campaigns in which authority is put into position will be discussed and the appropriate technologies and weapons will be brought into the field.
Words such as limitless, freedom and mobility are above all the transnational cooperation of the repressive European bodies, the exchange of data and knowledge and the militarization of Europe and its external borders. (more…)
Tags: Aachen, Arson, Berlin, G20, Gabriel Pombo da Silva, Germany, Konstantina Athanasopoulou, Pola Roupa, Sabotage, Solidarity Action
Posted in Direct Action
Monday, February 6th, 2017
Armed with an incendiary device, we rode through the streets of Berlin on a frosty night looking for a target for which we could say that we are fighting the struggles of our unknown comrades against the CIGÉO nuclear dump in the woods of Bure, in the ZAD and against the French state of emergency as a whole and express our solidarity.
We also support other anarchist interventions on the continent of Europe, such as Revolutionary Struggle in Greece.
So we torched a diplomatic vehicle of the French Embassy at the Willmanndamm in Schöneberg last night, with which we would like to greet the prisoner Damien Camélio, as well as Pola Roupa and Konstantina Athanasopoulou who were recently arrested in Athens, for whose freedom all states must be combated, and for who we will continue to act diligently.
This is also a call to use the G20 in Hamburg to coordinate our theory and praxis in order to reach a continuing anarchist offensive in all areas beyond the July meeting.
The French piece of shit who wants to represent his regime at the G20 in Hamburg is of course just as welcome as any other power. We advise the diplomats of Berlin to hide in gated communities.
'Rémi Fraisse Cell' – FAI
Berlin 06-02-2017
via Linksunten Indymedia, translated by Insurrection News
Tags: Arson, Berlin, Damien Camélio, G20, Informal Anarchist Federation (FAI), International Solidarity, Konstantina Athanasopoulou, Pola Roupa, Rémi Fraisse, Rémi Fraisse Cell - FAI
Posted in Direct Action
Thursday, February 2nd, 2017
We are writing to you from the threatened houseproject Rigaer 94
in one of Berlins once notorious squatting neighbourhoods.
Our contexts might be worlds apart or really close but the reality we lived last year
bears the prints of the same systematically oppressive system.
In solidarity with all threatened projects, individuals and emancipatory struggles, we would like to better connect our structures and work on a closer link based on support, in our struggles.
Let's keep walking this path together, but first a short summary of the recent past and our situation.
Last year saw us, the neighbourhood and people around, on the receiving end of much police repression, starting with the declaration by the state that our street and neighbourhood was a danger zone (Gefahrengebiet), giving the police extra search and detain powers and a green light for constant street harassment of anyone fitting their vision of a 'leftist', not white or somehow not normative person (this evolved into almost anyone being controlled, no matter how they presented).
This saw a massive rise in police riot vans cruising the streets, meaning constant conflicts for the neighbourhood, and in our efforts to fight for a autonomous and cop free area.
Rigaer 94 was at the centre of these conflicts, as the state and its cops declared it the crux of militant struggle.
This tactic can be seen in the wider context of reactionary imposed controls and intimidation, such as states of emergency and curfews, employed as constant stress factors (and datamining) to those against the aggressive progression of gentrification and public control. (more…)
Tags: Arson, Berlin, Eviction, Fuck the Law, Fuck the Police, Germany, International Solidarity, Kadterschmiede, Rigaer 94, Rigaerstrasse, Riots, Squatting
Posted in Autonomy
Thursday, January 12th, 2017
Berlin, January 6, 2017
Different reasons have caused us to express ourselves again, even if the resources used, in terms of material expenditure and 'man' power were very small. One of these reasons is the 'message barrier' which was partly imposed on militant actions. Anonymous comrades of the 'Autonomous Groups' already pointed this out in the framework of their attack against the Ordnungsamt (public order police) on 25.12.16.
In the meantime, it should be clear to the authorities that the two torched vans did not fall victim to a technical defect on 'company premises' on Sewanstraße as they initially suspected but were torched using fire accelerators. One on the right front tire and one on the right rear tire. The vehicles belong to the company Sodexo whose activity in the prison industry has been reported several times, which is why they have been repeatedly subjected to militant actions.
We hope that there was damage to the building structure and we want to emphasize that we are not interested in frightening the workers. As a character mask of the capitalist social formation they contribute to the continuation of the same but only to a limited extent.
This attack is to be understood as a small flame of solidarity with the diverse range of people affected by repression. Examples include the revolting / striking prisoners in the USA. Also in the exceptional condition, due to the riots of the inmates, are some prisons in the UK.
(more…)
Tags: Arson, Berlin, G20, Germany, Sabotage, Sodexo, Vodafone
Posted in Direct Action