Posts Tagged 'Black December'
Sunday, December 29th, 2019
From A2day:
Anarchist sites report that in recent months in Donetsk and Kiev region base stations (aka towers) of mobile operators were attacked 4 times. Behind the attacks are mostly anarchists.
The first attack was to blow up the base station of the Phoenix operator. Then it was reported that two Lifecell towers were set on fire. December 10, 2019 it was reported about the arson of the mobile base station "Vodafone Ukraine".
For example, when attacking the Lifecell communication towers, anarchists claimed that the main reason for the attack was solidarity with the Democratic Federation of North and East Syria (Rojava), the struggle of the Kurdish people for liberation from the Turkish occupation.
Wishing to give intensity to these attacks, we, a cell of the Informal Anarchist Federation, set fire to another cell communication base station in Kiev. Unlike the aforementioned attacks, our motives and view of the targets under attack are different. We suggest taking a broader look at the topic of communication towers.
Mobile operators are eager to capture as many subscribers as possible. This is a fact. There are three main operators in Ukraine: "Kyivstar", "Vodafone Ukraine", Lifecell. These companies do anything to place their mobile antennas everywhere, to get more money and control. They do not care what we think about it. But the most important thing is that the operators cooperate perfectly with the police, leaking them all the data of their subscribers. Each mobile operator receives more than 20,000 court orders annually for temporary access to things and documents.
(more…)
Tags: Anti-technology, Arson, Black December, FAI Cell "Misha Zhlobitsky", Informal Anarchist Federation (FAI), International Solidarity, Kiev, Kyivstar, Lifecell, Misha Zhlobitsky, Rojava, Sabotage, Smartphones, Surveillance, Ukraine, Vodafone
Posted in Direct Action
Wednesday, January 9th, 2019
Contribution from La Rebelión de las Palabras for the meeting taking place in Santiago, Chile on 23rd December in combative memory of nihilist-anarchist comrade Sebastian Oversluij, "Angry". The meeting was also within the context of Black December and internationalist anarchist praxis. 5th year since Sebastian's death during a bank expropriation.
From the Spanish State, we greet first of all the compas that raised the commemorative activity for Angry, to a new anniversary of his death in action when he was trying to expropriate one of the temples of Capital. The noise of the blast that killed him awoke new feelings of rabid sadness that roamed the globe, unleashing actions of revenge, activities in his memory, and that inspired more individuals and groups that from the offensive or not, returned to take a breath to continue on this difficult path. We did not know Angry, nor did we know the political and social context of the Chilean territory where he developed, lived and fought. However, the courage, the determination and the coherent commitment that he showed with his last action reverberate in us, and we also feel affinity with his words, his music with the rap band Palabras En Conflicto, which we know and like, and with his drawings and gestures, contributions that mark his offensive trajectory, feeling honored to be able to participate in this activity contributing the present writing.
We have been asked to write something about the context of anarchism in the territories dominated by the Spanish State. However, to be honest, we do not feel legitimacy for such a task, since we do not know in depth the concrete context of many places of the state, and others we know them in a partial, ephemeral way or in any case, from an approach that starts from our assessment, our subjectivity and our own processes, affinities, preferences, with what we have decided to make a general assessment that, we repeat, part of our own personal valuations, without having to be taken as an absolute reason or that we intend to speak for others companions who, perhaps, have another point of view and something to say about it. (more…)
Tags: Black December, Chile, Counter-info, International Solidarity, La Rebelión de las Palabras, Santiago, Sebastián Oversluij Seguel, Solidarity Event, Spain
Posted in Autonomy
Tuesday, January 8th, 2019
On the last day of the year we slashed the tires of two cop cars parked outside their precinct. This attack was carried out in revenge, specifically for the police brutality against anarchists in Philly this summer, and in general for all the indignities, small and large, that police cause every time they do their jobs.
This attack taught us the importance of patience and determination.
It warms our hearts to see the police also being attacked in Portland, even though we disagree with some of the goals we read in the most recent claims because we don't think there's any justice to be found in the system. We hope the comrades
mean themselves when they speak of continuing "until something serious is done", it's obvious to us that the city and liberal campus they paint are not with us. We think it's up to us to seek our own revenge.
The dead are with us in memory and through our actions.
Fuck the police!
Tags: Black December, Philadelphia, Sabotage, USA
Posted in Direct Action
Sunday, December 30th, 2018
Black December means action and memory, and, like any initiative of direct attack, it comes to life and continues when there is a will to go from words to deed – to break with the normality of the capitalist social routine and the comfort of civic life.
Always prepared for action, we liberate ourselves from the consumerist fever and the behavioral patterns imposed by the social order with its end of year traditions. And so, with planning, cunning and certain precautions, the anarchist attack never stops.
That's why at dawn on December 28th we set fire to a truck in the city of Santiago, in a suburb of the so-called 'middle class'. The action was reported by the media and now we can confirm: it wasn't a short circuit, it was an intentional fire wrought by anarchic hands during the middle of the night in the streets of their disgusting city.
Setting fire to a truck is attacking the mega-machines and structures that contribute to the devastation of the Earth, it is setting fire to the ideas of progress and civilization, it is our contribution to the ongoing agitation against the IIRSA-COSIPLAN project and the construction of thousands of kilometers of roads that destroy eco-systems to facilitate the transit of trucks full of merchandise and accelerate the advance of the city that contaminates our life. (more…)
Tags: Arson, Black December, Chile, Incendiaries Complicit in Sabotage – Informal Anarchist Federation / International Revolutionary Front (FAI-FRI), Informal Anarchist Federation (FAI), International Revolutionary Front, International Solidarity, Santiago
Posted in Direct Action
Friday, December 28th, 2018
Diciembre Negro significa memoria y acción y, como toda iniciativa de ataque directo, cobra vida y continuidad cuando hay voluntades que pasan de las palabras a los hechos para romper con la normalidad de la rutina social capitalista y con la comodidad de la vida ciudadana.
Siempre dispuestxs a la acción, nos liberamos de la fiebre consumista y de las pautas de comportamiento impuestas por el orden social y sus tradiciones de fin de año, así, con planificación, astucia y ciertas precauciones el ataque anarquista no se detiene.
Por eso la madrugada del 28 de diciembre prendimos fuego a un camión en la ciudad de Santiago, en una comuna de la llamada "clase media". El hecho fue reportado por la prensa y ahora les confirmamos: no fue un cortocircuito, fue un incendio intencional forjado por manos anárquicas en medio de la noche entre las calles de su asquerosa ciudad.
Incendiar un camión es atacar las mega-máquinas y estructuras que contribuyen a la devastación de la Tierra, es prender fuego a la idea de progreso y civilización, es nuestra contribución a la agitación contra el proyecto IIRSA-COSIPLAN y la construcción de miles de kilómetros de carreteras que destruyen eco-sistemas para facilitar el tránsito de camiones llenos de mercancías y acelerar el avance de la urbe que contamina nuestra vida. (more…)
Tags: Arson, Black December, Car Burning, Chile, IIRSA (Initiative for the Integration of the Regional Infrastructure of South America), Informal Anarchist Federation (FAI), International Revolutionary Front, International Solidarity, Santiago
Posted in Direct Action
Sunday, December 23rd, 2018
ES: Contribución del proyecto contrainformativo anarquista 325 al Encuentro en Memoria del Angry
Contribution for the meeting taking place in Santiago, Chile on 23rd December in combative memory of nihilist-anarchist comrade Sebastian Oversluij. 5th year since Sebastian's death during a bank expropriation.
Dear comrades,
We are writing from '325', which is a nihilist-anarchist and anti-civilisation group of counter-information and action. Since 2003 we exist as an informal group originally out of UK and spread into Europe. We want to send our greetings to all the comrades at the gathering, for many years we follow the struggle there in Chile and try to spread solidarity to the fight. From Chile to Indonesia, to Europe, and beyond…
We think that the tendencies of attack are the most vital part of anarchy, as direct action is the constitutive part of the fight for freedom, liberation and eco-defense. We think that it's important to combine and multiply our struggle with comrades around the globe, because everywhere that anarchists are fighting, we can become a more dangerous and subversive threat against power when we internationalise and break down the borders between us. This is the reason that the States and corporations across the world are becoming afraid of anarchy again in the 21st Century, because we are the only real opposition to power's domination and they do not want us to grow and link up with each other to conspire.
On the 5th year since Sebastian Oversluij`s death in a bank robbery, we keep him present, with all the comrades that are still living with us in our hearts and deeds. Even though we never met Sebastian we are inspired by his actions and life's vision as he himself expressed it. We are touched by his freedom and energy. The banks and the capitalists are our enemies, and those that attack and expropriate them are our comrades, accomplices and friends.
The future belongs to those who struggle for liberation. They hasten the collapse of this prison-world.
Let's light up the nights and days,
Blazing hugs for a Black December
325
Tags: Black December, Chile, Counter-info, International Solidarity, Santiago, Sebastián Oversluij Seguel, Solidarity Event
Posted in Autonomy
Saturday, December 22nd, 2018
Happy Holidays Motherfuckers!
We don't know how to do Christmas. What do you give the greedy scrooges that already take everything? Instead of a goose, we gave gift cards up and glued into ATMs and locks.
*Sung to the tune of Twelve Days of Christmas*
1 parking meter, 1 racist Starbucks, 1 Illegal Tacos
2 OCF cafes, 3 Citibike kiosks
5 realty offices, 110 ATMs
—
Except this wasn't over 12 days it was in 1 night. This shit was fun and easy.
Here's some things to consider if you want to try this at home.
-Plan and dress for the weather.
-Set high goals.
-Watch each other's backs.
-Invite more people to participate with you.
-If using cardboard instead of gift cards don't drop it in a puddle.
-ATMs have high quality cameras, cover up well.
-Bring extra supplies in case an opportunity arises.
-Don't blow up your spot, look jolly not grinchy.
-Many small groups can cover more ground than one big group.
-For information on sabotaging ATMs read these communiques.
https://phlanticap.noblogs.org/atm-attacks/
https://itsgoingdown.org/striking-back-banks-portland/
On Mikhail, on Alexis, on PZS, on Sebastian!
Solidarity with people facing repression near and far!
Solidarity with the Vaughn 17!
Ten years since the insurrection in Greece!
For a Black December!
'Tis the season of rage!
Ghosts of No Christmas Future
Coordinated Cells of Grinches
War on Christmas
Ugly Christmas Sweater Moms
Tags: Black December, Philadelphia, Sabotage, USA, Vandalism
Posted in Direct Action
Tuesday, December 18th, 2018
«You are waiting for the revolution? Let it be! My own began a long time ago! When you are ready (god, what an endless wait!) I won't mind going with you for a while. But when you stop, I shall continue on my way toward the great and sublime conquest of the nothing!
Any society that you build will have its limits. And outside the limits of any society, unruly and heroic tramps will wander with their wild and virgin thought — those who cannot live without planning ever new and dreadful outbursts of rebellion! I shall be among them!»
Pretty words, but there must be more than just words.
I don't want to run behind the masses. They say that this time it's the big one, that the insurrection has arrived…mine arrived a long time ago and it's an individual insurrection.
During the early hours of December 11th, I set fire to six cars belonging to the Paris City Council on Rue Corvisart (in the 13th arrondissement). It was not the City Council that was targeted, any more than it was Macron or any other power. All power must be destroyed.
So we do not forget the comrades who have left us. For Mikhail, Zak, Sebastian, Mauricio and all the others.
For those who are in prison. A thought in particular for Krème and the Scripta Manent defendants in Italy.
For a Black December!
A black hood on the head, a new world in the heart.

(via Attaque, translated into English by Anarchists Worldwide for Mpalothia)
Tags: Arson, Black December, Car Burning, France, International Solidarity, Paris
Posted in Direct Action
Thursday, December 13th, 2018
In these days, the units of the repressive forces suppress once more the collective outburst of rage and the necessity for violent conflicts. In their offices, riot buses and coffeeshops they fed by the idea to catch insurgents in their grip to be able to humiliate, torture and imprison them. In these same days we attack them in their headquarters. To take them by surprise, to expose their weaknesses and failures in front of the ever-going will to destroy them. The same cops who are proudly patrolling in the city, convinced of their unlimited ability to terrorize the populations, were forced to run away loaded with fears in the night of December 2, in front of their own station.
As democratic state is maintaining the population in a constant state of survival without starvation and widespread sicknesses, in the same way the riotcops units are using the maximum of repression without direct execution. Their presence is to impose control, their actions to re-establish order. The war is chemical and the weapons they are allowed to use are not lethal. In every way they are the frame of stability, designing the inner borders of metropolis, tracing routes and dead ends for the demonstrations. They are occupying grounds, defining the danger zones which have to be surrounded. They are used against social uprisings, against the migrants inside the camps, to secure the destruction of natural places. They are the symbol of the dominant subject in the social base as the white straight European male, guarantor of the law in favor of statist and capitalist society.
The establishment of the YMET police station in Kaisariani was a planified move of the counterinsurgency policies. During the German-Greek Nazi occupation and the Dekemvriana 1944, this neighborhood was an area of resistance. Nowadays, it seems normalized in the neighborhood to have a constant presence of cops in uniforms circulating and living around this military base. This is a result when oppression is not to confront in itself but the enemy is to be found in the national origin of this oppression. Populations are accepting to be dominated by the local repressive forces if no foreign powers are involved. Some parts of the resisting forces, though the last decades have denied the left-patriotic characteristic of the guerrilla tradition. We are one part of this negation and we seek to develop our analysis beyond the leftist hegemony.
The insurrection of 2008 in Greece was one of the most powerful in the contemporary world. It showed an the amount of power and creativity which can be brought against the state mechanisms and how weak and small they looked those days. The murder of the anarchist Grigoropoulos from the Greek police will always be present in our memory and through our actions. Even though, we are to mark that this assassination, and the insurrection it brought within the society and the all left political spectrum was mainly because he was a 15 years old white Greek student (meanwhile they try to hide his political identity). From our sight, we are seeing the state's murders in various subjects, in a daily base along with the imprisonment and domination over the ground. That is why our struggles are violent and constant. Our insurrectionary acts do not depend on social legitimisation. Society is an abstract concept, more likely it refers to what is visible and approved to exist. Our struggles are connected to our experiences. We do not fight to save the people, we fight to survive and give solidarity to those who resist with the target to stimulate more individuals and collectives to join this sincere anarchist struggle.
Our tactics can easily be adopted in any metropolis of the InterState fortress. Every preparing action, every conversation, every aspect of our plan, can get us one step forward from our enemy giving us the advantage to surprise him. Let's create an insurrectional movement without borders that will be able to spread anarchistic ideas and practices.
We send a burning signal and we join the call for a Black December announced by the comrades in Chile by communicating with this action and our words with the insurgents around the world. In fighting memory of all friends, comrades and unknown killed or imprisoned by the state.

LONG LIVE ANARCHY
Tags: Alexis Grigoropoulos, Athens, Black December, Greece, How to make Molotovs, International Solidarity, Molotov, Molotovs
Posted in Direct Action
Wednesday, December 12th, 2018
El pequeño sabotaje que realizamos la madrugada del Martes 11 de Diciembre tiene su origen en una persona: Sebastián Oversluij Seguel, el Angry como cariñosamente le decíamos nosotrxs en nuestra intimidad subversiva, fue un compañero insurreccionalista y miembro activo de esta organización.
El Angry aporto en innumerables proyecto revolucionarios, levantando instancias de discusión, bibliotecas barriales (donde el conocimiento se puso a disposición de cualquier persona interesada), opto por una dieta vegana (libre de tortura animal), apoyo tokatas donde se reunían fondos en solidaridad con lxs presxs políticxs y lxs perseguidxs, propago ideas libertarias y antiespecistas en muchísimos lugares por donde anduvo. Colaboro en jornadas de agitación, repartiendo propaganda, armando barricadas, pegando afiches, asistiendo a marchas, levantando huertos, creando canciones, pintando, dibujando, y, por supuesto, saboteando el normal funcionamiento de una que otra institución represiva. Ese era nuestro hermano. (more…)
Tags: Banco Estado, Black December, Chile, International Solidarity, Juan Aliste Vega, Marcelo Villarroel Sepúlveda, Sabotage, Santiago, Sebastián Oversluij Seguel
Posted in Direct Action
Friday, December 7th, 2018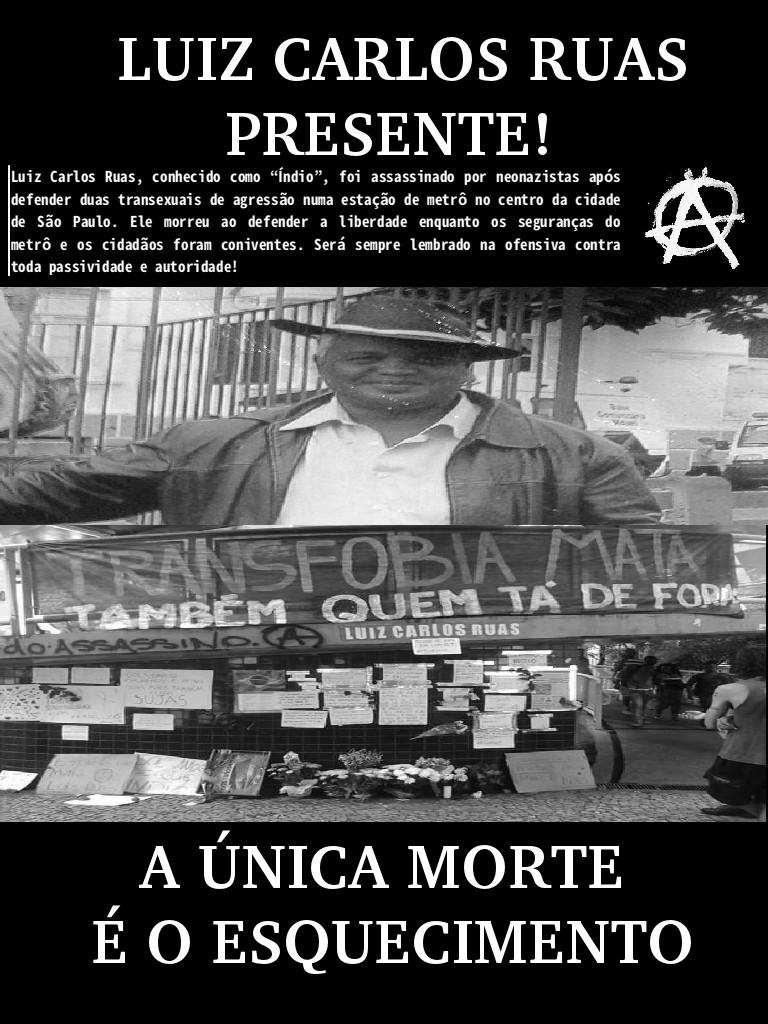 Luiz Carlos Ruas presente, the only death is oblivion.

Luiz Carlos Ruas, aka Indio, was murdered by neonazis after defending two trans people from aggression in a central subway station in São Paulo city. He died after defending freedom meanwhile security guards and citizens were conniving. He will always be remembered in the offensive against all passivity and authority!"
How's that, "who killed him"? If the murderers' names and faces are already known… It did not take so long until the butchery media turned this event into spectacle. There was an exposure not only of who assaulted him until his last breath but also of his family, of the trans people he defended, his life history and a lot of information applied just to create a huge smokescreen. Up this disgusting situation, two years after his death, it becomes indispensable to tell this event from beneath the claws of domination. (more…)
Tags: Black December, Brazil, Luiz Carlos Ruas aka Indio, Repression
Posted in Uncategorised
Monday, December 3rd, 2018
December is still a month marked with the stamp of the insurgent memory of the
anarchists who rise up in open antagonism against any form of power.
December 2018 will be 10 years since the comrade Alexandros Grigoropoulos was
snatched from the streets when he was killed by police bullets in the neighborhood
of Exarcheia, Greece, in 2008. It is also the month that will mark 5 years since the
comrade Sebastián Oversluij was killed by the bullets of a mercenary of capital
during a bank expropriation in 2013 in Chile.
Because the memory of our dead is fuel to stoke the flames of our lives in permanent revolt, the Black December is once again a meeting point of multifaceted action, and to reflect upon ourselves and on our strengths in this minority struggle and about the current manifestations of our totalitarian enemy, which is power and its world of hierarchies, fascism. patriarchy, speciesism and the multiple expressions of the desire for superiority of some over others.
Once again, Black December continues to be an invitation for insurgent communication via the savage heat of offensive action against power.
In iconoclastic memory of our dead.
Offensive solidarity with the comrades who face repression in Argentina, Brazil,
Chile, Russia, Italy, Greece and all over the world.

For a Black December, long live anarchy!
–
ES/GR: Por un Diciembre Negro / Για ένα Μαύρο Δεκέμβρη
Tags: Alexis Grigoropoulos, Black December, Black International, Black International of Anarchists of Praxis, Insurrection, International Solidarity, Sebastián Oversluij Seguel
Posted in Autonomy
Tuesday, August 1st, 2017
'Eine Antwort auf den Aufruf zur Solidarität mit den Gefangenen in Hamburg' von Panagiotis Argyrou, inhaftiertes Mitglied der Verschwörung der Feuerzellen /FAI-IRF [de]
A response to the call for solidarity to the ones held in custody in Hamburg

During the exile of captivity few are the things that can make you smile, offer a warm thought or a pleasant feeling. I can, however, say with some certainty that these days of July when Hamburg surrendered to the chaos of riots during the G20 summit, the clashes with the police, the burning barricades, the store looting, the vandalisms and burnings of sovereignty targets, my thoughts were boosted, a great deal of "thank you-s" as well as vivid emotions overwhelmed me, and a smile lit up my face.
I'll be honest, however. Although from an early stage a large part of insurrectionary anarchism aspired at setting a high target, something that had become clear already since the call for a militant campaign of informal organization months before the summit; and although there was a large number of public texts and claims of responsibility responding to this call (some comrades were kind enough to even mention the heritage of Black December), I wasn't that sure that the days in question would indeed involve such great momentum. And this due to the fact that the difficulties entailed weren't unknown to me—the adversities and the challenges that would have to be confronted by the people who would want to organize and accomplish such an ambitious riot plan. (more…)
Tags: Black December, Conspiracy of Cells of Fire, G20, Germany, Greece, Hamburg, Informal Anarchist Federation (FAI), International Revolutionary Front, Letter, Panagiotis Argyrou
Posted in Prison Struggle
Friday, December 16th, 2016
Because of the day of the black anniversary of the murder of Alexis Grigoropoulos from the cop Korkoneas, some comrades chose to give a different meaning to this night by placing our own pebble in the frames of conflict. As a minimal token of protest against everything we experience and the consumerist craze of Christmas, with the help of flammable material and our will to leave the discussions and nonsense of the cafes, we proceeded to act. Just before the beginning of the demonstration we set fire to the Christmas tree in the central market square of Chania and which represents the consumerist frenzy that takes over the brains of the living-dead of this country and not only. As soon as it started burning, a group of store owners whose stores were not endangered, rushed to put out the fire with buckets and hoses, their petite-bourgeois not able to understand the nature of this act, resulting in only one part of the tree being burnt. (more…)
Tags: Alexis Grigoropoulos, Arson, Black December, Chania, Creta, Greece
Posted in Direct Action
Thursday, September 1st, 2016
Received 1 September:
Our shards against their repression
This is the beginning of our week. And every day should start like this for those profiteers responsible for the prison system…
This morning, August 15th, we visited Television Service Jürgen Krüger and the SPD office of Björn Eggert in Oranienstraße in Kreuzberg and smashed their windows.
Television Service Krüger since thirty years holds the monopoly on examination of electronic sets from prisoners in Berlin. No radio passes him without being checked. This shall prevent forbidden goods or manipulated sets passing behind the walls. For prisoners this service costs a lot of money.
The company directly profits from the surveillance of prisoners. Besides this, it happened more than one time, that Krüger damaged radios or TV from prisoners.
Further Jürgen Krüger does the technical utilization from seized mobile phones and gives the hacked data to authorities. This company was hit several times, which could not prevent them continuing to take advantage of repression against prisoners… (more…)
Tags: Berlin, Björn Eggert (SPD), Black December, Black July, Germany, Rigaer 94, Rigaerstrasse, Sabotage, Solidarity Action, Television Service Jürgen Krüger
Posted in Direct Action