Posts Tagged 'Black December'
Tuesday, February 2nd, 2016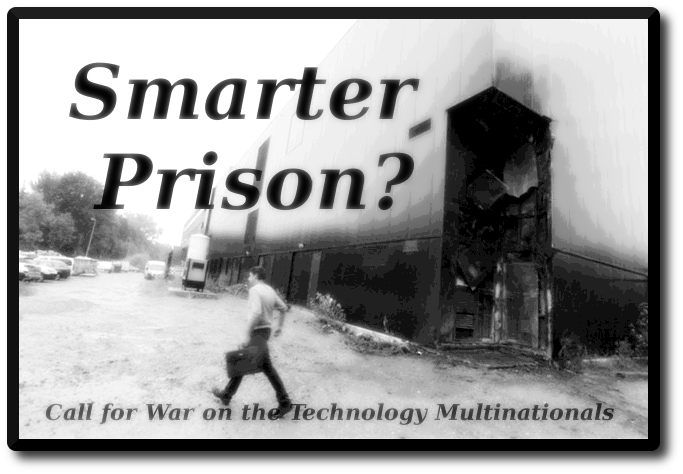 Submitted to Return Fire in the last month of 2015, as part of the challenge to create diverse Black December activities. Return Fire take full responsibility for delaying publication while we awaited corrections, which we now amended into the text and formatted for release. Big love from our trench to the comrades standing proud in the Turin courts around this very time. Shouts to the fighters who carry on beyond the Black December timeframe and harry the dominators in all corners of our lives. Freedom. R.F.
– solidarity with Silvia, Costa & Billy
Note from Return Fire: We transcribed the following essay, submitted by 'Radical Interference', which unfortunately cannot fit into our upcoming Volume 3 (Winter 2015-2016). We are happy to see that the invitation from the Greek dungeons for a Black December campaign (to re-intensify our insurrectionary fervour while not forgetting to "exchange experiences and rationales around various topics of struggle") was taken up in this form, so as to broaden and develop the offensive against modern domination. Solidarity and strength to Silvia, 'Costa', 'Billy', Marco, Adrián, Nicola and Alfredo, and to the rest of the comrades in our struggle. In the spirit of 'Avalon'; always present in our memories and active hands. Let's extend the energy of Black December beyond the New Year, through the trial that starts in January and the proposed week of mobilisation, and onwards on the path of total liberation. Winter Solstice, 2015
INTRODUCTION AND DEDICATION IN ANTICIPATION OF THE TRIAL ON 13th JANUARY 2016
At this time, as the wheels of this monstrous society continue to grind on, and the scattered insurgents make to throw what they can beneath the tracks to slow it down in whatever way, we are left with some questions. These are questions that, in our opinion, deserve more thought and provocation than they usually assume in the circles of anarchists, rebels and land-defenders. Namely; it is clear that mobilisations (independent of any timeframe), such as those for our imprisoned or fallen, are a practical necessity in order to constitute diverse forces that are ready to face and understand the consequences of any struggle that materially contests the ruling order; in other words, so that repression lessens in its power to stop us in our own tracks. (more…)
Tags: Analysis, Black December, Costantino Ragusa, Luca Bernasconi, Radical Interference, Return Fire, Silvia Guerini, UK
Posted in Library
Thursday, January 14th, 2016
During the night between 17th and 18th December we placed a device (8kg of gunpowder) at the police 'training centre' in Brescia. A symbolic action intended to cause material damage. We chose that time so as not to harm people indiscriminately.
With this action we began our projectuality of Anarchist attack as Cellula Anarchica Acca (C.A.A) in affinity with the black international, and add ourselves to the call for action for a BLACK DECEMBER.
We are joining this trajectory because:
We like the idea of an international coordination of anarchists for direct action.
Our idea of 'complicity' goes beyond groups and factions.
We are using the means we consider appropriate, seeking growth in the minimal details of the action. In that sense this action is nothing in terms of material damage, but it is important in arming our self-organization, especially at a time when we sense great resignation among anarchists in Italy.
We attacked one of the armed wings of the state. Cops from all over Italy and other states are trained at this 'school'. This is also a little signal against war.
We are in solidarity with all those who struggle against all states and capital.
Our thoughts go to the many comrades who are repressed, locked up, tortured or killed at the present time and in the past. In solidarity with all prisoners in struggle.
This is a signal of complicity to those who are locked up: To Alfredo for shooting Adinolfi; to Chiara (NO TAV anarchist) for the attack on the construction site; to Nicola Gai, who with Alfredo kneecapped the Ansaldo managing director, which is the least he deserved; to Nico (NO TAV anarchist).
To Monica and Francisco, who are resisting in the Spanish prisons with simplicity and dignity.
To Tamara Sol, who showed us how to avenge our comrades.
To Nikos for his simple and humble contribution to a call for struggle.
To the comrades of the CCF.
To the comrades who struggle in prison and outside.
–
Reply to the text entitled 'Under pressure'.
The main push to action is not pressure that makes us explode, but unlimited passion that liberates.
That is what pushed us to arm ourselves that night in Brescia: The passion of trying to free ourselves from exploitation, that of a life that deserves to be lived, the passion for freedom.
Passions are desires transformed into action, the most wonderful gestures of life in the face of the pervasive banality of the spectacle. It is this passion without limits that exploded that night in Brescia.
The questions we put to who wrote that text are:
Do actions not speak for themselves?
Why talk about actions now?
We didn't like reading 'this is the pressure that exploded that night in Brescia', concerning that action, even it was written in 'good faith'. We didn't live it like that. Actions per se don't always speak for themselves, and this is proof of it.
Anarchist Cell Acca
–
[Editors' note: we assume that the text referred to is 'Sotto pressione' published by finimondo.org]

Translated by act for freedom now
Tags: Black December, Brescia, Cellula Anarchica Acca (C.A.A), Fuck the Police, Italy, Sabotage
Posted in Direct Action
Thursday, January 14th, 2016
Diciembre negro
A nuestrxs hermanxs acratas:
Nos adherimos a la campaña del diciembre negro (15-20 dic) con una serie
nocturna de pintas políticas en varios sectores de la podrida ciudad de
kitu, haciendo llegar este pequeño gesto de guerra con altivez a
nuestrxs hermanxs anarquistas en todas las partes de la tierra donde la
lucha anarquista no cesa y se tensa.
Aparte adjuntamos a las pintas varios flyers que circularon en las webs
de contrainformacion para el diciembre negro, asi extendemos el lazo
solidario q nos une, el mismo q a su vez destruye los limites
territoriales, creimos necesario adjuntar dichos flyers explicativos ya
que en ecuador lxs autoproclamadxs anarquistas estan viviendo un proceso
transversal de divagaciones políticas, en el cual aun creen que puede
existir un cambio real por medio de reformas y sus plataformas. (more…)
Tags: Black December, Conspiracy of Cells of Fire : Imprisoned Members Cell, Ecuador, Michael Kimble, Quito, Tamara Sol
Posted in Direct Action
Tuesday, January 12th, 2016
February 15th: Trial date for the Conspiracy of Cells of Fire escape plan – Prosecution against relatives of political prisoners
The trial concerning the plan of Conspiracy of Cells of Fire comrades to escape from Koridallos prisons has been set for February 15th. A total of 28 people are accused in this trial. Conspiracy of Cells of Fire comrades have taken responsibility for the escape plan from the outset, defending their choice as a means to continue anarchist struggle.
However, this time the judicial mafia has experimented on our comrades by applying an insidious and vengeful blackmail against them.
In addition to making the heaviest possible indictment against several of the accused, whose relation with Conspiracy of Cells of Fire members was solely limited to friendly contacts, they've prepared new guillotines.
The inquisitor Eftichis Nikopoulos (special appellate judge against terrorism) and the judicial councils that followed, have also put forward for trial relatives of political prisoners: Athena Tsakalou (the mother of CCF members Gerasimos Tsakalos and Christos Tsakalos), Evi Statiri (the partner of Gerasimos), and Christos Polidoros (the brother of CCF member Giorgos Polidoros), on charges of "membership in the terrorist organisation Conspiracy of Cells of Fire"!!!
Athena Tsakalou and Evi Statiri were originally remanded in March 2015, and then broke out of captivity.
Athena was released a month after her arrest, following the hunger strike of Conspiracy of Cells of Fire members and anarchist comrade Angeliki Spyropoulou. Six months later, Evi was also released from prison, following the hunger strike undertaken by her and her partner Gerasimos Tsakalos.
During the two hunger strikes, a multifaceted movement developed against the judicial coup, expressing solidarity by means of gatherings, banner drops, occupation of buildings, acts of sabotage and incendiary attacks…
Nevertheless, after the release of Athena and Evi, the solidarity movement gained half a victory.
Judge-executioners "granted" them a crippled freedom. Athena was exiled to Salamis Island, and Evi is restricted to one kilometer from her home by a "freedom distance-meter".
At the same time, they have been prohibited from any communication with their relatives, thus isolating them behind invisible grids.
We see this strategy of Power of isolating political prisoners being broadened, as is the case with the recent visitation ban against Revolutionary Struggle member Nikos Maziotis [whose friend and comrade was recently prohibited from visiting him in prison].
Similarly, the judicial mafia continues its sorcery against relatives of political prisoners, having remanded Maria Theofilou [the partner of Giorgos Petrakakos].
On February 15th, Power will once again try to erect its guillotines against relatives of political prisoners.
They've made their intentions crystal clear by now. According to the accusatory dossier, which is over 10,000 pages, they've chosen to call only 20 witnesses to the stand (half of whom are anti-terrorist police officers), with the purpose of fast-tracking proceedings; it seems convictions have already been issued…
February 15th marks the beginning of a new wager for people in struggle, negators of Power, people in solidarity… Our wager is to nullify the Power's vindictive plans, stand side by side with the comrades, and continue what we've started… To subvert the judicial coup and stand against the prosecution of political prisoners' relatives.
Because this trial prefigures future persecutions. What is being tested today against relatives of political prisoners, tomorrow will be tested against friends, people in solidarity, people in struggle…
For this reason and all the reasons in this world, once again we are preparing to venture into new battles against the laws of cops, judges and the Power's priesthood.
Our quiver contains many arrows, such as the recent memory of gestures against the fascist persecutions of political prisoners' relatives, but also the fresh traces of actions for Black December, that have strayed from the silent paths of social peace.
In the face of challenges posed by the State and judicial mafia, we respond with the challenge of insurrectionist action. With the trial on February 15th as a point of encounter, to oppose the persecution of relatives, let's make this New Year beginning our own restart – with international call-outs, assemblies, counter-information, demonstrations, occupations, acts of sabotage, attacks – for the complete overthrow of the existent. With not even a single moment wasted.
"Stone, iron, wood can be broken… but it is impossible to break a determined human being with a conscience."
Solidarity with Conspiracy of Cells of Fire comrades and anarchist Angeliki Spyropoulou
Against the prosecution of political prisoners' relatives
(Christos Polidoros, Athena Tsakalou, Evi Statiri)
in Greek
–

via contrainfo
Tags: Aggeliki Spyropoulou, Athena Tsakalou, Athens, Black December, CCF Escape case, Christos Polydoros, Conspiracy of Cells of Fire, Conspiracy of Cells of Fire : Imprisoned Members Cell, Evi Statiri, Greece, Informal Anarchist Federation (FAI), International Revolutionary Front, Korydallos Prison, Trial
Posted in Social Control
Tuesday, January 12th, 2016
Athens, 04.01.16: We take responsibility for the arson of the Alpha bank on Akadimias street and the arson of a National Bank ATM in Peristeri. Both actions were carried out as part of the Black December called by the imprisoned comrades N. Romanos and P. Argirou.
Although this came in late for the timeframe of December, we hope that the Black December will not end. We plan to continue on with diverse actions. We are not going to write much else because the time has come for actions not words.
LONG LIVE ANARCHY!
PS: All of you who rushed to negatively criticize the call for Black December are just looking for reasons to 'politicize' your inaction.
As long as the flames of rebellion burn within us, Black December will always be burning everywhere!
FAI-IRF (Informal Anarchist Federation – International Revolutionary Front)

–

via Athens IMC, Insurrection News.
Tags: Alpha Bank, Athens, ATM Burned, Black December, Greece, Informal Anarchist Federation (FAI), International Revolutionary Front, National Bank of Greece
Posted in Direct Action
Sunday, January 10th, 2016
"…Después de cada acción pueden retirarse a sus refugios ya preparados
de antemano, sin tener porque depender de la ayuda de la población.
Tomando las precauciones debidas, sus movimientos por las calles de la
gran ciudad pasaran inadvertidos, no diferenciándose en absoluto de la
corriente normal del resto de la población. El anonimato de la gran
ciudad es un factor determinante de la guerrilla urbana (…) Los éxitos
de la policía o del ejercito solo son posibles por casualidad, traición,
errores tácticos…" El moderno estado capitalista y la estrategia de la
lucha armada / R.A.F.
El 30 de diciembre hemos abierto una nueva fractura en el espacio de
control y dominación del capital con la instalación de un artefacto
simulado consistente en un extintor cableado con sistema de relojería en
el Mall Plaza Alameda.
Una vez encontrado el artefacto hemos logrado paralizar la circulación
en el sector producto del operativo policial que fue televisado con el
escándalo de una bomba en el mall. Durante más de una hora circularon
periódicos informes en la televisión con la información de último
minuto, el GOPE realizó sus peritajes y el mall evacuó la enorme masa de
personas que circulaban y consumían en él, generando millonarias
pérdidas en una fecha en que el comercio lo sintió con mayor ímpetu.
Durante el mismo día instalamos otro artefacto de las mismas
características en un bus transantiago que se dirigía al sector oriente
de la ciudad, acción que no se hizo pública por los medios de prensa por
lo que desconocemos su alcance.
Con ambas acciones nuestro objetivo es dejar claro que sus estructuras
son vulnerables, el avance civilizado de la seguridad no es un
impedimento para atacar, sus grandes e ingeniosos mecanismos de control
social a través de la artificialidad e impartimiento de distintos tipos
de violencia son algo a sortear para quienes buscan inmiscuirse en la
entrañas del sistema para verlo devastado. La guerra social avanza con
la necesidad de reinventarnos y hacer de nuestros impactos secuelas que
permanezcan y fisuren cada atisbo de poder y propiedad.
Sepan que nuestros objetivos fueron lugares concurridos exclusivamente
porque los artefactos fueron simulados. Nuestro ataque es a los
mecanismos de control, nuestro mensaje es su vulnerabilidad y nuestro
propósito es devastar cada señal de la civilización material y con
representación en estructuras físicas, en estructuras de dominio y
control.
El mundo construido por el desangre de la libertad tiembla con cada
voluntad anarquista e incivilizada que enfoca su accionar contra el
blindaje de moral ciudadana, justificación y violencia que han arraigado
a la sociedad para el mantenimiento del poder.
De esta forma nos hacemos parte del Diciembre Negro que se desató por
todo el mundo y que continúa arrasando con la paz social de los Estados,
también nos sumamos al llamado por la memoria del compañero Sebastián
Oversluij, a 2 años de su caída en combate en una expropiación frustrada
a un banco en la comuna de Pudahuel. Para nosotros/as continuar con el
camino de la ofensiva es nuestro gesto más sincero a la vida que dedicó
por la anarquía, así recuperamos una iniciativa de acción a su memoria,
con nuevas ideas y proyecciones, pero siempre con el eje esencial del
conflicto ácrata contra toda representación de dominio.
¡Guerra a la civilización y al Estado/Capital!
¡A extender los núcleos de acción contra la dominación!
¡Sebastián Oversluij: Presente!
¡Viva la Anarquía!
Fuerzas por el Desborde de la Civilización
Núcleos Antagónicos de la Nueva Guerrilla Urbana
Tags: Black December, Chile, Santiago, Sebastián Oversluij Seguel
Posted in Direct Action
Sunday, January 10th, 2016
"Contra la tiranía de la realidad que se ha impuesto a la gente, elijo
siempre el realismo mágico de la anarquía y la revolución que nunca se
termina." Christos Tsakalos.
Luchar por la libertad incluye combatir la impunidad de quienes reprimen
y vigilan nuestras vidas.
Abrimos fuegos el 2016 durante la noche del día domingo 03 de enero
atacando con un artefacto incendiario de activación retardada las
oficinas centrales de ISP Services, empresa de seguridad privada creada
por un ex agente de inteligencia de la dictadura chilena quien, como
muchos otros ex agentes de la represión dicatorial, desarrollaron sus
propios negocios de seguridad en el ámbito privado una vez llegada la
democracia. Nuestro fuego logró dañar con éxito parte de la fachada del
edificio ubicado en calle Lord Cochrane, en el centro de Santiago.
Estamos concientes de que las empresas de guardias, cámaras y
televigiancia son un negocio rentable sustentado en la ideología de la
seguridad, promovida por el Estado/Capital y avalada por la mayoría
social que, sin cuestionarse los discursos del poder, reproduce y
defiende la idea de la Seguridad Total, contenta de que en cada esquina
y barrio aparezcan más cámaras, guardias y policías.
Encendiedo nuestro fuego insurgente en las narices de quienes vigilan,
demostramos una vez más la vulnerabilidad de la red de la dominación,
potenciando nuestras decisiones, relaciones y prácticas cotidianas en el
ataque directo contra los edificios, representantes, administradores/as
y defensores/as del control social.
Lo hemos dicho y lo reafirmamos una vez más: el poder nunca es
invulnerable, el ataque anarquista siempre es posible.
Desde la informalidad antiautoritaria nos organizamos sin especialistas,
sin líderes ni jerarquías, para llevar a cabo la praxis de la
conspiración anarquista contra el poder, dando continuidad a través del
fuego al proyecto de la Federación Anarnquista Informal/ Frente
Revolucionario Internacional, porque la FAI/FRI cobra vida allí donde
cualquier individux, célula o grupo forjan con su propia AUTONOMÍA el
ATAQUE DIRECTO, sin dar pie a dudas sobre sus intenciones, con un actuar
certero y no indiscriminado, con la SOLIDARIDAD y el INTERNACIONALISMO
anárquico como elementos esenciales de una sedición liberadora sin
centros ni periferia que rompe la normalidad opresora y construye en el
presente la perspectiva de la Libertad Total.
Que acciones como esta motiven a la planificación de más y mejores
igniciones e incendios contra la miseria del orden establecido, siempre
recordando combinar los aprendizajes sobre cómo fabricar artefactos
incendiarios/explosivos con los conocimientos necesarios sobre cómo
dezplazarnos de forma segura a través de la ciudad al momento de
emprender la acción conspiradora y clandestina.
¡Combinemos las diversas formas de lucha para derrumbar este y cualquier
sistema de vida basado en el poder y la explotación!
Saludamos a quienes respondieron con propaganda y acción la iniciativa
para un Dicimebre Negro propuesta desde las cárceles griegas por los
compañeros Panagiotis Argirou y Nikos Romanos. Que el ímpetu por la
acción y el debate no se detenga, que continúe, se proyecte y concrete
en estrategias de lucha y más actos de insurrección que obstaculicen y
pongan en peligro los planes del poder.
Saludamos a cada presx en lucha que se mantiene dignx y consecuente en
las cárceles del mundo civilizado.
Saludamos la vida en lucha del guerrero mapuche Matías Catrileo,
asesinado hace 8 años (3 de enero de 2008) por las balas de la
democracia percutidas en esa ocasión por el policia Walter Ramírez
Espinoza en medio de una acción de recuperación de tierras ancestrales.
Saludamos a cada humanx y animal que lucha por su libertad pasando a la
acción contra el mundo de la autoridad.
Y a nuestros compañerxs de la FAI/FRI, nos encontraremos nuevamente en
el vuelo del Fénix.
¡Qué viva la Coordinación Informal de la Acción Anarquista Multiforme en
todo el mundo!
Célula Anarquista de Ataque Incendiario "Fuego y Conciencia".
Federación Anarquista Informal-Frente Revolucionario Internacional-
Chile.
Tags: Arson, Arsonist Anarchist Attack - "Fire and Consciousness" Cell - FAI/IRF, Black December, Chile, Informal Anarchist Federation (FAI), International Revolutionary Front, ISP Services, Phoenix Project, Sabotage, Santiago
Posted in Direct Action
Saturday, January 2nd, 2016


FOR COMBATIVE MEMORY, A BLACK DECEMBER
Combative memory defines us as individuals taking a stand in our negation of the existent, forces us to push the memory of our fallen comrades beyond reflecting on how they were snatched from us, bringing them into our everyday lives in many forms and individual initiatives without giving in to resignation in the face of death or to oblivion.
To bring new life to their insurgent lives, through actions, also to remind those who took their lives that the comrades live in each one of us and that we will always despise the role of those who chose to become defenders of the present system of dominion.
The guard who murdered Angry has been turned into a citizens' hero, he who without even thinking about it became responsible for that murder. This mercenary who honoured his own institution is stained with the blood of our loved one, we all know that. Just as we know that any servant (defender of order) could do the same as William Vera [the piece of shit that killed Angry, crocenera note], we can observe their movements as they kill or imprison anyone who dares touch the sacred property of the rich, their houses, cars, shops and anything they put on show, including their cherished money. We who are far from the logic of power, know that the loss of our dear ones can never be forgotten, their lives are full of meaning and beauty, ideas and coherence, and in them many desires and tensions merge. (more…)
Tags: Black December, Chile, Natalie Casanova Muñoz, Santiago, Sebastián Oversluij Seguel
Posted in Prison Struggle
Saturday, January 2nd, 2016
In the final hours of December 2015 we attacked the offices of the
defense contractor BAE Systems on River Boulevard in Richmond with paint
and sledge hammers.
BAE Systems make billions from war and their technology is responsible
for countless civilian deaths worldwide.
This action was carried out as part of Black December, a month of
anarchist direct action that was initiated by the anarchist prisoners
Nikos Romanos and Panagiotis Argirou in Greece.
We also carried out this action in solidarity with anarchist prisoners
held hostage by states worldwide and in solidarity with Indigenous
prisoners held hostage by the colonist 'authorities' here in so-called
'Australia' – all of whom are political prisoners.

Black December is everywhere!

Anarchist Office Refurbishment Cell
Tags: Australia, BAE Systems, Black December, Melbourne, Paint attack, Sabotage
Posted in Direct Action
Wednesday, December 30th, 2015
TO ALL COMRADES WHOSE ACTS HAVE GIVEN ME MOMENTS OF FREEDOM
"Only in those moments when our tension for freedom encounters with praxis do we really manage to live anarchy, here and now. Unfortunately the dream we carry in our hearts is too great to avoid the risk of finding ourselves up against the monstrous wall of authority raised in defense of the state and capital. When we really put our life at stake, inevitably we end up confronting the hardness that's inherent in the struggle: death and prison."
Nicola Gai; anarchist comrade held prisoner in Italy, who has assumed responsibility for his participation in the attack claimed by Olga Cell of FAI-FRI (the shooting of Roberto Adinolfi, the chief executive of Ansaldo Nucleare)
Shortly before the end of the trial of the 4th consecutive case against the Conspiracy of Cells of Fire, and against me personally as an anarchist who has assumed responsibility for his participation in the CCF, I'd like to say some things not to the court, but rather to all comrades whose action gave impetus and substance to the Phoenix Project.
For obvious reasons, all imprisoned members of the CCF saluted the comrades of Sole–Baleno Cell (a cell of sympraxis between Conspiracy of Cells of Fire and Consciousness Gangs), a gesture which initially cost us our prosecution for incitement [in Greek, moral instigation] to 4 Acts of the Phoenix Project: explosive attack on personal vehicle of the Koridallos prison director in Athens, explosive attack on personal vehicle of a chief warden serving at Nafplion prison, incendiary attack on a hotel unit in Indonesia, and parcel-bomb mailing to a former commander of the antiterrorist police unit in Athens.
The competent authorities realised in hindsight that the accusation of inciting the attack in Indonesia, claimed by Anger Unit/International Conspiracy for Revenge FAI/IRF, would never stand up in court, so the particular charges were dropped even before the stage of court proceedings.
However, as far as the other attacks are concerned, I am offended by the incitement charges brought against me, because as an anarchist I abhor hierarchical relationships of any level; on the other hand, these charges help me understand that domination feels threatened when anarchist guerillas, even from a position of captivity, seek to make their mark and connect with the struggle outside the prison walls by saluting the hostilities waged by their comrades. Domination feels threatened when it realises that the condition of incarceration is not nearly enough to crush the combative energy of anarchist prisoners. This alone is enough for entire indictments for incitement to attacks to be drafted. In no case, however, is it enough to break my morale and my will to connect myself with all comrades holding a combative position. (more…)
Tags: Athens, Black December, Black International of Anarchists of Praxis, Conspiracy of Cells of Fire, Conspiracy of Cells of Fire : Imprisoned Members Cell, Greece, Informal Anarchist Federation (FAI), International Revolutionary Front, Korydallos Prison, Letter, Nicola Gai, Nikos Romanos, Panagiotis Argirou, Phoenix Project, Trial
Posted in Prison Struggle
Friday, December 25th, 2015
In the days running up to Christmas an ING bank in Den Haag (Netherlands) was targeted by anarchists. ATM machines were sabotaged and a slogan referring to Black December was left on the facade. The banks are a cornerstone of this suffocating capitalist and repressive society. This is why we choose to attack these symbols of domination. While people are caught up in the consumerist madness of christmas we wanted to cause a disturbance of this consumerist peace. We don't want to passively wait while this world is suffering. Crush the capitalist system. We want the anarchist offensive.
The action is in response to the call-out for a 'Black December' by anarchists Nikos Romanos and Panayiotis Argyros who are currently held captive by the Greek state. …
In loving solidarity to all the imprisoned anarchists around the world.
For a Black December! For the anarchist offensive!
Tags: Black December, Den Haag, ING Bank, Netherlands, Sabotage
Posted in Direct Action
Friday, December 25th, 2015
FROM CHILE, FROM BLACK ANARCHY, SHARING SOME EXPERIENCES.
Since the democratic state dismantled and wiped out the leftist armed
struggle organizations which continued operating once the dictatorship
ended in the early 90s, there have been the ideas and practices of
horizontality and direct action from revolutionary autonomous
environments and related to anarchy – and also the Mapuche resistance,
which have positioned themselves as protagonists of radical struggle
against Capital, the State and authority in Chile.
We have decided to be involved with strength, conviction and engagement to
fight against all forms of authority. Some of us have previously gone
through various practices and anti-capitalist speeches, but it has been
the practice and reflections emanating which have led us to consider
ourselves as anarchic individuals, denying every "ism" and claiming the
anti-authoritarian character of anarchy as the essence of the struggle
against domination.
We have forged our struggle's identity going through a path that is drawn
both from our own experience and other comrades' in different times and
places. In this journey we do not deny even a small part, but on the
contrary, we think each step is a part of a radical but always
unfinished learning process that interests us to put into dialogue with
other related comrades around the world. And we know very well what we
do not want, neither leaders nor vanguard organizations or specialists;
neither bourgeois nor popular power. (more…)
Tags: Black December, Chile, Letter, Mapuche, Mauricio Morales, Santiago, Sin Banderas Ni Fronteras
Posted in Autonomy
Friday, December 25th, 2015
Bloqueo de acceso a departamento de educación
Como anárquicos/as enemigos/as del Estado/Poder tenemos siempre en la
mira cualquier institución que cumpla funciones para él, es por eso que
la noche del día 23 nos acercamos al "Departamento Provincial de
Educación" ubicado en calle Nicanor de la Sotta 1623 (Santiago Centro) y
bloqueamos sus puertas con un u-look (que robamos de algún lado) para
boicotear su normal funcionamiento // Aclarar que de la educación no
esperamos ni queremos nada, ni nos interesan sus reformas, solo queremos
sacar de nuestras vidas cualquier lógica de autoridad y claramente aquí
vemos una más de aquella // Esta vez por algunas horas no podrán acceder
a esta oficina, llegará el día que no va quedar ni una en pie // ¡A
surcar los caminos hacia la liberación total! // ¡Diciembre Negro en
todos lados!
Tags: Black December, Chile, Sabotage, Santiago
Posted in Direct Action
Friday, December 25th, 2015
A few nights ago, in the city of Utrecht, the Netherlands, a vehicle of Otto
Workforce was set on fire. Otto Workforce is a job agency with a reputation of
exploiting people by ignoring the standard conditions, underpayment, forcing people
to work extreme over hours etc.
The action is dedicated to all who are repressed by the capitalist society,
imprisoned or killed by the bullets of pigs.
For a Black December! For a free society!
Tags: Arson, Black December, Netherlands, Otto Workforce, Utrecht
Posted in Direct Action
Thursday, December 24th, 2015
​Conversación entre colectivos e individualidades anticarcelarias, con la
participación de CNA Bogotá, CNA México, Rodolfo Montes de Oca desde
Venezuela, Publicación Refractario desde Chile (maquetación por Feral
Ediciones desde Bogotá, portada y cotraportada de Sin Retorno Ediciones de
Oaxaca).
Dedicado: A todas las personas que han dejado su último aliento con el
inmodificable anhelo de deshacer el mundo; y a quienes sufren, sufrieron,
resisten y resistieron, el encierro y los castigos diseñados para los
catalogados como "criminales". Especial mención a lxs guerrerxs: Mauricio
Morales, Xosé Tarrio, Harold Thompson, Barry Horne, William Rodgers, María
Soledad Rosas, Edoardo "Baleno" Massari y Horst Fantazzini.
Por un diciembre negro.
Texto aquí:
https://es-contrainfo.espiv.net/files/2015/12/Por-un-mundo-sin-prisiones.pdf
Tags: ABC Mexico, Black December, PDF, Rodolfo Montes de Oca, Zine
Posted in Library