Posts Tagged 'Black International of Anarchists of Praxis'
Friday, April 6th, 2012
Translated by Act for freedom now! / boubourAs:
For a few days now has begun one more oppressive operation against anarchist comrades in Italy. Some comrades were arrested, interrogated, some got conditional discharges and others, house arrest.
The cops raided houses in the areas of Pisa, Chieti, Genoa, Catania, Ravena and elsewhere. The operation included the Carabinieri of Perugia, the Antiterrorist and the team of Technical Investigations of Rome. Amongst the arrestees, were also 4 anarchist comrades who were persecuted for "criminal organization of a subversive nature". From the confiscated objects from the houses of the comrades, this time the cops showed special interest to their email communication with Gabriel Pombo da Silva, Marco Camenisch and the members of the Conspiracy of Cells of Fire. During the investigation the email account of Culmine and Parole Armate was broken into and copied. By the cops.

Don't say that its over…
Through these few words we send a comradely signal to all those who participate in Culmine and Parole Armate helping in the translations and the spreading of communiques, texts and letters from prison for the spreading of insurrectional anarchy.
Right now the Black International of the anarchists of action is a fact. Nothing would be the same without them. Especially this last year an international anarchist galaxy is created by individuals and autonomous groups who, whether support the FAI/IRF, or not, the attack the existing, communicate with their concerns, exchange thoughts.
They are the comrades with no name, the friends without a face, they are all of us who wore a hood and became bombers of authority symbols, bank robbers, saboteurs of their normality, and arsonists of social peace. Through Culmine and Parole Armate we share experiences and close relations with these unknown comrades from around the world.
This sharing is a moment of the continuous attack against the dogmatic thought, the mass culture, the society of useless information. Through Culmine and Parole Armate blossoms the real polymorphic dialogue of the anarchist insurrectional internationalism, not just in the words, but in practice. Because words fill the pages just like bullets slide into the chamber of a gun.
Ready and armed to give their own battle. Words that hit the normality of daily life, words that escape from the prison cells, words that are whispered conspiratorially before the moment of the attack, words that turn into actions, words that don't beat around the bush, words clean like our look and conscience.
This wind of thousands of untameable words and anarchist actions visits numerous times the crossroad of Culmine and Parole Armate, for a moment, so it can explode and create again thousands of new moments of chaos and anarchy.
Culmine and Parole Armate is the secret harbour of chaos where words mixed up with actions and thoughts disguised into gestures go back-and-forth continuously in indeterminate and informal formations of attack. By stealing and rephrasing the words of the comrades Parole Armate we can say that the project of Culmine and Parole Armate is a result of the will of some anarchist individuals who deny the meaning of the official syntactic team and instead of that invite all those are interested in the spreading of insurrectional anarchist texts, to create relations and situations which liberate and are ready to be materialized outside the virtual frame of the internet.
For us the anarchist undertakings of Culmine and Parole Armate were created from the thought and desire of some comrades who discussed, managed from some hands which liberated meanings and disputes and belong to whoever considers them a piece of the individual and collective struggle for anarchy and chaos.
No matter what happens because of the attack of the Italian police, Culmine and Parole Armate will remain for ever a meeting point of comrades and friends, an unmade map of the Black International of Anarchists of Action.

Until we meet again
Solidarity to the comrades who are persecuted by the Italian state FOR EVER IN BATTLE FOR THE REALIZATION OF THE BLACK INTERNATIONAL OF THE ANARCHISTS OF ACTION

Imprisoned Members Cell of the Conspiracy of Cells of Fire – FAI/IRF
Tags: Black International of Anarchists of Praxis, Conspiracy of Cells of Fire, Conspiracy of Cells of Fire : Imprisoned Members Cell, Culmine, Fuck the Law, Gabriel Pombo da Silva, Greece, Informal Anarchist Federation (FAI), International Revolutionary Front, International Solidarity, Italy, Letter, Marco Camenisch, Parole Armate, Repression
Posted in Social Control
Thursday, December 22nd, 2011
Second trial of the 'Halandri case' – Day 2, December 20th, 2011
Special court of Koridallos women's prisons
Before the hearing was adjourned, the four defendants made a statement. Christos Tsakalos read it after explaining that, 'We want to read a political statement in regard to the facts of our recent attempted escape from Koridallos prisons. Initially, the issue may seem irrelevant to the court's case, nevertheless it has a direct relation, for a specific reason. This attempt of ours not only conveyed a message to Koridallos prisons and the entire prison system in general, but also to this court.'
The full text of the statement, a copy of which was filed in the court records, is as follows:

POLITICAL STATEMENT of the R.O. Conspiracy of Cells of Fire
This statement is made to clarify and publicly state our position in relation to our recent attempted escape from prison.
The fact that we are captives in the prison cells of democracy does not mean that we accept for a moment our position either as prisoners or as defendants before the civil court-martial that you have set up against us. There will never be either a prison guard to lock up our soul or a judge to rule on our values. We are eternal enemies of law and order and eternal prison breakers.
Obviously these few following words cannot describe the miserable conditions inside penitentiaries that are experienced by those inmates who have not given up their dignity, but carry it with them in each and every isolation wing, each and every disciplinary unit, each and every transfer, each and every torment, each and every beating…
You, the appointed military judges of the judicial mafia, may give out sentences to hundreds of years in prison sitting on your benches, obeying the hands which move you as puppets, but you should know that our willingness for freedom is catching fire day by day.
With your decisions, as modern hangmen, you bury people in tons of concrete and bars, thus hiding the consequences of the rotten system that you serve. As for us who are anarchist urban guerillas, you wish to retaliate and punish us because you know that your names and those like you are already written to the list of our future targets. The prison, in which you send people as easily as you leaf through the case files, is a huge mincer that grinds bodies, feelings, thoughts, imagination…
It's a sterile mechanical world where orders from loudspeakers, lockings of prison cells and the noise of human resignation are echoing.
The vast majority of inmates have made a fools' agreement and surrendered their freedom and dignity in exchange for a day wage, a temporary leave, a promise of parole or even for nothing.
All discussions about the humanization of the penitentiary system are nothing but foolish and hypocritical talk. The solution is one; you either escape or destroy the prison.
Within this choice of ours, we heard knocks on the wall also from different circles of fellowship and met people who shared with us the common desire for freedom. We can say clearly that we are proud of our choices and the relationships that we have built with them through our joint attempt to escape, even if it did not live up to our aspirations. Unhappily, we stood less fortunate than we wanted, while stupidity found its expression in a homunculus-guard showing that it is powerful.
Some people will rush to talk about failure.
Yet, our escape succeeded. We escaped from the defeatist acceptance of our role as prisoners. We escaped from the sleep up by psychiatric drugs that are generously distributed in prisons, from the benefits of day wages, from the illusions of future leaves and paroles, and we acted as anarchist revolutionaries.
If the work of jailers and judges is to lock the prisons' doors, ours is to unlock and violate them. Even though we failed to release our bodies, we released our existence even for a few moments, occupying a space in prison.
This sense is unique, and we do not regret anything.
Besides, we struggle for a freedom beyond the official version of the laws and values of this society. This struggle cannot either be tried or imprisoned.
Today, many people die from traffic accidents, drug addiction, industrial diseases. Others accept the death of boredom and loneliness, sunk in the conventions of a law-loving life. We choose to risk our lives for the leap to freedom, even though there is no safety net underneath. There is nothing more important than that.
Now, we lost a battle, but not the war. We are looking forward.
Each time promises a new project, a new collaboration-friendship, an unexpected chance which lies before us dangerous and subversive.
Besides, what matters is not if you get caught but if you surrender within you…
LONG LIVE THE CONSPIRACY OF CELLS OF FIRE / INFORMAL ANARCHIST FEDERATION (FAI)
LONG LIVE THE INTERNATIONAL REVOLUTIONARY FRONT
LONG LIVE THE BLACK ANARCHIST INTERNATIONAL
The imprisoned members of the Conspiracy of Cells of Fire
–
The trial was interrupted to continue on Monday, January 9th, 2012. Relatives and friends of the defendants call for comrades' presence inside the courtroom during the proceedings, in solidarity with Damiano Bolano, Giorgos Nikolopoulos, Michalis Nikolopoulos and Christos Tsakalos.
Source / Day 1 via Contra-Info
Tags: Black International of Anarchists of Praxis, Christos Tsakalos, Conspiracy of Cells of Fire, Conspiracy of Cells of Fire : Imprisoned Members Cell, Damiano Bolano, Giorgos Nikolopoulos, Greece, Informal Anarchist Federation (FAI), International Revolutionary Front, Korydallos Prison, Michalis Nikolopoulos, Trial
Posted in Prison Struggle
Friday, December 9th, 2011
A publication by the imprisoned members of the Conspiracy of Cells of Fire
We hear the song of fire that comes from far away. The words smell of gunpowder. From the other side of the world rebellious comrades burn the nights and liberate places and moments. We can hear them… They conspire, plan, attack… We do not have to say anything else, we leave our brothers and sisters to speak for us.
"We are all Conspiracy Cells of Fire. C.C.F. is not an organization or just a group. On the contrary it is a antagonistic expression of rage and contempt towards authority and its structures. To spread the C.C.F. all you need is gasoline, matches and the desire to fight for absolute freedom. We have begun the war against the existing order."
Mexican C.C.F./FAI
The following text is dedicated to the Mexican C.C.F. and to our brothers and sisters of F.A.I. all around the world.
i)The wind blows against… from Indonesia to Chile.
These previous months from every corner of the earth more and more explosive messages of fire and gunpowder cross borders and seas reaching us here, in the Greek prisons where we are hostage, but not defeated.

Words mix with fire and behind the ashes of banks, government buildings, cop cars, nanotechnology labs, satellite antennas, private security cars and luxury shops, open a promise to friends and a threat to the enemy. They open a live proposition of the Informal Anarchist Federation (F.A.I.). An International Revolutionary Front (I.R.F.) is now organized in Italy, England, Chile, Mexico, Argentina, Russia, Holland, Peru, Bolivia, Indonesia, Australia, Greece…
An idea that started its journey ten years ago from Italy from the brothers and sisters of the Italian F.A.I. and today is stronger than ever. F.A.I. definitely is not a theoretic game of harmless words and symbols, but an idea to live dangerously and anarchically with all our senses, without dead time and cowardly excuses.
Often the texts that come to our hands like the one from the Italian F.A.I., the one from the English comrades of F.A.I. titled "Rain and Fire", the announcement of the Russian F.A.I., the call of the 11 anarchist organizations from Mexico, and many more, fill us with a weird awkwardness. It's this indescribable joy we feel when individuals and groups who do not know one another reach the same conclusions and feel the same feelings the exact same moment.
This feeling explodes in every word that unlocks the next and draws a common path of revolt. It is one of the few times that we do not have much to say. Most of our points are covered by our comrades. But we don't want to consume the text in a series of compliments. (more…)
Tags: 14/14, Black International of Anarchists of Praxis, Chile, Conspiracy of Cells of Fire, Conspiracy of Cells of Fire - Mexico, Conspiracy of Cells of Fire : Imprisoned Members Cell, Fire & Gunpowder, Greece, Holland, Indonesia, Informal Anarchist Federation (FAI), International Revolutionary Front, Italy, Luciano Pitronello Schuffeneger, Mexico, Rain & Fire, RO-FAI (Indonesia Section), Russia, UK
Posted in Cognitive Liberty, Direct Action
Friday, December 9th, 2011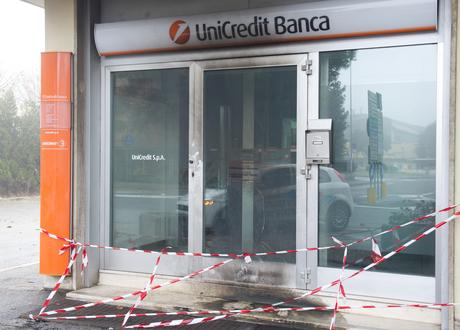 From Anarchists for the Destruction of the Existent, via culmine and war on society:
3 December 2011
Many are the reasons that groups or individuals go on the attack, and great is the hatred for a world that does not belong to us and in which we spend too much time.
Everywhere, brave comrades decide to attack the system with direct action of any kind against any of its aspects – offices, banks, schools, churches and so on – carrying forward the war against all authority.
We have decided to take part in this war, attacking during the night of December 3-4 a Unicredit Bank branch, leaving a clear message to the exploiters of Ravenna and of the whole world and to all their guards: the powder keg is about to explode. We will reappropriate all that they have taken by force and with all means.
This is no time to remain immobile in the face of the destruction of our lives and of our dreams. It is time to attack, here and now.
We also want to renew the call to international solidarity, asking all comrades in affinity to strike Capital as they see fit and as the opportunity presents itself.
We dedicate this action to the comrade Luciano "Tortuga" and we send him all our affection. We are with you comrade, and we hope that these flames are able to show you that.
We are close to the comrades in Bologna who face trial December 12. You have all our support and we hope that this has given you some strength.
We want to send a fiery embrace to the comrades of the Conspiracy of Cells of Fire because their courage and determination have inspired us. We are on your side in this war, until the end.
We salute, finally, any comrade who chooses to attack with any means this nightmare, and all those who find themselves imprisoned for their desire for freedom.
For comrades who are fallen or confined in society's cages
For a Black International
For Anarchy
Anarchists for the Destruction of the Existent
Tags: Anarchists for the Destruction of the Existent, Arson, Black International of Anarchists of Praxis, Bologna, Chile, Conspiracy of Cells of Fire, Greece, International Revolutionary Front, International Solidarity, Italy, Luciano Pitronello Schuffeneger, Ravenna, Unicredit Bank
Posted in Direct Action
Thursday, December 8th, 2011
325 receives and transmits:

Greetings and solidarity
To all the prisoners of war we call comrades.
My name is Jock Palfreeman, I've served almost 4 years of a 20 year sentence for defending two Roma against a nationalist attack of 15. I was charged with the murder of one and the attempted murder of another. My case is documented further at freejock.com and I don't wish to waste words on it here.
For almost 4 years now I've been officially kidnapped in Sofia Central Prison – state of Bulgaria. The realities of my case censured from the Bulgarian public by a state sponsoring media. I stay strong and look forward to the next 16 years as I know with all the essence of my being that what I did was right.
Prisoners of War are not victims of injustice like the "liberals" speak about in their self-justifying wank. We are willing enemies of the capitalist state and their organs. (more…)
Tags: Anti-Fascist, Black International of Anarchists of Praxis, Bulgaria, Conspiracy of Cells of Fire, Conspiracy of Cells of Fire : Imprisoned Members Cell, Informal Anarchist Federation (FAI), International Revolutionary Front, International Words of Solidarity with the Conspiracy of Cells of Fire pamphlet, Jock Palfreeman, Letter, Racism, Roma, Sofia
Posted in Prison Struggle
Friday, November 18th, 2011
When the prison bars stop our hands from throwing the fire of anarchy into the world of power, our words become the sharp rasp of escape.
Armed with thoughts, desires, secret plans, new conspiracies, we give a warmest embrace in our imaginary meeting with the comrades of action across the world.
Now we want our voice to reach our brothers and sister in distant Chile to Luciano (Tortuga) prosecuted on November 22 and to Monica, to Felipe, to Francisco, to Omar, and Carlos on November 28, because they are anarchists and enemies of power. (more…)
Tags: 14/14, Black International of Anarchists of Praxis, Chile, Conspiracy of Cells of Fire, Conspiracy of Cells of Fire : Imprisoned Members Cell, Cristobal Bravo Franke, Informal Anarchist Federation (FAI), International Revolutionary Front, International Solidarity, Letter, Monica Cabellero, Theofilos Mavropoulos
Posted in Prison Struggle