Posts Tagged 'Blockade'
Monday, April 18th, 2016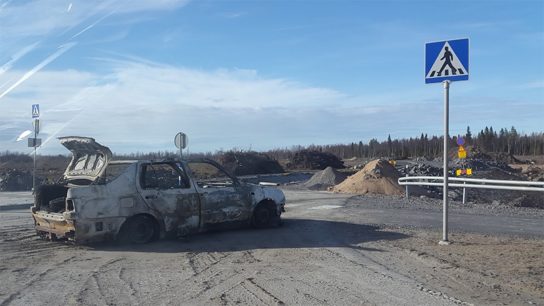 Fennovoima-Rosatom tries to build a new nuclear power plant in Pyhäjoki, Finland. Nuclear energy is by every standard outdated technology, financially unprofitable, it increases the centralization of energy production and produces hazardous nuclear waste for generations to come.
On top of it all, Fennovoima-Rosatom is destroying unique nature as we speak and messing up the Bay of Bothnia. The chosen location is a crappy one for a nuclear power plant by any means. Close to sea, close to groundwater. For example, the builders need to lift the ground level with meters to even get to start the constructions.
On Tuesday 12/04 at 6 in the morning we blocked the traffic of the only road leading to the construction site, and the landfills from continuing, by burning a crappy car filled with car tires etc. In the middle of that Fennovoima road.
The paintjob on the car said "Dialog Devil". That's our dialogue and that's what we have to say to everyone demanding dialogue with Fennovoima-Rosatom.
We also want to send our solidarity to Hambach forest occupation where comrades are battling against the climate killing energy giant RWE despite heavy repression against them. One struggle!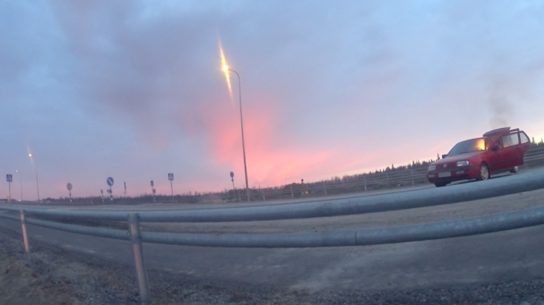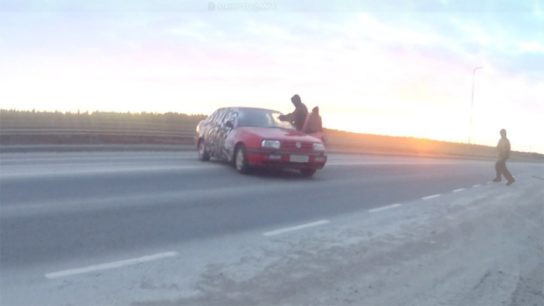 Tags: Anti-Nuclear, Arson, Barricades, Blockade, Burning Barricades, Ecological Destruction, Fennovoima, Finland, Hambach Forest, Pyhäjoki
Posted in Eco Struggle
Thursday, February 25th, 2016
February 24 2016: The eco-activists known as the 'Heathrow 13' were today sentenced to six weeks suspended for 12 months for aggravated trespass at Heathrow Airport in July 2015. The eco-activists had made a direct action blockade of the runway to highlight the destructive effect of man-made climate-change, particularly against the ongoing effect of emissions at Heathrow Airport, which led them to occupy the airport's north runway on 13 July 2015 causing up to 25 flights to be cancelled.
Tags: Blockade, Climate Chaos, Heathrow Airport, Repression, Trial, UK
Posted in Eco Struggle
Monday, February 1st, 2016
El día viernes 29/1 un grupo anónimo levantó barricadas en santiago en el contexto de la convocatoria internacional por la liberación animal, en la cual se han desarrollado diversas acciones propagandísticas por el cierre de las cárceles/zoológicos.
Tags: Animal Liberation, Blockade, Chile, Santiago, Zoo
Posted in Eco Struggle
Friday, January 29th, 2016
25 January 2016
The Heathrow 13 were today found guilty at Willesden Magistrates' Court of
aggravated trespass and being in an unauthorised area of Heathrow Airport in summer
2015. Sentencing has been adjourned until Wednesday, 24th February and the
defendants bailed until then.
The defendants were taking direct action against the ongoing effect of emissions at
Heathrow Airport and occupied the airport's north runway on 13 July 2015 causing up
to 25 flights to be cancelled.
Tags: Airport, Blockade, Climate Chaos, Heathrow Airport, Trial, UK
Posted in Eco Struggle
Tuesday, March 18th, 2014
Picture above: Delegate's car blocked from reaching the NATO conference
Anti-militarist activists today blockaded a NATO conference at a stately home in the Sussex countryside. Meanwhile, banners were hung off road bridges close to the venue to greet delegates as they arrived at Wiston House in Steyning.
Protesters succeeded in blocking the front entrance for more than an hour, leading to chaotic scenes on the A283, as cars queued to get into the estate. An event official told protesters: "If you stop the event from happening, delegates won't be here to see you protesting so you won't get your message across to them!!" (more…)
Tags: Anti-Militarism, Blockade, NATO, Steyning, Sussex, UK, Wiston House
Posted in Direct Action
Monday, October 10th, 2011
Starting Monday, 3 October, the Mossos d'Escuadra, the Catalan police force, began a wave of arrests targeting people as they left their homes. It quickly came out that they had been ordered by the Spanish government in Madrid to arrest all 22 people identified via media photos in connection with the 15 June blockade of the Catalan parliament, in which politicians eventually had to be brought in via helicopter in order to approve the austerity cutbacks. Multiple politicians attempting to enter by car or on foot were insulted, spit on, and even spraypainted.
Since then, the mossos in conjunction with the media had adopted a strategy of demonization, taking advantage of the reformist sectors of the popular movement that naively sought to use a good image in the media to "spread their message" in order to get the movement pacifists to play the role of police and isolate the more radical elements. They avoided making any arrests so as not to unite the movement in solidarity.
Madrid, known for a different style of policing than the Catalan state, changed the rules of the game this October when they ordered the arrests of the troublemakers long-since identified by the Catalan police, thanks to the proliferation of filming at protests. In the first two days of arrests, 10 people were arrested, cited, and given a date to present themselves at the Audiencia Nacional in Madrid, in some cases in as few as three days. By Wednesday, lawyers had obtained the full list of 22 people, and curiously, nearly all of them are anarchists.
Anarchists make up an influential and vocal minority within the popular movement that began occupying Plaça Catalunya on the 15th of May, but they were numerically insignificant among the 200,000 people blockading parliament that day in June, and weren't even the majority of those at the frontlines, blockading streets with dumpsters and spitting on politicians.
So far, it seems the State will have a hard time succeeding in this attempted repression, as the anarchists are well connected in their neighborhood assemblies and have broad-based support. What's more, in the intervening months pacifism has largely been abandoned by many sectors of the movement as an undignified, ineffective tool of grassroots politicians.
The first day of the arrests, a spontaneous solidarity demo convened in the evening in Pl. Catalunya, drawing nearly a thousand people. In a rare achievement, the demo took over Las Ramblas, which it left covered in spraypainted slogans of solidarity, and marched on the Generalitat, the seat of the Catalan government, where hundreds of people shouted and vented their rage at the police for half an hour before deconvening. More solidarity actions are planned.
Update:
On Thursday, a second solidarity protest was held, this time drawing around 3,000 people who marched on the Interior Ministry, chanting largely anarchist and anti-capitalist slogans.
On Tuesday, 18 of those identified must appear in court in Madrid.
Tags: Barcelona, Blockade, Catalunya, Mossos d'Escuadra, Repression, Trial
Posted in Social Control