Posts Tagged 'Bologna'
Wednesday, February 29th, 2012
Widespread acts of resistance are taking place across Italy triggered by the near murderous actions of the police in Val Susa.
A summary of the latest events – Baita Clarea is an area in Val Susa where works for the implementation of the TAV were due to start soon. On Monday 27th February the forces of order proceeded to evict and expropriate the land in Baita Clarea in order to clear the way for the devastating high speed railway works. On the same day Luca Abba', a resident of the Val Susa whose land was also expropriated, climbed a pylon in an attempt to block the ongoing military operation. The cops ordered Luca to come down without taking precautions for his safety, pushing him even higher and failing to cut off the electricity of the pylon. As a result, Luca was electrocuted and fell several metres below. (more…)
Tags: Bologna, Italy, Luca Abba, Repression, TAV, Val Susa
Posted in Eco Struggle
Monday, February 13th, 2012
This is a communiqué written by comrades in Bologna:
Rebel or fuck off
On 27th June the forces of order evicted the Free Republic of the Maddalena [in Val Susa] in order to start the works for the construction of the high speed railway. Hundreds of NO TAV people opposed directly the military occupation of the territory. On 3rd July 70,000 people assaulted the TAV yard in Val Susa. A very special yard, as no worker could be found there but antiriot troops and police were entrenched there. This is an outstanding example of devastation of the environment, and of the interests of big capital and the mafia that goes along it. On 26th January the State arrested 32 comrades all over Italy 'for the events of those days'. An operation that means just one thing: active resistance against infrastructures, powers, armed forces and institutions that rape and impoverish the planet is considered illegal. (more…)
Tags: Bologna, Italy, Raids, Repression, TAV, Val Susa
Posted in Eco Struggle
Tuesday, January 31st, 2012
From informa-azione:
NB: The TAV is the destructive European High-Speed Railway mega-project of capitalist development which is fought across many territories. You can find the addresses of the prisoners below.
26/01/2012 – At 6:30 this morning, Thursday, January 26, 2012, a vast police operation ordered by the Public prosecutor of Turin has struck many friends, comrades, and No TAV resisters throughout Italy with arrests and cautionary measures. The practices of resistance that set off this massive operation concern conflictual episodes starting from the eviction of the Libera Repubblica della Maddalena [Free Republic of the Magdalene], passing through the siege of July 3 and the long Susa Valley summer. Of the more than 40 measures, 25 are remands in prison, 15 measures of mandatory residence, 1 detention under house arrest and 1 prohibition of residence in the province of Turin. (more…)
Tags: Bologna, Italy, Raids, Repression, TAV, Turin, Val Susa
Posted in Social Control
Monday, January 30th, 2012
Operation 'Outlaw' started on 6th April 2011 in Bologna (Italy) and led to the imprisonment of 6 comrades (one was released a few days later as the investigators couldn't prove his involvement in an attack on ENI local premises), searches and restrictive measures on a number of others, and the closure of the anarchist place Fuoriluogo. After spending six months in detention between prison and house arrest, 5 comrades will face trial on 29th February 2012 along with another 22.
As exposed in the following articles, translated from 'Invece' (Issue 11, January 2012), the repressive situation in Bologna has become suffocating, to say the least, with police harassing the comrades every single day in all possible ways and also targeting whoever has any kind of relation with them. In addition to this, a strong denigrating press campaign against the Bologna anarchists is still being carried out in local and national newspapers, with the obvious intent of isolating the comrades and preventing any form of solidarity to them. (more…)
Tags: Bologna, Fuoriluogo, Italy, Repression
Posted in Social Control
Friday, December 9th, 2011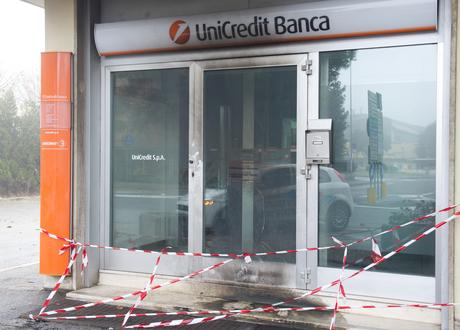 From Anarchists for the Destruction of the Existent, via culmine and war on society:
3 December 2011
Many are the reasons that groups or individuals go on the attack, and great is the hatred for a world that does not belong to us and in which we spend too much time.
Everywhere, brave comrades decide to attack the system with direct action of any kind against any of its aspects – offices, banks, schools, churches and so on – carrying forward the war against all authority.
We have decided to take part in this war, attacking during the night of December 3-4 a Unicredit Bank branch, leaving a clear message to the exploiters of Ravenna and of the whole world and to all their guards: the powder keg is about to explode. We will reappropriate all that they have taken by force and with all means.
This is no time to remain immobile in the face of the destruction of our lives and of our dreams. It is time to attack, here and now.
We also want to renew the call to international solidarity, asking all comrades in affinity to strike Capital as they see fit and as the opportunity presents itself.
We dedicate this action to the comrade Luciano "Tortuga" and we send him all our affection. We are with you comrade, and we hope that these flames are able to show you that.
We are close to the comrades in Bologna who face trial December 12. You have all our support and we hope that this has given you some strength.
We want to send a fiery embrace to the comrades of the Conspiracy of Cells of Fire because their courage and determination have inspired us. We are on your side in this war, until the end.
We salute, finally, any comrade who chooses to attack with any means this nightmare, and all those who find themselves imprisoned for their desire for freedom.
For comrades who are fallen or confined in society's cages
For a Black International
For Anarchy
Anarchists for the Destruction of the Existent
Tags: Anarchists for the Destruction of the Existent, Arson, Black International of Anarchists of Praxis, Bologna, Chile, Conspiracy of Cells of Fire, Greece, International Revolutionary Front, International Solidarity, Italy, Luciano Pitronello Schuffeneger, Ravenna, Unicredit Bank
Posted in Direct Action
Tuesday, November 15th, 2011
Translated from informa-azione.
From terrorists to repugnant individuals, the words used by the press to describe anarchists may change but the substance of the police operations against them remains the same. In a time when growing social uneasiness is swinging between the possibility to stir conflicts against those responsible for total exploitation and the risk of generating a great number of little wars among the poor, it is important for politicians and bosses to spread the idea that those who oppose the misery of the present are worthless madcap people who are threatening everybody's 'security'. (more…)
Tags: Bologna, Economic Crisis, Fuck the Mainstream Media, Italy, Migrants, Repression
Posted in Social Control
Tuesday, June 7th, 2011
Maddalena Calore, one of the anarchists subjected to bail conditions following operation 'Outlaw' (Bologna, 6th April: 5 comrades imprisoned, 7 on bail and anarchist place Fuoriluogo closed down by the cops), was arrested on 12th May for breaching those bail conditions. She's currently being held in the maximum security unit of the Rebibbia prison in Rome, from where she wrote about the situation inside and the protests going on in some Italian jails.
Dearest comrades,
I inform you that today [23rd May] the wings A1 and A2 in the maximum security will start a three-day protest by refusing food trolleys and shopping in the prison in solidarity with detainees who embarked on similar protests in other Italian jails to denounce overcrowding and prison conditions.
The call for this protest came from the Radical party, which – like all political parties – are not at all interested in the question of prison as an institution because they only want to defuse the explosive situation inside prisons.
You already know my point of view on this protest… Certainly I don't believe that a protest, and what's more a protest proposed by a shit party like the Radicals, can ever sort out the problems inside prisons (as the problem is prison itself and the system that maintains it). If anything, I think we need a different and more effective kind of struggle, a struggle which aims at damaging the prison system and which is carried out on the initiative of prisoners. (more…)
Tags: Bologna, Italy, Letter, Maddalena Calore, Rebibbia, Repression
Posted in Prison Struggle
Friday, June 3rd, 2011
A piece of writing from Martino Trevisan, one of the comrades arrested in Bologna on 6th April (Operation 'Outlaw') and currently detained in Vercelli (Via del Rollone 19, 13100 Vercelli, Italy).
Dozza, 7th May 2011
Here we are again: first our arrests in Bologna, then the same thing in Florence. All my solidarity to the comrades hit by repression in Florence. This provokes anger and indignation in me, but it doesn't surprise me.
It doesn't surprise me because 'anti-anarchist repression' against those people and situations of struggle that set themselves in a revolutionary perspective has never stopped. (more…)
Tags: Bologna, Italy, Letter, Martino Trevisan
Posted in Prison Struggle
Wednesday, May 25th, 2011
Four of the five comrades imprisoned in Bologna following 'Operation Outlaw' (6th April 2011) were moved to other prisons. Here are their new addresses:

Anna Maria Pistolesi
Casa Circondariale di Modena
Via Carlo Poma 3
46100 Mantova
Italy

Martino Trevisan
Casa Circondariale di Vercelli
Via del Rollone 19
13100 Vercelli
Italy

Stefania Carolei
Casa Circondariale di Vigevano
Via Gravellona 240
27029 Vigevano (PV)
Italy

Nicusor Roman
Casa Circondariale di Como
Via Bassano 11
22100 Como
Italy
***
Maddalena, one of the comrades subjected to judicial restrictions in the same operation, was arrested and taken to prison on 12th May, apparently for breaking those restrictions. Her address is:

Maddalena Calore
Casa Circondariale Rebibbia III
Via Bartolo Longo 92
00156 Roma
Italy
***

Before she was transferred to Vigevano, Stefania wrote what follows from the 'Dozza' prison:
I realize that my attention is now strongly centred on 'life' inside prison. My interest towards what happens outside these walls is alive and vigilant but my tension is centred on the participation in this pervert world inside which I was thrown. My analysis and considerations on the repressive operation that hit us will emerge from this piece of writing (if it ever manages to go out). Outside you can draw a more articulated definition; and two of the comrades imprisoned with me, Martino and Robert, have already done this in an excellent way, according to their different tensions. What could I add? That power represses, represses and can't do anything else?
We live in a time when those who decide the rules of the game are taking possession of everything without leaving anything at all to their subjects, not even in exchange for the latter's submission.
They grab with anxious greedy what is left of a fleeced world, and try to suffocate with all means, in blood or in jail, the frightening threat of seeing their safes attacked by 'barbaric hordes'. The internal enemy is to be crushed down and swept away in the dustbin of history. Perhaps never before as in this case, I mean Bologna and Florence, the intention has been so clear to hit in order to eliminate thoughts and practices that worry the rulers of the capitalist system. A place was seized and closed [Fuoriluogo]. This is a step forward beyond arrests and judicial restrictions. It is serious, so serious that it should have produced an alarmed and widespread shake. But, according to what I read in your letters, this didn't really happen. Solidarity is strong but it is coming from the same comrades who have been close to us for a long time. I shouldn't even say solidarity but rather direct involvement in an attack that is taking space away from Fuoriluogo now, but which shows a dangerous signal to anyone who is still intentioned to struggle against the constituted order. In fact, not even a month later, the comrades from Florence were inflicted the second part of this repressive operation.
In prison the same measures are applied, even if in their extreme and more specific forms, which are adopted to crash and submit those who, outside, must obey and work without complaining, or die of starvation in obsequious silence.
Here rigid prison rules are in force, outside a regime (which expands and changes every day according to the winds) is in force, which decides on the behaviours socially acceptable.
Here there is the sadism of the guards, outside the ruthlessness of bosses and of the servants who protect their market of profit.
Here you are threatened by punitive squads, outside militarised cities suffocate those who live in them.
Here freedom is imprisoned by material bars, outside it is incarcerated in the open air.
Here the rich don't enter, outside they rule.
Here 'guilty' and dispossessed proletarians are kidnapped by the State, outside the State bombard, occupy and colonize territories to be looted and ruled.

Solidarity to the comrades hit by repression in Florence.
The female wing of the 'Dozza' prison is rigidly controlled according to a scheme that doesn't leave space to any exception. We are so few (69 prisoners) that they can put us under strict and obsessive surveillance. Nothing of what we do can escape control, and any little movement depends on their responding to our requests. We are permanently locked up and get out exclusively during daily 'rituals'. My co-prisoners tell me this situation can't be found in other prisons and that being sent to the 'Dozza' is considered as a further punitive measure.
.
Tags: Anna Maria Pistolesi, Bologna, Italy, Letter, Maddalena Calore, Martino Trevisan, Nicusor Roman, Repression, Stefania Carolei
Posted in Prison Struggle
Monday, May 16th, 2011
(Text of a leaflet translated from www.finimondo.org)
You must believe the words of propaganda, the TV and the press reporting the proclamations of ministers, the communications of executive directors, the declarations of officers.
You must obey the orders of authority, be them rumbled by a government or a businessman, by a bishop or a police chief.
You must (try to) work, that is to say to consume the days of your life in efforts to find money in order to go on. You can't waste time with original thoughts, freedom taken without asking permission or old-fashioned parties.
There is nothing else you can do apart from 'believing, obeying and working'; the rest is forbidden by the law. The same law that establishes how much you can drink, where you can eat, what you can say, whom you can love, how you can die and – above all – how you can live. (more…)
Tags: Bologna, Florence, Italy, Leaflet
Posted in Cognitive Liberty
Monday, May 16th, 2011
(Leaflet distributed in Lecce during a solidarity initiative with the Bologna anarchists)
–
Today like yesterday the homicidal potentialities of terrorism are little thing compared to those of State power […]. No organization defined 'terrorist' can compare to governments when it comes of kidnapping, torturing and making people disappear.
H.M. Enzensberger
A few weeks ago the news broke of the nth massacre in the Mediterranean sea, off the Maltese coasts. More than 250 people drowned, sunk to the sea bed along with the ship onto which they were crammed. This was not an accident but a massacre deliberately committed: the authority chose not to allow those people in 'its international water' and eventually not to succour them as they were dying. (more…)
Tags: Bologna, Fuoriluogo, Italy, Leaflet, Lecce
Posted in No Borders
Monday, May 9th, 2011
The liberated space 400 Colpi was heavily hit by police on 4th May.
Communiqué from the liberated space 400 Colpi*, Florence
Results of the 4th May 2011 police raid in Florence: 5 comrades under house arrest, 17 comrades forced to report to the police station daily, the liberated space 400 Colpi searched and ransacked by the cops.
The charge: organized crime, referring mainly to situations of conflict of last autumn, and in particular unauthorized demos, occupations, damages to banks, road and railway blocks, scuffles in Novoli when we tried to kick minister Santaché out of the faculty, gatherings outside the juvenile court in solidarity with comrades on trial. (more…)
Tags: 400 Colpi, Bologna, Florence, Italy, Raids, Repression
Posted in Social Control
Monday, May 9th, 2011
Here we are writing about yet another police raid carried out by the Italian pigs on a large scale. After the searches of last month, the arrests perpetrated in Bologna and the seizure of the anarchist place Fuoriluogo, on 4th May police searched houses and squats in Florence (more than 70 searches) and put 22 people under investigation. (more…)
Tags: Bologna, Florence, Italy, Raids, Repression
Posted in Social Control
Sunday, May 1st, 2011
Letter from Nicu, one of the anarchists imprisoned in La Dozza prison of Bologna.

ENOUGH IS ENOUGH
We have never cared about the media lynching and police repression that have been hitting the anarchists and friends of Fuoriluogo for years, not only because we know that in Bologna whoever struggles against the injustices of this world is inflicted the same treatment (harassments, daily controls, phone tapping, searches and arrests) but also because in spite of all these obstacles we have always continued on our own way, with our initiatives and the libertarian spirit animating us. (more…)
Tags: Bologna, Italy, La Dozza, Letter, Nicu, Repression
Posted in Prison Struggle
Sunday, May 1st, 2011
Communique from Informa-Azione, translated by War on Society:

18 April 2011
The night of April 18 to 19 we attacked the Italian consulate in Barcelona, located at Carrer Mallorca 270, with a molotov cocktail.
This gesture is intended as a cry of solidarity to the comrades of Bologna and Ferrara affected by repression, an act of proximity and complicity with the arrested, the raided, the suspects.
We will never stop supporting any struggle which aims at a world without borders, police, states and jails.
'Cause the real terrorist is not the one who fights for freedom and against barbarism, but those who march under the wing of the law, bomb, kill, rape and lock up.
THE TERRORIST IS THE STATE

"Freedom is not to be told, it is a blind condition, it refuses to be put in writing"
FREEDOM FOR STEFI, ANNA, MARTIN, ROBERT, NICU

"Individualist solidarity is, in any place, out of place" (Fuoriluogo).
Tags: Barcelona, Bologna, Catalunya, Fuoriluogo, International Solidarity, Italy, Molotovs
Posted in Direct Action