Posts Tagged 'Brazil'
Friday, October 30th, 2020
Apresentação e Lançamento do livro Foge Cara, Foge! de Xosé Tarrío González

Edições Crônica Subversiva. Porto Alegre 2020.
É a primeira versão em português de um livro que desde a década dos noventas vem enchendo de amor e ódio a quem o lê. Amor pela liberdade e ódio pelas prisões.
O autor, Xosé Tarrío, um anarquista que se faz tal sequestrado pelo estado espanhol, nos compartilha uma parte da sua vida, na que entra em prisão por um furto menor e termina encarcerado pelo resto da sua vida.
Porém, ele é de aquelas pessoas que não decai na luta, que espalha cumplicidade e solidariedade, que nunca se submete, levando a dignidade aos extremos que nos torna seus cúmplices e odiamos, junto com ele, a cada carcereiro que procura humilhar os presxs.
O relato pessoal de Xosé Tarrío nos bate na cara com o retrato cotidiano das práticas miseráveis dos carcereiros e de todo o aparelho institucional que sustenta o sistema carcerário. Aí a importância de traduzi-lo, porque o cárcere aqui, e cada vez mais, está normalizado e se ampliando. (more…)
Tags: Brazil, Porto Alegre, Xose Tarrio, Zine
Posted in Library
Saturday, September 19th, 2020
A todxs
Asumimos la autoría de una acción doxxing contra RODRIGO FARIAS FERRONATO, empresario y militante fascista. Datos en los enlaces a continuación:
https://pastebin.com/htGVykSx
https://www.pastefs.com/pid/229917
Furioso por tener que usar mascarilla contra la pandemia de COVID-19 para entrar en una pequeña heladería en la ciudad de Campinas, interior de la provincia de São Paulo, el 13-09-2020, RODRIGO FARIAS FERRONATO depredó la tienda y hizo amenazas, agravios y agresiones físicas contra la dueña. Cuando un video* del hecho apareció en internet, hizo 2 publicaciones en la red social Twitter en apoyo al fascista Jair Bolsonaro y con agresiones misóginas y machistas contra todas las mujeres.
RODRIGO FARIAS FERRONATO es apoyador fanático del fascista Jair Bolsonaro y miembro de la vasta red de fascistas que divulgan fake news en internet en apoyo al gobierno del psicópata genocida.
Aprovechamos para recordar nuestras cuatro (4) demandas al Congreso Nacional de Brasil y al supuesto "gobierno" federal brasileño debido a la pandemia de COVID-19 (coronavirus): (more…)
Tags: Anti-Fascism, Brazil, Cells of Opposition to the System (NOS), Hacking, Rodrigo Farias Ferronato
Posted in Anti-Fascist
Sunday, August 2nd, 2020
PT | Porto Alegre, Brasil: Barricada incendiária e faixas ao amanhecer em solidariedade com Mônica e Francisco
Porto Alegre. Burning barricade and banners at dawn in solidarity with Mônica and Francisco. In front of the enemy: Indomitable!!!
Since last Friday, July 24th, we have felt the imprisonment of two anarchists Mônica Caballero and Francisco Solar, known enemies of the State and of domination. They spent years arrested first in Chile for the Bombs Case, and then in Spain, more than 4 years kidnapped, accused of attacking a basilica, a Catholic church. And today, they are kidnapped again by the Chilean state accused of sending two explosive packages, one against a police station famous for leading repression and the other against former Interior Minister Rodrigo Hinzpeter, an old repressor and boss of sending the bullets from his office, what some would call the intellectual author of the crimes of the Chilean state. They are also accused of being responsible for two explosive devices left in the building of a luxury real estate company, Tánica. (more…)
Tags: Brazil, Burning Barricades, Francisco Solar, International Solidarity, Monica Caballero, Porto Alegre, Solidarity Action
Posted in Direct Action
Tuesday, May 19th, 2020
Translated by AWW.
Adjudicación de ataque doxxing contra dirigente del partido derechista PRB en Brasil [Esp/Port]
To all
We claim responsibility for the doxxing action against ANTÔNIO PEREIRA FONTINELE, who resides in São Paulo, Brazil. Details in the links below:
https://pastebin.com/yk7h0LrB
https://hastebin.com/ufimihoyiw
https://www.pastefs.com/pid/209296
This individual holds the position of "regional coordinator in the southern region 2 of São Paulo" in the leadership of the right-wing PRB – Brazilian Republican Party, also called Republican 10 (party of the "centrão", a condominium of right-wing rental parties and base of the government of the fascist Jair Bolsonaro) created and financed by the billionaire Edir Macedo, evangelical "bishop" who owns the IURD – Universal Church of the Kingdom of God and the Record TV network, spokesman of the Bolsonaro regime. FONTINELE is linked to Marcos Pereira, president of the PRB and federal deputy of São Paulo, whom Bolsonaro wants to elect president of the national congress. (more…)
Tags: Anti-Facism, Antonio Pereira Fontinele, Brazil, Brazilian Republican Party, Cells of Opposition to the System (NOS), Hacking, Jair Bolsonaro, Marcos Pereira, São Paulo, teh internets
Posted in Direct Action
Thursday, March 26th, 2020
Frente a las crecientes medidas de excepción por el Covid-19, en Porto Alegre salimos a colar unos afiches, para que el miedo no sea el único estímulo en las calles.
Porque sabemos que cuando el poder dice preocuparse por nosotros, necesitamos urgentemente desconfiar de él.
La normalidad que defienden, en estos tiempos de pandemia, saldrá triunfante de ella, con un control propio de un estado de guerra, impuesto en nombre de la salud y seguridad. Así, para nosotrxs, lxs anárquicxs, es imposible defender esa normalidad, no defenderemos una vida de miseria. Por eso, no retrocedemos al colmo de fomentar plataformas alternativas, consumos alternativos, espiritualidades alternativas, lecturas alternativas, sumisión alternativa que ayuden a pasar la cuarentena online. (more…)
Tags: Brazil, Coronavirus, Flyposters, Gabriel Pombo da Silva, Ilya Romanov, International Solidarity, Marco Camenisch, Porto Alegre, Sabotage, Vandalism
Posted in Direct Action
Sunday, January 12th, 2020
A todxs
Asumimos la autoria de la bomba en el cuartel de la 2ª Compañía del 45º Batallón de la brutal Policía Militar del Estado de São Paulo – PMESP en la calle General Carneiro, la noche del 18-12-2019, en el centro de la ciudad de São Paulo, cercano del Pateo do Collegio (el sitio de fundación de la ciudad), una instalación navideña del banco Santander y un puesto de la también brutal Guardia Civil Metropolitana – GCM a la que también queríamos atacar. Utilizamos una bomba de ruido hecha de una pequeña botella de refresco conteniendo 11 trozos de vidrio puntiagudos para dañar a los policías cercanos.
Fue una represalia por la masacre de Paraisópolis, planificada y fríamente ejecutada el 12-12-2019 por la PMESP y su jefe João Doria, el gobernador fascista de São Paulo, como parte de la guerra contra lxs negrxs y lxs pobres promovida por el estado brasileño. En lugar de enfrentarse a narcotraficantes armados y violentos que les pagan sobornos, la PMESP asesinó a 9 jóvenes indefensxs en una fiesta callejera bajo la aprobación de la extrema derecha. Sus representantes en la política burguesa, como los diputados fascistas Capitán Conte Lopes y Sargento Fahur, diputados provincial y federal de los estados de Sao Paulo y Paraná, respectivamente, celebraron la masacre y dijeron que habrá otros. Doria prometió en 12-2018 que bajo su mando la policía "mataría" y cumplió. (more…)
Tags: Arson, Brazil, Cells of Opposition to the System (NOS), Sabotage, São Paulo
Posted in Direct Action
Thursday, August 29th, 2019
Indigenous Mura people in Canutama, Brazil painted their bodies with orange-red paint and took up long bows and clubs as they headed into the jungle this week, prepared for battle against logging companies, who are destroying the rainforest with the support of the fascist Bolosonaro regime.
More than 18,000 Mura people live in Amazonas state, the largest state in Brazil's Amazon rainforest.
Logging companies have cleared away an area the size of several football fields near their village, leaving a broad dirt hole in the ground pockmarked by the treads of heavy machinery.
"With each passing day, we see the destruction advance: deforestation, invasion, logging," said Handerch Wakana Mura, one of several leaders of a tribal clan of more than 60 people. (more…)
Tags: Brazil, Canutama, Ecological Destruction, Handerch Wakana Mura, Indigenous Struggle, Mura, Raimundo Praia Belem Mura
Posted in Eco Struggle
Thursday, August 29th, 2019
The election of the far-right candidate Jair Bolsonaro in Brazil tells us a lot about the current direction of the world, about where the different cycles of capital management and authoritarian projects are heading at a global level and more specifically in the region. The progressive governments have already fulfilled their role over the last 20 years, and what should be obvious but has been treated as paradoxical, is that one of their functions seems to have been to secure fertile ground for the rise of extreme right-wing governments.
To try to get a clear understanding of what is taking place it is necessary to travel in time and space, through different places, to examine strategies that have gradually been repeated by the State according to its needs. It is very likely that Bolsonaro's government will usher in a new era of totalitarian governments in South America, similar to the 1964 military coup in Brazil that initiated Operation Condor. Differing from that era, the current governments are supposedly ascending within the democratic framework, and to say supposedly, is to understand that these frameworks are defined by the powerful and at the same time they violate them every time that it is convenient for them to do so. A path that has led today to the growing popularity of political figures such as José Antonio Kast in Chile and Alfredo Olmedo in Argentina, who have profiles very similar to that of Bolsonaro. (more…)
Tags: Brazil, Ecological Destruction, Jair Bolsonaro
Posted in Anti-Fascist
Wednesday, August 21st, 2019
To everyone
We assume responsibility for the following actions in the city of São Paulo on July 2019:
– 2 noise bombs in a trash can in a bathroom of the luxurious Bourbon Shopping complex, on Avenida Francisco Matarazzo 1785, in the Perdizes neighborhood, west of São Paulo, on Sunday 14-07-2019, in retaliation for the presence in this shopping center of the Riachuelo and Yuny corporations, owned by the fascist magnates Flávio Rocha and José Yunes. Manifesto in www.pastebin.com/QMZe6tWZ [removed link]
– Doxxing attack against EMERSON MIGUEL PETRIV and MATHEUS VINICCIUS RIBEIRO PETRIV, aka Boca Abierta and Boca Abierta Junior, respectively father and son and federal and provincial deputies of the PROS party for the state of Paraná and supporters of fascist Jair Bolsonaro. Manifesto at www.pastebin.com/nbmaukWF [removed link]
The month of August 2019 will be crucial for the Brazilian people, since the fascist government Jair Bolsonaro intends to approve the criminal "reform" of the pension plan of the Chicago Boy Paulo Guedes and national and international bankers in the middle of a increasing escalation of state terrorism against social militants and opponents of the Bolsonaro dictatorship. Recent police raids in union meetings and murders of opponents such as the leader of the Waiapi indigenous people by Bolsonaro's thugs support strong responses. (more…)
Tags: Brazil, Cells of Opposition to the System (NOS), Hacking, Noise-bomb, São Paulo
Posted in Direct Action
Friday, December 7th, 2018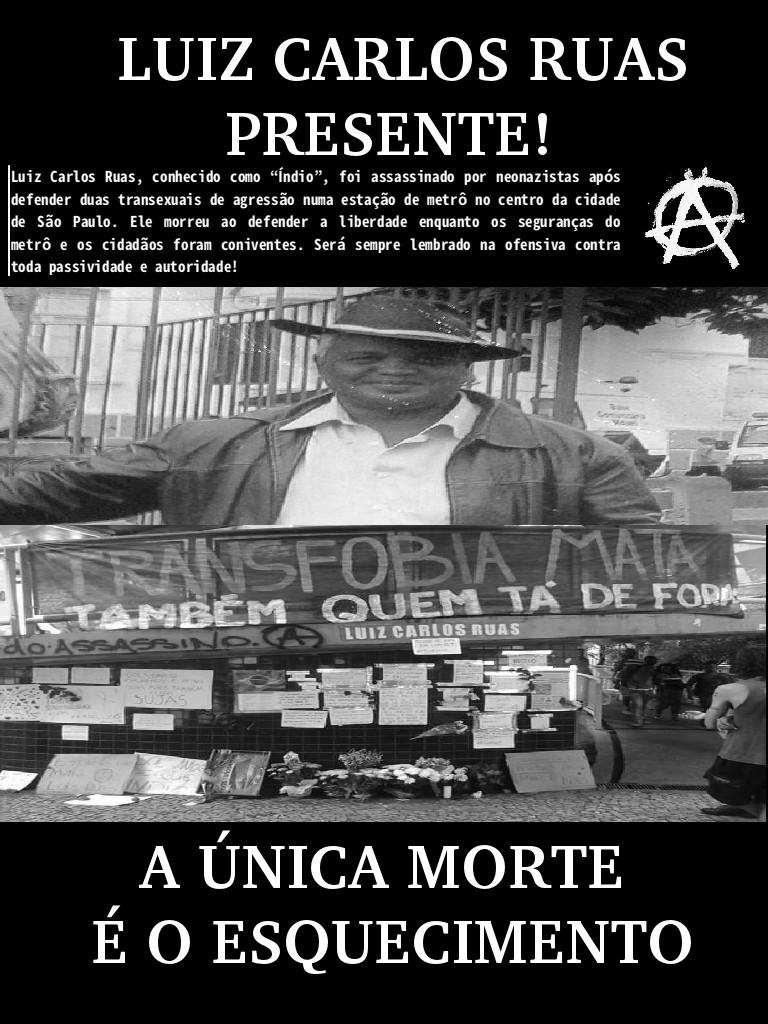 Luiz Carlos Ruas presente, the only death is oblivion.

Luiz Carlos Ruas, aka Indio, was murdered by neonazis after defending two trans people from aggression in a central subway station in São Paulo city. He died after defending freedom meanwhile security guards and citizens were conniving. He will always be remembered in the offensive against all passivity and authority!"
How's that, "who killed him"? If the murderers' names and faces are already known… It did not take so long until the butchery media turned this event into spectacle. There was an exposure not only of who assaulted him until his last breath but also of his family, of the trans people he defended, his life history and a lot of information applied just to create a huge smokescreen. Up this disgusting situation, two years after his death, it becomes indispensable to tell this event from beneath the claws of domination. (more…)
Tags: Black December, Brazil, Luiz Carlos Ruas aka Indio, Repression
Posted in Uncategorised
Sunday, August 12th, 2018
From Cruz Negra Anarquista do Rio de Janeiro:
"August 14th, international day of support for the 23 activists sentenced in Rio de Janeiro, in defense of the right to protest, for all who fight"
We call on all social movements, popular and revolutionary organizations, trade unions, student movements, human rights groups, progressive intellectuals and other sectors of civil society to organize simultaneous actions in this great day of solidarity and struggle against the criminalization of social movements and in defense of the right to protest. (more…)
Tags: ABC Rio de Janeiro, Brazil, International Solidarity, Rio de Janeiro
Posted in Prison Struggle
Wednesday, July 18th, 2018
CALL FOR AN INDEPENDENT MATERIALS FAIR – ACTIVITY OF THE SIXTH INTERNATIONAL WEEK FOR ANARCHIST PRISONERS
In response to the call for a "Sixth International Week in Solidarity For Anarchist Prisoners," which will take place all over the world from the 23rd to the 30th of August, there will be a first winter fair of independent materials on August 25th.
This is an open call for anyone who wants to send us proposals with an anti-authoritarian focus to add to the activity. In addition, it is mainly an invitation to participate in this initiative that will happen in the "Tia Estela Space" , a squat of homeless people located underneath the so-called "Alcântara Machado Bridge" in São Paulo. Any contribution to self-management of this space is welcome.
The struggle for freedom is impossible without fighting against prisons. These disgusting spaces are surrounded by walls, violent forms of control, security devices and constant vigilance. Without such a
structure it would be impossible for any state or any government to remain in power. It is necessary to see prison not only as the main tool of domination against the subversive people who prefer war to the passivity of the masses, but also as a laboratory of the system and one of the main means to perpetuate slavery and work. (more…)
Tags: Brazil, International Week for Anarchist Prisoners, São Paulo, Solidarity Event
Posted in Prison Struggle
Sunday, November 19th, 2017
Translated by Tormentas de Fogo.
17/11/2017
"Operation Érebo" the earth moves.
Agitations and anarchic reflections the wind blows."
At dawn on October 25, 2017 the weather darkened for the anarchists of Porto Alegre. The Civil Police with the so called "Operation Érebo [Erebus]" launched raids and assaults televised by the local media and transmitted by the speakers of the system in maximum volume.
From this police reaction, from the show and media scrape, and from the agitation in the anarchist orbit a thousand and one needs, urgencies, ideas, impulses and feelings have crossed us. From this reflection was born this will to communicate. We point our determination against the enemy and we strengthen our pace with those who live anarchy in its positions and practices.

Our natural tendency to chaos. (more…)
Tags: Brazil, Operation Erebo, Repression, Rio de Janeiro, São Paulo
Posted in Social Control
Wednesday, November 15th, 2017
We came to the sixth year of the Anarchist & Punk Film Festival of São
Paulo, with the proposal of visibilizing audiovisual productions and
themes related to the counterculture of punk and anarchism, as well as
guiding the use of this important tool in our struggles. This year the
Festival will take place in the Centro de Cultura Social, an autonomous
space of much history and contribution to anarchism in the city.
FESTIVAL SCHEDULE (more…)
Tags: Anarchist Gathering, Brazil, São Paulo
Posted in Autonomy
Saturday, November 4th, 2017
via A_N_A
translated by tormentasdefogo
There are many things to say, but we will start with the most urgent. In the 25 of October began an anti-anarchist persecution against FAG [Gaucho Anarchist Federation] Parhesia institute, Pandorga squat and some individuals who had their spaces and houses raided by cops. If not all, probably a good part of the anarchist diversity was reached and several of them spoke firmly from their agreement against repression. And this is a fresh air that strengthens every one who feels sedition. (more…)
Tags: Brazil, Kaos Anarchic Library, Operation Erebo, Porto Alegre, Repression
Posted in Social Control