Posts Tagged 'Brussels'
Friday, November 13th, 2020
On Thursday, November 12th, the judge of the Appeals Court in Brussels made its decision public concerning the case against anarchists accused of criminal association and various crimes;
2 persons got 10 months of probation (during 5 years)
1 person got 8 months of probation (during 5 years)
1 person got 6 months of probation (during 3 years)
5 persons got a suspension of sentencing (during 3 years)
1 person got acquitted
(2 persons got acquitted in first instance and were not part of the appeal)
People also got sentenced to paying fines and a part of the investigative and juridical costs, but the state will have to pay the bill for the phone taps (by far the biggest amount).
(A suspension of sentencing means the judge finds you guilty and doesn't set a sentence, but leaves this up to the next judge if you get caught in a certain period of time for a similar crime – not very different from probation).
– (more…)
Tags: Belgium, Brussels, Repression, Trial
Posted in Social Control
Sunday, April 19th, 2020
Engie's utility vehicle in flames at night from Saturday to Sunday
100 arrests for the anti-keuf* weekend [+ A few notes on the inflammatory evening of Saturday 11.04]
Originally from Sans Attendre Demain:
Following the riots that broke out in various areas of Brussels between the evening of Friday 10th and the dawn of Sunday 12th April, there were a total of 100 arrests, according to the authorities. These attacks and fires that broke the normality of confinement started from yet another deadly control of the cops on Friday evening.
In the nights from Saturday to Sunday, in addition to the mass attack on a police station with stones, "street furniture was destroyed and five passenger cars were set on fire," the media told us. But on closer inspection, notably by checking a video of the journa-cops, we notice that among these famous "burned cars", one of them is indeed very special. On its white bodywork, we can see the Engie company logo, known to be in particular as a cog in confinement (in addition to supplying energy to this world of oppression). Since domination has every interest in minimizing or concealing fires that target a clearly identified enemy, it would not be surprising if among these four others (perhaps more, who knows?) "Burnt down private cars", there are also other similar garbage, all as harmful to our lives as each other… (more…)
Tags: Belgium, Brussels, Engie, Police Brutality, Repression, Riot
Posted in Social Control
Thursday, April 16th, 2020
Enraged youth from the Anderlecht area of the capital city Brussels, Belgium rioted yesterday, attacking cop vehicles and hurled missiles at the cops, injuring one and beating up another. The riot was triggered when a cop patrol pursued a 19 year old on a scooter because he refused to stop for a curfew check. He hit an oncoming cop vehicle head on and died on the spot. Hundreds of angry youth from the local area instantly took to the street after a callout on social media attacking the cops who had arrived to reinforce those involved in the killing. Several cop vehicles were set on fire, one youth liberated a gun from a vehicle, shooting it in the air as he ran off.
The local youth has been named as Adil and already the media is doing the state's dirty work by sending out its appeal for calm, using his family as a weapon to suppress the anger of a local youth's murder and against the curfew. The cops have further reinforced the area today (Sunday), even with water cannon because they fear that the area will breakout in further rioting. Belgium has been in a four-week curfew in an attempt to stem the spread of the coronavirus epidemic.
This is a clear sign of the riots and insurrection to come that has now arrived in fortress Europe, after other outbreaks of rebellion in other parts of the world, we are even aware of scum media clearly attempting along with the authorities to suppress any outbreaks of rebellion against the coronavirus curfews*. It is only a moment of time before the global backlash erupts.
First Wuhan, Now Brussels, Insurrection Everywhere!
*Riots have erupted in Bristol, China & Palestine, even telephone towers burnt around prison island UK, along with reported raids on supermarkets in the South of Italy in response to 'lockdown measures' (curfew!)
Tags: Anderlecht, Belgium, Brussels, Coronavirus, Fuck the Police, Militant Youth, Police Bastards, Police Brutality, Riot, Young People
Posted in Direct Action
Sunday, April 3rd, 2016
'If fighting for freedom is a crime, innocence is really the worst of all'
In late 2008, a midst diffuse hostilities triggered by the revolt in Greece following the assassination of Alexis by police, the Belgian Federal Prosecutor launches an investigation of anarchists and anti-authoritarians. In 2010, on the basis of a list of actions that the police attribute to the "anarchist movement" and while the struggle against the construction of a new detention centre in Steenokkerzeel is underway, magistrate Isabelle Panou is assigned to the investigation, now under the anti-terrorism. In May, then in September 2013, a dozen searches took place within this investigation, the searches targeting different homes as well as the anarchist library Acrata in Brussels. It is on this occasion that the existence of an antiterrorist investigation first emerges. This investigation is led by the anti-terrorist branch of the Federal Judicial Police backed by the State Security and the General Intelligence and Security Agency of the army as well as various anti-terrorist branches of other European countries.
The investigation is closed in 2014, culminating in the referral of twelve anarchists and anti-authoritarians to the Court Chambers. (more…)
Tags: Acrata library, Belgium, Brussels, Repression
Posted in Social Control
Wednesday, April 8th, 2015
Solidarité avec les prisonniers !
Abolition des lois 187, 187A, anticapuche, et sur les prisons de type-C !
Abolition de l'utilisation de l'ADN comme preuve légale !
Liberté pour Savvas Xiros !
Courage et force à Nikos Maziotis et à tous les prisonniers en grève de la faim !
Tags: Belgium, Brussels, Graffiti, Hunger Strike, Savvas Xiros
Posted in Prison Struggle
Sunday, April 5th, 2015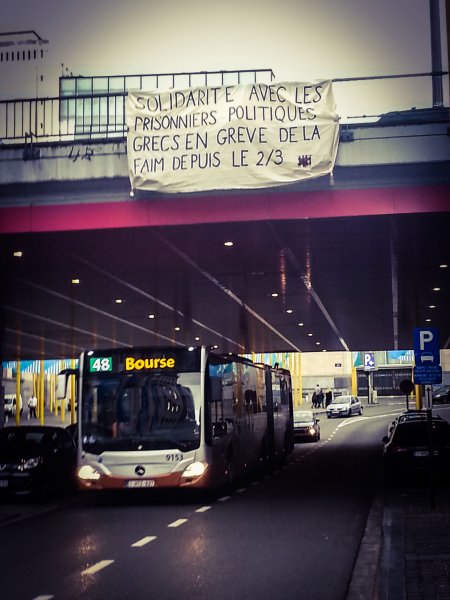 Bruxelles, Rue du Lombard, 4 avril 2015.
RHI
Tags: Banner drop, Belgium, Brussels, Greece, Hunger Strike, Solidarity Action
Posted in Prison Struggle
Thursday, March 26th, 2015
An evening event was organized on Monday, March 16 in Brussels by the "Initiative for solidarity with the Greece that resists" with the presence of a Greek politician (not the Syriza MP as announced but Epaminondas Marias, from the rightist party of the "Independent Greeks" – ANEL). Members of Secours Rouge/Red Aid intervened by speaking out, with leaflet distribution and deployment of a support banner for the demands of the Greek political prisoners on hunger strike (abolition of special repression laws, isolation prisons (Type C) and the release of Savvas Xiros, member of 17 November).
http://www.secoursrouge.org/IMG/pdf/tract_grece.pdf
Tags: ANEL, Belgium, Brussels, Greece, Hunger Strike, International Solidarity, Savvas Xiros, Solidarity Action, SY.RIZ.A., Type C prisons
Posted in Direct Action
Friday, December 5th, 2014
On Tuesday the 2nd of December 2014, we burned three vehicles belonging to members of the European Parliament. The attack took place near the Général Lartigue Avenue in Brussels.
This action is an act of offensive solidarity with anarchist Romanos, currently on hunger strike.
Solidarity with the anarchist and revolutionary prisoners, in Greece and everywhere else.
Solidarity with the fights of the comrades in Chile.
–
via contrainfo
Tags: Arson, Belgium, Brussels, International Solidarity, Nikos Romanos, Solidarity Action
Posted in Direct Action
Wednesday, October 8th, 2014
Report compiled by RabbleLDN, anarchist site based in London, UK.
Kurdish groups in Europe and Turkey have stepped up protests in solidarity with their comrades on the frontline in Kurdistan.
Today a large group managed to bypass security and storm the European parliament in Brussels, occupying the main lobby. At the time of writing, riot police have moved in to block access to more protestors. (more…)
Tags: Belgium, Brussels, Demo, Insurrection, International Solidarity, Islamic State in Iraq and Syria (ISIS), Kurdistan, London, Netherlands, Solidarity Action, Turkey, UK, War
Posted in Autonomy
Sunday, May 26th, 2013
via contra-info:
Brussels – May 22, 2013 to 6am, dozens of police officers from the anti-terrorist section of the Federal Judicial Police raided three homes where, among other people, anarchist and anti-authoritarian companions live. The cops also raided the anarchist library Acrata. All those who were present (11) were arrested and taken to the offices of the Federal Police.
The charges are: membership in a terrorist organization, conspiracy and arson. The operation is called "ashes" (Opération Cendres) and is directed by the investigating judge Isabelle Panou, notorious for her long career in government service. (more…)
Tags: Acrata library, Belgium, Brussels, Operation Cendres, Repression
Posted in Social Control
Monday, February 11th, 2013
Hors Service is an anarchist journal from Brussels. It's printed in several thousands of copies and distributed in the streets of Brussels. Since a few numbers, it comes out every three weeks. Here's the translated part of disorder news and attacks of the three latest numbers.
Beyond all borders, long live the revolt – As an echo to the multiple movements of revolt in Egypt against the new power, for freedom and the end of all exploitation, the residence of the Egyptian ambassador, Fatma El Zahraa Ottman, in Brussels was attacked by unknown persons. During the night, the attackers broke the windows, threw paint on the building and started a fire in front of it, escaping before the arrival of the police. The ambassador, the representation of Egyptian power in Belgium, was at home during the attack. (more…)
Tags: Anderlecht, Arson, Belgacom, Belgium, Bravvo, Brussels, Car Burning, Charleroi, Egypt, Eurovia, Fatma El Zahraa Ottman, France, Fuck the Law, Hors Service, Laeken, Liège, Sabotage, Solidarity Action, Vinci
Posted in Direct Action
Tuesday, October 23rd, 2012
From Suie & Cendres:
BRUSSELS – Sunday night a top executive of the petro-chemical company ExxonMobil was shot dead in the street in Neder-over-Heembeek, near Brussels. Nicholas Mockford was shot in the head twice, when he and his wife were leaving an Italian restaurant around 22h. Witnesses saw two men running away carrying a motorcycle helmet.
The man died on the way to the hospital. His wife Mary was beaten and covered in blood. Police and DA's office are saying that at this point they aren't excluding any possibilities, from a hit to a carjacking gone wrong. Although the violence used appears to be disproportionate for a carjacking, especially knowing that the killers left the Lexus ATV behind.
Investigators are doing everything they can to locate the perpetrators. They are going through his work at his firm in the hope of finding a clue. ExxonMobil is the company that owns Esso, Mobil and Exxon gas stations.
15/10/2012
Translation of newspaper article by http://cryptogon.com/?p=31822
Tags: Belgium, Brussels, ExxonMobil, Nicholas Mockford
Posted in Uncategorized
Sunday, May 1st, 2011
Translated from www.finimondo.org

Text of a leaflet distributed in Brussels (Belgium) in April 2011.
–
In a time when words seem to lose their meaning, when the language of power tries to penetrate all our conversations, we think it is even more indispensable to make an effort in order to speak clearly. Let's stop parroting what the newspapers say, television shows and the powerful want us to believe. The point is neither to agree at all costs nor to convert everything, but it is to try to speak with our mouth, our words, our pains and our hopes.

War… or revolution
The beginning of NATO bombardments against the forces loyal to Gaddafi in Libya marked a fatal step. At the beginning, what was undoubtedly an armed insurrection of a significant part of the population against the regime, is slowly transforming into a military war. Apart from some self-organized forms of resistance, which all kinds of authority define as 'irregular', the insurrection in Libya seems to have degenerated in a conflict between opposing armies. And it is not by chance that the 'irregulars' down there have always been very suspicious towards the 'official opposition', which has copied the hierarchies, grades and structures of command of the Gaddafi's army. (more…)
Tags: Analysis, Anarchism, Belgium, Brussels, Egypt, Italy, Japan, Libya, Nuclear Disaster, Tunisia
Posted in Autonomy
Tuesday, February 1st, 2011
There is nothing as beautiful as the faces of insurgents. Nothing in this world is so attractive, is so full of hope. No journalist, no politician, no religious leader or other will ever be able to erase the beauty of rebellion or bury it in words devoid of joy and desire.
It is primarily this beauty that strikes us when we learn of revolts taking place in North Africa. From Tunisia to Yemen, Egypt to Algeria, despite the dozens of dead and thousands injured and arrested, fear is giving way to courage, sadness is overcome by hope, the misery of being reduced to survival turns into the scream of life.
One might question the economic conditions in these countries, the rising food prices, unemployment, the authoritarian regimes and their police. One might ask why, given such conditions, revolt always takes so long to break out; how do our contemporaries manage to suffer poverty and oppression for years and years without taking up arms and shooting the politicians, the bankers and the bosses. Furthermore, we could demonstrate how also here in Belgium, more and more people are thrown overboard, condemned to languish in detention centres and prisons, and exploited in ever harsher conditions, putting up daily with authority in all its forms. One might ask …
But it is time to stop complaining. Many of us, here and elsewhere, find ourselves stuck in this world where only money counts, where our homes resemble slums more and more, where industrial pollution is poisoning us slowly. Now it is clear to everyone that they (that is, those at the top of society) will push their exploitation and domination even further, they are talking about "economic crisis "and calling on us all to accept the harshening of life at every level. But them, they are not in crisis, on the contrary, their profits are just getting higher. And who is being called upon to pay the price, here as elsewhere?
Obviously there are differences between here and there, even if the rule of money knows no borders, even if a regime, all regimes, whether democratic or authoritarian, will always mean oppression, confinement and exploitation. But the revolt, in all its beauty, explodes the differences. Burning a bank in Tunisia and Egypt calls for a bank burned in Brussels; just as the release of prisoners by the insurgents in Tunisia calls for razing the prison walls here; just as men and women, side by side behind the barricade, call to put an end to submission and patriarchy.
What fuels the revolt are not only, and it looks almost not that much, sweatshop conditions. No, the oxygen of the fire of revolt in all languages, is a beginning of freedom, this stranger who is so absent in this world, but who rises proudly in the act of rebelling. And then, everything can start to change.
Let's leave aside any analysis of political scientists, journalists knights-of-the-democracy, or those who are already preparing to take the place of the Ben Ali and Mubaraks of this world. We are simply alongside those who, in Tunisia and Egypt and elsewhere know that freedom is neither the law nor the sharia, who want neither boss nor government, who want to try to live as free people, because, during the rebellion, they have already tasted it's possible – and it's sweet.
Love and courage to insurgents around the world.
Let's set fire to the powder keg, us too.
Some insurgents from here..
–
Leaflet published in Bruxelles Indymedia, 30 January 2001
Tags: Beautiful like the smile of the insurgents, Belgium, Brussels, Social War
Posted in Autonomy
Monday, October 11th, 2010
To the rebels over here and over there
It's not easy to catch reality into words, as feelings and desires always go beyond what is offered by vocabulary. It is however a vital thing to speak, trying to give expression to our thoughts and feeling. Certainly at times when the terror of the state and her troops of order try to silence everything.
For years we've been saying that we need space and time to enable us to think and speak freely. This space and time will never be given to us, we can only conquer them ourselves, eradicate them from the reality of thou shall and thou must. That's why we've been speaking and we speak about revolt, about deeds which create space to live, to express our desires for freedom which no longer accept the sickening misery and ugliness of this world. (more…)
Tags: Belgium, Brussels
Posted in No Borders, Social Control