Posts Tagged 'Burning Barricades'
Tuesday, November 5th, 2019
For nearly two weeks the oppressed in Chile have seized the streets of the country, carrying out a variety of attacks on repressive units, government structures and businesses. The State's response to their insurgency, though it has caused dozens of deaths and rape, thousands injured and arrested, cannot stop the fury of the insurgents.
Today, October 30, at 1:00 pm, as part of the International Week of Solidarity for the Chilean Insurrection, we broke the front windows of an Elta post office, a Piraeus bank and the "showcase" of forced prostitution of women, "Xoriatiko Bakery". We blocked traffic with rubbish bins in flames as barricades in the two directions of Patision – filling the road with hundreds of fliers – seeking confrontation with the cops. The clash with the State-run garbage lasted for quite some time during which the mat riot cops made their appearance and became some of the fastest runners. Pink is one of our favourite colours. We also hope that the pigs like it as they will be forced to return to the police headquarters like pink prawns.
We used the ASOEE University as a base, just as the Chilean comrades have repeatedly chosen to launch their attacks on police forces. We see academic institutions not as academic asylums but as shelters for all kinds of oppressed, rebellious organisation and a base of aggression. The best way to express solidarity is to take aggressive action. We do not want to go into lengthy analysis upon analysis. Anyway we hear our comrades from afar get organized and attack. We won't say any more. We let them and their fires talk to us.
For every insurgent soul, dozens of stones on the heads of the cops
FROM GREECE TO CHILE SEND EVERY COP TO INTENSIVE CARE
Anarchists
[Text taken from actforfree.nostate.net].
Tags: Athens, Burning Barricades, Chile, Fuck the Police, Greece, International Solidarity, Riots
Posted in Direct Action
Wednesday, August 21st, 2019
Comrades erected flaming barricades made of tires in Santiago, Chile, in protest and in memory of murdered anarchist Carlo Giuliani, who was shot dead by police on July 20th, 2001 in Genoa, Italy during anti-G8 protests.
23-year-old anarchist Carlo Giuliani was killed by Mario Placanica, a cop, during the clashes that broke out after the police attacks in the afternoon. Images show Giuliani throwing a fire extinguisher at a police vehicle before he was shot and then run over twice by the Land Rover during clashes with police forces.

Carlo Guiliani, never forgive, never forget! Fight back!
Tags: Burning Barricades, Carlo Giuliani, Chile, International Solidarity, Santiago
Posted in Direct Action
Monday, June 24th, 2019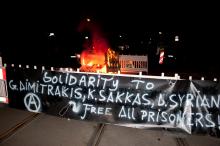 From the urban desert of the danger zone in Friedrichshain we send a signal of our solidarity to Yiannis Dimitrakis, Kostas Sakkas and Dimitra Syrianou. On Monday morning, June 24, we erected a burning barricade on Weidenweg (Street near Rigaer and Liebig) together with a fixed banner (see text on picture). We were waiting with stones to welcome the first patrol car but they needed time to mass up strong forces to enter the area of Rigaer Straße, and we disappeared safe.
(more…)
Tags: Berlin, Burning Barricades, Dimitra Syrianou, Germany, Giannis Dimitrakis, International Solidarity, Kostas Sakkas, Rigaerstrasse, Solidarity Action
Posted in Direct Action
Friday, April 21st, 2017
En recuerdo del oso polar Taco y del corte de calle por su la libertad donde participó el compañero Javier Recabarren el 26/12/2014.
El oso polar Taco nació el 10 de diciembre del año 1996 en Holanda, fue traído 2 años después a Chile a la cárcel-zoológico Metropolitano de Santiago. Durante el año 2014 y 2015 muchas serían las instancias que se realizaron exigiendo su liberación. El compa Javier Recabarren sería parte activa de aquellas, confeccionando lienzos y participando de marchas y concentraciones que eran convocadas abiertamente.
El día 26 de diciembre del año 2014, el compa junto a otrxs anónimxs tenían planeada una pequeña acción para visualizar la situación de cautiverio que afrontaba Taco, exigiendo su libertad. De esta manera el grupo llegó hasta una arteria en la comuna de Estación Central, donde mantenían mucho material para lo inevitable. Por la noche arrojaron todo los escombros que tenían escondidos y se lo entregaron al hermoso fuego. (more…)
Tags: Burning Barricades, Chile, Javier Recabarren, Santiago, Taco the Polar Bear
Posted in Eco Struggle
Friday, December 16th, 2016
Nos reapropiamos del tiempo, es decir lo recuperamos, lo robamos. Así y solamente así logramos ponernos en comunión con otras individualidades para levantar una coordinación operativa con el objetivo de cuestionar y golpear lo establecido. Convencidxs de esto, irrumpimos con barricadas diversas calles y avenidas de Santiago, accionando contra el orden existente con el que lxs Poderosxs pretenden dominarnos.
La acción de propaganda realizada en las calles de la urbe va cargada de memoria vengativa pues ya van 6 años de absoluta impunidad desde que el Estado de Chile masacró a 81 presos. Efectivamente, fue en la madrugada del 8 de diciembre del 2010, en el ala sur y norte del piso 4, Torre 5 de la cárcel de San Miguel, donde la maquinaria Estatal mostró su verdadera cara, esta vez sin disimular ni ocultar la tortura y la muerte que trágicamente encarnó los cuerpos calcinados de 81 personas. (more…)
Tags: Arson, Burning Barricades, Chile, San Miguel prison, Santiago, Sebastián Oversluij Seguel
Posted in Direct Action
Sunday, December 11th, 2016
Sebastián Oversluij, we demand your memory in every direct action.* This December 11 is already 3 years since your death in combat, with fire we remember every fallen compañerx.
Freedom for the PDI case compañerxs, Tamara Sol and all other compas who have been kidnapped and imprisoned by the Police State.

Fire to the prisons!
We do not forget, we do not forgive!
The struggle continues, stronger than ever!
*Barricades, banners, pamphlets and attacks with Molotovs against the police in memory of Sebastián 'Angry' Oversluij and for the political prisoners outside UMCE (Metropolitan University of Educational Sciences). There were also clashes outside Campus Juan Gómez Millas (University of Chile). 07.12.2016

via Contra Info, translated by Insurrection News
Tags: Burning Barricades, Chile, Fuck the Police, Riots, Santiago, Sebastián Oversluij Seguel, Tamara Sol, Videos
Posted in Direct Action
Thursday, May 26th, 2016
Barricadas lunes 23 de mayo, 7am.
El 22 de mayo del año 2009, muere nuestro compañero anarquista Mauricio
Morales, mientras intentaba activar un artefacto explosivo que dejaría
en la escuela de gendarmería de $hile, institución destinada a formar
seres que humillan y torturan han trasgredido la ley de los poderosos.
A 7 años de su muerte abrazamos sus ideas de libertad y de rechazo a
gendarmería y/o cualquier institución o símbolo de autoridad.
La memoria de nuestrxs compañerxs es vital para continuar la lucha
contra este sistema de dominación.
POR LA AGUDIZACIÓN DE LOS CONFLICTOS
POR LA EXPANCIÓN DE LOS FOCOS DE INSURRECCIÓN
QUE SE EXPANDA LA REVUELTA ANÁRQUICA
A 7 AÑOS DE NUESTRO COMPAÑERO MAURICIO MORALES, CONTINUAMOS LUCHANDO
CONTRA TODA AUTORIDAD Y POR LA ANARQUÍA. (more…)
Tags: Arson, Burning Barricades, Chile, Mauricio Morales, Santiago
Posted in Direct Action
Monday, April 18th, 2016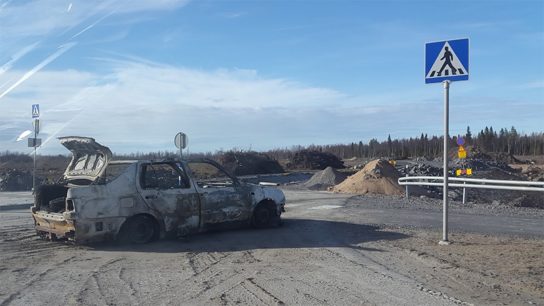 Fennovoima-Rosatom tries to build a new nuclear power plant in Pyhäjoki, Finland. Nuclear energy is by every standard outdated technology, financially unprofitable, it increases the centralization of energy production and produces hazardous nuclear waste for generations to come.
On top of it all, Fennovoima-Rosatom is destroying unique nature as we speak and messing up the Bay of Bothnia. The chosen location is a crappy one for a nuclear power plant by any means. Close to sea, close to groundwater. For example, the builders need to lift the ground level with meters to even get to start the constructions.
On Tuesday 12/04 at 6 in the morning we blocked the traffic of the only road leading to the construction site, and the landfills from continuing, by burning a crappy car filled with car tires etc. In the middle of that Fennovoima road.
The paintjob on the car said "Dialog Devil". That's our dialogue and that's what we have to say to everyone demanding dialogue with Fennovoima-Rosatom.
We also want to send our solidarity to Hambach forest occupation where comrades are battling against the climate killing energy giant RWE despite heavy repression against them. One struggle!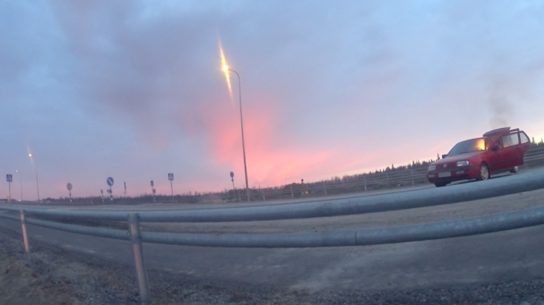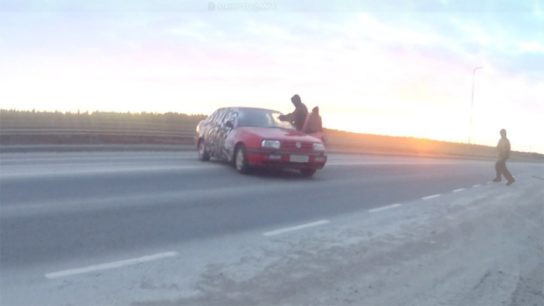 Tags: Anti-Nuclear, Arson, Barricades, Blockade, Burning Barricades, Ecological Destruction, Fennovoima, Finland, Hambach Forest, Pyhäjoki
Posted in Eco Struggle
Saturday, March 26th, 2016
Bomba de ruido en visita nocturna a sede de la UDI.
Madrugada del 23 de Marzo – Santiago
Cuando nos declaramos a viva voz enemigxs de la dominación, contrarixs a la forma de vida impuesta vigilada y controlada por el poder, es una obligación aportar en aquel camino elegido, aportar desde la multiformidad de la acción directa en pos de la lucha. Es así como queremos vivir y lo demostramos con acción antagónica, diciéndole a las policías, al poder. Aquí estamos, existimos, no nos rendimos. Multiplicaremos nuestro accionar, lo potenciaremos, para atacar cuando menos se lo esperen. (more…)
Tags: Arson, Burning Barricades, Célula por el Incendio Javier Recabarren, Chile, Claudia López, Francisco Solar, Freddy Fuentevilla Saa, International Solidarity, Javier Recabarren, Jhonny Cariqueo, Juan Aliste Vega, Lambros Foundas, Marcelo Villarroel Sepúlveda, Mauricio Morales, Monica Caballero, Santiago, Sebastián Oversluij Seguel
Posted in Direct Action
Tuesday, February 2nd, 2016


Claudio Paredes era un joven de 18 años militante del FPMR y vecino de
la Villa Portales, quien muere en una explosión el 31 de enero de 1988 en
uno de los edificios de la Villa, mientras preparaba una carga explosiva
contra la dictadura de Pinochet junto a Fernando Villalón y Nelsón Garrido.
Hemos salido y prendido el fuego, queremos parar su fiesta
No hemos podido quedarnos ni quietxs, calladxs ni sumisxs ante la realidad
que vemos pasar ante nuestros ojos y nos ha estado robando la vida por
tantos años.
Hoy cuando hemos podido ver como los poderosos sin pudor, sin vergüenza
alguna han estado talando nuestros milenarios bosques del sur, arrasando
con los ríos para construir sus represas e hidroeléctricas. Contaminando,
desforestando los suelos, enriqueciéndose brutalmente con la tierra que
nos cobija, convirtiendo en mercancía toda flora y fauna existente,
asesinándola. Hoy cuando hemos podido ver como a lxs mapuche se les sigue
asesinando y encarcelando por su legítima lucha y resistencia en pos de la
recuperación de las tierras que les han sido robadas, continuando así la
masacre que comenzaron los invasores hace más de 500 años. (more…)
Tags: Banner drop, Burning Barricades, Chile, Claudio Paredes, Santiago, Villa Portales
Posted in Direct Action
Monday, December 14th, 2015
Llamado a la insurrección antiautoritaria.
Por un diciembre negro con nuestros caidos en la memoria.
Saludos. Mediante este comunicado nos presentamos como grupo en la forma que creemos mas indicada (nuestras acciones son lo que importa, no nuestros rostros), también invitamos a combatir el letargo practicando la insurrección antiautoritaria y a nutrirnos de ella.
Material incendiario.
Hace unas semanas con unos objetos envueltos en llamas bloqueamos una autopista en Lima y dejamos algunos mensajes. El motivo fue atacar el funcionamiento del orden impuesto por el Poder. No pedimos reformas, no pedimos jefes mas "buenitos", no pedimos gobernantes que roben o que hagan obras, no pedimos trabajo o aumento si no su abolición.
Con esta acción apoyamos la ofensiva anarquista alrededor del mundo, en especial el DICIEMBRE NEGRO (venganza por los asesinatos de los companieros Alexandros Grigoropulos y Sebastian Oversluij).
Asimismo bienvenidx sea quien asista al llamado y rompa el papel de espectador. Te afecta a ti, a mí y a los que se oponen a este mundo de dominación consciente o inconscientemente.
Libertad a lxs anarquistas presxs.
Viva la propaganda pro el hecho.
Libertad a todos los animales.
Saludos a los miembros de las Celulas del fuego, Monica Caballero y Fransisco Solar.
Apoyo total a quienes no esperan la rebelion de las masas para salir a atacar.

Grupo de acción Divanggio
Tags: Arson, Black December, Burning Barricades, International Solidarity, Lima, Peru, Sabotage
Posted in Direct Action
Friday, January 16th, 2015
via War on Society:

Street blockade for Taco the polar bear.
In order to speak out about the situation suffered by Taco the polar bear at the Santiago metropolitan zoo, we demand the release of the polar bear.
Blockade carried out December 26, 2014
–
Tags: Burning Barricades, Chile, Santiago, Solidarity Action, Taco the Polar Bear
Posted in Eco Struggle
Friday, January 16th, 2015
Complicidad y solidaridad más allá de los idiomas, banderas y fronteras.

Con el comienzo del año y aprovechando las celebraciones, el gobierno griego dio comienzo a un proceso de traslado de prisionerxs hacia la Cárcel de tipo C de Domokos, con el claro objetivo de aislar a lxs prisionerxs en guerra e intentar amainar la lucha anárquica que cada día se intensifica en las calles y dentro de los siniestros muros de las prisiones.
El primer prisionero trasladado fue el compañero anarquista Nikos Maziotis miembro de Lucha Revolucionaria a lo que rápidamente de sumaron Dimitris Koufontinas, miembro de la organización 17 Noviembre, Kostas Gournas miembro de Lucha Revolucionaria, Yannis Naxakis y Grigoris Sarafoudis, condenados por atraco a mano armada y por supuesta participación en las CCF. (more…)
Tags: 17 November, Burning Barricades, Chile, Christodoulos Xiros, Conspiracy of Cells of Fire, Dimitris Koufodinas, Giannis Naxakis, Greece, Grigoris Sarafoudis, International Solidarity, Kostas Gournas, Nikos Maziotis, Revolutionary Struggle, Santiago, Solidarity Action, Type C prisons
Posted in Direct Action
Tuesday, October 21st, 2014
Armed militants appeared on the streets of Diyarbakır, Southeastern Turkey tonight (20/10/2014) in a demonstration of combative solidarity with Kobane and in complete defiance of the fascist Turkish government.
The comrades expressed their anger by setting up burning barricades, throwing many molotovs and firing shots in the air. Messages of support for Kobane and denouncing the fascist Turkish state were broadcast via megaphone so all the people could hear. The comrades escaped into the night avoiding capture by Turkish security forces, all in all, a successful display of militant solidarity from deep within the Turkish state that gave hope to many Turkish people living under AKP tyranny and reminds Kobane & whole world that not all Turkish people support the barbaric actions of the criminal Erdogan regime!
Kobane Solidarity Front UK
Tags: Anti-Fascist, Burning Barricades, Demo, Diyarbakır, International Solidarity, Islamic State in Iraq and Syria (ISIS), Kubani, Kurdistan, Molotovs, Rojava, Solidarity Action, Turkey
Posted in Direct Action
Sunday, August 31st, 2014
International week of solidarity with imprisoned comrades. We go out decisively and fearlessly to amuse ourselves breaking with their dogma of tranquility and legality. With the rebellion of José Huenante, boy assassinated in democracy, in mind.* Cops, screws, guards and every authority will burn with our warmful joy. Propagate the revolt.
In the defined night
the routine's twilight
infinite particles conspire in the dissocial shadow.
In the spectra of nothing
desires are moaned
rage is howled
the forgotten are shouted
the lost echoes are roaring.
In the disrepair of one power citadel
frantic machines, swarm of slaves,
makeup powders and devices of control.
The rebellious schizos, barbarian!
We deny the everyday existence: Prisons,
schools, families, madhouses, asylums, psychiatrists
and every individual nullification.
We open the wings to come out of crevices and caves,
to bifurcate the fire in every alley,
security perimeter and place of domination.
May it be known that we overflow in all directions,
towards all the points.
We are infinite particles looking for the explosion.
A small contribution from the territory called Chile, Talca of Maule region.
Affinity group of dogs, cats and frogs
The action took place on Wednesday, August 27th; a roadblock in one of the city's arteries, at eight in the evening.
_
* 16-year-old Mapuche, who 'disappeared' while being held in police custody in Puerto Montt in southern Chile.
– via Contra Info.
Tags: Burning Barricades, Chile, International Solidarity, International Week for Anarchist Prisoners, José Huenante, Mapuche, Molotovs, Talca
Posted in Direct Action