Posts Tagged 'Canada'
Thursday, January 16th, 2020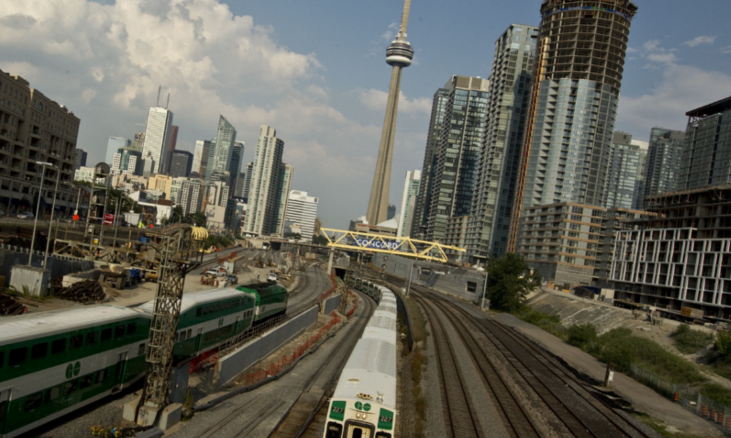 Anonymous submission to North Shore Counter-Info:
This weekend in Toronto, inspired by the actions of Wet'suwet'en land defenders and a recent callout for rail disruptions, some anarchists took to the rails to add our contribution to the building momentum of demonstrations, blockades, and acts of sabotage taking place across Turtle Island.
We debated writing this because, due to a lack of experience and the location we picked, we really couldn't be sure that our attempt at sabotage succeeded. Ultimately, we wanted to share our message of solidarity and commitment to this struggle, and our own reflections and knowledge gained in this first attempt.
Previous posts on this site [1, 2] provide a great starting point for the how-to's of this kind of mission. We picked a site in proximity to a rail junction and used copper wire to mimic a train on the tracks, (hopefully!) halting any rail traffic until the disruption was cleared away. Since we didn't have any jumper cables, which provide a more dependable connection, we quickly scrubbed our connection points with steel wool to make sure there was no rust impeding the connection. (more…)
Tags: Anti-pipelines, Canada, Sabotage, Solidarity Action, Toronto, Wet'suwet'en
Posted in Direct Action
Sunday, January 12th, 2020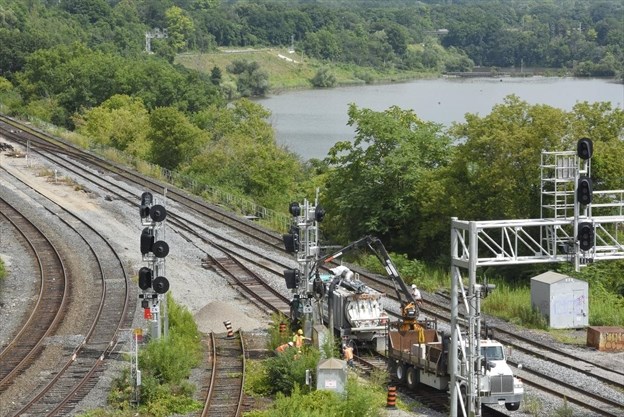 Anonymous submission to North Shore. Callout for rail disruption is here.
A decade ago, in a move that has inspired many, Wet'suwet'en people reoccupied their unceded territories as a way to begun healing and ensuring the land is protected in the ways she needs to sustain Wet'suwet'en people's lives, practices, and continued existence in their traditional territories.
A year ago, the RCMP violently invaded those territories to provide access for industry.
One week ago, the Canadian State criminalized Anuk' nu'at'en – Wet'suwet'en hereditary law – by granting an injunction which criminalizes Indigenous people and their allies should they protect the Yintah from the destructive forces of industry.
We honour these anniversaries with a giant fuck you to the State.
Early this morning, settlers responded to calls of action coming from multiple Wet'suwet'en house groups after they bravely evicted industry from their unceded territories, as well as a call to action for settlers by settlers.
As one small way of pushing back against the colonial violence being enacted by our government we simultaneously disrupted three natural CN and CP railway bottlenecks at strategic locations with the intention and impact of shutting down all rail traffic going in and out of so-called Hamilton. We did this by using copper wires and jumper cables attached to fishplate wires as a way to interfere with the block circuits – see a video here (opens with TOR). The method is safe, easy, relatively low risk, and widely replicable.
CN rail has been and will continue to ship out pipe to storage yards in preparation of construction and have vast, isolated stretches of infrastructure. The first installations of rail had deep, lasting impacts on the colonization of Turtle Island and targeting it today directly effects so-called canada's economy.
While these actions will only serve as a temporary disruption, we hope it sends a strong message: Respecting Indigenous sovereignty – anywhere on Turtle Island – is not optional. We will not be passive.
We hope others throughout Turtle Island – especially settlers – will join us in ensuring this is only the beginning, and make the Coastal GasLink pipeline untenable to both industry and the state in every way they can.
Tags: Anti-pipelines, Canada, Coastal GasLink (Pipeline), Hamilton, Indigenous Struggle, Sabotage, Solidarity Action, Wet'suwet'en
Posted in Direct Action
Sunday, January 5th, 2020
USA
More Than 25 Cities Light Up the Night Against Prisons & Migrant Detention Camps
Sacramento, CA: NYE Noise Demo Report Back
Omaha, NE: Report Back from NYE Noise Demo
Fort Lauderdale, FL: Report Back from NYE Noise Demo
Baldwin, MI: Noise Demo Rallies Against Geo Group's Notorious Detention Camp
Elsewhere
New Year's Light Show for the Prisoners of the Quebec City Detention Center (Canada)
Update from the gathering outside the hellhole of P. Ralli on New Year's Eve (Athens, Greece)
via It's Going Down, PHL AntiCap, Athens IMC and MTL Counter-info.
Tags: Anti-Prison, Canada, Demo, International Solidarity, New Year, USA
Posted in Direct Action
Wednesday, September 13th, 2017
Inspired by the riots in Hamburg, we burned two luxury cars outside of a condo in St-Henri during the night of July 13. In a neighbourhood where people have to choose between food and rent, don't be surprised when we set fire to your flagrant displays of class privilege.
We used a simple method: fire sticks half-covered in fire-paste. All the material can be found in a camping store. We lit the fire-paste covered end and placed it in the top corners of the car's grill, between the headlights. We used two sticks per car. The fire is mostly invisible until plastic or motor oil catches fire, giving you time to leave unseen. Be careful: the fire can easily spread to cars parked close-by. (more…)
Tags: Arson, Canada, Car Burning, Gentrification, Montreal
Posted in Direct Action
Tuesday, March 15th, 2016
Anonymous submission to MTL Counter-info
A car dealership near Côtes-des-Neiges was attacked using incendiary devices causing damage to luxury vehicles in the honor of the courageous imprisoned comrades of the Conspiracy of Cells of Fire and of Revolutionary Struggle.
Solidarity means attack.
Long live anarchy.
A thousand years to the Black International
Tags: Arson, Black International of Anarchists of Praxis, Canada, Car Burning, Conspiracy of Cells of Fire, Côtes-des-Neiges, International Solidarity, Montreal, Revolutionary Struggle
Posted in Direct Action
Saturday, December 19th, 2015
No peace for the defenders of commodity-society!
In the early hours of Wednesday Dec 2, we punctured the tires of a patrol car belonging to the private security company Garda on the corner of St-Jacques and Irene in the Montreal neighborhood of St-Henri. Garda provides prison, security and deportation services, profiting intensely from many aspects of this burning dumpster of an existence under capitalism. So, you know, fuck 'em. We claim this action within the context of the international call for a black December by imprisoned Greek anarchists. Through this communique, we wish to express our sincerest criminal complicity with all fugitive and incarcerated anarchist comrades around the world.
Black December is everywhere.
Tags: Black December, Canada, Garda (Private Security Company), Monteal, Sabotage
Posted in Direct Action
Thursday, March 26th, 2015
On Wednesday night, February 25th, we pulled the fire alarm in the Macdonald Engineering building of McGill university, disrupting the presentation of professor Andrew Higgins, a McGill weapons researcher, as a minimum gesture of sabotage and revolt against the University's ongoing complicity in colonization and imperialist warfare.
This action was simple, required little planning and zero expertise, disrupted our enemies where it hurts and was infinitely more uplifting than any symbolic protest or SSMU general assembly we have witnessed in recent time. We believe that acts of resistance — both large and small — against those who profit from and those who facilitate the growth of the military-industrial-complex are valuable, and ought to be carried out whenever and wherever possible.
The University is at war; so are we.

Anti-Imperialist Action (AIA)
Tags: AIA (Anti-Imperialist Action), Andrew Higgins, Canada, McGill University
Posted in Direct Action
Thursday, March 26th, 2015
Like Thorns Rising at Dawn
A new autonomous media collective rises: L'Aube épine
This is a presentation of the collective and its zine, but equally a call to join us!
Capitalism has always been after new territories to loot or develop. For quenching its insatiable thirst for resources, the industry is ready to use all the means. Because it is essential for it to be always more producing, to augment its energetic capacity, to develop the fluxes of merchandise, to exploit even more the lands, the seas and the beings… Its imperialism is condemning us to a mediocre and uniform world, as much at the scale of human societies than of the natural milieus. The political rulers, accomplices or actors of this destruction , are threatening those who oppose it, jailing and assassinating. From their palaces, they are cautioning if not organizing the genocide of many peoples whose existence is intimately tied to their environmental milieu. (more…)
Tags: Canada, L'Aube épine, Zine
Posted in Autonomy
Thursday, January 29th, 2015
Beat The Raid will be a place to hear up to date info on the repression of anti-pipelines activists and anarchists in so called Vancouver, BC. We are still fundraising and now selling no pipelines patches and t-shirts to help with legal funds. You can contact us at beattheraid@riseup.net for questions and interview requests.
Together we will beat the isolation the state imposes on us.
Beat The raid: https://beattheraid.wordpress.com/
Contact: beattheraid -at- riseup.net
–
Statement
Repression is part and parcel in democracy. In a democracy the rulers require complete control over the people. Revolts are countered with political repression in the form of arrests, armed raids and physical and emotional harassment by the police. Movements are watered downed by mainstream environmental groups such as Forest Ethics and Greenpeace. These groups wish to reform colonialism instead of eliminating it. These groups, much like Enbridge and BP, rely upon capitalism and cooperation with the state to exist. These mainstream environmental organizations frack the rebellion out of people in the form of referendums, voting and waving signs. Meanwhile, they use our radical words only to dilute, co-opt and contribute to polluted deals undermining real grassroots movements and then ensure us that democracy is still drinkable. (more…)
Tags: Anti-pipelines, Canada, Fuck the Law, Graffiti, Keep Bombing, Repression, Vancouver
Posted in Eco Struggle
Saturday, December 6th, 2014
325 receives and transmits:
On the night of November 29, we snuck into the engineering department of McGill University and jammed the locks of the Aerospace Mechatronics Lab using superglue as a minimum gesture of solidarity with the survivors of the Israeli state's summer attack on Gaza, in which 800 drone strikes took place over the course of a 50 day period.
Official documents obtained by campus group Demilitarize McGill through an access-to-information request reveal that the Aerospace Mechatronics Lab has received upwards of 262,000$ from the Canadian military to develop software for miniature drones or "strikebots" designed for surveillance and urban warfare.
The advent of drone technology originally offered an oblivious public the "feel-good" fantasy of surgical-precision in the exercise of deadly force, whereas today we now know very well that there exists a significant body of data documenting the fact that Us & Israeli drone campaigns have killed, injured, and displaced thousands of non-combatants in Afghanistan, Pakistan, Yemen, Somalia and the occupied territories. (more…)
Tags: Aerospace Mechatronics Lab, AIA (Anti-Imperialist Action), Canada, McGill University, Montreal, Sabotage
Posted in Direct Action
Saturday, November 15th, 2014
by indyvan, Vancouver Media Coop
On June 3rd, 2014, Vancouver Police staged a "guns-drawn" raid against a house of known indigenous and anarchist opponents to the energy policies of the central government and its corporate sponsors.
The ostensible reason for the raid was given as the search for graffiti materials believed to be tied to an ongoing "no pipelines" tagging campaign. One person was arrested, but released without charges or conditions.
The Vancouver Police Department returned on June 12 at around 9am with a warrant to take a DNA blood sample from the accused. The accused was again released without charges. There has been no info on the result of the DNA blood sample nearly 5 months after. (more…)
Tags: Canada, Graffiti, Raid, Vancouver
Posted in Direct Action
Sunday, August 3rd, 2014
International Week for Anarchist Prisoners
This August marks the first annual Week for Anarchist Prisoners.
Commencing on the anniversary of the execution of Sacco and Vanzetti, the week will run August 23rd-30th. A packed week of events will be hosted in Hamilton to spread information about anarchist prisoners and to fundraise in support of our incarcerated comrades.
All proceeds from the week will be donated and split between Mexico ABC and Moscow ABC.
Schedule of Events:

Monday, August 25th – 5E Anarchist Prisoners in Mexico
Join us for a presentation on the case of the 5E prisoners in Mexico. Friends of the incarcerated anarchists will cover details of the case, the context of anarchist organizing in Mexico, and discuss the support work being done throughout the continent. (more…)
Tags: Canada, Hamilton, International Week for Anarchist Prisoners
Posted in Prison Struggle
Tuesday, April 29th, 2014
Here are some updates about Kevin, Rick, and Joel, three Americans serving time in Canada for Toronto G20 convictions. Please note their current addresses (they have moved since the last update), writing letters is a great way to make sure incarcerated comrades feel connected.
Joel Bitar
On February 13th Joel plead guilty to 12 counts of mischief over $5000 (originally facing 26 counts) and was sentenced to 20 months. He is keeping up a blog while he is inside: http://lockedupyetliberated.noblogs.org/ You can read his statement to the court here. His current address is:

Joel Bitar
Central North Correctional Centre
1501 Fuller Ave.
Penetanguishene, ON Canada
L9M 2H4

Kevin Chianella

On February 13th Kevin plead guilty to 16 charges (originally facing 53 counts) and was sentenced to 24 months in a penitentiary, the only G20 prisoner to be sentenced to federal time. He is currently being held at Joyceville in Kingston. His address:

ATTN Kevin Chianella
Joyceville Institution
Highway 15 PO Box 880
Kingston, Ontario
K7L 4X9
Richard Morano
On February 3rd Rick plead to 6 counts (originally facing 14) and received a 7-month sentence in jail, and 2 years probation. He is required to pay $3,000 in restitution. Morano was ordered to pay Staff Sgt. Queen $1,000 in restitution and $500 each to CIBC, Tim Hortons, American Apparel and All Leather. He is being held in Lindsay, his address is:

Richard Morano
Central East Correctional Centre
541 Hwy 36, Box 4500
Lindsay, ON
K9V 4S6
If you want to help out with support, please contact guelphabc(at)riseup.net
Solidarity, GABC

ABC Guelph, Canada
Tags: ABC Guelph, Canada, G20, Joel Bitar, Kevin Chianella, Richard Morano
Posted in Prison Struggle
Saturday, April 26th, 2014
Friday, April 4, 2014 – Cops have launched an investigation after multiple gunshots were fired at a $3 million dollar house of a corporate executive.
Johnathan More is president and CEO of Aldrin Resource Corp., a junior uranium company that is listed on the TSX Venture Exchange. The company recently announced its crews had begun drilling in search of uranium at its property in Saskatchewan's Athabasca Basin.
More is also named as a director of Athabasca Nuclear, another Venture-listed uranium explorer, and the CEO and director of Mira Resources Corp., an oil and gas company with projects in West African countries Ghana and Angola.
More is listed on the Mira website as a former investment adviser and the founder of JM Finance LTD, a Canadian venture capital company. Police have not made any arrests and have no suspects at this time. There is, so far, no claim of responsibility. No-one was injured or killed in the attack.
Tags: Canada, CEO Johnathan more, Insurrection, Vancouver
Posted in Direct Action
Friday, March 28th, 2014
325 receives and transmits:
Greetings comrades,
With this message we would like to inform that the name of Amélie is not Pillierst, this is an error being reproduced in various communiqués and contra-info sites. Her name is Amélie Trudeau Pelletier. We normally do not modify errors in the original communiques (only in our translations) but seeing the extent it has taken, we are modifying all references to Pillierst in past communiques. To avoid more of this confusion, we strongly advise you to correct your references or "tags".
warm embraces
–
The error that was reproduced by 325 site amongst others originated here:
http://fuegoalascarceles.wordpress.com/2014/01/07/urgente-detienen-a-3-companerxs-acusadxs-de-danos-mexico-df/
reproduced by 325 amongst others
http://325.nostate.net/?p=9435
Sabotagemedia clarified that it was not their mistake originally.
Tags: Amelie Pelletier, Amelie Pillierst, Canada, Counter-info
Posted in Autonomy