Posts Tagged 'Chile'
Thursday, September 17th, 2020
ES | Palabras del compañero Juan Aliste Vega ante la partida de Pedro Villarroel
See also: In Memory of Pedro Villarroel
We're love at war. These words for our mothers and fathers go with a touch of football, with tango rhythm and the strength of the sea.
Pedro is one of our fathers present in this continuous subversive and autonomous struggle. Pedro, has never been a member of a political party, he has never been a leader, but he has always been a father, one of those to whom we owe not only our lives. He is a father who has helped many daughters and sons in their struggle, and has been consistent in his tenderness, always breaking down the distances, the walls and the rottenness that surrounds the prison world.
(more…)
Tags: Chile, Juan Aliste Vega, Pedro Villarroel, Santiago
Posted in Uncategorised
Friday, September 11th, 2020
Desde los inicios de lo que hoy conocemos como dominio y civilización, la cosificación y explotación de lo salvaje ha reducido la vida a simples productos y servicios, y por lo tanto, necesita que estos sean movilizados y dirigidos hacia y dentro de las grandes urbes, siguiendo con esto las trayectorias trazadas por los artífices del modelo económico imperante en los distintos períodos de la historia conocida.
El transporte de la mercancía ha resultado ser desde entonces un órgano vital para el Poder y sus propósitos de control sobre los territorios que hoy denominan ciudades. La organización y la forma en que se rige el ritmo de la vida en estos lugares, responde solo a los intereses y el beneficio de unos pocos orquestadores de este sistema de consumo y muerte.
Las máquinas que día a día recorren las innumerables carreteras y calles transportando mercancía humana, son igualmente incinerables que las que transportan mercancías extraídas de la tierra. Ambos tipos cotidianamente mueven a través de las innumerables carreteras y calles, tanto en el Wallmapu como en $antiago, lo que llaman "recursos"; unos producto de la explotación de la tierra, otras para la explotación humana. Así es como se mantiene el flujo de la devastación de la tierra, y así se mantiene el flujo de la devastación de nuestras vidas. (more…)
Tags: Arson, Black September, Chile, Claudia López, Francisco Solar, Jhonny Cariqueo, Joaquín García Chanks, José Huenante, Juan Aliste Vega, Macarena Valdés, Marcelo Villarroel Sepúlveda, Monica Caballero, RED (Ex-Transantiago Bus Company), RP Global (Company), Sabotage, San Miguel, Santiago, Transantiago, Wallmapu
Posted in Direct Action
Friday, September 4th, 2020
Para lxs antagonistas a este sistema de terror el ingreso a la cárcel siempre es un trago amargo y siempre duele.
La prisión y yo somos viejas conocidas, en mas de una ocasión me han sentado en su mesa, con los años hemos cambiado y ambas hemos aprendido la una de la otra… pero por mas tiempo que pase escencialmente la cárcel y yo seguimos siendo las mismas. La cárcel aun es el monstruo fagocitador de poderes que crece con la sumisión y el arrepentimiento, yo continuo con los mismos deseos sediciosos de antaño.
Lxs poderosxs lograron encerrar mi cuerpo inquieto, trataron de custodiarlo por muchos años, pero aunque esté enjaulada, mi corazón sigue afuera lejos de alambrados, altos muros y ojos vigilantes… el gris de este lugar solo me toca superficialmente.
El presidio es otro escenario mas de lucha en el camino de la confrontación, el enfrentamiento antiautoritario para mi no ha terminado, solamente ha cambiado de forma.
Queridos Juan Aliste, Joaquín García, Marcelo Villarroel y Dinos Giagtzoglou sus palabras son una bocanada de aire fresco en esta celda.
¡Queda mucho por construir y destruir!
Solidaridad activa con los presos politicos mapuche en huelga de hambre.
Viva la Anarquía!
Monica Caballero S.
Presa anarquista.
Santiago Chile
Septiembre 2020.
–
Letter from imprisoned comrade Monica Caballero in San Miguel prison
For those opposed to this system of terror, prison is always a bitter pill and it always hurts.
Prison and I are old acquaintances, on more than one occasion I have sat at his table, over the years we have changed and we have both learned from one another… but no matter how much time I spend in prison, I remain the same. Prison is still the monstrous phagocyte of power that grows with submission and repentance, and I continue with the same seditious desires of yester-year.
The powerful succeeded in locking up my restless body, they tried to guard it for many years, but even though it is caged, my heart is still out there far from fences, high walls and watchful eyes… the grey of this place only touches me superficially.
The prison is another place of struggle on the road to confrontation, the anti-authoritarian confrontation for me has not finished, it has only changed shape.
Dear Juan Aliste, Joaquín García, Marcelo Villarroel and Dinos Giagtzoglou's words are a breath of fresh air in this cell.
There is still much to build and to destroy!
Active solidarity with the Mapuche political prisoners on hunger strike
Long live Anarchy!
Monica Caballero S.
Anarchist prisoner.
Santiago Chile
September 2020.
Tags: Chile, International Solidarity, Letter, Monica Caballero, San Miguel prison, Santiago
Posted in Prison Struggle
Thursday, September 3rd, 2020
Pedro fallece hoy en un hospital de Santiago de Chile en medio de una Pandemia. Don pedro ingresó en el recinto hospitalario por otros motivos, en dicha situación se contagió de COVID-19 y su cuerpo -como el de muchos hombres y mujeres que se han perdido en esta pandemia de mierda-, sucumbió al virus.
Don Pedro tiene también una historia de lucha, de una lucha quizás menos visible como lo es aquella lucha de las familias, de los entornos más cercanos a los compañeros represaliados. Don Pedro estuvo junto a su hijo –Marcelo Villarroel Sepúlveda– cuando por primera vez fue detenido en noviembre de 1987, Marcelo tenía por esos días 14 años de edad y conoció las cárceles de la dictadura. También estuvo en 1992 luego de que su hijo fuera herido y apresado, por los siguientes 12 años, y estuvo, más tarde, el 2008, cuando en amplios operativos internacionales, su hijo fue expuesto y confinado en cárceles del territorio controlado por el Estado argentino, y luego, como rehén, trasladado a las mazmorras de las cárceles chilenas. (more…)
Tags: Chile, Coronavirus, Marcelo Villarroel Sepúlveda, Pedro Villarroel, Radio Primero de Mayo, Santiago
Posted in Uncategorised
Thursday, August 27th, 2020
Informativo a un mes de la detención de lxs compañerxs Francisco Solar y Mónica Caballero (Agosto 2020)
El 24 de julio del 2020 el Estado detiene a lxs compañerxs anarquistas Francisco y Mónica acusadxs del envío de paquetes bomba contra la 54 comisaria y el ex Ministro del Interior Rodrigo Hinzpetter (Julio 2019, acción revindicada por "Cómplices Sediciosos / Fracción por la Venganza") y el doble ataque explosivo contra el edificio Tánica en el adinerado barrio de Vitacura (Febrero 2020 en plena revuelta, acción revindicada por "Afinidades Armadas en Revuelta"). Francisco se encuentra encarcelado en la Sección de Máxima Seguridad de la Cárcel de Alta Seguridad, en un comienzo permaneció completamente aislado pero tras la llegada del asesino de la joven Ámbar(*), el compañero busco la forma de encararlo y mostrar su rechazo con actos, siendo trasladado a una celda de otro sector permitiéndole salir -en parte- del extremo aislamiento en el cual se encontraba. Mónica tras permanecer varios días en la sección de "ingreso" sin acceso a patio y extendidose esta medida bajo la excusa de la cuarentena, finalmente fue trasladada al modulo de Connotación Publica de la cárcel de San Miguel.
Siguiendo las órdenes de los perseguidores de la Fiscalía Sur, a ambxs compañerxs se les extrajo nuevamente muestras de ADN, aquellos persecutores ya en el 2010 habían sacado mediante torturas esas muestras en el llamado Caso Bombas. Al igual que la totalidad de los recintos penitenciarios bajo el Estado Chileno, ambxs compañerxs se encuentran sin visitas, debido a la coyuntura sanitaria por el coronavirus y solo pueden tener comunicación mediante llamadas y videollamadas monitoreadas por gendarmería.
¡Solidaridad revolucionaria y activa con lxs compañerxs anarquistas Mónica y Francisco!
–
(*) Un mediático caso de un sujeto asesino y violador que atacaba a lxs hijxs de sus parejas, recientemente fue detenido tras un nuevo asesinato.
Tags: Chile, Francisco Solar, International Solidarity, Monica Caballero, Santiago, Solidarity Action
Posted in Prison Struggle
Thursday, August 27th, 2020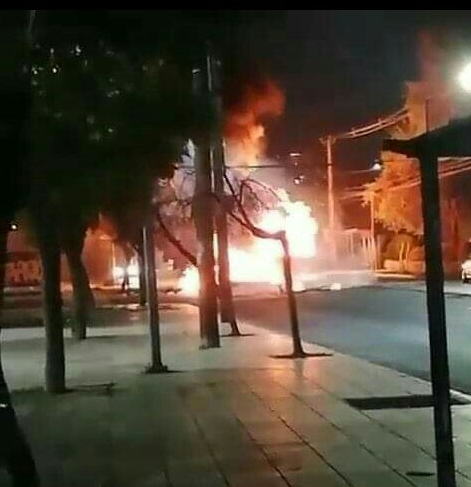 The context of fear and submission to the pandemic that has been so well capitalized on by states around the world, especially the one that the "Chilean" state is trying to subjugate us with. And one month after the arrest of Mónica Caballero and Francisco Solar.
Different anarchic individuals organized themselves in advance to give a little taste of the incendiary sabotage during the commemoration of the murder of the land fighter Maca Valdés in the emblematic and historical town of Simón Bolívar and the fighters Erick Rodríguez and Iván Palacios.
At 21:30 we intercepted a caterpillar bus from route 402 of the modern fleet of the wealthy and fascist company Metbus. It came without people because it was the last route. We got the driver off the bus – not before he had taken all his things out – and reminded him that this was not against him but against his bosses. We gave him money to pay for a taxi to his house and set the machine on fire to the sound of the shouts of joy and adrenaline from the people who were demonstrating. (more…)
Tags: Arson, Chile, Francisco Solar, Monica Caballero, Sabotage, Santiago, Transantiago
Posted in Direct Action
Thursday, August 27th, 2020
We knew that by choosing the path of struggle against capital, our lives would develop against all odds, and it was not unknown to us that prison could be a possible destination.
We questioned this humiliating reality and its so-called "social peace", we severely questioned the enrichment of the bourgeoisie and their power. There are really too many questions to take a stand against the prevailing order. Countless have been the assassinations by the repressive forces of the power, countless those insurgents who have given their lives looking for the sharpening of the conflict against the states.
Did the elite of this country believe that we would stand idly by after all their years of misery, alienation and neoliberal exploitation?
How could we not try to be the stumbling block against the uninterrupted advance of capitalism and the states?
(more…)
Tags: Chile, Francisco Solar, International Week for Anarchist Prisoners, Juan Flores Riquelme, Monica Caballero, Santiago, Santiago 1
Posted in Prison Struggle
Tuesday, August 25th, 2020
Dibujo de la compañera Mónica Caballero en la semana internacional de solidaridad con lxs anarquistas encarceladxs (23-30 agosto 2020)
"El dolor es momentáneo, el orgullo es para siempre"
-Sección de connotación publica-Cárcel de San Miguel-
Frances
"Dessin de la compagnonne Monica Caballero pour la semaine internationale de solidarité avec les anarchistes emprisonné.e.s. (23-30 août 2020)
"La douleur est momentanée, la fierté est éternelle"
-Sección de connotación publica-Cárcel de San Miguel-"
Griego
[Χιλή] Σχέδιο από τη συντρόφισσα Monica Caballero για τη Διεθνή Εβδομάδα Αλληλεγγύης με τους Φυλακισμένους Αναρχικούς (23-30 Αυγούστου 2020)
"Ο πόνος είναι στιγμιαίος, η περηφάνεια είναι για πάντα."
Monica Caballero (Φυλακή του San Miguel)
Ingles
Drawing of comrade Mónica Caballero in the international week of solidarity with imprisoned anarchists (23-30 August 2020)
"Pain is momentary, pride is forever"
-Public connotation section-San Miguel Prison-
Italiano
Disegno della compagna Monica Caballero per la settimana di solidarietà con gli anarchici e
le anarchiche imprigionate (23 -30 agosto 2020)
"il dolore è momentaneo, l'orgoglio è per sempre"
-Sezione di connotazione publica – Carcere di San Miguel
Euzkera
Monica Caballero burkidearen marrazkia, kartzelan dauden anarkistekiko elkartasunaren nazioarteko astean (2020ko abuztuaren 23tik 30era)
"Mina momentukoa da, harrotasuna betirako da"
-Konnotazio Publikoko Saila-San Migueleko Kartzela
Tags: Chile, International Week for Anarchist Prisoners, Monica Caballero, Santiago
Posted in Prison Struggle
Monday, August 24th, 2020
Words by comrade Francisco Solar for the international week of solidarity with imprisoned anarchists (23-30 August 2020)
How can we achieve moments of freedom, even if they are only brief and sporadic? What are those moments where we feel that what limits us loses weight and sense?
The answers can be multiple depending on the interests of each individual, how they understand and situate themselves in this world. Perhaps some people already feel free and these questions are unnecessary because they are alien to the tentacles of power.
Those of us who do not have these kinds of dreams know that the very existence of the State places us in a situation of oppression, a situation that is necessary to fight and attack if freedom is the horizon. It cannot be otherwise.
And it is in that option of attacking that we find true moments of freedom. Since we decided to confront this world and situate ourselves as its enemies, we began to look at our surroundings differently, we began to visualize objectives and their vulnerabilities, we began to see the best way to strike at power, we began to position ourselves on the offensive. (more…)
Tags: Chile, Francisco Solar, International Week for Anarchist Prisoners, Letter, Santiago
Posted in Prison Struggle
Saturday, August 22nd, 2020
A un mes de la detención de Francisco Solar y Mónica Caballero
24 de agosto 2020: Agitación y propaganda
Semana Internacional de Solidaridad con lxs anarquistas encarceladxs
23-30 agosto
Tags: Chile, Flyposter, Francisco Solar, International Week for Anarchist Prisoners, Monica Caballero, Santiago
Posted in Prison Struggle
Saturday, August 22nd, 2020
EN | Text by anarchist comrade Dinos Giagtzoglou: For the day of agitation and propaganda in solidarity with Monica Caballero and Francisco Solar
Texto anarquista de Dinos Giagtzoglou – Para el día de la agitación y la propaganda en solidaridad con Mónica Caballero y Francisco Solar (14 de agosto 2020)
Justo como hoy, hace 10 años, el Estado Chileno llevó a cabo una amplia operación represiva en contra de compañeros y anarquistas en respuesta a las decenas de atentados en contra de los símbolos y de las instituciones del Estado y el Capital. Esta operación condujo a la detención de diez de los anarquistas y llegó a ser conocido como el "Caso Bombas", terminó en un fiasco, los cinco compañeros que fueron finalmente procesados quedaron completamente absueltos, y esto fue descrito por la prensa como la derrota más grande de la fiscalía en la historia. Hoy, dos de nuestros compañeros, Mónica y Francisco, quienes estaban entre los detenidos en ese tiempo, son de nuevo encarcelado en un Estado que hace un par de meses estaba siendo sacrificado por una enorme revuelta social que nos sorprendió a todxs nosotrxs.
La detención y la prisión no son nada nuevo para nuestrxs hermanxs, ya que en 2013 fueron llevados a las celdas por el Estado español acusados de un ataque a una catedral en Zaragoza revindicada por el Comando Insurreccional Mateo Morral. Los compañeros son una vez más acusado de una serie de atentados en contra de los representantes de los ricos, los poderosos y sus defensores en el territorio Chileno. Los ataques incluyen el envío de dos bombas explosivas, uno de los cuales explotó, en una estación de policía dejando a ocho policías heridos (3 de ellos de gravedad) en Santiago, y el otro se encuentra antes de llegar a su destino en la filial de las oficinas de uno de los mayores consorcios de empresas en Chile (propiedad del cuarto más rico de la familia en América latina), teniendo como destinatario el jefe del departamento legal, quien se había desempeñado como Ministro de Defensa y del Interior durante la represión de los anarquistas, conocido como el "Caso Bombas".
Después de tantos años de persecución y encarcelamiento, luchas implacables dentro y fuera de las cárceles, se mantienen firmes y convencidxs del derecho a la lucha por la liberación. Son estos ejemplos de combatientes los que también me han motivado a tomar iniciativas subversivas y elegir la resistencia a la dominación y la explotación. En tales caminos de lucha queremos y debemos caminar constantemente con amor por la vida y la libertad y sin miedo a la muerte o la cárcel.
Con el recuerdo intacto de Mauricio Morales,
Con pasión y determinación,
Con terquedad y compromiso,
Con la cabeza en alto
Desde el fondo de mi corazón les envío una señal rebelde y un abrazo fuerte a Mónica Caballero y Francisco Solar.
PRIMERO Y SIEMPRE LA REBELIÓN
-Dinos Giagtzoglou-
Subterraneos de la prisión de Korydallos
Tags: 14/14, Athens, Chile, Francisco Solar, Greece, International Solidarity, Konstantinos Yagtzoglou, Letter, Monica Caballero
Posted in Prison Struggle
Saturday, August 22nd, 2020
Welcome to the 37th edition of Bad News. This is your Angry Voices From Around The World for August, 2020.
In this episode you will hear contributions from:
1. A call for the International Week of Solidarity with Anarchist Prisoners (23.-30.8.2020)
2. Radio Fragmata (Athens):
* Updates from so-called Greece
3. Anarchist Assembly Valparaíso (Chile)
* Statement on the current imprisonment of two comrades
4. FrequenzA
* An interview about the Coordinating (prisoner support) group 18th of October in Chile.
5. A-Radio Berlin (Germany)
* A summary of the ongoing Mapuche hungerstrike in Chile
(Length: 35:40 min)
Other audios from A-Radio Berlin in English here.
.
Tags: Anarchist Radio, Athens, Berlin, Chile, Frequenz(A), Germany, Greece, International Week for Anarchist Prisoners, Mapuche, Radio, Radio Fragmata, Valparaiso
Posted in Interviews
Wednesday, August 19th, 2020
ES | Juan Aliste Vega, sobre la detención de Monica y Francisco, Chile
A little less than a month after the arrest of our comrades Monica and Francisco at the hands of the state police apparatus, guardians of power and custodians of the interests of the political bourgeois caste of this territory.
Monica and Francisco in prison and hostages of this capitalist state that judges and sentences them from the first moment in which the fascist administration mediatically installs its servile legal machinery in their consequent lives.
They are comrades who hold a position of walking freely and have fertile convictions.
I embrace them with unconditional strength and tenderness with a heart full of complicity.
As an enemy of this state I raise the writing for the beautiful way of recognizing ourselves in the word transformed into acts and thinking into subversive action.
United in the embrace of war that transcends walls and frontiers, a tireless heartbeat that flows for the elimination of all forms of submission. (more…)
Tags: Chile, Francisco Solar, Juan Aliste Vega, Letter, Monica Caballero, Santiago
Posted in Social Control
Wednesday, August 19th, 2020
ES | Marcelo Villarroel Sepúlveda escribe sobre Monica y Francisco, Chile
Ours is the conviction!!!
Indestructible our desires and-
Infinite the reasons and motives for continuing in this war to the death against the state, capital and prison.
21 days ago we woke up with the news pounding in our ears. Monica and Francisco were arrested. This time accused of being the direct authors of various explosive attacks in Santiago last year.
Clearly the State's permanent offensive through its repressive apparatus, its penitentiary legal fabric and its servile and business press draws the caricature on our brother and sister as the perfect culprits for those who expect all the rigor of the law of domination.
The decision of the power is the exemplary punishment that seeks to serve as an example and to eliminate the offensive resistance as an insurrectionary practice of attacking the existent. (more…)
Tags: Chile, Francisco Solar, Letter, Marcelo Villarroel Sepúlveda, Monica Caballero, Santiago
Posted in Prison Struggle
Monday, August 17th, 2020
ES | Comunicado de Joaquín García Chancks/ Santiago Chile
It seems that Denial does not give rise to any unshakable Truth, Reason or Logic, that from the fight against the falsehood of the existent, only a path sown with doubts results, in which the present and the future are blurred, with a diffuse tinge, a dense fog in which it will always be difficult to navigate, but there is something that brings clarity back to this path; It is the compass of confrontation that appears as the reason behind the inseparable notion of a symbiosis of theory and practice, the point of view of an existence, sometimes errant.
The dynamic of the combat shakes existence to bring it back to life, endowing it with the Fieriness that boredom and monotony often extinguish; the construction of an antagonistic existence then brings with it the capacity to live far from the virtuality imposed by a normality dictated life, the blow by blow of the joyful attack, impeller of the mythical creative destruction and the suffering of when we are not the ones who attack, of prison, death, which flirts with subversion, are the flavors of life, real life, bitter drinks and ambrosia.
Today we are drinking from that bitter drink; two dear brothers and sisters are arrested and charged with placing multiple explosive devices, including the one sent to former Interior Minister Rodrigo Hinzpeter and one sent to the fifty-fourth police station in Huechuraba. It is undeniable that both beautiful attacks speak of historical continuity, of the blow of memory that does not forget. The Power disrupted and fearful with the arrest of the alleged perpetrators, who remember, that the revolt was not the culmination of a rebel ecstasy, it is the creation, the turning point of hundreds of lives in combat.
A big hug from afar, full of love, affection and strength for you, Monica Caballero and Francisco Solar.
Long live Anarchy.
Joaquín García Chanks.
Cas. Santiago Chile
14 August 2020

Translated by AWW.
Tags: Chile, Francisco Solar, Joaquín García Chanks, Letter, Monica Caballero, Santiago
Posted in Prison Struggle