Posts Tagged 'Chile'
Wednesday, January 22nd, 2020
When analyzing any edge of the prison, one must first establish or rather, make its history and its purpose visible. We are the ones in the dump of this society, another instrument of oppression through the law to perpetuate the privilege of the class society, made by power in its image and likeness, the jail is like all the bad things in the tight system between cement walls.
The very existence of the jail is political, a gear that makes the machinery of death of the State roll, social control, intimidation, isolation, directed against whoever it is is necessary to exalt the triumphant values of the bourgeoisie: competition, submission, exploitation, harassment, bourgeois individualism, violence; all this reflects its worst face in this place.
Here the children of violence, poverty and ignorance are raised, a school of fear that maintains the lucrative prison business, being a product of domination will never have a reforming end, which proclaims with the voice of a prisoner sick with rage. Nothing good can be taken out of confinement and uniformity; therefore, the mere existence of the prison reflects the type of system that governs us, has the color it has, is adorned as it is adorned; the existence of the jail has a political aim; therefore, for whatever reason, all prisoners are political prisoners, because it transcends the filter of the law, which is the preferred son of power.
What to do with social cannibalism if there were no prisons? It is the question to dream… (more…)
Tags: Chile, Letter, Santiago, Santiago 1, Social Insurrection
Posted in Prison Struggle
Saturday, January 18th, 2020
Episode number 30 (01/2020) of "B(A)D NEWS – Angry voices from around the world", a monthly news program from the international network of anarchist and antiauthoritarian radios, consisting of short news segments from different parts of the world, is now online.
Length: 1:10 h
You'll find the audio here:
https://www.a-radio-network.org/bad-news-angry-voices-from-around-the-world/episode-30-01-2020
In this episode you will hear contributions from:
1) A-Radio Berlin: Meuterei goes in the air – a steampunk report
2) Frequenz A: A summary and a short interview about the case against the Park Bench 3 in Hamburg
3) 1431AM (Thessaloniki): Struggles in Petrou Ralli Immigrantion Office and Detention Center / 23day-strike in OTE (Organisaton of Telecommunications in Greece)
4) R.O.S.E. (Athens): Eviction of the Utopia squat / Process around the murder of P. Fyssas
5) Radio Fragmata: Updates on political prisoners and persecuted antifascists in Greece
6) Dissident Island (London): News of an oil rig occupation in Scotland, industrial action by precarious workers in London and reports from various hunt saboteur outings around the country
7) The Final Straw: conversation with a translator for the Anarchist Union of Afghanistan and Iran
8) The Final Straw: conversation with an anarchafeminist about the new, rightwing neoliberal regime of Nayib Bukele and the GANA party in El Salvador
9) A-Radio Berlin: Call for an International Week of Solidarity with the Political Prisoners of the revolt in Chile (13.-19.1.2020)
Other audios from A-Radio Berlin in English (or Spanish) here:
http://aradio.blogsport.de/englishcastellano.
Or visit the anarchist 24/7 online stream from the Channel Zero Network:
http://channelzeronetwork.com
Enjoy!
A-Radio Berlin
Tags: Afghanistan, Anarchist Radio, Anarchistisches Radio Berlin, Berlin, Chile, El Salvador, Germany, Greece, International Solidarity, Iran, Migrant Struggle, Park Bench 3, Radio Fragmata, UK
Posted in Autonomy
Thursday, January 16th, 2020
Tags: Anti-Prison, Chile, International Solidarity, Juan Aliste Vega, Marcelo Villarroel Sepúlveda, Santiago, Solidarity Event
Posted in Prison Struggle
Sunday, January 12th, 2020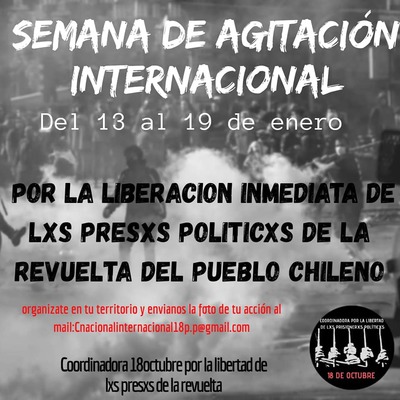 WEEK OF INTERNATIONAL AGITATION IN SUPPORT OF THE PRISONERS OF THE REVOLT IN CHILE. FROM JANUARY 13-19.
"THOSE WHO FORGET THE POLITICAL PRISONERS FORGET THE STRUGGLE"
More than 80 days after the social outbreak in Chile, the struggle and social organization persists in the unwavering conviction of confronting and breaking with the model of power and economy that has perpetuated inequalities, injustices and abuses for decades.
Undoubtedly the revolt that still breathes in Chile means this is a turning point with no return, it is within a long journey of struggle that has also brought with it a hard cost: hundreds and hundreds of prisoners of the revolt that are today in the different prisons in this territory. Each week this number increases and in an obvious phenomenon of mass incarceration the State seeks to intimidate and criminalize social protest. We speak of political prisoners of the revolt because of the fact of the mass imprisonment of social fighters after the outbreak of the 18th [October], responding to a political decision of the State and not to technical/legal criteria, understanding the complicity between the different powers of the State in order to perpetuate the existing model of control. That is why we make this call for international solidarity with the prisoners of the revolt in order to reveal the political condition of their imprisonment and demand their immediate freedom. We extend this call appealing to the multiple initiatives and solidarity actions that arise in each territory.
THOSE WHO FORGET THE POLITICAL PRISONERS FORGET THE STRUGGLE!
IMMEDIATE FREEDOM TO THE PRISONERS OF THE REVOLT!
CO-ORDINATION FOR THE FREEDOM OF THE OCTOBER 18th POLITICAL PRISONERS
— (more…)
Tags: Chile, International Solidarity, Riots, Santiago, Social Insurrection
Posted in Prison Struggle
Friday, January 10th, 2020
"La pasión por la destrucción es también la pasión creadora"
–Mijail Bakunin–
"La insurrección es una fiesta. El ruido de su derrota nos divierte"
–Fuerzas Autónomas y Destructivas León Czolgosz–
El avance de la revuelta: Días y meses en el combate
La revuelta que sacude a la región chilena sigue sin interlocutores válidos ni una dirección que la guíe. Continúa acéfala, autoconvocada, caótica y destructiva… imparable, a pesar de lxs muertxs, heridxs, mutiladxs y lxs casi 2.000 mil presxs que repletan aún más las cárceles de todo Chile. La chispa comenzada por una estrategia de evasión masiva al tren subterraneo en respuesta a una nueva alza del pasaje, cristalizó la continuidad de luchas y métodos contra el poder, desatándose con toda la fuerza y vitalidad un 18 de octubre.
Las constantes réplicas del terremoto que significó los primeros días de la revuelta se repiten diariamente en mayor o menor intensidad, expresadas en audaces ataques a comisarías, símbolos del capitalismo y en los duros enfrentamientos con carabineros. Aunque se perciba un cierto desgaste (normal y entendible después de más de 80 jornadas de combate), la violencia contra el poder goza de buena salud, legitimándose como la principal herramienta para quebrar con todo lo impuesto en sectores que hasta hace poco la condenaban. Esto último junto con la inexistencia de una conducción definida, creemos que representan, de una u otra forma, los ingredientes principales que han llevado a que la revuelta permanezca incontrolable.
(more…)
Tags: Analysis, Chile, Kalinov Most, Repression, Riots, Social Insurrection
Posted in Autonomy
Sunday, January 5th, 2020
"Sobre Fantasmas Insurreccionales y Banderas Falsas" – Núcleos Antagónicos de la Nueva Guerrilla Urbana (Lectura)
"Sobre Fantasmas Insurreccionales y Banderas Falsas" – Núcleos Antagónicos de la Nueva Guerrilla Urbana (Impresion)
In Favor of Revolutionary Violence: Introduction of Analysis of the Revolt in Chile
Introduction translated by AMW.
The following is the introduction to "On Insurrectional Ghosts and False Flags," a text by Antagonistic Nuclei of the New Urban Guerrilla that analyzes the revolt that has taken place in Chile during the fourth quarter of 2019.
The use of revolutionary violence has been vilified, and unimaginable amounts of blasphemies, myths and false rumors have arisen around it. We have heard that it is useless, that it contributes nothing, that it is only functional to repress, that it is used by infiltrators and/or immature elements, that it has short political projectivity, that it does not represent the people, etc., etc., etc…
In this text we will not attempt to make a detailed analysis of its use at the historical level. To do this, just look for examples in any history book. Its contributions to the struggle that dignifies the lives of people, regardless of where it is used, the regime it fights, or the idiosyncrasies of those who employ it, has contributed significantly to its development. It is not necessary to mention that neither slavery, nor feudalism, nor monarchies, nor abusive working hours, nor colonialism, nor the most basic civil rights, nor the number of dictatorships have been defeated with only peaceful methods. Therefore, we consider that discarding this tool is nonsense in relation to the revolutionary cause. (more…)
Tags: Analysis, Antagonist Cells of the New Urban Guerrilla, Antagonistic Nuclei of the New Urban Guerrilla, Anti-Fascism, Chile, Núcleos Antagónicos de la Nueva Guerrilla Urbana, On Insurrectional Ghosts and False Flags, Operation Condor, PDF, Repression, Riots, Sobre Fantasmas Insurreccionales y Banderas Falsas, Social Insurrection
Posted in Library
Thursday, January 2nd, 2020
via Noticias de la Guerra Sociale:
[Reportes redactados y difundidos por redes sociales]
Santiago de Chile
9 de diciembre
53vo Día de Revuelta Social
¡EL AMOR POR LA LUCHA ES NUESTRA ENERGIA!
En la Plaza de la Dignidad se junta cada vez menos gente. Hoy no somos miles, apenas somos cientos. A pesar de esto la conflictividad no disminuye, el amor por la lucha y la sed de venganza son incombustibles.
El monumento a Baquedano está intervenido con lienzos en contra los abusos en del SENAME, bellísimas arpilleras y costuras rebeldes. También hay algunos chemamüll Mapuche.
Hasta allí llegó una columna que caminó 500 kilómetros desde la ciudad de Concepción, se van abriendo paso entre aplausos y en sus ojos se nota la decisión de seguir avanzando, los esbirros que tenían copado el sitio son quienes retroceden.
Al poco rato llega una caravana de vehículos blindados policiales, son recibidos por lxs encapuchadxs con una lluvia de bombas incendiarias y piedras.
Hermanxs de la primera línea relatan que el viernes un manifestante término con fractura craneal y hemorragia interna al ser golpeado directamente con una bomba lacrimógena en su cabeza, está grave y hospitalizado. Comienza la acampanda de la "Mesa Social" afuera de la Corte Suprema.
Encapuchadxs realizan una bulliciosa protesta dentro de un Mall contra el consumismo navideño. (more…)
Tags: Chile, Noticias de la Guerra Social, Santiago, Social Insurrection
Posted in Autonomy
Thursday, December 26th, 2019
Parte II
Ya ha pasado más de un mes desde que difundimos la primera parte de este texto compartiendo información y reflexiones anárquicas sobre el contexto chileno desde el inicio del llamado "estallido social" desatado el día 18 de octubre. El anterior abordaba hasta la víspera de la gran manifestación en el centro de la ciudad anunciada para el día viernes 25 de octubre.
Desde ese día hasta ahora han ocurrido muchos sucesos que podrían ser expuestos de manera detallada, sin embargo hemos seleccionado ciertos elementos y reflexiones que nos parecen relevantes para difundir, sabiendo que otrxs compañerxs han estado también aportando a al registro y la circulación de información sobre lo que está ocurriendo en estas tierras en revuelta.
Esperamos que estas palabras que lanzamos hacia nuestrxs compañerxs de todas partes puedan nuevamente contribuir a propagar una vez más experiencias y reflexiones que puedan ser esparcidas en los más diversos idiomas y latitudes donde se expresa la anarquía:
1. EL INTENTO FALLIDO DE PACIFICAR LA REVUELTA
Con más de 1,5 millones de personas en el centro de la ciudad de Santiago, la autoconvocada "marcha más grande de la historia" concentró el día viernes 25 de octubre a toda la diversidad de personas en lucha.
Con una prácticamente inexistente participación de partidos políticos de izquierda y sin ningún tipo de capacidad de amenaza desde grupos fascistas, todas las formas de manifestación se desarrollaron hasta altas horas de la noche a pesar de la restricción del toque de queda, incluyendo una vez más intensos disturbios y enfrentamientos con la represión en el centro y las periferias de Santiago y otras ciudades.
Mientras la represión hacía su trabajo propagando e intensificando sus formas de violencia, desde el gobierno y los medios de comunicación se intentó imponer la idea que esta marcha sería la culminación de un proceso en el que la gente instaló sus demandas y que ya era hora de "volver a la paz". Los canales de televisón culminaron esa noche las transmisiones conjuntas iniciadas el 18 de octubre y, luego de la campaña de lavado de imagen sobre los militares, los días posteriores el gobierno retiró a las tropas de las calles. Luego, los días sábado 26 y domingo 27 de octubre, se decretó el fin del toque de queda en Santiago otras ciudades del país.
(more…)
Tags: Analysis, Chile, Repression, Riots, Santiago, Social Insurrection
Posted in Autonomy
Thursday, December 26th, 2019
It's been six years since our anarchic comrade fell from the bullets fired by a security guard during an attempt to expropriate a Bank on December 11, 2013.
From that day we began to write the lines of memories that have allowed the life of the comrade to last in anarchic actions remembering the various methods that our comrade used as a weapon against power, from participating in musical projects, libraries, drawing to taking part in the direct actions.
Today we know that his actions and memories are claimed beyond the close circles that shared his life with him throughout the years, which is a positive sign that confronts all forgetfulness and regret.
"Pelao Angry" is a comrade that we lack. Maybe he would be with us in the midst of the current revolt, fighting the interests of power in a thousand ways. What we do know is that around the world his name resonates in barricades, books and the most varied initiatives of anarchic practice.
Six years after his death in action, our option remains to keep our memory on a war footing against all authority.
AGAINST FORGETFULNESS AND REPENTANCE
SEBASTIAN "ANGRY" OVERSLUIJ PRESENT!
Chile. December 2019
Tags: Chile, International Solidarity, Sebastián Oversluij Seguel
Posted in Autonomy
Thursday, December 19th, 2019
November 29th
42nd Social Revolt Day
LONG LIVE IRREDUCTIBLE ENEMIES OF POWER!
"We are facing a powerful and implacable enemy, who does not respect anything or anyone. He doesn't respect the lives of human beings, he doesn't respect our heroes." The phrase is repeated again and again by the President of the Republic, this time at an early graduation of police.
FEAR is one of the most powerful weapons of power, so it continues to encourage a climate of paranoia to demobilize and divide the oppressed.
The State redoubled its efforts to approve its "Anti-hooded Law." Piñera points to Anarchists, Barras Bravas [organized supporters of football teams] and drug traffickers as a coordinated trident that unleash violence.
The media plan is to exacerbate the coverage of looting of small stores. The capitalist press launches a powerful emotional charge to delegitimize the Social Revolt.
There is an obvious complicity (by action or omission) between the police, home owners and traffickers, individuals without codes who are not interested in those who are harmed by their actions.
Undoubtedly, private property is part of what we want to destroy, but today our objectives are full of strategic symbolism. If the attack on any premises needs explanation, it is not symbolic enough.
A provisional solution would be "self-defense committees," but our inexperience and ineffectiveness in these practices allow the "yellow vests" to begin to arm themselves with an undeniable fascist affinity. Let the militia return to the street! It is the speech repeated by the lovers of the neoliberal system, although in their pockets the bills have always shone by their absence. (more…)
Tags: Alexis Grigoropoulos, Analysis, Anti-Authoritarian, Chile, Concepción, Copiapo, Dictatorship, Macul, Police Brutality, Repression, Riots, Santiago, Social Insurrection, Yungay
Posted in Direct Action
Sunday, December 8th, 2019
—To Joaquín García Chanks and Marcelo Villarroel Sepúlveda, comrades and co-conspirators.
"For I am the sworn poet of all the intrepid rebels of the entire world,
And whoever comes with me leaves peace and routine behind,
And you play to lose your life every moment."
Walt Whitman, To a frustrated European revolutionary (1856), Leaves of Grass.
"… where there is danger, what grows saves us."
Friedrich Hölderlin, Patmos.
A month and six days after the insurrection began, Anarchy is still alive in the Chilean region. It is an unprecedented event in Chile and Latin America. It has been the kairos of Anarchy: the emancipatory moment that occurs in the relevant time and place, the bold incarnation of a pronounced denial of the State and of all authority.
The echo of the old anarchic slogan "Neither God nor State nor Patriarchy" rumbled throughout the southern geography and has made hearts vibrate from Cape Horn to the banks of the Sama and Camarones rivers.
It is evident that in their daily subversive work, the insurrectionary anarchism of the informalist tendency, maximized their potentialities and also explored their difficulties and their own limits, using ephemeral junctions – mutating from one place to another – that allowed them (via conflict and various contingencies) to sketch out the chromatic possibilities of their theoretical-practical background and, encourage unmanageable disobedience, concentrating specifically on individual actions and / or small affinity groups aimed at attack and expropriation.
However, dynamite was missing. Diesel and gasoline failed. The attack was spared. There was a lack of expropriations. The headquarters of ALL political parties were not demolished. No prisons or madhouses were assaulted. We lashed out at the symbols but missed the target. A gigantic bonfire is still pending for the hundreds of flags that are seen on the marches (including the red and black ones, because ALL the flags are full of blood and shit). This shortage has allowed the power of denial to divert to be "triumphant", instead of injecting the conflict with life and going beyond the institutional songs that already threaten to impose the peace of the grave. (more…)
Tags: Analysis, Chile, Gustavo Rodriguez, Letter, Revolution, Riots, Santiago, Social Insurrection
Posted in Autonomy
Thursday, December 5th, 2019
To Joaquín García Chanks and Marcelo Villarroel Sepúlveda, comrades and co-conspirators.

"… every revolutionary opinion draws its strength from the secret conviction that nothing can be changed."
George Orwell, The Road to Wigan Pier.
"Alicia: How long does it last, forever?
White Rabbit: Sometimes just for a moment."
Lewis Carroll, Alice in Wonderland.
The discontent are the new starting point of the impetuous popular protests that run through the geography of the globe. Hong Kong, France, Algeria, Iraq, Haiti, Lebanon, Catalonia, Ecuador, Bolivia and Chile, are the lavish protagonists of the wave of massive urban revolts that shakes the world.
While it is true that these profuse protests have very particular triggers that explain them (specifically Hong Kong and Catalonia, with their independentist rallies), it would be naive to think that this accumulated rage is disconnected. The increase in the costs of goods and services, coupled with austerity – with its consequent loss of jobs and unequal economic survival as global growth slows down – are the common denominator of most of these mobilizations.
However, it is undeniable that these protests also share another great backdrop that far exceeds the economic analysis and that very conveniently is not addressed in the means of mass domestication and intentionally escapes the analysis of political scientists and apologists of domination: anti-government convulsion, a tiredness against those who govern and, against all political parties, whatever their ideological color. A feature that withholds the absence of leadership and / or leaders and facilitates the ephemeral realization of Anarchy. (more…)
Tags: Analysis, Chile, Gustavo Rodriguez, Letter, Riots, Santiago
Posted in Autonomy
Sunday, December 1st, 2019
The New Democracy party, in the wake of SYRIZA's social-democratic strategy, has placed its bets on pointing out an internal enemy so that it can proceed seamlessly with management adjustments of domestic capital that go unnoticed and without reaction. Thus, the issue of Exarchia,"confronting lawlessness in neighbourhoods and universities", the imposition of the "law and order" doctrine, is high on the right-wing agenda, investing in the most cannibalistic and conservative characteristics of the local population and by building a cover-up strategy for the ever-increasing degradation of the labour force. A strategy of making the dead, tortured and excluded at the borders, on the sea, at workplaces, on metropolitan roads, detention centres and prisons, invisible. A strategy that would turn the public eye to the antiauthoritarians' conflicts with the cops and the attacks on the symbols, structures and people of power, characterizing it as the dominant, structured form of violence, and therefore the most prominent threat that lies over mainstream citizens' heads.
The wording used by the dominant authoritarian narrative is not chosen by chance, depicting occupations (outlaw dens), social centres in universities (hideouts), people fighting on the street with cops (vandals), people who capitalism's violence turned away from their homelands to try to find a better fate here (illegal immigrants), armed guerrillas and radical expropriators (terrorists, robbers and murderers). And linking all these expressions with the "Exarchia" abstraction. (more…)
Tags: Athens, Chile, Dimitris Armakolas, Eurobank, Exarchia, Friends of Asymmetric Violence, Greece, International Solidarity, Sabotage
Posted in Direct Action
Sunday, November 24th, 2019
Munich, 20.11.19: In Chile tens of thousands of people have been revolting for weeks against the prevailing normality. Police stations, churches, banks, shopping malls, buses, subway stations and universities burn. The normal everyday life has come to a standstill and the state and capitalist power is attacked.
How can we express our solidarity and solidarity with the revolts there?
There are various possibilities … in Munich, for example, In recent nights, several ticket machines have been lit and burned at various stations. Also, the Chilean Consulate was defaced with color and "Fire to all states! (A)" sprayed next to this. A nearby church was smeared and sprayed with "No God No State No Patriarchy" on it.
It would be nice if such proposals were to be disseminated wildly and other possibilities of solidarity put into practice.
–
Actforfree received anonymous email 21/11/19
Tags: Arson, Chile, Germany, Graffiti, International Solidarity, Munich, Sabotage
Posted in Direct Action
Thursday, November 14th, 2019
IT/EN (October 31st, 2019)
Social peace in Chile is now a thing of the past. And tolerance and consensus for State and capitalist barbarism also belongs to the past. Submission to the modern version of the Pinochet dictatorship, represented by the Piniera government. Chile is burning with the insurrectional proletarian flame of the oppressed.
It all started on October 19 when a student protest against an increase in public transport ticket prices was met with violent repression from the police forces. From then on, everything took its course. Day by day millions of insurgents flood the streets, attack the police forces, burn and plunder the symbols of wealth and power. They are burning their past, marching on the insurgent horizons of tomorrow. 11 years after the uprising in the Greek territories, these rebels remind us of what we loved most: the refusal to return to normality.
Insurrection is no longer a dead word. It is the dying breath of order and safety within a society that has been choking from the misery and barbarism of capitalism. And the result of the persistent labour of all those who work so consistently and stubbornly to question and destabilize the regime's social consensus. Against the first retreat of the regime which hastily went to negotiations, proposing new, more favourable measures, the rebels respond without repentance: Tomorrow starts a new day of class war. Let's take everything! (more…)
Tags: Arson, Arsonists of the Chile-Millenium, Car Burning, Chile, Greece, International Solidarity, Sabotage, Thessaloniki
Posted in Direct Action