Posts Tagged 'Chile'
Monday, May 6th, 2019
[Noticias de la Guerra Social]
El 18 de abril de 1989 los jóvenes Ivan Palacios (19) y Erick Rodriguez (20) tras participar activamente en un grupo de acción y resistencia a la dictadura que se encontraba infiltrado desde sus comienzos, se disponen a colocar una carga explosiva en un transformador de luz ubicado en Avenida San Pablo con Radal, en las cercanías de la población Simon Bolivar.
La acción estaba avisada a efectivos de la CNI (Central Nacional de Inteligencia) quienes prepararon una emboscada donde acribillaron a ambos jóvenes miristas.
Desde entonces en la población Simón Bolívar se recuerda esa fecha con actividades, velatones, manifestaciones y enfrentamientos con la policía. (more…)
Tags: Arson, Chile, Coordinadora Informal-Grupúsculo Iconoclasta, Sabotage, Santiago, Solidarity Action
Posted in Direct Action
Monday, May 6th, 2019
MAURICIO MORALES PRESENTE
La madrugada del 22 de mayo de 2009 muere en axión el compañero Mauricio Morales, tras la detonación anticipada del artefacto explosivo con el que pretendía atacar la Escuela de Gendarmería, fábrica de miserables carceleros.
Recordamos la vida del Punki Mauri, la vida que eligió vivir, sus ideas y acciones, las decisiones que lo llevaron a transitar el camino anárquico, con corazón y convicción. Desde la kalle procuramos que siga viva la anarquía, en cada gesto de memoria activa y confrontacional, sin victimismo ni docilidad, haciendo en el acto y la palabra un elemento peligroso para el orden social de los poderosos.
NADA HA ACABADO
TODO CONTINÚA
por la expansión del caos…
PROKURA KE VIVA LA ANARKÍA
Tags: Chile, Flyposter, International Solidarity, Mauricio Morales
Posted in Direct Action
Sunday, April 28th, 2019
Compañerxs, lxs invitamos a hacerse parte de la Feria por la Memoria Anticarcelaria en recuerdo de Mauricio Morales y los 81 presos asesinados por el Estado, el próximo domingo 5 de mayo, desde las 16 hrs, frente a la cárcel de San Miguel. (more…)
Tags: Anarchist Gathering, Chile, CSO Sacco and Vanzetti, Mauricio Morales, Santiago, Solidarity Event
Posted in Autonomy
Wednesday, April 24th, 2019
"I will seek at the risk of my life, the best, the authentic freedom …"
Mauricio Morales
Ten years ago, on May 22, 2009, an explosive device transported by anarchist comrade Mauricio Morales accidentally exploded before it could be installed in the Gendarmerie School in Santiago, Chile, making itself felt in black hearts. He made that institution and those who compose it visible as an objective to attack, thus generating a close relationship of solidarity between prisoners and action. But at that time the enemy did not receive a blow, this time the roar did not shake the jailers' infrastructure; at that time the powerful explosion took Mauri's life during that early morning.
Quickly the vultures of the different police, prosecutors, journalists and ministers came to scavenge and feast on the blood and body of Mauri. On this occasion, the death of an anarchist was the excuse to develop new thrusts in hunts against anti-authoritarian environments. (more…)
Tags: Chile, International Solidarity, Mauricio Morales
Posted in Autonomy
Monday, April 22nd, 2019


Afiche en solidaridad con los cautivos en guerra Juan Aliste Vega y Marcelo Villarroel Sepúlveda.
Tags: Chile, Flyposter, Juan Aliste Vega, Marcelo Villarroel Sepúlveda, Santiago
Posted in Prison Struggle
Monday, April 22nd, 2019
Índice:
*Editorial
*Sobre la necesidad de continuar la lucha dentro de la cárcel: Prisiones, opciones y trayectoria subversiva en la región chilena.
*Estrategias y particularidades del control al interior de las cárceles en el Estado Español.
*Autoatentados, montajes y sospechas: Cuando la teoria del Estado entra en nuestras cabezas.
*La peste de la cripto-democracia (o cómo lo autoritario se nos colo a base de falsas oposiciones y errados conceptos.
(Aportes externos)
*Breve reporte informativo del Estado del tiempo.
*Pólvora y tinta. Reflexiones sueltas…Sin separar teoría-acción, contra toda especialización.
kalinovmost(a)riseup.net
www.kalinovmost.wordpress.com
Tags: Chile, Kalinov Most, Zine
Posted in Library
Sunday, March 31st, 2019
EN: 29th of March – Day of the Young Combatant, some words from Sin Banderas Ni Fronteras
29 DE MARZO
DÍA DE LXS JOVENES COMBATIENTES
El 29 de marzo es el día en que la memoria combativa se vuelve acción a través del presente contínuo de la confrontación anárquica con el mundo del poder y la autoridad. Es un momento en que el choque con las fuerzas del dominio recuerda que en dictadura y democracia el Estado oprime, tortura, asesina y encarcela y que en todo contexto histórico las voluntades indomesticables acechan los planes de los opresores para ponerlos en peligro y forjar su destrucción.
Desde su origen en dictadura conmemorando a los hermanos Vergara Toledo, el 29 de marzo constituye una fecha que no ha podido ser pacificada, recuperada ni exterminada por la institucionalidad y el reformismo, por lo que el poder y su prensa servil intentan despolitizar su conmemoración. A la vez, cada año se levantan actos conmemorativos, barricadas y ataques a la policía en los que participan enemigxs declaradxs del poder junto a la juventud salvaje de barrios y poblaciones. (more…)
Tags: Chile, Day of the Young Combatant, Riots, Santiago
Posted in Direct Action
Saturday, March 23rd, 2019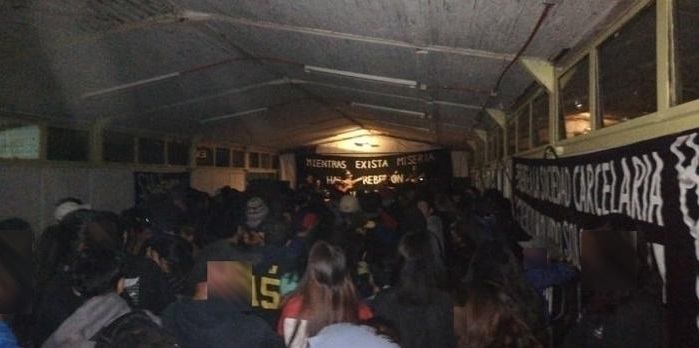 "Tokata Antikarcelaria" en solidaridad con Marcelo Villarroel Sepúlveda en Peñalolén el 15/03/2019.
A 11 años de los hechos en San Martín de los Andes, Argentina
Solidaridad activa, Marcelo Villarroel Sepúlveda a la calle
La expropiación al Banco Security en el centro de Santiago el 18 de Octubre de 2007, la persecución mediática, policial y estatal que se desató contra varios compañeros subversivos cuando ellos tomaron la opción de fugarse para salvaguardar sus vidas fueron golpes que calaron hondo en toda una estructura que se muestra fuerte, intocable e invulnerable.
La detención de los compañeros Marcelo y Freddy el día 15 de Marzo de 2008 en San Martín de los Andes (Argentina) pone fin a su clandestinidad, momento en el que se encontraban con David Cid Aedo, quien es detenido, puesto en libertad y expulsado a Chile con posterioridad. En esta ocasión Marcelo y Freddy son acusados de porte ilegal de armas de guerra, por lo que son condenados a 3 años y 6 meses de prisión. (more…)
Tags: Chile, International Solidarity, Juan Aliste Vega, Marcelo Villarroel Sepúlveda, Santiago
Posted in Prison Struggle
Thursday, March 7th, 2019
ES: ¿ACABAR CON LA HUMANIDAD PARA ACABAR CON EL DOMINIO? – SOBRE LA CORRIENTE MISANTRÓPICA EN ENTORNOS ANÁRQUICOS
As a result of the recent explosive attack carried out by ITS at a bus stop in Chile, seeking to kill humans, we publish an article from #3 of the magazine Kalinov Most (October 2018). For more information it is also possible to read: Misanthropic Wild Trends: Other expressions of authoritarianism and sacred thought (Kalinov Most # 1 October 2017).
"Humans are a disease. They are the cancer of this planet.
They are a plague. And we are the only cure."
(Agent Smith- The Matrix)
Previously we already outlined a critique (1) of the ecoextremist tendency and of several of its derivatives, particularly its authoritarian characteristics and its defence of a sacred quasi-religious thought that, as anti-authoritarians, produces so much disgust in us.
The preparation of that article sought to focus mainly on those aspects that seemed key to us to deepen the exposure of the reproduction of what we deeply despise, but without a doubt, it was not the only thing that has been written. Simultaneously, from different territories, there has been continuing reflections and critiques specifically against ecoextremism (2) in its different versions. Writings that, far from seeking to show a good, positive or citizenist anarchism, seek to sharpen the exercise of offensive anarchic praxis.
In this text we will look in depth at another aspect that we can identify in this same trend, but to be honest, it also exceeds it by far. We will not focus on any specific group, magazine, web page, publication or promotional acronym, but rather on a way of understanding and referring to this world. We are talking about the misanthropic tendency and its derivatives. (more…)
Tags: Analysis, Chile, Eco-Extremism, Individualists Tending Toward the Wild (ITS), Kalinov Most
Posted in Eco Struggle
Thursday, February 28th, 2019
On February 8, 2019, the anti-authoritarian, vegan, environmentalist and independent media photographer decided to leave this world by throwing himself into the Santiago subway at the Universidad Católica station. The fact caused the arrival of police bastards and firefighters after a chemical emergency since Carlos kept on him a bottle of cyanide so the subway had to be evacuated, several stations were closed and there was a collapse in services for several hours during that afternoon-night in the disgusting city.
The 27-year-old comrade was an active participant in instances of dissemination, activities, demonstrations and direct actions in the field of Animal, Human and Earth Liberation. (more…)
Tags: Carlos Fuentes, Chile, Santiago
Posted in Uncategorised
Sunday, February 17th, 2019
PDF: Kolektivo Kamina Libre. Diciembre 2018
"No podemos alimentar la amnesia, el silencio o kualkier tipo de
inkonsecuencia ke tienda a obviar la existencia de una realidad ke está
presente en Chile (…)".
–Kolektivo Kamina Libre. 2002.
Con esta nueva y última edición buscamos multiplicar algunas palabras que fueron emitidas desde diferentes cárceles de Chile por los compañeros miembros del Kolektivo Kamina Libre (1997-2004) quienes estuvieron más de una década en prisión por haber combatido la dictadura militar y la democracia solapada. (more…)
Tags: Chile, Kolektivo Kamina Libre, Marcelo Villarroel Sepúlveda, PDF, Zine
Posted in Library
Monday, January 28th, 2019
PDF: La Bomba #30 Diciembre 2018
Por la expansion del caos y la anarquia…
Tags: Chile, La Bomba Zine, Santiago, Zine
Posted in Library
Monday, January 28th, 2019
EN: End humanity to end domination? – On the misanthropic current in anarchic environments
¿ACABAR CON LA HUMANIDAD PARA ACABAR CON EL DOMINIO?
SOBRE LA CORRIENTE MISANTRÓPICA EN ENTORNOS ANÁRQUICOS
A raíz del reciente atentado explosivo realizado por ITS en un paradero de bus en Chile, buscando matar humanos, difundimos un artículo del número 3 de la revista Kalinov Most (Octubre 2018).
Para más información también es posible leer: Tendencias Salvajes Misantrópicas: Otras expresiones de autoritarismo y de pensamiento sagrado (Kalinov Most#1 Octubre 2017) (Disponible AQUÍ)

"Los humanos son una enfermedad. Son el cáncer de este planeta.
Son una plaga. Y nosotros somos la única cura"
(Agente Smith-Matrix)
En su momento ya bosquejamos una crítica1 a la tendencia ecoextremista y a varios de sus derivados, particularmente sobre aquellas características autoritarias y la defensa a un pensamiento sagrado cuasi-religioso que, como antiautoritarixs, tanto asco nos produce.
La elaboración de aquel artículo buscó centrarse principalmente en aquellos aspectos que nos parecían claves a profundizar para develar la reproducción de aquello que despreciamos profundamente, pero sin lugar a dudas no fue lo único que se ha escrito. En simultaneo, desde distintos territorios, se ha seguido reflexionando y criticando a la especificidad del ecoextremismo2 en sus distintas versiones. Escritos que lejos de buscar mostrar un anarquismo bueno, positivo o ciudadanista, persiguen afilar el ejercicio de praxis anárquica ofensiva. (more…)
Tags: Analysis, Chile, Eco-Extremism, Individualists Tending Toward the Wild (ITS), Kalinov Most, Santiago
Posted in Eco Struggle
Monday, January 28th, 2019
1) Colocación de artefacto simulado en bus del transantiago + Revindicacion y reflexión de la Columna Insurreccional "Ira y Complot" – FAI/FRI Núcleos Antagónicos de la Nueva Guerrilla Urbana.
2) Artefactos explosivos descativados contra banco Estado en Vitacura + Revindicacion de "Amigos de la polvora- Núcleos Antagónicos de la Nueva Guerrilla Urbana"
Tags: Chile, Informal Anarchist Federation (FAI), International Revolutionary Front, Núcleos Antagónicos de la Nueva Guerrilla Urbana, Santiago
Posted in Direct Action
Wednesday, January 9th, 2019
Contribution from La Rebelión de las Palabras for the meeting taking place in Santiago, Chile on 23rd December in combative memory of nihilist-anarchist comrade Sebastian Oversluij, "Angry". The meeting was also within the context of Black December and internationalist anarchist praxis. 5th year since Sebastian's death during a bank expropriation.
From the Spanish State, we greet first of all the compas that raised the commemorative activity for Angry, to a new anniversary of his death in action when he was trying to expropriate one of the temples of Capital. The noise of the blast that killed him awoke new feelings of rabid sadness that roamed the globe, unleashing actions of revenge, activities in his memory, and that inspired more individuals and groups that from the offensive or not, returned to take a breath to continue on this difficult path. We did not know Angry, nor did we know the political and social context of the Chilean territory where he developed, lived and fought. However, the courage, the determination and the coherent commitment that he showed with his last action reverberate in us, and we also feel affinity with his words, his music with the rap band Palabras En Conflicto, which we know and like, and with his drawings and gestures, contributions that mark his offensive trajectory, feeling honored to be able to participate in this activity contributing the present writing.
We have been asked to write something about the context of anarchism in the territories dominated by the Spanish State. However, to be honest, we do not feel legitimacy for such a task, since we do not know in depth the concrete context of many places of the state, and others we know them in a partial, ephemeral way or in any case, from an approach that starts from our assessment, our subjectivity and our own processes, affinities, preferences, with what we have decided to make a general assessment that, we repeat, part of our own personal valuations, without having to be taken as an absolute reason or that we intend to speak for others companions who, perhaps, have another point of view and something to say about it. (more…)
Tags: Black December, Chile, Counter-info, International Solidarity, La Rebelión de las Palabras, Santiago, Sebastián Oversluij Seguel, Solidarity Event, Spain
Posted in Autonomy