Posts Tagged 'Chile'
Monday, March 23rd, 2020
On a particularly chaotic Friday afternoon, Piñera inaugurated the nationwide chain reaction to the pandemic. Since the beginning of March, fear of the virus has slowly entered the conversation: between the agitated return to classes that seeks to be a replica (like an earthquake) of the October Revolt, the massive feminist demonstrations, the radicalization of the reactionary sectors and the imminence of the plebiscite, it is taking on more and more importance.
The international situation is no less complex. Last year saw the beginning of a new worldwide wave of revolts against capitalist normality, and the much manipulated "institutionality" seems to be collapsing from all sides, leaving room not only for insurgent creativity but also (and never so easily differentiated) for populism and fascism of all kinds.
The economy has been losing speed for some time, but the trade war between two declining powers, the manufactured rise in the price of oil, and the paralysis caused by the coronavirus, built the perfect storm to leave the stock market and its tangle of speculative fictions in free fall.
It is in this context that the disease arrives in our territory, with the state of exception still fresh in our memories. It starts in the upper classes, and we almost rejoice before remembering that they will not be the only ones to suffer its consequences. The government, always late, announces its measures. Clearly they are not enough, and their only objective is to ensure the free movement of capital. Some (the ones who see conspiracies at every corner) whisper that it is a strategy to cancel the plebiscite, that is apparently so dangerous. But we are clear that the intelligent fascist votes to approve, and that the government's incompetence requires no more justification than its own class interests. (more…)
Tags: Chile, Coronavirus, Repression
Posted in Social Control
Wednesday, March 18th, 2020
PDF: Portada – Memoria y Combate
PDF: Libro – Memoria y Combate
La presente publicación nace con la intención de difundir destellos de la vida de un anarquista de la región chilena que falleció producto de un accidente. La publicación busca ser un aporte para la construcción de la memoria combativa, que, en este caso y como podrán encontrar en sus páginas se ha manifestado con diferentes gestos concretos a lo largo de los años con iniciativas, propaganda, sabotajes, fuego, reflexiones, anécdotas y más, gestos anónimos por el compañero y que hoy son compilados y salen a la luz en un nuevo formato. Para nosotrxs la muerte de un anarquista no puede pasar desapercibida, sea la forma que sea su muerte. Un/a compañerx que asume su vida en permanente lucha contra la opresión, la explotación y el poder en sus múltiples formas y concreta sus ideas en hechos es totalmente dignx de rescatar, difundir y replicar, es por eso que no olvidamos a Javier Recabarren, su muerte es un llamado para continuar firmes en la praxis subversiva anarquista. (more…)
Tags: Chile, International Solidarity, Javier Recabarren, PDF, Santiago, Zine
Posted in Library
Sunday, March 1st, 2020
—To Joaquín García Chanks and Marcelo Villarroel Sepúlveda, comrades and co-conspirators.
"Let's continue the assault on the existent with all means, undeterred by those who would silence us with weapons from the stockpile of reaction, be they the kick of the democratic jackboot, the empty chatter of opinion or the siren calls of the candy men of hope."
Jean Weir; Tame words from a wild heart.
"Whomever is determined to carry out their action is not a brave person, they are simply someone who has clarified their ideas, who has realized the futility of striving to play the role assigned to them by Capital. They are aware, and attack with cold determination. And in doing so they realize themselves as a human being. They realize themselves in pleasure. The kingdom of death disappears before their eyes."
Alfredo Maria Bonanno; Selected Texts.
"Let us put a stop to the conjuring tricks of dialectics. The exploited are not carriers of any positive project, be it even the classless society … Capital is their only community. They can only escape by destroying everything that makes them exploited."
At Daggers Drawn
When history is written – with capital letters, the one that the victors have always written and will write – about the generalized insurrection in Chile at the end of the first decade of the 21st century, it will have to be read with extreme meticulousness, since it will be reflected in the supposed motivations of the "crisis" that produced the revolt.
Once again, the economic analysis will prevail – with emphasis on "the obscenity of misery" that has caused that uncertain denomination they call "Neo-Liberalism" – and, the poor negotiating capacity of a superb government that failed to meet popular demands and chose for the continuity of a regime of corruption and impunity, a (constitutional) heir of one of the bloodiest fascist dictatorships in the Americas.
However, nothing will be recorded of that anonymous power that shaped the anger of despair, of the nihilistic actions that transformed into a sweeping energy which disrupted normality whilst mercilessly attacking the reality that oppresses us. (more…)
Tags: Analysis, Chile, Gustavo Rodriguez, Letter, Repression, Riots, Santiago, Social Insurrection
Posted in Autonomy
Saturday, February 29th, 2020
EN: International Call for a Subversive, Dissident and Anarcho-Feminist March
CONVOCATORIA POR UN MARZO SUBVERSIVO, ANARCOFEMINISTA Y DISIDENTE
La sociedad está estructurada desde diversas cadenas de opresión que se cruzan y entrecruzan, entendemos que solamente la confrontación radical es capaz de acabar con cada una de ellas. Estas pesadas cadenas tienen al patriarcado como una de sus bases principales, por lo cual hacemos un llamado a levantar un marzo subversivo, anarcofeminista y disidente. Históricamente ha sido un mes combativo y pretendemos que lo siga siendo.
La destrucción de la autoridad en sus múltiples dimensiones no puede ir alejada del cuestionamiento y enfrentamiento constante a la dominación machista, en sus formas y conductas, por eso no vemos el enfrentamiento contra el patriarcado como una lucha parcial.
Somos críticxs con las posturas hegemónicas del feminismo social demócrata, que margina y excluye a las sexualidades y cuerpxs no normados. Los géneros son construcciones sociales impuestos de los cuales no nos interesa ser parte, apelamos a una deconstrucción completa de nuestras maneras de vernos y relacionarnos… sin reglas de lo que queramos ser. (more…)
Tags: Chile, Demo, International Solidarity, Santiago, Sexism
Posted in Autonomy
Friday, February 21st, 2020
Words of a prisoner in revolt, from Santiago. 1, Module 14, accused of throwing an incendiary device.
As an anarcho-nihilist individualist I write these words from a prison in the $hilean territory, already in my first month in prison I have been able to reaffirm my position as anti-prison and stubbornly unmanageable in front of the whole machinery and framework that tries to make you part of it.
Nowadays while the flame of the insurrection is still burning and continues with great force in different parts of the world and in this same territory, it is important to remain firm despite all the consequences that our actions bring. Nothing we do is in vain, but always being attentive especially in these moments, to where each time our enemies are becoming more and more professional, that it is of relevance that we also do so too and continue positioning ourselves even more in the realities that we live, going hand in hand with self-care, making it part of ourselves and throwing us on the path to which each one of us decided to take.
As an anarcho-nihilist prisoner I call for solidarity in its many forms and not to give up, I send my most complicit hugs and much newen [Mapuche term meaning Strength, Energy], I greet all those who remain steadfast and to the prisoners of the world.
BEFORE CONTROL, CHAOS AND INSURRECTION.
From Anarquia.
Tags: Chile, International Solidarity, Letter, Molotov, Riots, Santiago, Santiago 1, Social Insurrection
Posted in Prison Struggle
Tuesday, February 11th, 2020
ACERKA DE LA RESISTENCIA A LA PRISIÓN Y LA NECESIDAD DE EXTENDER LA LUCHA AUTÓNOMA ANTIKARCELARIA.
Una breve mirada a las experiencias de lucha desde el encierro, sus énfasis y los kontextos en ke se han desarrollado.
«Sin ningún Comité Central ni ninguna jerarquía que clasifique nuestrxs miembrxs, solo podemos conocer caras extrañas como amigxs a través de sus acciones. Lxs queremos, Ixs abrazamos, al igual que sabemos que otrxs lo harán. Otras células, secciones, grupos.»
Brigada de la Cólera
1970.-
En tiempos de agudización del konflikto social la kárcel es el principal instrumento de kontrol y kastigo para kienes no se someten y se rebelan.
Históricamente el dominio a través de todos sus dispositivos ke sostienen el poder, la autoridad, el mundo de las jerarkías, el patriarkado y el kapital a usado la sanción normalizadora para kombatir toda forma de Resistencia ke atake y amenace su paz social.
Sin ir más lejos no fue sino en la diktadura de Pinochet en donde esta dinámika afectó masiva y sistemátikamente a miles y miles de Rebeldes ke la kombatieron entregando los mejores días de sus vidas.
Se reformuló el marko jurídiko fundado en la doktrina de seguridad nazional ke veía un enemigo interno al ke había ke aplastar bajo la exkusa de «kombatir el káncer marxista» según la voz de los genocidas de la époka.
Operaba la pútrida «justicia militar»:
Miles de muertxs, desaparecidxs, exiliadxs, perseguidxs, violentadxs, torturadxs son el rekuerdo imborrable y el triste legado de la refundación kapitalista neoliberal del imperio yanky a través de la insurrexión militar burguesa del genocida ejército chileno. (more…)
Tags: 14/14, Anti-Prison, Chile, Dictatorship, General Pinochet, International Solidarity, Isolation, Letter, Mapuche, Marcelo Villarroel Sepúlveda, Repression, Torture
Posted in Prison Struggle
Wednesday, February 5th, 2020
This week, people carried out a direct action in solidarity with the revolution in Chile. The people of Ghent woke up with slogans written on walls, electricity boxes, bridges and more than 60 parking meters covered up in paint.
This action was carried out against the neo-liberalization and in solidarity with the uprising in Chile.

Against all authority here and in Chile.
Fire and flames for every state!
Tags: Belgium, Chile, Ghent, International Solidarity, Sabotage, Vandalism
Posted in Direct Action
Wednesday, January 22nd, 2020
When analyzing any edge of the prison, one must first establish or rather, make its history and its purpose visible. We are the ones in the dump of this society, another instrument of oppression through the law to perpetuate the privilege of the class society, made by power in its image and likeness, the jail is like all the bad things in the tight system between cement walls.
The very existence of the jail is political, a gear that makes the machinery of death of the State roll, social control, intimidation, isolation, directed against whoever it is is necessary to exalt the triumphant values of the bourgeoisie: competition, submission, exploitation, harassment, bourgeois individualism, violence; all this reflects its worst face in this place.
Here the children of violence, poverty and ignorance are raised, a school of fear that maintains the lucrative prison business, being a product of domination will never have a reforming end, which proclaims with the voice of a prisoner sick with rage. Nothing good can be taken out of confinement and uniformity; therefore, the mere existence of the prison reflects the type of system that governs us, has the color it has, is adorned as it is adorned; the existence of the jail has a political aim; therefore, for whatever reason, all prisoners are political prisoners, because it transcends the filter of the law, which is the preferred son of power.
What to do with social cannibalism if there were no prisons? It is the question to dream… (more…)
Tags: Chile, Letter, Santiago, Santiago 1, Social Insurrection
Posted in Prison Struggle
Saturday, January 18th, 2020
Episode number 30 (01/2020) of "B(A)D NEWS – Angry voices from around the world", a monthly news program from the international network of anarchist and antiauthoritarian radios, consisting of short news segments from different parts of the world, is now online.
Length: 1:10 h
You'll find the audio here:
https://www.a-radio-network.org/bad-news-angry-voices-from-around-the-world/episode-30-01-2020
In this episode you will hear contributions from:
1) A-Radio Berlin: Meuterei goes in the air – a steampunk report
2) Frequenz A: A summary and a short interview about the case against the Park Bench 3 in Hamburg
3) 1431AM (Thessaloniki): Struggles in Petrou Ralli Immigrantion Office and Detention Center / 23day-strike in OTE (Organisaton of Telecommunications in Greece)
4) R.O.S.E. (Athens): Eviction of the Utopia squat / Process around the murder of P. Fyssas
5) Radio Fragmata: Updates on political prisoners and persecuted antifascists in Greece
6) Dissident Island (London): News of an oil rig occupation in Scotland, industrial action by precarious workers in London and reports from various hunt saboteur outings around the country
7) The Final Straw: conversation with a translator for the Anarchist Union of Afghanistan and Iran
8) The Final Straw: conversation with an anarchafeminist about the new, rightwing neoliberal regime of Nayib Bukele and the GANA party in El Salvador
9) A-Radio Berlin: Call for an International Week of Solidarity with the Political Prisoners of the revolt in Chile (13.-19.1.2020)
Other audios from A-Radio Berlin in English (or Spanish) here:
http://aradio.blogsport.de/englishcastellano.
Or visit the anarchist 24/7 online stream from the Channel Zero Network:
http://channelzeronetwork.com
Enjoy!
A-Radio Berlin
Tags: Afghanistan, Anarchist Radio, Anarchistisches Radio Berlin, Berlin, Chile, El Salvador, Germany, Greece, International Solidarity, Iran, Migrant Struggle, Park Bench 3, Radio Fragmata, UK
Posted in Autonomy
Thursday, January 16th, 2020
Tags: Anti-Prison, Chile, International Solidarity, Juan Aliste Vega, Marcelo Villarroel Sepúlveda, Santiago, Solidarity Event
Posted in Prison Struggle
Sunday, January 12th, 2020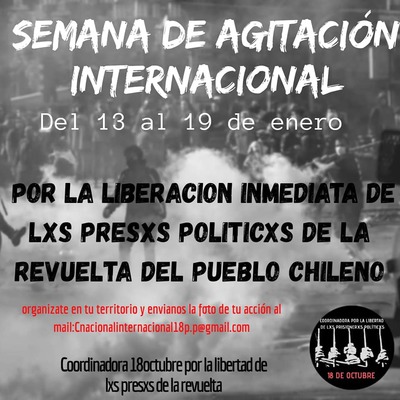 WEEK OF INTERNATIONAL AGITATION IN SUPPORT OF THE PRISONERS OF THE REVOLT IN CHILE. FROM JANUARY 13-19.
"THOSE WHO FORGET THE POLITICAL PRISONERS FORGET THE STRUGGLE"
More than 80 days after the social outbreak in Chile, the struggle and social organization persists in the unwavering conviction of confronting and breaking with the model of power and economy that has perpetuated inequalities, injustices and abuses for decades.
Undoubtedly the revolt that still breathes in Chile means this is a turning point with no return, it is within a long journey of struggle that has also brought with it a hard cost: hundreds and hundreds of prisoners of the revolt that are today in the different prisons in this territory. Each week this number increases and in an obvious phenomenon of mass incarceration the State seeks to intimidate and criminalize social protest. We speak of political prisoners of the revolt because of the fact of the mass imprisonment of social fighters after the outbreak of the 18th [October], responding to a political decision of the State and not to technical/legal criteria, understanding the complicity between the different powers of the State in order to perpetuate the existing model of control. That is why we make this call for international solidarity with the prisoners of the revolt in order to reveal the political condition of their imprisonment and demand their immediate freedom. We extend this call appealing to the multiple initiatives and solidarity actions that arise in each territory.
THOSE WHO FORGET THE POLITICAL PRISONERS FORGET THE STRUGGLE!
IMMEDIATE FREEDOM TO THE PRISONERS OF THE REVOLT!
CO-ORDINATION FOR THE FREEDOM OF THE OCTOBER 18th POLITICAL PRISONERS
— (more…)
Tags: Chile, International Solidarity, Riots, Santiago, Social Insurrection
Posted in Prison Struggle
Friday, January 10th, 2020
"La pasión por la destrucción es también la pasión creadora"
–Mijail Bakunin–
"La insurrección es una fiesta. El ruido de su derrota nos divierte"
–Fuerzas Autónomas y Destructivas León Czolgosz–
El avance de la revuelta: Días y meses en el combate
La revuelta que sacude a la región chilena sigue sin interlocutores válidos ni una dirección que la guíe. Continúa acéfala, autoconvocada, caótica y destructiva… imparable, a pesar de lxs muertxs, heridxs, mutiladxs y lxs casi 2.000 mil presxs que repletan aún más las cárceles de todo Chile. La chispa comenzada por una estrategia de evasión masiva al tren subterraneo en respuesta a una nueva alza del pasaje, cristalizó la continuidad de luchas y métodos contra el poder, desatándose con toda la fuerza y vitalidad un 18 de octubre.
Las constantes réplicas del terremoto que significó los primeros días de la revuelta se repiten diariamente en mayor o menor intensidad, expresadas en audaces ataques a comisarías, símbolos del capitalismo y en los duros enfrentamientos con carabineros. Aunque se perciba un cierto desgaste (normal y entendible después de más de 80 jornadas de combate), la violencia contra el poder goza de buena salud, legitimándose como la principal herramienta para quebrar con todo lo impuesto en sectores que hasta hace poco la condenaban. Esto último junto con la inexistencia de una conducción definida, creemos que representan, de una u otra forma, los ingredientes principales que han llevado a que la revuelta permanezca incontrolable.
(more…)
Tags: Analysis, Chile, Kalinov Most, Repression, Riots, Social Insurrection
Posted in Autonomy
Sunday, January 5th, 2020
"Sobre Fantasmas Insurreccionales y Banderas Falsas" – Núcleos Antagónicos de la Nueva Guerrilla Urbana (Lectura)
"Sobre Fantasmas Insurreccionales y Banderas Falsas" – Núcleos Antagónicos de la Nueva Guerrilla Urbana (Impresion)
In Favor of Revolutionary Violence: Introduction of Analysis of the Revolt in Chile
Introduction translated by AMW.
The following is the introduction to "On Insurrectional Ghosts and False Flags," a text by Antagonistic Nuclei of the New Urban Guerrilla that analyzes the revolt that has taken place in Chile during the fourth quarter of 2019.
The use of revolutionary violence has been vilified, and unimaginable amounts of blasphemies, myths and false rumors have arisen around it. We have heard that it is useless, that it contributes nothing, that it is only functional to repress, that it is used by infiltrators and/or immature elements, that it has short political projectivity, that it does not represent the people, etc., etc., etc…
In this text we will not attempt to make a detailed analysis of its use at the historical level. To do this, just look for examples in any history book. Its contributions to the struggle that dignifies the lives of people, regardless of where it is used, the regime it fights, or the idiosyncrasies of those who employ it, has contributed significantly to its development. It is not necessary to mention that neither slavery, nor feudalism, nor monarchies, nor abusive working hours, nor colonialism, nor the most basic civil rights, nor the number of dictatorships have been defeated with only peaceful methods. Therefore, we consider that discarding this tool is nonsense in relation to the revolutionary cause. (more…)
Tags: Analysis, Antagonist Cells of the New Urban Guerrilla, Antagonistic Nuclei of the New Urban Guerrilla, Anti-Fascism, Chile, Núcleos Antagónicos de la Nueva Guerrilla Urbana, On Insurrectional Ghosts and False Flags, Operation Condor, PDF, Repression, Riots, Sobre Fantasmas Insurreccionales y Banderas Falsas, Social Insurrection
Posted in Library
Thursday, January 2nd, 2020
via Noticias de la Guerra Sociale:
[Reportes redactados y difundidos por redes sociales]
Santiago de Chile
9 de diciembre
53vo Día de Revuelta Social
¡EL AMOR POR LA LUCHA ES NUESTRA ENERGIA!
En la Plaza de la Dignidad se junta cada vez menos gente. Hoy no somos miles, apenas somos cientos. A pesar de esto la conflictividad no disminuye, el amor por la lucha y la sed de venganza son incombustibles.
El monumento a Baquedano está intervenido con lienzos en contra los abusos en del SENAME, bellísimas arpilleras y costuras rebeldes. También hay algunos chemamüll Mapuche.
Hasta allí llegó una columna que caminó 500 kilómetros desde la ciudad de Concepción, se van abriendo paso entre aplausos y en sus ojos se nota la decisión de seguir avanzando, los esbirros que tenían copado el sitio son quienes retroceden.
Al poco rato llega una caravana de vehículos blindados policiales, son recibidos por lxs encapuchadxs con una lluvia de bombas incendiarias y piedras.
Hermanxs de la primera línea relatan que el viernes un manifestante término con fractura craneal y hemorragia interna al ser golpeado directamente con una bomba lacrimógena en su cabeza, está grave y hospitalizado. Comienza la acampanda de la "Mesa Social" afuera de la Corte Suprema.
Encapuchadxs realizan una bulliciosa protesta dentro de un Mall contra el consumismo navideño. (more…)
Tags: Chile, Noticias de la Guerra Social, Santiago, Social Insurrection
Posted in Autonomy
Thursday, December 26th, 2019
Parte II
Ya ha pasado más de un mes desde que difundimos la primera parte de este texto compartiendo información y reflexiones anárquicas sobre el contexto chileno desde el inicio del llamado "estallido social" desatado el día 18 de octubre. El anterior abordaba hasta la víspera de la gran manifestación en el centro de la ciudad anunciada para el día viernes 25 de octubre.
Desde ese día hasta ahora han ocurrido muchos sucesos que podrían ser expuestos de manera detallada, sin embargo hemos seleccionado ciertos elementos y reflexiones que nos parecen relevantes para difundir, sabiendo que otrxs compañerxs han estado también aportando a al registro y la circulación de información sobre lo que está ocurriendo en estas tierras en revuelta.
Esperamos que estas palabras que lanzamos hacia nuestrxs compañerxs de todas partes puedan nuevamente contribuir a propagar una vez más experiencias y reflexiones que puedan ser esparcidas en los más diversos idiomas y latitudes donde se expresa la anarquía:
1. EL INTENTO FALLIDO DE PACIFICAR LA REVUELTA
Con más de 1,5 millones de personas en el centro de la ciudad de Santiago, la autoconvocada "marcha más grande de la historia" concentró el día viernes 25 de octubre a toda la diversidad de personas en lucha.
Con una prácticamente inexistente participación de partidos políticos de izquierda y sin ningún tipo de capacidad de amenaza desde grupos fascistas, todas las formas de manifestación se desarrollaron hasta altas horas de la noche a pesar de la restricción del toque de queda, incluyendo una vez más intensos disturbios y enfrentamientos con la represión en el centro y las periferias de Santiago y otras ciudades.
Mientras la represión hacía su trabajo propagando e intensificando sus formas de violencia, desde el gobierno y los medios de comunicación se intentó imponer la idea que esta marcha sería la culminación de un proceso en el que la gente instaló sus demandas y que ya era hora de "volver a la paz". Los canales de televisón culminaron esa noche las transmisiones conjuntas iniciadas el 18 de octubre y, luego de la campaña de lavado de imagen sobre los militares, los días posteriores el gobierno retiró a las tropas de las calles. Luego, los días sábado 26 y domingo 27 de octubre, se decretó el fin del toque de queda en Santiago otras ciudades del país.
(more…)
Tags: Analysis, Chile, Repression, Riots, Santiago, Social Insurrection
Posted in Autonomy