Posts Tagged 'Chile'
Tuesday, July 5th, 2016
Two comrades, Jean Gutiérrez Zambrano and Andrés Aravena Sotelo, are being held on remand for 90 days for investigations. They were arrested following films and police controls relating to a students' demo organized by Confech (Confederación de Estudiantes de Chile) on 9th June in Santiago of Chile. Prosecutor Sebastián Gana accuses the comrades of having thrown molotov bottles at cop cars at various times during the demo.
–
More info: Publicacion Refractario
via: croceneranarchica.
Translated by act for freedom now!
Tags: Chile, Fuck the Police, Molotovs, Santiago
Posted in Prison Struggle
Wednesday, June 22nd, 2016
The Anarchist Radio Berlin presents the "No Borders" project of the video collective "Sur Negro"!
'No Borders, Social Struggles across the world' (Sin Fronteras, La lucha social a través del mundo) is the name of a web series presenting experiences of social organizations and anti-capitalist resistance in different regions of the world. Its special focus lies on anti-authoritarian practices within social movements.
The first season of this web series was realized in cooperation with Anarchist Radio Berlin, Rosa Negra Anarchist Federation Locals (USA) and the anarchist social center Casa Volnitza (Santiago de Chile). Recorded in the year 2015 in 12 cities of the U.S. the web series is organized in 11 chapters. Each chapter of 30 minutes contains interviews with social and political organizations that explain their practices and therefore give detailed insights into the contexts of their social struggles in their city. In addition, each chapter has a music segment presenting musicians involved in their cities' struggles. The first episode is already online!
You'll find the trailer as well as more information and links on the project on the blog of A-Radio Berlin:
http://aradio.blogsport.de/2016/06/16/sur-negro-no-borders-new-antiauthoritarian-web-series-goes-live-1st-season-social-struggles-in-the-usa/
Enjoy! And please help us to spread the info on this great project by
putting it on your blogs or sharing this mail


A-Radio Berlin
Tags: Anarchistisches Radio Berlin, Casa Volnitza, Chile, Santiago, Sur Negro (Video Collective), USA
Posted in No Borders
Wednesday, June 22nd, 2016
PDF: Al calor de la barricada… con la violencia liberadora, aniquilando lo existente

A MODO DE PRESENTACIÓN
El corazón palpitando, la respiración agitada, la mente clara. Los materiales necesarios: botellas, bencina, mecha y mucho más: el rostro cubierto, las miradas cómplices que se entrecruzan, la decisión tomada: enfrentarse al poder en todas sus formas y con todas las fuerzas.
El humo de la barricada, el estruendo de los vidrios que se quiebran, las piedras lanzadas a los/as esbirros/as del poder, los gritos que nombran a un/x compañerx muertx o encerradx, las voces iracundas que gritan liberación.
A Claudia López, compañera anarquista asesinada por la policía durante enfrentamientos callejeros el 11 de septiembre de 1998 en la población la Pincoya.
A nuestrxs hermanxs Mauricio Morales y Sebastan Oversluij.
A lxs indomitxs secuestrados por el poder y la autoridad. (more…)
Tags: Chile, Mauricio Morales, PDF, Sebastián Oversluij Seguel, Zine
Posted in Library
Sunday, June 19th, 2016
Anti-clerical violence has been unleashed with force as one more expression of the anarchic conflict against power and all bastard authority. The impact has been varied, politicians scream for the imposition of new laws and tougher penalties for those who attack order and the symbols of capital. The press plays it role of defamation and talks of social peace, ultimately pro-government. The citizenship, the sheep criticize everything without questioning their rotten enslaved lives and the religious ones cry as always appearing like the good ones in the movie.
We extend and claim the anti-clerical violence because we see the church as one more piece of domination, which is demonstrated by their influence on the policies of social control. Encouraging the power to impose new laws of punishment and fascist morality which are reaffirmed by vain speeches cloaked with a non-existent god that people believe without question for a life sentence that ends in a heavenly paradise. Who can believe in such a story? What a load of shit. (more…)
Tags: Chile, Fuck the Church, Mauricio Morales, Santiago, Sebastián Oversluij Seguel, Vandalism
Posted in Direct Action
Thursday, June 9th, 2016
We are far from taking a strong defence of any individual who presents him/herself as enemy of the State and of all forms of dominion (over humans, animals and nature). We see how – and many imprisoned and not imprisoned comrades are right in this – not everyone can be defined a comrade or relations be forged with them.
In particular we want to generate a debate on what's happening with the groups of action that deny anarchy is political objective and everyday struggle. These are so-called eco-extremists who shout coolly 'death to anarchy' thus disowning their own origins and formation, the idea following which they used to take nourishment from the warriors of the urban guerrilla of the past and the present, and then they went on to emphasize certain aspects that have always been within anarchy and its struggle for the liberation of humans, our brothers the animals and the earth.
Being extraneous to the constant tension we want to keep and to our struggle to make anarchy alive, a certain self-proclaimed eco-extremist sector is throwing away the libertarian ideal that manifests itself in the insurrectional struggle.
A certain small group linked to the imaginary category of 'symbolic populations' and musical/countercultural university areas (they disown university but they attend it… and they study the subjects they hate so much), despise the human animal and therefore see the enemy everywhere. (more…)
Tags: Arson, Chile, Informal Anarchist Federation (FAI), International Revolutionary Front, Jauría Saboteadora Heriberto Salazar (FAI-FRI), Sabotage
Posted in Autonomy
Tuesday, June 7th, 2016
PDF: Semana de Agitación
Prólogo: Javier Recabarren, nuestro pekeño gran guerrero vive y vuelve en lxs ke luchan!!
En la diktadura de la adultokracia, de los disvalores de la normalidad jerarkizada de la autoridad, un individux de 11 años de vida resulta ser sólo un niñx kon nada ke enseñar y kon la destinación obligatoria de aprender en kalidad de alumno, sin konciencia klara de si y kon la perspektiva únika de pasar a formar parte de akel inmenso ejército de explotadxs ke sostiene, kual cadenas. El poder ke lx domina.
Para kienes luchamos kontra el presente de opresión y miseria, un(x) guerrerx, un(x) hermanx-kompañerx no kabe en los parámetros generacionales ke el poder usa para estatificar a lxs individuxs. (more…)
Tags: Chile, Javier Recabarren, Marcelo Villarroel Sepúlveda, PDF, Zine
Posted in Library
Thursday, May 26th, 2016
Words from Tamara Sol Farías Vergara (Castellano Abajo)
$hile: Summer 2016
When you have been behind bars in isolation from the rest of the prison population, daily existence becomes difficult in such a small space, where society and its roles are intensified and adaption becomes a daily struggle to resist being swept by its morale and its desire to consume. Thieves, drug traffickers and murderers internalize the State and its Power, as with its authority.
I seek to reach out without ceasing to be myself, without the isolation that the police implements. We are not all that different, only that the chains that tie them down become ties that I do not wish to let go of, whereby tensions become routine. Life is unwrapped in what we are more than words can explain, but when will turns into a specific schedule to wake, eat and sleep, the battle against the established order begins in the abstract of ideas and in memory. It begins in the search for the smallest details or gestures of honesty not yet contaminated by competition between poor people, since the walls are great, the bars and locks are as well, and are in the hands of a physical enemy the size of a territory. I see going against it now as nothing but increases its power, therefore, I patiently wait the right moment for liberation, and in this way find the theory and practice in life itself. (more…)
Tags: Chile, Letter, Sol F. Vergara, Tamara Sol
Posted in Prison Struggle
Thursday, May 26th, 2016
Barricadas lunes 23 de mayo, 7am.
El 22 de mayo del año 2009, muere nuestro compañero anarquista Mauricio
Morales, mientras intentaba activar un artefacto explosivo que dejaría
en la escuela de gendarmería de $hile, institución destinada a formar
seres que humillan y torturan han trasgredido la ley de los poderosos.
A 7 años de su muerte abrazamos sus ideas de libertad y de rechazo a
gendarmería y/o cualquier institución o símbolo de autoridad.
La memoria de nuestrxs compañerxs es vital para continuar la lucha
contra este sistema de dominación.
POR LA AGUDIZACIÓN DE LOS CONFLICTOS
POR LA EXPANCIÓN DE LOS FOCOS DE INSURRECCIÓN
QUE SE EXPANDA LA REVUELTA ANÁRQUICA
A 7 AÑOS DE NUESTRO COMPAÑERO MAURICIO MORALES, CONTINUAMOS LUCHANDO
CONTRA TODA AUTORIDAD Y POR LA ANARQUÍA. (more…)
Tags: Arson, Burning Barricades, Chile, Mauricio Morales, Santiago
Posted in Direct Action
Thursday, May 26th, 2016
A poem for our insurrectionary comrade Mauri:
by Tsakalaki
for Punky Mauri
…in continuation
Mauricio I don't profess to know you
either your moment of pain
in Santiago that night
amongst stillness
just before the storm returns
in the eye of the conflict
we are both blown within
your poems exposed the wound
once more
opening the emotions covered for too long
realising the eternal burning sun inside
the melting of glaciers from the heart
somewhere, somewhere
amongst another burning barricade
I embraced existence
once again along with you
not in memory
in continuation
Tags: Chile, Mauricio Morales, Santiago
Posted in Uncategorised
Thursday, May 26th, 2016
"The only thing that I'm afraid of is the time…The detriment of remembrance that looks like a second death for those who are gone… Time is a friend of death…Unless we stop the hands of the clock and fill our journals with days that those who are gone were dreaming of… Then death will have no power and our dead will live on in our hearts."
On May 22th 2009 the anarchist Mauricio Morales gets killed while carrying a bomb in order to place it at the prison wardens' school in Chile.
Many believe that our struggle is futile… They don't believe that a minority of defiant anarchists can attack the governmental beast.
Still they're forgetting that always a minority -like detonators- overturn history and derail what has been considered as a given yesterday.
Others believe that we are romantics and that it isn't worth sacrificing ourselves for others… Yet, as it has been written somewhere "The revolutionary anarchist doesn't sacrifice him/herself for the society, but instead he/she sacrifices the existing society. The constant anarchist revolution isn't a sacred duty that has to be carried out by selfless ascetic martyrs. Instead, it encapsulates the individual insurrection as well, since it's this point where our change meets with the change of the world…"
So even if we die, it's because we have truly lived…
This is the reason that we don't believe in mortuaries, but in actions, words and meanings that are carrying our souls within the centuries…
Seven years after his death, we are still meeting again with Mauricio Morales through the words of the anarchist Emma Goldman:
"I don't know which of you has read the wonderful prose piece of Gorki that is called the Snake and the Hawk.
The Snake cannot understand the Hawk.
"Why don't you get some rest here in the dark, in the beautiful, slippery dampness?" asked the Snake. "Why flying in the skies? Don't you know of the dangers that lurk there, the violence and the storm that are waiting for you and the gun of the hunter that will knock you down and destroy your life?" But the Hawk didn't pay any attention. It spread its wings and flew in the welkins; its triumphant song was heard and echoed in the skies.
One day the Hawk was knocked down, its blood was gushing out of its heart and then the snake said "Fool, I've warned you, I told you to stay where I was, in the dark, in the beautiful, warm dampness, where no one could find you and harm you…" But with its last breath, the Hawk answered "I have flown in the welkins, I've ascended in immense heights, I have seen the light, I have lived, I have lived!"

For Mauricio Morales…
For the comrades that are gone…
Conspiracy of Cells of Fire – Urban Guerilla Cell
Gerasimos Tsakalos
Christos Tsakalos
Olga Economidou
George Polydoros
Tags: Athens, Chile, Conspiracy of Cells of Fire, Conspiracy of Cells of Fire - Urban Guerilla Cell, Conspiracy of Cells of Fire : Imprisoned Members Cell, Greece, Letter, Mauricio Morales
Posted in Cognitive Liberty
Monday, May 16th, 2016
C.C.F. – SQUATS – THE HOUSES OF ANARCHY.
Some thoughts on the invitation sent by the comrades of Papamichelaki Squat, of Teflon Library, of Radiofragmata and of Continuous Deconstruction, about the Squatting issue.
The following text corresponds to snapshots and features that we can find in the current squats in Greece.

I) Property is theft.

"Property is theft" says one of the oldest anarchist slogans. It is the theft of collective life, it is the abolition of community, it is the refuge of taking distance from the commons, of fear.
Property and its twin sister power, gives birth to the distinction of people based on titles, positions and privileges… Just like the sky has no borders, the land should not be owned.
A human from a collective being becomes an owner. An owner not of their life but of walls, windows and furniture…
Squats have begun as a form of denial of property, and of self-organised expression. The course of the squat movement has many shades… Some of them are more militant, others are more harmless… There are anarchist squats and alternative squats, squats which are cores of lawlessness and squats which are dehydrated cultural centers.
Today in Greece there are much more squats than in the past, not only in Athens but also in many cities. (more…)
Tags: Athens, Chile, Conspiracy of Cells of Fire : Imprisoned Members Cell, CSO Sacco and Vanzetti, Fuck the Nations - Squat the World, Greece, Mauricio Morales, Squatting
Posted in Autonomy
Sunday, May 15th, 2016
PDF: La Bomba 17
Tags: Chile, La Bomba Zine, PDF, Santiago, Zine
Posted in Library
Wednesday, May 11th, 2016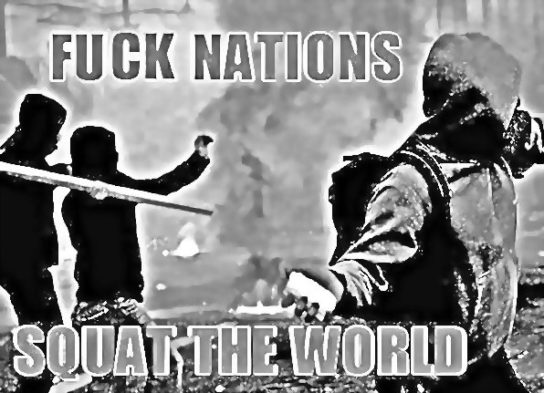 En el contexto de la circulación de debates y propuestas en torno a las okupaciones y espacios antiautoritarios, compartimos algunas reflexiones, experiencias y propuestas en el marco de la campaña "A la mierda las naciones – Okupa el mundo!" propuesta por compas de Grecia [1, 2, 3], buscando propagar la crítica y autocrítica en la lucha contra el poder, a siete años de la muerte del compañero anarquista Mauricio Morales.
A lo largo de los años, no hemos sido pocxs lxs compañerxs que desarrollamos parte importante de nuestra maduración política participando en diversas actividades en espacios autónomos anárquicos/antiautoritarios. Espacios okupados como La Krota, Sacco y Vanzetty, La Idea, y otros centros sociales autónomos fueron claves hace ya varios años para el desarrollo, agudización y propagación de las ideas y prácticas insurreccionales en el contexto local de la ciudad de Santiago. Algunxs de quienes participamos de algunas de las instancias de encuentro, debate y agitación desarrolladas en esos espacios, recordamos tales vivencias como si hubieran sido ayer, teniendo frescos recuerdos de un contexto de efervescencia insurreccional que no pasó desapercibido para el poder y su sociedad. (more…)
Tags: Black December, Chile, Fuck the Nations - Squat the World, Mauricio Morales, Sin Banderas Ni Fronteras, Squatting
Posted in Autonomy
Thursday, April 21st, 2016
Actividad libre de alcohol y humo
Habrá: Comida vegetariana y vegana
Música en vivo: Yigo dos mil dosis, Deviolencia, Juan trova, En huelga
de arte, Guerrillero oculto
Proyecciones
Feria Libertaria (¡Trae la tuya!)
Rifas y mucho más…
Aporte: $2.000
Fecha: Sábado 30 Abril
Hora: Desde las 18:00 hrs.
Lugar: Casa Volnitza #1629 metro Los Héroes
PARA CONOCER MÁS DE ESTA ACTIVIDAD DEJAMOS UNA RESEÑA DE LO QUE FUE EL 1º CAMPEONATO SOLIDARIO
Esta iniciativa nace como una propuesta para realizar jornadas de solidaridad concreta con la realidad anticarcelaria, pero al margen de lo "festivo" y el uso de alcohol y drogas. Excluyendo lo competitivo, los deportes de combate, para muchxs son una forma de vida, y en este caso se convirtieron en el motor de esta jornada, cuyo eje articulador fue generar reflexión sobre la realidad anticarcelaria y a la vez, solidarizar con los compañeros involucrados en el caso Security, especialmente con el compañero Marcelo Villarroel Sepúlveda. (more…)
Tags: Chile, Martial Arts, Santiago, Solidarity Event
Posted in Autonomy
Saturday, March 26th, 2016
Bomba de ruido en visita nocturna a sede de la UDI.
Madrugada del 23 de Marzo – Santiago
Cuando nos declaramos a viva voz enemigxs de la dominación, contrarixs a la forma de vida impuesta vigilada y controlada por el poder, es una obligación aportar en aquel camino elegido, aportar desde la multiformidad de la acción directa en pos de la lucha. Es así como queremos vivir y lo demostramos con acción antagónica, diciéndole a las policías, al poder. Aquí estamos, existimos, no nos rendimos. Multiplicaremos nuestro accionar, lo potenciaremos, para atacar cuando menos se lo esperen. (more…)
Tags: Arson, Burning Barricades, Célula por el Incendio Javier Recabarren, Chile, Claudia López, Francisco Solar, Freddy Fuentevilla Saa, International Solidarity, Javier Recabarren, Jhonny Cariqueo, Juan Aliste Vega, Lambros Foundas, Marcelo Villarroel Sepúlveda, Mauricio Morales, Monica Caballero, Santiago, Sebastián Oversluij Seguel
Posted in Direct Action