Posts Tagged 'Chile'
Wednesday, November 7th, 2018
Sábado 10 de noviembre · 11hrs · Salón Multiuso Villa Francia (Las estepas #845)
Aporte: $1.500 · Actividad libre de alcohol y humo
Hace 10 años dimos vida a la primera Convención de Tatuajes y Arte corporal Solidaridad a Flor de Piel y el contexto, una vez más, hace evidente lo trascendental del apoyo y la solidaridad concreta hacia lxs prisionerxs.
Este año ponemos en marcha la VIII versión de Solidaridad a Flor de Piel, recalcando la importancia de abrir espacios anticarcelarios, que generen y posibiliten el encuentro de diferentes experiencias anárquicas y antiautoritarias.
La solidaridad anárquica, combate las lógicas asistencialistas o caritativas, porque es el encuentro entre compañerxs equivalentes, que no olvidan a lxs prisionerxs en guerra, que se niegan a normalizar las prisiones con sus dinámicas de muerte y sometimiento.
La solidaridad anárquica es el combustible para no resignarse nunca ante cualquier adversidad… Somos unxs convencidxs que así se avanza hacia un horizonte de Liberación Total. Contra todo pronóstico, siempre se puede!
Porque una jaula es siempre una jaula y queremos destruirla, por el fin de todas las prisiones, extendemos la invitación a la jornada del 10 de noviembre.
Un saludo cómplice a todxs lxs que no se rinden…
Tags: Chile, Santiago, Tattoo Circus
Posted in Autonomy
Wednesday, November 7th, 2018
Some necessary clarifications about the positions of some anarchists regarding the death in prison of Kevin Garrido
Update: English version below
Hace unos días llegaron a la bandeja de correo electrónico de este blog dos mensajes informando sobre la muerte de Kevin Garrido, que recordemos, se encontraba cumpliendo condena por los ataques explosivos contra la Escuela de Gendarmería de Chile y contra la 12ª Comisaría de San Miguel. La muerte, al parecer, se habría producido a manos de otros presos durante una reyerta donde Kevin recibió varias puñaladas en tórax y abdomen.
Ante esto, muches se han apresurado a reivindicar a Kevin Garrido como anarquista. Memoria a corto plazo quizá, pues en uno de sus comunicados públicos emitido desde la prisión en noviembre de 2016 (se puede leer aquí) el propio Kevin dice "falsamente me tildaron de anarquista" y si bien más adelante expresa su apoyo y solidaridad a anarquistas en prisión, también expresa su apoyo a la tendencia ecoextremista, quienes no sólo se han apartado totalmente de un discurso y una práctica anarquistas asumiendo posiciones autoritarias y dogmáticas, sino que de hecho han atacado a anarquistas. (more…)
Tags: Chile, Eco-Extremism, Kevin Garrido, Santiago, Santiago 1
Posted in Anti-Fascist
Wednesday, November 7th, 2018
INSTINTO SALVAJE: RESPECTO A LA MUERTE DE KEVIN GARRIDO, ACLARACIONES Y POSICIONAMIENTO. (ES/FR)
PER QUANTO RIGUARDA LA MORTE DI KEVIN GARRIDO – CHIARIMENTI E PRESA DI POSIZIONE (IT)
Касательно смерти Кевина Гарридо в тюрьме Сантьяго (RU)
05.11.2018
On November 2nd, Kevin Garrido was murdered in the Santiago 1 prison, located in the Chilean region. As a result of the news that has been circulating via the different counter-info web projects about this individual, we consider it necessary to make some clarifications:
Kevin Garrido, WAS NOT AN ANARCHIST, in his last communiques he made clear his affinity with eco-extremist ideology: "They investigated me, traced my steps and managed to hunt me down with their guns pointed at my head. They exposed my face on TV and the newspapers defamed me, with a cluster of idiocies in their argumentation. They falsely labeled me an anarchist and presumed that faced with a large number of policemen that I would bow my head and not respond. They sat me in one of their courtrooms for more than six hours to hear the words that the prosecutor was spreading with a vomit-inducing stench."
Why mention this? Because the diffusion of information in such an ambiguous and irresponsible way on who he was, and minimizing his political position, makes one wonder at the ease of which a person can be called a comrade in the Chilean region. (more…)
Tags: Chile, Eco-Extremism, Instinto Salvaje, Kevin Garrido, Santiago, Santiago 1
Posted in Anti-Fascist
Thursday, October 25th, 2018
Kalinov Most #3. Publicación Anarquista Internacional / Octubre 2018.
Este número está dedicado con cariño y amor a nuestro compañero Pablo Vaso… "Siempre abriendo puertas"
Índice:
*Editorial
*Sobre la necesidad de pasar a la ofensiva: Características y particularidades de la lucha antipatriarcal en el territorio dominado por el Estado chileno
*¿Acabar con la humanidad para acabar con el dominio? Sobre la corriente misantrópica en entornos anárquicos
*¿Qué es el anarquismo? Consideraciones sobre anarquía, individuo y sociedad
*Algunas consideraciones sobre el legado de las organizaciones político-militares en la región chilena
*Sin victoria ni derrota
*Aun año de la desaparición seguida de muerte del anarquista Santiago Maldonado
Kalinovmost(a)riseup.net
www.kalinovmost.wordpress.com
Tags: Chile, Kalinov Most, Zine
Posted in Library
Sunday, October 21st, 2018
PDF: La Bomba Zine #28 Agosto 2018
Tags: Chile, La Bomba Zine, PDF, Santiago, Zine
Posted in Library
Thursday, September 27th, 2018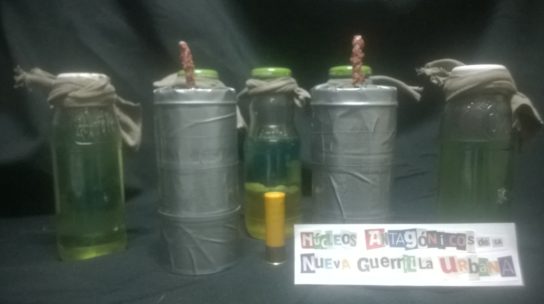 Santiago, 11 de Septiembre 2018
"Hemos decidido rebelarnos frente a esta realidad de mierda, que sin duda nada tiene que ver con nosotros. Pasan los años, y una pregunta me da vuelta en la cabeza. ¿Será siempre así? ¿Es que no tenemos derecho a una vida digna y alegre? ¿Todos los días serán iguales?
Nos cansamos de aplanar esquinas. De estudiar sin saber para qué. De tener que sacarse la cresta por un pedazo de pan. Nos cansamos de ver prostitutas de 11 años y que nos inunden con el Mapocho para salvar a Providencia. Estamos cabreados de los milicos asesinos, de pacos locos y prepotentes, de gerentes ladrones. (…) Queremos ser personas, vivir nuestra juventud. (…) Que no quede ningún asesinato, tortura o atropello sin justicia".
–Movimiento Juvenil Lautaro
El 11 de Septiembre es un hito, marca una antes y un después, lo queramos o no. El 11 de Septiembre ricxs y poderosxs de Chile golpearon la mesa e hicieron prevalecer sus privilegios. El proyecto legalista de la Unidad Popular y también expresiones más radicalizadas de la lucha, vieron notoriamente mermadas sus fuerzas para combatir lo que se avecinaba, de esta manera terminaron siendo aplastados por la bota militar. La derrota fue instalada. Los deseos y las ansias de libertad no pueden ser defendidos solo con buenas intenciones, esto lo aprendimos del dolor que conlleva una lección como esta.
La sociedad chilena fue quirúrgicamente modificada entre decretos, leyes, toques de queda, detenidxs desaparecidxs, muertxs (en falsos y reales enfrentamientos), montajes que avalaban el actuar dictatorial, torturadxs (humilladxs, violadxs, o llevadxs al extremo en simulaciones de fusilamiento), presxs políticxs, exiliadxs, entre otros tantos hechos cuya descripción se vuelve una pesadilla. No obstante y pese a ello, el 11 de Septiembre es una fecha de memoria y de no resignación a los sueños por una vida mejor. (more…)
Tags: Black September, Chile, Informal Anarchist Federation (FAI), Insurrection, International Revolutionary Front, Núcleos Antagónicos de la Nueva Guerrilla Urbana, Santiago, Social War
Posted in Direct Action
Sunday, September 23rd, 2018
We claim responsibility for the incendiary attack against the UMCE's bioterium. With this claim we want to make some points.
1. This action was aimed at the destruction and evacuation of a building used to torture, mistreat and experiment on animals. A place that on several occasions has been boycotted by groups that have rescued animals that were imprisoned there.
Despite these acts of sabotage, the enclosure was once again filled with animals, again and again.
So, when we read a few weeks ago the responsibility claim from the compañerxs who rescued the rats and frogs from this bioterium, we had no doubt that it was time for direct action and fire to close this place.
2. We are individuals who are not connected to the protests or the university. At no time did we seek to terrorize the people who carried out the protests at the UMCE. The action was planned carefully to safeguard the people who live on the university campus and to avoid physically hurting anybody.
3. We claim responsibility to position ourselves and to question the tolerance and complicity that has been involved in the torture of animals in this university, both during and before the protests, and the silence and false criticism of those who remained passive to the confinement and experimentation on animals, allowing it to continue unhindered. Let it be clear, silence and passivity make us accomplices of torture!
4. We carry out direct action as an active form of confrontation against dominion, against passive normality that is complicit in torture, in all its forms. We cannot remain apathetic to animal exploitation. We do not want bigger cages or 'more ethical' conditions for torture, we want to destroy all the cages and all forms of exploitation.
Tomorrow you can be sure that other laboratories will be victims of our fire!
The spirit for animal liberation is unbreakable!
Incendiary Plague
Tags: Animal Liberation, Arson, Chile, Sabotage, Santiago
Posted in Eco Struggle
Friday, September 14th, 2018
Short amusing note from an exchange.
… About the Archegonas, Archie the Robot, we are really laughing that there is 'comrades' stupid enough to print his material still, despite what has happened. I guess they really like what he has to say about being a vegan.
We were laughing darkly about that fanatical ITS claim in Edinburgh and this ridiculous text of his where he accuses us of being 'tough bitches'. It's so anti-female, after his fragile ego was spurned by us, he reveals in this ITS claim from Edinburgh a real hatred of his mother too. It's delirious, he proclaims himself Satan. Haha. …
What has become of the so-called eco-extremist curse? All this time to come and hunt us down and they spend their time still being a joke?!

L.
"I think it is vitally important to position yourself in front of the enemy, even if they give you a nod to anti-authoritarian ideas, as ITS did in the first moment."
" … as I mentioned before, you have to start an offensive with them, ITS, and also against the old enemies, the capital, authority and the State." Instinto Salvaje.
Tags: Chile, Eco-Extremism, Individualists Tending Toward the Wild (ITS), UK
Posted in Cognitive Liberty
Wednesday, September 12th, 2018
Hemos transitado un largo camino desde las primeras banderas negras que reaparecieron al final de la dictadura, en medio de barricadas y el posterior acomodamiento de una sociedad ciudadanista que se dejó arrastrar por falsas promesas de la alegría democrática, mientras los aparatos represivos aniquilaban la resistencia continuando fieles la trayectoria sangrienta del estado; tomamos como herramientas parte de ese arrojo, más artesanal, y lo mezclamos con la contracultura punk y apostamos por la actitud rebelde, el hazlo tú mismo y nos expandimos en una serie de experiencias y de pronto las balas nos llegaron a nosotrxs, mataron a la Claudia y aunque no era ella anarquista, ¿tanto importa? (more…)
Tags: Anarchist bookfair, Chile, Santiago
Posted in Autonomy
Sunday, September 9th, 2018
Finally, last Wednesday, September 5, was the reading of the sentences against comrades Kevin and Joaquin, these sentences can be appealed, but for the moment it is unknown what actions their lawyers will carry out.
The sentences were as follows:
KEVIN GARRIDO FERNÁNDEZ: 17 years of prison in maximum security, for possession of explosives and the placement and possession of explosive devices. In addition, sentenced to 61 days in minimum degree for illegal possession of a bladed weapon.
JOAQUÍN GARCÍA CHANKS: 10 years of prison in medium security, for placing explosive devices and a 3-year prison term in maximum security for the crime of illegally carrying a firearm.
For the moment this is what we can tell, as soon as we have more information we will update on the situation of the comrades. We make a call to demonstrate solidarity in the face of the prison sentences dictated against Kevin and Joaquín. No sentence against our comrades should be left without an answer.
SOLIDARITY AND STRUGGLE!
INSURRECTION AND ANARCHY!
FREEDOM TO KEVIN AND JOAQUIN NOW!
–
CHILE: SENTENCIAN A 17 AÑOS A KEVIN GARRIDO Y 13 AÑOS A JOAQUÍN GARCÍA
Finalmente el pasado miércoles 5 de Septiembre se realizó la lectura de las sentencias contra los compañeros Kevin y Joaquín, estas condenas pueden ser apeladas, por el momento se desconoce el accionar a llevar a cabo por lxs abogadxs.
Las sentencias fueron las siguientes:
KEVIN GARRIDO FERNÁNDEZ: a 17 años de presidio mayor en su grado máximo como autor de los delitos de colocación de artefacto explosivo y posesión y tenencia de explosión. Además de 61 días de presidio menor en su grado mínimo por porte ilegal de arma punzante.
JOAQUÍN GARCÍA CHANKS: a 10 años de presidio mayor en su grado medio por colocación de artefactos explosivos y a 3 años de presidio mayor en su grado máximo por el delito de porte ilegal de armas de fuego.
Por el momento es lo que podemos contar, en cuanto se tenga mayor información se actualizará la situación de los compañeros. Hacemos un llamado a demostrar la solidaridad frente a las condenas de prisión dictadas contra Kevin y Joaquín. Ninguna sentencia contra nuestrxs compañerxs puede quedar sin una respuesta.

¡SOLIDARIDAD Y LUCHA!
¡INSURRECIÓN Y ANARQUÍA!
¡LIBERTAD A KEVIN Y JOAQUÍN AHORA!
Tags: Chile, Joaquín García Chanks, Kevin Garrido, Santiago, Trial
Posted in Prison Struggle
Friday, August 31st, 2018
Todas las actividades agendadas en el Espacio Libertad 53 (ex-arcis) han sido canceladas por motivos externos a la toma que se efectuaba ahí.
Estamos gestionando otro espacio para no cancelar el Almuerzo Solidario del día 08/09, atentxs. ¡Fuerza a lxs compas del Espacio Libertad!
Almuerzo solidario con lxs presxs en Espacio Libertad 53 [08/09/2018]
ALMUERZO SOLIDARIO POR LA DESTRUXIÓN DE LAS PRISIONES
Día y hora: Sábado 08 de Septiembre, 13:00hrs Puntual
Lugar: Espacio Libertad 53, metro ULA, Santiago de Chile
Plato $2.000: Lazaña y seitán con verduras + ensalada
Habrá también:
-Feria anarquista/anticarcelaria
-Repostería, sopaipillas, bebestibles varios
Música en vivo:
-Weichan Punk Rock Mapu
-Colectivo Raíces Latinas Hip-Hop
-Yigo Dosmildosis
Show: Feñita Payaso
Obra de teatro: Onirik Babska

¡MIENTRAS EXISTA MISERIA HABRÁ REBELIÓN!
Organiza: Red Solidaria Antikarcelaria con Juan y Marcelo.
Tags: Chile, Santiago, Solidarity Event
Posted in Autonomy
Saturday, August 25th, 2018
[Noticias de la Guerra Social]
Durante la mañana del 22 de agosto 2018, un doble atentado incendiario sacudió a la red de metro interrumpiendo su servicio justo antes de su horario de apertura, retrasando todo el servicio. A las 6:20hrs cerca de la estación Santa Julia de la Línea 4-A, un neumático encendido habría sido lanzado a las vías del tren subterráneo, desde una pasarela, consiguiendo inhabilitar el servicio. En paralelo cerca de las 6:45hrs en la estación Los Presidentes, Línea 4 también un neumático en llamas habría sido arrojado desde una pasarela, saturando el servicio. (more…)
Tags: Arson, Chile, Sabotage, Santiago
Posted in Direct Action
Thursday, August 23rd, 2018
Tags: Chile, La Bomba Zine, PDF, Santiago, Zine
Posted in Library
Thursday, August 23rd, 2018
Por la vida y salud de Juan Aliste Vega
Por el fin de las condenas de la justicia militar contra Marcelo Villarroel Sepúlveda
La "Red Solidaria Antikarcelaria con Juan y Marcelo" converge en los momentos en que nos llega la feliz noticia de que nuestro compañero Freddy Fuentevilla Saa logra pisar las calles nuevamente el 18/06/2018 tras 10 años y 3 meses de prisión ininterrumpida. Mientras por otro lado se encuentra la difícil situación de salud del compañero Juan y las duras condenas de la justicia militar que recaen sobre Marcelo. Por lo que como "Red Solidaria" nos empeñamos en agitar y difundir estas dos batallas que están dando los compañeros en prisión. Estas situaciones son delicadas y urgentes, es necesario visualizarlas, ponerlas sobre la mesa. Por lo que llamamos a todos/as las mentes concientes, a los/as autónomos/as, libertarios/as y subversivos/as a apoyar de forma real y concreta a Juan y Marcelo; ¡Aunemos!
– Sobre la situación de Juan
El compañero Juan fue un activo miembro de la guerrilla urbana del Mapu-Lautaro, organización que combatió durante años a la dictadura militar y su posterior transición a la democracia. Bajo la propuesta de la "Guerra Insurreccional de Masas" desarrollaron sabotajes, asaltos a bancos y armerías, atentados explosivos y armados, etcétera. (more…)
Tags: Chile, International Solidarity, Juan Aliste Vega, Marcelo Villarroel Sepúlveda, Santiago
Posted in Prison Struggle
Thursday, August 23rd, 2018


–What is a prison?
Prison is a material structure through which it is intended to inhibit the acts of any person who transgresses the conduct imposed by the State. Thus, punishment and the imposition of socially accepted discipline are the regime in which the captives have to live, by this seeking to annul their actions, ideas and beliefs. These acts may constitute crimes and like the ones that challenge order, be of revolutionary politics. It is with these that we again take a stand – either by supporting or having solidarity with those companions who presently are encarcerated for having carried out subversive actions for a political idea of liberation. The commitment of these companions makes us want to support them in real ways, concretely because we share goals. (more…)
Tags: Chile, International Solidarity, Juan Aliste Vega, Marcelo Villarroel Sepúlveda, Santiago
Posted in Prison Struggle