Posts Tagged 'Chile'
Thursday, February 28th, 2019
On February 8, 2019, the anti-authoritarian, vegan, environmentalist and independent media photographer decided to leave this world by throwing himself into the Santiago subway at the Universidad Católica station. The fact caused the arrival of police bastards and firefighters after a chemical emergency since Carlos kept on him a bottle of cyanide so the subway had to be evacuated, several stations were closed and there was a collapse in services for several hours during that afternoon-night in the disgusting city.
The 27-year-old comrade was an active participant in instances of dissemination, activities, demonstrations and direct actions in the field of Animal, Human and Earth Liberation. (more…)
Tags: Carlos Fuentes, Chile, Santiago
Posted in Uncategorised
Sunday, February 17th, 2019
PDF: Kolektivo Kamina Libre. Diciembre 2018
"No podemos alimentar la amnesia, el silencio o kualkier tipo de
inkonsecuencia ke tienda a obviar la existencia de una realidad ke está
presente en Chile (…)".
–Kolektivo Kamina Libre. 2002.
Con esta nueva y última edición buscamos multiplicar algunas palabras que fueron emitidas desde diferentes cárceles de Chile por los compañeros miembros del Kolektivo Kamina Libre (1997-2004) quienes estuvieron más de una década en prisión por haber combatido la dictadura militar y la democracia solapada. (more…)
Tags: Chile, Kolektivo Kamina Libre, Marcelo Villarroel Sepúlveda, PDF, Zine
Posted in Library
Monday, January 28th, 2019
PDF: La Bomba #30 Diciembre 2018
Por la expansion del caos y la anarquia…
Tags: Chile, La Bomba Zine, Santiago, Zine
Posted in Library
Monday, January 28th, 2019
EN: End humanity to end domination? – On the misanthropic current in anarchic environments
¿ACABAR CON LA HUMANIDAD PARA ACABAR CON EL DOMINIO?
SOBRE LA CORRIENTE MISANTRÓPICA EN ENTORNOS ANÁRQUICOS
A raíz del reciente atentado explosivo realizado por ITS en un paradero de bus en Chile, buscando matar humanos, difundimos un artículo del número 3 de la revista Kalinov Most (Octubre 2018).
Para más información también es posible leer: Tendencias Salvajes Misantrópicas: Otras expresiones de autoritarismo y de pensamiento sagrado (Kalinov Most#1 Octubre 2017) (Disponible AQUÍ)

"Los humanos son una enfermedad. Son el cáncer de este planeta.
Son una plaga. Y nosotros somos la única cura"
(Agente Smith-Matrix)
En su momento ya bosquejamos una crítica1 a la tendencia ecoextremista y a varios de sus derivados, particularmente sobre aquellas características autoritarias y la defensa a un pensamiento sagrado cuasi-religioso que, como antiautoritarixs, tanto asco nos produce.
La elaboración de aquel artículo buscó centrarse principalmente en aquellos aspectos que nos parecían claves a profundizar para develar la reproducción de aquello que despreciamos profundamente, pero sin lugar a dudas no fue lo único que se ha escrito. En simultaneo, desde distintos territorios, se ha seguido reflexionando y criticando a la especificidad del ecoextremismo2 en sus distintas versiones. Escritos que lejos de buscar mostrar un anarquismo bueno, positivo o ciudadanista, persiguen afilar el ejercicio de praxis anárquica ofensiva. (more…)
Tags: Analysis, Chile, Eco-Extremism, Individualists Tending Toward the Wild (ITS), Kalinov Most, Santiago
Posted in Eco Struggle
Monday, January 28th, 2019
1) Colocación de artefacto simulado en bus del transantiago + Revindicacion y reflexión de la Columna Insurreccional "Ira y Complot" – FAI/FRI Núcleos Antagónicos de la Nueva Guerrilla Urbana.
2) Artefactos explosivos descativados contra banco Estado en Vitacura + Revindicacion de "Amigos de la polvora- Núcleos Antagónicos de la Nueva Guerrilla Urbana"
Tags: Chile, Informal Anarchist Federation (FAI), International Revolutionary Front, Núcleos Antagónicos de la Nueva Guerrilla Urbana, Santiago
Posted in Direct Action
Wednesday, January 9th, 2019
Contribution from La Rebelión de las Palabras for the meeting taking place in Santiago, Chile on 23rd December in combative memory of nihilist-anarchist comrade Sebastian Oversluij, "Angry". The meeting was also within the context of Black December and internationalist anarchist praxis. 5th year since Sebastian's death during a bank expropriation.
From the Spanish State, we greet first of all the compas that raised the commemorative activity for Angry, to a new anniversary of his death in action when he was trying to expropriate one of the temples of Capital. The noise of the blast that killed him awoke new feelings of rabid sadness that roamed the globe, unleashing actions of revenge, activities in his memory, and that inspired more individuals and groups that from the offensive or not, returned to take a breath to continue on this difficult path. We did not know Angry, nor did we know the political and social context of the Chilean territory where he developed, lived and fought. However, the courage, the determination and the coherent commitment that he showed with his last action reverberate in us, and we also feel affinity with his words, his music with the rap band Palabras En Conflicto, which we know and like, and with his drawings and gestures, contributions that mark his offensive trajectory, feeling honored to be able to participate in this activity contributing the present writing.
We have been asked to write something about the context of anarchism in the territories dominated by the Spanish State. However, to be honest, we do not feel legitimacy for such a task, since we do not know in depth the concrete context of many places of the state, and others we know them in a partial, ephemeral way or in any case, from an approach that starts from our assessment, our subjectivity and our own processes, affinities, preferences, with what we have decided to make a general assessment that, we repeat, part of our own personal valuations, without having to be taken as an absolute reason or that we intend to speak for others companions who, perhaps, have another point of view and something to say about it. (more…)
Tags: Black December, Chile, Counter-info, International Solidarity, La Rebelión de las Palabras, Santiago, Sebastián Oversluij Seguel, Solidarity Event, Spain
Posted in Autonomy
Sunday, December 30th, 2018
Black December means action and memory, and, like any initiative of direct attack, it comes to life and continues when there is a will to go from words to deed – to break with the normality of the capitalist social routine and the comfort of civic life.
Always prepared for action, we liberate ourselves from the consumerist fever and the behavioral patterns imposed by the social order with its end of year traditions. And so, with planning, cunning and certain precautions, the anarchist attack never stops.
That's why at dawn on December 28th we set fire to a truck in the city of Santiago, in a suburb of the so-called 'middle class'. The action was reported by the media and now we can confirm: it wasn't a short circuit, it was an intentional fire wrought by anarchic hands during the middle of the night in the streets of their disgusting city.
Setting fire to a truck is attacking the mega-machines and structures that contribute to the devastation of the Earth, it is setting fire to the ideas of progress and civilization, it is our contribution to the ongoing agitation against the IIRSA-COSIPLAN project and the construction of thousands of kilometers of roads that destroy eco-systems to facilitate the transit of trucks full of merchandise and accelerate the advance of the city that contaminates our life. (more…)
Tags: Arson, Black December, Chile, Incendiaries Complicit in Sabotage – Informal Anarchist Federation / International Revolutionary Front (FAI-FRI), Informal Anarchist Federation (FAI), International Revolutionary Front, International Solidarity, Santiago
Posted in Direct Action
Friday, December 28th, 2018
Diciembre Negro significa memoria y acción y, como toda iniciativa de ataque directo, cobra vida y continuidad cuando hay voluntades que pasan de las palabras a los hechos para romper con la normalidad de la rutina social capitalista y con la comodidad de la vida ciudadana.
Siempre dispuestxs a la acción, nos liberamos de la fiebre consumista y de las pautas de comportamiento impuestas por el orden social y sus tradiciones de fin de año, así, con planificación, astucia y ciertas precauciones el ataque anarquista no se detiene.
Por eso la madrugada del 28 de diciembre prendimos fuego a un camión en la ciudad de Santiago, en una comuna de la llamada "clase media". El hecho fue reportado por la prensa y ahora les confirmamos: no fue un cortocircuito, fue un incendio intencional forjado por manos anárquicas en medio de la noche entre las calles de su asquerosa ciudad.
Incendiar un camión es atacar las mega-máquinas y estructuras que contribuyen a la devastación de la Tierra, es prender fuego a la idea de progreso y civilización, es nuestra contribución a la agitación contra el proyecto IIRSA-COSIPLAN y la construcción de miles de kilómetros de carreteras que destruyen eco-sistemas para facilitar el tránsito de camiones llenos de mercancías y acelerar el avance de la urbe que contamina nuestra vida. (more…)
Tags: Arson, Black December, Car Burning, Chile, IIRSA (Initiative for the Integration of the Regional Infrastructure of South America), Informal Anarchist Federation (FAI), International Revolutionary Front, International Solidarity, Santiago
Posted in Direct Action
Thursday, December 27th, 2018
"Antes, oh astro, matinal brillabas sobre los Vivos. Ahora, al extinguirte, vespertino brillas sobre los Muertos"
-Platón-
"Murió Adonaïs y por su muerte lloro.
Llorad por Adonaïs, aunque las lágrimas
no deshagan la escarcha que les cubre.
Y tú, su hora fatal, la que, entre todas,
fuiste elegida para nuestro daño,
despierta a tus oscuras compañeras,
muéstrales tu tristeza y di: conmigo
murió Adonaïs, y en tanto que el futuro
a olvidar al pasado no se atreva,
perdurarán su fama y su destino
como una luz y un eco eternamente"
-P.B. Shelley-
Quería escribirle a un tú ausente, tal vez inexistente; pensaba contribuir a las palabras de Shelley y darle vida a esta hermosa elegía, pero nunca le he escrito a un muerto y esta no será la excepción.
Cae sobre mí una falsa responsabilidad; muchos, consciente o inconscientemente, creen que nosotros, sus compañeros, poseemos el derecho o la autoridad de decir quien fue realmente nuestro hermano, y la verdad es que es una tarea imposible, tanto porque dicho derecho no existe, como por la complejidad que supone escribir en palabras sobre nuestro compañero; tal vez podríamos, como aquel alemán, destruir a martillazos la imagen que de él se ha construido. Es difícil comprender la falta de vergüenza de quienes revindican el nombre de Kevin, aun tal vez sin nunca haberlo leído/conocido, han acomodado a su interés la imagen del nuevo mártir, ni siquiera hace falta preguntarse cuantos realmente estuvieron, no hace falta porque aquí no existe ni existió nunca la mendicidad, la misericordia le pertenece a las víctimas y quien murió fue un guerrero: como bien lo recordó un hermano; "Él era solo él, Kevin contra el mundo". (more…)
Tags: Chile, Joaquín García Chanks, Kevin Garrido, Letter, Santiago
Posted in Prison Struggle
Wednesday, December 26th, 2018
Como introducción quiero decir que escribo este texto con ciertos antecedentes, nombres de personas y organizaciones para que pueda servir al/la lector/a indagar por cuenta propia más profundamente -si es que lo desean- sobre el fascismo y sus distintos auges en Chile. Esto es una pequeña contribución para la memoria anticapitalista autónoma la cual se va construyendo entre todos/as, esta no es exclusiva de nadie, por lo que se alienta la difusión por todos los medios posibles. Aclarar que las fuentes han sido sacadas desde internet, libros, medios de prensa y propios recuerdos.
Iniciamos relatando algunos hechos históricos. Nos remontamos al 5 de Septiembre de 1938, el Movimiento Nacional-Socialista de Chile (MNSCH) afiliados al partido político Alianza Popular Libertadora intenta provocar un golpe de estado contra el presidente Arturo Alessandri Palma para que Carlos Ibáñez del Campo se hiciese con el Poder. La intentona de los/as nacis(1) inicia con la toma de la Caja del Seguro Obrero, a pasos del palacio de La Moneda y de la casa central de la Universidad de Chile en la Alameda, existen enfrentamientos armados, toma de rehenes y bloqueos para impedir el avance de la policía, el gobierno llamó a tropas de las fuerzas armadas y acabó con la ocupación, asesinando ya rendidos/as y desarmados/as a los/as nacis, alrededor de 60 murieron. (more…)
Tags: Analysis, Anti-Fascism, Chile, Neo-Nazis, Racism, Santiago
Posted in Anti-Fascist
Wednesday, December 26th, 2018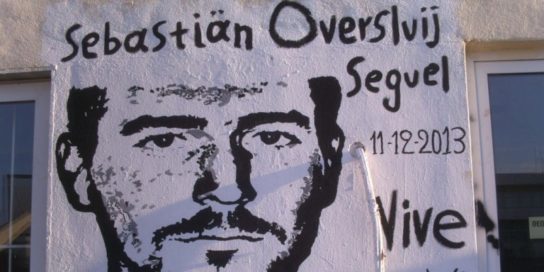 Nota: Palabras leídas en actividad conmemorativa por el -Angry- en la Biblioteca Antiautoritaria Sebastián Oversluij ubicada en algún lugar de Santiago de Chile el 23/12/2018.
"Al ke roba porke no tiene komida va a dar kon sus huesos a la kárcel de por vida… Al ke si tiene komida pero odia a los bankeros y les roba el dinero ke reparte entre sus kompañerxs". (Kanción de Rap)
En la kárcel y en la kalle la memoria sin axión kotidiana es komo un kuerpo sin alma, komo un kúmulo de palabras vacías ke se usan sin darle koherencia real a nuestras konvixiones antagónikas… Por ello la importancia esencial de mantener vivxs entre nosotrxs a todxs nuestrxs hermanxs ke han kaído en la lucha direkta y frontal kontra el Poder, el Dominio y toda Autoridad. (more…)
Tags: Chile, Marcelo Villarroel Sepúlveda, Santiago, Sebastián Oversluij Seguel, Solidarity Event
Posted in Prison Struggle
Sunday, December 23rd, 2018
ES: Contribución del proyecto contrainformativo anarquista 325 al Encuentro en Memoria del Angry
Contribution for the meeting taking place in Santiago, Chile on 23rd December in combative memory of nihilist-anarchist comrade Sebastian Oversluij. 5th year since Sebastian's death during a bank expropriation.
Dear comrades,
We are writing from '325', which is a nihilist-anarchist and anti-civilisation group of counter-information and action. Since 2003 we exist as an informal group originally out of UK and spread into Europe. We want to send our greetings to all the comrades at the gathering, for many years we follow the struggle there in Chile and try to spread solidarity to the fight. From Chile to Indonesia, to Europe, and beyond…
We think that the tendencies of attack are the most vital part of anarchy, as direct action is the constitutive part of the fight for freedom, liberation and eco-defense. We think that it's important to combine and multiply our struggle with comrades around the globe, because everywhere that anarchists are fighting, we can become a more dangerous and subversive threat against power when we internationalise and break down the borders between us. This is the reason that the States and corporations across the world are becoming afraid of anarchy again in the 21st Century, because we are the only real opposition to power's domination and they do not want us to grow and link up with each other to conspire.
On the 5th year since Sebastian Oversluij`s death in a bank robbery, we keep him present, with all the comrades that are still living with us in our hearts and deeds. Even though we never met Sebastian we are inspired by his actions and life's vision as he himself expressed it. We are touched by his freedom and energy. The banks and the capitalists are our enemies, and those that attack and expropriate them are our comrades, accomplices and friends.
The future belongs to those who struggle for liberation. They hasten the collapse of this prison-world.
Let's light up the nights and days,
Blazing hugs for a Black December
325
Tags: Black December, Chile, Counter-info, International Solidarity, Santiago, Sebastián Oversluij Seguel, Solidarity Event
Posted in Autonomy
Wednesday, December 19th, 2018
PDF: La Bomba #29 Septiembre 2018 [especial]
Tags: Chile, La Bomba Zine, PDF, Santiago, Zine
Posted in Library
Monday, December 17th, 2018
Desde la kárcel de alta seguridad hago llegar estas palabras de saludo en Resistencia para este encuentro de Solidaridad Antikarcelaria en donde konfluyen la konciencia aktiva de lucha kontra el poder y la insistencia en la konstruxión kolektiva de una memoria antiautoritaria ke no olvida a sus presxs, kaídxs y a todxs kienes no renuncian ni abandonan el konflikto por la liberación total.
Los tiempos son de lucha konstante, de definiciones permanentes en kuanto a nuestra existencia komo individuxs ke nos rebelamos frente a lo existente. El miedo y la indolencia, el oportunismo, el silencio y olvido no pueden ganar terreno entre kienes entregan lo mejor de sus días kombatiendo la totalidad de la oferta de vida ciudadana ke nos impone la democracia, el estado y el kapital.
La kárcel, komo destino posible para kienes se rebelan, es un espacio ke el poder usa para intentar domestikar, a lxs de espíritu libre e indómito. No hay lugar de encierro trankilo, ni kárcel buena, no hay nada en estos lugares ke se pueda replikar salvo la voluntad de Resistir toda la estruktura podrida de cemento y metal penitenciario. (more…)
Tags: Chile, Letter, Marcelo Villarroel Sepúlveda, Santiago
Posted in Prison Struggle
Wednesday, December 12th, 2018
El pequeño sabotaje que realizamos la madrugada del Martes 11 de Diciembre tiene su origen en una persona: Sebastián Oversluij Seguel, el Angry como cariñosamente le decíamos nosotrxs en nuestra intimidad subversiva, fue un compañero insurreccionalista y miembro activo de esta organización.
El Angry aporto en innumerables proyecto revolucionarios, levantando instancias de discusión, bibliotecas barriales (donde el conocimiento se puso a disposición de cualquier persona interesada), opto por una dieta vegana (libre de tortura animal), apoyo tokatas donde se reunían fondos en solidaridad con lxs presxs políticxs y lxs perseguidxs, propago ideas libertarias y antiespecistas en muchísimos lugares por donde anduvo. Colaboro en jornadas de agitación, repartiendo propaganda, armando barricadas, pegando afiches, asistiendo a marchas, levantando huertos, creando canciones, pintando, dibujando, y, por supuesto, saboteando el normal funcionamiento de una que otra institución represiva. Ese era nuestro hermano. (more…)
Tags: Banco Estado, Black December, Chile, International Solidarity, Juan Aliste Vega, Marcelo Villarroel Sepúlveda, Sabotage, Santiago, Sebastián Oversluij Seguel
Posted in Direct Action