Posts Tagged 'Chile'
Friday, November 11th, 2016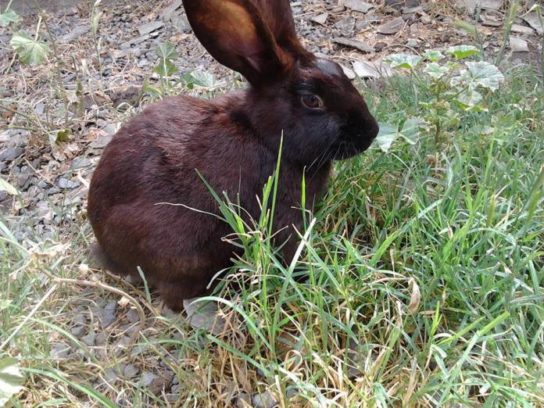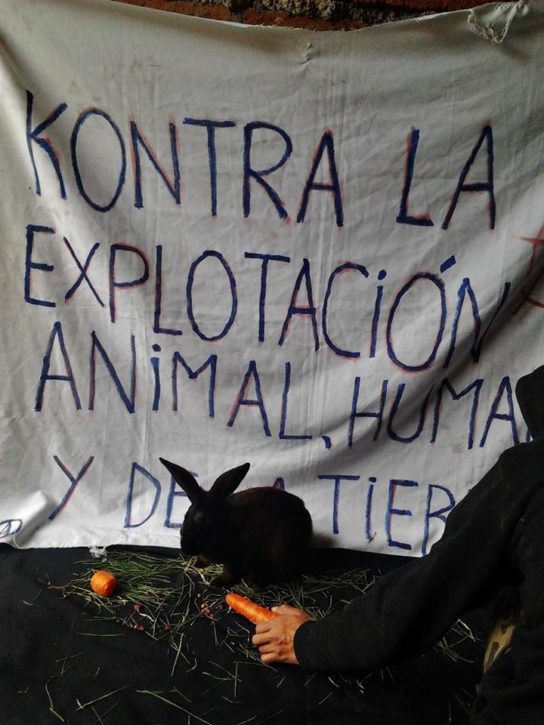 The rabbit was released from a tiny cage and given a new loving home in memory of Animal Liberation Front warrior Barry Horne, who died on hunger strike until death in defense of all life 15 years ago. For the animals.
Tags: ALF, Animal Liberation, Barry Horne, Chile, Santiago, UK
Posted in Eco Struggle
Saturday, November 5th, 2016
Tags: Anarchic practices in the Territory Dominated by the Chilean State, Chile, PDF, Santiago, Zine
Posted in Library
Friday, September 16th, 2016
PDF: La Bomba #18
Tags: Chile, La Bomba Zine, PDF, Santiago, Zine
Posted in Library
Friday, September 2nd, 2016
During the last days of August, the courts accepted the request from the defense for the comrades Juan Flores, Nataly Casanova and Enrique Guzmán who were seeking to re-open the investigation into the charges under the anti-terrorism law against the comrades. The intention of the defense is to gain access to a video that police claimed was key to their investigation, a video that neither the prosecution nor the police want to hand over.
The investigation period has been extended for another 30 days.
The prosecutors, faithful to their dishonesty declared: "The office of the prosecution has worked very seriously and very meticulously. The evidence in the investigation folder has been in the possession of all the participants from the beginning."
Solidarity with Juan, Nataly and Enrique!

via Publicacion Refractario, translated by Insurrection News
Tags: Chile, Enrique Guzmán, Juan Flores Riquelme, Nataly Casanova, Repression, Santiago, Trial
Posted in Prison Struggle
Thursday, August 25th, 2016
Comrades Tamara Sol and Natalia Collado have sent this statement on the occasion of the following initiatives: Anti-authoritarian Day for comrades Tamara Sol, Natalia and Nataly at the Libertarian Library Manuel Rojas. Sunday, July 17; 1st Antiauthoritarian Café Literario at the Kanno Suga and Denjiro Kotoku library. Saturday, July 30.

To the comrades, those in affinity, to those present. We were surprised to learn of this initiative, and we consider it very highly knowing that it is an initiative that comes from people whom we do not know or with whom we have no ties, who as individuals and as a group feel the desire to come together in an act of solidarity and affinities, which we greet with the affection and strength that we receive and which gives us the energy to face the prison context as we would like to.
Three weeks have passed since we found ourselves in the maximum-security section of the prison where, unlike the rest of the prison population (the other pavilions), we cannot get out of the section unless handcuffed and with a guard at our side to control us. Likewise we are prevented from participating in learning or recreational activities apart from going out a couple of days to play women's football at the field. (more…)
Tags: Chile, Letter, Natalia Collao, Nataly Casanova, Santiago, Sol F. Vergara, Tamara Sol
Posted in Prison Struggle
Thursday, August 25th, 2016
On August 13 the comrade Juan Flores was transferred during an operation by prison guards from Santiago Prison 1 to the High Security Prison (CAS) along with Enrique Guzman. Both comrades are defendants in the so-called 'Bombs Case 2'.
The reason for the surprise transfer was the supposed dismantling of an 'escape plane' following the discovery of a drawing in comrade Juan's cell depicting a prison being attacked.
The comrade's legal team took action resulting in Juan being transferred back to Santiago 1. Comrade Enrique will remain in the maximum security section of the CAS.
The prison guards' fear reveals their clumsy powerlessness when faced with unyielding convictions.

via Publicacion Refractario, translated into English by Insurrection News
Tags: Chile, Isolation, Juan Flores Riquelme, Santiago, Santiago 1
Posted in Prison Struggle
Thursday, August 25th, 2016
English translation via InsurrectionNews. Full pictures for the schematics of the fuse and incendiary device on ContraInfo.
To the anarchists of praxis
To the prisoners and fugitives of the social war
On the night of August 18 we activated an incendiary device during the journey of the 110 Transantiago bus in the neighborhood of Maipú. We do not whether our handcrafted ingenuity was a success or not as the action was silenced by the media.
We carried out this action in accordance with our ideas, principles and convictions. We seek to attack the service that transports thousands of people that reproduce the gears of the capitalist system. This service is one more cog, one that is destroying the earth and is complicit in the death of human and animal comrades. Our action damages the machinery of the social order, the law, its guardians, civilization and power.
Against all odds, when times are tough, we do not immobilize ourselves and continue to attack. We are not indifferent to the political prisoners, nor to the solidarity campaigns that arise for them, despite the various onslaughts of power. For our prisoners, fugitives and fallen we continue unabated. (more…)
Tags: Arson, Chile, Herminia Concha Nucleus of Attack, Santiago, Transantiago
Posted in Direct Action
Saturday, August 20th, 2016
After almost two years since the arrest and detention of comrades Juan Flores, Nataly Casanova and Enrique Guzmán, the prosecution have decided to end the investigation period of the case and proceed towards the trial.
In the theater of the modern inquisition, once the investigation period has ended the prosecution have 10 days to present 'the indictment', which details the evidence and convictions that they are requesting.
The comrades are accused of the attacks that occurred in 2014 at Subcentro, the metro station of the Dominicans and two police stations.

All our solidarity with the comrades!

via Publicacion Refractario, InsurrectionNews
Tags: Chile, Enrique Guzmán, Juan Flores Riquelme, Natalie Casanova Muñoz, Santiago, Trial
Posted in Prison Struggle
Sunday, August 7th, 2016
Somos parte de lo que la prensa llama vandalismo, somos parte de lo que la ciudadanía llama delincuencia, somos lxs individuxs que mediante pequeñas acciones tienden a romper con la asesina rutina, que dan el paso de la autocompasión y misericordia divina a la realidad tangible que enrostra su peor cara en el cotidiano, ese cotidiano que a gritos pide ser destruido para dar paso al ímpetu avasallador de la autonomía y la libertad total.
El saqueo y la destrucción se vuelven innato en un contexto de lucha para revoltosxs, rebeldes y antisistémicxs, sin lugar a dudas aquella práctica espontánea, como también organizada no decaerá nunca. Desde que lxs estudiantes secundarios, técnicos y universitarios le ruegan al Estado mejoras en la educación, las minorías deseosas de sedición continúan molestando a la autoridad incentivando al desborde generalizado. (1) (more…)
Tags: Chile, Sabotage, Santiago, Sebastián Oversluij Seguel
Posted in Direct Action
Sunday, August 7th, 2016
"…with simple materials we sabotaged the locks so that the owners of this so-called 'job' can have it clear in their heads that there are subjects that do not want and do not respect the commercialization of humiliation, suffering and death of animals." – Javier Recabarren affiliate cell of ALF
The ALF assumes the low-scale sabotage committed during the night of July 28 in the periphery of Santiago against 2 butcher shops, 1 private dwelling (butcher owner's house), 1 access fence into the butcher and other shops, and lastly, 1 shop selling chicken.
The flow of commercialization in the shops selling dead animals was interrupted as we filled tens of their locks with liquid steel, which the bastard owners discovered later that morning with surprise. In the following days, we left a message on paper, making it very clear why this action was committed.
(more…)
Tags: ALF, Animal Liberation, Chile, Sabotage, Santiago
Posted in Direct Action
Thursday, July 7th, 2016
5 de Julio. Camufladxs por la ciudad nos dirigimos a unas improvisadas instalaciones de maquinarias retroexcavadoras junto a varios container donde dormían algunxs custodixs. Dos bombas de ruido lanzamos a la infraestructura como ataque contra quienes devastan la tierra sin cuestionamientos amparadxs por el Poder.
¡Fuerza Natalia Collado! Tus palabras nos llenan de frenesí y nos inspiran para contribuir de alguna manera (por mínima que sea) a la lucha contra el Dominio.
No olvidamos a Sebastián Oversluij a más de dos años de su muerte en combate en una tentativa de expropiación. Abrazamos sus ideas y actos que en vida defendió fieramente. La defensa de la tierra, lxs animales y la guerra contra toda inmunda autoridad.
¡A PROPAGAR LA ACCIÓN CONTRA LA DOMINACIÓN!
¡NATALIA COLLADO A LA KALLE!
¡SEBASTIÁN "ANGRY" OVERSLUIJ PRESENTE!
Frente de Liberación de la Tierra – FLT
Tags: Chile, Earth Liberation Front, International Solidarity, Natalia Collao, Noise-bomb, Santiago, Sebastián Oversluij Seguel
Posted in Eco Struggle
Tuesday, July 5th, 2016
Two comrades, Jean Gutiérrez Zambrano and Andrés Aravena Sotelo, are being held on remand for 90 days for investigations. They were arrested following films and police controls relating to a students' demo organized by Confech (Confederación de Estudiantes de Chile) on 9th June in Santiago of Chile. Prosecutor Sebastián Gana accuses the comrades of having thrown molotov bottles at cop cars at various times during the demo.
–
More info: Publicacion Refractario
via: croceneranarchica.
Translated by act for freedom now!
Tags: Chile, Fuck the Police, Molotovs, Santiago
Posted in Prison Struggle
Wednesday, June 22nd, 2016
The Anarchist Radio Berlin presents the "No Borders" project of the video collective "Sur Negro"!
'No Borders, Social Struggles across the world' (Sin Fronteras, La lucha social a través del mundo) is the name of a web series presenting experiences of social organizations and anti-capitalist resistance in different regions of the world. Its special focus lies on anti-authoritarian practices within social movements.
The first season of this web series was realized in cooperation with Anarchist Radio Berlin, Rosa Negra Anarchist Federation Locals (USA) and the anarchist social center Casa Volnitza (Santiago de Chile). Recorded in the year 2015 in 12 cities of the U.S. the web series is organized in 11 chapters. Each chapter of 30 minutes contains interviews with social and political organizations that explain their practices and therefore give detailed insights into the contexts of their social struggles in their city. In addition, each chapter has a music segment presenting musicians involved in their cities' struggles. The first episode is already online!
You'll find the trailer as well as more information and links on the project on the blog of A-Radio Berlin:
http://aradio.blogsport.de/2016/06/16/sur-negro-no-borders-new-antiauthoritarian-web-series-goes-live-1st-season-social-struggles-in-the-usa/
Enjoy! And please help us to spread the info on this great project by
putting it on your blogs or sharing this mail 🙂

A-Radio Berlin
Tags: Anarchistisches Radio Berlin, Casa Volnitza, Chile, Santiago, Sur Negro (Video Collective), USA
Posted in No Borders
Wednesday, June 22nd, 2016
PDF: Al calor de la barricada… con la violencia liberadora, aniquilando lo existente

A MODO DE PRESENTACIÓN
El corazón palpitando, la respiración agitada, la mente clara. Los materiales necesarios: botellas, bencina, mecha y mucho más: el rostro cubierto, las miradas cómplices que se entrecruzan, la decisión tomada: enfrentarse al poder en todas sus formas y con todas las fuerzas.
El humo de la barricada, el estruendo de los vidrios que se quiebran, las piedras lanzadas a los/as esbirros/as del poder, los gritos que nombran a un/x compañerx muertx o encerradx, las voces iracundas que gritan liberación.
A Claudia López, compañera anarquista asesinada por la policía durante enfrentamientos callejeros el 11 de septiembre de 1998 en la población la Pincoya.
A nuestrxs hermanxs Mauricio Morales y Sebastan Oversluij.
A lxs indomitxs secuestrados por el poder y la autoridad. (more…)
Tags: Chile, Mauricio Morales, PDF, Sebastián Oversluij Seguel, Zine
Posted in Library
Sunday, June 19th, 2016
Anti-clerical violence has been unleashed with force as one more expression of the anarchic conflict against power and all bastard authority. The impact has been varied, politicians scream for the imposition of new laws and tougher penalties for those who attack order and the symbols of capital. The press plays it role of defamation and talks of social peace, ultimately pro-government. The citizenship, the sheep criticize everything without questioning their rotten enslaved lives and the religious ones cry as always appearing like the good ones in the movie.
We extend and claim the anti-clerical violence because we see the church as one more piece of domination, which is demonstrated by their influence on the policies of social control. Encouraging the power to impose new laws of punishment and fascist morality which are reaffirmed by vain speeches cloaked with a non-existent god that people believe without question for a life sentence that ends in a heavenly paradise. Who can believe in such a story? What a load of shit. (more…)
Tags: Chile, Fuck the Church, Mauricio Morales, Santiago, Sebastián Oversluij Seguel, Vandalism
Posted in Direct Action