Posts Tagged 'Colnbrook'
Wednesday, March 18th, 2015
From RabbleLDN:
As of yesterday (Sunday 15 March) we had heard of hunger strikes and other protests taking place in 8 detention centres across the UK, as prisoners started refusing food in Dungavel (Scotland, near Glasgow) and Dover. There is now rebellion in the majority of the UK's migration prisons.
The other six known to be protesting are Yarl's Wood (Bedfordshire), Harmondsworth and Colnbrook (Heathrow airport), Tinsley House and Brook House (near Gatwick Airport). (See previous report here.) (more…)
Tags: Colnbrook, G4S, Harmondsworth, Hunger Strike, Migrant Struggle, Mitie, Serco, UK
Posted in No Borders
Tuesday, March 10th, 2015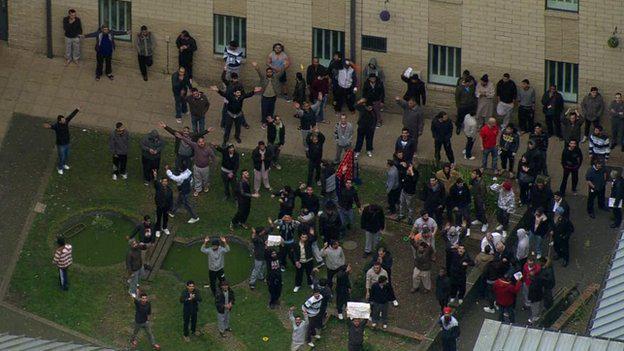 Update: Protests spreading across immigration detention centres in UK.
Resistance continued yesterday at Harmondsworth and Colnbrook. Over 70 people detained had gathered in the courtyard to continue the protest.
Outside at 9am a group of people made a solidarity demonstration in support of the protests. They could hear people shouting 'Freedom' and 'No Food'. The police were called to the protest and one person was pushed aggressively. Guards and centre managers are asking detainees to go to their rooms and come to talk to the managers one-by-one or in pairs. Detainees have refused and ask the management/staff to come and listen to them in the yard. (more…)
Tags: Colnbrook, Demo, Harmondsworth, Hunger Strike, Migrant Struggle, Racism, UK, UKBA
Posted in No Borders