Posts Tagged 'Conspiracy of Cells of Fire – Mexico'
Thursday, August 3rd, 2017
"ITS o la retorica di decomposizione" [it]
From the website La Rebellion de las Palabras, critique of the excremental choir calling themselves "Eco-Extremist Mafia" – aiming at the eco-fascist and nihilist-right groupscule Individualists Tending toward the Wild (ITS), written by anarchist-insurrectionalist groups, CCF-Mexico, anonymous others in the territory of the Mexican State:
(Joint Pronouncement)
"The Tiger, in its unconquered gait, accumulates the memory and the traces of the road travelled, to stubbornly reaffirm it; unrestricted freedom that does not assure food but which a priori omits any possibility of degenerating into a herd or of assenting to grazing. Indomitable and irreducible, it confronts the most tenacious enemies. To do this it wields its instincts, taking advantage of its portentous night vision, its prodigious smell and its finely tuned ear. In its right attack: it disfigures, tears, kills and dies, to be reborn indomitable and fierce. Nothing escapes this becoming and it is exposed to the most daring hunters and the most tenacious tamers, veterinarians and circuses, taverns and altars, customs and laws, systems of thought and political institutions. Everything is shaken, torn or eliminated in this movement of which only the imagination can disern a principle but of which nothing and no one is able to decipher its objectives and its end. (…) Anarchism, conceived not as an inescapable realization but as a permanent tension embodied in an open configuration of thought and action, is also a tiger, indomitable and fierce, affected from end to end by this capricious walk into freedom." – Gustavo Rodríguez
"Everything that we can identify as negative elements within our "space ", is also the responsibility of each of us to contribute to eliminate them. Bureaucracy, hegemony, informal hierarchies, intrigues, false friendships and false 'comrades' stabbing our backs have existed since the dawn of the so-called anarchist movement, because they are an intrinsic part of the human factor and our contradictions that constantly arise and are in conflict with each other. All these pathologies are due to attitudes that do not properly belong to a particular anarchist tendency but are present in all, and as long as they are not treated for what they really are, we will find them in front of us again and again." – Conspiracy of Cells of Fire / Metropolitan Violence Cell

To the comrades in the Mexican region and the world, to the incendiaries and refractories of the planet, to the internationalists committed to a new coordination of anarchic informality:
Exactly 5 years and seven months ago we signed a "joint statement" at the request of a comrade for whom we feel great affection and respect. That text was entitled "2nd Joint Statement of the Anarchist Insurrectional and Eco-Anarchist Groups". It was an unquestionably necessary writing given the context in which it was written and so we clarified it from the first lines: (more…)
Tags: Analysis, Autonomous Cells of the Immediate Revolution – Praxedis G. Guerrerro, Black International, CCF - Metropolitan Violence Cell, Conspiracy of Cells of Fire, Conspiracy of Cells of Fire - Mexico, Eco-Extremism, Gustavo Rodriguez, Individualists Tending Toward the Wild (ITS), Informal Anarchist Federation (FAI), Insurrectional Cell Mariano Sanchez Añon (CI-MSA), Letter, Mexico
Posted in Eco Struggle
Friday, December 9th, 2011
A publication by the imprisoned members of the Conspiracy of Cells of Fire
We hear the song of fire that comes from far away. The words smell of gunpowder. From the other side of the world rebellious comrades burn the nights and liberate places and moments. We can hear them… They conspire, plan, attack… We do not have to say anything else, we leave our brothers and sisters to speak for us.
"We are all Conspiracy Cells of Fire. C.C.F. is not an organization or just a group. On the contrary it is a antagonistic expression of rage and contempt towards authority and its structures. To spread the C.C.F. all you need is gasoline, matches and the desire to fight for absolute freedom. We have begun the war against the existing order."
Mexican C.C.F./FAI
The following text is dedicated to the Mexican C.C.F. and to our brothers and sisters of F.A.I. all around the world.
i)The wind blows against… from Indonesia to Chile.
These previous months from every corner of the earth more and more explosive messages of fire and gunpowder cross borders and seas reaching us here, in the Greek prisons where we are hostage, but not defeated.

Words mix with fire and behind the ashes of banks, government buildings, cop cars, nanotechnology labs, satellite antennas, private security cars and luxury shops, open a promise to friends and a threat to the enemy. They open a live proposition of the Informal Anarchist Federation (F.A.I.). An International Revolutionary Front (I.R.F.) is now organized in Italy, England, Chile, Mexico, Argentina, Russia, Holland, Peru, Bolivia, Indonesia, Australia, Greece…
An idea that started its journey ten years ago from Italy from the brothers and sisters of the Italian F.A.I. and today is stronger than ever. F.A.I. definitely is not a theoretic game of harmless words and symbols, but an idea to live dangerously and anarchically with all our senses, without dead time and cowardly excuses.
Often the texts that come to our hands like the one from the Italian F.A.I., the one from the English comrades of F.A.I. titled "Rain and Fire", the announcement of the Russian F.A.I., the call of the 11 anarchist organizations from Mexico, and many more, fill us with a weird awkwardness. It's this indescribable joy we feel when individuals and groups who do not know one another reach the same conclusions and feel the same feelings the exact same moment.
This feeling explodes in every word that unlocks the next and draws a common path of revolt. It is one of the few times that we do not have much to say. Most of our points are covered by our comrades. But we don't want to consume the text in a series of compliments. (more…)
Tags: 14/14, Black International of Anarchists of Praxis, Chile, Conspiracy of Cells of Fire, Conspiracy of Cells of Fire - Mexico, Conspiracy of Cells of Fire : Imprisoned Members Cell, Fire & Gunpowder, Greece, Holland, Indonesia, Informal Anarchist Federation (FAI), International Revolutionary Front, Italy, Luciano Pitronello Schuffeneger, Mexico, Rain & Fire, RO-FAI (Indonesia Section), Russia, UK
Posted in Cognitive Liberty, Direct Action
Saturday, October 29th, 2011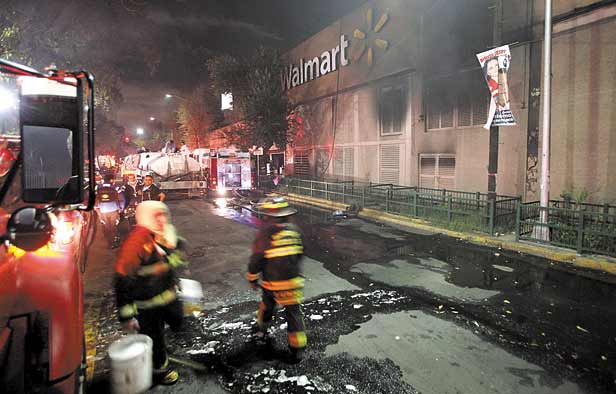 From culmine via this is our job:
To all like-minded arsonists and antagonists, the fourth communiqué from the Conspiracy of Cells of Fire – Mexico / Informal Anarchist Federation:
Neither exasperated, indignant, nor broken! Arsonists at war against every authority!
All our solidarity with comrade Gabriel Pombo da Silva!
We're celebrating two months of direct attacks on capital and the State!
Against the system of domination!
For Total Liberation!
Yesterday [26/10/11] at 6:23 p.m., liberatory fire again burned where it hurts most, destroying merchandise. The Conspiracy of Cells of Fire (CCF) faction of the Mexican Informal Anarchist Federation (FAI-M), Veracruz section, gave life to liberatory fire at the Wal-Mart located at Universidad and Avenida Las Palmas in the heart of Coatzacoalcos, Veracruz. With this new attack, we avenge comrade Gabriel Pombo da Silva (held captive in Aachen prison) and demand his immediate release from the German and Spanish states. We also stand in solidarity with our comrade Tamara, with the Bombings Case compas in Chile, with the imprisoned Conspiracy of Cells of Fire compas in Greece, and with all our comrades abducted by the State in Mexico and the rest of the world. (more…)
Tags: 14/14, Arson, Coatzacoalcos, Conspiracy of Cells of Fire, Conspiracy of Cells of Fire - Mexico, Conspiracy of Cells of Fire : Imprisoned Members Cell, Gabriel Pombo da Silva, Germany, Informal Anarchist Federation - Mexico (FAI-M), Informal Anarchist Federation (FAI), International Solidarity, Luciano Pitronello Schuffeneger, Mexico, Revolutionary Struggle, Spain, Tamara, Veracruz, Wal-Mart
Posted in Direct Action