Posts Tagged 'Conspiracy of Cells of Fire'
Wednesday, December 21st, 2016
[Text for a gathering in memory of Sebastian Oversluij that took place in an anarchist squat in Chile]

The real death is forgetfulness.
On the 11th of December 2013 a robbery took place on a bank at the district of Pudahuel. When the anarchist Sebastian Oversluij walked in the bank announcing the robbery, he received the bullets from the armed guard-keeper of the bank-defender of the wealthy and authoritarian. Sebastian fell down dead after he emptied his machine gun…
But every day there are deaths without dying. Deaths that are repeated every day… because of the mornings alarm clock so you won't be late at work, because of the sad routes between the lonely crowd that goes to offices, factories, stores, because of the boss's yells who wants more from you and faster, because of the mechanical movements during the work that kills creativity, because of the feigned politeness, because of the debasing salary as recompense for the life that they have stolen from you.
A life that is measured based on money.
When we rob a bank, we don't steal the money, we take back the life that they have stolen from us.
But a robbery can be an addictive job also. A job like everyone else's, with the only difference that the "salary" isn't sure and in case of industrial accident, jail or death awaits you. Often the robbers are not different from the salaried workers, they only work less in conditions of high risk. But they share the same cast of mind. The one of a consumer who deifies money, who admires the power of riches and his car, his clothes, his watch, which are the prolongation of himself.
Sebastian Oversluij was not a robber. He was an anarchist. He refused to be a slave on the boss's blocks. He was a disclaimer of work because he refused the morality of working, the morality of a slave who thinks like a consumer. A robbery by itself isn't a revolutionary action. But it is one of the methods of the anarchist war, so that we take back from the bosses the stolen time and organise it aggressively against them, planning anarchist actions, helping comrades in captivity, strengthening publishing ventures and creating armed infrastructure of attack against dominion.
We belong to the generation that Sebastian belonged to. A generation that has no age, no nationality. The generation of the impatient, the uncompromising and the dreamers.
We don't need heroes, we want comrades who set fires with their ideas.
When we keep alive in our memory Sebastian and all the comrades who fell on the battlefield, we keep the struggle alive. A fight against dominion and we know that jail or death are often the cost. But as one said: "Five free birds started the journey to the South. Only one arrived, but what their journey for certain wanted to say, that it was worth it for trying to fly…"

Conspiracy of Cells of Fire – Urban Guerrilla Cell
Giorgios Polidoros,
Christos Tsakalos,
Gerasimos Tsakalos,
Olga Economidou
Tags: Christos Tsakalos, Conspiracy of Cells of Fire, Conspiracy of Cells of Fire - Urban Guerilla Cell, Gerasimos Tsakalos, Giorgios Polidoros, Greece, Informal Anarchist Federation (FAI), International Revolutionary Front, Olga Economidou, Sebastián Oversluij Seguel
Posted in Prison Struggle
Wednesday, December 21st, 2016
[Text for a gathering in memory of Sebastian Oversluij that took place in an anarchist squat in Chile]
One can never be really lost unless oblivion wraps one in her arms.
It's been three years now that comrade Sebastian Oversluij does not walk anymore through the paths of searching for the wild beauty of anarchist action. It's been three years now that some of our brothers and sisters there in Chile feel his absence stretching their hearts. It is three years since the bullets of a sneak-security guard of the "Banco Estado" took his life, extinguishing the flame of the anarchist spirit that used to burn inside him.
But we, in our turn, as well as many others, we are not willing to let our comrade disappear in the fog of oblivion. We honor our brother just like we honor his choice of passing into action, attacking a bank-a temple of money, emptying the enemy's wallet, expropriating the minimum that we should get comparing to what authority expropriates from our own lives. The bank robbery carried out by an anarchist always carries inside the seed of refusal. The refusal to submit to a world where you're restricted to sell your soul to the cruel laws of free market, so that you can live to work and work to consume and consume to fill in your existential gaps with a pile of useless objects.
We know that we are very far away and that our words have to cross an entire ocean to reach you. But we hope you'll be able to feel the affinity we all feel with all those who discover the ways to keep our brothers close to us at the events, in discussions, in our imagination, but above all in the continuing of spreading the constant anarchist revolt itself.
The members of Conspiracy of Cells of Fire- FAI/IRF
Mihalis Nikolopoulos
Giorgos Nikolopoulos
Haris Hatzimihelakis
Theofilos Mavropoulos
Panagiotis Argirou
Damiano Bolano
Tags: Chile, Conspiracy of Cells of Fire, Damiano Bolano, Giorgos Nikolopoulos, Haris Hatzimichelakis, Informal Anarchist Federation (FAI), International Revolutionary Front, Mihalis Nikolopoulos, Panagiotis Argirou, Sebastián Oversluij Seguel, Theofilos Mavropoulos
Posted in Prison Struggle
Saturday, December 17th, 2016
On the night of December 11, we placed a homemade incendiary/ explosive device with a delay system in the National Association of Judiciary Officials building located on Cienfuegos street in the center of Santiago. The device detonated perfectly and set fire to the door of the building.
The National Association of Judiciary Officials is the place where the officials who authorize the operation of the prison-court complex meet every day. We attacked a den of the active machinery of the system that each day allows the miserable individuals of the State apparatus to exercise the right that they have assumed to judge and imprison other people.
Each sentence issued by judges, each conviction requested by a prosecutor, each imprisonment in the prisons of power is supported by the role of judicial functionaries who validate with their work the existence and maintenance of this repressive industry.
In these times of trials against anarchists who risk long sentences our action is a ray of fire from the depths of our dark intentions towards the social order of dominion.
To act as part of the international proposal of the NEMESIS PROJECT that was initiated in Greece by the Conspiracy of Cells of Fire comrades to hit the powerful and their accomplices in their homes, their work and meeting places. (more…)
Tags: Arson, Chile, Conspiracy of Cells of Fire, Incendiary Cell 'New Fires on the Horizon' - FAI/FRI, Informal Anarchist Federation (FAI), International Revolutionary Front, International Solidarity, Nemesis Project, Sabotage, Santiago
Posted in Direct Action
Tuesday, December 6th, 2016
"The big city also has a massive concentration of attack targets. (…) A few combatants can put large contingents of enemy forces in check by means of appropriate actions, the guerrilla must make it very clear that their attacks are directed in principle against all institutions of the enemy class, against all administrative positions, police and trustees but also against senior officials of these institutions, against judges, directors etc; Making it very clear that the war will bring them to the residential quarters of the rulers. (…) It uses surprise as a weapon and it the one that determines the time and location of operations."
– The Modern Capitalist State and the Strategy of Armed Struggle / RAF.
The ideas and practices antagonistic to capital and the state have been a headache for the bourgeois order since it penetrated strongly into Chilean territory centuries ago generating diverse reactions executed by the armed apparatuses of the state whether in dictatorship or democracy.
During the 60s the OPV took power while in the 1970s the various armed Marxist groups were formed to combat the established power of their respective epoch. While the OPP fought during Allende's rule, the MIR, FPMR and Mapu Lautaro fought against the military dictatorship, becoming part of the war against domination and against the state.
During the democratic transition these organization felt the offensive blow of the state and dismantled, however some of their fighters decided not to surrender.
During the 90s resurgent new currents of autonomy and horizontality emerged from the reduced anti-capitalist expression and came to public attention, mainly via demonstrations and street violence. From anonymity, sabotage with explosive devices against different targets of state and capital began to resonate and it was in the following decade when these actions led to anarchy being placed under the watchful eye of police intelligence.
The living expression of this new stage of anti-capitalism began to solidify the new autonomous and libertarian subversion in Chilean territory.
In the minds of agents of power there was no possibility that in the midst of democracy that there were individuals willing to violate and disrupt social peace and capitalist production. Bombings, street fighting, long days of protest accompanied by strong attacks against the police, sabotage, destructive fire and propaganda of insurrectionist ideas via multiform methods began to be part of the new diverse and decentralized praxis without command nor leadership of the anti-capitalist expression, the praxis of the insurrectionary anarchist struggle.
Over time, the state began to restructure itself, armed to the teeth, making its vigilance constant and abundant and introducing its discourse in society under the protection of its ever-faithful friend: the press. Simultaneously, modifications made jail an effective punishment for those who stray from the imposed normality, physical and mental annihilation under tons of concrete, and if possible murdered, this being the ultimate for of punishment for the subversives.
Using these tactics the state classified the subversive struggle as delinquency. For those of us who make it our lives this has no relevance because the vindication of revolutionary honor will always contradict their 'truths'. However we need to understand that this qualifier aims at the prevalence of the interests of the powerful. Therein lies the aim of the insurrectional attack, to strike and to disrupt the power until they are unable to control its disgusting order.
In this way under the prism of the ideas and events exposed we have returned generating a series of actions which have not ceased, and we continue. Today we claim as part of our project: Bullets sent to the parish priest of the Church of the Sacrament in March, robberies in universities for political means in July, the placing of an incendiary device on a Transantiago bus (without passengers) in August. All these actions were claimed by the Death Brigade, Illegalist Band Sebastían O. Seguel and the Hermina Concha Nuclei of Attack, allied to the FAI-FRI are now part of the Antagonistic Nuclei of the New Urban Guerrilla.
On December 2nd, we left a fake explosive device inside the West Military Village located at Av. Pajaritos, Central Station, Santiago, Chile.
Our device consisted of a fire extinguisher with a cell phone wired to it to resemble a remote control (see photo). As we have already noted, the non-placement of an actual explosive device was a political decision. Because although despicable being who deserve to die live in this place there are also workers here day and night who are not our targets.
For this same reason we used fake devices at the Plaza Alameda Mall and on a Transantiago bus (with passengers) in December 2015. It contrast to this was the explosive device we left at the Gendarmerie Reinsertion Center in February of this year which was composed of 1kg of ANFO that was strategically placed next to a gas cylinder.
Now, returning to the morning of December 2nd: This hostile action where the military and police live was designed to demoralize the historical enemy of the revolutionaries. An enemy we will fight with all of our weapons and our forces. From our position we warn those of power: today was a simulation but we have weapons and explosives and we will not hesitate to use them when we decide on the day, time and place to strike.
From now on we warn you: disgusting military, tread with care: Maria Riquelme (Block 4, Apt. 12), Iván Pinto (Block 11, Apt. 24), Luis Orellana (Block 11, Apt. 1123), Oscar Moya (Block 11, Apt. 1124), Sergio Martínez (Block 11, Apt. 1142). Your peace and quiet is over. Today we chose randomly, anybody could be here, with caution we observed them.
Finally it is necessary to send a combative greeting and a sign of complicity to the comrades of the Conspiracy of Cells of Fire (in prison and on the street) in Greece. With this action we wish to humbly contribute to the initiative of the Nemesis Project. We hope that this proposal resonates with every revolutionary and is materialized via concrete actions throughout the world.
Neither do we forget our brother in prison. Marcelo Villarroel, Freddy Fuentevilla and Juan Aliste, nine years since the manhunt began against them. We do not forget how the extinct torturer Alendro Bernales gave his message between the lines via the press: "They walk with death". Neither do we forget the extensive legal process they had to face in a case initiated by the Military Justice which was eventually transferred to Civil Justice by the Military Prosecutor Roberto Reveco. A transfer which resulted in no major change in the predominant desire of power for huge sentences. Even so our brothers remained staunch and immovable, dignified and ungovernable. To you our solidarity.
We also wish to send a symbolic internationalist greeting to the autonomous guerrilla women who give life to the Revolution in Rojava in the Middle East. Women who practise ideas antagonistic to capital, state and patriarchy in the midst of an ongoing military conflict against bastard police and soldiers opposed to freedom and autonomy.
Finally we remember our brother and partner Sebastián Oversluij Seguel, 3 years since his death in an attempted bank robbery on December 11th, 2013 in the commune of Pudahuel, Santiago, Chile. Murdered by the hands of the vigilante William Vera, a military man with a lengthy resume, an assassin of capital with experience in military conflicts overseas.
For all this and more: Attack the Military Corps!
Hostility is fully justified!
War on the enemy in your territory!
Everything continues..We will be back!

Insurrectional Column 'Wrath and Plot' – FAI/FRI,
Antagonistic Nuclei of the New Urban Guerrilla
via Contra Info, translated by Insurrection News

Tags: Antagonistic Nuclei of the New Urban Guerrilla, Arson, Chile, Conspiracy of Cells of Fire, Freddy Fuentevilla Saa, Informal Anarchist Federation (FAI), Insurrectional Column 'Wrath and Plot' – FAI/FRI, International Revolutionary Front, International Solidarity, Juan Aliste Vega, Marcelo Villarroel Sepúlveda, Nemesis Project, Sabotage, Santiago, Sebastián Oversluij Seguel
Posted in Direct Action
Wednesday, November 23rd, 2016
"He who speaks of war, must have a plan…"
The most insidious authority is the one that carries the promise of inclusiveness. This is why we transitioned from monarchy to democracy but not freedom. "Safety" is a word favored by democracy. The more we hear about "safety", the more our lives and freedom regress. Worst of all, contemporary power and democracy have elicited the compromise and submission of society almost voluntarily. Democracy operates as a transparent factory that produces social relations. People submit to governmental ideology, mainstream standards and disciplined behaviors and consider that what we experience today (the economic tyranny, the extortion of wage slavery, the dictatorship of the spectacle, the technological surveillance) are the inevitable natural world order.
But even in a pervasive authority, bosses, officials, managers and proprietors will always exist. Nowadays, the visibility of people in power is particularly clear. Politicians, businessmen, ship owners, publishers, journalists, judges and police officers are the persons in authority. The Nemesis Project aims to attack those persons. The Nemesis Project is our turn to make fear move into the backyard of the enemy.
Instead of attacking impersonal symbols of justice, we think that it is very important to transpose our hostilities to the personal environment of the enemy, their homes, offices, hangouts and vehicles. We know that to authority "nobody is irreplaceable" but we also know that a personal hit against one of them would instill fear in another 100. We create a legacy of fear for their kind and whoever becomes their replacement. It is our own minimum counterweight in balancing the terror controlled by the enemy. In balancing the terror caused by the murders of workers by their bosses, the accidental shootings by cops, the thousands of years in prison sentenced by judges, the lies by journalists, the laws and the orders by politicians. In all of these cases, the enemy has a name and an address.
Attacking them proves that people in authority are not invincible. At the same time, instead of confining anarchist insurrection in incidents of occasional conflict with cops, we can make revolution a permanent component of our daily lives by discovering those that hide behind orders and decisions which govern our lives, by studying their moves and routes and by organizing our own offensive cells which will respond to the challenges of authority. We do not anticipate a social short-circuit that will lead in mass mobilizations, but we become the accelerators of history through our actions, by creating the dilemma "with authority or with freedom". We create spaces and eras where history is written by our own hand and does not just happen. Anarchist urban guerrilla is a way of looking life straight in the eye, in order to form an authentic collective "we". It is the construction of an anarchist process of liberation with courage, consistency and determination. Our actions are not evaluated in relation only to the blow against the enemy but also to the possibility of changing our own lives.
The Nemesis Project is an international proposal to create a list with the names of people in authority so that we can attack them where they feel safe, on the sidelines… at their own houses. The bomb explosion at the house of District Attorney G. Tsatani was the first attack, the first act of the Nemesis Project. We share this plan with all the FAI-IRF cells and all the anarchists of action across the world, wanting to start a dialogue on the diffusion of the anarchist struggle. And we know that the best dialogue for the assessment of an action can be no other than a new action…
Through the Nemesis Project we salute all our comrades that are held captive in the cells of democracy across the world and are no longer by our side. It is especially dedicated to the members of the CCF Olga Economidou, George Polydoros, Gerasimos Tsakalos, Christos Tsakalos, our anarchist comrade Angeliki Spyropoulou and the Italian comrades of FAI Alfredo Cospito and Nicola Gai.
To all those who did not bury the axe of war…

Conspiracy of Cells of Fire / FAI-IRF
We will return soon.
Tags: Analysis, Athens, Conspiracy of Cells of Fire, Greece, Informal Anarchist Federation (FAI), International Revolutionary Front, Nemesis Project
Posted in Direct Action
Friday, November 18th, 2016
There are many times where the harsh awareness of our weakness to express ourselves like we would've wanted comes, with its dithyrambic countenance of a winner tightening our hearts. It always irritated us to limit our manifestation of desires, let alone to just trap them with just ink in a piece of paper, transforming them into words that are being repeated so often, that their power has begun to perish from the burden of this almost typical repeatability. But there are also some words, that no matter how much they get worn down by their repeated use, they keep radiating by the glimmer that camaraderie gives to them. Words that give you strength, that give smiles upon our faces, that break through the imprisoned solitude. Words like solidarity.
We would've of course preferred if these words were accompanied by the vital strength of an action, an attack, the intensity of a fire in the dark, the sound of an explosion, the twisting of a bullet in a barrel. (more…)
Tags: Athens, Conspiracy of Cells of Fire, Greece, Informal Anarchist Federation (FAI), International Revolutionary Front, Korydallos Prison, Operation Scripta Manent
Posted in Prison Struggle
Sunday, October 30th, 2016
NON SERVIAM – I WILL NOT SERVE YOU
"Worse than enslavement is getting used to it…"
Life in the modern civilized world comprises false representations, false patterns, and false formalities. Formalities that determine our upbringing within a family, our education, our professional career, our relationships, our emotions, our smiles or tears. Patterns that castrate the scope of our perception so that our thoughts are directed onto a moving walkway going only one direction. Representations that disguise the system's functions and pathogenies so that we see life unfold only on stage, and never wonder what's hidden backstage. So, the thousands of suicides of desperate debtors is just another statistic among the unpleasant consequences of the economic crisis, the impoverishment of the so-called third world is just an unfortunate fact, and its wounds will heal by charity organizations, the countless dead of modern crusades, the unfortunate victims of the absurdity of war, and the convict slaves in American prisons are simply antisocial elements that provide social services to Democracy.
Prison itself is exile from life; a non-place and non-time behind the screen of a decent society, to make the ugliness that bothers the eyes of reputable citizens unseeable. Prisons are a proof of the perverse intelligence of authoritarian minds. They're built onto walls echoing the screaming and weeping of thousands of people who've learned to sleep with anguish and despair. Prison is the country of captivity, the country where one learns to kneel before the "Forbidden", a landfill for the disposal of human waste, an industrial dump where the social machine's hazardous waste ends up. For most people, however, for all those who never learned to doubt, to question, to look beyond the obvious, prison is a security wall necessary to protect their peaceful and quiet life. (more…)
Tags: Athens, Attica (Prison Uprising), Conspiracy of Cells of Fire, Greece, Informal Anarchist Federation (FAI), International Revolutionary Front, International Solidarity, Korydallos Prison, Letter, Operation Scripta Manent, Prison Labour, Prison Labour Strike, Racism
Posted in Prison Struggle
Sunday, October 30th, 2016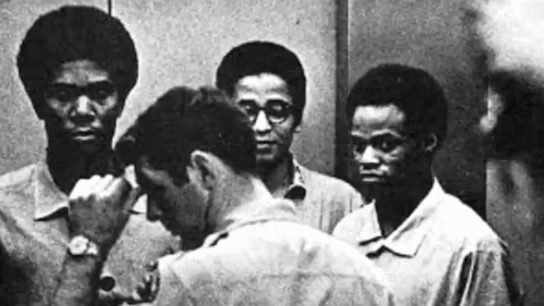 "Gentlemen, the Dragon Will Fly Out"
In Support of September 9th Mobilization in US Prisons
"Gentlemen, the dragon will fly out" is a saying attributed to prisoner George Jackson. On August 21st 1971, holding a pistol, he opened all the cells in an adjustment unit, taking jailers hostage. George Jackson was killed in his attempt to escape…
Since September 9th, prisoners in the United States have called for action against slavery.
A multitude of "invisible" slaves (there are about 2.5 million prisoners in the United States) are condemned to forced labor, or as jailers of their own selves (internal work in prisons, cleaning, repairs, technical operations), or as cheap meat in the service of corporate behemoths (Honda, McDonald's, Wendy's, Victoria's Secret, Starbucks, and many others). Besides, the 13th amendment to the US constitution clearly states: "neither slavery nor involuntary servitude, EXCEPT as a punishment for crime whereof the party shall have been duly convicted…" To put it simply, detainees are considered slaves as part of their punishment.
Prisons in America—and not just there–aren't only bars, walls, surveillance cameras or lockdowns. They're also an enormous lucrative business. Prisons are a dirty dealing for continuously supplied shackled labor force without name and without voice. They represent a modern slave trade, making billion-dollar profit, that not only supplies the companies-caretakers but also the industry of lawyers, judges, cops, corrections officers, private prisons. (more…)
Tags: Attica (Prison Uprising), Conspiracy of Cells of Fire, Fleeta Drumgo, George Jackson, Greece, Informal Anarchist Federation (FAI), International Revolutionary Front, International Solidarity, John Clutchette, Korydallos Prison, Letter, Michael Kimble, Prima Linea, Prison Industrial Complex, Prison Labour, Prison Labour Strike, Racism, Red Army Faction (RAF), USA, Weather Underground
Posted in Prison Struggle
Tuesday, October 25th, 2016
In Italy, comrade Alfredo Cospito since October 3rd and comrade Anna Beniamino since October 10th, are on a hunger strike against the isolation imposed on them and on the anarchists imprisoned for the attacks of FAI (Operation "Scripta Manent").
We know that the struggle against authority is unequal… Nevertheless we choose the war for freedom instead of the peace of fear.
Because we know that there are "free" people, who are more enslaved than prisoners, and living people that are more dead than most of our dead comrades who fell in the battle for freedom.
Because for every battle that we lose, a new one begins.

"Because if I don't get burnt, if you don't get burnt, how will the darkness turn to shining…"
For us solidarity is not simply a "touching" word, but a way of life, of becoming people with the dream as our measure.
We stand by our comrades Alfredo and Anna with all our hearts and minds, until our dreams meet…
STRENGTH AND SOLIDARITY TO THE COMRADE HUNGER STRIKERS
ALFREDO COSPITO AND ANNA BENIAMINO
NEVER REGRETFUL
NEVER DEFEATED
CCF / FAI – Urban Guerrilla Cell

George Polydoros
Olga Economidou
Gerasimos Tsakalos
Christos Tsakalos
Korydallos prison
–
CCF Per Alfredo ed Anna fino al incontro
In Italia dal 3 ottobre il compagno Alfredo Cospito e dal 10 ottobre la compagna Anna Beniamino sono in sciopero di fame contro il regime d'isolamento imposto a loro ed agli anarchici incarcerati per attachi di FAI (operazione scripta manent).
Conosciamo che la battaglia contro il potere è ineguale….però scegliamo la guerra per la libertà che la pace di paura. Perché sappiamo che ci siano "liberi" più schiavi che i carcerati e vivi più morti che i nostri compagni caduti in battaglia per la libertà. Perché per ogni battaglia che perdiamo, una nuova comincia. "Perché se non mi brucio io, se non ti bruci tu, come il buio diventerà splendore…"
Per noi la solidarietà non è una parola "emozionante" ma una maniera di vivere ad essere umani dove la nostra misura sarà il sogno.
Stiamo a lato dei compagni Alfredo ed Anna con tutta la nostra cuore e nostro mente fino al incontro del sogno…
FORZA E SOLIDARIETÀ AI COMPAGNI CHE FANO SCIOPERO DA FAME ALFREDO COSPITO ANNA BENIAMINO MAI PENTITI MAI PERDITI CCF/FAI-Cellula guerriglia urbana
Polidoros Giorgio Iconomidu Olga Tsacalos Gerasimos Tsacalos Christos Dalle prigioni di Coridalos

–
Italy – Anarchist comrades Alfredo Cospito and Anna Beniamino ended their hunger strike on 22nd October
On 22nd October, following the revocation of solitary confinement, Alfredo and Anna stopped their hunger strike, which they had begun on 3rd October and 10th October respectively.

via: Croceneranarchica, actforfree
Tags: Alfredo Cospito, Anna Beniamino, Athens, Christos Tsakalos, Conspiracy of Cells of Fire, Conspiracy of Cells of Fire - Urban Guerilla Cell, Gerasimos Tsakalos, Giorgos Polydoros, Greece, Hunger Strike, Informal Anarchist Federation (FAI), International Revolutionary Front, International Solidarity, Korydallos Prison, Letter, Olga Economidou, Operation Scripta Manent
Posted in Prison Struggle
Friday, October 14th, 2016
NEMESIS PROJECT
FIRST ACT

We claim responsibility for attacking the house of the district attorney Georgia Tsatani, in Ippokratous street in Athens city center, next to the Exarhia police department.
We knew that G. Tsatani has a police escort and that she is a guarded target, but this didn't stand in our way to accomplish our attack.
We chose a symbolic action with only material damage as a sole purpose, but the Conspiracy of Cells of Fire won't be limited to that…
We have two reasons for choosing this particular district attorney.
The first one is that G. Tsatani is a member of the para-judicial network whose job is to take out of sight case files that impinge the interests of the business and politics mafia (with a view to profit of course). She is the judicial vanguard of her masters.
The apex of her tainted career is the Vgenopoulos case, where G. Tsatani closed the case, aiding him to be discharged of his certain conviction. Her venality by the businessman Vgenopoulos pumped up more her invisible para-judicial account. These inconspicuous courtesies of businessmen can built the villas of the judges as an exchange for their "justice".
Another sample of this district attorney's writing, that is being kept diligently secret from the media, is Meimarakis' case. Georgia Tsatani is the one who took on the case file regarding the equipment and the bribes of Vagelis Meimarakis, the former minister of national defense back then and she made sure to "forget" to send these files in the parliament, with her sole purpose being to cover for him. The exchange of this conciliation was the placement of Tsatanis' daughter and husband as minister candidates in New Democracy on Meimarakis' presidency.
Georgia Tsatani was involved in the Vatopedi case, making clear once again the mafia-like partnership between Church and Justice, as well as in many other famous cases that she would "chop off" in order to conceal and protect the interests of authority.
The second reason for choosing to attack the district attorney Georgia Tsatani was her participation in the judicial thralldom of our comrades' relatives.
G. Tsatani was the one who viewed as unacceptable one of the applications of release by Evi Statiri, who is the wife of Gerasimos Tsakalos, member of the C.C.F. Thus, she contributed in the anti-guerrilla campaign and in one of the most immoral extortions against anarchist revolutionaries.
The vengeful obsession of the judges against the families of our comrades is a choice that all judges involved will be asked to pay and at a great cost. We have remembrance and most of all patience, persistence and diligence…
We are dedicating this action to the imprisoned members of C.C.F, Gerasimos Tsakalos, Christos Tsakalos, Giorgos Polydoros and Olga Economidou.
We are sending our solidarity to the anarchist comrade Aggeliki Spyropoulou, to all unshakeable political prisoners that lie in the cells of the Greek Democracy, as well as to the Italian comrades Alfredo Cospito, Nicola Gai and the anarchists persecuted in Italy within the undertaking "scripta manent" against F.A.I.
Soon the complete version of this proclamation will follow, as well as our initiative for "Nemesis" Project.
We will be back…
Translated by A-politiko.
–
Conspiración de las Células del Fuego reivindica ataque con bomba contra casa de fiscal.
["Reporte" por Sin Banderas Ni Fronteras]
Con un comunicado subido a internet el grupo de guerrilla urbana anarquista "Conspiración de las Células del Fuego" se atribuyó la responsabilidad por una bomba que explotó el día miércoles 12 de octubre en la casa de la fiscal G. Tsatani en el centro de Atenas, cerca de la estación de policía de Exarchia.
En el comunicado – disponible hasta ahora solo en griego- se detalla que el ataque se realizó aun a pesar de que la fiscal contaba con protección policial y que la bomba buscó generar daños materiales, pero que los ataques no se limitarán solo a eso. También se mencionan los motivos para centrar el ataque en la fiscal Tsatani, siendo uno de ellos su participación en el encarcelamiento de lxs familiares de lxs miembrxs presxs de CCF. El comunicado menciona más específicamente el rol jugado por la fiscal en el secuestro judicial de Evi Statiri (actualmente en la calle), quien es la compañera amorosa del compañero Gerasimos Tsakalos (miembro de CCF actualmente encarcelado en el módulo subterráneo de la prisión de mujeres de Koridalos).
Según la prensa griega, el ataque fue precedido por una llamada anónima de advertencia y la bomba explotó aproximadamente a las 23.45 horas del miércoles.
A continuación se pueden leer algunos extractos del comunicado a la espera de una versión en inglés que permita una mejor traducción al español:
"PROYECTO NEMESIS
PRIMER ACTO
Asumimos la responsabilidad por el ataque a la casa de la fiscal Georgia Tsatani en la calle Hipócrates, en el centro de la ciudad al lado de la estación de policía Exarchia.
Sabíamos que Tsatani tiene escolta policial (…) pero esto no fue impedimento para instalar nuestra ofensiva. Elegimos un acto simbólico destinado únicamente a daños materiales, pero en el futuro la Conspiración de Células del Fuego no se limitará a eso…
La elección de esta fiscal en concreto fue por dos razones principales.
La primera razón es que Tsatani es miembro del circuito (…) que se compromete a hacer "desaparecer" los archivos que afectan los intereses de los empresarios y de la mafia política (con fines de lucro, por supuesto). Es la vanguardia judicial de los patrones.
(…)
La segunda razón por la que elegimos golpear a la fiscal Tsatani fue por su participación en el secuestro judicial de los familiares de nuestrxs compañerxs (…) por lo que también contribuyó a su vez con la campaña judicial anti-guerrillera (…).
La furia vengativa de los jueces hacia lxs familiares de nuestrxs compañerxs es una opción por la que pagarán un alto precio (…)
Tenemos memoria y, sobre todo, paciencia, persistencia y consistencia…
Dedicamos esta acción a lxs miembros encarcelados de CCF Gerasimos Tsakalos, Christos Tsakalos, Georgio Polidoro y Olga Economidou.
Enviamos nuestra solidaridad a la compañera anarquista Angeliki Spyropoulos, a todxs lxs presxs políticxs no arrepentidxs en las celdas de la República griega y a los compañeros italianos Alfredo Cospito, Nicola Gai y lxs anarquistas perseguidxs en Italia dentro de la operación "Scripta Manent" contra la FAI.
Pronto lanzaremos todo nuestro manifiesto y propuesta para el 'Nemesis'.
Volveremos…
Conspiración de Células del Fuego / F.A.I."
–

Ver comunicado en griego acá.

Tags: Aggeliki Spyropoulou, Alfredo Cospito, Athens, Christos Tsakalos, Conspiracy of Cells of Fire, Conspiracy of Cells of Fire - Urban Guerilla Cell, Evi Statiri, Georgia Tsatani, Gerasimos Tsakalos, Giorgos Polidoras, Greece, Informal Anarchist Federation (FAI), International Revolutionary Front, International Solidarity, Nemesis Project, Nicola Gai, Olga Economidou, Operation Scripta Manent, Solidarity Action
Posted in Direct Action
Monday, September 12th, 2016
PDF: "Individuality and the anarchist group" by Conspiracy of Cells of Fire – Urban Guerrilla Cell.
Individuality and the anarchist group
Prologue
This title from Black International, "Individuality and the anarchist group", written by Gerasimos Tsakalos of the Conspiracy of Cells of Fire – Urban Guerrilla Cell, is about a topic that concerns many of those who are an active part of the anarchist tension. Concerning not just the way comrades negotiate and conduct themselves within minimal organisational structures (clusters, networks, affinity groups) of informality and attack, and the effect of those forms on individuals, it also looks at the problems that can arise and some possible solutions. All this can add to a notional 'to-be-completed' mapping of some of the borderlands between the peripheries of the social and the clandestine for those traversing such terrains.
Written from the lived experience of an armed anarchist urban guerrilla who is imprisoned in the isolation dungeon of Korydallos prison in Athens, Greece, this is not a dreamy fantasy but a text which was developed in the furnace of practical theory and it's consequences. The horizontal forms of organisation which are described here are ones that have been used and developed in practice, not from scriptures, but in the actual chaos of the everyday.
For a black international of anarchists of praxis.
September 2016
–
Individuality and the anarchist group
Instead of a Prologue
About the subject of "Individuality and the anarchist group", one could say that it's a timeless issue within the anarchist milieu… Is an anarchist individuality subjugated or liberated within a group? How does the individual encounter the collective? Can disagreements between comrades of the same collective be creative or do they inevitably lead to disputes, rivalries, intrigues, competitions and end up in rupture?
How are friendships and cliques able to bring about a cancellation of an anarchist group?
What is the relationship of an anarchist organization to the expulsions of members who participate? How can informal hierarchies and their members-followers survive in an anarchist project?
These are some of the issues that arise from the explosive relationship between individuals who try to coexist in anarchist groups.
The pamphlet "Individuality and the anarchist group" is an experimental testimony of political experiences from the interior of anarchist illegal infrastructures of revolutionary violence. The relationships that are formed in such cores are acrobatic at the sharp end because they are tested in extreme concentrated conditions and options. (more…)
Tags: Analysis, Athens, Conspiracy of Cells of Fire, Conspiracy of Cells of Fire - Urban Guerilla Cell, Conspiracy of Cells of Fire : Imprisoned Members Cell, Gerasimos Tsakalos, Greece, Informal Anarchist Federation (FAI), International Revolutionary Front, Korydallos Prison, PDF, Zine
Posted in Library
Wednesday, September 7th, 2016
On the 30th of August Alfredo damaged the glass partition windows of the interview room in the high surveillance section of Ferrara prison in solidarity with the prisoners of the CCF who were recently sentenced to more than a hundred years in prison for an attempted escape.
Today August 30 almost 4 years since my arrest I wanted to celebrate the anniversary with the destruction of the interview room window panels. This action is my contribution of revolutionary solidarity with my brothers and sister of the CCF-FAI-FRI who were condemned by yet another judicial process and sentenced to 110 years each for a failed escape attempt. The anarchist prisoner is not a flag, nor must we build a monument around them, sometimes they are a piece of our heart, sometimes not… nevertheless they continue to struggle, to live… not to be remembered, but wanting revenge, freedom, but ultimately they may also be alone because by nature they do not belong to any flock…
Long live FAI-FRI
Long live CCF
via Croce Nera Anarchica, translated by Insurrection News
Tags: Alfredo Cospito, CCF Escape case, Conspiracy of Cells of Fire, Ferrara, Informal Anarchist Federation (FAI), International Revolutionary Front, Italy
Posted in Prison Struggle
Sunday, September 4th, 2016
Here is a text that several imprisoned members of the Conspiracy of Cells of Fire in Athens, Greece, wrote for an event at the squatted anarchist centre Bibloteca Kaos in Brazil.
To all comrades, to all our anarchist brothers and sisters who are present in this event organized by the anarchist library Kaos. Let our thoughts break out and travel to Brazil so as to send these few words with the hope that maybe a little, you can feel our presence beside you.
In response to the subject of the event taking place during the International Week of Solidarity to Anarchist Prisoners and on the case of Nicola Sacco and Bartholemeo Vanzetti we would like to throw in our personal and historical contribution. The Conspiracy of Cells of Fire was from the very beginning an anarchist group of direct action that aspired to an upsurge of the anarchist aggressive presence in Greece. Thus, the CCF did not hesitate to often criticize that which was believed to be preventing the generalization of this intensification. But when the oppression finally made it to our doorstep, we fully understood that we would not own up to our standards should we refuse to defend our identity, our political viewpoints and our very substance. Furthermore we could have ended up being in complete contrast with our critiques against others in the past. So seven years after the day that repression struck us, we remain at the forefront of anarchist dignity, at least so as we perceive it. We refused to dishonor ourselves in any way and defended what we believed we had to defend, still paying the price of our uncompromising attitude. (more…)
Tags: Andrea Salsedo, Athens, Biblioteca Kaos, Brazil, Carlo Valdinoci, CCF - Metropolitan Violence Cell, Charles Poggi, Conspiracy of Cells of Fire, Emma Goldman, Ferrecio Coacci, Gabriella Antollini, Greece, Informal Anarchist Federation (FAI), International Solidarity, International Week for Anarchist Prisoners, Luigi Galleani, Mario Buda, Nicola Recci, Sacco and Vanzetti, Severino Di Giovanni
Posted in Prison Struggle
Tuesday, August 9th, 2016
Chronicle of the trials ("250 actions" case, escape plan case)
Conspiracy of Cells of Fire – Christos Tsakalos
i) Posthumous sentences
When something comes to an end, we are usually concerned only about the overall review.                   
We calculate the profit and the damage.
We hardly ever turn back time to reflect on the course that led to the final outcome. And even more rarely do we look ahead to stare at the new horizon that rises, when today becomes yesterday…
The two trials against the CCF ended 2 weeks ago. The one, regarding the 250 actions of the organization, lasted 3 years more or less while the other, regarding the escape attempt, lasted 5 dramatic months in a continuous climate of tension with the presiding judge.
Each one of us, who claimed political responsibility for the CCF and defended the organization and its actions, was sentenced to 21-28 years in prison for the first case and 115 years for the second one…
               The first conclusion is that the judges believe in life after death, since one lifetime is not enough for these sentences to be served.
The second conclusion is that the choice of urban guerilla and the armed revolutionary action are still a threat to authority…
ii) The scenery of the show.
But let us first see the way that the scenery of this show unfolded. Normally, i don't like the victimization logic as it comes along with the narration of exaggerations which only maintains phobic myths. If we want to overcome fear, we must not amplify it but stare it right in the face… Dramatization of facts may make narration more exciting, but it keeps truth at a distance.
The court regarding the 250 actions case of the R.O. CCF (the exact number is actually 148 actions, although the case became known as the "250 actions" case) was characterized by a relatively mild and modest attitude that the judges adopted towards us.
During the proceedings, the composition of the Tribunal demonstrated a velvety laxity regarding the technical aspects (arrival time, suspension of the trial when it coincided with G.D.'s trial etc.)
Obviously, this was the result of our own attitude during the trial. When we made clear, since the beginning, that we claim responsibility for the CCF and that we ignore the penal forfeit, basically we deactivated their main bogeyman. (more…)
Tags: Athens, CCF Escape case, Christos Tsakalos, Conspiracy of Cells of Fire, Conspiracy of Cells of Fire - Urban Guerilla Cell, Greece, Informal Anarchist Federation (FAI), International Revolutionary Front
Posted in Prison Struggle
Sunday, August 7th, 2016
According to the Greek press, on July 28 police reported another parcel bomb was sent to a state judge, in this case it was sent to the bastard P. Houzouris, who received a parcel bomb at home packed with nails and razor blades. [1]
After finding the suspicious package that was disguised as a book, the judge notified police. An anti-explosives squad then proceeded to detonate the device.
According to police, the parcel bomb was similar to the one that was sent in June to judge Isidore Ponga who presided over the judicial council that rejected a 2015 request for the release of Evi Statiri (wife of Gerasimos Tsakalos, member of the Conspiracy of Cells of Fire). [2]
The Greek press and the police are again trying to link our comrades from the Conspiracy of Cells of Fire to these attacks, this time pointing the finger at the comrade Christos Tsakalos who referred in a statement to a major trial that the judge P. Houzouris is presiding over.
The statement in question was published in Greece at the end of June. In it the comrade refers to the trial that the judge who received the parcel bomb presides over. The trial is known as the 'Noor 1′ trial, named after the boat on which a shipment of heroin was found. Comrade Christos, along with pointing out the inquisitor role of the judges also expressed in his statement: "Faced with the arrogance of the judges and the authorities who enjoy life like small gods in the throne of their offices, we must use the strategy of the anarchist urban guerrillas". [3]
With this statement the Greek media and police are linking the comrade with this new attack, however, no group has claimed responsibility for either of the parcel bombs.

(Report by Sin Banderas Ni Fronteras, translated into English by Insurrection News, slightly edited for clarity)
1. http://www.thenationalherald.com/131868/
2. https://emboscada.espivblogs.net/2016/grecia-paquete-bomba-contra-jueza-que-en-2015-nego-excacelacion-a-evi-statiri/
3. http://mpalothia.net/odiporiko-mnimis-gia-ti-diki-tou-schediou-apodrasis-s-p-f-christos-tsakalos/
Tags: Athens, Christos Tsakalos, Conspiracy of Cells of Fire, Evi Statiri, Gerasimos Tsakalos, Greece, Judge P. Houzouris, Letter Bomb
Posted in Direct Action