Posts Tagged 'Coronavirus'
Sunday, April 5th, 2020
For a few weeks now, almost three billion people have been forced into home detention.
In Italy, as in other parts of the world, the first people who rebelled against the worsening conditions of their survival, the prisoners, have been repressed with dead and wounded.
While science proposes conflicting theses, part of the scientific community states that the quarantine period, although in alternating phases, will last at least until next year.
The state, however, has already chosen which truth to propagate to justify the measures taken. Forced isolation at home is being prolonged, the only proposal-constriction made to the population is to obey and wait by watching and self-surveillance… but for how long?
For now the end of the measures has been postponed until April 13th, but most likely there will be further extensions…
April 25th is the feast of liberation. Liberation not only from Nazi-Fascism, but from all forms of oppression.
The oppression of living in a world where movements are continuously controlled and monitored, with checkpoints, soldiers everywhere, drones, cameras, electronic bracelets.
The oppression of being individually considered as infected if we do not respect the laws and think that socializing and the possibility of going out are not transferable in exchange for the security of survival.
The oppression of living in terror of the invisible, because the problem is not the virus, but the ecological and social conditions in which it spreads. (more…)
Tags: Anti-Fascism, Climate Chaos, Coronavirus, Demo, Dictatorship, International Solidarity, Italy, Repression, Surveillance
Posted in Autonomy
Sunday, April 5th, 2020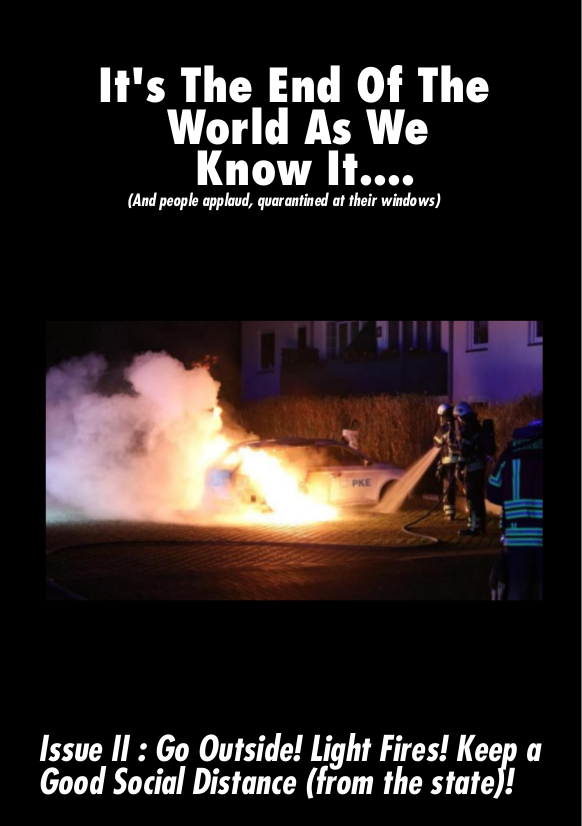 Issue II of our ongoing Journal 'Its the end of the world as we know it….: (Go Outside, Light fires etc) is released today. In this volume of the journal we decided to focus on the varied attacks, rebellions, riots and battles across the world between the state and free wild individuals. We have actively made the choice to not include updates on repression or violence, since we have the impression, these reports are everywhere and all around us and at times become a very stagnating force. We want this second issue to be a provocation to everyone, get out from behind the screen, go out of your home (even if for no reason other than personal satisfaction), and LIGHT. IT. THE. FUCK. UP. (more…)
Tags: Coronavirus, Down & Out Distro, PDF, Zine
Posted in Library
Sunday, April 5th, 2020
In May, Let's Play : A Call to Conflict
Here we can easily realise that the hydroalcoholic gel can be used as hand disinfectant but also to start a fire.
In other terms : that we don't need the state guidelines to take care of our friends, and, once we have done with the survival thing, we have nothing better to do than going out searching for evil plans. More than ever we need revenge and true friendships.
Now that we are stuck into this futuristic system, our only solution is to declare war to normality, if we don't want to die in a aseptic boredom.
We face a dual movement. On one side it seems that the power never has been so strong, winning the compliant citizen's hearts and minds. On the other hand, it seems that it never had to manage such a complex situation (at least since we are born).
Therefore, we can maybe conclude with two things :
First of all, it is not about waiting for any masses that would wake up to confront it.
Secondly it's look like just the good moment to attack.
The good moment here doesn't mean the ONLY good moment. It's always the good moment to fight. (more…)
Tags: Coronavirus, Dangerous May, International Solidarity, Sabotage
Posted in Autonomy
Saturday, April 4th, 2020
Greece : Transfer of Pola Rοupa to the prison of Eleonas in Thebes and update on the situation in the Greek prisons
We are experiencing the deepest systemic crisis that is killing. Covid 19 was created by deep poverty and inequality. Doctors have already spoken out about the new poverty conditions that all kinds of epidemics are hatching in different parts of the globe. Covid 19 is a child of inequality, and as it gets deeper, new viruses may be born that may be even more murderous than this coronavirus. Isn't it time for political criticism? But it is the very system of capitalism and the market economy of political oligarchy called representative democracy that creates an ever-widening gap between wealth and poverty, resulting in an ever-increasing poverty spreading across many countries on the planet.
A prominent pulmonologist who has publicly raised the issue of extreme poverty as a cause of the pandemic and has said that if inequality is not addressed, we will continue to have such pandemic phenomena, never again appeared on television screens. The way covid 19 is treated is also done according to social and class conditions, although the system is essentially responsible for this development. Covid 19 may not discriminate against who it hits, but not everyone has the luxury of proper care (large homes with compliance with safety and hygiene, good nutrition) and not everyone has the ability to purchase overpriced materials to protect themselves, especially now with the millions of unemployed in Greece, locked in their homes and even exposed to hunger. Patients with covid 19 no longer have access to public hospitals that are already under the weight of the pandemic due to shortages of materials, infrastructure, and staff, while diagnostic tests are limited. (more…)
Tags: Analysis, Coronavirus, Greece, International Solidarity, Letter, Nikos Maziotis, Pola Roupa, Prison Transfer, Repression, Revolutionary Struggle
Posted in Prison Struggle
Saturday, April 4th, 2020
El viernes 27 de Marzo la Cárcel de Alta Seguridad declaro el total aislamiento de los prisioneros que mantiene como rehén. La prohibición represiva con excusa de la cuarentena por el covid-19 incluía el fin de cualquier tipo de visita como también la eliminación de las encomiendas para lxs prisionerxs, cortando en la práctica cualquier contacto con el exterior como también dejándolos a a merced y dependencia de los carceleros y el Estado.
Rápidamente en medio de cuarentenas y restricciones para movilizarse por la ciudad se gestionaron distintas iniciativas para revertir las intenciones de sepultar a nuestrxs compañerxs. Desde adentro y afuera de los muros finalmente fue posible revertir parcialmente las medidas represivas y restrictivas del Estado carcelero.
(more…)
Tags: Chile, Coronavirus, Repression, Santiago
Posted in Prison Struggle
Friday, April 3rd, 2020
Recently it has come to our attention that the scum Met cops (security forces of London) have been on the hunt for military-style vehicles. Last week the HQ Scotland Yard put out a notice stating it was looking for suppliers for armoured personnel carriers, armoured military vehicles, armoured combat vehicles and weapon carriers. It also wants security, fire-fighting and defence equipment and armour plating.
In the scum's own words they are looking for "tactical intervention and public order and firearm patrol vehicles…" They also claim that the new repression equipment is not linked to the coronavirus pandemic and the vehicles would not be on the streets until next year. This is not to be believed at all, every word out a coppers mouth is a lie. Clearly the security forces on prison island and around the world have already been planning for mass disorder for many years, with ever increasingly militarized security forces looking more like armed forces, especially since the recent 'financial crisis' that led to moments of insurrection around many parts of the world.
Particularly on prison island the British state and its security forces have already been investing in vehicles. A list of military-style vehicles the Met currently owns is not available to the public. However upgraded bullet-resistant armoured Jankel Guardians have already been seen in recent years. The seven-tonne personnel carrier can withstand AK-47 bullets and has a bomb-proof floor. The fleet, normally based at Heathrow, was sent out onto the streets after widespread rioting in 2011. They were also seen at Wembley in 2015 following the terror attacks in Paris.
This is a prime example that the British state and security forces are gearing up for disorder if not during the coronavirus epidemic definitely in the economic fallout that will follow. Expect to see these lumbering bastards on a street near you soon as the anti-social and nihilistic rage rises.
The Uncivilized
Tags: Coronavirus, Dictatorship, Fuck the Police, Repression, Riots
Posted in Social Control
Friday, April 3rd, 2020
PDF: PUBLICACIÓN MUNDO COVID-19.1
MUNDO COVID-19, Nº 1
LAS EPIDEMIAS EN LA ERA DEL CAPITALISMO
– Recopilación de textos de análisis internacionales durante el estado
de alarma.
https://contratodanocividad.espivblogs.net/
contratodanocividad@riseup.net
Tags: Analysis, Anti-technology, Contra toda Nocividad (Zine), Coronavirus, International Solidarity, PDF, Repression, Spain, Technological Singularity, Zine
Posted in Library
Friday, April 3rd, 2020
È ragionevole descrivere
una sorta di imprigionamento per mezzo di un'altro
quanto descrivere qualsiasi cosa
che esiste
realmente
per mezzo di un'altra che non esiste affatto
Daniel Defoe
Perché dovremmo sopportare una dieta di veleni non del tutto nocivi, una casa in sobborghi non del tutto squallidi, una cerchia di conoscenze non del tutto ostili, il frastuono di motori non così eccessivo da renderci pazzi?
Chi dunque vorrebbe vivere in un mondo non del tutto mortale?
Rachel Carson, Primavera silenziosa
Negli anni '60 Rachel Carson, biologa e ambientalista americana simbolo del movimento ambientalista internazionale, con il libro Primavera silenziosa lanciava una forte denuncia e un grido di allarme nei confronti dell'avvelenamento del pianeta causato dall'uso dei pesticidi e in particolare del DDT, al tempo prodotto e usato su vasta scala.
Una nocività di larghissimo uso come il DDT, usato ancora oggi anche se in forme più subdole, aveva portato a silenziare le campagne dai canti primaverili degli uccelli. Oggi, in tempi di Coronavirus, le nocività, oltre ovviamente i pesticidi, non solo sono aumentate, ma si sono trasformate in un intero sistema malato che quotidianamente quando non mette a rischio la sopravvivenza degli organismi viventi li condanna a vivere in un'esistenza tossica e sempre più sterile di biodiversità. La verità è molto semplice: noi stiamo soltanto cominciando a subire massicciamente l'effetto ritardato dell'avvelenamento chimico-nucleare-biologico-elettromagnetico cumulativo del pianeta, avvelenamento che accresce qualitativamente e quantitativamente ogni anno. La degradazione della natura e di noi stessi che ne siamo parte non può che portare a questo. In una situazione in cui le nocività si ri-combinano la questione non è se poteva succedere o no un qualche disastro climatico, chimico o di altra natura, ma quando questo sarebbe avvenuto. O, meglio, forse la domanda dovrebbe essere se non sta già avvenendo. (more…)
Tags: 5G, Analysis, Anti-technology, Coronavirus, Ecological Destruction, Gene Drive, Italy, Repression, Resistenze Al Nanomondo, Seveso, Technological Singularity, World Heath Organisation (WHO)
Posted in Eco Struggle
Friday, April 3rd, 2020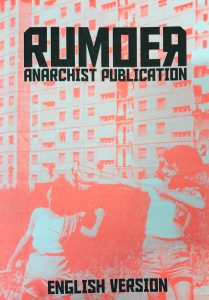 The second edition of the anarchist publication Rumoer is out! A publication which will hopefully provoke discussion, irritation, inspiration, agitation, and attack. Because we do not want a raise in wages, but the destruction of work. Because we do not want to shout 'boo!' but want to hear BOOM! We want a confrontation without compromise with the system that is destroying our lives and the planet.
In this issue some extra attention for the rampaging Covid-19 virus. But also just the ongoing anarchist interventions and other topics: an interview with a graffiti maker in Lebanon, the fight against Shell, post-gentrification and the use of the Signal app.
If you want to receive the new Rumoer, send an email to: rumoer (((A))) riseup /// net. Since most social centres are currently closed, we ask you to help spread the latest edition. Order some extra copies and bring it to your neighbours, isolated family, friends and comrades.
You can also download the new Rumoer or print it yourself. The link to the downloads can be found at rumoer.noblogs.org
Remember, the streets are empty, the possibilities are open. Keep 1.5 meters away, but always at least ten times as much from the police!
Tags: Coronavirus, Counter-info, Graff, Graffiti, Lebanon, PDF, Rumoer (Zine), Sabotage, Shell, Signal (PGP App), Zine
Posted in Library
Wednesday, April 1st, 2020
The Coronavirus Act 2020 in the UK is now in force for the next two years. It is a totalitarian coup by a right-wing government which has already shown it's utter contempt for the judiciary, for parliament and for the people. Many of the provisions of this Act are already experienced by those on the margins of society, by dissidents, those in the prison and criminal justice system, the poor, and ethnic groups consistently disposed of by the police and the system, through poverty, imprisonment and death. Now the grand experiment is whether the kind of control infrastructure and total suspension of rights already administered to particular groups can be rolled out to the entire population.
The most manipulable provisions come, as ever, under the Mental Health sections. Always a good catch-all since dissidence, illegality and criticism of the existent is already considered by the system to be tantamount to mental illness, people can now be hospitalised and medicated on the say-so of a single approved clinician. This power of one also decides the fate of those awaiting trial, convicted persons (we wonder whether that refers to anyone with a criminal record regardless of their current status) and those currently serving prison time: the Act allows a single person to sign off on a transfer from a prison to mental hospital. To the cynical, it might imply that unruly prison populations or undesirables (either currently or historically) are now living under the threat of being summarily detained or if already detained, then transferred and sedated with a no-questions-asked decision by a single clinician.
(more…)
Tags: Analysis, Anti-Fascist, Anti-Psychiatry, Coronavirus, Coronovirus Act 2020 (UK), Dictatorship, International Solidarity, Repression, UK
Posted in Social Control
Tuesday, March 31st, 2020
by Keith 'Malik' Washington | Incarcerated Workers Organizing Committee
Today is Sunday, March 29th, 2020. This is a follow-up report to an Urgent Update that I released last Sunday, March 22nd, 2020. This specific report details recent events in regard to the Covid-19 Pandemic within Facilities Operated by the Federal Bureau of Prisons.
Please be advised that there has been a Deliberate Attempt by the Main-Stream Media and The White House to ignore the Deadly impact Covid-19 has been having on Amerika's World Leading Prison Population.
On the morning of March 29th, 2020 I interviewed a Registered Nurse who works for the Federal Bureau of Prisons. The Nurse requested that I not use their name. I will respect this employees request to remain Anonymous.
It was reported to me that there have been 8 Positive Cases of Covid-19 at Federal Correctional Institution Oakdale which is located in Oakdale, Louisiana. FCI Oakdale is the "Sister Facility" to USP Pollock. Of the 8 Cases at FCI Oakdale, 6 are prisoners and 2 are B.O.P. employees. There has been One Death at FCI Oakdale connected to the Covid-19 Virus! There are 6 Prisoners currently on ventilators at the facility. (more…)
Tags: Alexandria, Anti-Prisons, Coronavirus, FCI Oakdale, Keith Malik Washington, Letter, Louisiana, Oakdale, USP Pollock
Posted in Prison Struggle
Tuesday, March 31st, 2020
In view of the public calamity that is settling in the territory of the Federative Republic of Brazil due to the COVID-19 (coronavirus) pandemic, our collective presents four (4) requirements to the National Congress of Brazil and the supposed Brazilian federal "government":
1 – resignation of the psychopath Jair Messias Bolsonaro and General Hamilton Mourão, who occupy the positions of president and vice-president of the space occupied by the Federative Republic of Brazil;
2 – repeal of the constitutional amendment 95, better known as the "PEC del techo", approved by Congress in 2016 during the criminal government of Michel Temer to benefit big financial capital, and which prevents emergency funds from being made available to combat the pandemic;
3 – revocation of the approval by the joint committee of the Senate and the House of Representatives of the provisional measure 905/2019, better known as the "green and yellow work card", since it is the coup de grâce to the labour rights of the Brazilian people and because it was secretly approved on 17/03/2020 by 14 scoundrels of the Brazilian National Congress taking advantage of the panic cause by the pandemic, at the request of the millionaire finance minister Paulo Guedes, the Chicago Boy of Bolosonaro; (more…)
Tags: Brazil, Cells of Opposition to the System (NOS), Coronavirus, Jair Bolsonaro
Posted in Anti-Fascist
Monday, March 30th, 2020
Warning – Video from the English right wing mass media.
A massive riot has broken out on the border between the Hubei province (its capital city is Wuhan, the supposed source of the outbreak of the Coronavirus) and neighboring Jiangxi province, on the Yiangtzee River bridge that connects the two provinces. Thousands of angry people who have been on lockdown for months swept out from the Hubei province in protest to try to cross the bridge, they were met by the riot cops of the neighboring province who prevented the protest from passing, despite the Chinese state saying restrictions have been lifted. Rioters turned over and smashed cops vehicles, assaulted the cop lines with rocks and even stole a riot shield from one van, attacking the cops with their own weapons. We hear that no one is really believing the Communist Party's lies that the virus outbreak is under control and that the people have had enough of the repression.
It is only expected to see more anti-social rage like this break out around the world as governments and states show their true authoritarian nature in the face of Coronavirus and the mass fear that it is creating, which is a disease of its own.
We will be back soon with a report about the influx of technologies that are being rapidly deployed to repress us all even further, in the name of the war against Covid-19!
The Uncivilized
Tags: China, Coronavirus, Hubei, Repression, Riot, Social Insurrection, Wuhan
Posted in Direct Action
Sunday, March 29th, 2020
PDF: MANIFIESTO HUELGA
Salud compañerxs!
Esperamos que todxs os encontréis lo mejor posible, dada la nueva situación de "pandemia" y Estado de Alarma, con el siguiente recorte de libertades, que nos está tocando vivir.
Por aquí hemos estado dándole vueltas a cómo podemos responder de algún modo ante esta nueva coyuntura política, económica y social que afecta a todo el mundo en su globalidad.
Y nos ha parecido acertado, para empezar, sumarnos a la convocatoria internacional de huelga de alquileres e hipotecas, convocada para el día 1 de Abril. (more…)
Tags: Coronavirus, Madrid, Rent Strike, Spain
Posted in Autonomy
Saturday, March 28th, 2020
23rd March – In the evening when (now infected) Prime Minister Boris Johnson declared the state of emergency and the new measures to deal with the coronavirus, cops in Southmead, Bristol, were harassing young people on the streets. The police were attacked with stones and bottles and two Iceland supermarket vans were torched outside their depo. Several cars were also smashed and set on fire across the city. Young people are already always under 'special measures' by the police -abuse, beatings, harassment, dispersal, special conditions – and rioting and fighting back is the only real solution, not staying in your house and being afraid.
The supermarkets and the other companies which are profiting massively from this 'crisis', -which is solely the responsibility of the structures of power and capital-, are valid and understandable targets for the nihilistic and anti-social rage against this situation.
The lies of the media tell us that we are 'all in this together' but it's clear that we are not, and never will be.
It's the fight of the young people and the irreducibles against this sick system and this is but one drop from the storm to come.

Death to the politicians, the police and those who have poisoned this world.
Tags: Arson, Bristol, Coronavirus, Fuck the Police, Iceland (Supermarket), Militant Youth, Repression, Riots, UK, Young People
Posted in Direct Action