Posts Tagged 'Coronavirus'
Wednesday, October 14th, 2020
We were told by friends in Malaysia that the transmission of the COVID-19 pandemic has gradually subsided since the pandemic struck earlier this year.
Until the Sabah state election was held on September 26. Power-mad politicians have campaigned in Sabah which at that time was spreading brutally this pandemic.
Politicians from Peninsular Malaysia, who originally came from controlled areas, entered Sabah, which at the time was experiencing a contagious outbreak to campaign to ensure their party won. And then brought the epidemic of the disease back to Peninsular Malaysia, thus triggering new infections and clusters when the virus spreads again.
As a result of politicians not taking care of these SOPs and quarantine, the situation in Malaysia today is getting worse where the people are restless with the new wave that is hitting soon. Politicians are blaming the people again for the new wave as if the people are not following the SOP and social distancing.
Malaysians to some extent began to reject these irresponsible politicians because they did not take seriously the issue, involving the health of the people.
The people are fed up with dirty politics and political coups that are more important than the health of the people. Because of that, the people began to show their dissatisfaction through various mediums, to make politicians aware of the courage to take responsibility for their actions and the mistakes they have made.
Friends there demanded that these politicians step down from their respective seats because they had failed in managing the well-being of the people.
Salute Malaysian friends!
via AWW.
Tags: Banner drop, Coronavirus, Elections, Kuala Lumpur, Malaysia, Perak
Posted in Direct Action
Thursday, October 8th, 2020
El próximo día 23 de octubre tendremos una interesante charla y debate en el Ateneo con el título: COVID-19 : LA ANARQUÍA EN TIEMPOS DE PANDEMIA.
Quedáis invitados … Salud para tod@s.
En el EKO, calle Ánade 10 -Madrid (Metro Oporto) a las 19:00 horas.
ATENEO LIBERTARIO DE CARABANCHEL LATINA
PARA Y POR LA ANARQUÍA
Tags: Coronavirus, International Solidarity, Madrid, Spain
Posted in Autonomy
Thursday, October 8th, 2020
APLAZAMIENTO MANIFESTACIÓN EN DEFENSA DE LOS PUESTOS DE TIRSO DE MOLINA
Desde la asamblea de los puestos políticos de Tirso de Molina hemos decidido APLAZAR la convocatoria de MANIFESTACIÓN del próximo 11 DE OCTUBRE.
En su lugar realizaremos, como venimos haciendo desde hace más de dos meses una CONCENTRACIÓN EN LA PLAZA A LAS DOCE DE LA MAÑANA.
La caótica situación que estamos viviendo en Madrid en las últimas dos semanas nos ha llevado a tomar esta decisión. Los madrileños somos víctimas de las políticas partidistas tanto del gobierno regional como del central, que no dudan en usarnos como rehenes de estrategias "sanitarias" que tienen poco que ver con la salud pública, y más con los cálculos electorales o de posibles mociones de censura. Asistimos atónitos a medidas de control de la epidemia de cara a la galería, cuyo objetivo final no es la defensa de la salud de los trabajadores, inmigrantes, pobres, etc, y a las amenazas veladas de nuevas medidas restrictivas de las pocas libertades que nos quedan. Ante este panorama preferimos seguir con el formato de las concentraciones todos los domingos en la plaza, espacio amplio en el que podemos mantener suficiente distancia, sin renunciar por ello a seguir movilizándonos en defensa de nuestros legítimos intereses.
Animamos a todos los compañeros/as que tenían previsto acudir a la manifestación a que en su lugar se acerquen este domingo a la plaza a las doce de la mañana, para decirle al alcalde y al concejal de centro que ¡los puestos de Tirso se quedan!
Esta desconvocatoria es un APLAZAMIENTO así que permanecer atentos a próximas convocatorias.
¡NO PASARÁN!
#tirsosequeda
Asamblea de los puestos de Tirso.
MÁS INFORMACIÓN: https://puestostirso.noblogs.org/
Tags: Coronavirus, Demo, Madrid, Spain, Tirso de Molina
Posted in Autonomy
Tuesday, October 6th, 2020
Tags: Anti-Prison, Chile, Coronavirus, Santiago
Posted in Prison Struggle
Thursday, September 24th, 2020
ES | PDF: 325 #12 – 'Contra la Cuarta y Quinta Revolución Industrial'
EN | PDF: 325 #12 – 'Against the Fourth and Fifth Industrial Revolutions'
Descargue la portada de alta resolución aquí.
Presentando 56 páginas de anarquía anti-organización, insurrección y anti-civilización del siglo XXI. Una colección de textos y cartas críticas desde el punto de vista anarquista que examinan los nuevos cambios en la producción y el control social provocados por las nuevas tecnologías que están marcando el comienzo de un mundo carcelario totalizante y el avance de máquinas más inteligentes que las humanas.
CONTENIDO : 325#12
3. Editorial
4. Automatización, robótica y mano de obra en la 4ta y 5ta revoluciones industriales
8. Desde la revuelta a la insurrección – Extracto
9. Una pequeña crítica a la ciencia y su mundo
10. Mundo COVID-19: Las epidemias en la era del capitalismo
12. Las fracturas del Dominio
13. Ataques incendiarios coordinados contra antenas de retransmisión en Grenoble, Francia
14. La cuarta y quinta revoluciones industriales
17. La reproducción artificial de lo humano: El camino del transhumanismo
24. Psicología de la máquina: una ley de desaparición
26. Mirada oblicua
30. Teléfonos inteligentes, tonos, Capital
31. Sociedades sin dinero en efectivo y criptomonedas: fin de la era tradicional de la banca y las finanzas
34. Contribución a la reunión internacional contra las tecnociencias del anarquista encarcelado Dino Giagtzoglou
40. La sociedad cibernética y su mundo
52. Contra starlink
54. Espacio : parte 1
55. Pronto, cerca de tu casa
57: Cronología de acción directa
RED ANTI-COPYRIGHT 2020
Tags: 325 Magazine, Analysis, Anti-Prison, Anti-technology, Artificial Intelligence (AI), Artificial Reproduction, Biotechnology, Coronavirus, Crypto-Currencies, Cybernetics, Fifth Industrial Revolution, Fourth Industrial Revolution, Insurrection, International Solidarity, Konstantinos Yagtzoglou, Nanotechnology, PDF, Prison Society, Robotics, Sabotage, Starlink, Technological Singularity, Transhumanism, Zine
Posted in Library
Tuesday, September 22nd, 2020
NUEVA NORMALIDAD: EL TECNOMUNDO
JORNADAS DE REFLEXIÓN Y CRÍTICA CONTRA LA SOCIEDAD TECNOCIENTÍFICA
2 Y 3 DE OCTUBRE. MADRID
– Para descargar el texto para imprimir, pincha aquí.
Viernes 2 de octubre.
18:30h. "Actualización de los casos represivos del estado e internacional. Caso Bankia."
19:00h. Charla: "Herramientas de control social que nos ha traído la COVID-19, la distancia social y el confinamiento."
Local Anarquista Motín C/Matilde Hernández, 47 Vista Alegre u Oporto.
Sábado 3 de octubre.
13:00h. "Presentación de la revista "Libres y Salvajes", n.º 5.
17:00h. "Actualización de casos represivos a nivel estatal e internacional. Operación Arca."
18:00h. Mesa redonda: "La anarquía frente al Tecnomundo: Debate sobre cómo afrontar la situación actual."
EOA La Emboscada, C/Azucena, 67. Tetuán.
– (more…)
Tags: 5G, Anti-technology, Artificial Intelligence (AI), Biotechnology, Contra toda Nocividad (Zine), Coronavirus, Madrid, Nanotechnology, Smart Cities, Solidarity Event, Spain, Surveillance, Technological Singularity
Posted in Eco Struggle
Wednesday, September 16th, 2020


Refugees demonstrating after the burning of Moria. "Azadi!" Freedom!
In the following report from Greece, anarchists describe the burning of the refugee camp, Moria, and the response countrywide, as well as the latest chapter in other struggles against state repression on a variety of fronts.
A report by Radio Fragmata.
Another month, another report on the situation here in Greece. There has been no pause in the repression of the state, nor any peace for the marginalized and excluded. Another historic squat has been evicted, the economic despair many already face is becoming generalized, society drifts towards the right at the guidance of state and corporate media, and the largest concentration camp housing migrants in all of Europe has been engulfed in flames, displacing thousands.
As in the rest of the world, each morning brings new concerns, new disasters, new forms of precarity. We share the following information in the pursuit of a relentless and borderless solidarity.
-Radio Fragmata, September 2020
Moria Burns—The Greek State Plays Victim
The refugee camp Moria on the island of Lesvos has burned down.
The state claims this was the result of demonstrations by desperate people inside the camp reacting to new measures the police had opportunistically declared in response to an inevitable and now unavoidable outbreak of COVID-19 inside the camp. Some 35 cases have been made public as of early September; considering the intense overcrowding of the camp, the number should be assumed to be much higher. Some wonder whether nearby fascists took the opportunity to set fires under the cover of the refugees' protests. It is certain that some of the villagers wanted those fleeing the flames to burn alive, as they pushed those who tried to flee to the nearby village of Mytilene back towards the blaze. (more…)
Tags: Chania, Coronavirus, Crete, Eviction, Giannis Dimitrakis, Greece, International Solidarity, Kostas Sakkas, Lesvos, Migrant Struggle, Moria, Mytilene, Pavlos Fyssas, Racism, Radio Fragmata, Rosa Nera, Terra Incognita Squat
Posted in No Borders
Thursday, September 10th, 2020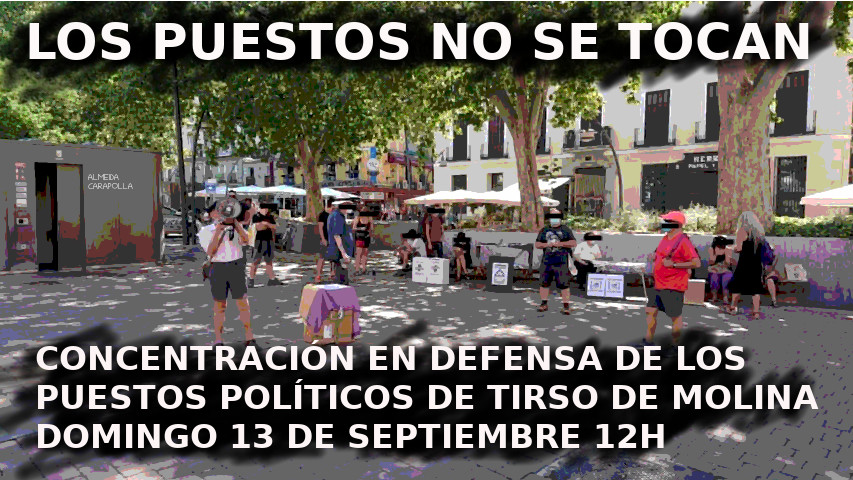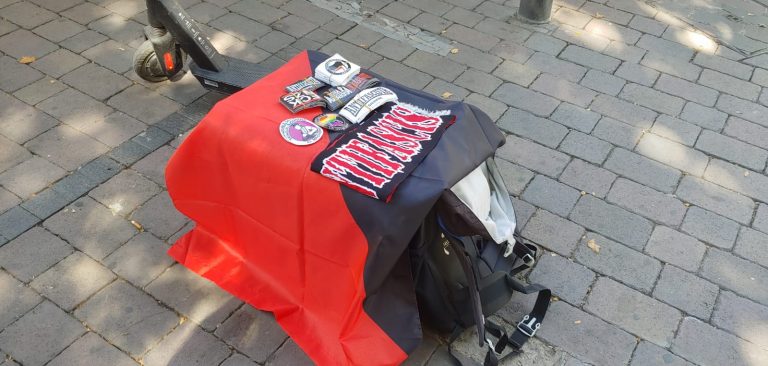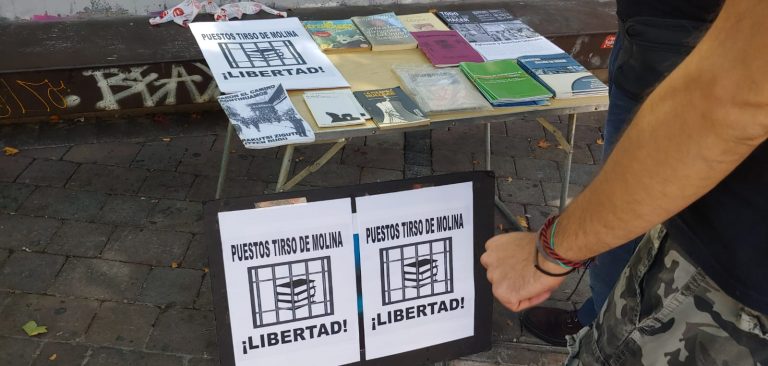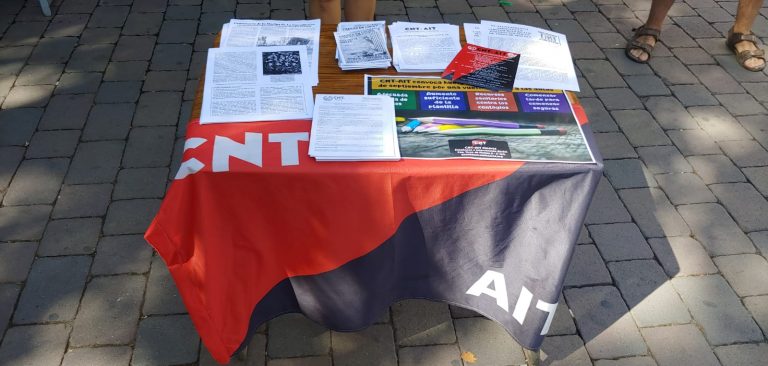 Since last July 19, the date on which the municipal police evicted us from the Tirso de Molina square with the threat of sanctions and seizure of the stands, we have been gathering every Sunday to protest against this arbitrary decision by the City Council. We maintain that it is a political decision rather than a health one, since that day we were complying with the measures imposed by the Community; masks, distance between the stalls, hand disinfection gels, if we add to this that the space in the plaza is wide and the number of stalls that we set up that morning was small, it was not possible that there would be crowds.
In fact, the only official justification we received from the agents was not having a license and the assertion that "El Rastro was closed by municipal order." The reality is that El Rastro continues to be closed as of today since the stalls do not accept the City Council's reform plans that seek to end the emblematic market as we know it and also know that for more than three decades political stands lack licenses. For this reason, we are convinced that the Pandemic is only an excuse to eliminate political positions that spread ideas and free culture, and it is clear that Tirso de Molina and El Rastro are also part of the gentrification plans that we have been suffering in the area in recent years. (more…)
Tags: Coronavirus, El Rastro, Eviction, Madrid, Repression, Spain, Tirso de Molina
Posted in Autonomy
Wednesday, September 9th, 2020
De la revista 325 (próximamente en español):
DE | Automatisierung, Robotik und Arbeit in der 4ten und 5ten industriellen Revolution
EN | Automation, Robotics & Labour in the 4th & 5th Industrial Revolutions
Desde que comenzó la primera Revolución Industrial en la década de 1700, las sucesivas revoluciones industriales han afectado profundamente a los trabajadores, a los propios trabajadores, creando incluso el concepto de 'clase trabajadora', cómo vivían, su integración en los agujeros del infierno urbano que avanzaban, las prisiones de las fábricas, molinos y pozos mineros, incluso sus hijos no se libraron de la indignidad, ni siquiera de la muerte de la esclavitud moderna de la época. La industrialización, el resultado de la mecanización en la industria, alimentó la esclavitud moderna y la domesticación de los seres humanos en todos los rincones de los imperios y colonias en expansión, no solo en el resto del planeta vivo. Ahora estamos en la cúspide del comienzo de una 4ta Revolución Industrial (4IR) e incluso una 5ta (5IR) que afectará tan radicalmente nuestro encarcelamiento dentro de la sociedad tecnológica como las hizo en las anteriores. El concepto mismo de trabajo, incluso el trabajo mismo, cambiará más allá del reconocimiento una vez más. Ya en la consiguiente 'pandemia del coronavirus' y en los controles de toque de queda que se han aplicado a miles de millones en todo el mundo, las señales de las próximas revoluciones industriales ya están apareciendo, y se informa que millones perdieron sus empleos en muchos países. (more…)
Tags: 'The Uncivilized', 3D Printing, 4ta Revolución Industrial (4IR), 5G, 5ta Revolución Industrial (5IR), Alfredo M. Bonanno, Analysis, Artificial Intelligence (AI), Automation, Cashless Society, Coronavirus, Drones, Fifth Industrial Revolution, Fourth Industrial Revolution, From Riot to Insurrection, Ingreso Básico Universal, Intelligent Surveillance, Internet of Things, Reino Unido, Repression, Robotics, Surveillance, UK, Universal Basic Income
Posted in Library
Wednesday, September 9th, 2020
From 325 #12:
DE | Automatisierung, Robotik und Arbeit in der 4ten und 5ten industriellen Revolution
ES | Automatización, robótica y mano de obra en la 4ta y 5ta revoluciones industriales
Since the first Industrial Revolution began in the 1700's, successive industrial revolutions have profoundly affected labour, the workers themselves, creating even the concept of the 'working class', how they lived, their integration into the advancing urban hell holes, the prisons of the factories, mills and mining pits, even their children were not spared the indignity, even death of modern slavery of the time. Industrialization, the result of mechanisation in industry, fed modern enslavement and domestication of human beings in every corner of the spreading empires and colonies not just the rest of the living planet.
We are now on the cusp of the beginning of a 4th Industrial Revolution (4IR) and even a 5th (5IR) that will affect just as radically our imprisonment within the technological society as it did in the previous ones. The very concept of labour, even work itself will change beyond recognition once again. Already in the ensuing 'coronavirus pandemic' and curfew controls that have been enforced on billions worldwide, the signals of the coming industrial revolutions are already appearing, with millions being reported to lose their jobs in many countries. (more…)
Tags: 'The Uncivilized', 3D Printing, 5G, Alfredo M. Bonanno, Analysis, Artificial Intelligence (AI), Automation, Cashless Society, Coronavirus, Drones, Fifth Industrial Revolution, Fourth Industrial Revolution, From Riot to Insurrection, Intelligent Surveillance, Internet of Things, Repression, Robotics, Surveillance, UK, Universal Basic Income
Posted in Library
Thursday, September 3rd, 2020
Pedro fallece hoy en un hospital de Santiago de Chile en medio de una Pandemia. Don pedro ingresó en el recinto hospitalario por otros motivos, en dicha situación se contagió de COVID-19 y su cuerpo -como el de muchos hombres y mujeres que se han perdido en esta pandemia de mierda-, sucumbió al virus.
Don Pedro tiene también una historia de lucha, de una lucha quizás menos visible como lo es aquella lucha de las familias, de los entornos más cercanos a los compañeros represaliados. Don Pedro estuvo junto a su hijo –Marcelo Villarroel Sepúlveda– cuando por primera vez fue detenido en noviembre de 1987, Marcelo tenía por esos días 14 años de edad y conoció las cárceles de la dictadura. También estuvo en 1992 luego de que su hijo fuera herido y apresado, por los siguientes 12 años, y estuvo, más tarde, el 2008, cuando en amplios operativos internacionales, su hijo fue expuesto y confinado en cárceles del territorio controlado por el Estado argentino, y luego, como rehén, trasladado a las mazmorras de las cárceles chilenas. (more…)
Tags: Chile, Coronavirus, Marcelo Villarroel Sepúlveda, Pedro Villarroel, Radio Primero de Mayo, Santiago
Posted in Uncategorised
Thursday, August 27th, 2020
Illness, i.e.a faulty functioning of the organism, is not peculiar to man. Animals also get ill, and even things can in their own way present defects in functioning. The idea of illness as abnormality is the classic one that was developed by medical science.
The response to illness, mainly thanks to the positivist ideology which still dominates medicine today, is that of the cure, that is to say, an external intervention chosen from specific practices, aimed at restoring the conditions of a given idea of normality.
Yet it would be a mistake to think that the search for the causes of illness has always run parallel to this scientific need to restore normality. For centuries remedies did not go hand in hand with the study of causes, which at times were absolutely fantastical. Remedies had their own logic, especially when based on empirical knowledge of the forces of nature.
In more recent times a critique of the sectarianism of science, including medicine, has based itself on the idea of man's totality: an entity made up of various natural elements—intellectual, economic, social, cultural, political and so on. It is in this new perspective that the materialist and dialectical hypothesis of Marxism inserted itself. The variously described totality of the new, real man no longer divided up into the sectors that the old positivism had got us used to, was again encapsulated in a one-way determinism by the Marxists. The cause of illness was thus considered to be due exclusively to capitalism which, by alienating man through work, exposed him to a distorted relationship with nature and 'normality', the other side of illness. (more…)
Tags: Alfredo M. Bonanno, Analysis, Anti-Psychiatry, Coronavirus, Illness and Capital, Italy
Posted in Cognitive Liberty
Monday, August 24th, 2020
Prisons are places of darkness, of gloom, real life cannot flourish there. Because what is "real life"? It is one in freedom, integrated in friendly relationships, experiencing oneself as an individual. Because we live ourselves and are not lived.
It is not without reason that prison criticism is therefore always also a fundamental critique of society and the system, because within the prison walls the same mechanisms prevail as outside the gates, only in a much more severe form.
ABC's Solidarity week for anarchist prisoners takes place in a time marked by the Corona pandemic. The pandemic in particular once again clearly reveals the injustices.
Members of marginalized social groups have a disproportionately higher risk of infection, illness and death (which also applies outside pandemic times, but is only currently particularly evident). And those who are in prison are even more vulnerable, because the general conditions, as the Prisoners' Union (GG/BO) also tirelessly points out, are often pretty lousy. (more…)
Tags: Coronavirus, Germany, International Week for Anarchist Prisoners, Letter, Thomas Meyer Falk
Posted in Prison Struggle
Wednesday, August 19th, 2020
作者:CONTRA TODA NOCIVIDAD, March 2020 译者:晚霞
原文刊于 325 新发布的小册子 'Against the Fourth and Fifth Industrial Revolutions' (ACN)
对于这个星球的自然资源的过度利用正在将人类带入一个自毁的边缘。我们生活在大多数是由连续不断的化学产品(杀虫剂、杀虫剂、内分泌干扰物等)的蔓延而导致的传染病之中,这对于我们的健康是有危害的。与此同时,我们生活在会导致大量人口过敏与患病的高程度的放射性污染所包围的大气中。这种对自然资源的开发还带来了技术工业对领土的破坏:地中海变成了下水道、东南亚变成了充满了化工物的荒地、非洲变成了一个大垃圾场,等等。Covid-19病毒的出现是工业文明的一个结果。
对于我们来说重要的是并不是这个病毒可能由于栖息地的工业化而从一个蝙蝠开始变异,或者是否这是一次美国对于中国经济的攻击。对于我们来说,最重要的事是这是一个让一切生活进程、日常物品甚至是地球上的生物都商品化的这个体制最后的结果;这是贪婪的体制企图毁灭一切活物,从而让这个世界完全人工化。我们不能认为我们基于在地球上连续不断增长的生活方式实际上是有限的,不会带来这些后果并使得其他灾难到来。
我们日常生活中存在的数百种化学物质改变了自然进程,从而导致了数百种"灾难"(流行病、气候变化等)。这些产品在中国每年造成150万人死亡,而且没有在新闻中报道,既没有引发社会担忧,也没有被限制,也没有导致恐慌状态。在西班牙,每年有1万人死于污染,但并没有恐慌——他们只是工业世界继续运转所必需的受害者的一部分,因为重要的是进程和它的贪婪不会停止。 (more…)
Tags: Analysis, Anti-technology, China, Contra toda Nocividad (Zine), Coronavirus, Ecological Destruction, Repression, Spain
Posted in Eco Struggle
Thursday, August 13th, 2020
As A-Radio Berlin we had the opportunity of talking to a comrade from the Federation for Anarchist Organizing (FAO) in Slovenia and Croatia.
Amongst the topics were the ongoing social uprising in Slovenia, the dynamics and challenges of such a movement in the Covid-19 context, state repression and neonazi attacks as well as a comparison to the 2012/2013 uprising. Last but not least our comrade offers an analysis of the tactics used in the struggle and how to possibly go forward.
Tags: Anarchist Radio, Anarchistisches Radio Berlin, Coronavirus, Federation for Anarchist Organizing (FAO), Neo-Nazis, Radio, Slovenia
Posted in Interviews