Posts Tagged 'Coronavirus'
Sunday, March 22nd, 2020
"…Light in the Shadow
The enemy's got to watch out
That only from that ancient place
The foundation stone could emerge
Which is spreading out of control
This land called
Our beloved America
And if necessary in the future
We will change the name."
– Sergio Terenzi (el Urubu)

1. (A) INTRO MODE
The handful of reflections that follow have come to us almost unintentionally. They are one more contribution to the debate on the issues that move us; a small stop on the troubled road we are now travelling. It is good to share visions about what worries us and throw them like a bottle into the sea… Perhaps they will serve to fertilize the sowing and/or sharpen the tools suitable to advance in the realization of what we dream…To all the warriors of praxis a sincere embrace from the region that fails to dominate (as they would like) the self-proclaimed state of Sargentino. May 1000 new rebellions flourish.
II. OF BEINGS AND DEEDS
We do not underestimate or mock the many ancient pagan cultures that are seeing, in these present times, the signs of an inevitable decline throughout the entire ill-treated and agonized blue planet that we inhabit. And we don't dismiss it because (among other things…) beyond mysticism and conspiracies, the harsh reality shows us that this IS so. We feel the vertigo of the events in our skin; and we consider that it is a "self-fulfilling prophecy". We refuse to look the other way as it would be alienating. The question is rather: what do we do?
(more…)
Tags: Analysis, Argentina, Black International, Black International of Anarchists of Praxis, Coronavirus, Informal Anarchist Federation (FAI), International Revolutionary Front, Letter, Pampa Libre Cell (FAI-IRF), Santiago Maldonado
Posted in Autonomy
Saturday, March 21st, 2020

From plagueandfire.noblogs.org
We are building this site to address the situation that arose from the Korona virus epidemic.
Faced with a global scourge, we need to share radical reflections beyond linguistic and national borders.
Because fire can arise from the plague.
And fire can bring freedom.
This site was born from the desire to share reflections and materials on the consequences of this epidemic. Nurture a discussion that allows you to compare the critical tools that give everyone the opportunity to act in the present.
Act with a view to subvert the current social order, to free the planet and all living things from the scourge of this society.
As the history of London reminds us, fire can arise from the wounds, the demolition of the structures of dominion from fire. In the fire of 1666, during the plague epidemic, dozens of churches and a good part of many public buildings burned. Unfortunately, following that fire, London was rebuilt in a way that favored social control and city governance. This time we want to avoid that this moment of crisis leads to a restructuring of the current system. (more…)
Tags: Coronavirus, Counter-info, The Plague and The Fire
Posted in Autonomy
Saturday, March 21st, 2020
We're in Lockdown. Stay at home, we're commanded. Only that which is most necessary for economic survival is permitted, but it is never stated of whose survival they speak. Even then we're greeted by processions of police riot vans – lights flashing, show of force – informing us that we have to go home. Going about the minimum of daily activities is a danger to public health. It's already been said in Italy that it's amazing how quickly we forget: what it's like to speak to a stranger, to touch someone, to encounter an unexpected moment amid the concrete drizzle of capital. The workhouses and temples of consumption are open but the shelves are almost bare. We have a social responsibility, they say. The healthcare system cannot cope and it is us that has to save it. Did someone say something about funding?
An invisible enemy. The stuff of apocalyptic films. The cause is not important, it's just the flu after all, but the response is crucial. We are not measuring the number of deaths but the capacities of power. Swine flu and SARS failed to take the world by storm but they've nailed it this time. Everything that came before was a mere prototype for the finished product: a perfectly intangible terror that demands our complete subservience. It's as though The Handmaid's Tale, in all its controversial success, was a warm-up before the main act.
The supposed reach and severity of the Corona Virus is almost a mute subject. What's important is who is going to take benefit, how, and who pays the price. The capitalist economic system is built on investment, but this time it's starving itself ready for a rampage. When this is allover, when our glorious benefactors have saved us from near ruin and we welcome back with open arms a depleted economy that was fucking us before 'the pandemic', we have to think where we will be.
Waves of migrants washing upon even more hostile European shores. Solitary confinement becoming the prisoners' permanent state. G4S quietly clean up after the morning matinee as we're distracted by the charade in the main hall. Physical human interaction reduced to an Orwellian suspicion whilst the spectrum of human emotion is expressed through Whatsapp's preset sticker selection. Facebook's laughing as Instagram's rewriting history with all our rebellious quotes.

via Actforfree.
Tags: Coronavirus, Italy, Repression
Posted in Social Control
Monday, March 16th, 2020
About COVID-19, authoritarian delusions and the shitty world we live in…
The macabre death toll increases day by day, and in the imagination of each person takes place the sensation, at first vague then always a little stronger, of being more and more threatened by the Great Grim Reaper. For hundreds of millions of human beings, this imagining is certainly not new, that of death that can strike anyone, at any time. Just think of the damned of the earth sacrificed daily on the altar of power and profit: those who survive under State bombs, in the midst of endless wars over oil or mineral resources, those who coexist with invisible radioactivity caused by accidents or nuclear waste, those who cross the Sahel or the Mediterranean and are locked up in concentration camps for migrants, those who are reduced to pieces of flesh and bone by the misery and devastation caused by agro-industry and the extraction of raw materials…And even in the lands that we inhabit, in times not very long ago, we have known the terror of butcheries on an industrial scale, bombings, extermination camps… always created by the thirst for power and wealth of States and bosses, always faithfully set up by armies and police.
But no, today we are not talking about those desperate faces that we constantly try to keep away from our eyes and minds, nor about a history that is now past. Terror is beginning to spread in the cradle of the kingdom of commodities and social peace, and it is caused by a virus that can attack anyone – although of course, not everyone will have the same opportunities to cure themselves. And in a world where people are used to lying, where the use of figures and statistics are one of the main means of media manipulation, in a world where truth is constantly hidden, mutilated and transformed by the media, we can only try to put the pieces together, to formulate hypotheses, try to resist this mobilization of minds and ask the question: where are we going? (more…)
Tags: Anti-technology, China, Coronavirus, Flyposter, France, Italy, Repression
Posted in Social Control
Sunday, March 15th, 2020
INTERRUPTIONS …
There is nothing new about social life taking place at a distance. For a long time now people have been persuaded that the best way to communicate and relate is through the use of a device. Prostheses of the human being, the smartphone and its like, have transformed the way of being together, of being informed, learning, communicating, writing and reading.
The next step is the robotization of living, technique pervading every place, every aspect of daily life. An overcoming of nature and the natural in favour of artificial beings and places. Such a scenario needs no social life, it does not need relationships, feelings, thoughts, it only needs order, discipline, regulation, machines. Maybe Dominion is trying to take a step forward and use a health problem, the spread of a virus, to reach generalized regimentation at least, the rest will then take care of itself. Science fiction comes to mind, but States have centuries old instruments to draw on without having to resort to the unknown.
(more…)
Tags: Coronavirus, Flyposter, Italy, Lecce, Repression
Posted in Social Control
Friday, March 13th, 2020
Much is said about the Covid-19 coronavirus, and yet very little. There are fundamental aspects that remain in the shadows. I want to name some of these, different but complementary.
The first refers to the perverse mechanisms of capitalism to hide the true causes of the problem so as not to do anything about them, because it affects their interests, but it does deal with the apparent cure for the symptoms. Meanwhile, the State spends enormous public resources on prevention, containment and treatment measures, which do not act on the causes either, so this way of facing problems becomes a captive business for transnational companies, for example, with vaccines and medicines.
The dominant reference to viruses and bacteria is as if they were exclusively harmful organisms that must be eliminated. A war-like approach prevails, as in so many other aspects of capitalism's relationship with nature. However, due to the ability of viruses to jump between species, viruses and bacteria are a fundamental part of the coevolution and adaptation of living beings, as well as their balance with the environment and their health, including humans.
Covid-19, which now makes global headlines, is a strain of the coronavirus family, which causes generally mild respiratory diseases but can be serious for a very small percentage of those affected due to their vulnerability. Other coronavirus strains caused Severe Acute Respiratory Syndrome (SARS), considered an epidemic in Asia in 2003 but since disappeared in 2004, and Middle East Acute Respiratory Syndrome (MERS), which has also virtually disappeared. Like Covid-19, they are viruses that can be present in animals and humans, and as with all viruses, affected organisms tend to develop resistance, which in turn causes the virus to mutate again. (more…)
Tags: Animal Liberation, Anti-technology, Coronavirus, Repression
Posted in Eco Struggle
Wednesday, March 11th, 2020
COVID-19 – known as the coronavirus – emerged in the Chinese city of Wuhan. It's flu-like symptoms enabled the quick spread of the virus within the city. It also allowed the spread of the disease beyond Wuhan despite the attempts of the Chinese government to curb it by resorting to drastic measures of arresting and detaining suspected carriers.
Now it has spread globally. As of March 5th, 2020, 97,893 people have been infected worldwide with 7100 cases being regarded as serious. 3353 people have died of whom approximately 3013 were in China and 340 in other countries. The most serious outbreaks outside China have been in northern Italy, Iran and South Korea. The rates in many countries may be under-reported because of health officials refusing to test people reporting flu symptoms, especially Japan. The virus has impacted an estimated 87 countries and territories. 53,786 people have recovered from the virus. (Statistics from various government health agencies as charted in this webpage) According to the World Health Organisation (WHO), it takes about five days from exposure before people manifest the symptoms of the coronavirus. Not surprisingly the elderly, very young children and those with respiratory problems are most at risk.
What is noteworthy about the coronavirus isn't the virus itself. It has been the fear, misinformation and over the top reactions including panic buying that has occurred in many countries including here in New Zealand where there have been five confirmed cases of the coronavirus at the time of writing (1 News, 6th March 2020). (more…)
Tags: Analysis, Aotearoa Workers Solidarity Movement., China, Coronavirus, Dictatorship, New Zealand, Racism, Repression, United States
Posted in Social Control
Monday, March 9th, 2020
+ Modena, Italy: About the Revolt and Massacre Inside Modena Prison
+ Italy: Revolts in numerous prisons – 8 and 9 March 2020
+ Italy: Coronavirus and Prisons – Statement from Anarchist Group 'Bakunin' (Rome & Lazio)
09.03.2020: The prisons are in revolt. As of this morning, there are 27 prisons where protests are taking place by inmates, some of whom are calling for amnesty because of the Coronavirus emergency. Eight prisoners died according to the new official report released after the riots of recent days: six of whom died in Modena prison during the prisoners' revolt yesterday afternoon. For three of these yesterday, institutional sources claim that one of them died from opiate substance abuse, the other from benzodiazepines, while the third was found cyanotic, but the reason for this is unknown. For the other three there is no news, while a total of 18 prisoners have been hospitalized, mostly for intoxication. Two other deaths from a psychotropic drug overdose are recorded in the prisons of Verona and Alessandria during the night. The two had been the ringleaders of the protests and, according to the official report spread by the prison authorities, they had stolen psychotropic drugs from the infirmary.
(more…)
Tags: Coronavirus, Italy, Prison Riots
Posted in Prison Struggle
Monday, March 2nd, 2020
PDF: Second international meeting
This year too, we are proposing an informal, convivial and international opportunity for discussion and reflection among individuals and organisations engaged in building an analysis and a critique of what we may call the technoworld. A world which is going through an epoch-making paradigm shift, where all bodies and our very experience have become one of the most important new raw materials. Engineering of the living and digital control are increasingly replacing a large part of the previous market of commodities, which are becoming obsolete. On a planet which has been plundered well beyond its biological limits, the re-designing through synthetic biology and artificial reproduction in a eugenic key of human beings and their management represents the new path forward. This of course for those who will be included in the new power arrangement, for the others no plans have emerged, or perhaps the fact that they have not been presented is already an answer in itself, they will certainly not be satisfied with merely marginalising a part of the world.
For those who ask where the current system, based on systematic exploitation of the planet, can find a way to reorganise itself, incorporating into its discourse the farce of sustainability, the answer lies in taking over human beings themselves: managed, influenced and addressed in their behaviour so that they themselves produce processes which can turn them into commodities. This is the true essence of green and sustainable policies to save the planet from so many catastrophes, of which climate catastrophe is only a part. Human beings who will soon be genetically edited in a process of ongoing perfectibility, where the body will be seen as a limit to be overcome, where what is human will be considered an error, and must therefore continuously adapt to a machine world. A techno-scientific adaptability which will become the only possibility. We can now seem how the cybernetic paradigm, according to which "the environment we live in has always been so radically modified that today we are forced to modify ourselves", takes a material and dramatic shape. (more…)
Tags: 5G, Anarchist Gathering, Anti-technology, Artificial Intelligence (AI), Artificial Reproduction, Biotechnology, Coronavirus, Genetic Manipulation, Italy, Nanotechnology, Resistenze Al Nanomondo, Smart Cities, Technological Singularity, Transhumanism
Posted in Eco Struggle
Thursday, February 27th, 2020
In these days a new nightmare is spreading: the contagion from the so-called Coronavirus. Ten villages in the Lodi area, considered as the outbreak of the infection, and one village in the Veneto region, where the first death from the virus occurred, have been placed under quarantine. This means no possibility for people to move around and leave their homes. Throughout Lombardy, power forces people to limit their social mobility. From the closure of the meeting places to the curfew, the step is short. Prisoners of themselves and something imperceptible to the human eye, the pastoral government has even ordered through a flash decree to close the streets and reinforced the garrison of police and army, intimating that if someone does not comply with state orders they could also face arrest. A social epidemic, power can only respond with repression and surveillance. The hunt for the anointer has begun.
A new spectre looms around us and its strength is its presumed medical truthfulness and the power to erase in a flash all other spectres invisible to the human eye. Bizarrely, when we talk about fast death, the social epidemic becomes urgent. When death settles into life, everything returns to the world of catastrophe. Isn't there an emergency when the places where we live become unbreathable from industrialization and from the machine-world?
(more…)
Tags: Analysis, Coronavirus, Italy, Repression
Posted in Eco Struggle
Wednesday, February 5th, 2020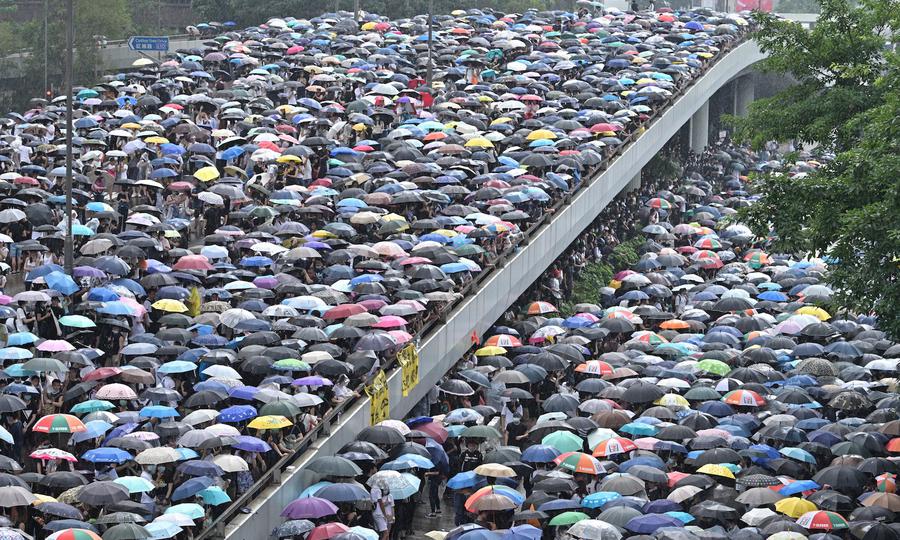 "On Wednesday 12th June, when someone shouted out that drones had started flying above them, everyone opened up their umbrellas almost simultaneously."
Four texts from Dialectical Delinquents:
1. Coronavirus – an exercise in intensified social control.
2. Hong Kong – its relevance to the rest of us… …its resistance to the science & technology of social control.
4. China: A-Z of some moments of international opposition.
Tags: Anti-technology, CCTV, China, Coronavirus, Dictatorship, Facial Recognition, Hong Kong, Repression, Riots, Social Insurrection, Surveillance
Posted in Social Control