Posts Tagged 'Counter-info'
Sunday, May 17th, 2020
The counter-information site La Rebelion de las Palabras recently discontinued their blog. Below is a translated statement about their reasons to do so.
Since the emergence of what is termed the International Network of Counter-Information and Translation in the anarchic sphere, a multitude of individuals and groups construct and maintain regular and not so regular transmissions, crossing borders and bringing news of resistance and repression further than before. The limits of these new-medias, not so new after years of development and recuperation, are increasingly being known, and many counter-information groups have added to the debate with their contributions, ongoing or usually at the closure of their site with their own reflections.
Hello everyone.
For some time now, we have been internally questioning the real usefulness of this blog for social movements, or revolutionaries, in our environment and beyond. We have tried to review which were really our contributions to the fight and which, on the other hand, only contributed to the spectacle, the folklore, and a purely aesthetic radicalism. We wanted to look back, see the changes in the news and materials, the drifts we had taken, a little driven by our own criteria, but also by fluctuations in the type of content that came to us. Through this exercise, we realized that we also had another need. It had to do with the way in which certain movements or spaces of struggle perceived us and did or did not count on us as a space for dissemination of their initiatives, calls, projects or reflections. And this, in turn, led us to the situation we have now. (more…)
Tags: Analysis, Counter-info, La Rebellion de las Palabras, Spain
Posted in Autonomy
Thursday, May 14th, 2020
The Local Autonomous Network (LAN) is a loose network of individuals and collectives composed of anarchist, anti-authoritarian, and autonomous activists here in the Archipelago of so-called Philippines. Since the early 2000s, the people behind the network have been consistently in contact with another regardless if they are from the southern or northern part of the Archipelago. The network has no formal membership and is presented as an informal organization. The network has its own level of understanding and trust with each other, which comes from the process of the relentless organizing, campaigning and initiating different activities and projects.
We have heard about a report published online from groups abroad about an anti-anarchist crackdown in the Philippines. The report is entitled "The Philippines—The continuing crackdown on anarchists" and was first published by the UK-based Anarchist Communist Group (ACG) and was later copied and distributed onto other international anarchist sites. Most of the people involved in Local Autonomous Network had the same reaction to this report: "this is alarming." As this is a local matter, we decided to investigate the report and do our own research locally on what was the real situation of the anarchists on the ground.
To give context, it is true that the Duterte regime is an oppressive and repressive government, even more so than with previous presidents in previous regimes. The War on Drugs that Duterte started in 2016 and has been conducted since has killed an estimated 30,000 people; this is a fact. Some of the victims of the Extra-Judicial Killings (EJK) in the War on Drugs have been drug personalities, but hundreds of EJK victims were not even connected to any kind of drug-related issue. Continuous killings and assassinations were also conducted against leftists, dissidents, peasant leaders, community organizers, and other activists. Anarchists in the Philippines were not spared and in 2018 saw Food Not Bombs volunteers murdered and arrested. (See the report: "Four Food Not Bombs Volunteers were Killed in Philippine Drug War and One Volunteer is in Jail".) (more…)
Tags: Coronavirus, Counter-info, Dictatorship, Local Autonomous Network (LAN), Philippines, Repression, War on Drugs
Posted in Social Control
Friday, April 3rd, 2020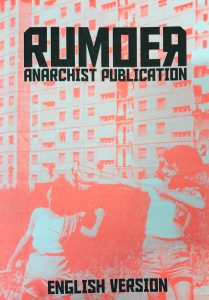 The second edition of the anarchist publication Rumoer is out! A publication which will hopefully provoke discussion, irritation, inspiration, agitation, and attack. Because we do not want a raise in wages, but the destruction of work. Because we do not want to shout 'boo!' but want to hear BOOM! We want a confrontation without compromise with the system that is destroying our lives and the planet.
In this issue some extra attention for the rampaging Covid-19 virus. But also just the ongoing anarchist interventions and other topics: an interview with a graffiti maker in Lebanon, the fight against Shell, post-gentrification and the use of the Signal app.
If you want to receive the new Rumoer, send an email to: rumoer (((A))) riseup /// net. Since most social centres are currently closed, we ask you to help spread the latest edition. Order some extra copies and bring it to your neighbours, isolated family, friends and comrades.
You can also download the new Rumoer or print it yourself. The link to the downloads can be found at rumoer.noblogs.org
Remember, the streets are empty, the possibilities are open. Keep 1.5 meters away, but always at least ten times as much from the police!
Tags: Coronavirus, Counter-info, Graff, Graffiti, Lebanon, PDF, Rumoer (Zine), Sabotage, Shell, Signal (PGP App), Zine
Posted in Library
Thursday, March 26th, 2020
PDF: Quale internazionale? Intervista e dialogo con Alfredo Cospito dal carcere di Ferrara. Terza parte (Vetriolo, giornale anarchico, n. 4, inverno 2020)
Il testo che riportiamo qui è la terza e ultima parte di "Quale internazionale? Intervista e dialogo con Alfredo Cospito dal carcere di Ferrara", pubblicata nel mese di marzo 2020 nel numero 4 del giornale anarchico "Vetriolo". Le parti prima e seconda sono state pubblicate rispettivamente nel numero 2 (autunno 2018) e 3 (inverno 2019). Data la complessità e la vastità degli argomenti trattati e del testo stesso, non è stato possibile pubblicarlo integralmente in un solo numero del giornale e si è scelto di suddividerlo in tre parti. Tutto lo scritto verrà stampato in un volume di prossima pubblicazione.
Con l'occasione, segnaliamo e correggiamo un errore presente nella terza parte (invitiamo a fare attenzione a questo passaggio durante la lettura del giornale). L'errore si trova nella quarta colonna di pagina 11, righe 4 – 11. Per una maggiore comprensione riportiamo l'intera frase: «Questo concetto può riacquistare un senso, una sua concretezza, una sua attualità solo se accompagnato dalla «rivolta», dalla violenza. La «rivoluzione» si accontenta del "pathos" (sentimenti, passioni, fascinazione) e della "praxis" (azione distruttiva, la propaganda del fatto, la violenza)».
L'errore è nella parola «rivoluzione», cui bisogna sostituire «rivolta». Quindi la frase corretta è: «Questo concetto può riacquistare un senso, una sua concretezza, una sua attualità solo se accompagnato dalla «rivolta», dalla violenza. La «rivolta» si accontenta del "pathos" (sentimenti, passioni, fascinazione) e della "praxis" (azione distruttiva, la propaganda del fatto, la violenza)».
Per richieste di copie: vetriolo[at]autistici.org
Tags: Alfredo Cospito, Analysis, Ansaldo Nucleare, Attentat, Black International, Counter-info, Ferrara, Informal Anarchist Federation (FAI), International Revolutionary Front, International Solidarity, Interviews, Italy, Nucleo Olga FAI/FRI, PDF, Roberto Adinolfi, Sabotage, Vetriolo
Posted in Interviews
Thursday, March 26th, 2020
Originally published by Publicacion Refractario. Translated by Enough 14.
March 25, 2020. The spread of Covid 19 around the world reached the territory dominated by the Chilean State, the rate of sick people grows exponentially and we assume the number of dead people will grow.
Far from speculating on its origins and roots, we believe that it is clear that today we have to fight against a disease on the one hand and the increasingly restrictive measures of social control that states seek to impose on us and others. The reality in prisons is no different, as shown by the riots, escape attempts and mobilizations that have multiplied inside the prisons, since enduring such an illness inside the prisons in practice is a death sentence.
The revolt that is shaking the foundations of the Chilean state has changed drastically due to the force of the context. We do not sit down to cry, but we rather assume the need to know how to overcome these new scenarios and also maintain the confidence that we will take the streets again.
From Refractario we call to remain alert regarding the situations inside the prisons: In the southern prisons where different Mapuche community members are imprisoned, in the Santiago 1 prison and the San Miguel prison where most of the prisoners of the revolt are held, in the High Security Prison where our comrades, prisoners of the social war, are being held hostage.
Communication with the prisoners is likely to become less and less fluid, with restrictions on visits and increasing bans looming. We're out here, we're with the prisoners, and we're watching what might happen.
It is likely that in practice, due to the increasingly restrictive measures to move around the city and to communicate, the Refractory page will fall out of date. We will try our best to keep the site as up to date as possible within our capabilities. Since 2012, when we started and continued this project, keeping active in different periods in spite of different obstacles, our possible absence for this period will only be due to force majeure. As soon as we can, we will keep our website active and updated as it has been for 8 years now.
Remain vigilant for our prisoners of social war!
We'll be back on the streets!
We're gonna get our prisoners out of jail again!
Refractario, Marzo 2020
Tags: Anti-Prison, Chile, Coronavirus, Counter-info, Mapuche, Publicacion Refractario, Repression, Social Insurrection
Posted in Autonomy
Saturday, March 21st, 2020

From plagueandfire.noblogs.org
We are building this site to address the situation that arose from the Korona virus epidemic.
Faced with a global scourge, we need to share radical reflections beyond linguistic and national borders.
Because fire can arise from the plague.
And fire can bring freedom.
This site was born from the desire to share reflections and materials on the consequences of this epidemic. Nurture a discussion that allows you to compare the critical tools that give everyone the opportunity to act in the present.
Act with a view to subvert the current social order, to free the planet and all living things from the scourge of this society.
As the history of London reminds us, fire can arise from the wounds, the demolition of the structures of dominion from fire. In the fire of 1666, during the plague epidemic, dozens of churches and a good part of many public buildings burned. Unfortunately, following that fire, London was rebuilt in a way that favored social control and city governance. This time we want to avoid that this moment of crisis leads to a restructuring of the current system. (more…)
Tags: Coronavirus, Counter-info, The Plague and The Fire
Posted in Autonomy
Tuesday, March 10th, 2020
"There are some people for whom there should have been mountains with their names written upon them for all time. Tombstones are not tall enough.."
On March 10, 2010, in Athens the anarchist and member of Revolutionary Struggle, Lambros Fountas falls dead in an armed clash with the uniformed servants of the state, during a preparatory action of the organization.
Lambros Fountas cannot easily be categorized. He has always been THERE. He fell fighting, as a member of R.S., of an organization that came to question the end of the history of urban guerrilla struggle in Greece in a deafening way. Where the broader radical movement fought with all its force so as not to internalize the imposed defeat of the revolutionary struggle by all means. The burial of the revolutionary perspective. In this repression and media delirium, R.S. with its upgraded operational capability and its anarchist-theoretical elaboration raised the bar for revolutionary organizations.
Lambros died with a gun in his hand, just as he lived: standing up, fighting for a human society of equality and solidarity, without state and exploitation. And for that exactly we will remember the life and death of Lambros everywhere on labour protests, strikes, anti-fascist actions, in solidarity structures, in clashes with the state's lapdogs, in guerrilla actions. At this difficult point in history Lambros will always be with us there where the barrier against the march of capitalist barbarism is built, where the dignity of human resistance is standing high, where a new world is shaping.
Lambros will always be with us in the struggles for the Social Revolution, for Anarchy.
… in the hard times you never abandon the city, in the good times you didn't gain any interests, in the desperate times you didn't fear anything…

LAMBROS FOUNTAS LIVES IN THE HEART OF EVERY FIGHTER
Tags: Athens, Counter-info, Greece, International Solidarity, Lambros Foundas, Revolutionary Struggle
Posted in Autonomy
Tuesday, February 11th, 2020
On July 8th, 2019, the New Democracy government of Kyriakos Mitsotakis assumed power in Greece, after campaigning on a promise to 'clean up' the central Athens neighbourhood of Exarchia, and 'take it back' from the anarchists.
Since then, the Greek state has launched a renewed attack against the anarchist and self-organized migrant movements, targeting squats and promising future raids. Against this threat, Greek anarchists have responded with characteristic resolve and determination.
Featuring interview with Pangiotis Varthalis of the squat Lelas Karagiannis 37
Translated by Boubouras (Act For Freedom Now)
Tags: Alexis Grigoropoulos, Athens, Counter-info, Exarchia, Greece, International Solidarity, Lelas Karagianni 37, Migrant Struggle, Racism, Raids, Repression, Riots, Sabotage, Squatting, Video
Posted in Autonomy
Saturday, February 1st, 2020
对于我们在中国的同志:
我们知道,最近有更多人在阅读我们在中国的网站。 我们希望收到您的新闻,经验和想法。
例如,关于由新病毒引起的紧急状态。 关于香港的起义。 警察监视。 社会控制的新技术。 您可以写信给我们,让我们尝试将无政府状态传播到任何地方。
我们想了解21世纪中国持不同政见者,叛乱分子,无政府主义者和革命者的生活。
对于新一波的团结和黑人国际。
联系我们,我们可以使用加密通信。
325
–
For our comrades in China:
We know that many more people are reading our website in China recently.
We want to receive your news, experiences and ideas.
For example, about the State of Emergency caused by the new virus. About the uprising in Hong Kong. Police surveillance. New technologies for social control. You can write to us and let us try to spread anarchy everywhere.
We want to understand the lives of Chinese dissidents, insurgents, anarchists, and revolutionaries in the 21st century.
For a new wave of solidarity and the Black International.
Contact us and we can use encrypted communication.
325
Tags: Black International, China, Counter-info, International Solidarity
Posted in No Borders
Sunday, January 5th, 2020
Después de un largo periodo sin actividad, nuestro blog vuelve a las andadas. Durante este tiempo tuvimos severos problemas con el servidor y la pagina no se desplegaba (a pesar de que seguía existiendo). Nos tomó bastante tiempo poder resolverlo pero por fin lo logramos. Muchas cosas transcurrieron internacionalmente: revueltas generalizadas en Chile, Bolivia, Ecuador, así como protestas violentas de mujeres en México.
Nuestro cálido saludo a quienes se mantienen y mantendrán rebeldes, refractarixs, inteligentes e incontrolables a pesar de la paz civilizada con la que siempre nos quieren domesticar. Nuestra lucha no se seduce ni por reformas ni por nuevas constituciones ni mucho menos por su asesino progreso. Hemos subido algunas entradas que tienen que ver con el tema para mantener el archivo, pero no quisimos dar cobertura total porque esto ya lo han hecho otras paginas afines y ademas ya quedaban fuera de tiempo. Lo que sí quisimos fue archivar los últimos aportes de escritos, acciones y comunicados salidos de México para mantener el seguimiento de la actividad aquí desarrollada, así como un escrito critico con el izquierdismo feminista realizado por la compañera italiana Anna Benniamino el cual creemos que es importante rescatar. De igual manera hemos recibido algunos aportes originales de compañerxs que iremos subiendo poco a poco, como lo es el caso del escrito histórico sobre El Loco Ron ¿eco-anarquista primigenio? Con el que refrescamos la actividad del blog. Ya para terminar con estas palabras dejamos un listado de las entradas que decidimos archivar para que quien quiera pueda localizarlas de manera sencilla y cronológica.
Nuestra fuerza y solidaridad con todxs lxs compañerxs represaliadxs en Grecia, Alemania, Italia, Rusia, Ucrania, Estados Unidos, Indonesia, Chile, Bolivia, Argentina y cualquier otro rincon que se nos olvide mencionar.
Salud y ánimo

Propagación Anárquica
www.propagacionanarquica.noblogs.org
Texto "El loco Ron ¿eco-anarquistaprimigenio? en el siguiente link:
https://propagacionanarquica.noblogs.org/post/2019/12/31/el-loco-ron-eco-anarquista-primigenio/
Tags: Counter-info, Mexico, Propagación Anárquica
Posted in Autonomy
Tuesday, December 17th, 2019
via Popular Front.
Tags: Add Oil (Hong Kong), Anti-Authoritarian, Anti-Authoritarianism, Black Bloc, China, Counter-info, Hong Kong, Police Brutality, Popular Front (UK), Repression, Revolution, Riots, Social Insurrection, Videos
Posted in Interviews
Thursday, March 28th, 2019
Two members of Secours Rouge International testified in defense of Revolutionary Struggle at the trial of anarchist prisoners Pola Roupa and Nikos Maziotis in Athens.
The following is a statement by Secours Rouge:
"It was with great joy that we again met Pola Roupa and Nikos Maziotis, the imprisoned fighters of the Revolutionary Struggle organization this morning in Athens. Two Secretaries of Secours Rouge International have testified at the trial to defend "Revolutionary Struggle," the legitimacy of its political-military strategic project, and the means that the organization has set itself to implement its objectives. Our delegates stressed that revolution is not merely a utopia since it is already a reality in Rojava. To the judge's question "When will the violence end?", our delegate returned the question "When will your class violence stop?""
Originally published here, English translation via Abolition Media Worldwide.
Tags: Athens, Counter-info, Greece, Nikos Maziotis, Pola Roupa, Revolutionary Struggle, Secours Rouge, Trial
Posted in Prison Struggle
Wednesday, January 9th, 2019
Contribution from La Rebelión de las Palabras for the meeting taking place in Santiago, Chile on 23rd December in combative memory of nihilist-anarchist comrade Sebastian Oversluij, "Angry". The meeting was also within the context of Black December and internationalist anarchist praxis. 5th year since Sebastian's death during a bank expropriation.
From the Spanish State, we greet first of all the compas that raised the commemorative activity for Angry, to a new anniversary of his death in action when he was trying to expropriate one of the temples of Capital. The noise of the blast that killed him awoke new feelings of rabid sadness that roamed the globe, unleashing actions of revenge, activities in his memory, and that inspired more individuals and groups that from the offensive or not, returned to take a breath to continue on this difficult path. We did not know Angry, nor did we know the political and social context of the Chilean territory where he developed, lived and fought. However, the courage, the determination and the coherent commitment that he showed with his last action reverberate in us, and we also feel affinity with his words, his music with the rap band Palabras En Conflicto, which we know and like, and with his drawings and gestures, contributions that mark his offensive trajectory, feeling honored to be able to participate in this activity contributing the present writing.
We have been asked to write something about the context of anarchism in the territories dominated by the Spanish State. However, to be honest, we do not feel legitimacy for such a task, since we do not know in depth the concrete context of many places of the state, and others we know them in a partial, ephemeral way or in any case, from an approach that starts from our assessment, our subjectivity and our own processes, affinities, preferences, with what we have decided to make a general assessment that, we repeat, part of our own personal valuations, without having to be taken as an absolute reason or that we intend to speak for others companions who, perhaps, have another point of view and something to say about it. (more…)
Tags: Black December, Chile, Counter-info, International Solidarity, La Rebelión de las Palabras, Santiago, Sebastián Oversluij Seguel, Solidarity Event, Spain
Posted in Autonomy
Wednesday, December 26th, 2018
Abolition Media Worldwide is an online news source for revolutionary movements, with information about militant actions, analysis, and features about local struggles from around the world. Abolition Media is here to draw a clear line that separates anti-state struggle from annihilation. AMW stands in stark contrast to corporate and capitalist media, which push the disastrous agendas of nation states.
More than just a news source, AMW intends to be a tool for movements dedicated to anarchist, abolitionist, and revolutionary perspectives. Our mission is to connect these ideas with the public; to make often obscured positions clear.
This site aims to be a catalyst for our collective drive towards liberation and to propel the movement further. AMW presents the strategies of various movements to applaud our comrades' uncompromising work, and also to create a forum by which to share essential information between distant groups. We focus on information that can be acted upon, since the political connections between international struggles are strengthened when they are cemented in local actions.
The movement today is a culmination of many struggles. We dedicate this publication to all the martyrs who have participated in revolutionary movements around the world and all those inside and outside the prison walls who continue to put their lives on the line. As we join this legacy, we strive to be a vessel for the highest standards of revolutionary accomplishments so that we may one day achieve success of communality over authoritarianism, of shared humanity over bigotry, and of vitality over extermination.
Please send us your analysis, actions, and news. We intend for this site to be integral in our struggle for global revolution.
Website:
amwenglish.com
Email contributions to:
amwenglish@protonmail.com
PGP Key: 2771 09A4 7D2D 67D4 074E C1F9 BDEF 26EC 6A00 471D
Tags: Abolition Media Worldwide, Counter-info
Posted in Autonomy
Sunday, December 23rd, 2018
ES: Contribución del proyecto contrainformativo anarquista 325 al Encuentro en Memoria del Angry
Contribution for the meeting taking place in Santiago, Chile on 23rd December in combative memory of nihilist-anarchist comrade Sebastian Oversluij. 5th year since Sebastian's death during a bank expropriation.
Dear comrades,
We are writing from '325', which is a nihilist-anarchist and anti-civilisation group of counter-information and action. Since 2003 we exist as an informal group originally out of UK and spread into Europe. We want to send our greetings to all the comrades at the gathering, for many years we follow the struggle there in Chile and try to spread solidarity to the fight. From Chile to Indonesia, to Europe, and beyond…
We think that the tendencies of attack are the most vital part of anarchy, as direct action is the constitutive part of the fight for freedom, liberation and eco-defense. We think that it's important to combine and multiply our struggle with comrades around the globe, because everywhere that anarchists are fighting, we can become a more dangerous and subversive threat against power when we internationalise and break down the borders between us. This is the reason that the States and corporations across the world are becoming afraid of anarchy again in the 21st Century, because we are the only real opposition to power's domination and they do not want us to grow and link up with each other to conspire.
On the 5th year since Sebastian Oversluij`s death in a bank robbery, we keep him present, with all the comrades that are still living with us in our hearts and deeds. Even though we never met Sebastian we are inspired by his actions and life's vision as he himself expressed it. We are touched by his freedom and energy. The banks and the capitalists are our enemies, and those that attack and expropriate them are our comrades, accomplices and friends.
The future belongs to those who struggle for liberation. They hasten the collapse of this prison-world.
Let's light up the nights and days,
Blazing hugs for a Black December
325
Tags: Black December, Chile, Counter-info, International Solidarity, Santiago, Sebastián Oversluij Seguel, Solidarity Event
Posted in Autonomy