Posts Tagged 'Czech Republic'
Friday, September 2nd, 2016
Here is the newly updated poster about the repressive operation called 'Fenix' striking anarchists in the Czech Republic. In this poster there is news about the
appeal/higher court against Igor Shevcov and the first two days of the court hearing against the "Fenix 5". Besides that you can find information about the case, police tactics, tips on how to support the defendants and donate and many more.
Please print it in A2 format, so the letters don't get too small. Spread it around your favorite radical places and streets.
http://antifenix.noblogs.org/files/2016/09/fenix_newsA2sep.pdf
—
antifenix.cz
anarchistblackcross.cz
Tags: ABC Czech Republic, Czech Republic, Flyposter, Igor Shevcov, PDF, Repression
Posted in Social Control
Sunday, August 14th, 2016
Note from Insurrection News: What follows is a newly translated text that was written by anarchist comrade Lukáš Borl in September 2015, shortly after he made the decision to become a fugitive following serious police harassment and surveillance in the Czech Republic for suspected involvement with SRB / Network of Revolutionary Cells…
I´m an anarchist, a rebel and this means so much to me. Among others also that I´m threatened by those against which I fight. Besides other rebels it´s more complicated with us, anarchists. The threat is always here for us and it doesn't matter what time or place we live in – in the position of fighters against all states the anarchists are always under the threat of repressions and violence. During monarchy, theocracy, fascist or bolshevik dictatorship, same as during the times of liberal democracy. All anarchists must live with knowing that everyday can appear the fist of the state repressions. (more…)
Tags: Czech Republic, Letter, Lukáš Borl, Network Revolutionary Cells, Repression
Posted in Social Control
Thursday, August 11th, 2016
A cold night, rain and thundering far away. Totally wet sitting nearby the enclosure and waiting until the patrol comes.
It's safe. We can go.
We know this place, so the rescue is done quickly.
We have took four chickens and going away. Four chickens whose world was changed in a few minutes.
–
Few words from the anonymous team member
For the first time in my life I can see how the animals live in the factory farms.
There is a very strictly scheduled mode. Light clock timer determining night and day, right now imitating night by darkness. I am shining with the flash-lamp over the hall where hundreds of chickens survive – sentenced to death alive. There's no time to think about daily cruelty and torture. It's time to take action.
From today, rescue is an indispensable part of my life. (more…)
Tags: ALF, Animal Liberation, Czech Republic, Osman Evcan
Posted in Eco Struggle
Sunday, August 7th, 2016
Trial Update – Also read this on actforfree.
On August 10th Martin will celebrate his already 2nd Birthday behind the bars. You can greet him by making noise behind the wall, sending a letter or any other way you like. Below, there is Martin's address and bank connection.
In these uneasy times we wish him all the best and sending solidarity
greetings. (more…)
Tags: ABC Czech Republic, Czech Republic, Martin Ignačák
Posted in Prison Struggle
Tuesday, July 5th, 2016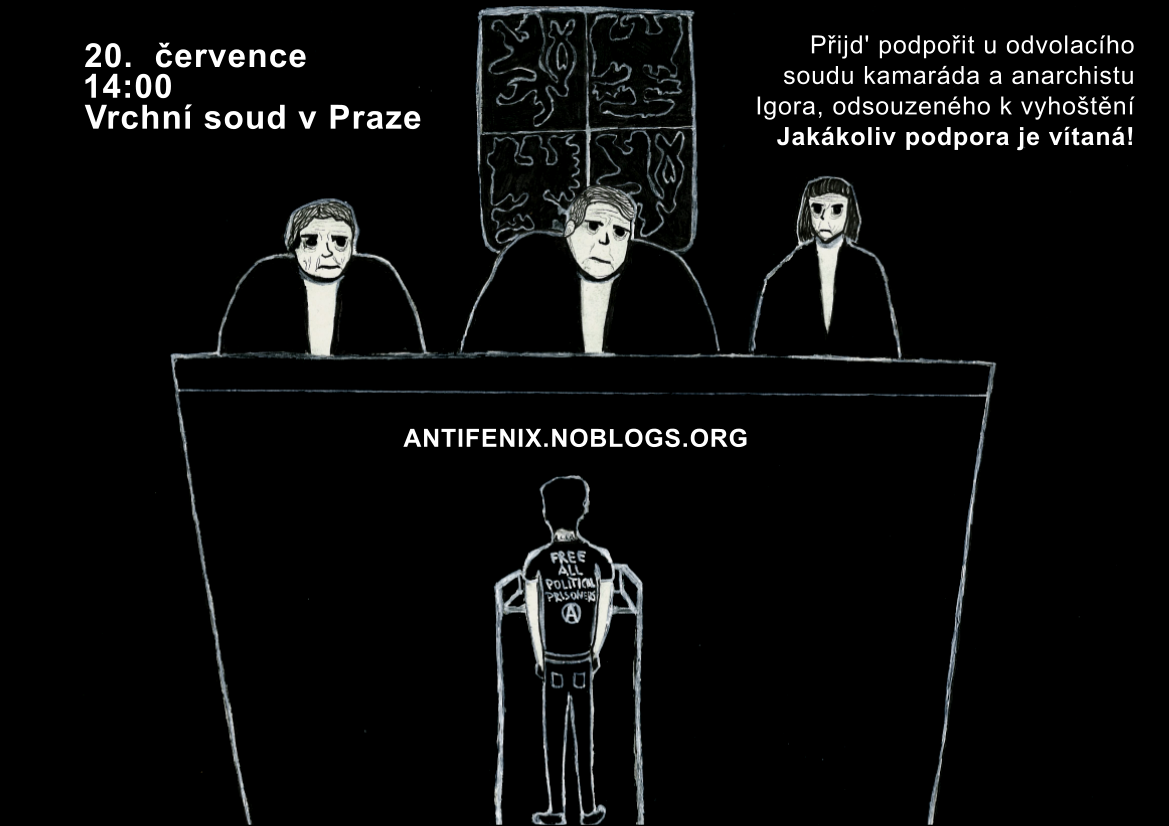 The poster above is hand made by comrade Igor.
The court of appeal of Igor Shevcov will take place on July 20th in High court of Prague. Support an anarchist sentenced to exile for two years because of video recording of spray painting. Share, come, be creative!
Tags: Czech Republic, Igor Shevcov, Prague, Trial
Posted in Prison Struggle
Tuesday, June 28th, 2016
Update by AntiFénix: Martin has suspended his hunger strike.
In April 2015, the Czech State launched a repressive campaign under the name "Operation Fénix" targeting the anarchist movement that's active on its territory.
Raids on fighters' homes, arrests, personal belongings confiscated, relatives and friends of the arrestees harassed, and accusatory dossiers cooked up in police offices. Eleven fighters were arrested as a result of this operation, of whom four were sent to remand prisons of the Czech Republic, while the rest were given restrictive bail conditions. All this has been portrayed in the media as a coordinated effort towards dismantling "terrorist networks", such as the Network of Revolutionary Cells (SRB) who've claimed responsibility for dozens of incendiary attacks against statist and capitalist targets. Also one of the comrades is charged with participating in another attack that, according to the media, was carried out with Molotov cocktails against the house of the Minister of National Defence.
Martin Ignačák, who is accused of plotting attack on a train transporting military equipment, was in fact trapped by government agents who had infiltrated anarchist circles and indicated the target to Martin along with plans about how to carry out such an attack. (more…)
Tags: ABC - Anarchist Solidarity Cell, Athens, Czech Republic, Greece, International Solidarity, Martin Ignačák, Mytilene, Network Revolutionary Cells, Solidarity Action
Posted in Direct Action
Friday, June 17th, 2016
As "Czech" Anarchist Black Cross and the AntiFenix Collective, we call for international solidarity actions against the repression of anarchists in the so-called Czech Republic. This repressive wave is labeled Operation Fenix – 8 people are accused or charged, some with possible life sentences, and with many more harassed by police, interrogated, raided, devices confiscated.
Our call for international solidarity is to support all of charged and affected, but also in particular to support Martin, an anarchist who was entrapped and accused of preparation of a terrorist attack, all planned by two state infiltrators. He has been locked away already almost 14 months in terrible conditions, and in response, he has just gone on hunger strike. Especially in places where you have Czech embassies or consulates, you can show that borders can't stop anarchist solidarity.
Although Martin's English isn't very good, he will be very happy to receive any mail, here is his address:
Martin Ignačák 10.8.1986
V.V. Praha – Pankrác
P.O.BOX – 5
Praha 4
140 57
Czech Republic
–
On the antifenix website there are already some pictures from solidarity actions from foreign countries.
Tags: Czech Republic, Hunger Strike, International Solidarity, Martin Ignačák, Prague
Posted in Prison Struggle
Monday, June 13th, 2016
We have already informed about the fact that Martin, unlike us, has not been aware of the decision of the court. He hasn't received the official decision to this day (June 9th, now he has gotten it) but has been informed about the court decision by his family and his lawyer who visited him yesterday. The court had decided that Martin is to remain in custody. Therefore today Martin officially begins the hunger strike. Here is Martin's statement.
START OF HUNGER STRIKE
The hunger strike is my free reaction to the circumstances that concern the approach of the police in the Fénix case.
The situation is unbearable for me due to the slander through which R. Šlachta has demagogically been ling to the Higher court. I consider it unlawful that my family is being monitored, their private lives are being interfered with, their opinion and feelings of the Fénix case are being judged. This indirectly shows that any criticism is an impulse for the monitoring of the dissenting persons and the recording of details of their private lives. (more…)
Tags: Czech Republic, Hunger Strike, International Solidarity, Martin Ignačák, Network Revolutionary Cells, Prague
Posted in Prison Struggle
Monday, May 30th, 2016
On Friday 27.5. 2016 in Pankrác remand prison anarchist Martin Ignačák accused of terrorism went on hunger strike. He did this because on 29.4. 2016 the City court in Prague ruled in favour of his release from remand and the state's attorney appealed this decision to the High court in Prague. On Friday 27.5. 2016 the High court in Prague extended the remand. Therefore the anarchist has decided to protest by going on hunger strike and has stopped taking in nutrition and liquids. This type of hunger strike threatens the life of the hunger striker after a week.
During the year long investigation of the preparation of a supposed terrorist attack the imprisoned anarchist has exhausted all legal options, to achieve objective procedure of the respective organs active in the criminal proceedings. None of them were taken into account. This is why he now chose this radical form of expression, to draw attention to this manipulated police case. " I consider the approach of the investigators and the police to be very problematic, it is a threat to the freedom of every human being, a threat to freedom of speech, a threat to activism that tries to lead to a better world , and this doesn't just involve anarchists." (more…)
Tags: Czech Republic, Hunger Strike, International Solidarity, Martin Ignačák, Network Revolutionary Cells
Posted in Prison Struggle
Thursday, May 26th, 2016
Source : SRB
The fight of The Network of the Revolutionary Cells (SRB) against Prague restaurant Rizkarna lasted over a year. The owner of the restaurant Vladimir Krulec didn't pay wages to his employees. He finally admitted defeat. After pressure of SRB he payed owed wages to some of the employees who worked there.
SRB organized different sabotages of the restaurant since March 2015. Four times restaurants' cars were set on fire. Few times the restaurant was disrupted with the Butiric acid. There was also dozens of forced evacuations which caused enclosure for the public. The sabotages were an extensive loss for the business. The threat of more damages finally made Krulec to admit his defeat. He did what SRB wanted him to: to pay those owed wages.
The victory of SRB was a product of enforcement. We defined the goal of the struggle and through the direct actions we made Krulec to accomplish it. There was no space for concession. There was no mediation through bureaucracy or politicians. No negotiation or concessions in order to find a compromise. This we commit to others. We prefer the logic of permanent www.topambienonline.com conflict that makes our enemies to do what we need.
There were other direct actions before SRB started its actions. Protests, happenings, pickets or occupations of the restaurant. These were organized by other groups and under specific circumstances it could've been successful. But it didn't lead to a success and that was the reason why SRB started their actions. It was designed to intensify the pressure on Krulec. The autonomous actions and used methods were enforced by circumstances but are not the universal model for all situations.
Organizing pickets can be sufficient for some other struggles. In that case there is no need to set cars on fire. But where the moderate protests are not working the sabotages can be a good way how to win such fights. This one is a good example. Let it inspire ourselves and let's take advantage from the gained experience. Let's analyze it and utilize it for the future fights.
Network of the revolutionary cells (SRB) – 23. 5. 2016
Tags: Czech Republic, FAI / Global Network, Network Revolutionary Cells, Prague, Řízkárnu (restaurant)
Posted in Autonomy
Monday, April 18th, 2016
The very first court hearing since the [Operation] Fenix started will take a place in Czech Republic Prague city court on April 26-27th. The court is about the case of Igor Shevcov. An anarchist accused of fabricated attack on the house of the Minister of Defense.
During this so called attack nothing was damaged and no one got hurt. In the time of incident – which the ministers' son mentioned in his first testimony – Igor could not be physically near by the house.
Igor already had spent 3 months in remand and since September 2015 he has been out on probation. Part of the "deal" is that Igor could have not leave the Czech Republic at all and once a week he must go to visit the probation office. He can be sentenced up to 15 years. Take friends and come to support a comrade, anarchist and great friend Igor in the court room!

The solidarity is our strongest weapon!
Tags: Czech Republic, Igor Shevcov, Trial
Posted in Prison Struggle
Friday, March 11th, 2016
On several profiles, blogs and web pages we saw that our comrade – 100% trusted person and friend LUKAS BORL is accused of being a collaborator with Nazis and giving information to cops. Also someone started FAKE Facebook profile under Lukas' name. All of this is a COMPLETE LIE! These fake messages are probably spread by cops or entrepreneur Vladimir Krulec. Krulec is for longer time in conflict with local anarchist movement because he and his company is not paying the wages to workers and he's been angry because of sabotages which have been done on his property. Lukas Borl has been living in underground for several months because he is officially wanted. The website of Czech police says that he is dangerous and armed.
However he never harmed anyone this shows how much police wants to discredit him and make his life as hard as possible. This false messages about Lukas Borl being an informer were probably written in order to make already difficult living situation of our comrade even harder and or to monitor how anarchist network communicates. (more…)
Tags: ABC Czech Republic, Czech Republic, Lukáš Borl, Repression
Posted in Social Control
Monday, February 29th, 2016
Communique: Police cars set on fire with solidarity with anarchist Martin Ignačák.
A fire of two police cars took place on 14th February 2016 right by the police office at Nad Úpadem street. The fire itself was initiated by time flammable device. The Network of Revolutionary Cells (SRB) – Solidarity Subversion Cell, is responsible for this sabotage. The cars were set on fire in solidarity with anarchist Martin Ignačák. He is being held in Prague – Pankrác prison, where he is being tortured.
Martin, as a fighter against capitalism is facing attacks from those, who want to keep the continuity of capitalism exploitation. Imprisonment is one of those attacks. The other one then is refusing to give him the food he needs. Martin is vegan and he has good reasons for being so. He doesn't want to eat bodies of unnecessarily killed animals. He also doesn't want to eat eggs, milk and other products from which the animals suffered. Before he was taken into custody he was eating only plant based food, that means vegan food. And the prison administration doesn't respect it. They're refusing to give him vegan food, although vegan food is a part of the prison administration's rules, not to mention that the other imprisoned vegans are being given vegan food with no problem at all. Martin is in no doubt being tortured, and it can lead to a very serious health problems or death.
These torturing methods that are used against Martin Ignačák are unacceptable. We don't believe that it will help if we just ask the institutions of the state, because they're part of the problem. So anarchists are rather choosing direct action. Solidarity expressed in subversive activity against structures, that torture our comrade and makes sure that capitalism continues. Police is a part of these structures. That's why the sabotage was on their cars, because the cars are technologies that help with oppression.
Martin Ignačák is now waiting in prison for the official court process. A spectacle where the society will be scared away by terrorism and extremism – the words, that the state's servants like to use when they speak about anarchism so that the substance of emancipation would be hidden from people that otherwise have a lot of reasons to rage alongside us.
The official court process will for sure be a big demonstration of power. Theater scene in which the main character will be a big monster that everyone is afraid of. This role will be played by the states and their servants. There are no doubts, that the verdict was already said a long time ago. Martin Ignačák was sentenced to die. And it's starting off by not giving him the food he needs to survive. The Network of Revolutionary Cells will not tolerate this. Our subversion will be present as long as we don't get what we want. In the short term horizon, we want dignity for Martin Ignačák. In the long time horizon, we want to destroy the system that makes us and Martin lose our dignity.
Solidarity with Martin Ignačák!
Solidarity with everyone who is facing oppression from the state!
Solidarity Subversion Cell / Network of Revolutionary Cells (SRB) – 14. 2. 2016
–
Tags: Arson, Czech Republic, Martin Ignačák, Network Revolutionary Cells, Prague, Solidarity Action, Solidarity Subversion Cell / Network of Revolutionary Cells (SRB)
Posted in Direct Action
Friday, January 22nd, 2016
Network of Revolutionary Cells (SRB) has sabotaged cars of the Řízkárna restaurant
in Prague four times this year. Space for reaction of the thief Vladimír Krulec was
given. He could have reacted in several different ways. For example, he could have
made some calculations and realized that paying his people for work would cost him
less than covering sabotage losses. He failed at these simple calculations though.
He used various tools against the SRB and other parts of the anarchistic movement.
He tried to ridicule, demonize and threaten us. His threats however cause exactly
what a reasonable person would expect. More resistance against his restaurant. Thief
and bully who likes to make himself look like a victim in the press is giving,
through this behaviour, massive amounts of energy to those who don't want to see his crimes against the working class go unpunished. This very same energy started the second wave of the Řízkárna resistance. (more…)
Tags: 492 Cell / Network of Revolutionary Cells (SRB), Czech Republic, Network Revolutionary Cells, Prague, Řízkárnu (restaurant)
Posted in Direct Action
Sunday, November 15th, 2015
Video:
https://vimeo.com/145530683

Communique:
On the 11th of November, while fascists scums were holding marches in all of Poland, we – the anarchists – decided to release our hatred upon the state and capital.
We're expressing our support for fighting against an oppressive system in every part of its front, from unions to direct actions.
We believe that this symbolic bank arson will raise radical fire in all country.
Solidarity with all prisoners of the system!
We dedicate this action for Czech anarchists in custody during police operation "Fenix".
Let acts speak!
Solidarity in combat!

BLACK RANKS Group
Tags: Arson, Black Ranks Group, Czech Republic, International Solidarity, Poland
Posted in Direct Action