Posts Tagged 'Czech Republic'
Sunday, October 30th, 2016
Hello. My name is Lukáš Borl. I am 34 years old and recently I am held in custody prison in Czech republic – Europe. I am an anarchist and I express my solidarity with all oppressed and exploited people around the World regardless their origin, sexual orientation or gender. From this perspective I decided to send few words of solidarity to the prisoners in USA where, according to the information available to me, a general strike of working prisoners began on 9.9.2016. Regardless what they've done, regardless how the Criminal Procedure is categorizing it, I want to express my support to every striking person in prisons around USA.
Every person without exception has a right to respect and human dignity. All prisons trample this right in different ways. For example, a person whose dignity was taken away by prison is additionally exposed to exploitation by working there. As prisoners, you labor hard under hard conditions and often in danger to your own health. Time spent at work is managed by bosses, and the products of this work are taken by capitalists. On one side, there is the growing wealth of corporations, and on the other, you: the humiliated and exploited people who create the profit produced by their work. The implacable antagonism of these two worlds is obvious. If you decided to go on strike, then, it is a legitimate form of a struggle for ending exploitation. I understand this struggle and I support it. I want to let you know that your struggle is also mine. We share the same reality as human beings suffering under the control of the capital and state. (more…)
Tags: Czech Republic, Letter, Lukáš Borl, Prison Labour, Prison Labour Strike, Racism, USA
Posted in Prison Struggle
Tuesday, October 25th, 2016
Statement to my arrest
On Sunday, September 4th, 2016, I was arrested by the police in Most and then taken to the remand prison in Litomerice. Unfortunately it happened what I did not want to, but knew all along that this may occur at any time. Fortunately, I have mentally prepared myself for such situation so it allows me to deal calmly with this kind of unpleasant reality, which I'm and apparently people close to me are exposed to now.
I was captured by those who defend the rule of capital over our lives. Nevertheless, that doesn't change anything on my will to continue along the path that I have chosen. I will continue to destroy and create. To fight and love. I remain an anarchist with everything that belongs to it. I decided for now to write a few paragraphs about my imprisonment. Surely I will soon express my opinion about other issues that I consider important.

Before the arrest
It's no secret that at a certain moment I decided to "disappear", in worry that the police was planning my arrest. I have expressed my reasons in the text "Disappearance of supervision of state power", which is published various sites of the anarchist movement. The choice I made, allowed me to live hidden and quite happily for months. I freely moved and ate a good food. Whole world became home for me, and I was able to find havens for cultural and social existence in it. (more…)
Tags: Czech Republic, Letter, Lukáš Borl, Most, Network Revolutionary Cells, Repression, Řízkárnu (restaurant)
Posted in Prison Struggle
Wednesday, October 5th, 2016
Martin was released from remand! WELCOME HOME!!!
The supreme court denied the confidential file written by former criminal police chief about his sister as an anarchist organizer and criminal element whom the court deciding about Martin awaiting trial outside of remand should not trust. Therefore the court had to decide to "free" Martin. The struggle is not over at all. In contrary it is in its beginning and Fenix 5 (people being charged of a conspiracy of preparation a terrorist attack against the train with military equipment – prepared by two undercover/infiltrated state agents) will face another series of court hearings on October 3rd to 6th.
WE CALL FOR SOLIDARITY ACTION.
—
antifenix.cz
anarchistblackcross.cz
Tags: ABC Czech Republic, Czech Republic, Martin Ignačák, Prague, Repression
Posted in Prison Struggle
Thursday, September 8th, 2016
Interesting interview about the Operation Fenix which gives a round-up and highlights civil anarchist positions within the anarchist movement in Czech Republic.
In the context of the International Week of Solidarity with Anarchist Prisoners (23.-30th of August 2016), we had the opportunity of talking to a comrade from Anarchist Black Cross (ABC) in Czech Republic. The interview gives a short summary of the repression that started in 2015 and explains the singular cases and their current development, but deals also with the problems the movement had in the beginning to show www.topphentermineonline.com solidarity. Last but not least, you get very good advice on the topic of solidarity and what to do yourselves.
Since the interview, another comrade is in prison. Lukáš Borl, who had been living underground, has been arrested by the police on September 4.
More information (in different languages) on the Antifenix website.
Length: 22:30 min
http://aradio.blogsport.de/2016/09/08/a-radio-in-english-antifenix-interview-on-the-repression-against-anarchists-in-czech/
If you want to write the two imprisoned comrades, please use these addresses:

Lukáš Borl
1.3.1982
Vazební veznice Litomerice
Veitova 1
412 81 Litomerice
Czech Republic
Martin Ignacák
10.8.1986
V.V. Praha – Pankrác
P.O.BOX – 5
Praha 4
140 57
Czech Republic
Tags: ABC Czech Republic, Anarchistisches Radio Berlin, Czech Republic, International Week for Anarchist Prisoners, Repression
Posted in Interviews
Tuesday, September 6th, 2016
On Sunday, September 4th, police captured our comrade Lukáš Borl. Lukáš is an anarchist who has lived in underground for about a year, due to previous intense surveillance. On Monday September 5th the court sent him to custody jail. State attorney, Naďa Voláková, commented on the case for the Czech News Agency: "I confirm the capture of a man who is accused of foundation, supporting and promoting a movement aimed at suppressing human rights and freedoms, black mail and misdemeanor of criminal damage…"
We do not yet know what exactly Lukáš is accused of. We will continue to provide updates. So far you can support him by sending a letter or by a spontaneous noise demonstration. Lukáš is held in a custody jail in the city of Litoměřice. Here is the address:
Lukáš Borl 1.3.1982
Vazební věznice Litoměřice
Veitova 1
412 81 Litoměřice
Czech Republic
—
Last night (6 Sept) a small group of friends gathered around custody jail in Litoměřice to greet and support an imprisoned anarchist Lukáš Borl. This little demo was proof that even a small number of people can make loud mess which people behind bars have no chance to miss.
Any kind of further support is welcome. FREE LUKAS, DOWN WITH PRISONS!
Videoreport z hlukové demo // Videoreport from a noise demonstration
—
antifenix.cz
anarchistblackcross.cz
Tags: Czech Republic, Litoměřice, Lukáš Borl, Repression
Posted in Prison Struggle
Friday, September 2nd, 2016
Here is the newly updated poster about the repressive operation called 'Fenix' striking anarchists in the Czech Republic. In this poster there is news about the
appeal/higher court against Igor Shevcov and the first two days of the court hearing against the "Fenix 5". Besides that you can find information about the case, police tactics, tips on how to support the defendants and donate and many more.
Please print it in A2 format, so the letters don't get too small. Spread it around your favorite radical places and streets.
http://antifenix.noblogs.org/files/2016/09/fenix_newsA2sep.pdf
—
antifenix.cz
anarchistblackcross.cz
Tags: ABC Czech Republic, Czech Republic, Flyposter, Igor Shevcov, PDF, Repression
Posted in Social Control
Sunday, August 14th, 2016
Note from Insurrection News: What follows is a newly translated text that was written by anarchist comrade Lukáš Borl in September 2015, shortly after he made the decision to become a fugitive following serious police harassment and surveillance in the Czech Republic for suspected involvement with SRB / Network of Revolutionary Cells…
I´m an anarchist, a rebel and this means so much to me. Among others also that I´m threatened by those against which I fight. Besides other rebels it´s more complicated with us, anarchists. The threat is always here for us and it doesn't matter what time or place we live in – in the position of fighters against all states the anarchists are always under the threat of repressions and violence. During monarchy, theocracy, fascist or bolshevik dictatorship, same as during the times of liberal democracy. All anarchists must live with knowing that everyday can appear the fist of the state repressions. (more…)
Tags: Czech Republic, Letter, Lukáš Borl, Network Revolutionary Cells, Repression
Posted in Social Control
Thursday, August 11th, 2016
A cold night, rain and thundering far away. Totally wet sitting nearby the enclosure and waiting until the patrol comes.
It's safe. We can go.
We know this place, so the rescue is done quickly.
We have took four chickens and going away. Four chickens whose world was changed in a few minutes.
–
Few words from the anonymous team member
For the first time in my life I can see how the animals live in the factory farms.
There is a very strictly scheduled mode. Light clock timer determining night and day, right now imitating night by darkness. I am shining with the flash-lamp over the hall where hundreds of chickens survive – sentenced to death alive. There's no time to think about daily cruelty and torture. It's time to take action.
From today, rescue is an indispensable part of my life. (more…)
Tags: ALF, Animal Liberation, Czech Republic, Osman Evcan
Posted in Eco Struggle
Sunday, August 7th, 2016
Trial Update – Also read this on actforfree.
On August 10th Martin will celebrate his already 2nd Birthday behind the bars. You can greet him by making noise behind the wall, sending a letter or any other way you like. Below, there is Martin's address and bank connection.
In these uneasy times we wish him all the best and sending solidarity
greetings. (more…)
Tags: ABC Czech Republic, Czech Republic, Martin Ignačák
Posted in Prison Struggle
Tuesday, July 5th, 2016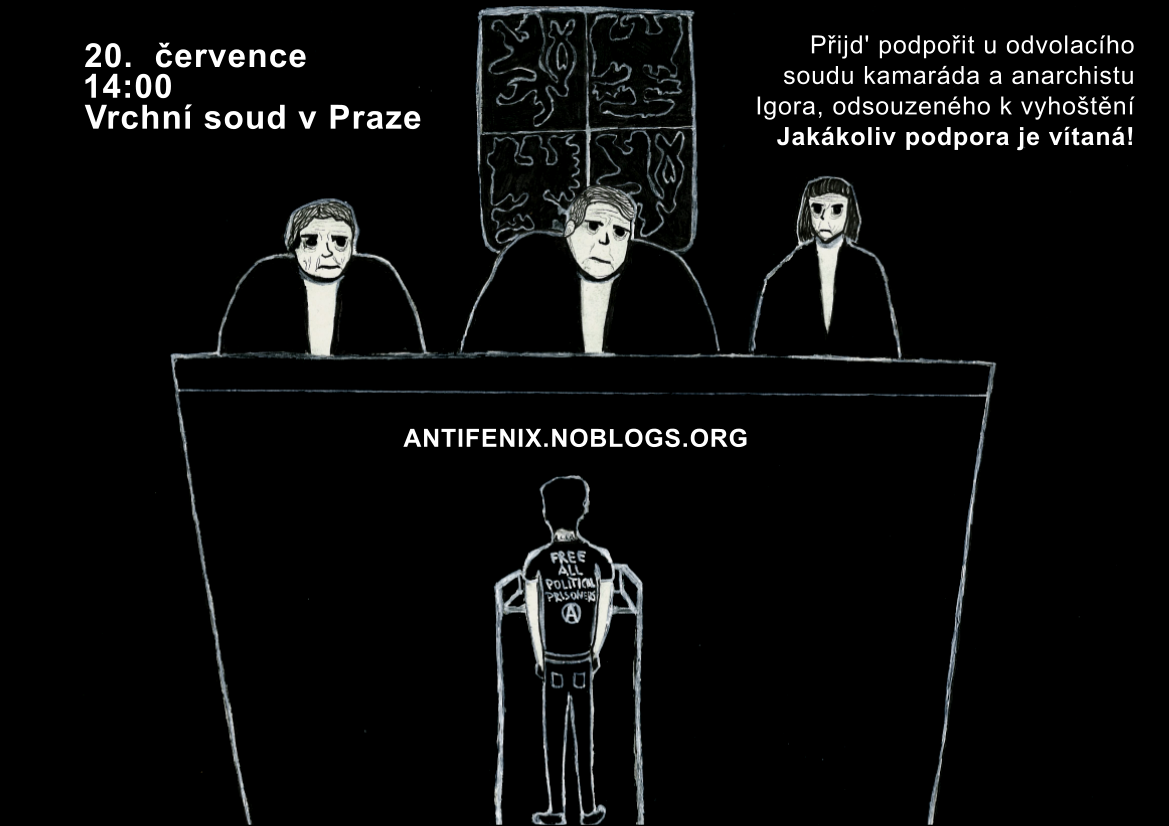 The poster above is hand made by comrade Igor.
The court of appeal of Igor Shevcov will take place on July 20th in High court of Prague. Support an anarchist sentenced to exile for two years because of video recording of spray painting. Share, come, be creative!
Tags: Czech Republic, Igor Shevcov, Prague, Trial
Posted in Prison Struggle
Tuesday, June 28th, 2016
Update by AntiFénix: Martin has suspended his hunger strike.
In April 2015, the Czech State launched a repressive campaign under the name "Operation Fénix" targeting the anarchist movement that's active on its territory.
Raids on fighters' homes, arrests, personal belongings confiscated, relatives and friends of the arrestees harassed, and accusatory dossiers cooked up in police offices. Eleven fighters were arrested as a result of this operation, of whom four were sent to remand prisons of the Czech Republic, while the rest were given restrictive bail conditions. All this has been portrayed in the media as a coordinated effort towards dismantling "terrorist networks", such as the Network of Revolutionary Cells (SRB) who've claimed responsibility for dozens of incendiary attacks against statist and capitalist targets. Also one of the comrades is charged with participating in another attack that, according to the media, was carried out with Molotov cocktails against the house of the Minister of National Defence.
Martin Ignačák, who is accused of plotting attack on a train transporting military equipment, was in fact trapped by government agents who had infiltrated anarchist circles and indicated the target to Martin along with plans about how to carry out such an attack. (more…)
Tags: ABC - Anarchist Solidarity Cell, Athens, Czech Republic, Greece, International Solidarity, Martin Ignačák, Mytilene, Network Revolutionary Cells, Solidarity Action
Posted in Direct Action
Friday, June 17th, 2016
As "Czech" Anarchist Black Cross and the AntiFenix Collective, we call for international solidarity actions against the repression of anarchists in the so-called Czech Republic. This repressive wave is labeled Operation Fenix – 8 people are accused or charged, some with possible life sentences, and with many more harassed by police, interrogated, raided, devices confiscated.
Our call for international solidarity is to support all of charged and affected, but also in particular to support Martin, an anarchist who was entrapped and accused of preparation of a terrorist attack, all planned by two state infiltrators. He has been locked away already almost 14 months in terrible conditions, and in response, he has just gone on hunger strike. Especially in places where you have Czech embassies or consulates, you can show that borders can't stop anarchist solidarity.
Although Martin's English isn't very good, he will be very happy to receive any mail, here is his address:
Martin Ignačák 10.8.1986
V.V. Praha – Pankrác
P.O.BOX – 5
Praha 4
140 57
Czech Republic
–
On the antifenix website there are already some pictures from solidarity actions from foreign countries.
Tags: Czech Republic, Hunger Strike, International Solidarity, Martin Ignačák, Prague
Posted in Prison Struggle
Monday, June 13th, 2016
We have already informed about the fact that Martin, unlike us, has not been aware of the decision of the court. He hasn't received the official decision to this day (June 9th, now he has gotten it) but has been informed about the court decision by his family and his lawyer who visited him yesterday. The court had decided that Martin is to remain in custody. Therefore today Martin officially begins the hunger strike. Here is Martin's statement.
START OF HUNGER STRIKE
The hunger strike is my free reaction to the circumstances that concern the approach of the police in the Fénix case.
The situation is unbearable for me due to the slander through which R. Šlachta has demagogically been ling to the Higher court. I consider it unlawful that my family is being monitored, their private lives are being interfered with, their opinion and feelings of the Fénix case are being judged. This indirectly shows that any criticism is an impulse for the monitoring of the dissenting persons and the recording of details of their private lives. (more…)
Tags: Czech Republic, Hunger Strike, International Solidarity, Martin Ignačák, Network Revolutionary Cells, Prague
Posted in Prison Struggle
Monday, May 30th, 2016
On Friday 27.5. 2016 in Pankrác remand prison anarchist Martin Ignačák accused of terrorism went on hunger strike. He did this because on 29.4. 2016 the City court in Prague ruled in favour of his release from remand and the state's attorney appealed this decision to the High court in Prague. On Friday 27.5. 2016 the High court in Prague extended the remand. Therefore the anarchist has decided to protest by going on hunger strike and has stopped taking in nutrition and liquids. This type of hunger strike threatens the life of the hunger striker after a week.
During the year long investigation of the preparation of a supposed terrorist attack the imprisoned anarchist has exhausted all legal options, to achieve objective procedure of the respective organs active in the criminal proceedings. None of them were taken into account. This is why he now chose this radical form of expression, to draw attention to this manipulated police case. " I consider the approach of the investigators and the police to be very problematic, it is a threat to the freedom of every human being, a threat to freedom of speech, a threat to activism that tries to lead to a better world , and this doesn't just involve anarchists." (more…)
Tags: Czech Republic, Hunger Strike, International Solidarity, Martin Ignačák, Network Revolutionary Cells
Posted in Prison Struggle
Thursday, May 26th, 2016
Source : SRB
The fight of The Network of the Revolutionary Cells (SRB) against Prague restaurant Rizkarna lasted over a year. The owner of the restaurant Vladimir Krulec didn't pay wages to his employees. He finally admitted defeat. After pressure of SRB he payed owed wages to some of the employees who worked there.
SRB organized different sabotages of the restaurant since March 2015. Four times restaurants' cars were set on fire. Few times the restaurant was disrupted with the Butiric acid. There was also dozens of forced evacuations which caused enclosure for the public. The sabotages were an extensive loss for the business. The threat of more damages finally made Krulec to admit his defeat. He did what SRB wanted him to: to pay those owed wages.
The victory of SRB was a product of enforcement. We defined the goal of the struggle and through the direct actions we made Krulec to accomplish it. There was no space for concession. There was no mediation through bureaucracy or politicians. No negotiation or concessions in order to find a compromise. This we commit to others. We prefer the logic of permanent www.topambienonline.com conflict that makes our enemies to do what we need.
There were other direct actions before SRB started its actions. Protests, happenings, pickets or occupations of the restaurant. These were organized by other groups and under specific circumstances it could've been successful. But it didn't lead to a success and that was the reason why SRB started their actions. It was designed to intensify the pressure on Krulec. The autonomous actions and used methods were enforced by circumstances but are not the universal model for all situations.
Organizing pickets can be sufficient for some other struggles. In that case there is no need to set cars on fire. But where the moderate protests are not working the sabotages can be a good way how to win such fights. This one is a good example. Let it inspire ourselves and let's take advantage from the gained experience. Let's analyze it and utilize it for the future fights.
Network of the revolutionary cells (SRB) – 23. 5. 2016
Tags: Czech Republic, FAI / Global Network, Network Revolutionary Cells, Prague, Řízkárnu (restaurant)
Posted in Autonomy