Posts Tagged 'Demo'
Tuesday, November 12th, 2019
December 2nd, the rulers of the world are coming to Madrid. Some of the biggest murderers of this planet, of the biggest responsible of its devastation. They come to fill their mouths and calendars with the next plans of "fight against climate change". While global capitalism continues intact and most of the CO2 emissions emanate from industrial production, while their companies keep devastating forests and mountains to extract its natural resources.
And if that wasn't enough, at the same time, Chile burns and their streets are still covered by the ammunition caps from the security forces. But Piñera couldn't see his political planning disturbed by the revolt, he couldn't admit the mediatic focus questioning his dictation before such a social explosion. And thanks to the kindness of Spanish government, now he will be able to continue with his plans without getting disheveled.
But in Chile, normality couldn't be held anymore, and we neither want to hold it here. We won't allow the world leaders meet to design the destruction under the look of sustainability and respect, as if everything continues to go normally. As if they haven't been destroying all this time, as if they wouldn't carry thousands of corpses in their backs. We won't give them such legitimacy. Also, because we know, that the best way to show solidarity with the rebels is nothing but extend the revolt. Like in Hamburg, we want this summit to become hell.
Therefore, we encourage the system enemies to meet in Madrid, in the dates when the world owners have their appointment in this city. Stay aware to the next calls and infos. There will be enabled spaces to host those coming from other places.
On the other hand, neither do we trust that politics gestated in parliaments and offices will stop the destruction or stop the way to the collapse, that is increasingly inevitable. But we trust in the ability of every one to act, individually or in groups. That's why we want to make a call for decentralized action to point the responsible of environmental destruction. Politicians won't act against the Capitalism interests, but we do. Against climate change; direct action.

Attack those who destroy the Earth.
Tags: Black Bloc, Climate Chaos, Cop25, Demo, Ecological Destruction, Madrid, Riots, Spain
Posted in Eco Struggle
Friday, October 11th, 2019
[November 2] Solidarity Demonstration for immigrants and spaces of struggle // Against the State and Capitalistic Development
On November 2nd, we are calling comrades from Greece and all over the world to show their solidarity, and to unite their voices through calls, demonstrations, and multiform actions.
SOLIDARITY DEMONSTRATION FOR IMMIGRANTS AND SPACES OF STRUGGLE
AGAINST STATE AND CAPITALISTIC DEVELOPMENT

VICTORIA SQUARE / NOVEMBER 2 / 12:00
The immigrant population is being debased and eliminated in all aspects of life. In order to flee war and/or poverty they are walking the paths of refugeeism on sea and land, to the squalid conditions of concentration camps, like Moria, where impoverishment and death are usually the only way forward for them. If they survive, there is a war with the cops in the neighbourhoods they live and work. Murders and beatings at the police departments, identifications and arrests that lead to long-term confinements, disappearances and deportations. At work, they get exploited without any limitation as they are the invisible part of the workforce. Their working undervaluation comes along with a total exclusion from educational, health, and other general infrastructures. (more…)
Tags: Athens, Demo, Greece, International Solidarity, Racism, Squatting
Posted in No Borders
Friday, October 11th, 2019
· ANTICOLONIAL MARCH 2019 ·
Colonialism has never ended. The neocolonial-capitalist system still wants to silence and to marginalize us. With fascism rising everywhere, time has come to unite and stand together!
The 12th of October marks the "discovery" of America by the Europeans in 1492. It's the founding stone of a big lie that lives on until today in forms of white supremacy, eurocentrism and ignorance. October 12th marks the beginning of the colonial genocides, of the destruction and robbery of precolonial societies, culture and knowledge, of forced christianization, the exploitation of the indigenous peoples, their land and resources, the transatlantic slave trade and the globalization of the a system that is wrecking life on our planet.
Until today October 12th is celebrated as "Columbus Day" and "dia de la raza" (Spanish: "race day") by colonial states. The "heroic achievements" of Columbus are still taught in German schools, while our forests are burning for the profit of multinational corporations and neocolonial regimes. German weapons are exported to war zones to kill people, while people fleeing these wars are left to drown to not enter Europe. This hypocrisy can no longer be tolerated. (more…)
Tags: Anti-Colonialism, Berlin, Demo, Germany
Posted in Autonomy
Saturday, October 5th, 2019
Solidarity with the anarchists arrested for the "Renata" operation, accused of attacking the headquarters of State racism, the apparatus of technological control, the exploitation agencies, the armed banks, the servants in uniform of power.
If they are "innocent" they have all our solidarity.
If they are "guilty" they have even more.

Friday, October 18, 2019
9.00 am: Presence of solidarity inside and outside the court of Trento (largo Pigarelli) for the start of the trial.
6.00 pm: Solidarity gathering in Verdi street (in front of the Faculty of Sociology), in Trento.
Freedom for Agnese, Giulio, Stecco, Rupert, Sasha, Poza, Nico.
Terrorist is the State.
Tags: Demo, Italy, Operation Renata, Repression, Solidarity Event, Trial
Posted in Social Control
Thursday, October 3rd, 2019
DEBRIEFING TEXT OF THE OPEN ASSEMBLY OF SQUATS, COLLECTIVES, INTERNATIONALISTS, MIGRANTS AND SOLIDARIANS
This text is a debrief of the actions of the open assembly from its beginning right after the evacuation of four squats in Exarchia on 26/8 until the demo of 14/9, where four arrests took place.
The evictions of 26/8 were not left unanswered, as hundreds of comrades made a spontaneous demo from Exarchia to Psyrri. The next day, the assembly calls for a solidarity gathering at the courtrooms for the three arrested people of Gare, and, the afternoon, for a solidarity gathering for the detained migrants in Petrou Ralli.
On 29/8 we made a solidarity rally in front of Mpoumpoulinas migrant housing squat, while the next morning at 4am the squat began to be barricaded and solidarians started gathering outside, acting as a bulwark against a possible eviction. On Saturday, August 31st, the assembly supported the march around Exarchia with a bloc of its own. The next action was to break the blockade around the steki of anarchist immigrants with a support rally and hanging a banner. Next, in preparation for the march against state repression on 14/9 at Propylaia, four kinds of posters, calls and texts in five different languages were printed, and then posted and given out in neighborhoods, universities, schools and squats. Actions culminated with the informational intervention of a hundred comrades at the hip-hop festival in Technopoli, Gazi, on 6/9.
(more…)
Tags: Athens, Demo, Exarchia, Greece, Raids, Repression, Squatting
Posted in Autonomy
Tuesday, October 1st, 2019
EN: We are behaving badly, very badly– and we can behave worse!
El Estado mexicano en su lógica dominadora, continúa acusándonos de "provocadores" e imponiendo el pacifismo ciudadano del "pueblo bueno". Y ahora trata de ir más lejos…
Desde el púlpito mañanero AMLO intenta invisivilizarnos, exterminarnos, desaparecernos, es por eso que tergiversa el sentido de la lucha anárquica, de nuestra historia y hasta el mismísimo significado de la palabra ANARQUÍA. Por eso nos denomina "conservadores" mientras imparte "lecciones" a sus mascotas felices, con el consentimiento de las focas aplaudidoras que fingen ser periodistas cada mañana en palacio nacional.
Para AMLO, al igual que para todos los presidentes anteriores (y para todos lxs jefes de Estado en la historia), el/la mejor anarquista es el que está muertx o el oportunista que renuncia a las ideas y le lame las botas, como es el caso del estalinista converso Paco Ignacio Taibo.
Esa es la razón por la que AMLO miente y nos señala como "conservadores". Todxs sus enemigxs, somos "conservadores", incluixs lxs anarquistas. (more…)
Tags: Arson, Ayotzinapa, Demo, Mexico, Mexico City, Riots, Sabotage
Posted in Direct Action
Thursday, September 26th, 2019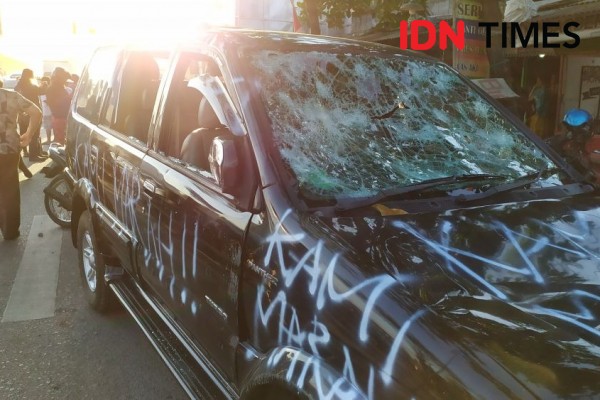 A demonstration outside Hasanuddin University (Unhas) I, Makassar Perintis Independence Street, took place as a series of demonstrations of community and student alliances of various regions. During the end of the demo today, comrades stopped two official state cars, brought the drivers out and trashed the vehicles. According to corporate media 19 people were arrested in the nearby area in a police round-up.
At September, 26, 2019, two cars of the Forestry Service South-Sulawesi Province (Makassar-Indonesia) had been damaged, by breaking all the windshields and then turning it in the middle of the road.
Here is the communique from that action:
1. We are angry because the country along with the Army and Police violently chased, evicted, fired, and killed our brothers in Papua, Kulon Progo, Urut Sewu, Bara barayya and Polongbangkeng.
2. We are angry because the government continues to attack us with torturous rules.
3. We are angry because the capitalists continually try to destroy our lives, destroy nature, burn forests, heap the oceans, destroy mountains, displace the living space of each species, build artificial buildings, to control what we should and should not consume.
4. We are angry because the media are preaching everything that is not important, eliminating cases of murder until the slaughter and continuing to work with the authorities to destroy the struggle of our combatants who fight for a better life.
5. There is no compromise for rulers and capitalists.
Below are link/news about that action:
https://nasional.tempo.co/read/1252801/unjuk-rasa-di-makassar-rusuh-massa-merusak-mobil-pelat-merah/full&view=ok
https://sulsel.idntimes.com/news/sulsel/aanpranata/unjuk-rasa-di-depan-unhas-dua-mobil-dinas-dirusak/full
Tags: Demo, Indonesia, Makassar, Riots, Sabotage, Sulawesi
Posted in Direct Action
Saturday, September 21st, 2019
While waiting for more updates, we learn from the regime's press that this morning (September 20th, 2019) a police operation led by the Digos ("political police" force of the State police) of Turin led to 14 precautionary measures throughout Italy. The alleged crimes (according to what reported by the regime's media: "aggravated injuries", "resistance to a public official", "damage" and "dirtying") are related to the demonstration of February 9th, 2019, in Turin following the eviction of Asilo Occupato, on February 7th in the context of the "Scintilla" repressive operation (for which, at present, only one comrade, Silvia, remains in prison).
On February 9th a march in response to the repressive operation moved through the streets of Turin, also trying to get closer to Asilo (completely surrounded by police and carabinieri, and meanwhile devastated by the police and the workers assigned to the closure of the building), to then turn in conflict against the city and against what daily frames the existence of the oppressed. During the demonstration, some people were arrested and later detained at the "Le Vallette" prison, and then released a few days later.
Tags: Asilo Occupato, Demo, Italy, Repression, Turin
Posted in Social Control
Thursday, August 22nd, 2019
Makassar, Indonesia, August 21st, 2019: Dozens of Makassar citizens took direct action (blocking the road) in front of the Hasanuddin University to convey solidarity with West Papuans who received racist acts and violence from the military, police and ultra-nationalist civil militias.
As for what is written on the banner:
MAKASSAR CITIZENS SOLIDARITY FOR PAPUA

1. STOP TORTURING PAPUANS RIGHT NOW!
2. PAPUANS ARE FREE TO CHOOSE THEIR OWN WAY (TO FREEDOM)
3. TNI (Indonesian Armed Forces), POLRI (Indonesian Police Force) AND FASCIST CIVIL MILITIAS, STOP YOUR RACIST ACTS, YOU DICK SHIT!
via Anarchists Worldwide.
Tags: Demo, Indonesia, International Solidarity, Makassar, Police Brutality, Racism, Repression, Solidarity Action, West Papua, West Papua Independence
Posted in Direct Action
Thursday, August 22nd, 2019
Kundgebung in Solidarität mit Grup Yorum!
Freitag, 23. August 2019, 18 Uhr
Kottbusser Tor – Kreuzberg
Grup Yorum im Hungerstreik. Am 25. August 2019 werden es 100 Tage sein.
Mitglieder der Musikband Grup Yorum begaben sich am 17. Mai 2019 in einen Hungerstreik. Ihre Hungerstreik-Erklärung enthielt diverse Forderungen, darunter die Freilassung der gefangenen Bandmitglieder und die Einstellung der Verfahren, die Beendigung der Polizeirepression gegen den Istanbuler Kulturverein İdil, die Streichung der Namen der Bandmitglieder von den "Terrorlisten" und die Aufhebung der Konzertverbote. (more…)
Tags: Berlin, Demo, Germany, Grup Yorum, Hunger Strike, International Solidarity, Turkey
Posted in Prison Struggle
Wednesday, May 15th, 2019
NOISE DEMO HMP PENTONVILLE
ACAB-FTP-YOLO
[8pm, 1 June 2019]
Bring mask, noise, banner, rage
No photos/filming
No talking to pigs
'Let's go into the streets together, to send up our rebel signal to those held hostage in the entrails of Fortress Britain. Let's go out into the night and make a dent, however brief, in the illusion of the authority of the courts, cells, judges, screws and cops who would separate and govern us, and pretend themselves our captors.'
Tags: ABC London, Demo, London, Solidarity Event, UK
Posted in Prison Struggle
Saturday, May 4th, 2019
Palang Hitam / Anarchist Black Cross Indonesia has temporarily ceased activity due to problems with a former member who misused international donations. At present there is no anarchist organization supporting those facing repression, so support is being provided spontaneously and individually. Here is an update about the situation in several cities.
In Bandung, there was a peaceful action by a group of anarchists almost 1000 strong. It even consisted of mothers, children and teenage girls. Police attacked them and broke the bloc into two groups. They were then chased, beaten and arrested. The pretext for this was 'vandalism', some spray-painted graffiti. Many of those who were arrested were stripped and had their heads shaved. Some were spray-painted on their faces and bodies as well. Many were forced to crawl along the road in their underwear. In total 619 anarchists were arrested, of these, 3 still remain in custody for destruction of property. (more…)
Tags: 1st May, Bandung, Demo, Indonesia, International Solidarity, Jakarta, Repression, Riots
Posted in Social Control
Wednesday, April 3rd, 2019
Our friend Radek, has been held in custody, in the Netherlands, for 5 months now. He was charged with attempted arson at the Polish embassy, which carries a sentence of up to 12 years in jail. Radek – just as many other workers on emigration – had dealt with exploitation by the employers, on a daily basis. Exploitation, unfair pay, unpaid overtime, atrocious living conditions – the realities of work in the West. Radek had tried to solve those problems in a less radical matter. He had given a shot by going public with it, informing the media, executing his rights. None of it helped. Eventually, he took a brave step forward. He went to the Polish embassy in The Hague, with a can full of gas and a lighter. He then informed, that he would burn the place and asked for people inside the building to be evacuated. In reality: springs from the lighter were taken out, so as to make sure, that starting a fire wouldn't be possible. (more…)
Tags: Demo, Den Haag, Netherlands, Poland, Radoslaw Bogacki (Radek), Solidarity Event, Trial, Warsaw
Posted in Prison Struggle
Thursday, March 14th, 2019
Berlin: Internationalistische Demonstration & Kundgebung zum Tag der politischen Gefangenen
Samstag 16.03.2019, 15 Uhr Hermannplatz Demo
Montag 18.03.2019 16 Uhr (Kundgebung), Justizministerium, Mohrenstr. 37 in Mitte
Solidarität mit allen politischen und revolutionären Gefangenen!
DEVRİMCİ TUTSAKLARA ÖZGÜRLÜK!, الحرية للثوار في السجون
Anlässlich des 18.März als "Tag der Pariser Commune" und "Tag der politischen Gefangenen" rufen wir zu Solidarität mit den politischen und revolutionären Gefangenen weltweit auf. Viele von ihnen sind seit Jahrzehnten in Haft. Sie befinden sich in Knästen, weil sie gegen Ausbeutung, Unterdrückung, Besatzung und imperialistische Kriege einen organisierten Kampf führen.
Aktivist*innen sind politischen Verfahren ausgesetzt und werden teilweise zu langjährigen Haftstrafen verurteilt, ins Exil oder zur Flucht getrieben, wo sie wiederum verfolgt, angeklagt und eingesperrt werden. Menschen, die in Europa und der BRD ankommen, werden mittels Anti-Terror-Gesetzen, in Deutschland beispielsweise nach §129b StGB, jahrelang eingesperrt. So befinden sich in der BRD dutzende Revolutionär*innen aus der Türkei und Kurdistan in Haft. Die Gefangenen unserer Bewegungen dürfen nicht vergessen werden. (more…)
Tags: Berlin, Demo, Germany, International Solidarity
Posted in Prison Struggle
Friday, February 22nd, 2019
Today, Friday 25th January 2019, 15 of the 18 defendants in the "Basel"-process have been found guilty of willful damage of property, actual bodily harm, breach of the peace, multiple acts of violence, threats against public authorities and officials and breach of the traffic laws. The preposterous sentence ranges from 20 months conditionally to two years, up to 27 months unconditionally. Thereby the three judges of the criminal court of Basel city followed the claims of the prosecution in most parts. Some persons even had to pay an additional fine of 200,000 Swiss franks for the violation of the ban on wearing face coverings, as well as individual fines – between five and ten daily fines in lieu of jail time – for insults, violation of the gun control law, trespassing or hindrance to an offical act.
The amounts of the fines seems even more preposterous in the light of the court rating various charges of the prosecution as unfulfilled (e.g. multiple attempted severe assaults, raids or disturbances against the public transport). The main cause therefor was, that the court held on to the controversial construct of co-offendership – for all to bear the blame equally – and in their verdict supported this intensified interpretation. (more…)
Tags: Basel, Demo, Repression, Switzerland, Trial
Posted in Social Control