Posts Tagged 'Demo'
Saturday, September 15th, 2018
A coalition of groups including London Antifascists have made a call-out for a unity demonstration against the far right Democratic Football Lads Alliance (DFLA). The far right have proved themselves to be a resurgent threat this year, mobilising a 20,000 strong rally in central London in June and have attacked trade unionists, people of colour and left wing bookshops. Left unchecked they are sure to repeat these outrageous attacks.
Antifascists have started to come together to counter this new threat. In July a militant bloc of around 500 antifascists came together to oppose a #FreeTommy demonstration. Look out for ways you can get involved in building a mass antifascist movement in the coming weeks.
If you are in London please save the date and join the demonstration. If you are outside of London consider organising transport for your friends and comrades. Meet up point TBA.
https://www.facebook.com/events/257939294927379/
Tags: Antifa, Demo, Neo-Nazis, Racism
Posted in Anti-Fascist
Wednesday, September 5th, 2018
On August 30th, 2018, a group of comrades took the street in front of the transition house of the president-elect of Mexico, Andrés Manuel López Obrador. There, they briefly blocked traffic and showered the police, media and bystanders with flyers denouncing the judicial corruption and state repression being carried out against community members of Eloxochitlán de Flores Magón, Oaxaca. The banner blocking the highway read: Freedom to the Prisoners of Eloxochitlán de Flores Magón—Week of Solidarity with Anarchist Prisoners.
This action kicks off a series of events planned in the lead up to anarchist prisoner Miguel Peralta's final court date on September 28th, 2018. We encourage you all to remain attentive to upcoming events and actions.
Free all prisoners! Down with the Prison Walls!
Communique:
Eloxochitlán de Flores Magón is a municipality located in the Sierra Mazateca in the state of Oaxaca. The majority of the inhabitants speak Mazateco and the municipality is registered beneath the Internal Normative System, or Uses and Customs of Indigenous communities. (more…)
Tags: Demo, Eloxochitlán de Flores Magón, International Week for Anarchist Prisoners, Mexico, Oaxaca, Solidarity Action
Posted in Prison Struggle
Wednesday, August 15th, 2018
The solidarity groups of Germany's Incarcerated Workers' Union (GG/BO), with the support of the anarchist workers' union (FAU), are calling for a protest to take place in front of the US consulate of Leipzig on August 21st, which is the start date of a nationwide prison strike in the USA.
You can find the call on the blog of the GG/BO solidarity group of Jena and on the website of GG/BO.
Tags: Demo, Germany, Leipzig, Prison Labour Strike, USA
Posted in Prison Struggle
Thursday, November 16th, 2017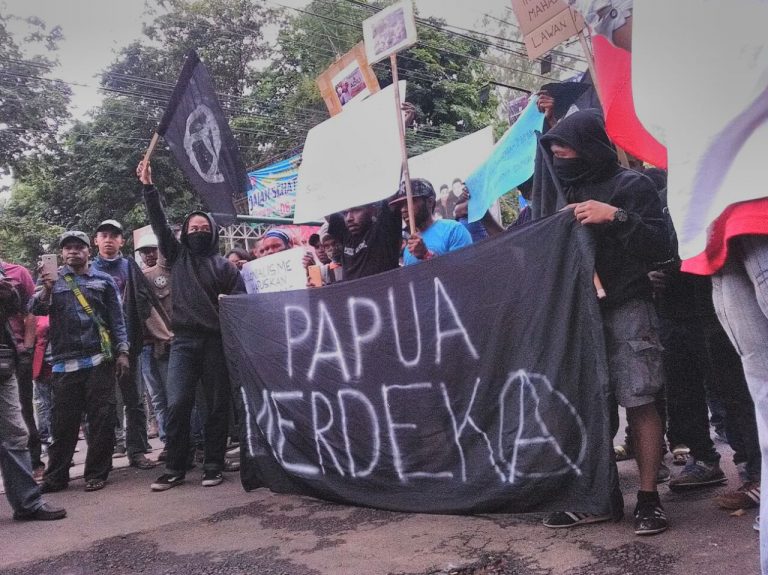 Freedom for Papua
15 November 2017
Solidarity between various alliances including Libertarian Student Federation (FML), Papuan Student Alliance (AMP) in the small town of Salatiga, at the Satya Wacana Christian University. This solidarity is a nationwide call from the KNPB (National Committee of West Papua) in order to give pressure to the Indonesian government to give rights to West Papuan independence and autonomy. In this case, anarchists and libertarians limited their solidarity for the full autonomy and freedom of West Papua from Indonesian state and not supporting the creation of West Papua as a nation-state.
Anarkis/FML
–
Salatiga (Jawa Tengah)
Solidaritas antar berbagai aliansi termasuk diantaranya Federasi Mahasiswa Libertarian (FML), Aliansi Mahasiswa Papua (AMP) terjadi di kota kecil Salatiga, tepatnya di Universitas Kristen Satya Wacana. Solidaritas ini merupakan seruan dari KNPB (Komite Nasional Papua Barat) dalam skala nasional untuk menekan pemerintah Indonesia agar memberikan hak untuk menentukan pilihan bangsa Papua Barat. Dalam hal ini, kaum anarkis dan libertarian, membatasi solidaritasnya dalam bentuk otonomi bangsa Papua Barat dan bukannya disintergrasi yang akan menciptakan negara baru lagi.
Videos Links (click on the links below):
Some anarchist students make their way out of campus
Demonstration outside of University
Tags: Demo, Indonesia, International Solidarity, Salatiga, West Papua, West Papua Independence
Posted in Direct Action
Tuesday, October 24th, 2017
Demo zum Frauenknast nach rassistischem Übergriff! 28.10. um 18 Uhr S+U Frankfurter Allee
Hallo Genoss*innen,
wir teilen diesen Aufruf für eine Demo am Samstag. Bitte verbreitet ihn weiter und unterstützt die Demonstration. Von Draußen können wir eine solidarische Antwort an die Gefangene senden und dem Knast zeigen, dass das was drinnen passiert nicht unbeobachtet bleibt!
—
Erklärung Soligruppe Gülaferit zu den Ereignissen am 8.10. in der JVA Lichtenberg

Knapp drei Monate vor der Haftentlassung* unserer Freundin und Genossin Gülaferit lässt das Knastsystem die Situation eskalieren. Die fortwährenden Provokationen und Schikanen gegen Gülaferit gipfeln in einem brutalen Angriff.
Was ist passiert: Bei einem Besuch schilderte uns Gülaferit wie es am 8.10. zu dem Angriff kam. Sie ging in die Zelle einer Mitgefangenen um das permanente Abspielen extrem lauter Musik zu stoppen. Daraufhin ging die Mitgefangene auf sie los und attackierte sie mit Fäusten. Ebenfalls drückte die Mitgefangene Gülaferit mit einem Besenstiel vor dem Hals an die Wand und beschimpfte sie rassistisch. Gülaferit wurde verletzt und musste auf der Krankenstation behandelt werden, sie trug an mehreren Körperstellen Hämatome (Blaue Flecken) davon. (more…)
Tags: Demo, Germany, Gülaferit Ünsal, Lichtenberg, Solidarity Event
Posted in Prison Struggle
Monday, October 9th, 2017
Spontaneous demonstration in Amsterdam in solidarity with G20 prisoners
Yesterday (30-9-2017) a manifestation took place in Amsterdam in solidarity with comrades who are momentarily in prison after the G20 protests in Hamburg (Germany) this July. After the manifestation a spontaneous demonstration started through the inner city of Amsterdam.
100 people took part in the manifestation in solidarity with G20 prisoners. There were speeches and music acts. After the manifestation about 50 people walked an unannounced demonstration through the centre of Amsterdam to Spuiplein.

Freedom for all G20 prisoners! Freedom for Peike!
Tags: Amsterdam, Demo, G20, Netherlands
Posted in Direct Action
Monday, September 25th, 2017
On September 23, a group of Kiev anarchists held a picket outside the Belarusian embassy in solidarity with the anarchist prisoners. Activists unfurled a banner that said "DEATH TO THE DICTATOR!" and hung an effigy of Lukashenko on the fence of the embassy. At the moment, the Belarusian regime is holding anarchist comrades Dimitry Polienko and Kirill Alekseev in their dungeons.
We demand the release of all Belarusian political prisoners and express solidarity with their struggle for freedom against the dictatorial regime of Lukashenko. The death of the dictator is the only thing that will give the Belarusian people the opportunity to breathe freely.
Recently we have learned that the diplomats have already protested in connection with our last action. Anarchists will continue to carry out solidarity actions at the Belarusian embassy and violate the tranquility of the diplomatic corps, as long as there are political prisoners in the prisons of Belarus.

via Redvia, translated by Insurrection News
Tags: Belarus, Demo, Dictatorship, Dimitry Polienko, International Solidarity, Kiev, Kirill Alekseev, Solidarity Action, Ukraine
Posted in Direct Action
Monday, September 25th, 2017
Remembering this day Sept.21, one of the horrific and tragic moment happened in the history of the Philippines. Martial Law was declared by President Marcos to suppress and repress most of the people. Rampant violence, forced disappearance, arrest, killings and torture experienced by dissidents and common people who are criticizing the authoritarian regime at that time.
Today, Duterte's administration was also following the path for being a totalitarian and a fascist by putting people's lives on his own hands defying constitutional and human rights. Declaring Martial Law in Mindanao and instigating War on Drugs policy by killings thousands of poor people. This regime are misleading the people by their fake news by putting their effort on drug related issue to stop criminality and not confronting the real problem of the society, that social injustice like poverty, no job opportunity, no social welfare, forced displacement are the main cause and this injustices are already violence. (more…)
Tags: Anarchist Gathering, Demo, Dictatorship, Drug War, Food Not Bombs, Manila, Mindanao, Philippines
Posted in Anti-Fascist
Thursday, September 21st, 2017
[September 27, Rho-Milan]
via actforfreedom:
Not just any meeting
27-28 September 2017
SingularityU Italy Summit – RHO
Singularity is a metaphor taken from physics by Ray Kurzweil, founder of Singularity University, to describe the technological process that will come to merge the human with technology. Therefore, the University of Singularity aims to prepare leaders to apply exponential technologies to respond adequately to the anthropological, social, ecological changes that the technologized world requires.
This is an objective that it is carrying out well of course, given that world leading transhumanist executives and researchers come out of it, and that some of them then join the MIT (Massachusetts Institute of Technology), one of the most important research universities in the world; the DARPA, a government agency of the US Department of Defence for the development of new military technology; Google; Microsoft, to name but a few…
Surely the fact that it is in Silicon Valley, on a piece of land of the NASA, and being partly financed by Google, is a further confirmation of how much the idea of the world it is proposing is shared with those who create and cause the conditions of the ecological and social disaster we find ourselves in. To this disaster then one would like to find a "solution", putting something into it.
But there's nothing to worry about! The thing seems to have been found and is an artificial and robotized thing. In fact through the use of technology is thought to be able to deal with what in this conference they call "the great challenges of humanity": we are assured of the possibility of a radiant future. A future in response to the fear of death and the desire for immortality, promises of cures for diseases, the absorption of pollutants from the environment, the defeat of poverty and famine.
This fabulous prospect must, however, be bartered and the complete acceptance of this technologized world is being asked in exchange. (more…)
Tags: Anti-technology, Demo, Ecological Destruction, Italy, Milan, Nanotechnology, Technological Singularity, Transhumanism
Posted in Eco Struggle
Thursday, September 14th, 2017
This is short video from antifascist protest in Poznan, clashes with fascists.
Tags: Antifa, Demo, Neo-Nazis, Poland, Poznan, Racism, Videos
Posted in Anti-Fascist
Wednesday, May 10th, 2017
Tags: 1st May, Bandung, Black Bloc, Demo, Indonesia, Video
Posted in Autonomy
Friday, April 21st, 2017
On Saturday, April 8, a demonstration "Nationalism shall not pass" was organized by an anarchist collective Rozbrat[1], in Poznan. The protest was organized as an opposition to the growing wave of hatred, xenophobia, racism and homophobia. The goal was to show this wave as a result of the exploitation of the capitalism. The demonstration was supported by various groups and organizations, such as foreigners living in Poznan, feminist and LGBTQIA + organizations, the academic community and people of culture. There was approximately 800 people participating. The demonstration started in the city center, next to the one of the shopping centers where the racist attack on a Polish citizen of Syrian origin had taken place a few months ago. After reading off the statements "Nationalism shall not pass" and "Students and academics of Adam Mickiewicz University against nationalism and racism", the demonstration was attacked by a few nationalists. (more…)
Tags: Anti-Fascism, Demo, Nationalism, Poland, Poznan, Racism
Posted in Anti-Fascist
Thursday, April 13th, 2017
From the 29th April to the 2nd of May we invite you to Bure, where we organise a diy music/workshop festival in solidarity with one of the processes going on in the fight against CIGEO and its world, a local farmer, and our friend Jean-pierre is suspected of helping the realisation of the occupation of Bois le Juc, his tractor and trailer are still held confiscated since more than half a year now. The festival ends with a manifestation in front of the court in Bar-le-Duc on the 2nd of May. During the festival several concerts will take place with agricultural workshops, discussion and presentation of the struggle against CIGEO.
Tags: Anarchist Gatherings, Anti-Nuclear, Bure, CIGEO, Demo, France
Posted in Eco Struggle
Monday, March 27th, 2017
March 25 was planned by some liberal opposition leaders as the day of the biggest protest against Lukashenko's policies this year. The biggest one on the wave of the recent anti-governmental demonstrations that started in February this year. It ended with the biggest police mobilization in years bringing thousands of riot cops to Minsk and detaining hundreds of people preventive and during the demonstration. This Saturday capital of Belarus looked like a war zone created by the police.

Campaign of disinformation

After March 15 the Belarusian government started working with double energy to bring in as much disinformation as they could: radioactive load on some plane, car full of explosives coming from Ukraine, old nationalist organization plotting riots, loads of weapons confiscated during raids. All of this has bombarded Belarusian society through governmental media in recent days, creating the atmosphere of terror from one side, but also the atmosphere of anger in society – "Do the president and his dogs think that we are so stupid to believe all of this crap?!"
However, the absurdity was never a reason to stop for the Belarusian state propagandists. As well as for Lukashenko who was giving speeches recently about planned provocations on the 25th and blaming the fifth column in trying to destabilize situation in the country and at the same time commenting that he is a big proponent of European values. (more…)
Tags: Belarus, Demo, Minsk, Repression
Posted in Social Control
Saturday, March 25th, 2017
On the 7th and 8th of July 2017 the G20 summit is supposed to take place in Hamburg. The heads of the governments of the 19 richest and most powerful states of the world, accompanied by 6.000 delegation members, surrounded and permanently photographed by 3.000 journalists and of course cordoned off and protected by an army of at least 10.000 police and secret service operatives.
All this is supposed to take place in the middle of Hamburg: in the exhibition halls, in the town hall, in the Elbphilharmonie. Large-scale and multilevel barriers, ID controls, evacuated appartments – the main victims will be the people in the Karoviertel and the surrounding neighborhoods. Especially those, that are already more exposed to frequent controls and harrassments because of the color of their skin, their legal status, their precarious social situation or other reasons.
The residents are supposed to give way for an orchestration of power, a living city is turned into a dead scenery. The main performance is the illusion that the political elites of global capitalism have everything well under control, that they are somehow capable of providing security, peace, livelihood and a real future perspective to the people of the world. (more…)
Tags: Anarchist Gatherings, Arson, Autonome Aktion Europe, Black Bloc, Demo, Fuck the Law, Fuck the Police, Germany, Hamburg, International Solidarity, Riots, Sabotage
Posted in Autonomy