Posts Tagged 'Demo'
Wednesday, September 9th, 2020
International Call for Action and Discussion Days in Berlin 30.10.-01.11.2020
International Demo in Berlin 31.10.2020
UNITED WE FIGHT!
Connect Urban Struggles – Defend Autonomous Spaces
Over the last years we experience a global resurgence of reactionary politics. State and capital, in a constant process of intensifying exploitation and expanding repression, used the global capitalist crisis, which started a decade ago, as a chance to further restructure relations of power in their advantage. Their political answer is materialized in a shift to the right, with a political alliance of neoliberal economic policies coupled with strong nationalistic narratives and repressive policies against resistance and progressive movements. The new face of authoritarianism has unleashed an all out attack against individuals it considers unnecessary or those that choose to resist and collectivize against the ruin of their lives. In our current period, states the world over used measures against Covid-19 to extend repression, policing and surveillance against societies. At the same time, the failings of neoliberal healthcare systems have led to masses of deaths and increasing inequality due to access to healthcare.
To all of this, people in different areas of the world answer with massive resistance on the streets. Movements with different perspectives have revolted, for example in Argentina, Bolivia, Chile, or more recently in France and the USA. The common thread of all these movements is their distance from institutionalized and systemic politics and the choice of self-organization and horizontalism in the fight against authority. (more…)
Tags: Berlin, Demo, Eviction, Germany, International Solidarity, Liebig34, Liebig34/XB, Meuterei, Potse, Squatting, Syndikat
Posted in Autonomy
Friday, September 4th, 2020
Am 31. August 2020 gab es in Hamburg und anderen Orten 28 Hausdurchsuchungen gegen linke Aktivist*innen. Den 22 Beschuldigten wird vorgeworfen, Mitglieder der linken Gruppe Roter Aufbau Hamburg zu sein und eine kriminelle Vereinigung nach Paragraf 129 gebildet zu haben. Diese Razzien stellen einen der größten Angriffe der letzten Jahre auf organisierte linke Strukturen dar. Die Kriminalisierung einer ganzen Gruppe, ist eine neue Qualität der Repression gegen die bundesdeutsche Linke. Unter dem Motto "Unsere Solidarität gegen ihre Repression" findet am Samstag, dem 5. September um 16 Uhr eine Kundgebung auf dem Heinrichplatz statt.
Bitte teilen und hinkommen!
Hier der Aufruf:
Unsere Solidarität gegen ihre Repression
Am 31. August 2020 gab es in Hamburg und anderen Orten 28 Hausdurchsuchungen gegen linke Aktivist*innen. Auch der linke Stadtteilladen "Lüttje Lüüd" in Hamburg war betroffen. Den 22 Beschuldigten wird vorgeworfen, Mitglieder der linken Gruppe Roter Aufbau Hamburg zu sein und eine kriminelle Vereinigung nach Paragraf 129 gebildet zu haben. Gegen weitere unbekannte Personen wird noch ermittelt. Diese Razzien stellen einen der größten Angriffe der letzten Jahre auf organisierte linke Strukturen dar. Die Kriminalisierung einer ganzen Gruppe, ist eine neue Qualität der Repression gegen die bundesdeutsche Linke.
Das Ermittlungsverfahren der Generalstaatsanwaltschaft Hamburg läuft bereits seit 2019. Im richterlichen Beschluss ist sogar die Rede von der Bildung einer terroristischen Vereinigung, also einem Paragraf-129a-Verfahren. Vorgeworfen werden den Betroffenen Straftaten wie Landfriedensbruch und Sachbeschädigung, sowie die Aufforderung zu Straftaten. Mit dem Vorwand einer 129a-Ermittlung lässt sich nahezu jede Überwachungs- und Bespitzelungsmaßnahme begründen. Der Paragraph ist ein Werkzeug für die Repressionsorgane, um linke Strukturen auszuspionieren und Aktivist*innen zu kriminalisieren. (more…)
Tags: Berlin, Demo, Germany, Hamburg, Raids, Repression
Posted in Social Control
Thursday, September 3rd, 2020
EN | Madrid: Imminent threat of eviction of the Ateneo Libertario de Vallekas
PDF: Panfleto
AMENAZA INMINENTE DE DESALOJO DEL ATENEO LIBERTARIO DE VALLEKAS
A finales de agosto recibíamos una bonita notificación del juzgado en el que se nos comunicaba que el día 16 de septiembre se personaría en el espacio la policía y el cerrajero para proceder al desalojo. Nuestro espacio lleva dos años sirviendo como lugar de actividades, debates, asambleas, gimnasio y punto de encuentro e impulso de diversas iniciativas libertarias.
Tags: Ateneo Libertario de Vallekas, Demo, Eviction, Madrid, Repression, Spain
Posted in Autonomy
Wednesday, August 26th, 2020
After the savage shooting of Jacob Blake by police in Kenosha, Winsconsin, solidarity demos took place in United States, including the city of Philadelphia:
The Solidarity with Kenosha, WI demo was more impressive than usual. People met up, discussed the plan, and started promptly. Escalation started right away and continued as a group of over 45 people marched through the streets chanting and smashing windows of banks, business and developments. There was a surprising amount of destruction. One of the most impressive things though, was the strong collective intelligence. There was good communication, barricading, and improvisation. People were decisive about both sticking to the plan and being flexible. Folks caught and lost a police tail and dispersed smoothly due to barricades and quick decision making all the while staying level headed and tight in stressful moments.
We really appreciate everyone who showed up and their energy! The more we do this, the better we get!
Also here's two things we think we could get better at: Staying in the streets, not on the sidewalks and covering up better (this includes eyebrows, bangs, tattoos etc.) 🙂
Solidarity with trash workers and the recent storm leaving us ample debris.
Solidarity with anarchist prisoners, Kenosha Wisconsin, and everyone consistently turning up and inspiring us.
Black Lives Matter
RIP George Floyd
Get better Jacob Blake.
The only way to end police brutality is to end police.
"We will destroy, laughing
We will commune, laughing
We will get free, laughing"
– The 3rd Annual Summer of Rage
Tags: #BlackLivesMatter, Demo, Kenosha, Philadelphia, Police Brutality, Racism, Solidarity Action, USA
Posted in Direct Action
Sunday, August 16th, 2020
From AWW:
15.08.2020: Police have announced that they are investigating 6 anarchists or anarchist affiliated protesters – however, 7 people were put on display at the cop press conference. This follows national protests against Jokowi's neoliberal Omnibus Law (see video) and is occurring in the context of a government crackdown on anarchists. Updates to follow when more information is known.
Tags: Anti-Omnibus Law, Demo, Indonesia, Repression, West Java
Posted in Social Control
Friday, July 3rd, 2020
What has been happening in Vienna, Austria these past few days has shown once again how real and dangerous fascism is. No matter where it is, or where it's from, and how little it concerns the political class and its executive arm so long as they can't be called out for it . But that is exactly what we must do. Yesterday. Today. And Tomorrow.
Favoriten, Vienna's tenth district, has a long tradition of being heavily working class and has long been a centre for radical politics, unfortunately on both sides. The Grey Wolves are a highly organized group of Turkish fascists who blindly follow the far right-wing party MHP and by extension the Turkish president Recep Tayyip Erdoğan and his offensive war on Kurdistan and its people. They are portrayed in the bourgeois media as being a loosely knit group of youths, when they are in fact internationally organized and highly dangerous, with the intent of carrying the Turkish war on the Kurdish people out into the world and enforcing their world view. In Vienna, they consider themselves the be the "watchers" of the 10th district, where they regularly disrupt leftwing rallies, intimidate Kurdish and left-wing groups, and try to hinder people from attending cultural events or even drinking alcohol in public during Ramadan.
A Kurdish women's organisation had been holding weekly events for months now towards the supposed end of the current pandemic in Austria. The Grey Wolves have a problem with this. Not only are the Kurdish activists speaking out against the fascist status quo in Turkey and are calling attention to the femicide carried out by the Turkish government, but they are Kurdish and they are women. Provocations started becoming more and more regular, and on Wednesday, 25 June 2020, the rally was attacked outright. The police did show up and try to stop the violence, but they were hopelessly overwhelmed when the Grey Wolves started to mobilise and hundreds of fascists showed up within minutes. The Kurdish women were able to flee into the nearby EKH, a squat that houses a number of Kurdish organisations. (more…)
Tags: Anti-Fascist, Austria, Demo, EKH (Ernst Kirchweger Haus), Grey Wolves (Turkish Fascists), Kurdish Struggle, Migrant Struggle, Squatting, Vienna
Posted in Anti-Fascist
Wednesday, June 17th, 2020
Liebe Freundi*nnen und Genoss*innen,
nachdem die Polizei am letzten Samstag eine Solidaritätskundgebung für Gefangene in der Türkei willkürlich unterbunden hat, wollen wir auf diesen Termin nochmal besonders aufmerksam machen und euch einladen, am wöchentlichen Protest, teilzunehmen.
(jeden) Samstag, 15 Uhr Oranienplatz (Berlin-Kreuzberg)
Der Kampf der Gefangenen in der Türkei, ob der der revolutionären Anwälte, der Mitglieder von Grup Yorum oder den politischen Gefangenen, steht im Allgemeinen für den Kampf um Gerechtigkeit für alle Menschen und den Widerstand gegen Faschismus.
— Hier ein Bericht der letzten Woche —
Quelle: https://de.indymedia.org/node/88799
[B] Polizei verhindert Solidaritätskundgebung
Eine für Samstag den 13. Juni geplante Kundgebung in Berlin-Kreuzberg konnte nicht statt finden.
Seit mehreren Wochen findet jeden Samstag um 15 Uhr auf dem Oranienplatz in Berlin-Kreuzberg eine Solidaritätskundgebung für Gefangene in der Türkei statt.
Worum geht es bei der dieser Kundgebung? (more…)
Tags: Berlin, Demo, German, Grup Yorum, International Solidarity, Kreuzberg, Repression, Turkey
Posted in Autonomy
Saturday, June 13th, 2020
#Flush the Terror Bill in the Toilet Bowl #Government is the Real TERRORIST #Abolish Fascist State #In Solidarity to Black Lives Matter
At this moment in time, abuse of power and the dominance by police, military, politician and State itself are became common practices in different parts of world. In the US, the police killed George Floyd in broad daylight with witnesses standing in front of them. The urge to repress the breathing of a human being justify how State's forces cruel intention towards its people. This kind of killing and violence made by the police, military and authority in uniform in many parts of the world shows how savagery and dangerous in living under this system. In the Philippines alone, more than 20,000 lives lost since 2016 in the so-called War on Drugs instigated by the State. In the history of human kind, you cannot make an assurance living peacefully while at the same time having a police or military in your community because this people are being summoned by the State to suppress and oppress the people, being an authority gives them an entitlement to use their guns in any way possible. It is very clear for an ordinary citizen to see how authority behave, they are not here "to protect and serve", they are just here to show their power over its people. That's the very essence of "Authority". (more…)
Tags: #BlackLivesMatter, Demo, Etnikobandido infoshop, George Floyd, Philippines, Racism, Repression
Posted in Autonomy
Wednesday, June 10th, 2020
Dear all,
As A-Radio Berlin we are part of the anarchist Channel Zero Network (CZN), an alliance of podcasts and radio shows in English language from around the world.
In the context of the recent BlackLivesMatter uprising against police brutality and racism in the US, CZN published a short audio containing advice on how to more safely navigate street actions. Most things would also apply outside of the BLM or Covid-19 situation.
You'll find the audio (to listen online or download) here:
https://www.aradio-berlin.org/extra-channel-zero-network-staying-safe-at-street-actions/
Length: 2 min
You can find other English audios as well as all issues of the monthly anarchist show "Bad News" here: https://www.aradio-berlin.org/en/audios-2/.
Tags: #BlackLivesMatter, Anarchistisches Radio Berlin, Coronavirus, Demo, Racism, Radio
Posted in Autonomy
Saturday, May 16th, 2020
From 13 to 15 September, the heads of government of all European countries will meet with the Chinese government in Leipzig. This will not only be about intensifying trade relations. Rather, it will be about building a new global partnership so that the EU is not ousted from the table of the great powers in the future. The deterioration in the EU's relationship with the USA under Donald Trump has made it necessary to find another partner to coordinate the shaping of its own global interests with the EU. The topics of the summit are therefore not only economic relations, but also foreign and security policy and – unsurprisingly – digitalisation and digital cooperation, as well as climate protection and human rights. The summit is based on strategic position papers which already began in the EU-China 2020 Strategic Agenda for Cooperation from 2013 and have since become increasingly concrete at the annual meetings. This year, not only representatives from China and the EU will meet for the first time, but also all heads of state and government.
Economic Cooperation (more…)
Tags: Black Bloc, China, Counter-Summit, Demo, EU, Germany, International Solidarity, Leipzig
Posted in Autonomy
Monday, May 11th, 2020
Like last year, the autonomous MayDay was full of surprises! And these surprises have caught the cops off guard and we are happy about that!
It started in the night from 30.04. to 01.05. with a demonstration in the Ölberg district, accompanied by fireworks and other great lights and (sound) effects. On our way through the Elberfelder Nordstadt some neighbours at their windows celebrated with us that the 1st of May has begun. So we were able to start the day in good spirits with strike two under difficult conditions. Already with the first strike last year we could catch the cops on the wrong foot and thus trick the cop apparatus. From that point on, we managed to break through the de facto suspension of the right to demonstrate for a short time. At least for a short period of time we were able to make the darkness glow.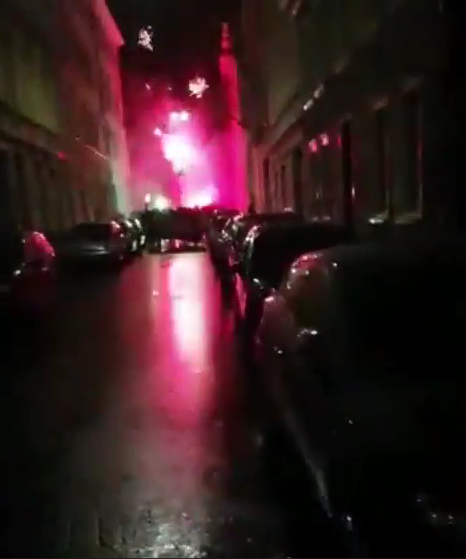 Tags: 1st May, Demo, Germany, International Solidarity, Mayday, Wuppertal
Posted in Direct Action
Sunday, April 5th, 2020
For a few weeks now, almost three billion people have been forced into home detention.
In Italy, as in other parts of the world, the first people who rebelled against the worsening conditions of their survival, the prisoners, have been repressed with dead and wounded.
While science proposes conflicting theses, part of the scientific community states that the quarantine period, although in alternating phases, will last at least until next year.
The state, however, has already chosen which truth to propagate to justify the measures taken. Forced isolation at home is being prolonged, the only proposal-constriction made to the population is to obey and wait by watching and self-surveillance… but for how long?
For now the end of the measures has been postponed until April 13th, but most likely there will be further extensions…
April 25th is the feast of liberation. Liberation not only from Nazi-Fascism, but from all forms of oppression.
The oppression of living in a world where movements are continuously controlled and monitored, with checkpoints, soldiers everywhere, drones, cameras, electronic bracelets.
The oppression of being individually considered as infected if we do not respect the laws and think that socializing and the possibility of going out are not transferable in exchange for the security of survival.
The oppression of living in terror of the invisible, because the problem is not the virus, but the ecological and social conditions in which it spreads. (more…)
Tags: Anti-Fascism, Climate Chaos, Coronavirus, Demo, Dictatorship, International Solidarity, Italy, Repression, Surveillance
Posted in Autonomy
Friday, March 13th, 2020
PDF: Flyer – Berlin
Kundgebung am Sonntag, den 22. März 2020
um 15 Uhr auf dem Hermannplatz
Anlässlich des 18.März als "Tag der Pariser Commune" und "Tag der politischen Gefangenen" rufen wir zu Solidarität mit den politischen und revolutionären Gefangenen weltweit auf.
Viele von ihnen sind seit Jahrzehnten in Haft. Sie befinden sich in Knästen, weil sie gegen Ausbeutung, Unterdrückung, Besatzung und imperialistische Kriege einen organisierten Kampf führen. Aktivist*innen sind politischen Verfahren ausgesetzt und werden teilweise zu langjährigen Haftstrafen verurteilt, ins Exil oder zur Flucht getrieben, wo sie wiederum verfolgt, angeklagt und eingesperrt werden. Menschen, die in Europa und der BRD ankommen, werden mittels Anti-Terror-Gesetzen, in Deutschland beispielsweise nach §129b StGB, jahrelang eingesperrt. So befinden sich in der BRD dutzende Revolutionär*innen aus der Türkei und Kurdistan in Haft.
(more…)
Tags: Berlin, Demo, Germany, International Solidarity
Posted in Prison Struggle
Saturday, February 29th, 2020
EN: International Call for a Subversive, Dissident and Anarcho-Feminist March
CONVOCATORIA POR UN MARZO SUBVERSIVO, ANARCOFEMINISTA Y DISIDENTE
La sociedad está estructurada desde diversas cadenas de opresión que se cruzan y entrecruzan, entendemos que solamente la confrontación radical es capaz de acabar con cada una de ellas. Estas pesadas cadenas tienen al patriarcado como una de sus bases principales, por lo cual hacemos un llamado a levantar un marzo subversivo, anarcofeminista y disidente. Históricamente ha sido un mes combativo y pretendemos que lo siga siendo.
La destrucción de la autoridad en sus múltiples dimensiones no puede ir alejada del cuestionamiento y enfrentamiento constante a la dominación machista, en sus formas y conductas, por eso no vemos el enfrentamiento contra el patriarcado como una lucha parcial.
Somos críticxs con las posturas hegemónicas del feminismo social demócrata, que margina y excluye a las sexualidades y cuerpxs no normados. Los géneros son construcciones sociales impuestos de los cuales no nos interesa ser parte, apelamos a una deconstrucción completa de nuestras maneras de vernos y relacionarnos… sin reglas de lo que queramos ser. (more…)
Tags: Chile, Demo, International Solidarity, Santiago, Sexism
Posted in Autonomy
Wednesday, February 26th, 2020
Let's make March the hottest month in history!
Urgent Call to Anarchic Action:
As ANARCHIC WARRIORS IN THE FIGHT AGAINST PATRIARCHY, we call all our comrades to be present in the fight in the streets next Sunday 8th March and let's extend the insurrection throughout the month of March: In one day there is not enough room for all our fury! We will go out again with our anti-systemic rage and hope to spread fury again within the numb sectors of the so-called "feminist movement". This is a war and we are prepared for war. We know that since the heights of power prepare the repression of the protest. But we are not intimidated, we will turn the protest into a widespread insurrection.
In his morning circus-mass, the peje-ganzo-poop-president every day starts the massive media machine and tries to impose a change of reality to ensure public opinion and be able to repress at ease.
First, he accused the anarchists of being "conservatives", and now he extends the title to the so-called "feminist movement". He accuses that there is a "black hand" in the struggle for the destruction of patriarchy. Saying what lies behind our rage because they rape us and kill us, is the right hand of fascism.
This reversal of roles is the script of the change of reality that they try to impose from Power. Again he thinks that he grabs us with the assholes but he doesn't fool us. We know who are the true conservatives and fascists. All government is of a Conservative and fascist nature.
In its Fourth Transformation, examples of conservatism abound… The alliance between evangelical fascism and the retro-Bolshevik left is the main test of the union of misogynist dogs.
The morning message of Christian morality and its call to strengthen the Mexican hetero-patriarchal family is the evidence. Family structures which are hetero-patriarchal are the basis of the State (sacred or secular) and the continuity of patriarchy.
As we have expressed before: We are aware of the presence in the national palace of a misogynist and sexist, pro-life, ultra-conservative and evangelical fascist who has been an ally of the left in its constant opportunism to "take power" at all costs.
They can fool the good people (happy, content and ignorant) but us, NEVER. That's why we will not put a limit on the revolt.
We will continue releasing the subway turnstiles throughout March, inviting individual and collective disobedience, spreading the fury…
We do not want dialogue or new laws: we want to burst the system of hetero-patriarchal domination. And we will do it with all our creativity, like Mrs. Yakul, teaching us about the Chilean insurrectionists, not with drums and choreographies but with the stone and the molotov.
The struggle has reached a decisive turning point: let's extend the revolt.
Let the sky explode with the chambermaid God and everything!
Let's destroy everything that dominates us!
The Insurgentes subway square will be the Plaza de Las Insurgentes!
If one day we do not return home: Do not light candles, light barricades!
Neither God, nor State, nor Master, nor Husband!
The State-Capital, with AMLO or without AMLO [Mexican President], Patriarchy is what weaves!
Let's destroy everything that dominates and conditions us!
Anarchic solidarity with all the comrades and fellow prisoners around the world!
Against the patriarchal civilization!
For the control of our own lives!
For the destruction of gender!
For the insurrectional anarchic tension!
For Anarchy!
Fire to all that exists!
Phenomenal Witches and Insurrectionists (F.B.I), formerly Female Witches and Insurrectionists / F.B.I. (Féminas Brujas e Insurreccionalistas)
Mexico City, Monday 24 February 2020.
Tags: Arson, Demo, F.B.I. (Féminas Brujas e Insurreccionalistas), International Solidarity, Letter, Mexico, Mexico City, Molotov, Repression, Riots, Sabotage, Sexism
Posted in Autonomy