Posts Tagged 'Demo'
Saturday, August 4th, 2012
From IMC UK:
Meet 6.30pm Southbank by Waterloo Bridge Friday 10th August.
This is a mid month Critical Mass to show solidarity with the cyclist killed on the road on 1st August by an Olympic bus. The headlines continually ignored the death and concentrated on the gold medals – particularly the one won by British cyclist Bradley Wiggins. All cyclists including Olympians, are invited to join us as well as wheelchairers, skateboarders, roller bladers, roller skaters and other self-propelled people.. This Critical Mass will be huge – spread the word.
Tags: 2012 Olympics, Critical Mass, Demo, London, Olympics, UK
Posted in Direct Action
Sunday, July 29th, 2012
Leftist protest groups, social activists and London anarchists remarked today that numbers were low on their demo which took place on Saturday 28 July.
The march, which couldn't deviate from a proscribed route upon threat of violent arrest, restrictive bail conditions, detention or 'anti-social behaviourial order', was widely publicised, but did not attract many people willing to submit to the regime's police and the corporate para-state. Some other leftists and social activists were glad that the march got worldwide media coverage, of hundreds of people attending a state-approved protest route and rally, which sent out a 'strong message' to the world.
From an alarmist via IMC UK:
London counter-olympics demo: back to the old A to B
A few hundred people marched from one park in the east end to another park in the east end.
Comrades! A great victory! Today a few hundred counter-olympics protestors (500 according to the BBC, or maybe up to 1000 in fact), including members of no less than 43 organisations, marched from Mile End Park in East London, to Wennington Green, another park in East London not very far away. The demo headed along the Mile End road tantalisingly in the direction of the olympic park at Stratford, before doubling back in a state-approved circular route to keep everyone safely out of harm's way.
Everything went according to plan. No one disrupted nothing. Arriving at Wennington Green, we listened to a range of inspiring speeches, beginning with a rallying cry from someone who was introduced as the writer of a "great article in last week's Socialist Worker". Well done comrades for not jumping the gun and taking any precipitous action! We're still doing a great job of lulling the state into a false sense of security as, behind the scenes, our ninja army of highly trained cadres all get into position for the final reckoning.
Read the full story here on IMC UK
Message from our sponsor:
"We live in a democracy and this country has a long tradition of staging and managing peaceful protests in a sensible and appropriate manner"
Locog – Ministry for Sport
Tags: Demo, London, Olympics 2012, Repression, UK
Posted in Social Control
Thursday, July 26th, 2012
Anti-Sona 2012- Anarchist Protest in the Philippines
July 23, 2012 Monday
A group of anarchist demonstrators wearing mask, around 30 individuals, (with black clothes tied on in their face) unpredictably showed up from Aurora Avenue, Cubao Quezon City staging uncompromising rebellion against the State of the Nation Address or SONA.
Circle A black flag was waved in the air, along with green and black and red and black flags that symbolizes an ever-expanding expression of solidarity in the struggle for radical social change and liberation that are inclusive for all common people and every walks of life not solely amongst activists circles and political movements. (more…)
Tags: Anti-Sona 2012, Black Bloc, Demo, Fuck the Law, Graffiti, Paintbombs, Philippines
Posted in Direct Action
Saturday, July 14th, 2012
At 13:00 on Saturday, 21st July, Liverpool Antifascists will be gathering at Combermere Street in the Toxteth area of the city. We then plan to march to the city centre, for a rally themed around 'working class unity against racism and fascism'. Liverpool Antifascists would like to ask you to attend, or spread the word about the event if this is not possible. This will be a vital day for Liverpool activism, and even the city in general.
To understand why, it's important to look at the background to this demonstration. In February, a gang of around two hundred fascists mobilised in the city centre, running amok, and forcing the Irish Republican Flute Band off the streets, before going on to hassle Occupy supporters on an anti-police brutality protest. This was a serious defeat for Liverpool activists, and it is vital that this is acknowledged, so that we can stop it happening again in the future. (more…)
Tags: Demo, Liverpool, Racism, Solidarity, UK
Posted in Anti-Fascist
Tuesday, July 10th, 2012


Rage against the pro-nuke electric power ltd!
These are the pix of the protest-action against a pro-nuke electric power ltd of Kansai electric power (Kanden) on 27 June 2012, Osaka, a western part of Japanese islands. Polizeis and guards, subjects of Kanden prevented our protest as the "loud & noizy voices". This pro-nuke bastard named "Kanden" will just carry out their evil way with "ok signs" on 16 June 2012 by Jap government. THEY are just interested in making THEIR bloody money. Ja, this selfish decision by pro-nuke bastards is terrible crime for everyone living on this planet. (more…)
Tags: Anti-Nuclear, Demo, Fukushima, Japan, Nuclear Disaster, Osaka
Posted in Eco Struggle
Monday, June 25th, 2012
English translation of poster:
Vandalism and looting is what we live everyday. The revolt explodes.
The window panes of the rulers of the world are bursting. The only regret: That we did not do it enough.
–
On 13th July the last grade of judgement against 10 comrades, convicted for having participated in the clashes occurred in Genoa in 2001 on the occasion of the G8 summit, will be held. The comrades were given heavy sentences, ranging from 10 to 15 years, by the Court of Genoa and now their imprisonment may become executive. Ten people are being used as scapegoats: through them, the State wants to attack the hundreds of thousands of people who took to the streets in those days, and particularly those who contributed to unleashing the revolt against the arrogance of the Powerful. We won't accept the reprisal of the State; condemning these comrades means to attack the whole movement. (more…)
Tags: Anti-G8, Carlo Giuliani, Demo, G8, Genoa G8 2001, International Solidarity, Italy, Rome
Posted in Social Control
Monday, June 25th, 2012
From Anti-Fascist Network:
The EDL are marching in Bristol on the 14th of July. The counter-mobilisation is in full swing, so get involved. Now is the time for action.
Come to Templemeads area [main train station] and line the route at 10am on the 14th to give them the welcome they deserve. Stay alert. Stay mobile. Bring your mates. There are many, many ways to show your opposition to the EDL: don't let them march, don't give 'em a lift in your taxi, put posters up in shops, don't serve them drinks, raise awareness about their farcical attempts to disguise their homophobia, chat to work colleagues, decorate the city…. do whatever you feel comfortable with but now is the time to get a crew together and take action against racism in our city. We want to meet them at the station to stop them marching for any distance. We will resist them wherever they turn and we will be watching them. Let's defend ourselves against the EDL! Zero tolerance of fascism on our streets.
For more information email bristolantifascists@riseup.net
http://antifascistnetwork.wordpress.com
Tags: Anti-Fascism, Bristol, Demo, English Defence League, Racism, UK
Posted in Anti-Fascist
Monday, June 11th, 2012
From informa-azione.info:
On 13th July the last grade of judgment against 10 comrades, convicted for having participated in the clashes occurred in Genoa in 2001 on the occasion of the G8 summit, will be held.
The comrades were given heavy sentences, ranging from 10 to 15 years, by the Court of Genoa and now their imprisonment may become executive.
Ten people are being used as scapegoat: through them, the State wants to attack the hundreds of thousands of people who took to the streets in those days, and particularly those who contributed to unleash the revolt against the arrogance of the Powerful. We won't accept the reprisal of the State; condemning these comrades means to attack the whole movement. (more…)
Tags: Carlo Giuliani, Demo, Genoa, Italy, Rioters, Trial
Posted in Social Control
Sunday, June 3rd, 2012
Click poster for info from Poland
From Anarchist Solidarity + RAF.espiv.net:
At the end of last year we had received news of Andrzej Mazurek's state of affairs, a Polish man who has been kept in prison since December 2008, he is a prisoner of Greek state (see: 1). Comrades tied with Andrzej Mazurek had already described his situation, but the description was fragmentary and ambiguous. Thanks to Greek anarchists we were able to contact Andrzej himself and ask about many circumstances resulting in his arrest and imprisonment.
Andrzej comes from a small town Nowa Dęba in Podkarpacie, Poland. He left Poland in 2007 because of ilegal issues. He led his life as a working immigrant. On the 6th of December 2008 two policemen, Epaminondas Korkoneas and Wasilios Saraliotis had shot a young anarchist Alexandros Grigoropoulos on one street in Athens. This event resulted in unexpected chain reaction putting together every day experiences of thousands of young Greeks, immigrants and all other groups existing on the margin of "normal life". The streets of majority of Greek towns were full of anger towards capitalist civilisation of death. This event is even now called the Greek Revolution 2008/2009. Andrzej was not indifferent to police murder showing antagonisms lurking under the surface of capitalist normality. He joined groups fighting against the police and taking back the life-giving space from the city desert. Let's read what Andrzej has to say about his experiences. (more…)
Tags: Andrzej Mazurek, Demo, Greece, International Solidarity, Poland, Rioters, Riots
Posted in Prison Struggle
Saturday, May 12th, 2012
From London ABC:
Her Majesty's Pleasure*? Stuff that!
A noise demo to show solidarity with prisoners at HMP Brixton, because frankly we don't feel like celebrating 60 years of having a queen, especially a queen who takes pleasure from imprisoning our mates, comrades, and other fellow human beings. What kind of a sick mind takes pleasure from locking people up in prison? Prisons destroy people. They destroy familes, friendships, and communities too. Putting somebody in prison is an act of violence which contributes nothing real or positive and only brutalises those who are already struggling. (more…)
Tags: ABC London, Demo, Fuck the Law, Fuck the Queen, HMP Brixton, UK
Posted in Prison Struggle
Friday, May 11th, 2012
Rough translation from periodico anarquia:
On the morning of Wednesday, May 8, two comrades were arrested, one in their workplace and the other at home. They were taken to the Special Operations Department and on the morning of Thursday 9 to Court, they declared. One of them was free, while comrade David was charged with prison for assaulting a scab taxi-driver that was working on 1 May. The sentence would be between three months and three years in prison, according to the judge, the final decision will occur in the span of the next ten days and would accuse him of violence and property damage to private vehicles. (more…)
Tags: 1st May, Demo, Montevideo, Repression, Uruguay
Posted in Social Control
Tuesday, April 24th, 2012


No Borders activists took to the stage this evening [23rd April] at a prestigious fundraising concert organised by Barnardo's in protest at the charity's collaboration with the UK Border Agency in detaining children.
Press release from the activists who made the action is on IMC UK.
Tags: Demo, Migrant youth, UK
Posted in No Borders
Wednesday, April 18th, 2012
Solidarity Is Praxis Not Just Words
Over the course of the past two weeks, eight imprisoned Greek comrades have declared a hunger strike that has spawned a growing wave of resistance throughout Greece. The prisoners' diverse statements express demands for dignity, improved conditions, an end to political pre-trial detentions and extralegal punishment. Particularly, three of the hunger strikers (Giorgos Karagiannidis, Alexandros Mitroussias and Kostas Sakkas) expressed solidarity to Stella Antoniou who has been in prison for a year and a half, charged without evidences as a member of Conspiracy of Cells of Fire and has been consistently denied release for access to medical care. All of the hunger strikers (Spyros Dravilas, Giorgos Karagiannidis, Alexandros Mitroussias, Kostas Sakkas, Panagiotis Argirou, Gerasimos Tsakalos, Christos Tsakalos, Vaggelis Kailoglou [Vaggelis is abstaining from prison food, he is not on full hungerstrike] and as for today April 17th, Haris Hadjimihelakis, Damiano Bolano and Giorgos Polidoros) are not only seeking individual justice but support and reaffirm the demands of their fellow strikers. (more…)
Tags: Demo, Greece, Hungerstrike, International Solidarity, USA
Posted in Direct Action
Saturday, March 17th, 2012
At Thursday's Jock Palfreeman solidarity demo in London [15/3/12] the AF's Stormy Petrel flag and banners with 'Free Jock' and 'Leeds Anarchist Black Cross' were displayed. About 30 people turned-up to the picket including comrades from Norwich, Brighton, Bristol, London Anarchist Federation, Surrey/Hants AF, Staines Anarchists, Leeds Anarchist Black Cross, London ABC, ALARM and the Traveller Solidarity Network. Leaflets explaining Jock Palfreeman's case were handed out and a Bulgarian Flag was burnt in front of the embassy.
–
Download one of the A4 leaflets given out by random anarchists here.
Check out – www.freejock.com
Tags: ABC Leeds, Anti-Fascism, Bulgaria, Demo, International Solidarity, Jock Palfreeman, UK
Posted in Anti-Fascist
Wednesday, March 14th, 2012


From the multi-language anti-info project based in Athens – Contra Info:
Two years after the murder of the anarchist comrade Lambros Foundas, a march of remembrance and struggle took place on Saturday, March 10th, 2012 [here 1, 2 are some photos from the demo on March 2010].
By 12.00 the PA's gathering began in Monastiraki Square, which lasted approximately an hour, before nearly 1,000 people started to march through central streets of Athens (Athinas Street, Omonia Square, Stadiou Street, Syntagma, Amalias Avenue, Othonos Street, Panepistimiou Street, Propylaea), often attracting the interest of passersby. Numerous police units were present during the entire demo route, while organizers of the demo provided for its essential "safeguarding".
Brochures with the political declarations of the comrades who stand trial for the Revolutionary Struggle case were distributed, while flyers, graffiti and stencils covered the streets and the walls downtown. At the head of the demo there were two banners reading "Solidarity with all those prosecuted for the Revolutionary Struggle case" and "Lambros is alive within our struggles for Social Revolution".
Many slogans — new and older ones — were chanted such as "Revolutionary Struggle against the Capital and capitalism", "Lambros is alive within the heart of every revolutionary", "Terrorism is to look for a job; no peace with the bosses", "Honour forever to Lambros Foundas", "Freedom for all prisoners", "Neither criminal nor political prisoners; set fire to all prisons", "The State and the Capital are the only terrorists; solidarity with the armed guerrillas", "People, take up arms; now or never", "People, you're starving; why do you kneel down in front of them? People, you're starving, why don't you hang them?" (outside the central market Varvakios Agora), "Let Kaminis' house turn into ashes" (outside the city hall), "The February 12th was only the beginning; forward for a worldwide uprising", "The February 12th was not enough; next time the parliament must fall", "Freedom for the members of Revolutionary Struggle; ax and fire for the state guard dogs", "Cops, KKE [Greek "Communist" Party], neo-Nazis, all scum work hand in hand", "Praying won't change the world; let's expropriate all churches", "Freedom to Stella Antoniou". Also, a slogan was chanted in Italian, "Anarchia, Destabilizzazione, Azione Diretta, Inzurrezione" (anarchy, destabilization, direct action, insurrection). At around 15.00 the anarchist demo ended at Propylaea, while many protesters continued to march to Exarchia.
Video from the gathering on March 20th, 2010, in Dafni, in honour of Lambros Foundas and all fighters who died from the hands of the State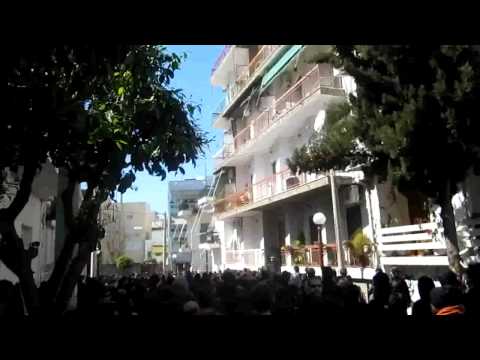 You left with your head held high, the same way as you came,
the same way I met you, as always.
I envy you.
– What is death?
– It's like total darkness, with time you're getting used to
and it does not bother you anymore-.
And you left us behind,
with our remorse and our guilt
and our misery and our doubts,
to find excuses so that we get by,
another day,
and another day
and another day.
I envy you.
Cause you are ok, you're always ok.
I need you.
To show me what dignity means,
to show me not to fear,
to show me not to compromise.
I need you next to me in the streets and in my way.
And to talk, to talk to me.
And to listen, to hear me.
So I can steal a bit of power from your truth,
a bit of courage from your freedom
a bit of faith from your values.
They say you are a terrorist.
It is true. You are terrorizing our fear, our comfort, our false appearance, our apathy, our empty gaze, our diminished libido, us getting used to the ugliness, our muzzle, our blinders, our handcuffs, the chains that prevent us from becoming dangerous.
There's something we need to discuss.
Some say they choose not to act because they fear for their petty life. They say they love their life.
Others choose to act for exactly the same reason.
The say they love their life and cannot tolerate their life being wasted.
Tell me, can they both be right?
They can't.
VENCEREMOS

To the comrade and friend that walked away from this life with his head held high on this day, exactly two years ago.
Anarchist Lambros Foundas, member of the urban guerrilla group Revolutionary Struggle, was murdered by the Greek police on March 10th, 2010.
Tags: Athens, Demo, Greece, Lambros Foundas, Revolutionary Struggle
Posted in Uncategorized