Posts Tagged 'Demo'
Tuesday, March 13th, 2012
On Friday 9th of March in response to a call for an international day of action against Serco, a British corporation running government services around the world, from juvenile and adult prisons to immigrant detention centres, to army bases in Afghanistan, to speed cameras in Victoria, parking meters in Chicago, and soon the Sydney Ferry system.
Demonstrations were held in London, Perth, Melbourne and Sydney, where a number of coordinated demonstrations were held throughout the day. At 1pm a bunch of comrades assembled in Fairfield, and picketed the office of Chris Bowen, Labour Party MP and Minister for Immigration, in an expression of disgust toward the regime of mandatory detention. Bowen is personally responsible for Serco's contract to run immigrant concentration camps across Australia. (more…)
Tags: Australia, Demo, Serco
Posted in Prison Struggle
Saturday, March 3rd, 2012
SATURDAY, MARCH 10TH 2012.
12.00AM, MONASTIRAKI SQUARE
2 years since the murder of anarchist comrade Lambros Foundas, member of the organization Revolutionary Struggle, who fell in battle with cops during a preparatory action of the organization.
Our debt to the memory of our comrade is to continue the subversive struggle for freedom, equality, anarchy.
Against the junta of the Troika and the modern totalitarianism, against State and Capital, for the subversion of the regime and the social revolution.
Solidarity to the members of the Revolutionary Struggle and to those who are being prosecuted for the same case.
Tags: Athens, Demo, Greece, Lambros Foundas, Revolutionary Struggle
Posted in Uncategorized
Tuesday, February 28th, 2012
WEDNESDAY 29 FEB 11:00 RALLY – SOLIDARITY NO TAV
Italian Consulate in Barcelona
(C/Mallorca, 270)
Today Luca Abbá of the Val Susa is seriously injured in hospital after falling from the tower of a high voltage power lines, during the protests against the new expropriations on the morning of 27th februrary. The police attempted to forcibly bring him down, and he received an electric shock. He is in a critical condition as a result of the electric shock and the fall from over 10 metres, made worse by the fact that the ambulance was prevented from arriving for up to 50 minutes by the forces of "order". (more…)
Tags: Barcelona, Catalunya, Demo, Repression, TAV, Val Susa
Posted in Eco Struggle
Saturday, January 7th, 2012
Jock Palfreeman Solidarity Demo. Thursday 15th March 2012. 11am – 2pm. London
Demonstrate outside the Bulgarian Embassy in solidarity with Jock Palfreeman, the young Australian man who was set up by the Bulgarian police and criminal justice system after he stepped in to stop an attack on a young Roma in December 2007. Jock Palfreeman was sentenced in December 2007 to 20 years in Bulgaria's notorious Sofia Central Prison. (more…)
Tags: Anti-Fascist, Bulgaria, Demo, Jock Palfreeman, Racism, Roma, Sofia, UK
Posted in Anti-Fascist
Friday, December 9th, 2011
Global Noise Demo: New Years Eve 2011/2012
Outside & inside prisons, jails, and detention centers everywhere.
This event is inspired by the North American call out for a day of action against prisons in the New Year of 2011, which remains relevant unchanged:
Noise demos outside of prisons in some countries are a continuing tradition. A way of expressing solidarity for people imprisoned during the New Year, remembering those held captive by the state. A noise demo breaks the isolation and alienation of the cells our enemies create, but it does not have to stop at that.Prison has a long history within capital, being one of the most archaic forms of prolonged torture and punishment. It has been used to kill some slowly and torture those unwanted – delinquents to the reigning order – who have no need of fitting within the predetermined mold of society. (more…)
Tags: Anti-Prison, Demo, Fuck the Law, International Solidarity, New Year
Posted in Prison Struggle
Thursday, October 27th, 2011
On October 8th, at the completion of the campaign 'Keep in motion – Abolish capitalism', over 150 people demonstrated in Bern against the State and the Capital. After more than a month in which various counter-information actions were held about the evils of capitalism, anti-capitalists/anarchists took their criticism to the streets again.
The protest rally flowed calmly, apart from two small incidents. For instance, independent city councilor Jimy Hofer approached a group of about 60 protesters. He first addressed to them verbally, tried to snatch their front banner, but also turned violent against a protester. Only then, pepper spray was used to ward off his attack.
The gathering was scheduled at 16.00 o'clock outside Heiliggeistkirche at Bahnhofplatz. Demonstrators were welcomed, while examples were used to indicate which damages capitalism inflicts on a daily basis. With slogans and fireworks, the demo went through the Altstadt (old town). When the protesters block reached Kornhausplatz, people had a chance to hear about the anarchist struggle for a world without State and Capital. They put up a banner there, which read SCHEISS AUF WAHLKAMPF, WIR WOLLEN KLASSENKAMPF ('Fuck the electioneering; we want class struggle').
In Hirschengraben demonstrators and passers-by got more familiar with the critique on capitalism and its guarantor, the bourgeois State. It also became apparent why reforms will never lead to a substantial improvement in living conditions. The protest march ended in Bahnhofplatz.
This demonstration marked the completion of the anti-capitalist campaign and the ongoing struggle against a system where every day tens of thousands are starving while others accumulate billions via property rights; against a system in which the vast majority is forced to sell their labour-power; against a system where a small minority possesses and determines everything; against a system which goes further without taking account of nature, animals and humans.
For a self-organized society without domination.
For the social revolution!
Source/More info: ak-kampagne.ch via Contra-Info
Tags: Bern, Demo, Switzerland
Posted in Autonomy
Friday, September 23rd, 2011
Today, September 22, 2011 a group of comrades paid a visit to the Chilean embassy in London in solidarity with Luciano 'Turtle' Pitronello, on the day he is due to appear in court to be formally charged concerning an attack on a bank in Santiago which resulted in him being seriously wounded.
A long banner was immediately unfolded outside the embassy as other comrades tried to enter. The embassy officials refused to open the door and within seconds sirens could be heard screaming. Five motorbike cops arrived, followed shortly after by a red cop car with armed special cops. Everybody in the small group stood their ground, shouting 'FREEDOM TO LUCIANO PITRONELLO; ALL STATES ARE TERRORIST; HANDS OFF MAPUCHE LAND'.
This attracted the attention of neighbours, building workers and passersby, most of whom were curious to know who Luciano was and why we were there. Many took leaflets and actually read them, more than a few wishing 'Good luck'!
As they left, the comrades continued to display the banner, walking (followed by the cops on motorbikes) along the streets housing some of the biggest mafias on the planet and their henchmen – Buckingham Palace, Scotland Yard, Parliament, Westminster Abbey, etc etc. Some tourists snapped pictures of the banner and took leaflets.

Greetings, Luciano, from some rebel spirits in London, and also from a few strangers who for a moment were jolted out of their daily routine. Your strength and courage are inspiration and instigation.

"Forward everyone! And with arms and heart, sword and pen, dagger and gun, irony and curse, theft, poisoning and arson, let's make… war on society! …" (Dejacque)
THE LEAFLET HAND OUT TODAY:

FROM PINOCHET'S DICTATORSHIP TO PINERA'S DEMOCRACY
All over the world young people are fighting for their lives, their future. They have been born into a reality that can no longer conceal the massive gulf between the minority active in plundering the resources of the planet and the great masses who are being made to pay for their voracious greed and the consequences of related investment and banking procedures.
All this is carried out within the context of democracy, its rhetoric, moral imperatives and daily deception by the media aimed at perpetrating this swindle. People are brainwashed into accepting integration and collaboration in this 'society' as the only possible life perspective, while at the same time, due to the very needs of the mechanisms of post-industrial capital, they are excluded from doing so from school onwards.
In Chile this process has come to the attention of the world thanks to the massive protests that have been taking place over recent months and are still going on. Everybody knows about Pinochet's ruthless dictatorship and are happy and relieved at the thought that Chile, like the other ex-dictatorships of Latin America, are now well-established democracies. But the people of Chile are no longer prepared to suffer this new form of oppression in silence. The Mapuche people have fought ceaselessly against the theft of their land and plundering of its resources to feed international capital. Since 2004 anarchist and anti-authoritarian action has grown explosively, in the streets, neighbourhoods and universities, showing the rejection of authority, the State and Capitalism. Over recent months university and school students have occupied their colleges and taken to the streets in an attempt to overturn years of neo-liberal education policies such as mass privatisation, and massive cuts in education budgets. In struggles which extended to teachers and school pupils as well as students all sorts of tactics have been tried alongside the mass demonstrations in the streets in which two young people have been killed by the police. There have been massive arrests and huge public support for the demonstrators, including the banging of pots and pans by residents of Santiago.
In this context many diverse groups have decided to pass to the offensive, attacking banks, police stations, churches, shopping centres and other structures of oppression and exploitation. In this way they are recognising who the real enemies are and where they conceal themselves, at times boldly entering the panoptical urban labyrinth to strike them, only to disappear into the night. These small attacks are carefully planned not to hurt or wound anybody, only to damage the structures of power.
But one freezing dawn of the month of May 2009, a young anarchist Mauricio Morales, is killed when the explosive charge he was carrying blew up in his hands. Following his death that was grotesquely exploited by the media, police invaded his surroundings and circle of comrades. After years of investigation the diverse police organisms had been incapable of finding the people responsible for the attacks. It takes its revenge by attacking 14 people and accusing them of forming an illicit terrorist association and carrying out the majority of these attacks in a sensational media-propelled 'Bombs Case' which is visibly crumbling after continuous struggle by the accused and their comrades.
In spite of such attempts by the forces of repression to silence these forms of struggle, there are still those who use all the instruments possible to fight against power.
Sadly on June 1, 2011, a terrible accident stains a new date in the calendar with blood. That cold dawn anarchist comrade Luciano Pitronello, 22 years, takes the terrible blast of the shockwave of a homemade bomb placed in a bank.
Luciano is severely wounded. His right hand and three fingers of the left one have been amputated. His eyes are seriously damaged and he can only distinguish indistinct forms. His hearing has been damaged and he has had dozens of skingrafts to his body. He continues to struggle, pushing his body to heal and facing the moral and judicial consequences.
In fact, today, 22 September 2011, Luciano (Turtle), will face the formalization of the charges against him in front of the Chilean judges. Still convalescing from his wounds and wearing a special suit for burns, Luciano will have to appear before a crowded room not only of judges lawyers and police, but also the mercenary journalists. The revenge he will receive is double – judicial and exemplary in order to give a clear signal to all those who go beyond the submissive citizen routine and the peace of cemetries imposed by normality. Power yearns to turn the life of our comrade Turtle into the example of punishment, to instill fear and stagnation into all the dissident sectors of the democratic theatre.
Immediate freedom for Luciano Pitronello!
Love and solidarity. Your rebellion has not been lost in this ocean of filth.
Anarchists in solidarity
Tags: Chile, Demo, Embassy, International Solidarity, London, Luciano Pitronello Schuffeneger, UK
Posted in Prison Struggle
Tuesday, July 12th, 2011
325 receives and transmits from a Malaysian comrade :
"… i send this news not because i agree with the objective of this civil liberation organization but more importantly, we are involved in the protest because of its support from ordinary people who are against the repression from authorities and the dictatorship government."
Latest News :
On 9 July, BERSIH (Coalition for Clean and Fair Elections, it is a coalition of leftists, NGOs and activist groups that advocates changes in the elections laws) made a rally which should have been a peaceful protest about electoral reform changes, the authority instead made Kuala Lumpur city into a police state. All road access has been blocked, shops and office buildings entirely been shut down for almost 16 hours. Public transport like trains being stopped in their services almost for every city station. (more…)
Tags: Demo, Kuala Lumpur, Malaysia
Posted in Autonomy
Friday, June 17th, 2011
Tags: Celulosa Arauco, Chile, Demo, Ecological Destruction, Endesa, Hidroaysén, Monsanto, Plaza Victoria, Valparaiso, Valpo
Posted in Eco Struggle
Wednesday, May 11th, 2011
On 7th May 2011, more than 15000 protesters joined May 7th, No Nukes Demonstration!!!!!, which was held at Shibuya, Tokyo. The march was fabulous as diversity of participants gave their voices of no nukes heard. However, the police hindered the demonstration in deploying large amount of riot police which divided the demonstrators into smaller blocks. Due to riot police distraction, it took three hours for all the demonstrators to start walking under the rain. Riot police often stopped the march by surrounding the marching blocks. A list of malicious acts of the police could be endless. Many of participants reported on Internet how riot police were evil to the protesters. If no police distraction, the protesters would have fully enjoyed freedom of demonstration. (more…)
Tags: Anti-Nuclear, Demo, Fukushima, Japan, Nuclear Disaster, Repression, Shibuya, Tokyo
Posted in Eco Struggle
Friday, April 29th, 2011
28/04/2011
A few individuals gathered yesterday at the Chilean Embassy in central London as a small token of solidarity to the Anarchist comrades in Chile (on their 65th day of hunger strike).
A banner was opened that read FREEDOM TO THE ANARCHIST COMRADES IN CHILE, ACCUSED IN THE "CASO BOMBAS" ON HUNGER STRIKE SINCE 21/2/11-. Some went into the embassy and threw flyers into most offices and entrance area while screaming IMMEDIATE FREEDOM TO THE CHILEAN ANARCHISTS ACCUSED IN THE CASO BOMBAS CASE!. Fliers were also given to passersby and workers in hard hats on the scaffolding of a building opposite, who broke into a shout of FREEDOM! with fists raised (for them it was a bit of a joke) along with the comrades.
Staying outside with the banner raised for a while, after a pointless (obviously) talk with the ambassador we walked down the street with the banner and did a lightening demo through Scotland yard and Westminster Abbey area, past the media of the world to give them a nice backdrop for their interviews of followers/slaves of the monarchy camped out to await the royal circus on Friday, throwing fliers behind us.
After that we all went our separate ways.
FREEDOM TO ALL IMPRISONED FIGHTERS
DESTROY ALL PRISONS
Random anarchists in London
Tags: 14/14, Chile, Demo, Hunger Strike, International Solidarity, London, UK
Posted in Direct Action
Tuesday, April 5th, 2011
APRIL 10th 2011 – "NO MORE FUKUSHIMA": GLOBAL CALL FOR SOLIDARITY ACTIONS AGAINST NUCLEAR PLANTS
We took big risks depending on nuclear energy in exchange for creating unlimited prosperity. Then we are now facing assumed danger. Human beings seem to have taken a wrong choice. We have to make sure. No more nuclear plants.
We individuals living in Tokyo are planning an demonstration against nuclear plants on 10th April in Koenji, Tokyo. We also would like to call for global solidarity actions on the same day. We believe that the global response and action will be significant support for all disaster victims and movements against the current nuclear policy in general.

CALL FOR ACTION:
This is a global call for actions on 10th April.
We sincerely hope that you will take any actions together on that day.
Work with us in solidarity against all nuclear plants worldwide!

PLEASE SEND US:
Plans for actions and Records of actions.
Please send us the texts, documents, footage, images and/or anything else relating to your actions to:
http://410nonuke.tumblr.com/
in strong solidarity,
Tags: Anti-Nuclear, Demo, Fukushima, Japan, Koenji, Nuclear Disaster, Tokyo
Posted in Eco Struggle
Monday, March 28th, 2011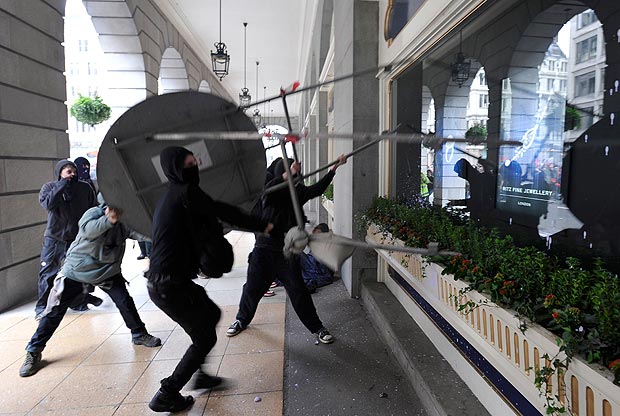 26 March 2011
Something worth reporting happens in London, despite the hype…
"CLASS War broke out on the streets of London on Saturday, as anarchists attacked banks, shops and other symbols of the capitalism and state. A Black Bloc, at least 500 strong, roamed freely through the West End of the British capital, picking off targets at will with bricks, paintbombs and fireworks.
Sporadic cops attempts to stop the Bloc were met with robust resistance and cops were forced to retreat on more than one occasion. As riot cops belatedly caught up with the action, the Bloc made a timely re-entry into the main TUC march, where police were unwilling to follow.
More attacks on banks, and the Ritz hotel, followed – to the general approval of the mainstream anti-cuts protesters.
The successful day of high-profile action was only marred by the uninspiring behaviour of those sheep-like protesters who failed to express any anger at all at the neoliberal assault on their communities. Splinter groups broke off from the main body of more than 250,000 demonstrators marching from Victoria Embankment to Hyde Park to launch an assault on the capital's main shopping district. Some were hellbent on storming – or destroying – any London landmarks synonymous with luxury or money. Others targeted companies associated with tax avoidance. Hundreds laid siege to The Ritz hotel, attacking it with paint and smokebombs. A Porsche showroom was also smashed up and upmarket department store Fortnum & Mason was occupied by about 1,000 activists. On the streets outside, anarchists battled police. Some cops in Oxford Street were attacked, Other cops were hit with paint and flying bottles."

Video of thousands in London protest march as… by marina2984
Tags: 26 March 2011, Anti-cuts, Black Bloc, Demo, Fuck the Law, London, Police need ca$h, UK
Posted in Direct Action
Sunday, February 27th, 2011
Around 200 comrades came together to march in the street to the center of Santiago for the release of and in solidarity with all comrades in prison. The comrades kidnapped on August 14th continue the 4th day of the hunger strike, with the clear intention to gain their freedom and end the political-judicial montage they continue to be subjected to, under which those who express solidarity for them are persecuted, watched, and taken hostage. (more…)
Tags: 14/14, Barricades, Chile, Demo, Hunger Strike, Letter, Santiago
Posted in Prison Struggle
Saturday, February 26th, 2011
Here is a prison poem that was written by Stan Skank after he got arrested for some bullshit in London on one of the recent demos. Stan scratched this into a polystyrene cup (UK detention is pretty sparse), but how he managed to write all this on one is beyond us. Anyway, Stan bothered to send it to us, so here it is for you lot:
Here I sit in another nick, for another crime I did not commit,
Another profile, another trial
They don't give an inch but always leap a mile,
All this attention when I don't wanna be admired,
I'm gettin' sick and tired of being sick an tired
I just wanna be left alone, For a quiet life and to build a home,
But the government always wanna check up on me,
There's no freedom without anarchy,
Capitalism is a public hell,
And if you try to make a change pigs stick you in a cell.
My caged mind wanders,
Wonder how long they'll hold us,
But like a blizzard in a snow globe our prisons can't contain us
Each unique but unified flake
Ready for an outbreak, with the power of an earth quake,
We won't wipe but crack the slate,
Innumerable droplets from a tsunami
An uncontrollable tide to wash away the tyranny.
They'll call it a disaster but I say it's natural,
What you call a riot to me looks like a battle.
Forces meet and sabres rattle,
Flank us in a pincer then stick on the kettle,
If you increase the pressure we'll boil over you just watch us,
We'll scald the hand that feeds and the other which oppresses.
We're the freedom fighters, we're urban guerrillas,
You may strike us down, but you'll never fucking kill us.
Tags: Demo, Fuck the Law, Poem, Police Bastards, Polystyrene cup, Stan Skank, UK, Wrongful Arrest
Posted in Prison Struggle