Posts Tagged 'Demo'
Saturday, May 12th, 2012
From London ABC:
Her Majesty's Pleasure*? Stuff that!
A noise demo to show solidarity with prisoners at HMP Brixton, because frankly we don't feel like celebrating 60 years of having a queen, especially a queen who takes pleasure from imprisoning our mates, comrades, and other fellow human beings. What kind of a sick mind takes pleasure from locking people up in prison? Prisons destroy people. They destroy familes, friendships, and communities too. Putting somebody in prison is an act of violence which contributes nothing real or positive and only brutalises those who are already struggling. (more…)
Tags: ABC London, Demo, Fuck the Law, Fuck the Queen, HMP Brixton, UK
Posted in Prison Struggle
Friday, May 11th, 2012
Rough translation from periodico anarquia:
On the morning of Wednesday, May 8, two comrades were arrested, one in their workplace and the other at home. They were taken to the Special Operations Department and on the morning of Thursday 9 to Court, they declared. One of them was free, while comrade David was charged with prison for assaulting a scab taxi-driver that was working on 1 May. The sentence would be between three months and three years in prison, according to the judge, the final decision will occur in the span of the next ten days and would accuse him of violence and property damage to private vehicles. (more…)
Tags: 1st May, Demo, Montevideo, Repression, Uruguay
Posted in Social Control
Tuesday, April 24th, 2012


No Borders activists took to the stage this evening [23rd April] at a prestigious fundraising concert organised by Barnardo's in protest at the charity's collaboration with the UK Border Agency in detaining children.
Press release from the activists who made the action is on IMC UK.
Tags: Demo, Migrant youth, UK
Posted in No Borders
Wednesday, April 18th, 2012
Solidarity Is Praxis Not Just Words
Over the course of the past two weeks, eight imprisoned Greek comrades have declared a hunger strike that has spawned a growing wave of resistance throughout Greece. The prisoners' diverse statements express demands for dignity, improved conditions, an end to political pre-trial detentions and extralegal punishment. Particularly, three of the hunger strikers (Giorgos Karagiannidis, Alexandros Mitroussias and Kostas Sakkas) expressed solidarity to Stella Antoniou who has been in prison for a year and a half, charged without evidences as a member of Conspiracy of Cells of Fire and has been consistently denied release for access to medical care. All of the hunger strikers (Spyros Dravilas, Giorgos Karagiannidis, Alexandros Mitroussias, Kostas Sakkas, Panagiotis Argirou, Gerasimos Tsakalos, Christos Tsakalos, Vaggelis Kailoglou [Vaggelis is abstaining from prison food, he is not on full hungerstrike] and as for today April 17th, Haris Hadjimihelakis, Damiano Bolano and Giorgos Polidoros) are not only seeking individual justice but support and reaffirm the demands of their fellow strikers. (more…)
Tags: Demo, Greece, Hungerstrike, International Solidarity, USA
Posted in Direct Action
Saturday, March 17th, 2012
At Thursday's Jock Palfreeman solidarity demo in London [15/3/12] the AF's Stormy Petrel flag and banners with 'Free Jock' and 'Leeds Anarchist Black Cross' were displayed. About 30 people turned-up to the picket including comrades from Norwich, Brighton, Bristol, London Anarchist Federation, Surrey/Hants AF, Staines Anarchists, Leeds Anarchist Black Cross, London ABC, ALARM and the Traveller Solidarity Network. Leaflets explaining Jock Palfreeman's case were handed out and a Bulgarian Flag was burnt in front of the embassy.
–
Download one of the A4 leaflets given out by random anarchists here.
Check out – www.freejock.com
Tags: ABC Leeds, Anti-Fascism, Bulgaria, Demo, International Solidarity, Jock Palfreeman, UK
Posted in Anti-Fascist
Wednesday, March 14th, 2012


From the multi-language anti-info project based in Athens – Contra Info:
Two years after the murder of the anarchist comrade Lambros Foundas, a march of remembrance and struggle took place on Saturday, March 10th, 2012 [here 1, 2 are some photos from the demo on March 2010].
By 12.00 the PA's gathering began in Monastiraki Square, which lasted approximately an hour, before nearly 1,000 people started to march through central streets of Athens (Athinas Street, Omonia Square, Stadiou Street, Syntagma, Amalias Avenue, Othonos Street, Panepistimiou Street, Propylaea), often attracting the interest of passersby. Numerous police units were present during the entire demo route, while organizers of the demo provided for its essential "safeguarding".
Brochures with the political declarations of the comrades who stand trial for the Revolutionary Struggle case were distributed, while flyers, graffiti and stencils covered the streets and the walls downtown. At the head of the demo there were two banners reading "Solidarity with all those prosecuted for the Revolutionary Struggle case" and "Lambros is alive within our struggles for Social Revolution".
Many slogans — new and older ones — were chanted such as "Revolutionary Struggle against the Capital and capitalism", "Lambros is alive within the heart of every revolutionary", "Terrorism is to look for a job; no peace with the bosses", "Honour forever to Lambros Foundas", "Freedom for all prisoners", "Neither criminal nor political prisoners; set fire to all prisons", "The State and the Capital are the only terrorists; solidarity with the armed guerrillas", "People, take up arms; now or never", "People, you're starving; why do you kneel down in front of them? People, you're starving, why don't you hang them?" (outside the central market Varvakios Agora), "Let Kaminis' house turn into ashes" (outside the city hall), "The February 12th was only the beginning; forward for a worldwide uprising", "The February 12th was not enough; next time the parliament must fall", "Freedom for the members of Revolutionary Struggle; ax and fire for the state guard dogs", "Cops, KKE [Greek "Communist" Party], neo-Nazis, all scum work hand in hand", "Praying won't change the world; let's expropriate all churches", "Freedom to Stella Antoniou". Also, a slogan was chanted in Italian, "Anarchia, Destabilizzazione, Azione Diretta, Inzurrezione" (anarchy, destabilization, direct action, insurrection). At around 15.00 the anarchist demo ended at Propylaea, while many protesters continued to march to Exarchia.
Video from the gathering on March 20th, 2010, in Dafni, in honour of Lambros Foundas and all fighters who died from the hands of the State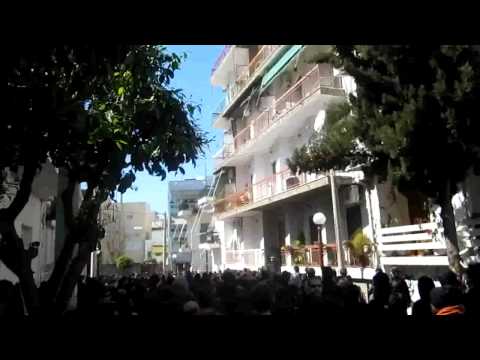 You left with your head held high, the same way as you came,
the same way I met you, as always.
I envy you.
– What is death?
– It's like total darkness, with time you're getting used to
and it does not bother you anymore-.
And you left us behind,
with our remorse and our guilt
and our misery and our doubts,
to find excuses so that we get by,
another day,
and another day
and another day.
I envy you.
Cause you are ok, you're always ok.
I need you.
To show me what dignity means,
to show me not to fear,
to show me not to compromise.
I need you next to me in the streets and in my way.
And to talk, to talk to me.
And to listen, to hear me.
So I can steal a bit of power from your truth,
a bit of courage from your freedom
a bit of faith from your values.
They say you are a terrorist.
It is true. You are terrorizing our fear, our comfort, our false appearance, our apathy, our empty gaze, our diminished libido, us getting used to the ugliness, our muzzle, our blinders, our handcuffs, the chains that prevent us from becoming dangerous.
There's something we need to discuss.
Some say they choose not to act because they fear for their petty life. They say they love their life.
Others choose to act for exactly the same reason.
The say they love their life and cannot tolerate their life being wasted.
Tell me, can they both be right?
They can't.
VENCEREMOS

To the comrade and friend that walked away from this life with his head held high on this day, exactly two years ago.
Anarchist Lambros Foundas, member of the urban guerrilla group Revolutionary Struggle, was murdered by the Greek police on March 10th, 2010.
Tags: Athens, Demo, Greece, Lambros Foundas, Revolutionary Struggle
Posted in Uncategorized
Tuesday, March 13th, 2012
On Friday 9th of March in response to a call for an international day of action against Serco, a British corporation running government services around the world, from juvenile and adult prisons to immigrant detention centres, to army bases in Afghanistan, to speed cameras in Victoria, parking meters in Chicago, and soon the Sydney Ferry system.
Demonstrations were held in London, Perth, Melbourne and Sydney, where a number of coordinated demonstrations were held throughout the day. At 1pm a bunch of comrades assembled in Fairfield, and picketed the office of Chris Bowen, Labour Party MP and Minister for Immigration, in an expression of disgust toward the regime of mandatory detention. Bowen is personally responsible for Serco's contract to run immigrant concentration camps across Australia. (more…)
Tags: Australia, Demo, Serco
Posted in Prison Struggle
Saturday, March 3rd, 2012
SATURDAY, MARCH 10TH 2012.
12.00AM, MONASTIRAKI SQUARE
2 years since the murder of anarchist comrade Lambros Foundas, member of the organization Revolutionary Struggle, who fell in battle with cops during a preparatory action of the organization.
Our debt to the memory of our comrade is to continue the subversive struggle for freedom, equality, anarchy.
Against the junta of the Troika and the modern totalitarianism, against State and Capital, for the subversion of the regime and the social revolution.
Solidarity to the members of the Revolutionary Struggle and to those who are being prosecuted for the same case.
Tags: Athens, Demo, Greece, Lambros Foundas, Revolutionary Struggle
Posted in Uncategorized
Tuesday, February 28th, 2012
WEDNESDAY 29 FEB 11:00 RALLY – SOLIDARITY NO TAV
Italian Consulate in Barcelona
(C/Mallorca, 270)
Today Luca Abbá of the Val Susa is seriously injured in hospital after falling from the tower of a high voltage power lines, during the protests against the new expropriations on the morning of 27th februrary. The police attempted to forcibly bring him down, and he received an electric shock. He is in a critical condition as a result of the electric shock and the fall from over 10 metres, made worse by the fact that the ambulance was prevented from arriving for up to 50 minutes by the forces of "order". (more…)
Tags: Barcelona, Catalunya, Demo, Repression, TAV, Val Susa
Posted in Eco Struggle
Saturday, January 7th, 2012
Jock Palfreeman Solidarity Demo. Thursday 15th March 2012. 11am – 2pm. London
Demonstrate outside the Bulgarian Embassy in solidarity with Jock Palfreeman, the young Australian man who was set up by the Bulgarian police and criminal justice system after he stepped in to stop an attack on a young Roma in December 2007. Jock Palfreeman was sentenced in December 2007 to 20 years in Bulgaria's notorious Sofia Central Prison. (more…)
Tags: Anti-Fascist, Bulgaria, Demo, Jock Palfreeman, Racism, Roma, Sofia, UK
Posted in Anti-Fascist
Friday, December 9th, 2011
Global Noise Demo: New Years Eve 2011/2012
Outside & inside prisons, jails, and detention centers everywhere.
This event is inspired by the North American call out for a day of action against prisons in the New Year of 2011, which remains relevant unchanged:
Noise demos outside of prisons in some countries are a continuing tradition. A way of expressing solidarity for people imprisoned during the New Year, remembering those held captive by the state. A noise demo breaks the isolation and alienation of the cells our enemies create, but it does not have to stop at that.Prison has a long history within capital, being one of the most archaic forms of prolonged torture and punishment. It has been used to kill some slowly and torture those unwanted – delinquents to the reigning order – who have no need of fitting within the predetermined mold of society. (more…)
Tags: Anti-Prison, Demo, Fuck the Law, International Solidarity, New Year
Posted in Prison Struggle
Thursday, October 27th, 2011
On October 8th, at the completion of the campaign 'Keep in motion – Abolish capitalism', over 150 people demonstrated in Bern against the State and the Capital. After more than a month in which various counter-information actions were held about the evils of capitalism, anti-capitalists/anarchists took their criticism to the streets again.
The protest rally flowed calmly, apart from two small incidents. For instance, independent city councilor Jimy Hofer approached a group of about 60 protesters. He first addressed to them verbally, tried to snatch their front banner, but also turned violent against a protester. Only then, pepper spray was used to ward off his attack.
The gathering was scheduled at 16.00 o'clock outside Heiliggeistkirche at Bahnhofplatz. Demonstrators were welcomed, while examples were used to indicate which damages capitalism inflicts on a daily basis. With slogans and fireworks, the demo went through the Altstadt (old town). When the protesters block reached Kornhausplatz, people had a chance to hear about the anarchist struggle for a world without State and Capital. They put up a banner there, which read SCHEISS AUF WAHLKAMPF, WIR WOLLEN KLASSENKAMPF ('Fuck the electioneering; we want class struggle').
In Hirschengraben demonstrators and passers-by got more familiar with the critique on capitalism and its guarantor, the bourgeois State. It also became apparent why reforms will never lead to a substantial improvement in living conditions. The protest march ended in Bahnhofplatz.
This demonstration marked the completion of the anti-capitalist campaign and the ongoing struggle against a system where every day tens of thousands are starving while others accumulate billions via property rights; against a system in which the vast majority is forced to sell their labour-power; against a system where a small minority possesses and determines everything; against a system which goes further without taking account of nature, animals and humans.
For a self-organized society without domination.
For the social revolution!
Source/More info: ak-kampagne.ch via Contra-Info
Tags: Bern, Demo, Switzerland
Posted in Autonomy
Friday, September 23rd, 2011
Today, September 22, 2011 a group of comrades paid a visit to the Chilean embassy in London in solidarity with Luciano 'Turtle' Pitronello, on the day he is due to appear in court to be formally charged concerning an attack on a bank in Santiago which resulted in him being seriously wounded.
A long banner was immediately unfolded outside the embassy as other comrades tried to enter. The embassy officials refused to open the door and within seconds sirens could be heard screaming. Five motorbike cops arrived, followed shortly after by a red cop car with armed special cops. Everybody in the small group stood their ground, shouting 'FREEDOM TO LUCIANO PITRONELLO; ALL STATES ARE TERRORIST; HANDS OFF MAPUCHE LAND'.
This attracted the attention of neighbours, building workers and passersby, most of whom were curious to know who Luciano was and why we were there. Many took leaflets and actually read them, more than a few wishing 'Good luck'!
As they left, the comrades continued to display the banner, walking (followed by the cops on motorbikes) along the streets housing some of the biggest mafias on the planet and their henchmen – Buckingham Palace, Scotland Yard, Parliament, Westminster Abbey, etc etc. Some tourists snapped pictures of the banner and took leaflets.

Greetings, Luciano, from some rebel spirits in London, and also from a few strangers who for a moment were jolted out of their daily routine. Your strength and courage are inspiration and instigation.

"Forward everyone! And with arms and heart, sword and pen, dagger and gun, irony and curse, theft, poisoning and arson, let's make… war on society! …" (Dejacque)
THE LEAFLET HAND OUT TODAY:

FROM PINOCHET'S DICTATORSHIP TO PINERA'S DEMOCRACY
All over the world young people are fighting for their lives, their future. They have been born into a reality that can no longer conceal the massive gulf between the minority active in plundering the resources of the planet and the great masses who are being made to pay for their voracious greed and the consequences of related investment and banking procedures.
All this is carried out within the context of democracy, its rhetoric, moral imperatives and daily deception by the media aimed at perpetrating this swindle. People are brainwashed into accepting integration and collaboration in this 'society' as the only possible life perspective, while at the same time, due to the very needs of the mechanisms of post-industrial capital, they are excluded from doing so from school onwards.
In Chile this process has come to the attention of the world thanks to the massive protests that have been taking place over recent months and are still going on. Everybody knows about Pinochet's ruthless dictatorship and are happy and relieved at the thought that Chile, like the other ex-dictatorships of Latin America, are now well-established democracies. But the people of Chile are no longer prepared to suffer this new form of oppression in silence. The Mapuche people have fought ceaselessly against the theft of their land and plundering of its resources to feed international capital. Since 2004 anarchist and anti-authoritarian action has grown explosively, in the streets, neighbourhoods and universities, showing the rejection of authority, the State and Capitalism. Over recent months university and school students have occupied their colleges and taken to the streets in an attempt to overturn years of neo-liberal education policies such as mass privatisation, and massive cuts in education budgets. In struggles which extended to teachers and school pupils as well as students all sorts of tactics have been tried alongside the mass demonstrations in the streets in which two young people have been killed by the police. There have been massive arrests and huge public support for the demonstrators, including the banging of pots and pans by residents of Santiago.
In this context many diverse groups have decided to pass to the offensive, attacking banks, police stations, churches, shopping centres and other structures of oppression and exploitation. In this way they are recognising who the real enemies are and where they conceal themselves, at times boldly entering the panoptical urban labyrinth to strike them, only to disappear into the night. These small attacks are carefully planned not to hurt or wound anybody, only to damage the structures of power.
But one freezing dawn of the month of May 2009, a young anarchist Mauricio Morales, is killed when the explosive charge he was carrying blew up in his hands. Following his death that was grotesquely exploited by the media, police invaded his surroundings and circle of comrades. After years of investigation the diverse police organisms had been incapable of finding the people responsible for the attacks. It takes its revenge by attacking 14 people and accusing them of forming an illicit terrorist association and carrying out the majority of these attacks in a sensational media-propelled 'Bombs Case' which is visibly crumbling after continuous struggle by the accused and their comrades.
In spite of such attempts by the forces of repression to silence these forms of struggle, there are still those who use all the instruments possible to fight against power.
Sadly on June 1, 2011, a terrible accident stains a new date in the calendar with blood. That cold dawn anarchist comrade Luciano Pitronello, 22 years, takes the terrible blast of the shockwave of a homemade bomb placed in a bank.
Luciano is severely wounded. His right hand and three fingers of the left one have been amputated. His eyes are seriously damaged and he can only distinguish indistinct forms. His hearing has been damaged and he has had dozens of skingrafts to his body. He continues to struggle, pushing his body to heal and facing the moral and judicial consequences.
In fact, today, 22 September 2011, Luciano (Turtle), will face the formalization of the charges against him in front of the Chilean judges. Still convalescing from his wounds and wearing a special suit for burns, Luciano will have to appear before a crowded room not only of judges lawyers and police, but also the mercenary journalists. The revenge he will receive is double – judicial and exemplary in order to give a clear signal to all those who go beyond the submissive citizen routine and the peace of cemetries imposed by normality. Power yearns to turn the life of our comrade Turtle into the example of punishment, to instill fear and stagnation into all the dissident sectors of the democratic theatre.
Immediate freedom for Luciano Pitronello!
Love and solidarity. Your rebellion has not been lost in this ocean of filth.
Anarchists in solidarity
Tags: Chile, Demo, Embassy, International Solidarity, London, Luciano Pitronello Schuffeneger, UK
Posted in Prison Struggle
Tuesday, July 12th, 2011
325 receives and transmits from a Malaysian comrade :
"… i send this news not because i agree with the objective of this civil liberation organization but more importantly, we are involved in the protest because of its support from ordinary people who are against the repression from authorities and the dictatorship government."
Latest News :
On 9 July, BERSIH (Coalition for Clean and Fair Elections, it is a coalition of leftists, NGOs and activist groups that advocates changes in the elections laws) made a rally which should have been a peaceful protest about electoral reform changes, the authority instead made Kuala Lumpur city into a police state. All road access has been blocked, shops and office buildings entirely been shut down for almost 16 hours. Public transport like trains being stopped in their services almost for every city station. (more…)
Tags: Demo, Kuala Lumpur, Malaysia
Posted in Autonomy
Friday, June 17th, 2011
Tags: Celulosa Arauco, Chile, Demo, Ecological Destruction, Endesa, Hidroaysén, Monsanto, Plaza Victoria, Valparaiso, Valpo
Posted in Eco Struggle