Posts Tagged 'Demo'
Tuesday, July 12th, 2011
325 receives and transmits from a Malaysian comrade :
"… i send this news not because i agree with the objective of this civil liberation organization but more importantly, we are involved in the protest because of its support from ordinary people who are against the repression from authorities and the dictatorship government."
Latest News :
On 9 July, BERSIH (Coalition for Clean and Fair Elections, it is a coalition of leftists, NGOs and activist groups that advocates changes in the elections laws) made a rally which should have been a peaceful protest about electoral reform changes, the authority instead made Kuala Lumpur city into a police state. All road access has been blocked, shops and office buildings entirely been shut down for almost 16 hours. Public transport like trains being stopped in their services almost for every city station. (more…)
Tags: Demo, Kuala Lumpur, Malaysia
Posted in Autonomy
Friday, June 17th, 2011
Tags: Celulosa Arauco, Chile, Demo, Ecological Destruction, Endesa, Hidroaysén, Monsanto, Plaza Victoria, Valparaiso, Valpo
Posted in Eco Struggle
Wednesday, May 11th, 2011
On 7th May 2011, more than 15000 protesters joined May 7th, No Nukes Demonstration!!!!!, which was held at Shibuya, Tokyo. The march was fabulous as diversity of participants gave their voices of no nukes heard. However, the police hindered the demonstration in deploying large amount of riot police which divided the demonstrators into smaller blocks. Due to riot police distraction, it took three hours for all the demonstrators to start walking under the rain. Riot police often stopped the march by surrounding the marching blocks. A list of malicious acts of the police could be endless. Many of participants reported on Internet how riot police were evil to the protesters. If no police distraction, the protesters would have fully enjoyed freedom of demonstration. (more…)
Tags: Anti-Nuclear, Demo, Fukushima, Japan, Nuclear Disaster, Repression, Shibuya, Tokyo
Posted in Eco Struggle
Friday, April 29th, 2011
28/04/2011
A few individuals gathered yesterday at the Chilean Embassy in central London as a small token of solidarity to the Anarchist comrades in Chile (on their 65th day of hunger strike).
A banner was opened that read FREEDOM TO THE ANARCHIST COMRADES IN CHILE, ACCUSED IN THE "CASO BOMBAS" ON HUNGER STRIKE SINCE 21/2/11-. Some went into the embassy and threw flyers into most offices and entrance area while screaming IMMEDIATE FREEDOM TO THE CHILEAN ANARCHISTS ACCUSED IN THE CASO BOMBAS CASE!. Fliers were also given to passersby and workers in hard hats on the scaffolding of a building opposite, who broke into a shout of FREEDOM! with fists raised (for them it was a bit of a joke) along with the comrades.
Staying outside with the banner raised for a while, after a pointless (obviously) talk with the ambassador we walked down the street with the banner and did a lightening demo through Scotland yard and Westminster Abbey area, past the media of the world to give them a nice backdrop for their interviews of followers/slaves of the monarchy camped out to await the royal circus on Friday, throwing fliers behind us.
After that we all went our separate ways.
FREEDOM TO ALL IMPRISONED FIGHTERS
DESTROY ALL PRISONS
Random anarchists in London
Tags: 14/14, Chile, Demo, Hunger Strike, International Solidarity, London, UK
Posted in Direct Action
Tuesday, April 5th, 2011
APRIL 10th 2011 – "NO MORE FUKUSHIMA": GLOBAL CALL FOR SOLIDARITY ACTIONS AGAINST NUCLEAR PLANTS
We took big risks depending on nuclear energy in exchange for creating unlimited prosperity. Then we are now facing assumed danger. Human beings seem to have taken a wrong choice. We have to make sure. No more nuclear plants.
We individuals living in Tokyo are planning an demonstration against nuclear plants on 10th April in Koenji, Tokyo. We also would like to call for global solidarity actions on the same day. We believe that the global response and action will be significant support for all disaster victims and movements against the current nuclear policy in general.

CALL FOR ACTION:
This is a global call for actions on 10th April.
We sincerely hope that you will take any actions together on that day.
Work with us in solidarity against all nuclear plants worldwide!

PLEASE SEND US:
Plans for actions and Records of actions.
Please send us the texts, documents, footage, images and/or anything else relating to your actions to:
http://410nonuke.tumblr.com/
in strong solidarity,
Tags: Anti-Nuclear, Demo, Fukushima, Japan, Koenji, Nuclear Disaster, Tokyo
Posted in Eco Struggle
Monday, March 28th, 2011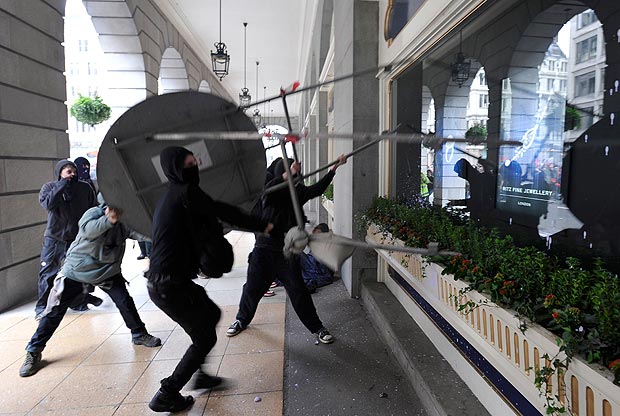 26 March 2011
Something worth reporting happens in London, despite the hype…
"CLASS War broke out on the streets of London on Saturday, as anarchists attacked banks, shops and other symbols of the capitalism and state. A Black Bloc, at least 500 strong, roamed freely through the West End of the British capital, picking off targets at will with bricks, paintbombs and fireworks.
Sporadic cops attempts to stop the Bloc were met with robust resistance and cops were forced to retreat on more than one occasion. As riot cops belatedly caught up with the action, the Bloc made a timely re-entry into the main TUC march, where police were unwilling to follow.
More attacks on banks, and the Ritz hotel, followed – to the general approval of the mainstream anti-cuts protesters.
The successful day of high-profile action was only marred by the uninspiring behaviour of those sheep-like protesters who failed to express any anger at all at the neoliberal assault on their communities. Splinter groups broke off from the main body of more than 250,000 demonstrators marching from Victoria Embankment to Hyde Park to launch an assault on the capital's main shopping district. Some were hellbent on storming – or destroying – any London landmarks synonymous with luxury or money. Others targeted companies associated with tax avoidance. Hundreds laid siege to The Ritz hotel, attacking it with paint and smokebombs. A Porsche showroom was also smashed up and upmarket department store Fortnum & Mason was occupied by about 1,000 activists. On the streets outside, anarchists battled police. Some cops in Oxford Street were attacked, Other cops were hit with paint and flying bottles."

Video of thousands in London protest march as… by marina2984
Tags: 26 March 2011, Anti-cuts, Black Bloc, Demo, Fuck the Law, London, Police need ca$h, UK
Posted in Direct Action
Sunday, February 27th, 2011
Around 200 comrades came together to march in the street to the center of Santiago for the release of and in solidarity with all comrades in prison. The comrades kidnapped on August 14th continue the 4th day of the hunger strike, with the clear intention to gain their freedom and end the political-judicial montage they continue to be subjected to, under which those who express solidarity for them are persecuted, watched, and taken hostage. (more…)
Tags: 14/14, Barricades, Chile, Demo, Hunger Strike, Letter, Santiago
Posted in Prison Struggle
Saturday, February 26th, 2011
Here is a prison poem that was written by Stan Skank after he got arrested for some bullshit in London on one of the recent demos. Stan scratched this into a polystyrene cup (UK detention is pretty sparse), but how he managed to write all this on one is beyond us. Anyway, Stan bothered to send it to us, so here it is for you lot:
Here I sit in another nick, for another crime I did not commit,
Another profile, another trial
They don't give an inch but always leap a mile,
All this attention when I don't wanna be admired,
I'm gettin' sick and tired of being sick an tired
I just wanna be left alone, For a quiet life and to build a home,
But the government always wanna check up on me,
There's no freedom without anarchy,
Capitalism is a public hell,
And if you try to make a change pigs stick you in a cell.
My caged mind wanders,
Wonder how long they'll hold us,
But like a blizzard in a snow globe our prisons can't contain us
Each unique but unified flake
Ready for an outbreak, with the power of an earth quake,
We won't wipe but crack the slate,
Innumerable droplets from a tsunami
An uncontrollable tide to wash away the tyranny.
They'll call it a disaster but I say it's natural,
What you call a riot to me looks like a battle.
Forces meet and sabres rattle,
Flank us in a pincer then stick on the kettle,
If you increase the pressure we'll boil over you just watch us,
We'll scald the hand that feeds and the other which oppresses.
We're the freedom fighters, we're urban guerrillas,
You may strike us down, but you'll never fucking kill us.
Tags: Demo, Fuck the Law, Poem, Police Bastards, Polystyrene cup, Stan Skank, UK, Wrongful Arrest
Posted in Prison Struggle
Wednesday, April 21st, 2010
(Posted here)
On Sunday, April 18th, 40-50 Anarchists and their friends held a noise demo in solidarity with prisoners locked up at the Maplehurst Correctional Complex and Vanier Center for Women. This superprison is located 30 minutes west of Toronto. As the march began, the front sign into the prison was spray-painted with the slogans "against prison" and "against police." We walked around the (large) perimeter of the institution with banners, yelling fierce chants, lighting fireworks and banging on drums. The prisoners mirrored our excitement with powerful rhythmic banging, yelling and cheering. This enthusiastic response was felt deep in our crew. (more…)
Tags: Canada, Demo, Milton, Ontario, Solidarity Action
Posted in Prison Struggle
Saturday, April 3rd, 2010
On Sunday, June 27 2010 at 5pm there will be a Demonstration Against Prison in Toronto. Anarchists are organizing the demonstration as a part of the larger mobilization in opposition to the G20 meetings. (more…)
Tags: Anti-Prison, Canada, Demo, G20, Toronto
Posted in Prison Struggle