Posts Tagged 'Demo'
Sunday, January 24th, 2016
Tags: Antifa, Birmingham, Demo, Pegida UK, Racism, UK
Posted in Anti-Fascist
Saturday, December 5th, 2015
31/12/2015
NYE Prisoner solidarity demonstration beginning at
8:00 pm Pentonville
then moves onto
9:30 pm Holloway
START ADDRESS: HMP Pentonville,Caledonian Rd, London N7 8TT
BRING NOISE MAKERS
http://network23.org/londonabc/2015/12/01/2015-nye-london-prisoner-solidarity-demo/

This is also in solidarity with comrades from Greece
Comrades coming from various geographies and different paths of
struggle, yet having the same longing for the diffusion of anarchist
offensive, support the call for a Black December
Tags: ABC London, Black December, Demo, London, UK
Posted in Prison Struggle
Monday, November 30th, 2015
From The Acorn:
Tear gas and grenades were fired by French riot cops against brave activists who defied martial law in France – and more than 200 people were arrested.
Thousands took to the streets of Paris against the hypocrisy of the industrial capitalist system and its phoney COP21 climate summit.
For their pains they were kettled, intimidated, attacked and gassed by the cops. "The state of emergency is a police state, a fascist state!" they shouted in defiance of the brutal force deployed by a state which has been so busily depicting itself as a victim, rather than a perpetrator, of violence.
Activist media reported several hundred arrests, with the police taking arrestees away in buses. (more…)
Tags: Climate Chaos, COP21, Demo, Ecological Destruction, France, Paris, Riots
Posted in Eco Struggle
Monday, November 30th, 2015
We are going in front of Kandıra No.1 F Type Prison to support Osman Evcan…
Osman Evcan is resisting authority as an anarchist against speciecism for uninterrupted 23 years in state prisons. Osman Evcan supports the struggle for animal liberation as an anarchist since 2003. He has been a name for us, who voices the demand for total freedom against ecological destruction, hunger, poverty, carnage and war policies created by the state and capitalism.
Osman Evcan is recently located in Kandıra Kocaeli F-Type Prison No. 1 after being exiled to almost all the prisons in Turkey for resisting and never bending his head against systematically and continuously imposed intimidation. Osman Evcan's and all political prisoners most basic and vital right to a healthy diet according to their preference and will is blocked by the prison management with the knowledge and instructions of the Ministry of Justice. (more…)
Tags: ABC Istanbul, Animal Liberation, Demo, Hunger Strike, International Solidarity, Kocaeli No:1 F Type Prison, Osman Evcan, Prison demo, Turkey
Posted in Prison Struggle
Thursday, November 12th, 2015
From NFA Anti-Fascists:
Today, on Armistice Day [11 November], No Fixed Abode Anti-Fascists took the steps of Euston War Memorial against patriotism and for solidarity with anti-fascist and anti-militarist struggle.
Two years ago on this day, the Przychodnia squat in Warsaw successfully resisted an attack by neo-fascists on the 'March for Independence'. Refusing to intervene, police blocked people from reaching the nationalists, who set two cars alight and threw molotovs at the squat. Two squatters were injured while repelling the fascists from the roof.
The wars of the rich and street battles of their nationalist lackeys have a history of resistance by people of no fixed abode. On 20th September 2014, squatters in Calais Bleriot Avenue defended against a fascist attack after a demonstration in the city. During Franco's rule in Spain, underground squats in Catalonia provided spaces for political refugees, organising and urban resistance. On one occasion in Auschwitz, hundreds of Romani people refused to be taken away and so resisted with knives and bricks. The black poppy remembers those on any or no side who resisted, rebelled and mutinied against the First World War and all wars after.
The anti-fascist resistance at Przychodnia contrasts with the patriotism of today's Remembrance. A hub of far-right activity on the ground, Remembrance Day phrases British patriotism and anti-German xenophobia as anti-fascist struggle. As the British Legion and Lockheed Martin clap for money and the crowd claps for "national identity", everywhere people struggle against fascism, patriotism and militarism.
Tags: Banner, Demo, London, Poland, UK
Posted in Anti-Fascist
Tuesday, November 10th, 2015
Manifestación en la Embajada de España en Londres en solidaridad con los anarquistas perseguidos a raíz de la Operación Pandora en Barcelona en los últimos meses.
Demonstration at the Spanish Embassy in London in solidarity with anarchists persecuted following Operation Pandora in Barcelona in the last months.
Saturday, November 14
6:00pm
Spanish Embassy
SW1X 8SB, London, UK
Solidarity to all the prisoners of the Spanish State – Destroy the Prisons.
https://www.facebook.com/events/926372350792952/
Tags: Demo, International Solidarity, London, Operation Pandora, Solidarity Action, Spain, UK
Posted in Social Control
Monday, November 9th, 2015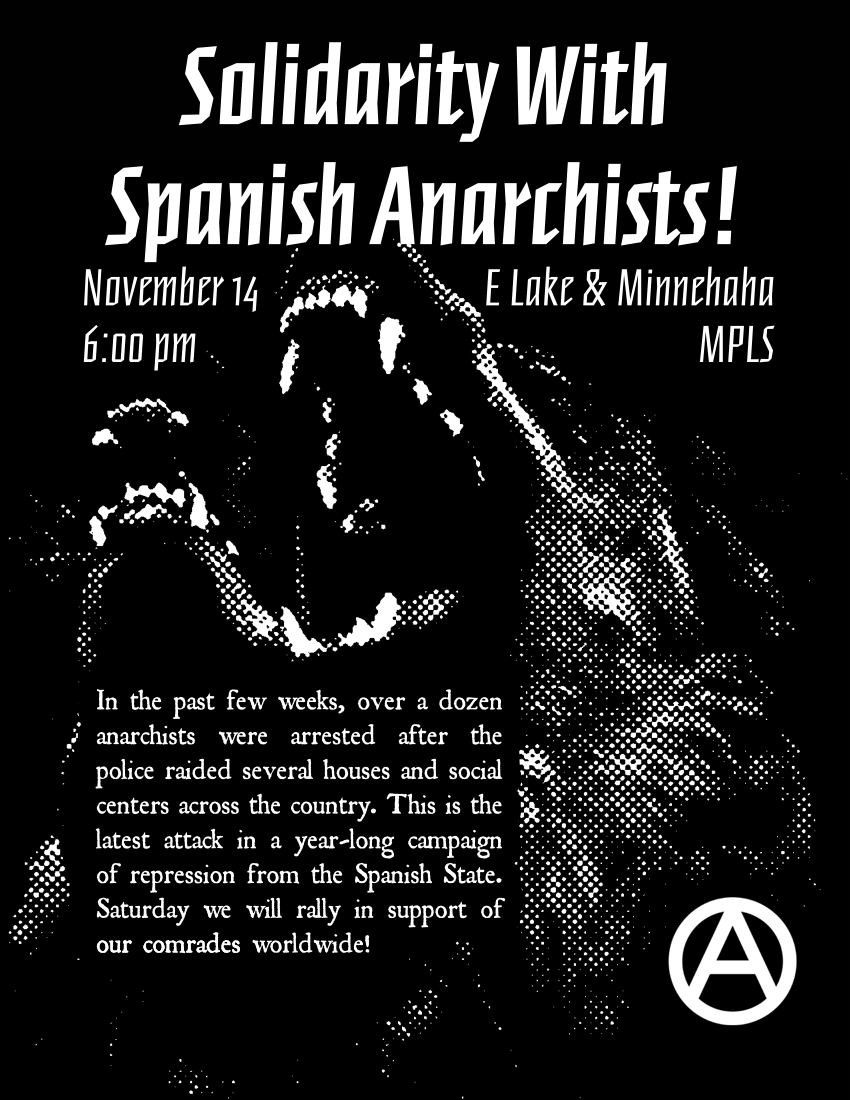 Updated: Here's the reportback.
Almost a year ago, the Spanish State began a campaign of repression against anarchists, arresting dozens, including nine in late October, and five more in November of this year. Their imprisonment is justified with the invention of a fictional terrorist group, the GAC-FAI-IRF. No attack has ever been claimed with this set of acronyms, and the GAC (Coordinated Anarchist Groups) are only the authors of a recent book, Contra la Democracia (eerily similar to the Tarnac Affair and The Coming Insurrection in France, 2008).
On Saturday we will rally in solidarity with those arrested, at 6:00pm at the corner of E Lake St & Minnehaha Ave in Minneapolis.
More info here: Efecto Pandora & Conflict MN.
Tags: Catalunya, Demo, GAC (coordinated anarchist groups), International Solidarity, Minneapolis, Spain, USA
Posted in Social Control
Wednesday, September 23rd, 2015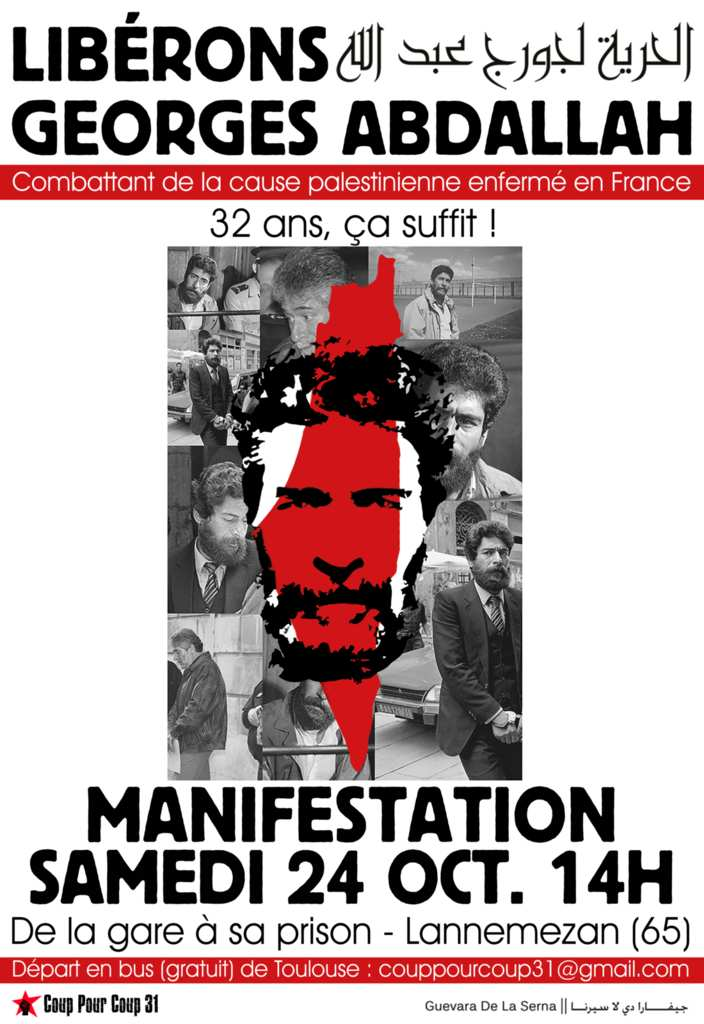 Georges Ibrahim Abdallah, a 64 year-old Lebanese communist, was arrested in Lyon (France) on 24 October 1984 and sentenced to life imprisonment for actions for which the Lebanese Armed Revolutionary Factions (LARF) claimed responsibility.
In 1978 he fought with the Popular Front for the Liberation of Palestine (PFLP) to push back the Israeli invasion of the Lebanon.
He was due for release in 1999, and keeping him in jail responds to a political decision on the part of the French State, with the backing of Israel and the United States. The latest request for parole for Georges Ibrahim Abdallah filed in 2014 was once again turned down. But we will not be deterred by this decision; it will only make us all the more determined! We will not be silenced by this decision; we will make our voice heard! (more…)
Tags: Demo, Factions Armés Révolutionnaires Libanaises (FARL), France, Georges Ibrahim Abdallah, Popular Front for the Liberation of Palestine (PFLP)
Posted in Prison Struggle
Monday, July 6th, 2015
On Saturday, July 18th, the Loyal White Knights of the Ku Klux Klan will assemble on the statehouse grounds in Columbia, SC. And we will confront them.
This rally is part of a recent wave of anti-Black terror, from the Charleston massacre to the arson of Black churches, that has strategically sought to build upon a white racist backlash against the #BlackLivesMatter, anti-police uprisings of the past year.
We call upon all those willing and able—#BlackLivesMatter activists, community organizers, anti-racists, anarchists and other radicals, and anyone else furious with racism and the police—to converge on Columbia, confront the Klan, and defy their message of white supremacy. History has shown—from the armed standoff against a lynch mob in Columbia, TN in 1946 to the 1958 Battle of Hayes Pond, from the Deacons for Defense to the armed defiance of Monroe, NC's NAACP chapter, from the 1979 Greensboro Massacre to the 1997 confrontation with the Klan in downtown Asheville, NC—that we must oppose white supremacist organizing actively and physically, in our streets and neighborhoods.
The KKK is only a small group, whose ability to inflict racist violence actually pales in comparison to that of structures like the police, the economy, and the state. But the sentiment that groups like the KKK hold runs deep through the currents of whiteness in this country, and is a major obstacle to our struggles against these larger structures. Explicit manifestations of white supremacy like the Klan are one way that the state will seek to contain the #BlackLivesMatter organizing and anti-police riots of the last year; at this historic juncture, a large Klan rally in the South cannot go unchallenged.
Bring banners, bring a friend, and bring your anger and rage against the white supremacy that courses through the veins of this society. See you in Columbia.
Tags: #BlackLivesMatter, Columbia, Demo, Ku Klux Klan, Racism, USA
Posted in Anti-Fascist
Friday, June 26th, 2015
Fennovoima-Rosatom's nuclear power project is now at a critical point. Fennovoima is supposed to hand over the keys – symbolical and concretical – to Rosatom on the 1st of July. However, Rosatom wants – as agreed – the area without troublesome extra attachments.
Requirements for a police-assisted eviction are however not quite ready yet.
The people still holding on to their lands and cottages in the area have been sent a message by Fennovoima, in which is demanded that the last missing cottage-keys be surrendered to the company at the latest on Friday 26th of June. If this does not happen, the issue will proceed to the Distraint Authorities [the authority managing forced collection of debts, taxes, etc.] according to Fennovoima. After that we'll have to see how and with what kind of schedule the Distraint and police authorities sort out the practicalities and the connecting of their respective official powers. (more…)
Tags: Anti-Nuclear, Demo, Eviction, Fennovoima, Finland, Hanhikivi, Helsinki
Posted in Eco Struggle
Tuesday, June 23rd, 2015
On Monday 22 June 2015, 40 anarchists of anarchist collective "Rouviconas" in Athens, defied the so called majority in the streets, infiltrated at the center of a right wing protest of approximately 5.000 protesters demonstrating in favour of EU and IMF austerity measures in front of the Greek parliament in Syntagma square and burned several European Union flags shocking the ultra conservative crowd.
The Riot Police, now governed by the so called left government of Syriza proceeded to arrest all of the anarchist protesters, verifying that Class War exists even in the so called right to protest.
Tags: Anarchist Collective "Rouviconas", Athens, Demo, Economic Crisis, Greece, Repression, SY.RIZ.A.
Posted in Direct Action
Monday, June 22nd, 2015
Martin gives his views on the predictable non-event of June 20th.
Tags: Demo, Economic Crisis, London, Martin Lux, UK
Posted in Social Control
Sunday, June 21st, 2015
An "anti-repression" demonstration brought together nearly 500 people this Saturday, June 13, 2015 in Barcelona under the slogan "if they attack us for our struggles, we will respond with struggle," it was called in solidarity with incarcerated and persecuted comrades following operations 'Piñata' (two are still detained, three others released under judicial control) and 'Pandora' and more generally against the repression of squats, and those who struggle against the state and this society.
(more…)
Tags: Barcelona, Catalunya, Demo, Operation Pandora, Operation Piñata, Repression
Posted in Direct Action
Tuesday, June 9th, 2015
Yesterday's A to B march – RabbleLDN
A growing mood of angry defiance of the capitalist system has been in evidence on the streets of the UK in recent weeks.
The latest instance took place in Brighton on Saturday June 6, where a large anti-austerity protest in the city culminated in the storming of the former Barclays bank at Preston Circus. (more…)
Tags: Acorn, Barclays bank, Brighton, Conservative Party, Demo, Douglas Carswell (UKIP), Fuck the Elections, Liverpool, London, Squatting, UK
Posted in Direct Action
Saturday, June 6th, 2015
On June 1 we got the great news that three of the five comrades being held in preventive detention, accused of being part of a terrorist group under Operation Piñata (including one who was already arrested and imprisoned in Operation Pandora) are being released without bail. They still have all their charges and have to sign in frequently at court, and two of them are prohibited from leaving the country.
Operation Pandora was launched in December in Catalunya, and Operation Piñata on March 30 all across the Spanish state but focused in Madrid. The operations resulted in the arrests of 26 anarchist comrades (plus the arrests of over a dozen more for resisting the raid on a social center) on anti-terrorism charges, the raids of dozens of houses and social centers, the theft of cash, and the seizure of computers, harddrives, phones, etc.
(more…)
Tags: Barcelona, Catalunya, Demo, GAC (coordinated anarchist groups), Informal Anarchist Federation (FAI), International Revolutionary Front, International Solidarity, Operation Pandora, Operation Piñata, Repression, Spain
Posted in Social Control