Posts Tagged 'Demo'
Sunday, May 10th, 2015
Thousands of protesters laid siege to Downing Street and marched on the Conservatives' campaign HQ and Parliament, causing havoc which ranged across central London in a disruptive demo which saw at least 17 people arrested and a number of police injured in clashes. A small black bloc was active on the frontlines attacking police and defending the demo from police attacks. Eventually the demo was kettled and the crowd processed. There was a simultaneous event in Cardiff, Wales, and an anti-fascist demo in Walthamstow against the English Defence League, fascist-nationalist group.

"Those who forget the past are condemned to repeat it." – Fuck Tory Scum
Tags: Cardiff, Conservative Party, Demo, London, Police Bastards, Repression
Posted in Anti-Fascist
Thursday, May 7th, 2015
Vote or don't vote or spoil your ballot paper, it will make no difference. Politicians will sell you and take you for their personal power. Elections are just a choice between spokesmen of the rich. We don't have to settle for it. We've got to get rid of the rich!
Class War candidate for Michael Fabricant's safe Tory Lichfield seat, Andy Bennetts, said: "We're having more of a pantomime than an election, where career minded politicos try to make a good impression with their party in the hope of being selected to fight a seat they have a chance of winning in the future.
"No one is contesting this election to win. Not even us. This election is a lot of bollocks. Don't vote – it is a waste of time."
Class War took to the streets on May Day, sweeping through the citadel of class exploitation: the City of London. The police could not contain the Fuck Parade mob. Hundreds of class warriors closed down Commercial Street, Tower Bridge, London Bridge and marched to the squats of Soho, where the battle rages against gentrification.
The City was brought to a standstill. It didn't need party bureaucracies and vanguards. It was just the will of the raging mass.
The streets are our ballot box. The mob are our votes. Our class is our party.

Get out. There will be no Government on Friday. It's ours. Let's take it.

Class War is supporting a post-election action by London Black Revs. In a statement, LBR says: "The polls suggest a hung parliament; where no party wins a majority of seats. If so there will be a scramble for power, with the Tories and Labour trying to cobble together enough MPs from different parties to form a government. If they call a legitimate government, they will force through the worst cuts since the Second World War.
"We think the Tories and Labour sing from the same song sheet; with the difference between austerity and austerity-lite being nowhere near enough. When no-one represents us, we must take to the streets."
Tory HQ 2pm SATURDAY 9TH.
LOCATION:
Polling Day HQ & Battlebus
Conservative Campaign Headquarters
4 Matthew Parker St, Westminster
London SW1H 9HQ – Map; http://bit.ly/1EjGYp6
http://www.classwarparty.org.uk/
Tags: Conservative Party, Demo, Fuck the Elections, UK
Posted in Autonomy
Monday, April 27th, 2015
Antifrontex days 19-22 May, 2015
On May, 21st, 2015 the crème de la crème of European racism will gather in Warsaw, Poland, to celebrate the 10th anniversary of the creation of one of the most influential meta-organisations that guards assets of the Fortress Europe. The organization, not widely known, until recently standing in the shadows, is a hybrid of border police and intelligence service, as well as aggressive promoter of anti-migrant policy. Frontex (from French Frontieres exterieurs), being discussed here, is the executive body of EU (anti)migration policy – enjoys autonomy in decision-making (for EU foreign policy), and has a yearly growing budget, which is not accounted. Budget, used to finance futuristic projects, straight from distopia, like an automatic system of land drones, known as TALOS project, carried out in cooperation that included Warsaw University of Technology, Israeli Aerospace Industries and a lot of other military corporations.
The trust also allows them to conduct their own foreign policy on migration – dealing with the neighboring dictatorships (Belarus, Libya, Tunisia, Algeria), sponsoring and organizing repression against refugees in a secure buffer zone, which blurs responsibility. As a result, the border of Europe moves farther away from the 'old continent', helping to hide the effects of this policy in the eyes of Europeans. Sponsored camps in the countries of the global south and ruthless anti-human migration policy of the EU countries result in real victims – tens of thousands of people drown, starve, are left at sea or desert, or are directly shot – every year more than at the Berlin wall in the entire time of its existence. (more…)
Tags: Demo, Frontex, Poland, Warsaw
Posted in No Borders
Sunday, April 26th, 2015
On 16 April 2015 a dynamic protest took place, despite the provocations of the Greek riot police operating under the left government of SYRIZA, in solidarity to the residents of Halkidiki in northern Greece fighting against the destruction of their homes, the environment and the pollution of drinking water in their area due to gold mining operations.
A few years ago the multinational gold mining company Eldorado Gold settled in Skouries and with the backing of powerful domestic private interests has begun large-scale mining activities. Thus, the irreversible destruction of the ecosystem of Skouries and the contamination of soil and groundwater with heavy metals throughout western Halkidiki has already started.
Tags: Demo, Eldorado Gold, Forest Struggle, Greece, Halkidiki, Mining, Skouries, SY.RIZ.A.
Posted in Eco Struggle
Tuesday, April 14th, 2015
YES MAYDAY | NOEXPO
INTERNATIONAL WORKERS' DAY IN MILAN
After seven years of crisis the precarious pride has become rage and indignation against the burgeoning unemployment and the growth of poverty imposed by BCE & IMF to most of the population with austerity policies, particularly in Italy, Greece and the rest of the Latin Europe. Social slaughter, plunder of wealth and common goods, the end of the public city are the bases upon which governments build their response to the economic crisis.
The whole urban environment is the heart of many overwhelming social tensions. It is dominated by profit-based logics, soil consumption, the speculative spiral and the showcase city formula, in which the territorial branding is everything and inhabitants needs count as nothing, which leads to environmental exploitation, militarization of life, as we see in Val Susa, attack against our city back streets.
Italy deeply suffers precariousness, exploitation, repression. Corresponds to our need of places for political activism and criticism their evacuation and closure. (more…)
Tags: Demo, EXPO Milan 2015, Fuck Work, Italy, Mayday, Milan, Riots
Posted in Autonomy
Saturday, April 11th, 2015
**NB: There is a demonstration organised for Brighton at the Clock-Tower on Sunday 12th at 6pm**
Last Monday (April 30th) there was a new repressive strike against the anarchist movement in Spain. Thirty-eight people were arrested in a police operation under the name 'Operación Piñata'. Fifteen of them are facing charges of terrorism and five are in preventive imprisonment. The raids were carried out on private homes, social centres and squatted spaces in Madrid, Barcelona, Palencia and Granada.
These police raids were carried out in a very open way, trying to create the maximum social alarm. The media have published the names of the people arrested and the groups they are involved in, presenting the fake police accusations as fact. They talk about 'anarchist terrorism' and organisations with leaders, hierarchical infrastructures and various 'capitation' methods the arrested allegedly use to 'fund' their 'illegal' activities.
These raids are a continuation of police operation 'Operación Pandora', which took place last December within the context of the increasingly repressive politics employed by the Spanish government. (more…)
Tags: ABC Brighton, Brighton, Catalunya, Demo, International Solidarity, Operation Pandora, Operation Piñata, Spain, UK
Posted in Direct Action
Saturday, April 11th, 2015
Letter from social prisoner Kevan Thakrar, from a comrade of ABC Brighton:
06/04/15
Thank you to everyone who turned out to demonstrate in my support in London outside Prison Service headquarters on February 16th and to all those who helped create the banners, flyers and advertised the event.
Since then there have been significant developments. Firstly, the attempt to have me sectioned under the Mental Health Act failed. Post-Traumatic Stress Disorder is not something which a person can be sectioned for, so the psychiatrist refused to do the dirty work of the Close Supervision Centre Management Committee (CSCMC) and refer me to hospital.
Transfer to HMP Full Sutton segregation unit turned out to be their next attack. Greeted by a full riot squad on arrival, my treatment was never going to be good, but even I was shocked at the audacity of these discriminators who stormed my cell while I was praying, to assault me and provoke a reaction: Fortunately I did not fall into their trap; however this has only led to me being subjected to a continued and increasing level of harassment. (more…)
Tags: Close Supervision Centre CSC, Demo, HMP Full Sutton, HMP Wakefield, Kevan Thakrar, Letter, Manchester, Prison Transfer, UK
Posted in Prison Struggle
Saturday, April 11th, 2015
On April 7, 2015 following a protest of 1.500 – 2.000 anarchists in the center of Athens, riots erupted in Exarchia to bring attention to a mass hunger strike of political prisoners taking place in Greece since March 2, 2015. At the moment (April 10) 8 anarchists still continue the hunger strike, some of them for the 40th day.
The political prisoners demand from the so-called left government of SYRIZA:
– Withdrawal of the special anti-terrorist legislation for political activists (laws 187A and 187)
– Withdrawal of the special repressive laws ("anti-hoodie" law)
– Abolition of the "C-type" prisons
– Delineation of the use and processing of DNA as legal.
– Immediate release of disabled prisoner "Savvas Xiros" (98% handicapped)
Tags: Athens, Demo, Exarchia, Greece, Hunger Strike, Riots, Savvas Xiros, Solidarity, SY.RIZ.A., Type C prisons
Posted in Direct Action
Thursday, April 2nd, 2015
In the afternoon of April 1st 2015 anarchists of "Rouvikonas" collective "invaded" the grounds of the Greek parliament in the center of Athens to protest in solidarity to the mass hunger strike of 22 political prisoners in Greek prisons, most of them since March 2, and 8 prisoners from Turkey on solidarity hunger strike in turns since March 11.
Immediate satisfaction of the demands – Solidarity to the fighters
Tags: Athens, Demo, Greece, Hunger Strike, Occupation, Repression, Type C prisons
Posted in Direct Action
Monday, March 30th, 2015
Today at 1pm in Cardiff city centre we held a demonstration in solidarity with the hunger striking members of CCF and their friends and families. We handed out flyers explaining their situation and demands while shouting chants in English and Greek. After the demonstration we hung a banner in the city and scattered flyers from the roof. Strength and complicity to CCF and their friends and relatives.

Long live anarchy!
*we will send pics soon.
Tags: Cardiff, Conspiracy of Cells of Fire : Imprisoned Members Cell, Demo, Greece, Hunger Strike, Solidarity Action, UK, Wales
Posted in Direct Action
Saturday, March 28th, 2015
Fuck the Police – Fuck the Tories – Fuck the lot of them – All Fucking Wankers
http://www.classwarparty.org.uk/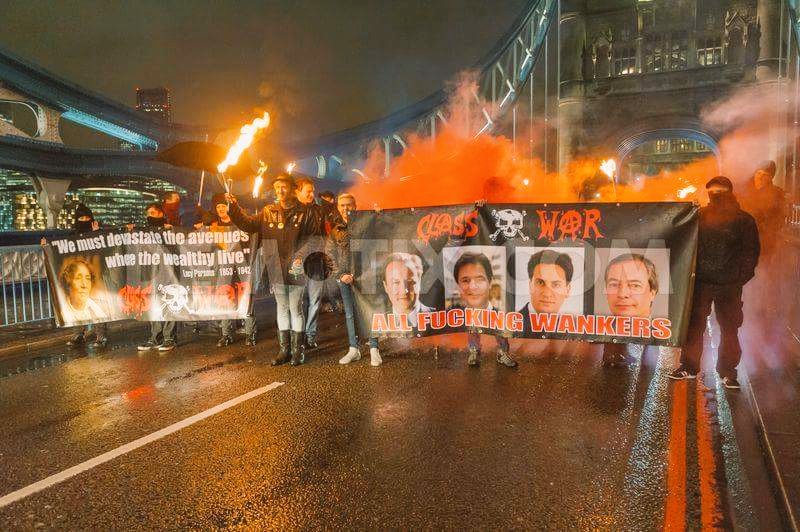 Tags: Class War (UK), Demo, Fuck School, Fuck the Church, Fuck the Elections, Fuck the Law, Fuck the Mainstream Media, Fuck the Police, Fuck the Queen, Fuck Work, Fuck You Tesco, Mayday, Police Bastards
Posted in Uncategorized
Saturday, March 28th, 2015


25.03: Solidarity demonstration by anarchists outside the Lamia Hospital where the hunger striking comrades D.Koufontinas and K.Gournas have been hospitalized (D.Koufontinas has stopped his hunger strike now*, K.Gournas remains on strike). The rooms that the comrades are in have small windows and both comrades responded to the chants and presence of the demonstrators with raised fists.
Second Solidarity Demo Outside Lamia Hospital on 27.03.15
Check out more infos at this blog: http://anarxikoilamias.squat.gr/
–
*Dimitris Koufodinas wrote the following statement: "After the filing of the bill in the House of the Ministry of Justice, which satisfies our basic demands, I interrupt the 2 March hunger strike. The struggle continues. Dimitris Koufodinas, Lamia Hospital, 27/3/2015".
http://www.eksegersi.gr/Επικαιρότητα/23623.Διακόπτει-την-απεργία-πείνας-ο-Δ-Κουφοντίνας
Tags: Demo, Dimitris Koufodinas, Greece, Hunger Strike, Kostas Gournas, Lamia
Posted in Prison Struggle
Wednesday, March 25th, 2015
Anti-Daesh and anti-Assad protestors made an angry demo within the capital of the Daesh capital city, al-Raqqa, in this 26 September 2013 covert footage published March 21 2015. After the demo the terrorist gang enacted reprisals against the demonstrators and their families. At least two people were killed and another two disappeared.
Freedom for the people of al-Raqqa

Battle for Raqqa: Kurdish female and male fighters of YPG, YPJ and Peshmerga forces pushed ISIS back to the gate of their capital in al-Raqqa, as the villages around Kobani were liberated from ISIS including Lafarge Cement Factory. These clips are from a YPG operation between February 17-22, the aim is to cut off the ISIS route from Raqqa to Aleppo. This is the beginning of the end for Daesh/IS.
March 14: Kurdish YPG and YPJ forces attacked ISIS positions around the bridge of Qereqozaq to the south of Kobani, the aim of the Kurdish fighters is to cut ISIS' route from Raqqa to the Turkish border.
Kurdish YPG/YPJ Fighters liberate Bridge on Euphrates from ISIS
March 16, the Kurdish Female and Male Figures of YPG and YPJ took control of the strategic Qereqozaq Bridge over the Euphrates from ISIS (Islamic State) in Rojava of Kurdistan (Syrian Kurdistan). The Qereqozaq Bridge is around 1.5 km long and 15 m wide and occupies a strategic crossing along the Euphrates connecting the cities of Kobanê and Minbic and it's a route ISIS uses to get from Raqqa to the Turkish border.

Send the terrorists to hell – confront the Islamist-fascists and the enemies of freedom – Victory will be ours
Tags: al-Raqqa, Aleppo, Demo, Insurrection, Iraq, Islamic State in Iraq and Syria (ISIS), Kubani, Kurdistan, Minbic, People's Defence Units (Y.P.G.), Qereqozaq Bridge, Rojava, Syria, Turkey, War, Women's Defense Units (YPJ)
Posted in Autonomy
Monday, March 23rd, 2015
Inter Arma received:
Today in Kadıkoy, we marched in solidarity with prisoners in Greek prisons, who are in hunger strike since 2nd of March and who turn to death fast. During march, we chanted slogans: "Destroy Prisons, Free the Prisoners", "Wage Slavery System will end with anarchy", "Greetings to the comrades who are fighting and fallen", "Insurrection, Revolution, Anarchy". This action was finished in a peaceful way, but if something come over our comrades, we'll turn the streets to hell.

Long Live Anarchy!
Shadowlesses (Gölgesizler)
———
Source: Sosyal Savas
Tags: Demo, Hunger Strike, Istanbul, Solidarity Action, Turkey
Posted in Direct Action
Sunday, March 22nd, 2015
Yesterday, Kurdish people and their supporters confronted the street presence of Daesh-supporting Islamic-fascists at their protest stall outside a Boots chemist store in High Road, Wood Green in the late afternoon. The Islamists use the stall to promote Sharia Law and the Islamic State. Police came and protected the few fascists from the angry crowd, but quickly the Islamists packed up and left the area. The Kurdish people and their supporters made a procession to their community centre to celebrate their new year of Newroz. There were no arrests.
Video here, with running commentary by some local kids debating the scene who caught the footage on their fone –
Tags: Anjem Choudary, Demo, Islamic Roadshow, Islamic State in Iraq and Syria (ISIS), Kurdish Struggle, Kurdistan, London, Newroz, UK, Wood Green
Posted in Anti-Fascist