Posts Tagged 'Demo'
Sunday, March 15th, 2015
On Monday 9 March, there was a demo in Birmingham by the Birmingham Against AstraZeneca crew. Around 25 people over the course of the day joined the protest. This is the first demo against a Skanska office in the UK, Skanska are the builders of the Cambridge AstraZeneca global HQ and animal lab. AstraZeneca uses around 300,000 animals in pointless experiments each year; that's over 800 animals every single day! 500 leaflets brought by the activists were distributed within the first hour and a half of the protest! Support from the public was overwhelming. Shut down the animal torturers-murderers!
Please do a demo against your local Skanska office, without Skanska no lab can be built. The animals need YOU!
https://www.facebook.com/BirminghamAgainstAZ

Upcoming demo in Yorkshire against Skanska and AstraZeneca:
Friday, April 10 at 12:00pm
Bentley House, Jossey La, Doncaster DN5 9ED
https://www.facebook.com/yorkshireagainstaz
Tags: Animal Liberation, AstraZeneca, Birmingham, Demo, Skanska, UK
Posted in Eco Struggle
Friday, March 13th, 2015
CALLS:
MOTORBIKE DEMONSTRATION: Friday March 13th 17:00, Propilea
GATHERING: The same day at 18:30 at Koridallos prisons
GATHERING with P.A. SYSTEM: Saturday March 14th 12:00, Syntagma square
DEMONSTRATION: Tuesday March 17th 18:00 Monastiraki Square

Solidarity Assembly for the Hunger Strikers
Tags: Athens, Demo, Greece, Hunger Strike, Korydallos Prison
Posted in Prison Struggle
Thursday, March 12th, 2015
6pm @Cardiff Central Police Station on the 24th of March 2015
It has been over five years since we learned that Mark "Marco" Jacobs was not just another anarchist in the south Wales activist scene, but was actually an undercover police officer.
Since then a number of people who were directly effected by his use of sexual relations as an infiltration tactic have taken legal action to attempt to hold the system to account.
Sickeningly South Wales Police and the Metropolitan Police have maintained a "Neither Confirm Nor Deny" defence of all aspects of Officer Jacobs deployment. (more…)
Tags: Cardiff, Demo, Fuck the Police, Mark 'Marco' Jacobs (Undercover Cop), Police Bastards, Rapist abusers, Repression, Wales
Posted in Social Control
Thursday, March 12th, 2015
Berkin Elvan was a 15-year-old Turkish boy who was hit in the head by a tear-gas canister fired by a police officer in Istanbul, while the boy was out to buy bread for his family during the June 2013 Gezi park protests in Turkey. He died on March 11, 2014. Widespread demonstrations erupted following Berkin's death. Gezi park remains heavily monitored by secret police.
We received the following report from DAF of an action taken to commemorate Berkin. In the video you can see and hear small explosives and fireworks being used against the police and to create a rupture in the city. Here is the communique we received:
DAF action for Berkin Elvan
One year ago, murderous police killed our brother Berkin Elvan who was 15 years old. DAF was on the streets in the first year of his murder. We are not afraid of the murderers. We will keep on fighting. Murderous Police, Terrorist State will pay for these massacres.
Berkin is here, We are here!
https://www.facebook.com/video.php?v=808076932606258
DAF
–
On the first anniversary of the death of Berkin Elvan, the comrades from LAF (High School Anarchist Action) also opened a banner on the stairs of Gezi Park. On it was written the slogan "Berkin is here". They poured red paint on the stairs to the Gezi Park, shouting "If the government is thirsty for blood, then take it." Our 8 comrades were then assaulted, abused and taken into custody, handcuffed from the back.
Tags: Berkin Elvan, Demo, Devrimci Anarşist Faaliyet - DAF - Revolutionary Anarchist Action, Istanbul, Police Bastards, Solidarity Action, Taksim Gezi Park, Turkey
Posted in Direct Action
Tuesday, March 10th, 2015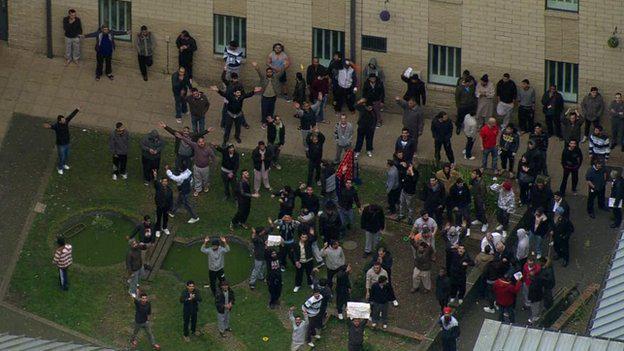 Update: Protests spreading across immigration detention centres in UK.
Resistance continued yesterday at Harmondsworth and Colnbrook. Over 70 people detained had gathered in the courtyard to continue the protest.
Outside at 9am a group of people made a solidarity demonstration in support of the protests. They could hear people shouting 'Freedom' and 'No Food'. The police were called to the protest and one person was pushed aggressively. Guards and centre managers are asking detainees to go to their rooms and come to talk to the managers one-by-one or in pairs. Detainees have refused and ask the management/staff to come and listen to them in the yard. (more…)
Tags: Colnbrook, Demo, Harmondsworth, Hunger Strike, Migrant Struggle, Racism, UK, UKBA
Posted in No Borders
Thursday, March 5th, 2015
We received this message from Czech about two actions, one about solidarity with anarchists in Belarus, and flyposter action against Amazon and Manpower.
http://voiceofanarchopacifism.noblogs.org/post/2015/03/03/solidarni-akce-na-podporu-beloruskych-anarchistutek/
http://voiceofanarchopacifism.noblogs.org/post/2015/02/24/kratke-video-z-tydne-boje-proti-firmam-amazon-a-manpower/
Tags: Amazon, Belarus, Czech Republic, Demo, Manpower, Solidarity Action
Posted in Direct Action
Tuesday, March 3rd, 2015
On Saturday 28 February in Zurich, Switzerland, there was a demo/rally organised by Revolutionäres Bündnis Zürich, against racism and repression and for solidarity. The demo was specifically as part of international solidarity days for Albert Woodfox, member of Angola 3 and Black Panthers. An American flag was burned in front of the banner "Freedom for A. Woodfox and all the Black Panther prisoners"
Tags: Albert Woodfox, Angola 3, Black Panther Party, Demo, Racism, Solidarity Action, Switzerland, Zurich
Posted in Direct Action
Friday, February 27th, 2015
Neither in Sofia nor anywhere…
Last Saturday, February 14, 2015, around 150-200 antifascists demonstrated in Sofia against the annual march in honour of general Hristo Lukov, Nazi collaborator and leading figure of the Bulgarian national-socialism, executed by partisans in 1943.
Fascists from all over Bulgaria take part in the march in memory of Lukov, and previously up to 1,000 people were participating in it. This year, the fascist gathering was attended by 300 invertebrates.
The antifascist demonstration was also directed against the rise of racism observed in Bulgaria in recent years, after the appearance of refugees (from Syria) for the first time in the country. Furthermore, demonstrators chanted slogans against homophobia (in 2008, fascist hooligans killed 25-year-old student Mihail Stoyanov at a park in Sofia because he "looked gay").
In a display of internationalist antifascist solidarity, also 15-20 comrades from Greece, Romania and the Republic of Macedonia participated in the antifascist march.

ContraInfo, more pics
Tags: Antifa, Bulgaria, Demo, Mihail Stoyanov, Racism, Sofia
Posted in Anti-Fascist
Tuesday, February 17th, 2015
Above: A speaker from FRFI (Fight Racism! Fight Imperialism!) at the protest at HM Prison Service HQ against continued solitary confinement of Kevin Thakrar since he was acquitted of attacking prison officers in 2010.
Prolonged isolation of Kevan Thakrar in UK prisons is torture protest
The demo took place 16 February at HM Prison Service HQ in London, and it was attended by over a dozen people, different individuals and groups who were there to support Kevan and show solidarity about his case. Brighton Anarchist Black Cross, Jengba, Fight Racism! Fight Imperialism!, Payday Men's Network and others. (more…)
Tags: ABC Brighton, Close Supervision Centre CSC, Demo, Fight Racism! Fight Imperialism! (FRFI), Isolation, Kevan Thakrar, Repression, Solidarity Action, UK
Posted in Prison Struggle
Tuesday, February 10th, 2015
Kevan Thakrar is a social prisoner wrongly convicted for murder. There was no DNA, forensics, ballistics, or cell-phone siting placing Kevan at or anywhere near the scene. False multiple hearsay and two questionable identifications were enough to wrongly convict and sentence to life with a 35 year tariff. From a comrade of ABC Brighton:
Despite being found not guilty of attacking three prison officers, but instead that he acted in self-defence after months of racial, physical and psychological abuse (a ruling that goes against prison officers is VERY unusual in a court) Kevan Thakrar continues to be held in the prison services 'Close Supervision Centres' more than five years later.
The CSCs are places of extremely restrictive solitary confinement where he, and his family visiting him, have suffered constant harassment. Kevan's solicitor recently arranged for an independent psychologist to make a report on Kevan. Kevan has suffered with Post Traumatic Stress Disorder (PTSD), as a direct result of the way he's been treated by prison guards, since before he was placed in the CSCs. The independent psychologist's report concluded that as Kevan has displayed no violent behaviour since being in the CSCs, and because solitary confinement and the regime in these units only makes PTSD worse, Kevan should be moved back into the mainstream prison population. (more…)
Tags: Close Supervision Centre CSC, Demo, Kevan Thakrar, Repression, UK
Posted in Prison Struggle
Tuesday, February 3rd, 2015
2. Call for a convergence of resistance
Tags: Demo, European Central Bank, Germany, Riots
Posted in Autonomy
Wednesday, January 28th, 2015
via rabbleLDN:

From Midlands Anti-Fascists.
ALERTA! Anti-Fascist response needed in the West Midlands!
The racists of the English Defence League (EDL) are planning to have their national demo on Saturday February the 7th in Dudley. They are treating it very seriously, and antifa need to be just as committed and more organised.
In the context of Charlie Hebdo, islamaphobia from the government, the media and the far-right is on the rise. Letting them feel they can have these views and gather in an attempt to intimidate Black, Asian and other minority ethnic populations is not an option. (more…)
Tags: Antifa, Demo, Dudley, English Defence League, Racism, UK
Posted in Anti-Fascist
Saturday, January 24th, 2015
UPDATE : Fascists blockade Dover pub garden – ANTIFA DEMO REPORT 25th Jan
From rabbleLDN:
The local state authorities (Prefecture) have banned the fascist demo planned in Calais on Sunday by the "Sauvons Calais" group. The fascists have announced on their facebook page that they are going to obey the order and have called off the demo, although asserting that everyone has "freedom of movement [!!!] and can do what they want".
Based on previous experience, it is likely that some fascists will still come to Calais, perhaps staying in smaller groups and launching surprise attacks rather than trying to gather together in the centre. In the past, nazi groups have lingered some days after announced demos to form "hunting parties" against migrants and anti-fascists.
Given this, and because there is always plenty to do, comrades in Calais still very much welcome support from anyone planning to travel to the town. Get in touch with Calais Migrant Solidarity.
On the English side of the channel, the simultaneous fascist demo in Dover is still very much going ahead. Antifascists will be there to oppose them. See the call-out here.
As swastika-tattooed Kevin Reche, the young leader of "Sauvons Calais", is personally banned from demonstrating in Calais town centre, it is thought quite possible that he (and other known Calais fash) will take the ferry to Dover to join the demo there. He is the one on the right in the photo above.
Tags: Calais, Demo, France, Migrant Struggle, Racism
Posted in Anti-Fascist
Friday, January 23rd, 2015
Last night, in Kadıköy, anarchist groups called 'Anarchist Front' and 'Shadowlesses', took an action in support of imprisoned anarchists after 'Operation Pandora'. With black flags and masks, anarchists started to march to a much used street, attacked ATM's, bank windows and some capitalist shops like Adidas and chanted for solidarity with anarchists prisoners in Spain and all around the world.
During the march, anarchists took down dustbins to blockade roads and attacked some ATM's and multinational capitalist shops. Also, they spoke out about the situation of imprisoned anarchists in Spain prisons. And they chanted: "İnsurrection, Destruction, Anarchy, Long Live Statelessness of People, Freedom for Anarchist Prisoners".
Tags: Demo, International Solidarity, Operation Pandora, Solidarity Action, Turkey
Posted in Direct Action
Monday, January 19th, 2015
Update: Ex-undercover cop Bob Lambert resigns from two university jobs.
325 is very happy to spread this call to ruin the life of a no-good pathetic scrote of a man, Robert Lambert. Death to police spies and informers. Revenge.
Via Rabble LDN, From Islington Against Police Spies:
SACK BOB LAMBERT!
Former Police Spy, Serial Liar & Exploiter of Women
Join us to demand the removal of Bob Lambert from London Metropolitan University.
Picket London Met
Friday January 30th
12.00 – 2.00pm
LMU Tower, 166-220 Holloway Road, 
London N7 8DB
Bring placards, banners, anything to make noise…
In November Islington Against Police Spies (IAPS) held a lively picket of London Metropolitan University in Holloway, launching our campaign to demand the sacking or resignation of Bob Lambert. Former police spy, Special Branch manipulator, abuser of women, agent provocateur, Lambert is now lecturing at London Met on policing and criminology.
For a brief account of Bob Lambert's dubious record, check out this pdf flyer. Which you can also spread as wide as possible…
As local residents we feel it is totally inappropriate for London Metropolitan to be employing a man with Lambert's record in such a position; where he has influence and power over the lives of students, who may be young or vulnerable. Most particularly Lambert has shown he cannot be trusted not to abuse and lie to women. (more…)
Tags: Bob Lambert, Demo, Police Bastards, UK, Undercover Police
Posted in Direct Action