Posts Tagged 'Demo'
Monday, March 30th, 2015
Today at 1pm in Cardiff city centre we held a demonstration in solidarity with the hunger striking members of CCF and their friends and families. We handed out flyers explaining their situation and demands while shouting chants in English and Greek. After the demonstration we hung a banner in the city and scattered flyers from the roof. Strength and complicity to CCF and their friends and relatives.

Long live anarchy!
*we will send pics soon.
Tags: Cardiff, Conspiracy of Cells of Fire : Imprisoned Members Cell, Demo, Greece, Hunger Strike, Solidarity Action, UK, Wales
Posted in Direct Action
Saturday, March 28th, 2015
Fuck the Police – Fuck the Tories – Fuck the lot of them – All Fucking Wankers
http://www.classwarparty.org.uk/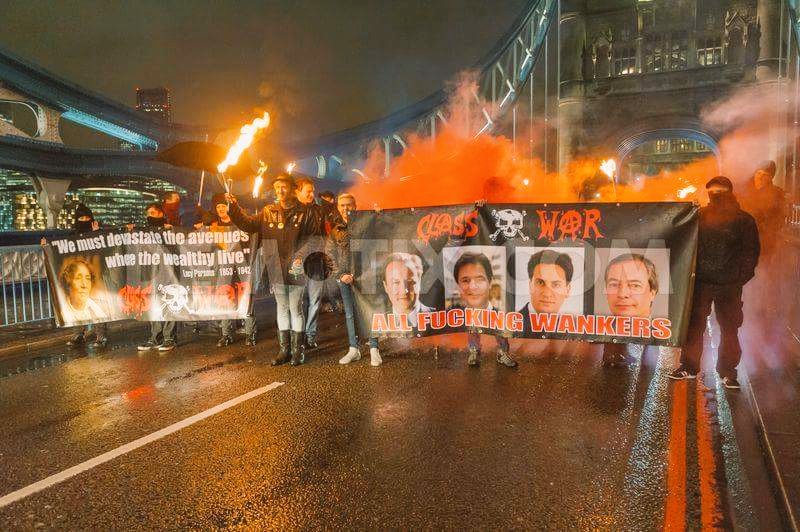 Tags: Class War (UK), Demo, Fuck School, Fuck the Church, Fuck the Elections, Fuck the Law, Fuck the Mainstream Media, Fuck the Police, Fuck the Queen, Fuck Work, Fuck You Tesco, Mayday, Police Bastards
Posted in Uncategorized
Saturday, March 28th, 2015


25.03: Solidarity demonstration by anarchists outside the Lamia Hospital where the hunger striking comrades D.Koufontinas and K.Gournas have been hospitalized (D.Koufontinas has stopped his hunger strike now*, K.Gournas remains on strike). The rooms that the comrades are in have small windows and both comrades responded to the chants and presence of the demonstrators with raised fists.
Second Solidarity Demo Outside Lamia Hospital on 27.03.15
Check out more infos at this blog: http://anarxikoilamias.squat.gr/
–
*Dimitris Koufodinas wrote the following statement: "After the filing of the bill in the House of the Ministry of Justice, which satisfies our basic demands, I interrupt the 2 March hunger strike. The struggle continues. Dimitris Koufodinas, Lamia Hospital, 27/3/2015".
http://www.eksegersi.gr/Επικαιρότητα/23623.Διακόπτει-την-απεργία-πείνας-ο-Δ-Κουφοντίνας
Tags: Demo, Dimitris Koufodinas, Greece, Hunger Strike, Kostas Gournas, Lamia
Posted in Prison Struggle
Wednesday, March 25th, 2015
Anti-Daesh and anti-Assad protestors made an angry demo within the capital of the Daesh capital city, al-Raqqa, in this 26 September 2013 covert footage published March 21 2015. After the demo the terrorist gang enacted reprisals against the demonstrators and their families. At least two people were killed and another two disappeared.
Freedom for the people of al-Raqqa

Battle for Raqqa: Kurdish female and male fighters of YPG, YPJ and Peshmerga forces pushed ISIS back to the gate of their capital in al-Raqqa, as the villages around Kobani were liberated from ISIS including Lafarge Cement Factory. These clips are from a YPG operation between February 17-22, the aim is to cut off the ISIS route from Raqqa to Aleppo. This is the beginning of the end for Daesh/IS.
March 14: Kurdish YPG and YPJ forces attacked ISIS positions around the bridge of Qereqozaq to the south of Kobani, the aim of the Kurdish fighters is to cut ISIS' route from Raqqa to the Turkish border.
Kurdish YPG/YPJ Fighters liberate Bridge on Euphrates from ISIS
March 16, the Kurdish Female and Male Figures of YPG and YPJ took control of the strategic Qereqozaq Bridge over the Euphrates from ISIS (Islamic State) in Rojava of Kurdistan (Syrian Kurdistan). The Qereqozaq Bridge is around 1.5 km long and 15 m wide and occupies a strategic crossing along the Euphrates connecting the cities of Kobanê and Minbic and it's a route ISIS uses to get from Raqqa to the Turkish border.

Send the terrorists to hell – confront the Islamist-fascists and the enemies of freedom – Victory will be ours
Tags: al-Raqqa, Aleppo, Demo, Insurrection, Iraq, Islamic State in Iraq and Syria (ISIS), Kubani, Kurdistan, Minbic, People's Defence Units (Y.P.G.), Qereqozaq Bridge, Rojava, Syria, Turkey, War, Women's Defense Units (YPJ)
Posted in Autonomy
Monday, March 23rd, 2015
Inter Arma received:
Today in Kadıkoy, we marched in solidarity with prisoners in Greek prisons, who are in hunger strike since 2nd of March and who turn to death fast. During march, we chanted slogans: "Destroy Prisons, Free the Prisoners", "Wage Slavery System will end with anarchy", "Greetings to the comrades who are fighting and fallen", "Insurrection, Revolution, Anarchy". This action was finished in a peaceful way, but if something come over our comrades, we'll turn the streets to hell.

Long Live Anarchy!
Shadowlesses (Gölgesizler)
———
Source: Sosyal Savas
Tags: Demo, Hunger Strike, Istanbul, Solidarity Action, Turkey
Posted in Direct Action
Sunday, March 22nd, 2015
Yesterday, Kurdish people and their supporters confronted the street presence of Daesh-supporting Islamic-fascists at their protest stall outside a Boots chemist store in High Road, Wood Green in the late afternoon. The Islamists use the stall to promote Sharia Law and the Islamic State. Police came and protected the few fascists from the angry crowd, but quickly the Islamists packed up and left the area. The Kurdish people and their supporters made a procession to their community centre to celebrate their new year of Newroz. There were no arrests.
Video here, with running commentary by some local kids debating the scene who caught the footage on their fone –
Tags: Anjem Choudary, Demo, Islamic Roadshow, Islamic State in Iraq and Syria (ISIS), Kurdish Struggle, Kurdistan, London, Newroz, UK, Wood Green
Posted in Anti-Fascist
Sunday, March 15th, 2015
On Monday 9 March, there was a demo in Birmingham by the Birmingham Against AstraZeneca crew. Around 25 people over the course of the day joined the protest. This is the first demo against a Skanska office in the UK, Skanska are the builders of the Cambridge AstraZeneca global HQ and animal lab. AstraZeneca uses around 300,000 animals in pointless experiments each year; that's over 800 animals every single day! 500 leaflets brought by the activists were distributed within the first hour and a half of the protest! Support from the public was overwhelming. Shut down the animal torturers-murderers!
Please do a demo against your local Skanska office, without Skanska no lab can be built. The animals need YOU!
https://www.facebook.com/BirminghamAgainstAZ

Upcoming demo in Yorkshire against Skanska and AstraZeneca:
Friday, April 10 at 12:00pm
Bentley House, Jossey La, Doncaster DN5 9ED
https://www.facebook.com/yorkshireagainstaz
Tags: Animal Liberation, AstraZeneca, Birmingham, Demo, Skanska, UK
Posted in Eco Struggle
Friday, March 13th, 2015
CALLS:
MOTORBIKE DEMONSTRATION: Friday March 13th 17:00, Propilea
GATHERING: The same day at 18:30 at Koridallos prisons
GATHERING with P.A. SYSTEM: Saturday March 14th 12:00, Syntagma square
DEMONSTRATION: Tuesday March 17th 18:00 Monastiraki Square

Solidarity Assembly for the Hunger Strikers
Tags: Athens, Demo, Greece, Hunger Strike, Korydallos Prison
Posted in Prison Struggle
Thursday, March 12th, 2015
6pm @Cardiff Central Police Station on the 24th of March 2015
It has been over five years since we learned that Mark "Marco" Jacobs was not just another anarchist in the south Wales activist scene, but was actually an undercover police officer.
Since then a number of people who were directly effected by his use of sexual relations as an infiltration tactic have taken legal action to attempt to hold the system to account.
Sickeningly South Wales Police and the Metropolitan Police have maintained a "Neither Confirm Nor Deny" defence of all aspects of Officer Jacobs deployment. (more…)
Tags: Cardiff, Demo, Fuck the Police, Mark 'Marco' Jacobs (Undercover Cop), Police Bastards, Rapist abusers, Repression, Wales
Posted in Social Control
Thursday, March 12th, 2015
Berkin Elvan was a 15-year-old Turkish boy who was hit in the head by a tear-gas canister fired by a police officer in Istanbul, while the boy was out to buy bread for his family during the June 2013 Gezi park protests in Turkey. He died on March 11, 2014. Widespread demonstrations erupted following Berkin's death. Gezi park remains heavily monitored by secret police.
We received the following report from DAF of an action taken to commemorate Berkin. In the video you can see and hear small explosives and fireworks being used against the police and to create a rupture in the city. Here is the communique we received:
DAF action for Berkin Elvan
One year ago, murderous police killed our brother Berkin Elvan who was 15 years old. DAF was on the streets in the first year of his murder. We are not afraid of the murderers. We will keep on fighting. Murderous Police, Terrorist State will pay for these massacres.
Berkin is here, We are here!
https://www.facebook.com/video.php?v=808076932606258
DAF
–
On the first anniversary of the death of Berkin Elvan, the comrades from LAF (High School Anarchist Action) also opened a banner on the stairs of Gezi Park. On it was written the slogan "Berkin is here". They poured red paint on the stairs to the Gezi Park, shouting "If the government is thirsty for blood, then take it." Our 8 comrades were then assaulted, abused and taken into custody, handcuffed from the back.
Tags: Berkin Elvan, Demo, Devrimci Anarşist Faaliyet - DAF - Revolutionary Anarchist Action, Istanbul, Police Bastards, Solidarity Action, Taksim Gezi Park, Turkey
Posted in Direct Action
Tuesday, March 10th, 2015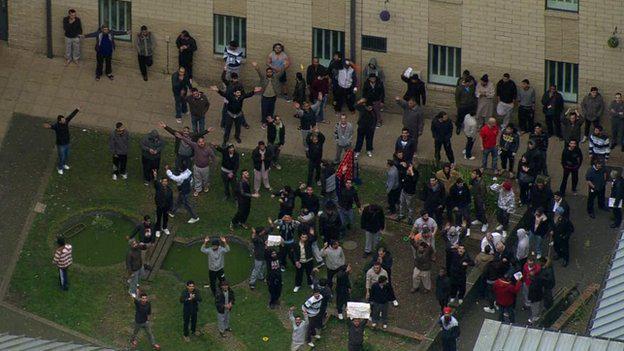 Update: Protests spreading across immigration detention centres in UK.
Resistance continued yesterday at Harmondsworth and Colnbrook. Over 70 people detained had gathered in the courtyard to continue the protest.
Outside at 9am a group of people made a solidarity demonstration in support of the protests. They could hear people shouting 'Freedom' and 'No Food'. The police were called to the protest and one person was pushed aggressively. Guards and centre managers are asking detainees to go to their rooms and come to talk to the managers one-by-one or in pairs. Detainees have refused and ask the management/staff to come and listen to them in the yard. (more…)
Tags: Colnbrook, Demo, Harmondsworth, Hunger Strike, Migrant Struggle, Racism, UK, UKBA
Posted in No Borders
Thursday, March 5th, 2015
We received this message from Czech about two actions, one about solidarity with anarchists in Belarus, and flyposter action against Amazon and Manpower.
http://voiceofanarchopacifism.noblogs.org/post/2015/03/03/solidarni-akce-na-podporu-beloruskych-anarchistutek/
http://voiceofanarchopacifism.noblogs.org/post/2015/02/24/kratke-video-z-tydne-boje-proti-firmam-amazon-a-manpower/
Tags: Amazon, Belarus, Czech Republic, Demo, Manpower, Solidarity Action
Posted in Direct Action
Tuesday, March 3rd, 2015
On Saturday 28 February in Zurich, Switzerland, there was a demo/rally organised by Revolutionäres Bündnis Zürich, against racism and repression and for solidarity. The demo was specifically as part of international solidarity days for Albert Woodfox, member of Angola 3 and Black Panthers. An American flag was burned in front of the banner "Freedom for A. Woodfox and all the Black Panther prisoners"
Tags: Albert Woodfox, Angola 3, Black Panther Party, Demo, Racism, Solidarity Action, Switzerland, Zurich
Posted in Direct Action
Friday, February 27th, 2015
Neither in Sofia nor anywhere…
Last Saturday, February 14, 2015, around 150-200 antifascists demonstrated in Sofia against the annual march in honour of general Hristo Lukov, Nazi collaborator and leading figure of the Bulgarian national-socialism, executed by partisans in 1943.
Fascists from all over Bulgaria take part in the march in memory of Lukov, and previously up to 1,000 people were participating in it. This year, the fascist gathering was attended by 300 invertebrates.
The antifascist demonstration was also directed against the rise of racism observed in Bulgaria in recent years, after the appearance of refugees (from Syria) for the first time in the country. Furthermore, demonstrators chanted slogans against homophobia (in 2008, fascist hooligans killed 25-year-old student Mihail Stoyanov at a park in Sofia because he "looked gay").
In a display of internationalist antifascist solidarity, also 15-20 comrades from Greece, Romania and the Republic of Macedonia participated in the antifascist march.

ContraInfo, more pics
Tags: Antifa, Bulgaria, Demo, Mihail Stoyanov, Racism, Sofia
Posted in Anti-Fascist
Tuesday, February 17th, 2015
Above: A speaker from FRFI (Fight Racism! Fight Imperialism!) at the protest at HM Prison Service HQ against continued solitary confinement of Kevin Thakrar since he was acquitted of attacking prison officers in 2010.
Prolonged isolation of Kevan Thakrar in UK prisons is torture protest
The demo took place 16 February at HM Prison Service HQ in London, and it was attended by over a dozen people, different individuals and groups who were there to support Kevan and show solidarity about his case. Brighton Anarchist Black Cross, Jengba, Fight Racism! Fight Imperialism!, Payday Men's Network and others. (more…)
Tags: ABC Brighton, Close Supervision Centre CSC, Demo, Fight Racism! Fight Imperialism! (FRFI), Isolation, Kevan Thakrar, Repression, Solidarity Action, UK
Posted in Prison Struggle