Posts Tagged 'Demo'
Saturday, January 17th, 2015
On the 25th of January the fascist group Sauvons Calais are planning a march against migration at Place d'Armes at 2 am.
Now is the time for movement – we call for migration and any action attacking the fascism we see rise around us. In Calais we see more fascist gatherings, more threats, whilst the occupation of life by the state is ongoing. More and more the cops impose their control on the streets, jungles, houses, places were we live and sleep, our movements, the harbour and the highways, the parkings and the gas stations. Still the deaths caused by the border regime continue. The law of Europe. The fascist voices getting more seats in the shiny parliamentary rooms.
We call for anti-fascist mobilisation. The wind showed us the way in December, blowing down the new security fence at the port, installed by the UK government in a €15 million deal with the French authorities to seal the border. All things can be torn down. We dream of a time when not only so called organised fascists will not gather in the streets, but also cops and politicians responsible for the border regime don't have the opportunity to rule over our lives and movements. (more…)
Tags: Calais, Demo, France, Migrant Struggle, Racism
Posted in No Borders
Friday, January 9th, 2015
January 11 @ 1:00 pm – 5:00 pm
The time to unite and stand together against injustice has arrived.
There is No Justice #Justus
For the first time, the justice campaign groups shall be standing shoulder to shoulder to say 'No to Racism, No to discrimination, No to police cover up and Yes to Justice'.
Date: 11th January 2015
Time: 1pm
Assembly point: Bury Park area by Nadeem Plaza, Dunstable Road, Luton
The intention is to have a peaceful march from Bury Park Luton, along Dunstable Road, Stuart Street and then stop on Buxton Road outside the Luton Police Station, where dynamic speeches shall be delivered by various Justice campaign groups and their supporters.
We need to raise awareness of the issue affecting the public from failures by our police force and call for it to stop. Justice Groups in attendance will include Justice4Faruk, Justice4Leon, Justice4Paps, Justice4Maya, and Justice4Mark Duggan.
March for Justice
Against Police brutally
Against Racism
Against Fascism
Please show your support on the day and also follow us on Facebook and Twitter for more planned events and announcements in the New Year.
Many communities, One Voice for Justice!
Follow us
Twitter: LutonJustice
Facebook: Luton 4 Justice"
Tags: Demo, Fuck the Police, Mark Duggan, Police Bastards, Police Brutality, Racism, Repression, UK
Posted in Anti-Fascist
Friday, January 2nd, 2015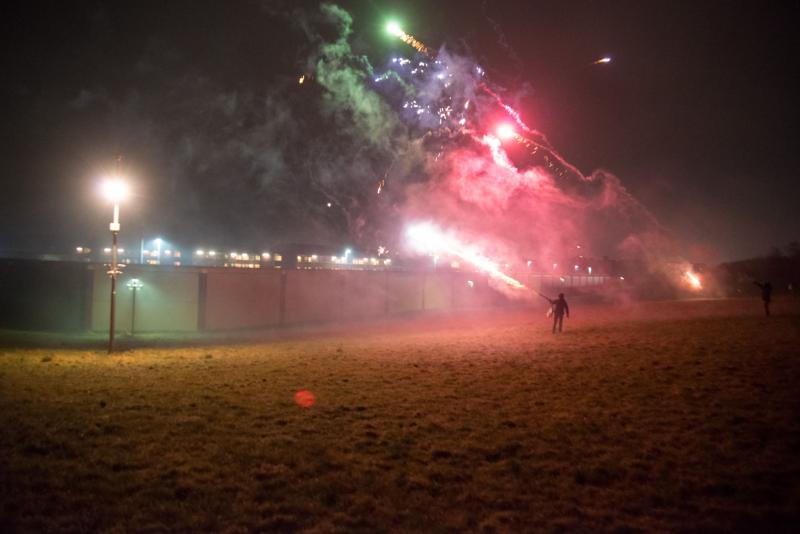 Here's some links compiled of anti-prison new year demos that have taken place. The picture above is from the New Year greetings at Uelzen prison, Germany. We'll add more links as the reports are published and circulated. For a rowdy 2015!

Germany: New Year's Eve demo at the prison of Freiburg
Germany: New Year's Eve at the prison of Münster
Rennes, France: New Year's solidarity against all types of incarceration
Ittre, Belgium: Fireworks against the jails
Florence, Italy: ATMs, luxury shops and company cars attacked
Turin, Italy: New Year's Eve greetings
Paris, France: Solidarity with all the incarcerated!
Athens, Greece: Anti-prison demo at Korydallos prisons
Hamilton, Ontario, Canada: New year's noise demo reportback
USA: First Annual Jackson, Mississippi, NYE Anti-Prison Noise Demo Report Back
London, UK: Fire to the Prisons! on NYE Demo at Pentonville & Holloway prisons
Dortmund, Germany: Anti-prison demo on New Year's Eve
Berlin, Germany: Anti-prison demo at JVA Moabit prison
North Germany: Anti-prison demo at JVA Uelzen
Tags: Demo, International Solidarity, New Year, Prison demo
Posted in Prison Struggle
Wednesday, December 31st, 2014
WHAT: Noise Demo Against the PIC, for the Liberation of PPs + POWs
WHEN: 9:00pm, Wednesday, December 31st
WHERE: Metropolitan Correction Center (MCC, the federal prison in downtown Manhattan); Pearl Street, between Cardinal Hayes Place and Park Row (J to Chambers Street or 4/5/6/ to City Hall)
BRING: Noisemakers, air horns, drums, anything that is loud!
On the noisiest night of the year in New York City, come help us remind folks locked up that they are not alone. NYC Anarchist Black Cross, in response to an international call for noise demonstrations outside of prisons, is asking folks to join us outside of the Metropolitan Correctional Center (MCC) in lower Manhattan. Come, not to appeal to authority, speak truth to power, or any other contrivance, but rather to stand arm in arm with comrades and show direct solidarity to those on the other side of the wall.
The state, writ large, is targeting anarchists all across the United States and abroad. This will be both protest and celebration. To keep the cold at bay, comrades will again be on hand with hot cocoa that will keep the vocal cords nice and warm.

NYC Anarchist Black Cross

Tags: Demo, New Year, New York, NYC ABC, Prison demo, USA
Posted in Prison Struggle
Monday, December 29th, 2014
LONDON NYE Prisoner Solidarity Demonstration
Beginning at
8:00 pm Pentonville
then moves onto
9:30 pm Holloway
START ADDRESS: HMP Pentonville, Caledonian Rd, London N7 8TT
BRING NOISE MAKERS
Tags: Anti-Prison, Demo, London, New Year, UK
Posted in Prison Struggle
Saturday, December 6th, 2014
From rabble.org.uk:
The prison population in the UK has doubled over the past 20 years. Check out the series of events coming up in London this month to build prisoner solidarity and resist prison expansion.
First up, on December 9th we've got The Politics of Prisons, an event to strategise on how to fight prison & immigration detention expansion, and discuss grassroots alternatives to the police and prisons to deal with problems. Organised by Defend the Right to Protest, the event promises some great speakers.
Then on 15th December there'll be the first public meeting of an exciting new group, Prison Action London. They're inviting people to come along to exchange ideas and plans for action. (more…)
Tags: Debbie Vincent, Demo, London, New Year, SHAC, UK
Posted in Prison Struggle
Tuesday, October 28th, 2014
Update October 30, 2014
From rabbleldn:
This is the text of the call-out for an international day of demonstrations in support of Kobanê and against ISIS on 1 November. The London Rally will be at Trafalgar Square on 1 November 2-5pm.
URGENT CALL FOR ACTION
Statement 14 October 2014
Global Rally against ISIS – for Kobanê – for Humanity!
Date for the Global Rally: 1 November 2014, 2pm
ISIS launched a major multi-front military campaign against the Kurdish region of Kobanê in northern Syria. This is the third ISIS onslaught on Kobanê since March 2014. As the ISIS was unsuccessful on the two previous occasions, they are attacking with larger forces and want to take Kobanê. (more…)
Tags: Demo, ISIS, Kobane, Kurdish Struggle, London, Rojava, Solidarity
Posted in Uncategorized
Tuesday, October 28th, 2014
October 28, 2014
From rabbleldn:
About 50 people made a solidarity demo for Kobane at the Savoy Hotel from 6pm on Saturday 25 October. The Turkey Britain Chamber of Commerce and Industry were holding their annual ball, attended by the ambassador and deputy economy minister, and sponsored by global bank HSBC.
The demo was a good mix of London anarchists and antifascists alongside Kurdish youth, and other autonomous groups and individuals. There were no cops there initially, and the demonstrators took over the private road off the Strand that leads into the hotel, blocking all the main entrances with banners and making a lot of noise. Chants included "We are Kobane, Kobane is us", "Alerta, Alerta, Antifascista", "No Pasaran", "Who supports ISIS, Turkey supports ISIS", etc.
The demo didn't shut the "ISIS business dinner" down, but gave a bit of a shake-up to the bourgeois ball-goers and seemed like a major embarassment to the Savoy hotel management. More importantly, it was a show of solidarity with the fighters in Rojava, and with the Kurdish and Turkish youth who have been going up against the guns of the Turkish state.
The police didn't arrive for half an hour or more, then rocked up with five or so vans full. They managed to clear the private road and threatened the crowd with some kind of "public order" notices.
The ambassador and minister were not spotted, but presumably came in through a side entrance or otherwise, they were due to make speeches from 7.30PM. Guests had also been promised a chocolate fountain.
(PICS by rikki on twitter @indyrikki)
Tags: Demo, HSBC, ISIS, Kobane, London, Rojava, Savoy, Turkey, Turkey Britain Chamber of Commerce and Industry
Posted in Autonomy
Tuesday, October 21st, 2014
Armed militants appeared on the streets of Diyarbakır, Southeastern Turkey tonight (20/10/2014) in a demonstration of combative solidarity with Kobane and in complete defiance of the fascist Turkish government.
The comrades expressed their anger by setting up burning barricades, throwing many molotovs and firing shots in the air. Messages of support for Kobane and denouncing the fascist Turkish state were broadcast via megaphone so all the people could hear. The comrades escaped into the night avoiding capture by Turkish security forces, all in all, a successful display of militant solidarity from deep within the Turkish state that gave hope to many Turkish people living under AKP tyranny and reminds Kobane & whole world that not all Turkish people support the barbaric actions of the criminal Erdogan regime!
Kobane Solidarity Front UK
Tags: Anti-Fascist, Burning Barricades, Demo, Diyarbakır, International Solidarity, Islamic State in Iraq and Syria (ISIS), Kubani, Kurdistan, Molotovs, Rojava, Solidarity Action, Turkey
Posted in Direct Action
Monday, October 13th, 2014
via rabble ldn:
Yesterday (Saturday 11 October) over 10,000 Kurds were demonstrating in Parliament Square and Whitehall in solidarity with the fighters defending Kobane.

The demo was very largely Kurdish. Lots of green and yellow flags of Rojava (the revolutionary Western Kurdistan area under attack by ISIS), and banners of PKK leader Ocalan. People of all ages, lots of very energetic North London Kurdish kids, alongside grandparents. Chants in Kurdish and English included: 'We are YPG, YPG is us', 'We are Kobane, Kobane is us', 'ISIS terrorists', and 'Wake up UK'. Along with the Kurds there was just a scattering of Turkish and English leftists. Clearly a big challenge for the Kurdish solidarity movement in London is to get more support from outside the North London Kurdish community. (more…)
Tags: Demo, Islamic State in Iraq and Syria (ISIS), Kubani, Kurdistan, London, Rojava, UK
Posted in Anti-Fascist
Wednesday, October 8th, 2014
Report compiled by RabbleLDN, anarchist site based in London, UK.
Kurdish groups in Europe and Turkey have stepped up protests in solidarity with their comrades on the frontline in Kurdistan.
Today a large group managed to bypass security and storm the European parliament in Brussels, occupying the main lobby. At the time of writing, riot police have moved in to block access to more protestors. (more…)
Tags: Belgium, Brussels, Demo, Insurrection, International Solidarity, Islamic State in Iraq and Syria (ISIS), Kurdistan, London, Netherlands, Solidarity Action, Turkey, UK, War
Posted in Autonomy
Sunday, September 28th, 2014
Some 16,000 people rallied Tuesday 23/09 in Tokyo against the government's plan to restart nuclear reactors, more than three years after the Fukushima disaster. It was one of the largest anti-nuclear demonstrations since the state nuclear watchdog on September 10 approved plans to restart two reactors at the Sendai plant in southern Japan.
"Three and a half years has passed since the nuclear accident, but self-examination has yet to be made," Nobel literature laureate Kenzaburo Oe told the Tokyo rally, according to public broadcaster NHK. "The government is going ahead with the plan to resume operation at the Sendai plant without compiling sufficient anti-disaster plans," Oe said.
After the rally demonstrators marched through the capital, carrying banners like: "We don't need nuclear plants".
As the government tries to convince a skeptical public about the necessity of nuclear power, on Sunday 21/9, new industry minister Yuko Obuchi said the resource-poor nation should be "realistic about its energy needs". In pre-Fukushima Japan, nuclear power accounted for nearly one-third of the country's energy needs.
The Nuclear Regulatory Authority has said the two reactors were satisfactory but hurdles still remain, including getting the consent of local communities in a country still scarred by the catastrophe where all 48 viable reactors are offline. Widespread angry anti-government and anti-nuclear sentiment has simmered ever since the earthquake and tsunami in March 2011 caused meltdowns at Fukushima, sparking the worst atomic disaster since Chernobyl.
Tens of thousands of people were evacuated from their homes, many of whom have not been allowed to return. Scientists say some areas might have to be abandoned forever. There have been anti-fascist and anti-government demonstrations taking place, and angry protestors accuse the media and state of hiding the news of them occurring and so trying to stop the people's rage from being known.
Tags: Anti-Nuclear, Demo, Fukushima, Japan, Nuclear Disaster, Tokyo
Posted in Eco Struggle
Wednesday, September 24th, 2014
During the course of the week of action against the NATO summit a diverse range of actions were taken by many different groups and individuals. Here is a summary of what happened:
Friday 29th August
– Stop NATO camp set up at Tredelgar park in Newport
– BAE systems attacked with fire in Filton and vehicles torched at army cadet base in Bristol as acts of resistance against NATO
Saturday 30th August
– Mass march and radical bloc against NATO in Newport
– Effigy of Obama burned in Cardiff
Sunday 31st August – Action against securitisation and repression at the 'fence' in Cardiff
Monday 1st September – Sabcats anti-austerity action at Newport jobcentre and army recruitment centre.
Tuesday 2nd September
– No borders noise demo at UK Borders Agency in Cardiff
– Activist locks himself inside Cardiff Keep in Cardiff Castle where the NATO dinner is due to be held
Wednesday 3rd September – Activists hand in a demand for the arrest of NATO leaders to police in Newport, based on evidence leaked by Chelsea Manning of war crimes.
Thursday 4th September
– No to NATO March on Celtic Manor from centre of Newport and mass demo against the NATO dinner at Cardiff Castle
– Activists chalk out the connections between NATO and arms companies in Newport
Friday 5th September
– Activists again try to present evidence of war crimes at Newport police station
– Occupation of Barclays Bank in Newport calling for Barclays to ditch their shares in Israeli arms company, Elbit. Four activists glue themselves inside the bank
Saturday 6th September – Solidarity demonstrations outside Newport Magistrates Court in support of Barclays occupiers.
–
The struggle continues
Last week we saw a diverse struggle against NATO in Cymru. Marches against NATO in the streets of Newport and Cardiff; actions against the forces driving war in the banks and the securitised zones; workshops and discussions at the camp about connected issues from Gaza to police repression at the camp; people spreading the word in a hundred different ways, from conversations with locals, to the camp, to the web. But the struggles against capitalism and militarism are not a one-day, or even a one-week, event. The actions taken this week by Stop NATO Cymru, the Anarchist Action Network and other organisations are a small part of building up a movement capable of bringing about radical change.
So, when we look back, does it make sense to ask whether we "succeeded" in the week of action? We think it does. If one more mind went beyond the distortions of the mainstream media because of what we did, then yes we 'succeeded'. If one more pair of feet was spurred onto the streets by what we did, then we succeeded. And if one more pair of hands joined with ours, yes, we succeeded. In the coming struggles, those hands will again pick up the tools to take action, until the last drone is smashed. We hope to see you there.
Tags: BAE Systems, Barclays bank, Cardiff, Chelsea Manning, Demo, Elbit, NATO, Newport, Sabotage, UK, UKBA, Wales
Posted in Direct Action
Wednesday, September 24th, 2014
From StopNatoCymru:

8.30 am at Cardiff Motorpoint Arena. Wednesday, the 8th of October

"When the rich wage war, it's the poor who die." – Jean-Paul Sartre
On the 8th of October Cardiff will host one of the UK's biggest arms fairs at the Motorpoint Arena. Let's show them what we think of their dirty business! We call on people from south Wales and beyond to come and picket outside the arena that day from the time they open for registration at 8.30 am.
DPRTE this year will be attended by some of the UK's biggest arms companies, as their exhibitor list shows. They also host a conference, with keynote speakers from industry and government.
The arms fair was previously held in Bristol, but was forced out by protests.
We hope to see you there. If you would like to be a legal observer contact us at stopnatocymru@riseup.net . You can also contact us by that email address for any additional information regarding the demonstration.
Tags: Anti-Militarism, Cardiff, Demo, DPRTE Arms Fair, Motorpoint Arena, UK, Wales
Posted in Direct Action
Wednesday, September 24th, 2014
On the 2nd of September, at 12pm around 50 people gathered outside the Cardiff Home Office Buildings for the noise demo planned as part of the Stop NATO Cymru week of action. In the past, there have been monthly noise demos by No Borders South Wales group, with many different points of focus, ID cards, destitution, dawn-raids and anti-deportation. The focus of this particular demo was how border controls relate to militarism and the NATO war machine. This was called because NATO are part of the samesystem that divides and isolates through borders. Borders are a mechanism for the divide and rule of working class people. Borders kill innocent people around the world as does militarism. (more…)
Tags: Cardiff, Demo, NATO, Racism, UK, UKBA, Wales
Posted in No Borders