Posts Tagged 'Demo'
Tuesday, February 10th, 2015
Kevan Thakrar is a social prisoner wrongly convicted for murder. There was no DNA, forensics, ballistics, or cell-phone siting placing Kevan at or anywhere near the scene. False multiple hearsay and two questionable identifications were enough to wrongly convict and sentence to life with a 35 year tariff. From a comrade of ABC Brighton:
Despite being found not guilty of attacking three prison officers, but instead that he acted in self-defence after months of racial, physical and psychological abuse (a ruling that goes against prison officers is VERY unusual in a court) Kevan Thakrar continues to be held in the prison services 'Close Supervision Centres' more than five years later.
The CSCs are places of extremely restrictive solitary confinement where he, and his family visiting him, have suffered constant harassment. Kevan's solicitor recently arranged for an independent psychologist to make a report on Kevan. Kevan has suffered with Post Traumatic Stress Disorder (PTSD), as a direct result of the way he's been treated by prison guards, since before he was placed in the CSCs. The independent psychologist's report concluded that as Kevan has displayed no violent behaviour since being in the CSCs, and because solitary confinement and the regime in these units only makes PTSD worse, Kevan should be moved back into the mainstream prison population. (more…)
Tags: Close Supervision Centre CSC, Demo, Kevan Thakrar, Repression, UK
Posted in Prison Struggle
Tuesday, February 3rd, 2015
2. Call for a convergence of resistance
Tags: Demo, European Central Bank, Germany, Riots
Posted in Autonomy
Wednesday, January 28th, 2015
via rabbleLDN:

From Midlands Anti-Fascists.
ALERTA! Anti-Fascist response needed in the West Midlands!
The racists of the English Defence League (EDL) are planning to have their national demo on Saturday February the 7th in Dudley. They are treating it very seriously, and antifa need to be just as committed and more organised.
In the context of Charlie Hebdo, islamaphobia from the government, the media and the far-right is on the rise. Letting them feel they can have these views and gather in an attempt to intimidate Black, Asian and other minority ethnic populations is not an option. (more…)
Tags: Antifa, Demo, Dudley, English Defence League, Racism, UK
Posted in Anti-Fascist
Saturday, January 24th, 2015
UPDATE : Fascists blockade Dover pub garden – ANTIFA DEMO REPORT 25th Jan
From rabbleLDN:
The local state authorities (Prefecture) have banned the fascist demo planned in Calais on Sunday by the "Sauvons Calais" group. The fascists have announced on their facebook page that they are going to obey the order and have called off the demo, although asserting that everyone has "freedom of movement [!!!] and can do what they want".
Based on previous experience, it is likely that some fascists will still come to Calais, perhaps staying in smaller groups and launching surprise attacks rather than trying to gather together in the centre. In the past, nazi groups have lingered some days after announced demos to form "hunting parties" against migrants and anti-fascists.
Given this, and because there is always plenty to do, comrades in Calais still very much welcome support from anyone planning to travel to the town. Get in touch with Calais Migrant Solidarity.
On the English side of the channel, the simultaneous fascist demo in Dover is still very much going ahead. Antifascists will be there to oppose them. See the call-out here.
As swastika-tattooed Kevin Reche, the young leader of "Sauvons Calais", is personally banned from demonstrating in Calais town centre, it is thought quite possible that he (and other known Calais fash) will take the ferry to Dover to join the demo there. He is the one on the right in the photo above.
Tags: Calais, Demo, France, Migrant Struggle, Racism
Posted in Anti-Fascist
Friday, January 23rd, 2015
Last night, in Kadıköy, anarchist groups called 'Anarchist Front' and 'Shadowlesses', took an action in support of imprisoned anarchists after 'Operation Pandora'. With black flags and masks, anarchists started to march to a much used street, attacked ATM's, bank windows and some capitalist shops like Adidas and chanted for solidarity with anarchists prisoners in Spain and all around the world.
During the march, anarchists took down dustbins to blockade roads and attacked some ATM's and multinational capitalist shops. Also, they spoke out about the situation of imprisoned anarchists in Spain prisons. And they chanted: "İnsurrection, Destruction, Anarchy, Long Live Statelessness of People, Freedom for Anarchist Prisoners".
Tags: Demo, International Solidarity, Operation Pandora, Solidarity Action, Turkey
Posted in Direct Action
Monday, January 19th, 2015
Update: Ex-undercover cop Bob Lambert resigns from two university jobs.
325 is very happy to spread this call to ruin the life of a no-good pathetic scrote of a man, Robert Lambert. Death to police spies and informers. Revenge.
Via Rabble LDN, From Islington Against Police Spies:
SACK BOB LAMBERT!
Former Police Spy, Serial Liar & Exploiter of Women
Join us to demand the removal of Bob Lambert from London Metropolitan University.
Picket London Met
Friday January 30th
12.00 – 2.00pm
LMU Tower, 166-220 Holloway Road, 
London N7 8DB
Bring placards, banners, anything to make noise…
In November Islington Against Police Spies (IAPS) held a lively picket of London Metropolitan University in Holloway, launching our campaign to demand the sacking or resignation of Bob Lambert. Former police spy, Special Branch manipulator, abuser of women, agent provocateur, Lambert is now lecturing at London Met on policing and criminology.
For a brief account of Bob Lambert's dubious record, check out this pdf flyer. Which you can also spread as wide as possible…
As local residents we feel it is totally inappropriate for London Metropolitan to be employing a man with Lambert's record in such a position; where he has influence and power over the lives of students, who may be young or vulnerable. Most particularly Lambert has shown he cannot be trusted not to abuse and lie to women. (more…)
Tags: Bob Lambert, Demo, Police Bastards, UK, Undercover Police
Posted in Direct Action
Saturday, January 17th, 2015
On the 25th of January the fascist group Sauvons Calais are planning a march against migration at Place d'Armes at 2 am.
Now is the time for movement – we call for migration and any action attacking the fascism we see rise around us. In Calais we see more fascist gatherings, more threats, whilst the occupation of life by the state is ongoing. More and more the cops impose their control on the streets, jungles, houses, places were we live and sleep, our movements, the harbour and the highways, the parkings and the gas stations. Still the deaths caused by the border regime continue. The law of Europe. The fascist voices getting more seats in the shiny parliamentary rooms.
We call for anti-fascist mobilisation. The wind showed us the way in December, blowing down the new security fence at the port, installed by the UK government in a €15 million deal with the French authorities to seal the border. All things can be torn down. We dream of a time when not only so called organised fascists will not gather in the streets, but also cops and politicians responsible for the border regime don't have the opportunity to rule over our lives and movements. (more…)
Tags: Calais, Demo, France, Migrant Struggle, Racism
Posted in No Borders
Friday, January 9th, 2015
January 11 @ 1:00 pm – 5:00 pm
The time to unite and stand together against injustice has arrived.
There is No Justice #Justus
For the first time, the justice campaign groups shall be standing shoulder to shoulder to say 'No to Racism, No to discrimination, No to police cover up and Yes to Justice'.
Date: 11th January 2015
Time: 1pm
Assembly point: Bury Park area by Nadeem Plaza, Dunstable Road, Luton
The intention is to have a peaceful march from Bury Park Luton, along Dunstable Road, Stuart Street and then stop on Buxton Road outside the Luton Police Station, where dynamic speeches shall be delivered by various Justice campaign groups and their supporters.
We need to raise awareness of the issue affecting the public from failures by our police force and call for it to stop. Justice Groups in attendance will include Justice4Faruk, Justice4Leon, Justice4Paps, Justice4Maya, and Justice4Mark Duggan.
March for Justice
Against Police brutally
Against Racism
Against Fascism
Please show your support on the day and also follow us on Facebook and Twitter for more planned events and announcements in the New Year.
Many communities, One Voice for Justice!
Follow us
Twitter: LutonJustice
Facebook: Luton 4 Justice"
Tags: Demo, Fuck the Police, Mark Duggan, Police Bastards, Police Brutality, Racism, Repression, UK
Posted in Anti-Fascist
Friday, January 2nd, 2015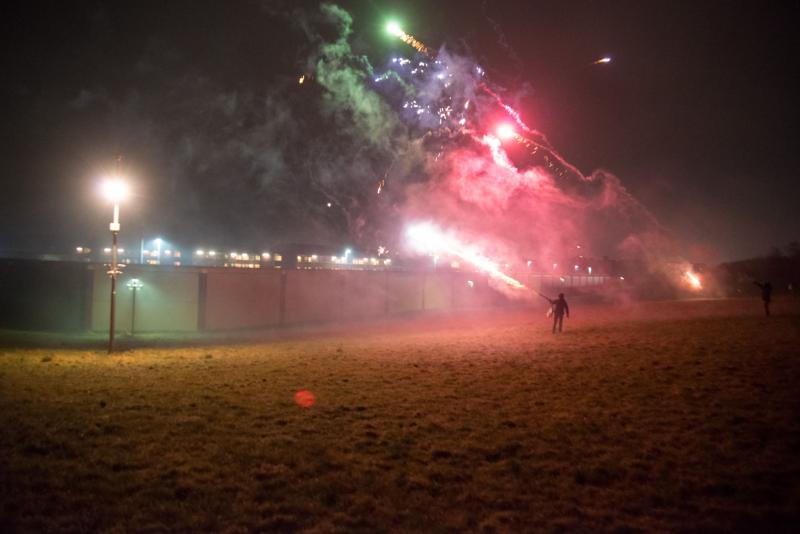 Here's some links compiled of anti-prison new year demos that have taken place. The picture above is from the New Year greetings at Uelzen prison, Germany. We'll add more links as the reports are published and circulated. For a rowdy 2015!

Germany: New Year's Eve demo at the prison of Freiburg
Germany: New Year's Eve at the prison of Münster
Rennes, France: New Year's solidarity against all types of incarceration
Ittre, Belgium: Fireworks against the jails
Florence, Italy: ATMs, luxury shops and company cars attacked
Turin, Italy: New Year's Eve greetings
Paris, France: Solidarity with all the incarcerated!
Athens, Greece: Anti-prison demo at Korydallos prisons
Hamilton, Ontario, Canada: New year's noise demo reportback
USA: First Annual Jackson, Mississippi, NYE Anti-Prison Noise Demo Report Back
London, UK: Fire to the Prisons! on NYE Demo at Pentonville & Holloway prisons
Dortmund, Germany: Anti-prison demo on New Year's Eve
Berlin, Germany: Anti-prison demo at JVA Moabit prison
North Germany: Anti-prison demo at JVA Uelzen
Tags: Demo, International Solidarity, New Year, Prison demo
Posted in Prison Struggle
Wednesday, December 31st, 2014
WHAT: Noise Demo Against the PIC, for the Liberation of PPs + POWs
WHEN: 9:00pm, Wednesday, December 31st
WHERE: Metropolitan Correction Center (MCC, the federal prison in downtown Manhattan); Pearl Street, between Cardinal Hayes Place and Park Row (J to Chambers Street or 4/5/6/ to City Hall)
BRING: Noisemakers, air horns, drums, anything that is loud!
On the noisiest night of the year in New York City, come help us remind folks locked up that they are not alone. NYC Anarchist Black Cross, in response to an international call for noise demonstrations outside of prisons, is asking folks to join us outside of the Metropolitan Correctional Center (MCC) in lower Manhattan. Come, not to appeal to authority, speak truth to power, or any other contrivance, but rather to stand arm in arm with comrades and show direct solidarity to those on the other side of the wall.
The state, writ large, is targeting anarchists all across the United States and abroad. This will be both protest and celebration. To keep the cold at bay, comrades will again be on hand with hot cocoa that will keep the vocal cords nice and warm.

NYC Anarchist Black Cross

Tags: Demo, New Year, New York, NYC ABC, Prison demo, USA
Posted in Prison Struggle
Monday, December 29th, 2014
LONDON NYE Prisoner Solidarity Demonstration
Beginning at
8:00 pm Pentonville
then moves onto
9:30 pm Holloway
START ADDRESS: HMP Pentonville, Caledonian Rd, London N7 8TT
BRING NOISE MAKERS
Tags: Anti-Prison, Demo, London, New Year, UK
Posted in Prison Struggle
Saturday, December 6th, 2014
From rabble.org.uk:
The prison population in the UK has doubled over the past 20 years. Check out the series of events coming up in London this month to build prisoner solidarity and resist prison expansion.
First up, on December 9th we've got The Politics of Prisons, an event to strategise on how to fight prison & immigration detention expansion, and discuss grassroots alternatives to the police and prisons to deal with problems. Organised by Defend the Right to Protest, the event promises some great speakers.
Then on 15th December there'll be the first public meeting of an exciting new group, Prison Action London. They're inviting people to come along to exchange ideas and plans for action. (more…)
Tags: Debbie Vincent, Demo, London, New Year, SHAC, UK
Posted in Prison Struggle
Tuesday, October 28th, 2014
Update October 30, 2014
From rabbleldn:
This is the text of the call-out for an international day of demonstrations in support of Kobanê and against ISIS on 1 November. The London Rally will be at Trafalgar Square on 1 November 2-5pm.
URGENT CALL FOR ACTION
Statement 14 October 2014
Global Rally against ISIS – for Kobanê – for Humanity!
Date for the Global Rally: 1 November 2014, 2pm
ISIS launched a major multi-front military campaign against the Kurdish region of Kobanê in northern Syria. This is the third ISIS onslaught on Kobanê since March 2014. As the ISIS was unsuccessful on the two previous occasions, they are attacking with larger forces and want to take Kobanê. (more…)
Tags: Demo, ISIS, Kobane, Kurdish Struggle, London, Rojava, Solidarity
Posted in Uncategorized
Tuesday, October 28th, 2014
October 28, 2014
From rabbleldn:
About 50 people made a solidarity demo for Kobane at the Savoy Hotel from 6pm on Saturday 25 October. The Turkey Britain Chamber of Commerce and Industry were holding their annual ball, attended by the ambassador and deputy economy minister, and sponsored by global bank HSBC.
The demo was a good mix of London anarchists and antifascists alongside Kurdish youth, and other autonomous groups and individuals. There were no cops there initially, and the demonstrators took over the private road off the Strand that leads into the hotel, blocking all the main entrances with banners and making a lot of noise. Chants included "We are Kobane, Kobane is us", "Alerta, Alerta, Antifascista", "No Pasaran", "Who supports ISIS, Turkey supports ISIS", etc.
The demo didn't shut the "ISIS business dinner" down, but gave a bit of a shake-up to the bourgeois ball-goers and seemed like a major embarassment to the Savoy hotel management. More importantly, it was a show of solidarity with the fighters in Rojava, and with the Kurdish and Turkish youth who have been going up against the guns of the Turkish state.
The police didn't arrive for half an hour or more, then rocked up with five or so vans full. They managed to clear the private road and threatened the crowd with some kind of "public order" notices.
The ambassador and minister were not spotted, but presumably came in through a side entrance or otherwise, they were due to make speeches from 7.30PM. Guests had also been promised a chocolate fountain.
(PICS by rikki on twitter @indyrikki)
Tags: Demo, HSBC, ISIS, Kobane, London, Rojava, Savoy, Turkey, Turkey Britain Chamber of Commerce and Industry
Posted in Autonomy
Tuesday, October 21st, 2014
Armed militants appeared on the streets of Diyarbakır, Southeastern Turkey tonight (20/10/2014) in a demonstration of combative solidarity with Kobane and in complete defiance of the fascist Turkish government.
The comrades expressed their anger by setting up burning barricades, throwing many molotovs and firing shots in the air. Messages of support for Kobane and denouncing the fascist Turkish state were broadcast via megaphone so all the people could hear. The comrades escaped into the night avoiding capture by Turkish security forces, all in all, a successful display of militant solidarity from deep within the Turkish state that gave hope to many Turkish people living under AKP tyranny and reminds Kobane & whole world that not all Turkish people support the barbaric actions of the criminal Erdogan regime!
Kobane Solidarity Front UK
Tags: Anti-Fascist, Burning Barricades, Demo, Diyarbakır, International Solidarity, Islamic State in Iraq and Syria (ISIS), Kubani, Kurdistan, Molotovs, Rojava, Solidarity Action, Turkey
Posted in Direct Action