Posts Tagged 'Deutsche Bank'
Monday, March 23rd, 2015
The axis of the rabble has struck. We set fire with the intention of considerably impairing the power supply and the grid connection of the large data centres of Deutsche Bank, Commerzbank, Deutsche Börse [that operates the Frankfurt Stock Exchange], and many others in Eschborn.
On March 16th, 2015, at 5am, the ground cables of an electricity pylon and three distribution boxes of Vodafone went up in flames on the outskirts of Eschborn near the A66 highway.
The side of the State tried to gag the disruption of the capitalist daily life by imposing a news blackout on Monday; however, telecommunication and power supply failures, as well as a large contingent of firefighters deployed in the early morning hours in Frankfurt did not go unnoticed.
Smash ECB [European Central Bank]

The axis of the rabble

– Contrainfo
Tags: Arson, Commerzbank, Deutsche Bank, Deutsche Börse, Eschborn, Frankfurt, Germany, Sabotage, Vodafone
Posted in Direct Action
Friday, April 12th, 2013
ECO CAMP BACKGROUND
Eco-Camp is an activity organized by Mobile Anarchist School with the help by Local Autonomous Network (LAN) both active in the Philippines. Last April 2012 was the first camping held in Tanay Rizal, Philippines. It was attended by various collectives and individuals totaling around 40 people who participated the various activities and discussions in the camp. The objective of the eco-camp was to discuss the different issues confronting our current society and to find solidarity actions that can help expose and popularize our issues.
After series of activities in 2012, the LAN decided to expand its activities on ecological issues due to concrete manifestation of the crisis impacting the archipelago.
The second eco-camp gathering was organized by LAN and the Mobile Anarchist School in March 2013 to heighten our education campaign and to strengthen the relationship with other affinity groups and build an international network better able to work towards intensifying our impact by making solidarity actions globally. (more…)
Tags: #Occupy, Anti-Nuclear, Black & Green Forum, Deutsche Bank, Food Not Bombs, Fracking, Fukushima, Greece, Indonesia, Japan, Mining, Nuclear Disaster, Philex, Philex Gold, Philex Mining, Philippines, USA, Xtrata Ltd
Posted in Eco Struggle
Thursday, December 15th, 2011
7/12/11 – Frankfurt, Germany : CEO Josef Ackermann is the intended target of a fully operational explosive parcel which is mailed to Deutsche Bank headquarters. Bank security staff identify the device during x-ray screening, and it is later neutralised by police. A claim of responsibility is recovered from the device, which is published in the corporate press.
9/12/11 – Rome, Italy : Chief Director Marco Cuccagna of Italy's tax collection office, Equitalia, receives a letter-bomb which explodes after he opens it, causing damage to his hands, blowing off part of his finger and almost blinding him after his glass desk shatters in the explosion.
12/12/11 – Paris, France : The Greek embassy in Paris is the target of a third explosive device which is identified and neutralised.
Amidst the wave, mainstream media report that envelopes containing bullets and threatening letters are mailed to Italian Justice Minister Paola Severino and Rome Mayor Gianni Alemanno. An additional parcel of vengeance was received by Equitalia on the 15th December, but was identified and neutralised. A note inside the latest package said "don't kill yourself, rebel: death to usurers!"

Here is a translation of the claim of responsibility that accompanied the package bomb to the central headquarters of Deutsche Bank in Frankfurt:

FREEDOM AND HAPPINESS FOR OUR BROTHER GABRIEL POMBO DA SILVA. DEATH TO THE BANKS THAT STRANGLE THE PEOPLE.
THREE PARCEL BOMBS IN THESE DAYS ARE TRAVELLING TOWARD BANKS AND BANKERS, TICKS AND LEECHES. WITH THESE SMALL BUT RESOLVED ACTIONS, WE OF THE EAT & BILLY ITALIAN CELL JOIN IN THE NEW ANARCHIST INTERNATIONAL, THE INFORMAL ANARCHIST FEDERATION AND INTERNATIONAL REVOLUTIONARY FRONT. WE HAVE THIS NAME IN SOLIDARITY WITH THE INDONESIAN FAI, WITH OUR BROTHERS EAT AND BILLY. WE DON'T NEED SPECIALISTS OF ACTION, ANYONE CAN ARM THEIR OWN HANDS, ANYONE CAN ASSEMBLE THEIR OWN GIFT PACKAGE. WAR ON THE EUROPE OF THE BANKERS, DEATH TO THE LEECHES THAT GOVERN US.
LONG LIVE THE INDONESIAN FAI
LONG LIVE THE C.C.F.
VIVA THE NEW ANARCHIST GUERRILLA
VIVA THE FAI/IRF
FREE EAT AND BILLY CELL FAI/IRF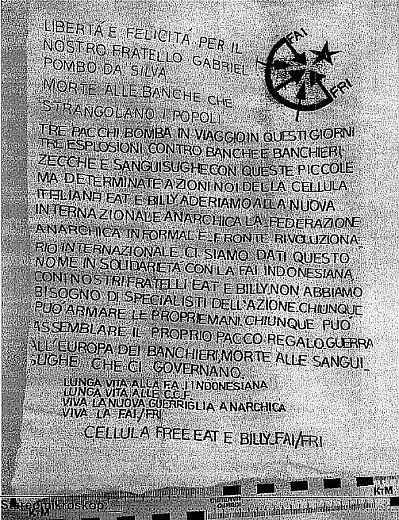 Tags: Billy, Deutsche Bank, Eat, Equitalia, France, Frankfurt, Free Eat & Billy Cell FAI/IRF, Germany, Greece, Greek Embassy, Indonesia, Informal Anarchist Federation (FAI), International Revolutionary Front, International Solidarity, Italy, Letter-bombs, Paris, RO-FAI (Indonesia Section), Rome
Posted in Direct Action
Monday, March 28th, 2011
Received from the PPLP-KP (Coastal Farmers Association of Kulon Progo). This is their release of a position paper in regard to the plan to mine iron from the coastal sands of Kulon Progo, Indonesia.
there is no peace without justice
and there is no justice without conscience
PPLP KP
"Since 2006, we, the coastal inhabitants of Kulon Progo Regency, have struggled to defend our Human Rights (as guaranteed by UU [Undang-Undang = regulation] No 39 of 1999), Economic, Social and Cultural Rights (as guaranteed by UU No 11 of 2005), and Right to Land (as guaranteed by UU no 5 of 1960). The presence of these rights and the prospect that they will continue into the future are under threat, due to the policies of the Kulon Progo Regency Government to mine iron sands and build a steel factory in an area which is settled by, and provides a livelihood for, its inhabitants. Just as it was known that it would, this mine has triggered a conflict between the people and the government, with no end in sight."
Read the full document here (PDF).
–
Australian links for solidarity actions + more:
Indomines Pty Ltd are the Australian arm of the project, their offices are located at Level 1, 15 Rheola Street, WEST PERTH, WA, AUSTRALIA, 6005
Indo Mines
http://www.indomines.com.au/asx-announcements/
http://www.indomines.com.au/
http://www.asx.com.au/asx/research/companyInfo.do?by=asxCode&asxCode=IDO
Their Interim Financial Report (dated 16/03/11) reports a number of interesting things:
* Indomines remains in debt to Anglo Pacific Group, whom also apparently remain the largest shareholder of Indomines stocks. Their head offices are located at 17 Hill Street, Mayfair, London W1J 5NZ, Telephone: +44 (0) 20 7318 6360
* Indomines has appointed Outotec "to complete the process evaluation and design of the Iron Project". This is to occur at Outotec Ausmelt, located at 12 Kitchen Road, Dandenong South (03) 9794 6200.
* Outotec also has offices located in Melbourne (72 Market St., South Melbourne), and a number of other Australian locations.
* "On 11 January 2011, the Company announced that the Bupati Kepala Daerah Kabupaten Kulon Progo ("Regional Government") had approved the Company's Environmental Impact Assessment scoping document (KA-ANDAL). The KA-ANDAL approval enables Indo Mines to complete the environmental and social base line measurements and engineering design required to finalise the Feasibility Study for the Jogjakarta Iron Project"
* "The planned staged development of the Jogjakarta Iron Project ("Iron Project") continued to take shape with the Board approving the commencement of commercial trials of iron concentrate production in the first half of 2011. This decision will allow the Company to generate modest early cash flow from the Iron Project while also building its operating expertise ahead of full-scale production in mid-2012. A feasibility study assessing the potential to initially produce 2 million tonnes of iron concentrate per year from the Iron Project is scheduled for completion in June.
* "There is also further potential to produce 1 million tonnes of pig iron per year at a later date. A feasibility study for the pig iron development will be completed in the next 18 months."
Outside of the interim report, it should be known that StoneBridge, "a staff owned boutique investment firm with over 15 years experience in the Australian public and private markets", has been managing placements for Indomines. StoneBridge's website boasts of being the 'sole lead manager for IndoMines' with a 'A$6.5 million Placement'.
They are located at:
Adelaide
Suite 5, 148 Greenhill Road
Parkside
ADELAIDE SA 5063
T +61 8 8291 1111
Gold Coast
Level 11, 50 Cavill Avenue
SURFERS PARADISE QLD 4217
T +61 7 5504 2111
Melbourne
Level 13, 8 Exhibition Street
MELBOURNE VIC 3000
T +61 3 8660 7222
Perth
Level 6, 105 St Georges Terrace
PERTH WA 6000
T +61 8 6436 3111
Sydney
Level 27, Governor Phillip Tower
1 Farrer Place
SYDNEY NSW 2000
T +61 2 8336 7700
Finally, firms that either are or were large shareholders of Indomines include:

Merrill Lynch, Deutsche Bank & Rockcheck.
Tags: Anglo Pacific Group, Australia, Deutsche Bank, Indo Mines, Indonesia, Jogjakarta Iron Project, Kulon Progo, Merrill Lynch, Outotec, Position Paper, PPLP-KP (Coastal Farmers Association of Kulon Progo), Rockcheck
Posted in Eco Struggle