Posts Tagged 'Dictatorship'
Saturday, November 14th, 2020
By Anarchist Black Cross Belarus
For over three months, people in Belarus have been fighting against the authoritarian regime.
In 26 years, dictator Lukashenko has built a system aimed at suppressing any political life. The coronavirus and a number of economic problems have greatly changed what is happening in the country. In a few months, Belarusians have learned to self-organize. The presidential elections provoked a wave of the largest protest in the country's history! But the tyrant does not want to give up his throne. At least 5 people were killed (some died under strange circumstances). Thousands of people were beaten and disabled by the violence of the police. More than 15 thousand have been detained and sentenced on administrative cases. More than 500 criminal cases have been initiated. At least 200 people are awaiting trial in the pre-trial detention center (including at least four
anarchists and four anti-fascists). (more…)
Tags: Belarus, Dictatorship, Repression, Social Insurrection
Posted in Social Control
Sunday, August 16th, 2020
From AWW:
Repressions against anarchists in Belarus!
WE NEED SOLIDARITY! PLEASE DISSEMINATE THIS INFORMATION!
On August 12, anarchists Alexander Frantskevich and Akihiro Khanada were detained in Belarus. Frantskevich is a former political prisoner, in 2010-2013 he was imprisoned on charges of attacks on government facilities. The police call him "the leader of the most radical group of anarchists, "Revolutionary Action."" At the moment, Alexander is accused of organizing mass riots (sanctions – from 5 to 15 years in prison). It is currently unknown what the second detainee, Akihiro Hanada, is accused of.
Anarchists have been the most radical and one of the organized forces opposing the regime of Alexander Lukashenko for a long time. They actively participate in all mass protests of Belarusians against the dictatorship, and have long been the object of persecution by the authorities.
Now, with the start of unprecedented protests for Belarus, the authorities are concerned about the popularity of anarchists, and they are beginning another round of repressions. State TV channels directly accuse Russian and Belarusian anarchists of "coordinating the riots," and Frantskevich and Akihiro, apparently are suitable candidates for the role of "organizers of protests." Now our comrades are facing long imprisonment for fighting against the dictatorship, and we call on everyone don't be indifferent. Conduct actions of solidarity, demand the release of Frantskevich, Akihiro and all the detainees, translate and disseminate this appeal in all languages ​​of the world. Belarus is a country very sensitive to global pressure. By drawing as much attention as possible to the case against the anarchists, we can influence its positive outcome.
We also remind you, that anarchist Nikita Yemelyanov is still imprisoned in Belarus, sentenced to four years in prison for symbolic attacks on court buildings and an isolation ward in Minsk.
You can send reports on the conducted actions to our Belarusian comrades from "Revolutionary Action" to revolutionaruaction(AT)riseup(DOT)net
Or you can send us news about the conducted actions
Mail media_ns(AT)riseup(DOT)net
Telegram bot: @Anarchotheory_bot
Tags: Akihiro Khanada, Aliaksandar Frantskievich, Belarus, Dictatorship, International Solidarity, Nikita Yemelyanov, Repression
Posted in Social Control
Tuesday, August 11th, 2020
Elephant in the room – Bringing down the dictatorship. Interview on protests in Belarus
Since Sunday streets in Belarus are filled with rage of protesters trying to bring down the dictatorship. People from all parts of the society have been clashing in the night of August 9 in 33 different cities around the country. They are fighting against president Lukashenko who is ruling the country for the last 26 years.
We got together with one of comrades from Belarus who is living in emigration and clarified some things that are happening in Belarus right now.
Music:
Lyapis Trubetskoy
Zdrada Pałki
–
How did the Belarusians come to rebellion against the dictatorship
[German], [Russian]
https://pramen.io/en/2020/08/how-did-the-belarusians-come-to-rebellion-against-the-dictatorship/">Pramen:
If you had asked people in Belarus how long the dictatorship of Lukashenko was left in early 2020, they would have looked at you like a fool. In a respected dictatorship, such questions are not asked, because you know what can happen. And in general, it so happens that the reign of the great leader is timeless. But the situation has changed so radically over the last 8 months that Belarusians took to the streets and for the first time in the new history of Belarus they fought back the police in at least 33 different cities of the country.
Today Belarusians have woken up in a new country. In it, people openly talk about hatred for the government and prepare for a violent confrontation with the police and state. They discuss online and live effective methods of struggle. Several factories went on strike the day after the elections. (more…)
Tags: Belarus, Coronavirus, Dictatorship, Elections, International Solidarity, Minsk, Repression, Riots, Social Insurrection
Posted in Autonomy
Sunday, August 9th, 2020
The following text is a translation by Anarchists Worldwide of an article from Estallido Antisocial / Antisocial Outburst, a new anarchist publication from Chile. You can download a copy of the publication HERE.
The Quarantine of Fascism in Peru
The presence of the military and the police is normalized and applauded by a large part of the population.
The repression of the Peruvian state against the population or "the disobedient" as they say, is the same as what they do in protests or during any curfew in a territory in conflict with an extractive industry, with a company that exploits its workers or that pollutes us like Monsanto on our tables, like the mining companies in the mountains, the oil companies in the jungle, and so on.
This repression of "the disobedient" comes with humiliations such as doing exercises as if it were a barracks or a military or police drill. There are also beatings and haircuts with the approval and mockery of people who inhabit the neighborhoods and they start recording the situations when the same agents who exercise the repression in Peru and other countries such as Ecuador or the Dominican Republic carry it out.
Another situation that has been seen is the applause, celebration and cheering by citizens in the face of the curfew and the arrival in the streets of the military, police and municipal police, forgetting what this decree has historically meant as an instrument of repression that has also reappeared in countries like Chile. (more…)
Tags: Analysis, Anti-Militarism, Coronavirus, Dictatorship, Estallido Antisocial, Estallido Antisocial / Antisocial Outburst, Peru, Repression
Posted in Anti-Fascist
Thursday, June 11th, 2020
By Gianfranco Sanguinetti
We are sharing, with many thanks to the author, this English translation of an important article written in April 2020.
The conversion of the Western representative democracies to a completely new form of despotism has, on account of the virus, assumed the juridical features of a force majeure (in jurisprudence, as is well known, force majeure is a case of exonerated responsibility). And so the new virus is at the same time both a catalyst for the event and a distraction for the masses through fear. (1)
For all the hypotheses I have put forth, since my book On Terrorism and the State (1979), regarding the manner in which this conversion (ineluctable, in my eyes) from formal democracy to despotism would be made, I must confess that I never imagined it would happen on the pretense of a virus. But the ways of the Lord are truly infinite. As are those of Hegel's cunning of reason.
The sole reference, it can truly be said, as prophetic as it is disturbing, is one I found in an article by Jacques Attali, former boss of EBRD [European Bank for Reconstruction and Development], written for L'Express during the epidemic of 2009: (2)
If the epidemic becomes a little more serious, which is possible, since it is transmittable by humans, it will have truly planetary consequences, both economic (the models suggest a loss of three trillion dollars, that is a 5% drop in global GDP) and political (due to risks of contagion). It would therefore be necessary to establish a global police force, a global stockpile, and therefore a global fiscal policy. We would then—much sooner than economic reasons alone would have allowed—come to establish the basis for an actual global government.
(more…)
Tags: Analysis, Coronavirus, Dictatorship, Gianfranco Sanguinetti, Repression
Posted in Social Control
Thursday, May 14th, 2020
The Local Autonomous Network (LAN) is a loose network of individuals and collectives composed of anarchist, anti-authoritarian, and autonomous activists here in the Archipelago of so-called Philippines. Since the early 2000s, the people behind the network have been consistently in contact with another regardless if they are from the southern or northern part of the Archipelago. The network has no formal membership and is presented as an informal organization. The network has its own level of understanding and trust with each other, which comes from the process of the relentless organizing, campaigning and initiating different activities and projects.
We have heard about a report published online from groups abroad about an anti-anarchist crackdown in the Philippines. The report is entitled "The Philippines—The continuing crackdown on anarchists" and was first published by the UK-based Anarchist Communist Group (ACG) and was later copied and distributed onto other international anarchist sites. Most of the people involved in Local Autonomous Network had the same reaction to this report: "this is alarming." As this is a local matter, we decided to investigate the report and do our own research locally on what was the real situation of the anarchists on the ground.
To give context, it is true that the Duterte regime is an oppressive and repressive government, even more so than with previous presidents in previous regimes. The War on Drugs that Duterte started in 2016 and has been conducted since has killed an estimated 30,000 people; this is a fact. Some of the victims of the Extra-Judicial Killings (EJK) in the War on Drugs have been drug personalities, but hundreds of EJK victims were not even connected to any kind of drug-related issue. Continuous killings and assassinations were also conducted against leftists, dissidents, peasant leaders, community organizers, and other activists. Anarchists in the Philippines were not spared and in 2018 saw Food Not Bombs volunteers murdered and arrested. (See the report: "Four Food Not Bombs Volunteers were Killed in Philippine Drug War and One Volunteer is in Jail".) (more…)
Tags: Coronavirus, Counter-info, Dictatorship, Local Autonomous Network (LAN), Philippines, Repression, War on Drugs
Posted in Social Control
Saturday, April 18th, 2020
From The Acorn:
The First Industrial Repression saw us thrown off the land, forced into crowded towns and cities, used as human fodder for the dark satanic mills of the new steam-powered capitalist world.
The Second Industrial Repression electrified the rule of The Machine. New generations were born who had never tasted freedom. Their lives and their thinking were increasingly dominated by the rhythms of industrial mass production.
The Third Industrial Repression heralded the arrival of computers and robots. Human beings were now expected to meekly conform to these automated norms and functions.
And now we face the onset of the Fourth Industrial Repression (4IR), the most deathly repression of them all…
The 4IR wants to own, control and profit from everything that exists in this world.
Its Internet of Things aims to create a matrix of total connectivity, of which it is the owner.
You, your home, your family, your friends, your relationships and your activities will all belong to the 4IR. (more…)
Tags: 5G, Analysis, Anti-technology, Biotechnology, Coronavirus, Dictatorship, Ecological Destruction, Fourth Industrial Revolution, Internet of Things, Nanotechnology, Repression, Smart Cities, Technological Singularity, The Acorn
Posted in Eco Struggle
Tuesday, February 11th, 2020
ACERKA DE LA RESISTENCIA A LA PRISIÓN Y LA NECESIDAD DE EXTENDER LA LUCHA AUTÓNOMA ANTIKARCELARIA.
Una breve mirada a las experiencias de lucha desde el encierro, sus énfasis y los kontextos en ke se han desarrollado.
«Sin ningún Comité Central ni ninguna jerarquía que clasifique nuestrxs miembrxs, solo podemos conocer caras extrañas como amigxs a través de sus acciones. Lxs queremos, Ixs abrazamos, al igual que sabemos que otrxs lo harán. Otras células, secciones, grupos.»
Brigada de la Cólera
1970.-
En tiempos de agudización del konflikto social la kárcel es el principal instrumento de kontrol y kastigo para kienes no se someten y se rebelan.
Históricamente el dominio a través de todos sus dispositivos ke sostienen el poder, la autoridad, el mundo de las jerarkías, el patriarkado y el kapital a usado la sanción normalizadora para kombatir toda forma de Resistencia ke atake y amenace su paz social.
Sin ir más lejos no fue sino en la diktadura de Pinochet en donde esta dinámika afectó masiva y sistemátikamente a miles y miles de Rebeldes ke la kombatieron entregando los mejores días de sus vidas.
Se reformuló el marko jurídiko fundado en la doktrina de seguridad nazional ke veía un enemigo interno al ke había ke aplastar bajo la exkusa de «kombatir el káncer marxista» según la voz de los genocidas de la époka.
Operaba la pútrida «justicia militar»:
Miles de muertxs, desaparecidxs, exiliadxs, perseguidxs, violentadxs, torturadxs son el rekuerdo imborrable y el triste legado de la refundación kapitalista neoliberal del imperio yanky a través de la insurrexión militar burguesa del genocida ejército chileno. (more…)
Tags: 14/14, Anti-Prison, Chile, Dictatorship, General Pinochet, International Solidarity, Isolation, Letter, Mapuche, Marcelo Villarroel Sepúlveda, Repression, Torture
Posted in Prison Struggle
Wednesday, February 5th, 2020
"On Wednesday 12th June, when someone shouted out that drones had started flying above them, everyone opened up their umbrellas almost simultaneously."
Four texts from Dialectical Delinquents:
1. Coronavirus – an exercise in intensified social control.
2. Hong Kong – its relevance to the rest of us… …its resistance to the science & technology of social control.
4. China: A-Z of some moments of international opposition.
Tags: Anti-technology, CCTV, China, Coronavirus, Dictatorship, Facial Recognition, Hong Kong, Repression, Riots, Social Insurrection, Surveillance
Posted in Social Control
Thursday, December 19th, 2019
November 29th
42nd Social Revolt Day
LONG LIVE IRREDUCTIBLE ENEMIES OF POWER!
"We are facing a powerful and implacable enemy, who does not respect anything or anyone. He doesn't respect the lives of human beings, he doesn't respect our heroes." The phrase is repeated again and again by the President of the Republic, this time at an early graduation of police.
FEAR is one of the most powerful weapons of power, so it continues to encourage a climate of paranoia to demobilize and divide the oppressed.
The State redoubled its efforts to approve its "Anti-hooded Law." Piñera points to Anarchists, Barras Bravas [organized supporters of football teams] and drug traffickers as a coordinated trident that unleash violence.
The media plan is to exacerbate the coverage of looting of small stores. The capitalist press launches a powerful emotional charge to delegitimize the Social Revolt.
There is an obvious complicity (by action or omission) between the police, home owners and traffickers, individuals without codes who are not interested in those who are harmed by their actions.
Undoubtedly, private property is part of what we want to destroy, but today our objectives are full of strategic symbolism. If the attack on any premises needs explanation, it is not symbolic enough.
A provisional solution would be "self-defense committees," but our inexperience and ineffectiveness in these practices allow the "yellow vests" to begin to arm themselves with an undeniable fascist affinity. Let the militia return to the street! It is the speech repeated by the lovers of the neoliberal system, although in their pockets the bills have always shone by their absence. (more…)
Tags: Alexis Grigoropoulos, Analysis, Anti-Authoritarian, Chile, Concepción, Copiapo, Dictatorship, Macul, Police Brutality, Repression, Riots, Santiago, Social Insurrection, Yungay
Posted in Direct Action
Thursday, December 19th, 2019
What, When and Where?
Father Frost Against – festival (formerly Father Frost Against Putin) is a cultural and political festival designed to stimulate critical thought and reflection, and to work out new activist strategies, with a focus on developments in Russia and the post-Soviet space. The festival has been organised since 2014, and the 7th edition will take place in various locations in Helsinki, Finland, on 3 – 5 January 2020 and is organized by local activists with active support and participation from individuals and groups from Russia and the post-Soviet space.

Main Aims of the Festival
Redefine social and political fields, through information exchange with successful projects and strategic planning.
Creating a space for networking and connecting with like-minded people.
Involving new participants and guests in the festival program.
Developing a new language to indicate current and relevant issues.
Who are we?
We are Studio 4.413 /a laboratory of alternative discourse and intersectional kinship based in St. Petersburg, created to shift art and activist communities. Studio 4.413 includes artists, human rights activists and independent media representatives from Russia and the post-Soviet space.
https://www.facebook.com/studio4413/ (more…)
Tags: Dictatorship, Festival Father Frost against Putin, Finland, International Solidarity, Russia, Solidarity Event
Posted in Autonomy
Thursday, December 19th, 2019
"I believe that within the next generation the masters of the world will discover that childhood conditioning and narco-hypnosis are more efficient tools for governing than batons and prisons, and that their lust for power can be completely satisfied by inspiring people to love their slavery, instead of crushing them and reducing them to obedience".
Aldous Huxley, letter to George Orwell of October 21, 1949
Half a century ago, Piazza Fontana. The start of the so-called strategy of tension. A bomb exploded inside a crowded bank, just a few steps from the Cathedral of Milan. Over one hundred victims are dead and wounded, a massacre of blood-letting perpetrated in order to spread fear, terror and anguish throughout the country, to trigger the conditioned reflexes of Order. To sow a panic such as to justify, if not to invoke, the intervention of the State (also through its armed wing of police, also by suspending some liberties taken for granted).
Half a century after Piazza Fontana, we are in a full strategy of relaxation. After the bombs, the smartphone. After the blood, the ringtones. Millions of hyper-connected people, a massacre of neurons carried out in order to spread the entertainment, amusement and satisfaction that's necessary to neutralize the unconditional reflection of revolt. To sow a distraction such as to legitimise, if not naturalise, the presence of the State (even of its armed wing of the law, even of the suspension of some liberties taken for granted).
(more…)
Tags: Analysis, Anti-Authoritarian, Anti-technology, Dictatorship, Italy, Milan, Repression, Smartphones, Surveillance
Posted in Social Control
Tuesday, December 10th, 2019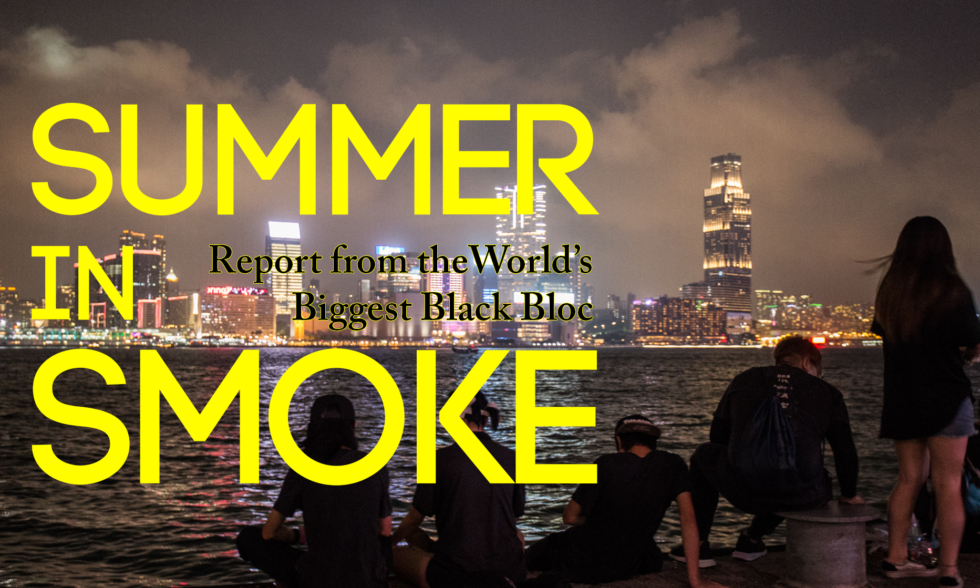 The following article was submitted to Chuang by Vitalist International. It is an account of events in Hong Kong over the summer and early fall of 2019, much of it from a firsthand perspective. We provided minor edits and designed the layout, but otherwise reproduce the piece here in more or less its original form. While the main thrust of the article is in agreement with our own views of events in Hong Kong, the piece is an intake and the opinions expressed here belong to its authors. At the bottom, we've included a gallery (provided by the authors) of 70+ posters, memes, graffiti and other graphics used in the movement.
für Sandra in liebendem Angedenken
by Vitalist International
It was only a matter of time before it happened. The protesters and the cops both knew it. On October 1st, a teenager was shot point-blank in the chest by police. The bullet missed his heart by approximately three centimeters.
Thousands of Hong Kongers gathered the next evening at a playground to fold paper cranes and wish the young protester a speedy recovery. They held banners saying "stop shooting our children!" and used the flashlights on their smartphones as torches to light up the night. In the center of the playground, a thousand origami cranes spelled out "Hong Kongers, Add oil!", a Chinese expression which has come to define the movement, meaning roughly: don't stop, keep going, add fuel to the fire. Within an hour, the protesters were setting up barricades in the streets and throwing molotovs at the nearest police headquarters.
The movement that began as a protest against a proposed extradition agreement with China has now entered its fourth month of unrest, with no end in sight. The bill — now withdrawn — would have granted the Chinese State unprecedented authority to extradite dissidents, criminals, and refugees to be processed in the shadowy court system of the mainland. Coming on the heels of 2012's Moral and National Education Law and 2014's Electoral Reform Bill,[i] this amendment was only the latest attempt at slowly dismantling the region's tenuous political arrangement of "One Country, Two Systems." With the movement rapidly evolving into widespread resistance against Chinese control, and the Hong Kong government declaring a State of Emergency, the situation has reached a political stalemate, with violence escalating on both sides. (more…)
Tags: Analysis, Arson, Black Bloc, China, Dictatorship, Hong Kong, How to make Molotovs, Intelligent Surveillance, International Solidarity, Letter, Repression, Revolution, Riots, Sabotage, Social Insurrection, Surveillance, Xinjiang
Posted in Autonomy
Saturday, September 30th, 2017
Por El Companero Anarquista Santiago Maldonado [es]
This September 1st marked one month since the disappearance of the anarchist comrade Santiago Maldonado at the hands of the police of the National Gendarmerie of Argentina. This took place within the context of the repression against a demonstration that included road blocks made by the Mapuche community Pu Lof in Resistance at Cashamen, in the Argentine province of Chubut.
While the anarchic agitation spread beyond borders, comrades in Argentina took to the streets to spread acts of revolt via propaganda and direct action. With arson attacks against the police, barricades and Molotov cocktails against government buildings, our comrades unleashed their rage at a situation that is as sad as it is real: the bastards have arrested and disappeared an anarchist comrade.
Because Santiago is an anarchist, and not just a young musician and artist, something the press and leftists conveniently leave out, in denouncing the state repression we make it clear that denial and silencing of the comrade's political identity is another form of disappearance, erasing from the narrative the true motivations of his solidarity presence in the Mapuche community where he was at the time of his arrest. [1]
We have no advice for our comrades in Argentina, we believe in them and their conviction and autonomy to continue transforming their pain into rage, spreading chaos against the world of authority, and deepening and expanding affinities in concrete experiences of confrontation and agitation. (more…)
Tags: Analysis, Argentina, Chile, Claudia López, Dictatorship, Fuck the Police, Indigenous Struggle, Mapuche, Operation Condor, Police Bastards, Police Brutality, Repression, Santiago Maldonado, Sin Banderas Ni Fronteras
Posted in Social Control
Tuesday, September 26th, 2017
WE CAN STILL BE WORSE
Reflections and considerations on the month following the disappearance of Santiago Maldonado
On August 1st, members of the Pu Lof Mapuche community in resistance in the province Cushamen barricaded National Route 40, along with allies in solidarity. They cut off traffic in solidarity against the legal proceedings confronting el Lonko Facundo Jones Huala (for the second time). Minutes later, cars and trucks arrived carrying about thirty border police armed with rifles. The peñis (Mapuches) began throwing rocks, responding to the presence of the bastard forces of order. The Gendarmerie advances to the shots, burning the precarious houses and belongings of the Lof, forcing the occupiers to retreat across a river. Santiago Maldonado ("Lechuga" or "el Brujo") fell behind the rest. Some of the inhabitants of the Lof saw that the Gendarmerie grabbed Santiago; others testified as to hearing the police say they "got one."
Afterwards, images and testimony began to circulate about how Santiago was missing, and that it seemed the Gendarmerie had taken him away in a "unimog" all-terrain military vehicle. The authorities were silent through this whole process.
On Friday, August 4, various anarchists and individuals in solidarity entered the seat of government in Chubut province, demanding Santiago's return. The place was ripe for destruction. Computers, notebooks, windows, and decorations were all viciously destroyed, and fliers and graffiti were left behind referring to the repression in Cushamen. (more…)
Tags: Argentina, Buenos Aires, Dictatorship, Indigenous Struggle, Mapuche, Police Brutality, Repression, Santiago Maldonado
Posted in Autonomy