Posts Tagged 'Dictatorship'
Tuesday, September 29th, 2020
Minsk anarchists continue to fight a battle against Lukashenko's junta. Received this message via mail:
We, Атрад Супраціву (The Resistance group), continue our uncompromising war against fascism of Lukashenko's police junta.
We take responsibility for the attack on Zavodskoy District Court in Minsk, which we see as an occupying part of the government.
We declare that, if mass repressions and forceful breaking up of demonstrations continues, our group will do everything we can so that not all of those helmeted bastards with batons will live to see the trial.
That's not a threat, that's a fact! We – among you, we know your addresses and positions, we have your photos.
Stop now or the end of you will be dreadful and inglorious!
Tags: Belarus, Dictatorship, Minsk, Zavodskoy, Атрад Супраціву (The Resistance group)
Posted in Direct Action
Sunday, August 16th, 2020
From AWW:
Repressions against anarchists in Belarus!
WE NEED SOLIDARITY! PLEASE DISSEMINATE THIS INFORMATION!
On August 12, anarchists Alexander Frantskevich and Akihiro Khanada were detained in Belarus. Frantskevich is a former political prisoner, in 2010-2013 he was imprisoned on charges of attacks on government facilities. The police call him "the leader of the most radical group of anarchists, "Revolutionary Action."" At the moment, Alexander is accused of organizing mass riots (sanctions – from 5 to 15 years in prison). It is currently unknown what the second detainee, Akihiro Hanada, is accused of.
Anarchists have been the most radical and one of the organized forces opposing the regime of Alexander Lukashenko for a long time. They actively participate in all mass protests of Belarusians against the dictatorship, and have long been the object of persecution by the authorities.
Now, with the start of unprecedented protests for Belarus, the authorities are concerned about the popularity of anarchists, and they are beginning another round of repressions. State TV channels directly accuse Russian and Belarusian anarchists of "coordinating the riots," and Frantskevich and Akihiro, apparently are suitable candidates for the role of "organizers of protests." Now our comrades are facing long imprisonment for fighting against the dictatorship, and we call on everyone don't be indifferent. Conduct actions of solidarity, demand the release of Frantskevich, Akihiro and all the detainees, translate and disseminate this appeal in all languages ​​of the world. Belarus is a country very sensitive to global pressure. By drawing as much attention as possible to the case against the anarchists, we can influence its positive outcome.
We also remind you, that anarchist Nikita Yemelyanov is still imprisoned in Belarus, sentenced to four years in prison for symbolic attacks on court buildings and an isolation ward in Minsk.
You can send reports on the conducted actions to our Belarusian comrades from "Revolutionary Action" to revolutionaruaction(AT)riseup(DOT)net
Or you can send us news about the conducted actions
Mail media_ns(AT)riseup(DOT)net
Telegram bot: @Anarchotheory_bot
Tags: Akihiro Khanada, Aliaksandar Frantskievich, Belarus, Dictatorship, International Solidarity, Nikita Yemelyanov, Repression
Posted in Social Control
Wednesday, August 12th, 2020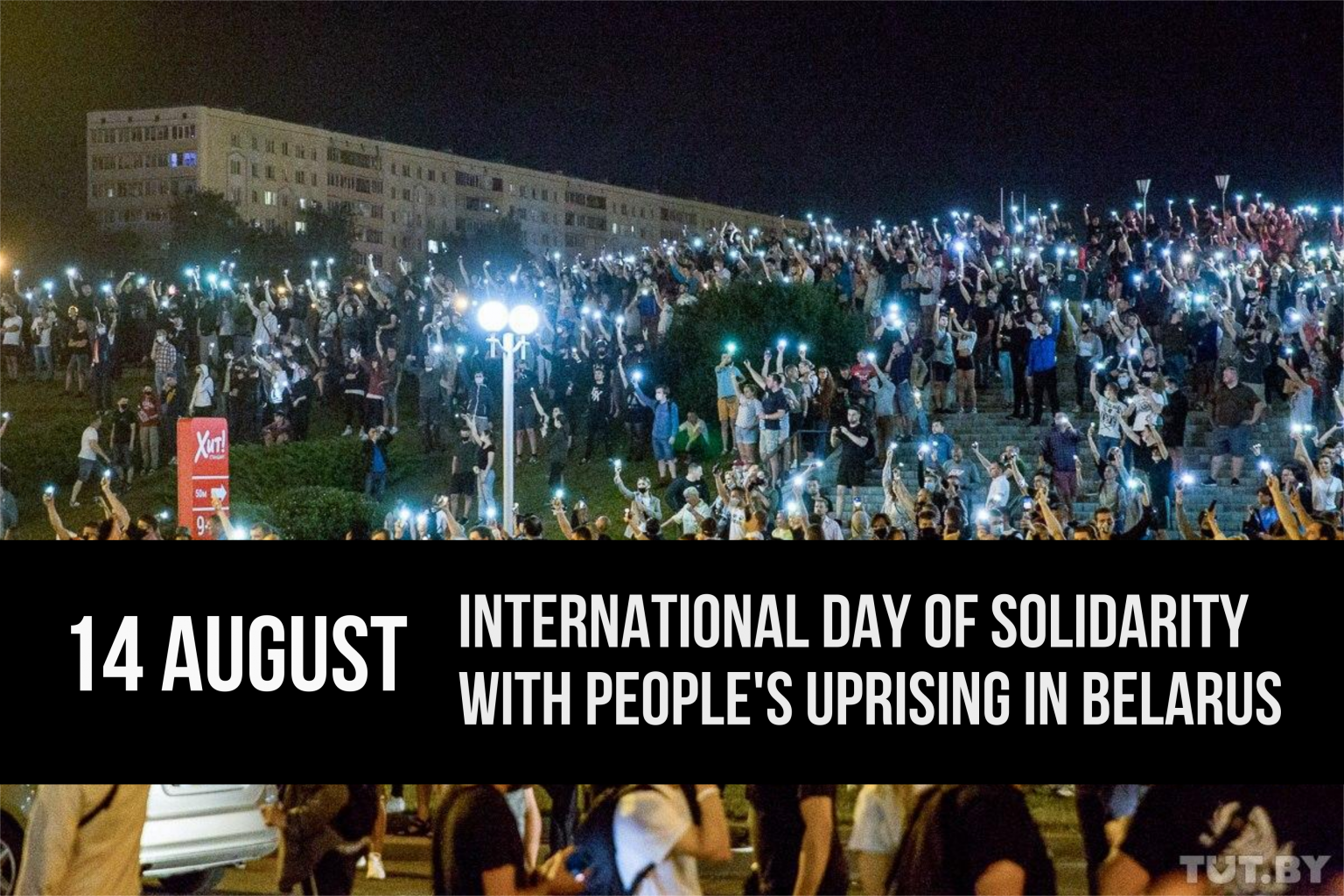 For the first time in the history of Belarus, people across the country rebelled against the dictatorship. Many thousands of demonstrations are held not only in the capital, but also in small towns. People take to the streets and not only peacefully protest against the authorities, but also fight against the state apparatus – they help friends and comrades and clash with punishers.
August 10, barricades appeared in the streets of Minsk for the first time, while protesters began using molotov cocktails. Some enterprises and firms went on strike.
In recent days, standing shoulder to shoulder, we have felt what the energy of the people means. We have realized that together we can overthrow a tyrant!
The blockage of the Internet could not stop the news flow. People all over the world have learned that the Belarusian dictatorship is ready to drown the population in blood just to stay in power. In three days, police and internal troops detained more than 5000 people, hundreds suffered from cop violence. At least one person has been killed.
Now more than ever, international solidarity is important in the fight against Lukashenko. Therefore, we call you all to join the international day of actions in solidarity with Belarusian people! In what format can you express your solidarity? You can hold rallies and demonstrations at Belarusian embassies and other institutions of Belarusian power in your country. Take collective photos. Take part in direct actions. Any, even the smallest solidarity can support the fire of rebellion that will tear down the dictatorship in our country!
Send your reports to belarus_abc@riseup.net or post on social networks with the #Belarus hashtag.
Tags: ABC Belarus, Belarus, Dictatorship, International Solidarity, Repression, Riots, Social Insurrection
Posted in Autonomy
Tuesday, August 11th, 2020
Elephant in the room – Bringing down the dictatorship. Interview on protests in Belarus
Since Sunday streets in Belarus are filled with rage of protesters trying to bring down the dictatorship. People from all parts of the society have been clashing in the night of August 9 in 33 different cities around the country. They are fighting against president Lukashenko who is ruling the country for the last 26 years.
We got together with one of comrades from Belarus who is living in emigration and clarified some things that are happening in Belarus right now.
Music:
Lyapis Trubetskoy
Zdrada Pałki
–
How did the Belarusians come to rebellion against the dictatorship
From Pramen:
If you had asked people in Belarus how long the dictatorship of Lukashenko was left in early 2020, they would have looked at you like a fool. In a respected dictatorship, such questions are not asked, because you know what can happen. And in general, it so happens that the reign of the great leader is timeless. But the situation has changed so radically over the last 8 months that Belarusians took to the streets and for the first time in the new history of Belarus they fought back the police in at least 33 different cities of the country.
Today Belarusians have woken up in a new country. In it, people openly talk about hatred for the government and prepare for a violent confrontation with the police and state. They discuss online and live effective methods of struggle. Several factories went on strike the day after the elections. (more…)
Tags: Belarus, Coronavirus, Dictatorship, Elections, International Solidarity, Minsk, Repression, Riots, Social Insurrection
Posted in Autonomy
Sunday, August 9th, 2020
The following text is a translation by Anarchists Worldwide of an article from Estallido Antisocial / Antisocial Outburst, a new anarchist publication from Chile. You can download a copy of the publication HERE.
The Quarantine of Fascism in Peru
The presence of the military and the police is normalized and applauded by a large part of the population.
The repression of the Peruvian state against the population or "the disobedient" as they say, is the same as what they do in protests or during any curfew in a territory in conflict with an extractive industry, with a company that exploits its workers or that pollutes us like Monsanto on our tables, like the mining companies in the mountains, the oil companies in the jungle, and so on.
This repression of "the disobedient" comes with humiliations such as doing exercises as if it were a barracks or a military or police drill. There are also beatings and haircuts with the approval and mockery of people who inhabit the neighborhoods and they start recording the situations when the same agents who exercise the repression in Peru and other countries such as Ecuador or the Dominican Republic carry it out.
Another situation that has been seen is the applause, celebration and cheering by citizens in the face of the curfew and the arrival in the streets of the military, police and municipal police, forgetting what this decree has historically meant as an instrument of repression that has also reappeared in countries like Chile. (more…)
Tags: Analysis, Anti-Militarism, Coronavirus, Dictatorship, Estallido Antisocial, Estallido Antisocial / Antisocial Outburst, Peru, Repression
Posted in Anti-Fascist
Thursday, June 11th, 2020
By Gianfranco Sanguinetti
We are sharing, with many thanks to the author, this English translation of an important article written in April 2020.
The conversion of the Western representative democracies to a completely new form of despotism has, on account of the virus, assumed the juridical features of a force majeure (in jurisprudence, as is well known, force majeure is a case of exonerated responsibility). And so the new virus is at the same time both a catalyst for the event and a distraction for the masses through fear. (1)
For all the hypotheses I have put forth, since my book On Terrorism and the State (1979), regarding the manner in which this conversion (ineluctable, in my eyes) from formal democracy to despotism would be made, I must confess that I never imagined it would happen on the pretense of a virus. But the ways of the Lord are truly infinite. As are those of Hegel's cunning of reason.
The sole reference, it can truly be said, as prophetic as it is disturbing, is one I found in an article by Jacques Attali, former boss of EBRD [European Bank for Reconstruction and Development], written for L'Express during the epidemic of 2009: (2)
If the epidemic becomes a little more serious, which is possible, since it is transmittable by humans, it will have truly planetary consequences, both economic (the models suggest a loss of three trillion dollars, that is a 5% drop in global GDP) and political (due to risks of contagion). It would therefore be necessary to establish a global police force, a global stockpile, and therefore a global fiscal policy. We would then—much sooner than economic reasons alone would have allowed—come to establish the basis for an actual global government.
(more…)
Tags: Analysis, Coronavirus, Dictatorship, Gianfranco Sanguinetti, Repression
Posted in Social Control
Thursday, May 14th, 2020
The Local Autonomous Network (LAN) is a loose network of individuals and collectives composed of anarchist, anti-authoritarian, and autonomous activists here in the Archipelago of so-called Philippines. Since the early 2000s, the people behind the network have been consistently in contact with another regardless if they are from the southern or northern part of the Archipelago. The network has no formal membership and is presented as an informal organization. The network has its own level of understanding and trust with each other, which comes from the process of the relentless organizing, campaigning and initiating different activities and projects.
We have heard about a report published online from groups abroad about an anti-anarchist crackdown in the Philippines. The report is entitled "The Philippines—The continuing crackdown on anarchists" and was first published by the UK-based Anarchist Communist Group (ACG) and was later copied and distributed onto other international anarchist sites. Most of the people involved in Local Autonomous Network had the same reaction to this report: "this is alarming." As this is a local matter, we decided to investigate the report and do our own research locally on what was the real situation of the anarchists on the ground.
To give context, it is true that the Duterte regime is an oppressive and repressive government, even more so than with previous presidents in previous regimes. The War on Drugs that Duterte started in 2016 and has been conducted since has killed an estimated 30,000 people; this is a fact. Some of the victims of the Extra-Judicial Killings (EJK) in the War on Drugs have been drug personalities, but hundreds of EJK victims were not even connected to any kind of drug-related issue. Continuous killings and assassinations were also conducted against leftists, dissidents, peasant leaders, community organizers, and other activists. Anarchists in the Philippines were not spared and in 2018 saw Food Not Bombs volunteers murdered and arrested. (See the report: "Four Food Not Bombs Volunteers were Killed in Philippine Drug War and One Volunteer is in Jail".) (more…)
Tags: Coronavirus, Counter-info, Dictatorship, Local Autonomous Network (LAN), Philippines, Repression, War on Drugs
Posted in Social Control
Saturday, April 18th, 2020
ES | ¡RESISTENCIA A LA CUARTA REPRESIÓN INDUSTRIAL!
EL | Να αντισταθούμε στην 4η Βιομηχανική Καταπίεση
From The Acorn:
The First Industrial Repression saw us thrown off the land, forced into crowded towns and cities, used as human fodder for the dark satanic mills of the new steam-powered capitalist world.
The Second Industrial Repression electrified the rule of The Machine. New generations were born who had never tasted freedom. Their lives and their thinking were increasingly dominated by the rhythms of industrial mass production.
The Third Industrial Repression heralded the arrival of computers and robots. Human beings were now expected to meekly conform to these automated norms and functions.
And now we face the onset of the Fourth Industrial Repression (4IR), the most deathly repression of them all…
The 4IR wants to own, control and profit from everything that exists in this world.
Its Internet of Things aims to create a matrix of total connectivity, of which it is the owner.
You, your home, your family, your friends, your relationships and your activities will all belong to the 4IR. (more…)
Tags: 5G, Analysis, Anti-technology, Biotechnology, Coronavirus, Dictatorship, Ecological Destruction, Fourth Industrial Revolution, Internet of Things, Nanotechnology, Repression, Smart Cities, Technological Singularity, The Acorn
Posted in Eco Struggle
Sunday, April 5th, 2020
For a few weeks now, almost three billion people have been forced into home detention.
In Italy, as in other parts of the world, the first people who rebelled against the worsening conditions of their survival, the prisoners, have been repressed with dead and wounded.
While science proposes conflicting theses, part of the scientific community states that the quarantine period, although in alternating phases, will last at least until next year.
The state, however, has already chosen which truth to propagate to justify the measures taken. Forced isolation at home is being prolonged, the only proposal-constriction made to the population is to obey and wait by watching and self-surveillance… but for how long?
For now the end of the measures has been postponed until April 13th, but most likely there will be further extensions…
April 25th is the feast of liberation. Liberation not only from Nazi-Fascism, but from all forms of oppression.
The oppression of living in a world where movements are continuously controlled and monitored, with checkpoints, soldiers everywhere, drones, cameras, electronic bracelets.
The oppression of being individually considered as infected if we do not respect the laws and think that socializing and the possibility of going out are not transferable in exchange for the security of survival.
The oppression of living in terror of the invisible, because the problem is not the virus, but the ecological and social conditions in which it spreads. (more…)
Tags: Anti-Fascism, Climate Chaos, Coronavirus, Demo, Dictatorship, International Solidarity, Italy, Repression, Surveillance
Posted in Autonomy
Friday, April 3rd, 2020
Recently it has come to our attention that the scum Met cops (security forces of London) have been on the hunt for military-style vehicles. Last week the HQ Scotland Yard put out a notice stating it was looking for suppliers for armoured personnel carriers, armoured military vehicles, armoured combat vehicles and weapon carriers. It also wants security, fire-fighting and defence equipment and armour plating.
In the scum's own words they are looking for "tactical intervention and public order and firearm patrol vehicles…" They also claim that the new repression equipment is not linked to the coronavirus pandemic and the vehicles would not be on the streets until next year. This is not to be believed at all, every word out a coppers mouth is a lie. Clearly the security forces on prison island and around the world have already been planning for mass disorder for many years, with ever increasingly militarized security forces looking more like armed forces, especially since the recent 'financial crisis' that led to moments of insurrection around many parts of the world.
Particularly on prison island the British state and its security forces have already been investing in vehicles. A list of military-style vehicles the Met currently owns is not available to the public. However upgraded bullet-resistant armoured Jankel Guardians have already been seen in recent years. The seven-tonne personnel carrier can withstand AK-47 bullets and has a bomb-proof floor. The fleet, normally based at Heathrow, was sent out onto the streets after widespread rioting in 2011. They were also seen at Wembley in 2015 following the terror attacks in Paris.
This is a prime example that the British state and security forces are gearing up for disorder if not during the coronavirus epidemic definitely in the economic fallout that will follow. Expect to see these lumbering bastards on a street near you soon as the anti-social and nihilistic rage rises.
The Uncivilized
Tags: Coronavirus, Dictatorship, Fuck the Police, Repression, Riots
Posted in Social Control
Wednesday, April 1st, 2020
FR | L'état-prison Royaume-Uni devient loi : le coronavirus
The Coronavirus Act 2020 in the UK is now in force for the next two years. It is a totalitarian coup by a right-wing government which has already shown it's utter contempt for the judiciary, for parliament and for the people. Many of the provisions of this Act are already experienced by those on the margins of society, by dissidents, those in the prison and criminal justice system, the poor, and ethnic groups consistently disposed of by the police and the system, through poverty, imprisonment and death. Now the grand experiment is whether the kind of control infrastructure and total suspension of rights already administered to particular groups can be rolled out to the entire population.
The most manipulable provisions come, as ever, under the Mental Health sections. Always a good catch-all since dissidence, illegality and criticism of the existent is already considered by the system to be tantamount to mental illness, people can now be hospitalised and medicated on the say-so of a single approved clinician. This power of one also decides the fate of those awaiting trial, convicted persons (we wonder whether that refers to anyone with a criminal record regardless of their current status) and those currently serving prison time: the Act allows a single person to sign off on a transfer from a prison to mental hospital. To the cynical, it might imply that unruly prison populations or undesirables (either currently or historically) are now living under the threat of being summarily detained or if already detained, then transferred and sedated with a no-questions-asked decision by a single clinician.
(more…)
Tags: Analysis, Anti-Fascist, Anti-Psychiatry, Coronavirus, Coronovirus Act 2020 (UK), Dictatorship, International Solidarity, Repression, UK
Posted in Social Control
Thursday, March 12th, 2020
To all
We take responsibility for a doxxing action against OLIVER FONTANA, a lawyer in São Paulo, Brazil. Data in the links below:
https://pastebin.com/VrNwMu4A
https://hastebin.com/abiwirobus.sql
https://www.pastefs.com/pid/182606
The reason why this individual was our target is because he practiced physical and psychological torture on his ex-wife and 4 minor children. The case was reported in 2014 on the 'Fantastico' program of the reactionary channel 'Red Globo de Televisión de Brasil'. Link to the news:
http://g1.globo.com/fantastico/noticia/2014/10/brasileiro-e-americana-se-enfrentam-na-justica-pela-guarda-de-4-filhos.html
OLIVER FONTANA is a member of the multimillion-dollar Fontana family, owner of BRF Brasil Foods, one of the world's largest companies in the mass murder of animals (it produces meat and meat products under the Sadia, Perdigão and Qualy brands). He hides behind the image of the "Buddhist pacifist" and has no punishment for buying the Brazilian judiciary with the fortune of his family. But our collective is not for sale, so we present this male asshole in tribute to the International Day of Struggle for Women on March 8.
And here, a warning to all machos, misogynists, LGBTQphobes, racists, xenophobes and fascists: From now on, any one of you will be the target of retaliation from our collectives if you do not stop your attacks against socially vulnerable groups.
These scum are encouraged to attack and kill by their "messiah", the psychopath Jair Bolsonaro. The time has come to stop them. This time we did a doxxing attack. The next time could be otherwise. Especially since we have access to their residences. A visit from us would be tragic for them. (more…)
Tags: Brazil, BRF Brasil Foods, Cells of Opposition to the System (NOS), Dictatorship, International Solidarity, Jair Bolsonaro, Oliver Fontana, São Paulo, Sexism
Posted in Anti-Fascist
Wednesday, March 11th, 2020
COVID-19 – known as the coronavirus – emerged in the Chinese city of Wuhan. It's flu-like symptoms enabled the quick spread of the virus within the city. It also allowed the spread of the disease beyond Wuhan despite the attempts of the Chinese government to curb it by resorting to drastic measures of arresting and detaining suspected carriers.
Now it has spread globally. As of March 5th, 2020, 97,893 people have been infected worldwide with 7100 cases being regarded as serious. 3353 people have died of whom approximately 3013 were in China and 340 in other countries. The most serious outbreaks outside China have been in northern Italy, Iran and South Korea. The rates in many countries may be under-reported because of health officials refusing to test people reporting flu symptoms, especially Japan. The virus has impacted an estimated 87 countries and territories. 53,786 people have recovered from the virus. (Statistics from various government health agencies as charted in this webpage) According to the World Health Organisation (WHO), it takes about five days from exposure before people manifest the symptoms of the coronavirus. Not surprisingly the elderly, very young children and those with respiratory problems are most at risk.
What is noteworthy about the coronavirus isn't the virus itself. It has been the fear, misinformation and over the top reactions including panic buying that has occurred in many countries including here in New Zealand where there have been five confirmed cases of the coronavirus at the time of writing (1 News, 6th March 2020). (more…)
Tags: Analysis, Aotearoa Workers Solidarity Movement., China, Coronavirus, Dictatorship, New Zealand, Racism, Repression, United States
Posted in Social Control
Tuesday, February 11th, 2020
ACERKA DE LA RESISTENCIA A LA PRISIÓN Y LA NECESIDAD DE EXTENDER LA LUCHA AUTÓNOMA ANTIKARCELARIA.
Una breve mirada a las experiencias de lucha desde el encierro, sus énfasis y los kontextos en ke se han desarrollado.
«Sin ningún Comité Central ni ninguna jerarquía que clasifique nuestrxs miembrxs, solo podemos conocer caras extrañas como amigxs a través de sus acciones. Lxs queremos, Ixs abrazamos, al igual que sabemos que otrxs lo harán. Otras células, secciones, grupos.»
Brigada de la Cólera
1970.-
En tiempos de agudización del konflikto social la kárcel es el principal instrumento de kontrol y kastigo para kienes no se someten y se rebelan.
Históricamente el dominio a través de todos sus dispositivos ke sostienen el poder, la autoridad, el mundo de las jerarkías, el patriarkado y el kapital a usado la sanción normalizadora para kombatir toda forma de Resistencia ke atake y amenace su paz social.
Sin ir más lejos no fue sino en la diktadura de Pinochet en donde esta dinámika afectó masiva y sistemátikamente a miles y miles de Rebeldes ke la kombatieron entregando los mejores días de sus vidas.
Se reformuló el marko jurídiko fundado en la doktrina de seguridad nazional ke veía un enemigo interno al ke había ke aplastar bajo la exkusa de «kombatir el káncer marxista» según la voz de los genocidas de la époka.
Operaba la pútrida «justicia militar»:
Miles de muertxs, desaparecidxs, exiliadxs, perseguidxs, violentadxs, torturadxs son el rekuerdo imborrable y el triste legado de la refundación kapitalista neoliberal del imperio yanky a través de la insurrexión militar burguesa del genocida ejército chileno. (more…)
Tags: 14/14, Anti-Prison, Chile, Dictatorship, General Pinochet, International Solidarity, Isolation, Letter, Mapuche, Marcelo Villarroel Sepúlveda, Repression, Torture
Posted in Prison Struggle
Wednesday, February 5th, 2020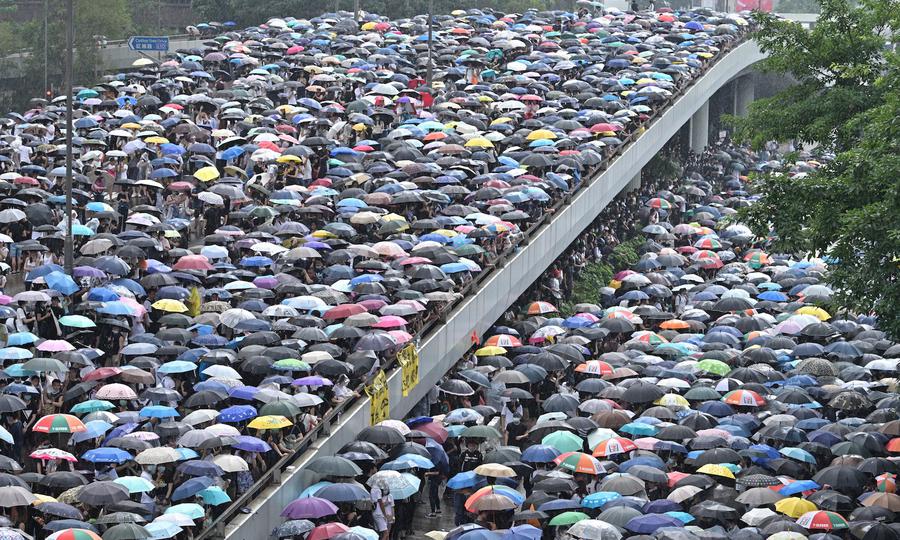 "On Wednesday 12th June, when someone shouted out that drones had started flying above them, everyone opened up their umbrellas almost simultaneously."
Four texts from Dialectical Delinquents:
1. Coronavirus – an exercise in intensified social control.
2. Hong Kong – its relevance to the rest of us… …its resistance to the science & technology of social control.
4. China: A-Z of some moments of international opposition.
Tags: Anti-technology, CCTV, China, Coronavirus, Dictatorship, Facial Recognition, Hong Kong, Repression, Riots, Social Insurrection, Surveillance
Posted in Social Control