Posts Tagged 'Dimitra Syrianou'
Tuesday, October 6th, 2020
Giannis Dimitrakis was sentenced to 11.5 years without mitigation for robbery, possession of a weapon and use of a forged document.
Kostas Sakkas was sentenced to 7 years and 10 months on the same charges.
However, both were acquitted of the charges of resistance and possession of drugs that the cops had included in the case file …
The co-accused anarchist comrade Dimitra Syrianou was sentenced to two years in prison with a three-year suspension for simple complicity in robbery, and was released.

Anarchists from Act for freedom now!
Tags: Dimitra Syrianou, Giannis Dimitrakis, Greece, Kostas Sakkas, Repression, Thessaloniki
Posted in Prison Struggle
Monday, June 24th, 2019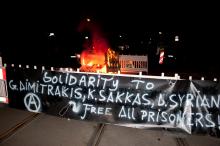 From the urban desert of the danger zone in Friedrichshain we send a signal of our solidarity to Yiannis Dimitrakis, Kostas Sakkas and Dimitra Syrianou. On Monday morning, June 24, we erected a burning barricade on Weidenweg (Street near Rigaer and Liebig) together with a fixed banner (see text on picture). We were waiting with stones to welcome the first patrol car but they needed time to mass up strong forces to enter the area of Rigaer Straße, and we disappeared safe.
(more…)
Tags: Berlin, Burning Barricades, Dimitra Syrianou, Germany, Giannis Dimitrakis, International Solidarity, Kostas Sakkas, Rigaerstrasse, Solidarity Action
Posted in Direct Action
Monday, June 17th, 2019
From the dungeons of the General Police headquarters of Thessaloniki, we send comradely greetings to our comrades who once again stand in solidarity in our new adventures with the police-law repressive mincer.
We declare that we remain strong, with our dignity intact, our principles and values ​​guiding our being. We will stand up to the new sufferings that the rulers of this world are preparing for us.
Not a step back!
Terrorism is wage slavery, no peace with the bosses.
Terrorists and bandits are States and capitalists.
Solidarity is our weapon.
Giannis Dimitrakis
Kostas Sakkas
Dimitra Syrianou
16/6/19
source
Translated by Act for freedom now!
Tags: Bank Robbery, Dimitra Syrianou, Giannis Dimitrakis, Greece, Kostas Sakkas, Letter, Thessaloniki
Posted in Prison Struggle