Posts Tagged 'Dzmitry Rezanovich'
Wednesday, November 11th, 2020
On the 12th of November anarchist revolutionary from Gomel, Dzmitry Rezanovich will become 31. And he is meeting his birthday in prison.
Dima is an active participant of the anarchist movement in Belarus. In 2014 he joined the revolution on barricades of Maidan in Ukraine. Soon after this he crossed the Ukrainian-Russian border by train using his brothers passport, so he was detained on the railway station in Kursk (Russian Federation) and was passed into the hands of FSB. In Russia Dima spent 4 months in the deportation center in Kursk. There he participated in the 4-days long hunger strike against conditions of imprisonment. The struggle end up successfully so locked up people got the right to take shower every day and have home food from their friends and families. Dima refused to serve in the military of Belarus: "It is not interesting for me to serve in the military of Belarus. This army can be forced to serve against people, as I have noticed a lot of times. It's better to accept prison for 2 years than go to army". At the moment Dima is a hostage of the KGB together with 3 other anarchists. They were detained near the Belarus-Ukrainian border on the night of October 29. They were charged under part 3 of article 289 of the Criminal Code of Belarus (act of terrorism committed by an organized group) and article 295 of the Criminal Code of Belarus (illegal arms trafficing). Dima is refusing to testify.
We are calling for solidarity actions with rebel Dima Rezanovich! Let's make actions during all this week.
You can send your communiqué, photos and videos on our email: munroeeffect@riseup.net, or in our Telegram-bot: @munroe_effect_bot
Tags: Belarus, Dzmitry Rezanovich, Gomel, International Solidarity
Posted in Prison Struggle
Wednesday, November 4th, 2020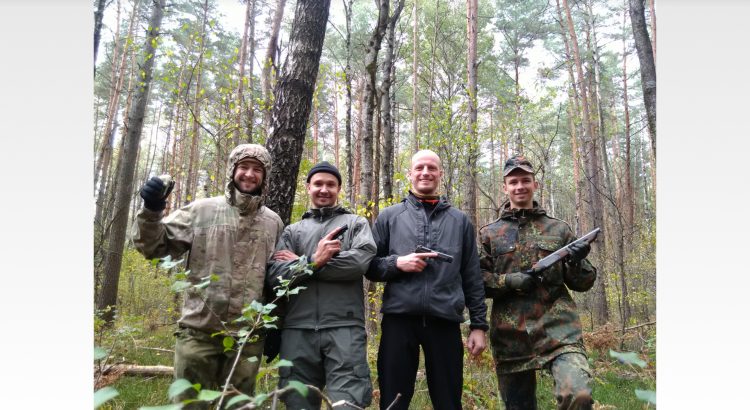 What's happened?
On October 22 in Soligorsk (Belarus) administrative building of State committee of forensic examination was attacked and cars were set on fire at the parking lot of Soligorsk district prosecutor's office. On the night of October 28 the building of traffic police department of Mozyr district police department was set on fire. Soon a group of anarchists-revolutionaries: Ihar Alinevich, Dmitry Dubovsky, Dmitry Rezanovich and Sergey Romanov were detained by a mobile group of Mozyr border detachment near the Ukrainian border in Zabozye village of Yelsky raion (Belarus). The detainees are currently held in a KGB remand prison in Minsk. They were charged under part 3 of article 289 of the Criminal Code (act of terrorism committed by an organized group).

Anarchist Revolutionaries
Each of the detainees had been an opponent of the fascist state for many years and had regularly experienced its repressions. (more…)
Tags: Belarus, Dzmitry Dubouski, Dzmitry Rezanovich, Ihar Alinevich, Ihar Alinievich, International Solidarity, Repression, Sergei Romanov, Sergey Romanov, Siarhei Ramanau, Social Insurrection, Soligorsk
Posted in Social Control
Sunday, July 6th, 2014
On 3 July Dzmitry Rezanovich was fined with 15,000 Russian rubles and deportation from Russia. It is still unclear for how long it will be forbidden for Dzmitry to enter Russian territory.
The deportation date was not announced yet and some sources point that it is possible only after the fine is paid. The relatives already got papers to do so.
We would like to thank everyone who supported Dzmitry financially and morally.
Tags: ABC Belarus, Belarus, Dzmitry Rezanovich, Russia
Posted in Social Control
Wednesday, March 26th, 2014
Anarchist from Gomel – Dzmitry Rezanovich – was detained on March 13-14 by Russian security forces when he tried to cross the Russian-Ukrainian border. He is now at one of the Kursk pre-trial facilities, relatives are not allowed to visit him. It's not yet clear what was the reason for detention. He had the passport of his brother, but it looks like the special services were not interested in this misdemeanor, they allegedly suspect him of a conspiracy to launch an attack on Kursk nuclear power plant as well as participation in Maidan protests.
We think this story is connected with the Russian hysteria about possible war with the Ukraine and expected diversive acts from Ukrainian side.
From ABC Belarus
Tags: ABC Belarus, Belarus, Dzmitry Rezanovich, Kursk, Maidan, Russia, Ukraine
Posted in Social Control