Posts Tagged 'Eat'
Friday, January 6th, 2012
From liberaciontotal, translated by war on society:
Communique:
By means of this communique we claim responsibility for the deliberate arson of two luxury vans last morning–the first at the intersection of Rawson and Diaz Velez in the Almagro neighborhood, totally destroying the vehicle, and the second at the intersection of Senillosa and Rondeau, Boedo, burning the van with partial damages.
This action is framed within gestures of international solidarity for with the prisoners of the Conspiracy of Cells of Fire, who have shown courage and consistency in their recent escape attempt, in solidarity with Eat and Billy, anarchist guerrillas belonging to the FAI captured in Indonesia, and in clear support of all the prisoners in war against authority, especially Freddy, Marcelo and Juan, Gabriel Pombo da Silva, Marco Camenisch… likewise in complicit wink to the comrades who beat up the enemy in the streets.
We take this occasion to reiterate that on December 20, approximately at 2:30 am, we left an incendiary/explosive device at the front door of the 3rd Precinct located at 1560 Tucuman, in vengeance for the fallen during the revolt of 2001 and in clear destructive feeling toward the servants of order. We released a communique to this effect at the time, to various mass media (which obviously censored it), but also to an internet page of the anarchist space, which it did not include for reasons we do not know of. [As LT explain in posting this release, the 12/20 communique must have been lost due to technical email problems since they do not censor these kinds of communication – transl.] From now on, we will send copies of our communiques to various anarchist sites, and another communique when the situation requires it to the mass media..
We reproduce below the [12/20] communique released at that time.
To continue the offensive with what we have at hand…
Against the anti-terrorist law, the biometric identification law,
and against all the laws, fire and gunpowder!!!
Death the gendarmeria, prefectura and every kind of police!!!
To not await any social consensus, to attack now and immediately what intends to destroy us, to position ourselves, to wage war!!!
Antagonist Cell for Complete Freedom / FAI – IRF
–
Communique from 12/20:
Last night, hours after the beginning of the new anniversary of December 20, we have deposited our rage embodied this time in a liter of gasoline and a good amount of black border at the door of the 3rd Precinct located at 1560 Tucuman st, under the very noses of the torturers. We carried out this action in vengeance for the fallen during the revolt of December 2001, but also in memory of Dario Santallan and Maximiliano Kostecky, later murdered during the command of the narco-trafficker Eduardo Duhalde, and in memory of all those murdered by the police in times of progressive democracy and applauded by the vast majority of the society. We, for ourselves, are not going to remain passive observing how they murder fighters in cold blood, however ideas may separate us, the practices of direct confrontation bring us close, as well as the sincerity in the struggle. To all those who in one way or another confronted and confront authority, this gesture is directed to them, DEATH TO ALL THE POLITICAL PARTIES WHO IN A FEW HOURS WILL COME TO THE PLAZA DE MAYO WITH THEIR SHIT PACIFYING DISCOURSE, SHITTING ON THE MEMORY OF THE DEAD!! LONG LIVE LOOTING, DIRECT ACTION, ROBBERY, LONG LIVE ANARCHY!!! FOR PRECISION AND DEADLINESS IN OUR BLOWS!!!
With love for comrade Luciano Pitronello and the comrades of the Conspiracy of Cells of Fire…
Antagonist Cell for Complete Freedom / FAI – IRF
Tags: Antagonist Cell for Complete Freedom / FAI – IRF, Argentina, Arson, Billy, Buenos Aires, Conspiracy of Cells of Fire, Conspiracy of Cells of Fire : Imprisoned Members Cell, Dario Santallan, Eat, Freddy Fuentevilla Saa, Gabriel Pombo da Silva, Informal Anarchist Federation (FAI), International Revolutionary Front, International Solidarity, Juan Aliste Vega, Luciano Pitronello Schuffeneger, Marcelo Villarroel Sepúlveda, Marco Camenisch, Maximiliano Kostecky
Posted in Direct Action
Thursday, December 15th, 2011
Dozens of young men and women have been detained for being "punk" and "disturbing the peace" in Aceh, Indonesia's most devoutly Muslim province. They are being held in a remedial school, where they are undergoing government "re-education". The 64 punks, many of whom are from as far away as Bali or Jakarta, were picked up on Saturday 10 December night during a local concert. Many young teens sport punk hairstyles, in keeping with worldwide punk culture, but against the norms of the keenly religious in Aceh. (more…)
Tags: Aceh, Aceh 64, Billy, Eat, Fuck the Law, Indonesia, Punx, Repression
Posted in Social Control
Thursday, December 15th, 2011
7/12/11 – Frankfurt, Germany : CEO Josef Ackermann is the intended target of a fully operational explosive parcel which is mailed to Deutsche Bank headquarters. Bank security staff identify the device during x-ray screening, and it is later neutralised by police. A claim of responsibility is recovered from the device, which is published in the corporate press.
9/12/11 – Rome, Italy : Chief Director Marco Cuccagna of Italy's tax collection office, Equitalia, receives a letter-bomb which explodes after he opens it, causing damage to his hands, blowing off part of his finger and almost blinding him after his glass desk shatters in the explosion.
12/12/11 – Paris, France : The Greek embassy in Paris is the target of a third explosive device which is identified and neutralised.
Amidst the wave, mainstream media report that envelopes containing bullets and threatening letters are mailed to Italian Justice Minister Paola Severino and Rome Mayor Gianni Alemanno. An additional parcel of vengeance was received by Equitalia on the 15th December, but was identified and neutralised. A note inside the latest package said "don't kill yourself, rebel: death to usurers!"

Here is a translation of the claim of responsibility that accompanied the package bomb to the central headquarters of Deutsche Bank in Frankfurt:

FREEDOM AND HAPPINESS FOR OUR BROTHER GABRIEL POMBO DA SILVA. DEATH TO THE BANKS THAT STRANGLE THE PEOPLE.
THREE PARCEL BOMBS IN THESE DAYS ARE TRAVELLING TOWARD BANKS AND BANKERS, TICKS AND LEECHES. WITH THESE SMALL BUT RESOLVED ACTIONS, WE OF THE EAT & BILLY ITALIAN CELL JOIN IN THE NEW ANARCHIST INTERNATIONAL, THE INFORMAL ANARCHIST FEDERATION AND INTERNATIONAL REVOLUTIONARY FRONT. WE HAVE THIS NAME IN SOLIDARITY WITH THE INDONESIAN FAI, WITH OUR BROTHERS EAT AND BILLY. WE DON'T NEED SPECIALISTS OF ACTION, ANYONE CAN ARM THEIR OWN HANDS, ANYONE CAN ASSEMBLE THEIR OWN GIFT PACKAGE. WAR ON THE EUROPE OF THE BANKERS, DEATH TO THE LEECHES THAT GOVERN US.
LONG LIVE THE INDONESIAN FAI
LONG LIVE THE C.C.F.
VIVA THE NEW ANARCHIST GUERRILLA
VIVA THE FAI/IRF
FREE EAT AND BILLY CELL FAI/IRF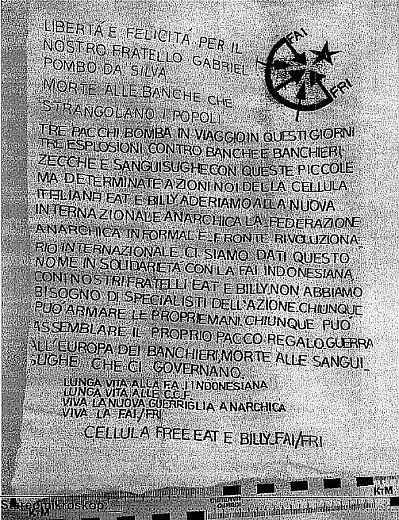 Tags: Billy, Deutsche Bank, Eat, Equitalia, France, Frankfurt, Free Eat & Billy Cell FAI/IRF, Germany, Greece, Greek Embassy, Indonesia, Informal Anarchist Federation (FAI), International Revolutionary Front, International Solidarity, Italy, Letter-bombs, Paris, RO-FAI (Indonesia Section), Rome
Posted in Direct Action
Thursday, December 15th, 2011
325 receives and transmits:

28 November 2011
Communique:
On the night of November 28th, 2011, we sabotaged a rail line in Southern Oregon as part of a coordinated effort to disrupt the flow of commerce on the West Coast. We got tired of watching trains pass through our towns loaded with lumber, ore, cheap commodities, and other resources pillaged from the earth without consequence. We didn't do this out of a desire to create a more green, sustainable or humane civilization—we want nothing less than to see the total failure of this sick and rotten society.
This action was not only easy to carry out, but positively satisfying. We used 4AWG copper wire with the ends stripped of insulation and wrapped around the two sides of the track with the rest of it buried in the middle, which falsely indicated to a sensor that there was a train stopped on the railway.
We did this in solidarity with currently imprisoned members of the Long-Live Luciano Tortuga Cell/Indonesian FAI, to whom we send our most passionate revolutionary greetings.
We would also like to send our love to ALF prisoner of war, Walter Bond.
Towards an end to this nightmare world
Tags: Billy, Eat, Indonesia, International Solidarity, Luciano Pitronello Schuffeneger, Oregon, RO-FAI (Indonesia Section), Sabotage, USA, Walter Bond
Posted in Direct Action
Sunday, November 13th, 2011
The anarchist prisoners Eat and Billy are imprisoned comrades of the Long Live Luciano Tortuga Cell / Informal Anarchist Federation, Indonesia Section, who are currently in prison before trial, having taken responsibility for setting fire to a BRI ATM bank in Yogyakarta on 7th of October '11, by causing an explosion. The action was declared in solidarity with Luciano Tortuga, injured anarchist combatant of Chile, with revolutionary prisoners and fighters in Indonesia and across the world, in complicity with the international clash with capitalism and hierarchy.
Despite isolated conditions and the inevitable harsh and endless interrogations, the comrades never co-operated or collaborated with the repressive apparatus, and the application of the anti-terrorist law has not diminished them. The repressive wave which the Indonesian State and the mainstream media initiated against not only them, but against also autonomous spaces and individuals, and which extends into the continued murderous practices it employs across the islands, has failed to obscure the evident : that the Indonesia State and the corporations operating there are exploiters and terrorists.
This open letter comes alongside a continued call for international solidarity with the environmental, indigenous and anti-capitalist/anti-state struggle in Indonesia, and the imprisoned comrades additionally wanted to focus attention on places like Wera (Bima) where the people are resisting an iron mine, and also the situation of renewed social war in West Papua, as the rebels and the students are escalating the conflict against the police, military and the mafia Freeport McMoran Copper & Gold Inc..
You can read a previous flyer (with multiple language translations from the excellent Greek anarchist anti-info collective Contra-Info) about the general case here (nb. there was another person arrested who was subsequently released), plus a solidarity booklet by Actforfreedom/Elephant Editions is here.
It is possible to send financial aid via ABC Berlin.
–
Dear comrades, with respect, love and rage
It's been 35 days since we were caught and we are sorry for writing this letter too long as our only possible communication comes only from our friends and lovers who still have the courage to meet us here. Direct letters are impossible.
We've been waiting to hear some news from you all and like a strong warm breeze in this climate of repression, we once more regain back our energy and strength to hear the sound of revolutionary solidarity and a warm feeling of comradeship from all combatants and prisoners of freedom around the world – especially when we have the chance to read a newspaper about some recent insurrection in Rome, Italy, it gave us both a warm feeling that comrades are still fighting for a true revolutionary change… and the spirit of insurrectionalism is still in the air like a light of hope – in this dim atmosphere of cages of repression.
We send our hugs to all the FAI members around the world (those who are free and imprisoned) and as well CCF members in Greece, our true revolutionary and warm feelings to all of you..
On a sad note, we are truly disappointed that some our local comrades who are inspired by fear and media sensationalism which make them to retreat from the front line but let's put this aside, as we are still convinced that they still have the ideas in their heart of resistance… that would light the darkness once more in the glimmering light of passion for rebellion.
Warm hugs and salute to all combatants in Chile, Greece, Portugal, Italy, Spain, Germany, and all of the revolutionary anarchists who never back down in the face of repression.
Revolutionary Greetings and Hugs to all of you.
Members of Long-Live Luciano Tortuga Cell – Indonesian FAI
EAT and BILLY
–
THE PASSION FOR FREEDOM IS STRONGER THAN THE PRISON
Tags: Billy, Bima, Chile, Conspiracy of Cells of Fire, Eat, Informal Anarchist Federation (FAI), Informal Global Federation / Anarchist Network, International Conspiracy for Revenge, International Revolutionary Front, International Solidarity, Letter, Long Live Luciano Tortuga Cell - International Revolutionary Front - FAI, Luciano Pitronello Schuffeneger, RO-FAI (Indonesia Section)
Posted in Prison Struggle
Monday, October 10th, 2011
2 comrades, Eat and Billy are imprisoned having taken responsibility for this action. There has been a call-out for revolutionary solidarity with the struggle in Indonesia – translated into several languages, which can be found on the website Contra-Info, in Greek, Spanish, Italian, French, German and Portuguese. More details to follow.
7 October 2011
NEGARA-KORPORASI-POLISI-MILITER ADALAH TERORIS SEBENARNYA
"Pemberontakan sosial akan terus berlanjut karena mentari terus bersinar."
Kali ini kami mengatakan, bahwa apa yang kami lakukan merupakan puncak dari semua kegelisahan serta kemarahan kami terhadap sistem yang sedang berjalan ini. Sistem yang memberhalakan uang, sistem yang merecoki keseharian masyarakat dengan televisi, agar mereka membeli barang-barang yang tak mereka perlukan agar mereka terus bekerja seperti mesin. Sistem yang mengharuskan kami beserta masyarakat lainnya tidak memiliki kendali atas hidup kita sendiri.
Sistem yang lainnya menguntungkan borjuis, para pebisnis, dan para birokrat negara yang menjadi sekutu setianya. Bagi kami semua, ini bukan saatnya untuk diam, bukan saatnya untuk tenang menonton acara di depan televisi dan berkata bahwa "semua baik-baik saja".
Untuk setiap penindasan di Papua Barat.
Untuk setiap penindasan di Kulon Progo.
Untuk setiap penindasan bersejarah di Aceh.
Untuk setiap penindasan di Wera, Bima.
Untuk setiap penggusuran dan perampasan lahan di Takalar dan Pandan Raya di Makasar.
Untuk setiap penindasan terhadap kawan-kawan kami yang berjuang.
Untuk Tukijo dan para kombatan sosial yang mendekam di penjara hanya karena berjuang mempertahankan hak hidupnya.
Untuk setiap konsensi hutan yang akan menghancurkan setiap keanekaragaman hayati mengatasnamakan uang dan bisnis!
Dan untuk setiap penjara yang seharusnya terbakar rata dengan tanah.
Maka selama negara dan kapitalisme masih eksis, tak pernah akan ada kata damai antara mereka yang tak berpunya dengan mereka yang berpunya.
Penyerangan terhadap pusat-pusat finansial: ATM, bank, gedung korporat adalah target yang penting, karena mereka adalah salah satu kolaborator yang menyebabkan penderitaan di muka bumi ini. Ini bukanlah terorisme karena kami tidak mengadvokasikan untuk menyerang orang-orang, terorisme adalah peperangan antar negara. Terorisme adalah beras dan pangan di dapurmu yang semakin menipis. Terorisme adalah bajingan berseragam yang membawa senjata ke mana-mana. Terorisme adalah pembantaian orang-orang tak berpunya.
Maka kami mengatakan: sudah cukup!
Dan ini juga untuk kalian! Para kombatan yang tak pernah surut untuk berjuang di luar sana, meski kalian harus mendekam di jeruji besi karena keyakinan kalian akan kebebasan: Conspiracy of Cells of Fire (Yunani), kombatan Chile: Tortuga! Lives on! Gabriel Pombo da Silva, Thomas Meyer Falk (Germany) Polykarpos Georgiades, Revolutionary Struggle! Salut bagi kombatan Manado, Makassar, dan Bandung, kalian adalah inspirasi di tengah ketidakberdayaan masyarakat akan hidup mereka yang semakin tidak menentu dan tak berdaya.
"Biarkan api menyala dalam kegelapan!"
Long Live Luciano Tortuga Cell – International Revolutionary Front – FAI
–
English Translation:
STATES-CORPORATIONS-MILITARY-POLICE ARE THE TERRORISTS

"Social rebellion will continue as the sun continues to shine."
This time we say, that what we are doing is the culmination of all our anxieties and anger against a system that is running this. Systems that idolize money, a system that nags the public daily with television, so they buy things they do not need so that they continue to work like a machine. System that required us and other people to not have control over our own lives.
Another system that benefits the bourgeoisie, the businessmen, and state bureaucrats who become loyal allies. For us all, this is not the time to be quiet, not the time to calmly watch the event in front of the television and say that "all is okay".
For each incident of repression in West Papua.
For each incident of oppression in Kulon Progo.
For every historic repression in Aceh.
For each incident of oppression in Wera, Bima.
For any evictions and land seizures in Takalar and Pandan Raya in Makassar.
For each of the oppression of our comrades who are struggling.
To Tukijo and social combatants languishing in jail just because of fighting for their life right.
For each forest concession that would destroy any biodiversity on behalf of money and business!
And for every prison should have burned to the ground.
So long as the state and capitalism still exist, never will there be words of peace between those dispossessed by those who are propertied.
Attacks on financial centers: ATMs, banks, corporate buildings is an important target, because they are one of the collaborators who cause suffering on this earth.
This is not because we do not advocate terrorism to attack the people, terrorism is a war between countries. Terrorism is rice and food in your kitchen that are running low. Terrorism is a crook in uniform who carries weapons everywhere. Terrorism is the massacre of the dispossessed.
So we say: enough!
Tortuga! The combatants who never stopped to fight out there, although you have to crouch on the bars but you have freedom of thought: Conspiracy of Cells of Fire (Greece), combatants in Chile: Tortuga! Lives on! Gabriel Pombo da Silva, Thomas Meyer Falk (Germany) Polykarpos Georgiades, Revolutionary Struggle! Kudos for the combatants in Manado, Makassar, and Bandung, you are an inspiration in the middle of the powerlessness of their lives that society makes increasingly uncertain and helpless.

"Let the fire burn in the darkness!"

Long Live Luciano Tortuga Cell – International Revolutionary Front – FAI
Tags: ATM Burned, Billy, Chile, Conspiracy of Cells of Fire, Eat, Gabriel Pombo da Silva, Indonesia, Informal Anarchist Federation (FAI), Informal Global Federation / Anarchist Network, International Conspiracy for Revenge, International Revolutionary Front, International Solidarity, Kulon Progo, Long Live Luciano Tortuga Cell - International Revolutionary Front - FAI, Luciano Pitronello Schuffeneger, Polykarpos Georgiades, Revolutionary Struggle, RO-FAI (Indonesia Section), Thomas Meyer Falk, Tukijo
Posted in Direct Action