Posts Tagged 'Ecological Destruction'
Friday, October 9th, 2020
FR | Yogyakarta (Indonésie) : La CCF/Nemesis Action revendique l'incendie d'une voiture de luxe
ES | YOGYAKARTA, INDONESIA: «CCF / ACCIÓN NÉMESIS» ASUME LA RESPONSABILIDAD DEL INCENDIO PROVOCADO DE UN COCHE DE LUJO
GR | Ινδονησία, Γιογκιακάρτα: "ΣΠΦ / Δράση Νέμεσις" – Ανάληψη ευθύνης για τον εμπρησμό πολυτελούς αμαξιού
Yogyakarta – Indonesia : We claim the burning of a luxury car in front of the Sinar Mas office last night on Ring Road Utara Yogyakarta. And it's not just solidarity for combatants on the streets against the Omnibus Law. But because we understand that the Sinar Mas Group is responsible for the destruction of rainforests in Indonesia to be converted into the palm oil industry.
Solidarity for all combatants throughout Indonesia. Solidarity with Belarus. Solidarity for anarchists in Chile, Greece, Hong Kong, Rojava!
Long Live the Rebellion!

"We want the world and we want it on fire".
Conspiracy of Cells of Fire / Nemesis Action
–
Kami mengklaim pembakaran mobil mewah di depan kantor Sinar Mas semalam di Ring Road Utara Yogyakarta. Dan ini bukan hanya solidaritas untuk kombatan di jalanan melawan Omnibus Law. Tapi karena kami paham bahwa Sinar Mas Grup bertanggung jawab atas penghancuran hutan hujan di Indonesia untuk dikonversikan ke industri Sawit.
Solidaritas buat semua Kombatan seantero Indonesia. Solidaritas buat Belarus. Solidaritas untuk kaum anarkis di Chile, Yunani, Hongkong, Rojava!
Panjang Umur Pemberontakan!
"We want the world and we want it on fire".
Konspirasi Sel-sel Api / Aksi Nemesis
Tags: Arson, Conspiracy of Cells of Fire, Conspiracy of Cells of Fire / Nemesis Action, Ecological Destruction, Indonesia, Informal Anarchist Federation (FAI), International Solidarity, Sabotage, Sinar Mas Group, Yogyakarta
Posted in Direct Action
Thursday, October 8th, 2020
IT | PDF: "Andare all radice" – Marco Camenisch & John Zerzan
"Andare alla radice"
È uscito l´opuscolo "Andare alla radice" contenente un intervista di John Zerzan a Marco Camenisch.
PREFAZIONE
In una soleggiata cucina del sudest della Svizzera ho preso parte a questa magnifica conversazione con uno dei miei eroi, Marco Camenisch, e un caro amico che gli aveva più volte fatto visita durante i molti anni passati in prigione. Quest'incontro aveva per me un valore importantissimo, soprattutto perché, a differenza di Matteo, avevo conosciuto Marco solo la notte prima. Scriversi è una cosa, per quanto molto preziosa, ma di certo nulla può sostituire la possibilità di sedere faccia a faccia, l'uno di fronte all'altro. La nostra causa comune, per come la vedo io, è quella di eliminare la civilizzazione, la sua marcia funebre, e sostituirla con comunità di rapporti diretti, faccia a faccia. La società di massa ha soppresso la comunità. Ogni volta che ci s'incontra, come nel nostro caso, ci si prepara al suo ritorno. La nostra esplorazione ha ravvivato in ciascuno di noi l'anelito profondo per un nuovo mondo. È presente in ognuno, per quanto soffocato o deformato, nonostante le mastodontiche e onnipresenti forze contrarie. Le ore passate in così buona compagnia mi hanno rigenerato, stando assieme a guerrieri che non si arrendono. Prima di tornare in Italia con Matteo, ho salutato Marco che stava pulendo il pavimento della cucina della casa dove alcuni compagni ci avevano ospitato. Sorrideva e canticchiava, e questo mi ha reso ancor più felice!
John Zerzan
Eugene, Oregon, febbraio 2020
–
"Andare alla radice"
The booklet "Going to the root" has been published with an interview by John Zerzan with Marco Camenisch.
PREFACE
In a sunny southeastern Swiss kitchen I took part in this wonderful conversation with one of my heroes, Marco Camenisch, and a dear friend who had visited him several times during his many years in prison. This meeting had a very important value for me, especially because, unlike Matteo, I had met Marco only the night before. Writing is one thing, though very precious, but certainly nothing can stop you from sitting face to face, one in front of the other. Our common cause, as I see it, is to eliminate civilization, its funeral march, and replace it with a community of direct, face-to-face relationships. Mass society has suppressed the community. Every time we meet, as in our case, we prepare for its return. Our exploration has enlivened in each of us the deep yearning for a new world. It is present in each one of us, no matter how stifled or deformed, despite the mastodontic and omnipresent opposing forces. The hours spent in such good company have regenerated me, being together with warriors who do not give up. Before returning to Italy with Matteo, I said goodbye to Marco who was cleaning the kitchen of the house where some of our comrades had hosted us. He was smiling and humming, and that made me even happier!
John Zerzan,
Eugene, Oregon, February 2020
https://istrixistrix.noblogs.org/
Tags: Analysis, Anti-Nuclear, Anti-technology, Ecological Destruction, Interview, Italy, John Zerzan, Marco Camenisch, PDF, Repression, Switzerland, TAV, Zine
Posted in Library
Tuesday, September 22nd, 2020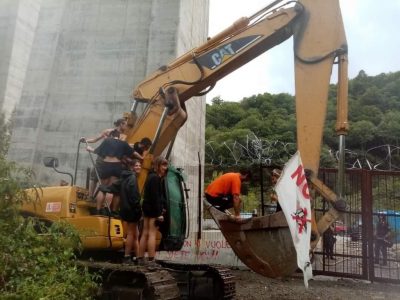 The No TAV campaign in northern Italy has been fighting an expensive, unneeded and corrupt high speed railway link for over three decades. The proposed mafia-linked freight train service from Turin to Lyon has been repeatedly exposed for its fantastical predictions and is slated by local people who see no reason to leave their homes for a white elephant. If you are already thinking about the similarities to HS2 here in England then you are in the right place. I will start by giving a very brief history of No TAV, then an update on recent events. In the second half, I will concentrate on what the Stop HS2 movement can learn from No TAV.
For those who have never heard of the No TAV movement, it is a campaign born thirty odd years ago to resist the construction of a 270 kilometre long high speed railway (Treno di Alta Velocita) between Turin (in Italy) and Lyon (in France). There is widespread opposition on both French and Italian soil, since the railway is a corrupt scheme proposing to transport freight based on fantasy figures and the people who live along the route see no benefit (the train won't be stopping there). They argue that the already existing railway infrastructure should be improved instead. The resistance is greatest in the breathtakingly beautiful Val di Susa (Susa Valley), which stretches from Turin to the Alps for fifty kilometres. In summer, the valley is bright with colours, the blue sky and green grass bisected by the snow on the mountains. It has a unique environment, since one side sees the sun and the other does not. The train line would rip straight through it before entering a tunnel of 57.5 kilometres to France. This tunnel would be longer than the Chunnel and in fact would just squeeze in as the longest rail tunnel in the world, if it ever gets built. Local people are concerned that drilling into the mountains will disturb uranium and asbestos deposts, that mafia construction will lead to health hazards and that the overall economic case for TAV no longer stands up. (more…)
Tags: Ecological Destruction, France, HS2, Italy, Lyon, TAV, Turin, UK, Val di Susa
Posted in Eco Struggle
Thursday, June 4th, 2020
De un panfleto repartido en algunos pueblos de México:
Hay que entender que el turismo surge a partir de la industria y el capitalismo, es decir, al turismo le es inherente el modo de producción industrial y capitalista. Hay también que entender que las vacaciones fueron fruto de la lucha obrera, la cual fue prontamente absorbida (mercantilizada) por el sindicalismo charro y el bienestarismo estatal que anularía de tajo los frutos de la revolución social.
Ahora bien, el turismo es una forma de MERCANTILIZAR EL TIEMPO LIBRE, DE PONERLE PRECIO Y POR LO TANTO SUBERTIRLO A LA LÓGICA DEL MERCADO CAPITALISTA. No estamos de acuerdo con, ponerle precio a los ríos, bosques y montañas para visitarlos, ni para ser explotados por la industria turística sea municipal, comunitaria, federal o privada.
Muchas de las comunidades que ejercieron el eco turismo quedan vetadas de sus propios bosques, ríos, montañas, manantiales, etc. Porque ahora la ocupan y disfrutan los turistas que muchas de las veces son de clase acomodada y de piel blanca o blanqueada (Neo colonialismo) donde los mismos lugareños acaban siendo empleados y cosificados por el dinero que gasta el turista en sus territorios. (more…)
Tags: Eco-Tourism, Ecological Destruction, Mexico
Posted in Eco Struggle
Saturday, April 18th, 2020
From The Acorn:
The First Industrial Repression saw us thrown off the land, forced into crowded towns and cities, used as human fodder for the dark satanic mills of the new steam-powered capitalist world.
The Second Industrial Repression electrified the rule of The Machine. New generations were born who had never tasted freedom. Their lives and their thinking were increasingly dominated by the rhythms of industrial mass production.
The Third Industrial Repression heralded the arrival of computers and robots. Human beings were now expected to meekly conform to these automated norms and functions.
And now we face the onset of the Fourth Industrial Repression (4IR), the most deathly repression of them all…
The 4IR wants to own, control and profit from everything that exists in this world.
Its Internet of Things aims to create a matrix of total connectivity, of which it is the owner.
You, your home, your family, your friends, your relationships and your activities will all belong to the 4IR. (more…)
Tags: 5G, Analysis, Anti-technology, Biotechnology, Coronavirus, Dictatorship, Ecological Destruction, Fourth Industrial Revolution, Internet of Things, Nanotechnology, Repression, Smart Cities, Technological Singularity, The Acorn
Posted in Eco Struggle
Friday, April 10th, 2020
A publication of green anarchist art, poetry, stories, rants from 'so called-Australia'
PDF: Beyond the Dark Horizon.
"We are in a new epoch of breakdown what will it mean to not have a horizon … to have no map of how act … to have only shifting sands to cling to and be in a world radically different than that of the last 10000+ years? What does green anarchy mean today."
https://beyondthedarkhorizon.org/
beyondthedarkhorizon@protonmail.com
Tags: Anti-pipelines, Australia, Beyond the Dark Horizon, Climate Chaos, Ecological Destruction, Indigenous Struggle, Mining, PDF, Sabotage, Uranium Mining, Zine
Posted in Library
Monday, January 20th, 2020
Issue 10 of "Fenrir" has been published, an ecological anarchist publication, 80 pages, A4 format. Italian language.
In this number:
Editorial
If not now, when?
The black sun of the future (Autopsy of the revolution, part II)
The rise of the new populist right: an analysis of the current situation
5G, the network of domination
Resuming our black path, by Gustavo Rodriguez
Marginal contributions to an ongoing debate, by Gabriel Pombo da Silva
News from the necro-world
Updates on Prisoners and State Repression
Letters from prison
The cost is 4 euros per copy, or 3 euros for orders of 5 or more copies. The cost of shipping with ordinary "book folding" is € 1.30.
To receive one or more copies write to us: fenrir at riseup.net
Help us distribute "Fenrir", if you have a distro or want some copies, contact us!
–
Italia: È uscito il n. 10 di "Fenrir", pubblicazione anarchica ecologista (gennaio 2020)
È uscito il n.10 di "Fenrir", pubblicazione anarchica ecologista, 80 pagine, formato A4.
In questo numero:
Editoriale
Se non ora, quando?
Il sole nero dell'avvenire (Autopsia della rivoluzione, parte II)
L'ascesa delle nuove destre populiste: un'analisi della situazione in corso
5G, la rete del dominio
Riprendendo il nostro nero cammino, di Gustavo Rodriguez
Contributi marginali a un dibattito in corso, di Gabriel Pombo da Silva
Notizie dal necromondo
Aggiornamenti sui/lle prigionierx e sulla repressione di Stato
Lettere dal carcere
Il costo è di 4 euro a copia, oppure di 3 euro per ordini di 5 o più copie. Il costo della spedizione con "piego di libri" ordinario è di 1,30 euro.
Per ricevere una o più copie scrivici: fenrir at riseup.net
Aiutaci a distribuire "Fenrir", se hai una distro o vuoi un po' di copie, contattaci!
via insuscettibilediravvedimento.
Tags: 5G, Analysis, Anti-technology, Ecological Destruction, Fenrir, Gabriel Pombo da Silva, Gustavo Rodriguez, Italy, Zine
Posted in Library
Sunday, December 29th, 2019
After COP25 and the Economic Stimulus Package: Stop Appealing to those Responsible! What We Need is a Revolt!
Wuppertal. Haan. December 26th, 2019. Since August 15th, 2019 we've occupied the Osterholz Forest. A lot has happened in these four and a half months. The forest that was supposed to be cleared in October is still standing, and that's good. We will continue to actively oppose the possible clearing for the capitalist interests of a private company called Oetelshofen.
On September 20th, millions of people took to the streets worldwide to demonstrate for climate justice. The German government's response should be a lesson to all those who think that decisive changes will come from the rulers. The "climate package" presented by the German government is above all an economic stimulus package for the (E) car industry. The proposed coal phase-out law is primarily a wind power phase-out law. The rulers are trying to cheat their way through by deceiving public opinion. Business as usual. The COP25 climate negotiations have also failed miserably. No wonder, because the rulers have long since understood what needs to be done, but that is exactly what they don't want to do. Those who believe that the rulers "have not yet understood the seriousness of the situation" succumb to a mistaken belief: the rulers have understood the seriousness of the situation very well. Their interests simply lie elsewhere. The lackeys of capital stand for an everlasting situation and their friends of green capital only want to change things slightly. Instead of destroying entire regions for coal, they now want to destroy unique landscapes for the mining of lithium for their electric cars. The same sauce, but now with a green colour. (more…)
Tags: Anti-Coal, Cop25, Ecological Destruction, Forest Struggle, Germany, Mining, Oetelshofen, Osterholz Forest, Squatting
Posted in Eco Struggle
Thursday, December 12th, 2019
PDF Flyer EN, + ES, IT
"On the altar of technological development we are sacrificing
every breath of our individual freedom and the possibility
to live a life that is really worth it."
NICOLA GAI.
"Anarchy rejects that life becomes an ideology,
shit or a little more, at best,
an impotent exit for frustrated men and women."
ALFREDO COSPITO.
It is a fact that the Italian war industry represents one of the "excellencies" of the national economy, as it is one of the few sectors that knows no crisis, it is certainly not a novelty, this field of investment that produces such high profits that are considered indispensable for the economy of any government, of any colour, with the due respect of all those who enjoy, for example, the hypocritical condemnation of the aggression carried out by Turkey towards the inhabitants and rebels of Rojava and who call for the formal blockade of the export of weapons produced in Italy to Turkey announced by the current government.
And if it is true that "the war begins here", which is where the weapons are produced, this is even more true because here, in Genoa, is one of the offices of Leonardo (formerly Finmeccanica), a state-controlled company, which is a world leader in the research and production of advanced technological systems for the military industries and for social control: Helicopters, fighter jets, drones, radars, attack systems, military land and sea vehicles, ammunition, electronic warfare systems and tele-operated, coastal and border protection systems, electronic social control systems to be applied in cities, ports and airports, and much more; Their catalogue is very wide. (more…)
Tags: Alfredo Cospito, Ansaldo Nucleare, Anti-Nuclear, Ecological Destruction, Finmeccanica, International Solidarity, Nicola Gai, Nucleo Olga FAI/FRI, PDF, Roberto Adinolfi
Posted in Eco Struggle
Thursday, December 5th, 2019
New blog launched as the response to the COP25 summit is underway. This blog serves to encourage people to participate in the protests, questioning and pointing to the real leaders of the destruction of the earth. Those leaders will sit these days to make decisions about the destiny of the world, promising to fulfill agreements that they have all breached since all this time and driving us at their pace towards disaster.
We cannot leave the future, if it exists, in the hands of these miserable deceivers!
Let's confront them, so "that they can't say we didn't do anything".
https://contracumbrecop25madrid2019.noblogs.org/
Tags: Black Bloc, Climate Chaos, Cop25, Demo, Ecological Destruction, International Solidarity, Madrid, Spain
Posted in Eco Struggle
Tuesday, November 12th, 2019
December 2nd, the rulers of the world are coming to Madrid. Some of the biggest murderers of this planet, of the biggest responsible of its devastation. They come to fill their mouths and calendars with the next plans of "fight against climate change". While global capitalism continues intact and most of the CO2 emissions emanate from industrial production, while their companies keep devastating forests and mountains to extract its natural resources.
And if that wasn't enough, at the same time, Chile burns and their streets are still covered by the ammunition caps from the security forces. But Piñera couldn't see his political planning disturbed by the revolt, he couldn't admit the mediatic focus questioning his dictation before such a social explosion. And thanks to the kindness of Spanish government, now he will be able to continue with his plans without getting disheveled.
But in Chile, normality couldn't be held anymore, and we neither want to hold it here. We won't allow the world leaders meet to design the destruction under the look of sustainability and respect, as if everything continues to go normally. As if they haven't been destroying all this time, as if they wouldn't carry thousands of corpses in their backs. We won't give them such legitimacy. Also, because we know, that the best way to show solidarity with the rebels is nothing but extend the revolt. Like in Hamburg, we want this summit to become hell.
Therefore, we encourage the system enemies to meet in Madrid, in the dates when the world owners have their appointment in this city. Stay aware to the next calls and infos. There will be enabled spaces to host those coming from other places.
On the other hand, neither do we trust that politics gestated in parliaments and offices will stop the destruction or stop the way to the collapse, that is increasingly inevitable. But we trust in the ability of every one to act, individually or in groups. That's why we want to make a call for decentralized action to point the responsible of environmental destruction. Politicians won't act against the Capitalism interests, but we do. Against climate change; direct action.

Attack those who destroy the Earth.
Tags: Black Bloc, Climate Chaos, Cop25, Demo, Ecological Destruction, Madrid, Riots, Spain
Posted in Eco Struggle
Sunday, September 15th, 2019
Various institutions, environmental groups, trade unions and student groups gathering under the name "Fridays for Future" have announced a so-called "Week for Climate" from the 20th to the 27th of September. Basically this week consists of programmed and alienating demonstrations in which the State and other institutions (UN, G7 etc) are being asked to remedy or take action against the disaster they are causing. In their simplistic and reformist discourse they never criticize the cause of the ongoing devastation: industrial techno capitalism and its technocratic organization of the world. They are the ones who criticize climate change without criticizing those who produce it: they have a corpse in their mouths, those who defend the myth of progress, of sustainable development and of a 'comfortable' life in exchange for slavery and the commodification of every aspect of our lives, a life sold to technological domination. They are the ones who have purchased the new fashionable product, climate change, from the supermarket of rebellion. Fridays for Future? Today more than ever the future does not exist, we live in an eternal present and any vestige of the past has been erased. The technological prostheses that surround and colonize us make us live in a continuous state of sleepwalking, where the catastrophe is not about to come as they insist on warning us, the catastrophe is here and now, the catastrophe is the alienating life directed by the algorithms of our 'virtual assistants', the catastrophe is a world already devastated by industry.
(more…)
Tags: Climate Chaos, Ecological Destruction, Madrid, Spain
Posted in Eco Struggle
Thursday, August 29th, 2019
Indigenous Mura people in Canutama, Brazil painted their bodies with orange-red paint and took up long bows and clubs as they headed into the jungle this week, prepared for battle against logging companies, who are destroying the rainforest with the support of the fascist Bolosonaro regime.
More than 18,000 Mura people live in Amazonas state, the largest state in Brazil's Amazon rainforest.
Logging companies have cleared away an area the size of several football fields near their village, leaving a broad dirt hole in the ground pockmarked by the treads of heavy machinery.
"With each passing day, we see the destruction advance: deforestation, invasion, logging," said Handerch Wakana Mura, one of several leaders of a tribal clan of more than 60 people. (more…)
Tags: Brazil, Canutama, Ecological Destruction, Handerch Wakana Mura, Indigenous Struggle, Mura, Raimundo Praia Belem Mura
Posted in Eco Struggle
Thursday, August 29th, 2019
The election of the far-right candidate Jair Bolsonaro in Brazil tells us a lot about the current direction of the world, about where the different cycles of capital management and authoritarian projects are heading at a global level and more specifically in the region. The progressive governments have already fulfilled their role over the last 20 years, and what should be obvious but has been treated as paradoxical, is that one of their functions seems to have been to secure fertile ground for the rise of extreme right-wing governments.
To try to get a clear understanding of what is taking place it is necessary to travel in time and space, through different places, to examine strategies that have gradually been repeated by the State according to its needs. It is very likely that Bolsonaro's government will usher in a new era of totalitarian governments in South America, similar to the 1964 military coup in Brazil that initiated Operation Condor. Differing from that era, the current governments are supposedly ascending within the democratic framework, and to say supposedly, is to understand that these frameworks are defined by the powerful and at the same time they violate them every time that it is convenient for them to do so. A path that has led today to the growing popularity of political figures such as José Antonio Kast in Chile and Alfredo Olmedo in Argentina, who have profiles very similar to that of Bolsonaro. (more…)
Tags: Brazil, Ecological Destruction, Jair Bolsonaro
Posted in Anti-Fascist
Wednesday, April 17th, 2019
THREE DAYS AGAINST THE TECNO-SCIENCES
26-27-28 July 2019
Capo di Ponte (BS) Italy
The program will come soon
An important moment to exchange and share analyses, reflections and experiences, to reinforce criticism and refine one's thinking even more in confrontation with other groups and individualities that have been pursuing for a long time paths of opposition to the developments of techno-sciences.
In the face of the aridity and degeneration of contemporary thought and the lack of awareness of the pervasive, totalizing and above all irreversible nature of techno-sciences, a lucid analysis of the present is needed on the reality that transforms itself and transforms us. Aware of what is at stake, it emerges that it is essential and urgent to join forces, to weave analyses and paths of struggle into
an international network.
Resistenze al Nanomondo Collective
www.resistenzealnanomondo.org
For info and contacts: info@resistenzealnanomondo.org
http://www.resistenzealnanomondo.org/
http://www.resistenzealnanomondo.org/necrotecnologie/three-days-against-the-tecno-sciences-26-27-28-july-2019/
Tags: Anarchist Gathering, Anti-technology, Biotechnology, Ecological Destruction, Italy, Nanotechnology, Technological Singularity
Posted in Eco Struggle