Posts Tagged 'Eric G. King'
Thursday, October 8th, 2020
Eric King describes himself as a 33-year-old vegan anarchist political prisoner and poet who was arrested and charged with an attempted firebombing of a Congressperson's office in Kansas City, Missouri, in September 2014. King was charged with throwing a hammer through a window of the building, followed by two lit Molotov cocktails. The criminal complaint states that both incendiary devices failed to ignite. King was identified as a suspect by local police because he had previously come under suspicion for anti-government and anti-police graffiti. After accepting a non-cooperating plea agreement, King was sentenced to ten years in June 2016. His release date is October 2023. He has served his time in various facilities of the federal Bureau of Prisons, or BOP.
King is currently facing one count of assaulting a government official for an incident that occurred in August 2018 at the Federal Correctional Institution (FCI) Florence. According to King's account, he was taken into a mop closet, out of sight of prison cameras, and beaten up by a corrections officer. The officer then said that King had assaulted him. King has been housed in a segregation cell at FCI Englewood since August 2019, fighting this charge. Overall, King has spent about three years in solitary confinement. He now faces a maximum of 20 additional years in prison. Read more about Eric King here: supportericking.org.
–
My toilet is right next to my cellmate's face, not hyperbolically, it is literally three inches from where he lays his head. I am in the FCI Englewood Secure Housing Unit (SHU)—the oddest SHU in the Bureau surely. In this segregation unit, you will get inmates from the Low [security prison], pre-trial people and folks like myself and my cellie who are on writ [having a court case] from other penitentiaries. This oddball combo makes no sense and causes a localized class system, all a part of the psych-ops of this odd rust bucket of a prison.
On August 17, 2017, I was taken into a mop closet by Super Patriot Lieutenant. I have been in solitary ever since, 19 months and counting. I learned how bad it can get, discovering new ways they can torture you; mentally and physically. Whether being choked while being held in four-point restraints for seven hours, being held in a cell for four days without a functional toilet filled with someone else's feces, I have seen their brutality and am stronger for it. I hope. (more…)
Tags: Eric G. King, International Solidarity, Isolation, Letter, Repression, USA
Posted in Prison Struggle
Friday, September 11th, 2020
From AMW:
Hiya pals,
We are midway through Black August and I've been doing lots of thinking, fasting, and trying to grow as a person and as a radical anarchist. Lots of fitness, reading, mentally taking stock.
This is my third Black August in SHU. I was thrown into segregation two years ago on August 17th and was kept within for a year pending prosecution; then, after they brought these new charges, we've done another year pretrial. It's been a rough two years filled with restrictions, violence, abuse, but also love strength and friendship. Resistance is strong.
Last year's Black August was spent partially at USP Lee, where I met Thomas Smith (aka Mad Dog) a blood leader and revolutionary who was also participating. He had been in SHU at that point for 18 months pending an ADX transfer. We fasted together, had long conversations on resistant strength and what it means to be a revolutionary today. I still think of Mad Dog often and encourage everyone to write and send reading material into him. (more…)
Tags: Anti-Prison, Black August, Eric G. King, Letter, Racism, Repression, USA
Posted in Prison Struggle
Friday, May 29th, 2020
This is my sixth year in prison and has easily been the hardest. After being accused of assaulting a lieutenant on August 17, 2018, I've been in the SHU since. The past two years have shown me a wide scope of state brutality: physical beatings and tortures, psychological games like being kept in bare rooms with no contact to the free world, and their legal power – bringing serious new charges that could carry 20 additional years. Resistance is not a game.
During this time I've learned a lot; that A LOT of people get set up this way, that prison support is priceless, that they can always turn it up, and that WE can always turn it up also. Despite the harsh sanctions and restrictions, I've refused to be a wilting willow. Now has been the time to face them head on – whether legally with motions and pressure; casual bucking; hard bucking; leading protest for basic rights; having long talks about social, class, and prisoner consciousness; and organizing the other prisoners. Anarchists don't hide.
One thing I couldn't have done this without has been the outpouring of support. Fiscal support to my canteen and legal fundraiser (keep it coming pls), the uptake in letters, those who sent magazines, books and articles after we won those rights. I let me supporters and Team know this wasn't going to be a smooth ride, that resistance is in my blood, and they've stuck it out. People new and long lasting have shown up when needed most. We cannot fight on the inside, without you on the outside. We are fighting cases, fighting injustice, fighting the same battles happening in the streets, inside, in close quarters.
Prisons need to be demolished, it's a fight that can only be won on two fronts – unity inside and solidarity outside. We chop this dragon's head off, relegate it to horror stories and museums of resistance. Together, it's possible.
Thank you to everyone who has helped in any way, whether being kind to my partner, donating funds, showing up to trail (August 10th, see you there!).
Let's take FTTP literal, shall we?
Until All Are Rubble,
EK
Fire Ant Collective
IWOC
Tags: Eric G. King, International Solidarity, June 11th Solidarity, Letter, USA
Posted in Prison Struggle
Tuesday, November 5th, 2019
ES | ESTADOS UNIDOS: UN MENSAJE DE ERIC KING – COMPAÑERO ANARQUISTA ENCARCELADO
October 8th, 2019
Here are the things I hear most:
What are you doing, we heard this, I don't think so, we'll see, maybe, Chow!, Count!, who's mess is this, who's shaking the bars, lights out, mail call, rec call, you want a shower, clean this mess, nope not today, not happening, I'll check on it, put in a cop-out request, doubt it, quit trashing my tier, cuff up…
Sometimes I spend hours pondering revenge fantasies, most time I think of my wife and kiddos. Fourteen months in segregation minus 4 days at Grady County, plus 6 at McCreary. We haven't been in the same room since August 11th, 2018. Now these bastards drag me back to Colorado to force more time, and have the audacity to block our family visits, due to a bad check from 15 years ago. Maybe people who read this will be disgusted by this news.
That said, I'm hurting friends. Being attacked sucks. Being charged with new federal charges for that attack is sickening. Never forget how horrible these people are. This system exists from the top to the bottom which is why reform is such a joke. You don't reform cancer, you destroy it. We must destroy this system.
Until all are free,
RIP Tom Manning & Willem, never forgotten
–EK
From : Fire Ant 5
Tags: Eric G. King, Isolation, Letter, Repression, USA
Posted in Prison Struggle
Sunday, September 1st, 2019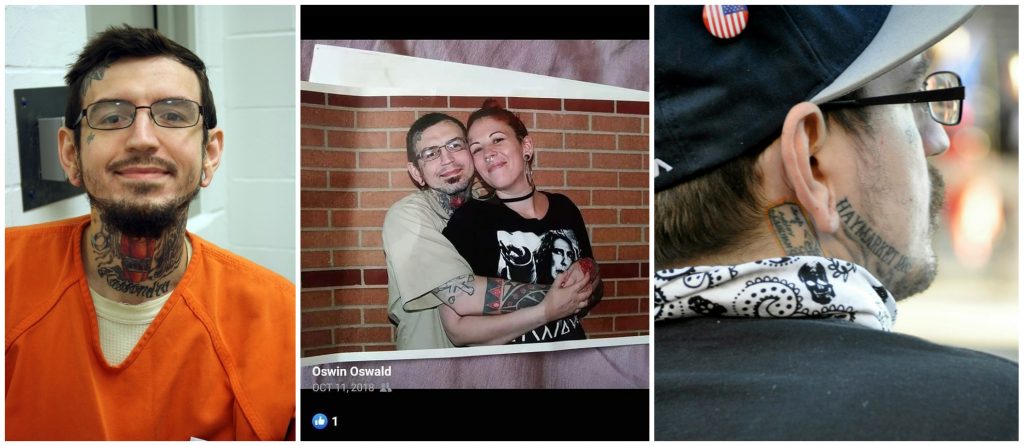 For folks who are unaware Eric is an anarchist and anti-fascist prisoner who was sentenced to 10 years for an attempted arson, an action in solidarity with the Ferguson uprising in Kansas city. Throwing two Molotov cocktails into a state representatives office at night time. He has since remained outspoken against the prison system. Exposing abuses and standing tall in the face of constant attacks and oppression.
In august of last year Eric was dragged into a broom closet and attacked by Lt Wilcox at FCI Florence. Attacked because he is an anarchist and anti-fascist. It was timed to line up with the surgery for his wifes cancer. He was subsequently tortured and abused and never checked out medically despite being kicked in the head for 5 plus minutes. And tied to a 4 point restraint for 8 hours, having to urinate himself resulting in nerve damage to his wrists. (more…)
Tags: Anti-Prison, Eric G. King, USA
Posted in Prison Struggle
Monday, April 1st, 2019
June 11th: The international day of solidarity with Marius Mason and long-term anarchist prisoners. In the 15 years this tradition has been observed, June 11th has facilitated support and action inspired by imprisoned anarchists — from noise demonstrations outside of jails to letter-writing nights, from fundraisers to arson. Setting aside this day is one way of remembering anarchists who are serving long prison sentences, generating support for them, and inspiring solidarity actions.
Because social struggles phase in and out, this day is a way to make sure that our imprisoned comrades are not forgotten. Our lack of memory is partially a result of the techno-alienation of the larger culture we're fighting against. But it's also a product of the dynamics of the anarchist space. People become burnt out and the cycle of forgetting continues.
June 11th is a way of combating that amnesia, of trying to sustain a long-term memory in the anarchist space. Not only does this generate support for anarchists locked in the state's prisons, it forces us to look back at what came before. Considering what previous generations did can both inspire us with ideas we've forgotten, and help us understand how our current practices came to be. (more…)
Tags: Connor C. Stevens, Eric G. King, Freddy Fuentevilla Saa, International Solidarity, J20, Jeremy Hammond, Joaquín García Chanks, June 11, June 11th Solidarity, Lisa, Marius Mason, Michael Kimble, Operation Panic, Operation Renata, Operation Scintilla, Operation Scripta Manent, Repression, Sean Swain, USA
Posted in Prison Struggle
Thursday, October 18th, 2018
ES: EE.UU.: ACTUALIZACIÓN DE LA SITUACIÓN DEL COMPAÑERO ERIC KING EN RÉGIMEN DE AISLAMIENTO
A quick update since Eric is still in the Specialized Housing Unit (SHU, segregation) and it is unknown how long he will be there. He still hasn't received a write-up nor has he been brought up on charges, but is facing a precarious situation. Eric also has some new rules regarding mail. All paper has to be plain white or regular lined notebook paper. Envelopes have to be straight white or manila if sending something larger. Eric is also unable to receive cards.
As folx know Eric has been through a lot of trauma recently and really could use support through mail and always always books. He was pretty badly hurt, he misses his family and really needs the community right now. Eric is so grateful for all the support, letters, and books he has received so far. We in the support crew are so appreciative of people showing our friend the love!
Please keep Eric in your mind and heart, these are hard times and our friend will need a ton of solidarity and help in the coming months.
You can find his Amazon wish-list here: http://a.co/gUbDsYs
Eric King # 27090045
USP LEAVENWORTH
P.O. BOX 1000
LEAVENWORTH, KS 66048
USA
As always, until all are free-
Tags: Eric G. King, USA
Posted in Prison Struggle
Sunday, July 15th, 2018
Surviving cancer & a car accident
We're here to raise money for Eric's partner, and their two children who are currently experiencing financial hardship. Life is already tough as a mother of two with her partner in prison, but she was also recently in a car accident, which thankfully left her in okay shape, but has left her care in unsafe conditions for long distance or highway driving. Even more recently she was diagnosed with thyroid cancer, the severity and treatment of which is still being determined. Treatment for the pain alone will financially destabilize the family, on top of future specialists visit, car repairs, and potential unemployment (due to the chronic pain experienced).
Eric's partner tirelessly supports him, facilitates excellent communication between Eric and the outside world, consistently advocates for his rights inside the prison, emotionally supports him through the political battles on the inside, and drives hours to visit him every week, on top on tending to the needs of their children and working.
The recent developments in her life could have devastating impacts for her and her family. Donations are needed asap as the financial toll of these recent development have already taken effect. All of the funds donated will be used by her to support herself and her children in this difficult time in her life.
We will accept any amount from either debit or credit.
If you have any questions please do not hesitate to contact us at: erickingsupportcrew (at) riseup.net
https://www.gofundme.com/surviving-cancer-and-a-car-accident
https://supportericking.org/
Tags: Eric G. King, International Solidarity, USA
Posted in Prison Struggle
Tuesday, November 14th, 2017
via itsgoingdown:
Below is a statement written by anarchist prisoner Eric King in October. For more info on how to support Eric, go here.
What does it look like to be antifascist in federal prison in 2017? It may not be what you think.
If you picture coming into the feds with your fist swinging, taking on every racist, swastika wearing trash you see, that is not a reality. That line of thinking will get us nowhere. Racism at the federal level is very real and played out in a very archaic way. At CCA Leavenworth I pictured going into ANY spot guns blazing, taking on bigots in a very macho, aggressive, violent way. At CCA that was actually somewhat doable, even at Englewood-FCI (low security) it was somewhat a reality because you could dog them out and clown them for their ridiculousness… the reality is though, that the higher up in custody you go and the further west coast you end up, the more serious the game gets and the less likely you are to be able to express your own antifascist ideas without facing some serious backlash. (more…)
Tags: Anti-Fascism, Antifa, Eric G. King, Letter, Racism, USA
Posted in Prison Struggle
Monday, September 18th, 2017
A poem written by Eric
I was arrested by two ugly shades,
holding two ugly guns
pointed directly at my face
wearing a backpack full of gasoline and paint thinner
One to create, one to tear down
pockets full of shells and notes to remember
my tshirt was solid black
my jeans hadn't been washed in weeks
Calvin was patted and released
he had to work for me that night
the cops of me of the beatings and sexual assault
that I had to look forward to that evening in holding
while handcuffed to a bench
stayed there for 3 days
ate 1 cinnamon bun
Was wearing the red pumas with the white laces
that Andrea had given me for surviving to be 25
achievements of all sizes
I was arrested on September 16th, 3 years ago
although it always feels
much longer ago
the interrogator was
fuming after my laughing
subsided
after they asked if "was
this an occupy plot?!"
They had a warrant for my
body
A warrant for my spit
My mom cried on the
phone " your family saw
you all over the news!
And they used a terrible picture!"
Eric has been locked up for three years now, he was arrested on September 16th 2014. Between Kansas, Oklahoma, and now Colorado he has seen a lot of different jails and prisons and has had his share of struggles along the way. There's no denying it has been a long road and unfortunately there's an even longer road ahead.
The support and solidarity we can provide Eric in the coming months and years will only help him in maintaining his spirit, fortitude and overall position in a very tough place. He has said many times that the time he has spent in the S.H.U (secure housing unit) at various points along the way would have been much harder if it wasn't for the love and support he received in the form of letters, cards, and books. It's clear that is also the case while he does his time in the general population.
There are a multitude of reasons why it may take Eric time to write you back, or unfortunately not be able to write back at all. However, please know he very much appreciates and gains strength from every piece of mail he gets. So please keep him on your mind, spread the word about his plight, and keep the mail coming.
You can write Eric at:

Eric King # 27090045
FCI FLORENCE
FEDERAL CORRECTIONAL INSTITUTION
PO BOX 6000
FLORENCE, CO 81226
USA
We'd also like to take the time to remind you about a new edition to our website which is the Merch page. Please take some time to see if there's anything you'd like that we are offering there and then pass around the link. The money we raise will go towards commissary, phone calls for Eric as well as travel funds so his partner can visit him more easily.
Thank you so much to everyone around the world for the support and solidarity,
The Eric King Support Crew
Tags: Eric G. King, USA
Posted in Prison Struggle
Saturday, May 13th, 2017
June 28th of this year will mark one year since Eric King was sentenced to 10 years in prison, and one year since he stood up in court in Kansas City, Missouri. EK read the statement he had prepared declaring why he took action on that fateful night and that he still has no regrets. Eric has seen and experienced a lot in the nearly three years of his incarceration, and every step of the way he is unwavering in who he is and with the principles he upholds. From long stints in the S.H.U (Secure Housing Unit), to getting moved from one institution to another, to anxiety filled situations where he doesn't know where he might be going next, he always maintains a kind of spirit that keeps him afloat no matter what they throw at him.
He also understands that while he may be locked up, he is far from forgotten about, as evidenced through the collective efforts of those actively supporting him directly or on the periphery. EK is emboldened by anyone who responds to that fire inside, fights against oppression as a part of the anarchist struggle undeterred, and who remains unrelenting no matter what that state throws at you. (more…)
Tags: Eric G. King, International Solidarity, USA
Posted in Prison Struggle
Tuesday, July 5th, 2016
On the night of July 4th, a small group of individuals had a noise demonstration at the local jail. We shouted to those held captive, lit off fireworks and smoke bombs, and scattered hundreds of leaflets.
There is no point in waiting until there are enough people, until the time is right: you will be waiting forever. Small, modest actions are the necessary groundwork for revolt. You do not need great numbers to do meaningful things.
Text from the leaflet:
FREEDOM NOW!
FIRE TO EVERY PRISON CELL & BORDER WALL!
DEATH TO THE STATE!
Solidarity with those in revolt behind prison walls.
Solidarity with anarchist prisoner Eric King.
Prisons cannot stop anarchy.
War against power.
Tags: Bloomington, Demo, Eric G. King, Indiana, Solidarity Action, USA
Posted in Direct Action
Thursday, June 30th, 2016
Today, Eric King was sentenced to 10 years in federal prison in the federal district court in Kansas City, Missouri, USA. Eric accepted a non-cooperating plea to one count of "use of explosive materials to commit arson of property used in or affecting interstate commerce" (18 U.S.C. § 844[h]). The action he admitted taking was throwing a hammer and two Molotov cocktails through the window of the empty office of a US congressperson from Missouri late at night on September 11th, 2014.
The statutory minimum and maximum sentences for that charge are both 10 years, meaning that the set penalty is 10 years. Eric will receive credit for time served for almost two years of pre-trial incarceration, leaving him a little more than eight years to serve.
We do not know where he will be spending those years, though we commit to keeping you all up-to-date on his placement and well-being until he is free once more. The most recent updates will always be at www.supportericking.org. (more…)
Tags: Eric G. King, USA
Posted in Prison Struggle
Tuesday, March 1st, 2016
via Eric's soli-group:
After almost a year and a half of pre-trial detention in shitty conditions, court battles and other legal woes, and facing threats of forty years in prison, Eric King has finally decided to accept a non-cooperating plea agreement to ten years in federal prison.
If you live nearby, please consider attending Eric's hearing in Kansas City, MO next Thursday, March 3rd at 1:30p.m. The media and cops are likely to be well-represented, and it would be a meaningful moment to show Eric that he is not alone. Having supporters there may also create some pressure for the court to conduct itself better. It will also be useful to Eric and his support crew to have more people in attendance taking notes and keeping an eye on the proceedings. (more…)
Tags: Eric G. King, Trial, USA
Posted in Prison Struggle
Tuesday, September 15th, 2015
The CCA Leavenworth mailroom has been blocking some of Eric's incoming
mail, censoring publications for ridiculous reasons (or for no stated
reason at all), and even blocking some of his outgoing mail.
Recently, a book about the Black Panthers was rejected because the prison
evidently considers them a "hate group." Around that same time, right­wing
Christian literature with homophobic rhetoric made it through to another
prisoner. Eric is clearly being targeted for his political beliefs and
interests.
If you have been writing to Eric and have not heard back from him, it is
very possible that he has not received your letters or you have not
received his. (more…)
Tags: Eric G. King, Repression, USA
Posted in Prison Struggle