Posts Tagged 'Eviction'
Saturday, September 19th, 2020
+ Amenaza Inminente de Desalojo del Ateneo Libertario de Vallekas
El pasado 16 de septiembre se volvió a dejar constancia de que la solidaridad y la acción directa es la mejor arma de la que disponemos como medio de defensa frente al Estado y la represión. Alrededor de 150 personas de vallekas y otros barrios de la ciudad se plantaron en la puerta del Ateneo para impedir el desalojo del espacio. No se trata solo del desalojo de un espacio, es la defensa de la okupación como herramienta de lucha en la guerra social, como herramienta para crear con nuestras propias manos, al margen de partidos e instituciones, espacios de lucha, encuentro y aprendizaje.
Y lo conseguimos (gracias a todos y a todas). Contamos con un tibio despliegue de periodistas, furgonas de la policía municipal y el comisario del distrito. Debido a la fluencia de solidarias, la secretaria judicial no tuvo más remedio que pasar de largo. Ahora, cualquier día y sin previo aviso, el Ateneo puede ser desalojado.
Más especial resulta esta muestra de solidaridad si tenemos en cuenta como se esta desplegando el discurso represivo sobre vallekas (y los barrios obreros de Madrid en general): criminalización mediática, constante señalamiento de los medios y la clase política por los casos de Covid-19, persecución a las personas migrantes, abusos policiales, videovigilancia, multas y una persecución especialmente intensificada a la okupación en los últimos meses. Todo ello con la retina cargada de imágenes como las colas del hambre, que no cesan, los desahucios y desalojos, que no cesan, los centros de salud, colapsados, los trabajadores hacinados en el metro y esperando que un político les diga si pueden salir a la calle para algo que no sea trabajar para nuestros patrones. Esa es la lógica del estado y el capital para los pobres y los barrios donde vivimos.
La lucha continua por muchas y variadas formas, la solidaridad no tiene límites ni barreras, y va más allá de los días concretos de desalojos: bancos, inmobiliarias, especuladores, policías, medios de co- municación, políticos y empresarios siguen ahí, manejando y gestando las condiciones de nuestra explotación. Llamamos a extender la solidaridad en todas sus formas.
Este domingo convocamos nuevamente jornadas de resistencia en el Ateneo, y seguimos con el llamamiento: el viernes de la semana del desalojo del Ateneo, manifestación a las 20H en vallekas en solidaridad con los espacios okupados. El lugar exacto lo confirmaremos el día del desalojo.
¡Solidaridad con los espacios okupados!
¡Ningún desalojo, ningún desahucio sin respuesta!
¡Okupación, resistencia y acción directa!
ateneolibertariovallekas@riseup.net
ateneolibertariovk.noblogs.org
Tags: Ateneo Libertario de Vallekas, Eviction, Madrid, Repression, Spain
Posted in Autonomy
Wednesday, September 16th, 2020
[09.10.20 RÄUMUNSGVERSUCH DER LIEBIG34 – DON'T TOUCH LIEBIG34!!!!!]
Don't touch Liebig 34!
Eviction date on 09 October 2020
Today, on September 15, we received mail from the bailiff T. Knop.
They threatened to evict Liebig34 on Friday, October 9 at 7 am!
We will not let that happen!
How is it possible that an attempt to evict is being planned even though it is publicly known that a different association than the defendant is present in the rooms?
How is it possible that in times when a second wave of Corona and #StayHome is expected, a home is to be evicted by so many people?
How is it possible that especially now, in times of fascist marches and a shift to the right, a feminist, leftist and queer house project is being attacked so massively?
We are angry but determined.
We will not give up the Liebig 34 without further ado.
Support us in our struggle.
Come to the general assemblies, annoy politicians and homeowners.
Be creative! Let's make the eviction attempt a disaster!
MORE INFOS WILL COME – WE'LL KEEP YOU UPDATED!
Liebig34 blog: http://liebig34.blogsport.de/
via AWW.
Tags: Berlin, Eviction, Germany, Liebig34, Liebig34/XB, Repression
Posted in Autonomy
Wednesday, September 16th, 2020


Refugees demonstrating after the burning of Moria. "Azadi!" Freedom!
In the following report from Greece, anarchists describe the burning of the refugee camp, Moria, and the response countrywide, as well as the latest chapter in other struggles against state repression on a variety of fronts.
A report by Radio Fragmata.
Another month, another report on the situation here in Greece. There has been no pause in the repression of the state, nor any peace for the marginalized and excluded. Another historic squat has been evicted, the economic despair many already face is becoming generalized, society drifts towards the right at the guidance of state and corporate media, and the largest concentration camp housing migrants in all of Europe has been engulfed in flames, displacing thousands.
As in the rest of the world, each morning brings new concerns, new disasters, new forms of precarity. We share the following information in the pursuit of a relentless and borderless solidarity.
-Radio Fragmata, September 2020
Moria Burns—The Greek State Plays Victim
The refugee camp Moria on the island of Lesvos has burned down.
The state claims this was the result of demonstrations by desperate people inside the camp reacting to new measures the police had opportunistically declared in response to an inevitable and now unavoidable outbreak of COVID-19 inside the camp. Some 35 cases have been made public as of early September; considering the intense overcrowding of the camp, the number should be assumed to be much higher. Some wonder whether nearby fascists took the opportunity to set fires under the cover of the refugees' protests. It is certain that some of the villagers wanted those fleeing the flames to burn alive, as they pushed those who tried to flee to the nearby village of Mytilene back towards the blaze. (more…)
Tags: Chania, Coronavirus, Crete, Eviction, Giannis Dimitrakis, Greece, International Solidarity, Kostas Sakkas, Lesvos, Migrant Struggle, Moria, Mytilene, Pavlos Fyssas, Racism, Radio Fragmata, Rosa Nera, Terra Incognita Squat
Posted in No Borders
Thursday, September 10th, 2020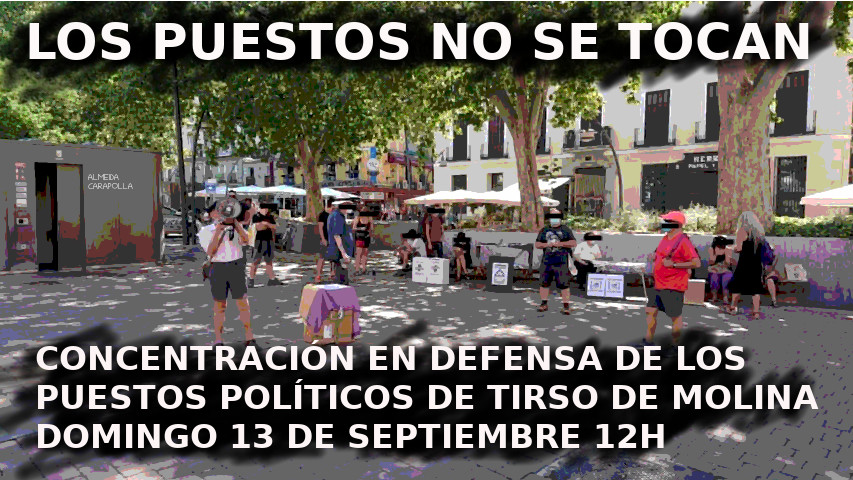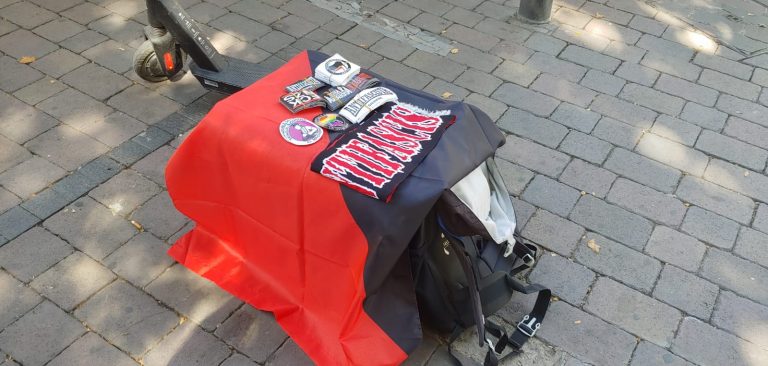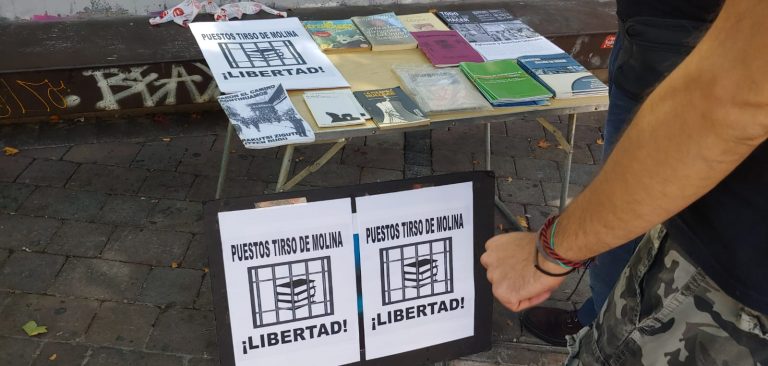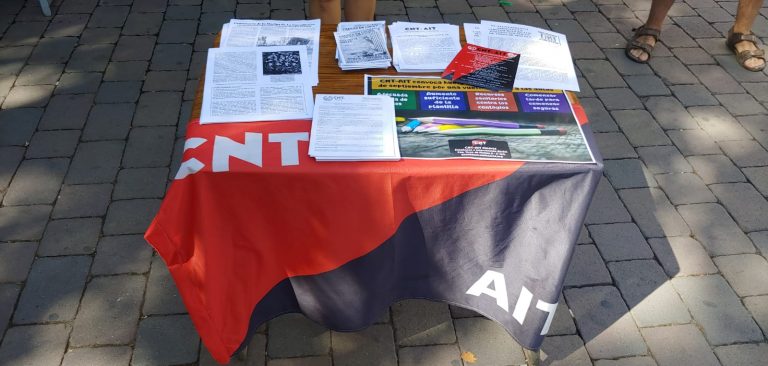 Since last July 19, the date on which the municipal police evicted us from the Tirso de Molina square with the threat of sanctions and seizure of the stands, we have been gathering every Sunday to protest against this arbitrary decision by the City Council. We maintain that it is a political decision rather than a health one, since that day we were complying with the measures imposed by the Community; masks, distance between the stalls, hand disinfection gels, if we add to this that the space in the plaza is wide and the number of stalls that we set up that morning was small, it was not possible that there would be crowds.
In fact, the only official justification we received from the agents was not having a license and the assertion that "El Rastro was closed by municipal order." The reality is that El Rastro continues to be closed as of today since the stalls do not accept the City Council's reform plans that seek to end the emblematic market as we know it and also know that for more than three decades political stands lack licenses. For this reason, we are convinced that the Pandemic is only an excuse to eliminate political positions that spread ideas and free culture, and it is clear that Tirso de Molina and El Rastro are also part of the gentrification plans that we have been suffering in the area in recent years. (more…)
Tags: Coronavirus, El Rastro, Eviction, Madrid, Repression, Spain, Tirso de Molina
Posted in Autonomy
Wednesday, September 9th, 2020
International Call for Action and Discussion Days in Berlin 30.10.-01.11.2020
International Demo in Berlin 31.10.2020
UNITED WE FIGHT!
Connect Urban Struggles – Defend Autonomous Spaces
Over the last years we experience a global resurgence of reactionary politics. State and capital, in a constant process of intensifying exploitation and expanding repression, used the global capitalist crisis, which started a decade ago, as a chance to further restructure relations of power in their advantage. Their political answer is materialized in a shift to the right, with a political alliance of neoliberal economic policies coupled with strong nationalistic narratives and repressive policies against resistance and progressive movements. The new face of authoritarianism has unleashed an all out attack against individuals it considers unnecessary or those that choose to resist and collectivize against the ruin of their lives. In our current period, states the world over used measures against Covid-19 to extend repression, policing and surveillance against societies. At the same time, the failings of neoliberal healthcare systems have led to masses of deaths and increasing inequality due to access to healthcare.
To all of this, people in different areas of the world answer with massive resistance on the streets. Movements with different perspectives have revolted, for example in Argentina, Bolivia, Chile, or more recently in France and the USA. The common thread of all these movements is their distance from institutionalized and systemic politics and the choice of self-organization and horizontalism in the fight against authority. (more…)
Tags: Berlin, Demo, Eviction, Germany, International Solidarity, Liebig34, Liebig34/XB, Meuterei, Potse, Squatting, Syndikat
Posted in Autonomy
Thursday, September 3rd, 2020
EN | Madrid: Imminent threat of eviction of the Ateneo Libertario de Vallekas
PDF: Panfleto
AMENAZA INMINENTE DE DESALOJO DEL ATENEO LIBERTARIO DE VALLEKAS
A finales de agosto recibíamos una bonita notificación del juzgado en el que se nos comunicaba que el día 16 de septiembre se personaría en el espacio la policía y el cerrajero para proceder al desalojo. Nuestro espacio lleva dos años sirviendo como lugar de actividades, debates, asambleas, gimnasio y punto de encuentro e impulso de diversas iniciativas libertarias.
Tags: Ateneo Libertario de Vallekas, Demo, Eviction, Madrid, Repression, Spain
Posted in Autonomy
Sunday, August 23rd, 2020
In the morning of 17th of August Terra Incognita gets TEMPORARILY evicted by the repressive forces of neoliberalism. Police forces intrude in the building and conduct researches for hours and confiscations. Days after the eviction the squat still remains open with cops celebrating TEMPORARILY their capability of violating every corner of our liberalized grounds.
For over 16 years Terra Incognita constituted a meeting place for hundreds of people of the struggling social basis. With constant events, direct acts, demonstrations and conflicts Terra Incognita was present in moments of the violent struggle against the violence of the state, the benefits of capitalistic monopolies, against the violating authority of fascism and patriarchy, against any type of discrimination and speciesism. In the grounds of the self-organised structures of self-education, solidarity and mutual aid of the squat all the "known-unknown" strugglers of freedom met and will continue to meet. Liberating and equality-based relationships were constructed, subversive plans and operations, dreams that day by day found and still find a space of moral and physical substance. For 16 years the squat proves itself to be the flesh of the flesh of the multiform struggle against any type of authority and oppression, without prioritizing or distinguishing the means that contribute to the spreading of libertarian ideas and the organization of social and class-conscious counter attack. Because for us this is liberation. (more…)
Tags: Eviction, Greece, International Solidarity, Repression, Terra Incognita Squat, Thessaloniki
Posted in Autonomy
Monday, August 10th, 2020
ACTIONWEEK FOR LIEBIG34 – 07.09 – 13.09.20
Liebig 34 is being threatend by eviction. When state, cops and the owner want to evict, they will only have a desaster on their hands. As an anarcha-queer-feminist selforganized house-project without cis-men, directly at the square "Dorfplatz" in Friedrichshain, Liebig 34 is a place where resistance actions and collective moments are decided and organized. A place where self-organization becomes a dangerous word, where a project is becoming a starting point of struggles and not just a space of self-reference and alternative entertainment. The project itself has taken part in the planning of many of demonstrations, published numerous calls and texts and carried out various radical actions. But it is also a symbol of radicalization and empowerment for the antagonistic scene in Berlin and in Germany, as it shows how to fight various forms of resistance.
Liebig34 consists of a collective which is working with a focus to overcome more and more internalized structures of capitalism and patriarchy. In a world where patriarchy makes up one of the main pillars of the capitalist system, militant feminist groups and collectives, which make clear that the resistance and the fighting back is not a cis-men privilege, are more than necessary. In a patriarchal world, in which patriarchy and capitalism are interwoven, it is more than necessary to actually fight patriarchy and not have it be a sidenote in a text. Let us not be divided by oppression and let's fight together in this for a liberated society.
Join the fight and defend Liebig34!
Feminist action week 07-13.09.20
More information coming as soon as possible.
Autonomous Groups for Liebig34
check: https://defendliebig34.noblogs.org/
Tags: Berlin, Eviction, Germany, International Solidarity, Liebig34, Liebig34/XB
Posted in Autonomy
Wednesday, August 5th, 2020
Some information about the new attempt to evict Rigaer94 has already been spread in the last days, here is a summary also with regard to the threatened Liebig34.
Since the last major attack on Rigaer94 in Summer 2016, the coalition of the alleged owner of the house and Berlin Police has lost all legal proceedings. At the same time the "owner" of Liebig34 was successful in court with his action for eviction. The distance between the two squats is 100 meters and in this area the cops and the image of the city of Berlin suffer a lot of damage. Some call this a lawless area and a danger zone, but here there is a neighborhood based on solidarity and resistance structures. The current legal situation of Rigaer94 is as follows : on 4 floors in the back house a collective lives together, which also runs the bar and meeting point Kadterschmiede. On the ground floor the autonomous youth club Keimzelle squats their rooms. In the front building friends and other parts of the collective live in the flats. Both in the front and in the back we have valid rental contracts for some rooms, some of the rooms, including Kadterschmiede, are occupied. The aim of "Lafone Investment Ltd", the Police and the Berlin government is to evict us completely from this house, because they hope that this will put an end to the solidarious neighborhood and its constant attacks against them. In addition, the clearing of Liebig34 seems very difficult to them as long as we still exist.
The cops, deputies and the press are staging a campaign that targets individual people in the house and marks the massive doors and the barricades as a problem. We do not know yet if the attack of the cops against our house on the morning of the 9th of July was ordered by the Minister of the Interior or if parts of the police have become independent. In fact they committed the same mistake as in 2016, when they also carried out an operation that was judged illegal by the court. On 9th of July the cops, partly together with an alleged administrator of the owner and a lawyer, searched apartments in the front building, evacuated one apartment and tried to clear another. The cops cited forgery of documents and the injury of an officer as the reasons for the raid. They came with their own 200 forces, a dozen private mercenaries from a security company and construction workers, it was reported that some of them had Combat18 tattoos. They destroyed all doors in the entrance area, some apartment doors and walls and devastated everything they could reach. In the evening they left after our resistance in the house and from the people who showed solidarity outside in the street. (more…)
Tags: Berlin, Eviction, Germany, Liebig34/XB, Meuterei, Potse, Repression, Rigaer 94, Rigaerstrasse, Squatting, Syndikat
Posted in Autonomy
Wednesday, July 22nd, 2020
El pasado domingo 19 de julio, como se venía haciendo desde hace décadas, los puestos políticos del Rastro han vuelto a colocar de forma colectiva sus mesas en la plaza de Tirso de Molina en Madrid. A las once de la mañana hemos recibido la visita de unos agentes de la policía municipal, con órdenes de levantar los puestos y sancionarnos si nos negábamos a ello, diciéndonos en primer lugar que carecíamos de licencia y que además el Rastro estaba cerrado por ordenes del Ayuntamiento. Ante nuestras insistentes peticiones de explicaciones dado que no entendemos por que el Ayuntamiento procede ahora de esta manera solicitándonos unas licencias que saben de sobra que no tenemos han respondido llamando a más refuerzos de policía municipal, mientras trataban inútilmente de excusar, aludiendo a reales decretos, la realidad de esta decisión del equipo de gobierno de Almeida: los puestos políticos molestan en la
plaza de Tirso de Molina. Nada han comentado sobre aforos, medidas de seguridad sanitaria, o algo que tuviera que ver con la salud pública como motivo por el que nos impiden montar los puestos: la pandemia es una excusa perfecta para arrebatarnos para siempre nuestro espacio los domingos sin generar demasiada oposición. O eso creen.
Una compañera que se ha negado a recoger su puesto ha sido sancionada y su material requisado, mientras los compañeros del sindicato CNT, que tiene reconocido por el Ayuntamiento el derecho a montar puesto tras un pleito judicial derivado del intento de desalojo de los puestos en el año 1992 han decidido recogerlo en solidaridad con los demás puestos de la plaza. Hay que decir además que los puestos estábamos cumpliendo escrupulosamente la normativa al respecto de las medidas sanitarias: separación de dos metros entre los puestos, geles desinfectantes para las manos, mascarillas, etc. y que no se estaba produciendo en la plaza ningún tipo de aglomeración hasta que ha llegado la policía. (more…)
Tags: Eviction, Madrid, Repression, Spain, Tirso de Molina
Posted in Autonomy
Saturday, July 11th, 2020
Today at 07:00 July 9th, 2020
in the morning, a hundred riot cops walked over the bicycle rack in the yard of Riga 93 to climb over the fence into our yard one by one. At the same time they occupied the roofs of our block. The cops, along with LKA 5 and 6, then gained access to apartments on the 3rd floor of the front building under the pretext of a search for forgery of documents and others. According to the press, they also searched an apartment on Karl-Marx-Allee.
Contrary to their usual procedure, they refrained from using a helicopter and made no attempt to penetrate the rear building so far. In the meantime, they led the worst traffic lawyer in town, Markus Bernau, around the front building, presumably with the intention of supporting him in legal actions against the apartments occupied there. Torsten Luschnat, who thinks he is our new property manager, also gained access to these apartments. The so-called owner company has already proved several times in court that they can't really prove anything, not even their legality to take legal action against us. The previous court rulings have dismissed all claims. (more…)
Tags: Berlin, Eviction, Germany, Raids, Repression, Rigaer 94, Rigaerstrasse
Posted in Social Control
Saturday, July 4th, 2020
EL | [Κουκάκι] Δράση αλληλεγγύης για Δερβενίων 56 // Διεθνές κάλεσμα αλληλεγγύης // Συγκεντρωτικό δράσεων
We are calling for international actions in solidarity with the Squats. Make the Greek state, the Greek capital and its partners regret the choice they made to attack the movement and its spaces in Greece. To defend Dervenion 56 and all squats,to prepare the ground for the coming social uprising.
On Friday 26/6, in Exarchia, the Greek state evacuated and sealed Dervenion 56 squat and the building at Dervenion 52. An immediate gathering of solidarity was held at Exarxia Square for several hours.In the evening of the same day, a solidarity march was held with the participation of 300 people. The march ended at Dervenion squat, barricades were set up around the perimeter and then comrades broke the concrete blocks of shame.
(more…)
Tags: Athens, Dervenion 56, Ermou, Eviction, Exarchia, Greece, International Solidarity, Koukaki, Molotovs, Riots, Squatting
Posted in Autonomy
Tuesday, February 11th, 2020
THEY DON'T INTIMIDATE US, THEY INFURIATE US!
Last night at Notara26 Refugee/Migrant Housing squat we were attacked for the third time in the past six months by the state uniformed bullies.
Around 4:30 am – only a few minutes after one more attempt by undercover police to intimidate one of our comrades who was on her way to our squat- a riot squad, totally unprovoked, surrounded our squat twice.
The first time they were flashing their torches and laser pointers into our lobby persistently trying to see our faces and how many we were. They then withdrew for about ten minutes but came back reinforced. Τhis time apart from torches and laser pointers, they tried to force our squat's door open.
These practices of the uniformed state terrorists DO NOT SCARE US! We are here, we continue our everyday struggle against fascism, racism and repression. We form strong solidarity and comradeship ties.
The only result this kind of bullying can have is to bring us even more together and our ranks closer!!!
There is only one thing to say…
WE SHALL MEET AT THE BARRICADES
Assembly of Notara 26, 10/2/2020
via Enough 14.
Tags: Athens, Eviction, Exarchia, Greece, Migrant Struggle, Notara26, Racism, Repression, Squatting
Posted in Social Control
Tuesday, February 4th, 2020
Anonymous submission to North Shore
Over the past weeks since the call-out for railway disruptions appeared, there have been a half dozen actions targeting train lines in Ontario. These have been diverse, with most involving the use of copper wire to trip the sensor system. One such communique described the added impact of doing multiple, coordinated actions of this kind; another emphasized that this action can safely and easily be done alone; and another reflective one talked through some of the difficulties of preparing and making sure it's effective, showing the potential for the action to be taken up widely. There was also a surprise demo that blocked the rails, and an incendiary attack on the power supply of a signal station.
These actions have been inspiring and are only a beginning. The raid on Wet'suwet'en territory seems inevitable, and so we would like to echo the calls that have been made to shut down Canada should the RCMP again attack land defenders there. Over the past weeks, anarchists have built up the means to do this by targeting rail lines, so we want to encourage everyone to start scouting and gathering supplies now to be ready to go in the days immediately following a raid. The disruptions that have already happened show that this strategy allows for a diversity of tactics, so there are many ways of answering this call, though the potential small, discrete groups seems particularly promising. (more…)
Tags: Analysis, Anti-pipelines, Canada, CGL, Eviction, Indigenous Struggle, Line 3 (Tar Sands), Mining, Racism, Sabotage, Tar Sands, Wet'suwet'en
Posted in Eco Struggle
Saturday, February 1st, 2020
Recibido por correo electrónico. Para descargar el PDF aquí.
UN MAR DE POSIBILIDADES EN EL DESIERTO DE HORMIGÓN
Esta publicación es una recopilación de textos que surge de los debates y el trabajo que comenzamos a raíz de las jornadas «Un mar de posibilidades en el desierto de hormigón, Territorio, ciudad e insurrección» que sucedieron en Madrid durante junio de 2019 en La Emboscada y en Local Anarquista Motín. Es el fruto de un trabajo conjunto de algunas compañeras de Berlín y Madrid, que no termina con la publicación de estas páginas y que pretende extender el debate que hemos compartido. ¿Qué significa tomar territorio frente al Estado y el Capitalismo? ¿Cómo podemos tomarlo a través de nuestras luchas? ¿Cómo funciona la dominación en los territorios que habitamos? ¿Supone nuestra manera de habitar el territorio un conflicto con el sistema?
Diciembre 2019,
Madrid y Berlín
Índice:
-Territorio, ciudad e insurrección. Proyectualidad y propuestas de lucha.
-Conclusiones de las jornadas (Madrid)
-Conclusiones de las jornadas (Rigaer 94)
-Lo llaman "Zona de peligro" (Rigaer 94)
-La lucha por el territorio en Exarchia
-Rompiendo la espada del capital que amenaza Exarchia
-La ciudad como instrumente de dominación
-La única administración posible. Sobre la cuestión de las ciudades
Tags: Berlin, Eviction, Exarchia, Madrid, PDF, Repression, Rigaer 94, Rigaerstrasse, Sabotage, Social Insurrection, Squatting, Zine
Posted in Library