Posts Tagged 'Eviction'
Wednesday, May 6th, 2015
Today police evicted the only squatted place in Prague, Cibulka. In a massive raid 200 cops with water-cannon and even a helicopter arrested at least 12 people, at least 4 people were injured. There were around 50 people present in the place when the police came, most of them left the premises voluntarily. Four people occupied the roof but were forcibly removed. It is still unclear what exactly happened as police closed off the whole surrounding area. At least four people are in hospital now. At least 12 people are being held.
Cibulka was occupied by squatters two years ago. Soon they managed to sign an agreement with the owner, semi-public company Autoklub. For two years it was used legally, but that did not prevent police from raiding the place several times. Last month the contract was recalled by the owner. Yesterday evening the owner made a formal complain to police, today the place was evicted. It is an unprecedent speed of police work in the country where it is usual to wait 8 or more years for a court verdict and generally the justice system is very slow and ineffective…
From ABC.
Tags: Cibulka, Czech Republic, Eviction, Prague, Repression
Posted in Social Control
Monday, March 30th, 2015
Hi, we have another update about the eviction resistance in Dublin!
Yesterday (Friday) we had court again, this time the judge had made a decision. He said the Injunction was successful, but he would delay it until May 4th. This means they will not try to evict us until then, but after that they will try to evict us.
We are hoping that the time we've been given will allow people to travel to help us, and for us to raise support and prepare ourselves. We're expecting quite a heavy eviction so we're preparing ourselves for that, and the more help we get the better chance we have of winning! We have a lot of local support but it would be great if people with experience of evictions, squatting etc could come to help in any way
they could.
We were thinking maybe some people would like to come for May Day here in Dublin, and then stay for a little while and help out with the eviction?
We managed to fight them back when they came without warning, when we weren't prepared, so we can fight them back again now that we know when it'll happen, we can be ready for them! We just need help!
Thank you to everyone who has sent us messages of support so far, and we hope to see you soon!
We can win this!

Solidarity to the arrested squatters in Amsterdam.
ACAB
SquatCity x
Tags: Dublin, Eviction, Ireland, SquatCity, Squatting
Posted in Autonomy
Thursday, March 26th, 2015
Another update: Court was adjourned until 3pm 27 March, and may be delayed again after that. If anybody can get out and help/support us, we now have at least a little time.
Update: New email address – squatcitydublin(at)riseup.net
SquatCity (GrangeGorman), Dublin, currently resisting eviction. We are putting out an international callout for support, to help us resist the eviction of our homes, and to defend squatting in Dublin. We have been subject to a large scale eviction attempt over the last couple of days, and we are currently resisting, and appealing for help and support. Many of you would have stayed there during the International Squatters Convergence, and saw the space for yourselves.
Here is a brief timeline of what happened, as well as a short description of the space.
On Monday 23rd March, the squatted buildings at Grangegorman, where a community has been living for a year-and-a-half, was the subject of a violent attempted eviction by a large force of contractors and cops. Here is a summary of the situation.
THE SPACE:
The space consists of three houses, three converted office buildings, five warehouses, a main courtyard and two smaller yards, all home to around 30 people.
We are reclaiming unused space and building a community around it so it can be used autonomously for projects that would not be possible within the constraints of a rented space. (more…)
Tags: Dublin, Eviction, Ireland, SquatCity, Squatting
Posted in Autonomy
Sunday, February 22nd, 2015
The Redfern Aboriginal Tent Embassy in Sydney is facing eviction on Monday 23rd February. The Embassy are calling for people to come down and help them resist eviction.
The embassy plans to apply for an injunction Monday against the eviction order, which was issued by the Aboriginal Housing Corporation (AHC) on Friday afternoon. The order demands the total dismantling of Redfern Aboriginal Tent Embassy, which has been a 24 hour protest camp since May 2014. In an area known as the 'Block', it sits wedged between Redfern Station and Eveleigh Street. It's a sparse green oval resting on a grey concrete slope. On first glance it's as unassuming and ordinary as its namesake would suggest. But the tents have only catalysed the political discontent and community activism that has boiled below the suburb's surface for years.
The site has grown over the months to include vegetable patches and a seed bank, a sacred fire pit, kitchen and a collection of tents. The embassy was established to protest a controversial redevelopment plan for the Block – a chunk of Sydney's Redfern suburb where Indigenous Australians have been promised affordable housing since the 1970s. When the AHC first began to be handed parts of what would later become the Block in the 1970s, it was widely viewed as a major victory in the battle for Indigenous land rights. The entire area was earmarked for affordable housing for Indigenous Australians. (more…)
Tags: Australia, Eviction, Indigenous Struggle, Racism, Redfern Aboriginal Tent Embassy, Sydney
Posted in Autonomy
Saturday, February 21st, 2015


From rabbleLDN:
The main article below is reposted from inthebellyofthebeast. Also see fightfortheaylesbury website for further reports and updates. As of today (21 Feb), the occupation of the new block (69-76 Chartridge) continues, and this afternoon the squatters are holding a "fun day" with food and football.
17th Feburary 2015
On Tuesday night Southwark council workers along with 100 cops attacked squatters on the abandoned Aylesbury housing estate (one of the largest in Europe), in a 'para-military' operation.
The cops & council workers were prevented from entering the squatted building earlier in the evening by a burning barricade of mattresses and steel sheets. An army of TSG (Tactical Support Group, riot police unit) then descended upon the other steel plated entrance with angle grinders, as sparks started to fly a ferocious resistance ensued, the squatters preventing the cops from entering for two whole hours, as they pelted the cops with any object to hand and broke their angle grinder several times. (more…)
Tags: Aylesbury Estate, Eviction, Gentrification, London, Repression, Riots, Solidarity Action, Squatting
Posted in Autonomy
Sunday, February 23rd, 2014
325 receives and transmits this report by anarchist comrade Rebel Jill:
On 12 feb 2014, osaka city authorities suddenly set the fences on eastern part of tennouji park, a southern area of osaka city. So, homeless persons spending that area of the park every night were swept away by fuckin' officers of o$aKKKa city authorities. A homeless old woman living on this area was swept away from this area, and her baggages & blankets were stolen by city officers of osaka city authorities (tennnouji dousyokubutsuen park office), on a day that was so cold.
Around the JR tennouji [train] station, the railway company build a 300 meters tall building like the glass grave named "abeno harukasu". That glass grave will open on 7 mar 2014, and the building includes department store/hotel for noble persons. So, most of homeless persons living on this area are being swept away. (more…)
Tags: Eviction, Homeless Liberation, Japan, Osaka, Tennouji Park
Posted in Social Control
Wednesday, October 23rd, 2013
325 receives and transmits:
… Yesterday when I was cooking, me and subcommandante ***** heard about some eviction quite near to Pandan Raya, in Mapanyukki. We heard in the radio that two of the police were severely injured by molotov cocktails and we rushed to the place. But by the time we get there its all tear gas and the confrontation have calmed down, but you can see how the police forces were very large, including some military trucks, it was a full force eviction. But the occupants fought very hard too. The little boys fights with arrows, molotov cocktails, the women, rocks, but the tear gas easily dispersed them. I can still feel the pain in my eyes as we passed through the former battleground. This eviction grew unease to the comrades because its like signal for Pandan Raya as the next target. …
Tags: Eviction, Indonesia, Mapanyukki, Molotovs, Padang Raya, Riots
Posted in Direct Action
Tuesday, September 3rd, 2013
From Contra-info:
In the morning hours of September 2nd, 2013 the Greek police conducted another anti-squatting operation, this time against the Orfanotrofio squat, a former orphanage in the district of Toumba, Thessaloniki.
Seven squatters were arrested inside the building and charged with violating the law regarding occupation of public buildings, as well as weapon possession (an air pistol was allegedly found at the squatted house). All comrades were held in custody, scheduled to appear in the Thessaloniki courts.
Last year, it was announced that the ministry of Health handed over the squatted Orfanotrofio to the Holy Metropolis of Thessaloniki.
Fuck the State and the Church!
Immediate release of our comrades!
Tags: Eviction, Fuck the Church, Greece, Orfanotrofio squat, Repression, Thessaloniki
Posted in Social Control
Tuesday, August 27th, 2013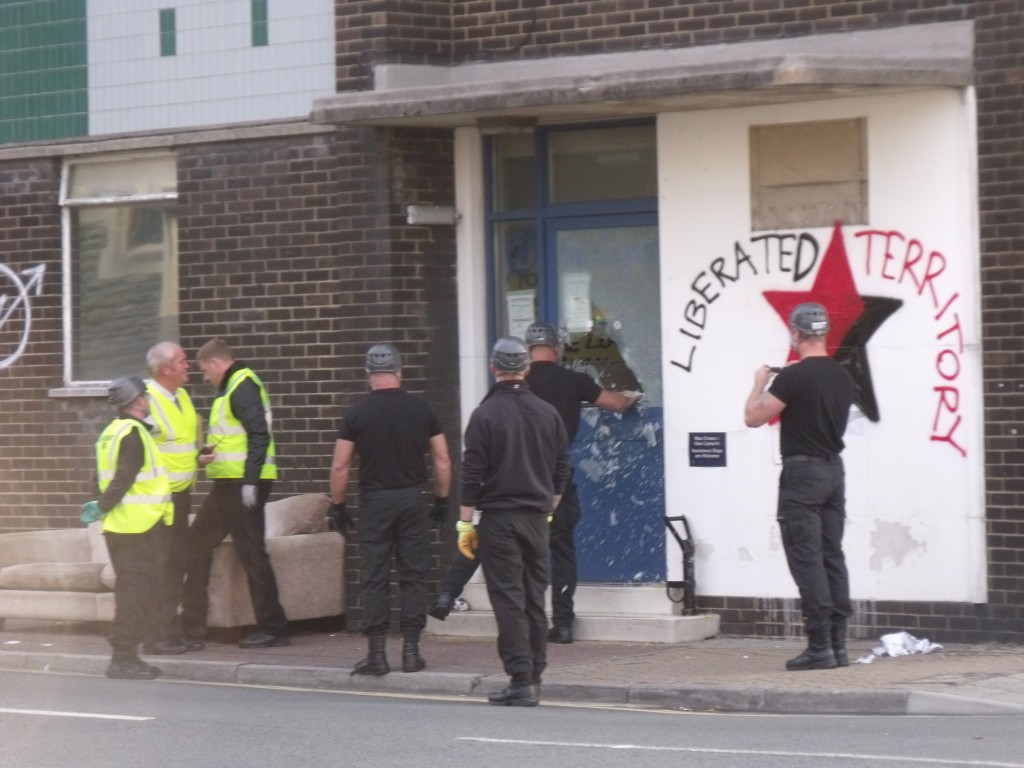 Tags: Cardiff, Eviction, Wales
Posted in Social Control
Sunday, October 7th, 2012
325 receives and transmits:
We the gremlins are squatting at Gremlin Alley, City Road, Cardiff; formally known as Spin Bowling Alley and the Giety Cinema and bingo hall.
Yesterday [4th Oct] we successfully resisted an eviction from bayliffs and harrassment from police who attended for most of the day from 10AM. Banners including "We are resisting eviction: Fuck the fucking fuckers", "Solidarity with Alex Haigh, imprisoned for 3 months for being homeless", amongst others being displayed. (more…)
Tags: Cardiff, Eviction, Fuck the Law, Gremlin Alley, Squatting
Posted in Autonomy
Monday, September 24th, 2012
Nine of the arrestees in Delta squat's eviction were set free on bail after the trial, where they made a collective political statement. All defendants were found guilty for diverse misdemeanor charges, received suspended prison sentences (from 3 months to 16 months) and got 3 years probation. The total monetary amount of their bail was 7,950 euros. Till this day, the tenth defendant is still captive, facing the danger of deportation because of police perjury: a cop testified in court that the comrade had a fake passport (which is not true).
One of the ten arrestees wrote and sent us a text on September 22nd, expressing opinions on what happened with the whole farce:
now we are all persona non grata
"I never saw a man who looked
With such a wistful eye
Upon that little tent of blue
Which prisoners call the sky"
– Oscar Wilde, Ballad of Reading Gaol
Comrades, what can I say about the last few days, apart from the theatre of absurdity, need I say anymore? From the first day in a Kafkaesque trial, to the society of the spectacle outside our front door. No one can begin to understand that the junta never disappeared until they have a gun shoved in their face in the early hours of the morning, face banged against the wall, thrown on the floor under a hail of boots stamping, in a pantomime Hollywood event, that brought the facade of Greek democracy falling from the true fascist face. Who did they think they had found, as they entered the building coked-up? Terrorists? No, the real terrorists are those in the parliament who gave the order! (more…)
Tags: Delta Squat, Eviction, Greece, Repression, Thessaloniki
Posted in Social Control
Friday, October 21st, 2011
Call for solidarity with autonomous social centre under threat of eviction + demo.
We are people who live in or use the Factory Social Centre, the building on the corner of Cave Street and Portland Square [Bristol]. A company called the PG Group wants to develop the building we are occupying. They plan to turn it into luxury flats, offices, a cafe, an art gallery and a small health centre. Aside from the possible health centre, we don't see their development plans as good for this area. Also, when all other information suggests that the NHS is cutting back on public outpatient nursing, we have doubts about what kind of heath centre it would be and if it will really happen.
We don't want to be moved on and we don't want this building to be developed. We are asking for your support.
We have worked hard since we squatted here a year and a half ago to turn this building into a home and into a space for free activities, creativity and political discussion. All of these things are under threat from this development. They are also threatened by similar developments in many other places.
We don't believe that St Pauls needs more luxury flats and offices. On Portland Square alone there are three buildings full of empty offices. We don't want to be removed in order to create more "beautiful" sterile vacant spaces. We see the PG Group's proposal as part of a process that is changing our city – and St Pauls in particular – by making more places that are only comfortable for people with more money. This process – often called gentrification – pushes up prices and displaces existing residents, destroying the relationships that people have built with their neighbours and their neighbourhood. It leads to even more security cameras and police to stop people gathering in public space. We want this to stop.
The PG Group say that their aim is to "improve the environment of their community and, if possible, to make donations to charity." However, nearly all of their developments are luxury accommodation – which is useful to only a small section of the "community". For example, they developed the flats and serviced apartments on Portland Square. They were also part of the failed onedovelane development, which proposed building the second-highest skyscraper in the UK in St Pauls.
In addition to this, the main aim of the Grant Bradley Trust, the organisation PG give money to, is "the advancement of the Roman Catholic and Christian faith in any part of the world." It is a religious, rather than a charitable, organisation. Despite what they say, the PG Group are a development company like any other – who just use some of their profits to promote their own beliefs.
The PG Group are trying to get us to leave voluntarily by holding out the promise of another building that we could use. So far all they have offered is a shipping container for storage and the use of some meeting rooms. We reject this offer.
We want to make it clear: even if they offered us a suitable building, we do not want to leave. We believe that, in this situation, accepting another building in order to vacate this one for development would be the same as supporting what the PG Group want to do. We do not want to help them promote themselves as ethical and caring as they continue to damage neighbourhoods. We do not agree with their development and we do not intend to cooperate with it.
We are squatting this building. We do not legally own it. However, we believe that buildings should belong to the people who use them and open them up for others to use together, not to those who only want to make money off them. Laws exist to protect the interests of the rich and keep the rest of us shut out. That is why, if we have to, we will defy them. We know that this means that we are likely to face violent eviction but we believe that resistance is essential. We have to take a stand.

We are staying where we are and we call for those who support us to join us in struggle – for this building, for free spaces and against eviction and gentrification.
–

10 October 2011
In the early hours of the Monday and in response to the solidarity call from The Factory, a warning for the The PG Group was left at their offices in Redfield. Their lock was glued and graffiti left on the front door against a forthcoming eviction. Windows would have been smashed if it weren't for a disturbance.
They probably don't care about the vandalism, but we do know they care about the Chairman's precious catholic church nearby (funded by their 'trust'). The PG Group should expect a return visit to their offices soon to have their dated church windows destroyed. After that, the expensive stained glass windows of St Patrick's. Consider last night as a warning of more to come until the threat of eviction is terminated.
We will not wait to defend an eviction… we will go on the attack!
Tags: Bristol, Eviction, Fuck the Church, PG Group, The Factory, UK
Posted in Autonomy
Wednesday, May 4th, 2011
After the civil unrest following the raid and evictions on Telepathic Heights, the stakes are clearly raised for all parties for any future eviction.
Meanwhile, three more people will appear in Bristol Magistrates Court this morning, including one charged with "Attempted Murder". It is notable that many of those charged with serious offences have been of 'minors' – i.e. those under the age of 17. It seems the young and naive will bear the brunt of the polices' judicial revenge. (more…)
Tags: Bristol, Classics Freeshop, Emporium, Eviction, Fuck the Law, Stokes Croft, UK
Posted in Autonomy
Friday, April 29th, 2011
28 April 2011
UPDATE 30.4.11: OFFICIAL ARRESTS FROM THE LAST 24HRS NOW NUMBER 30 – MOST ARE OUT ON CONDITIONAL BAIL. ARREST SUPPORT GROUP FORMED : BRISTOLARRESTEESUPPORT_AT_RISEUP.NET

Rioting erupts again late at night after a demo/party against the recent police brutality – The fighting breaks out of the activist ghetto and every underdog can become an instigator, mainly due to the police causing chaos through horse charges and riot unit surges – The tension grows deeper.
One week after the Telepathic Heights raid, people gathered to fight and protest police occupation, against the wishes of the hated 'community leaders/spokespeople', 'business representatives' and other pathetic individuals pleading 'peace' with the class enemies.
Running battles with police riot units all the way up Cheltenham road, burning barricades in St.Pauls, trouble in Cotham, widespread disorder and violent resistance against the cops in the affected areas. 15 people are reported by mainstream media as being arrested in the disturbance.
Reports circulating that Horfield prison has also erupted in a prison riot, news of which is being suppressed. Also, a few days earlier police had suppressed a film night about the riots held in a residential area with a massive police presence, leading the film to be shown in a residents back garden.
Let's make fighting the police a hot and fun summer delight and spread the rage into other cities – Let's see Birmingham, Manchester, Liverpool, London burning with an anti-police – anti-system fire! Ambush!
'let's show these bastards what a real crisis looks like.'
–
Telepathic Heights evicted
29 April 2011
Telepathic Heights is stormed by over 100 police, riot units, helicopters, district shut down again. 4 squatters have barricaded themselves onto the roof and as of writing are refusing to come down. A crowd is gathering. Police climbing team in attendance. Police snatch squads active on the ground snatching folks they don't like the look of, under the premise that they believe them to have been involved in violent disorder. Prisoners being taken to Southmead pig sty because Trinity police station is full of last nights lot.
Tags: Bristol, Economic Crisis, Eviction, Fuck the Law, Horfield Prison, Prison Riot, Riot, St.Pauls, Stokes Croft, Telepathic Heights, UK
Posted in Direct Action
Wednesday, March 23rd, 2011
EVICTION WAVE HITS AMSTERDAM: SQUATTERS CHOOSE ATTACK INSTEAD OF DEFENSE.
This Tuesday the 22nd of March, the city of Amsterdam witnessed a huge eviction-wave.
It was the first big series of evictions after the new anti-squat law in Holland. The formerly quite tolerant attitude in Holland towards squatting has been replaced by a zero-tolerance approach to anyone taking housing rights into their own hands. (more…)
Tags: Amsterdam, Eviction, Fuck the Law, Holland, Squatting
Posted in Social Control